The BSA Otter OC (Otter Cheaper ) project.
~~~~~~~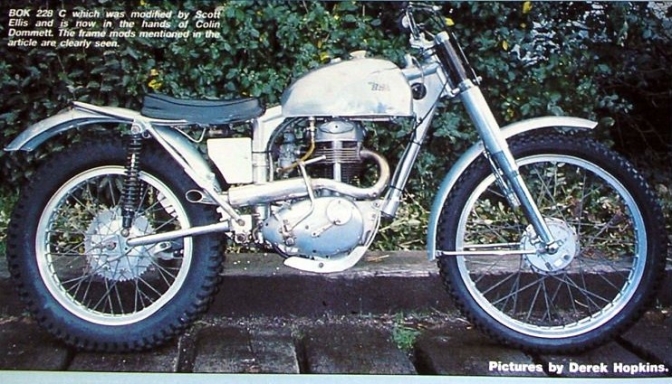 The Otter OC (Otter Cheaper.) Project.
I have just got it into my head that there should be a bit cheaper way to have fun building up a Classic trials bike, of bits that are still available.
So came up with this plan.
To build a "Foster" based, and dimensioned trials BSA, but to buy parts of it from other sources.
So to start with it is back to the basis of its original conception. And to copy the Scott Ellis BOK 228C machine.
First off I will build the front diamond part of the Foster frame in the Original Jig. This will be made to take an Original Triumph F6192, or proprietary Wide swinging arm. (Feked-Off) EG.
The frame will also except a standard Triumph Cub sub frame, or again newly made copies available for the Triumph Trials Cub. The same goes for the footrest kits available, these will be made to bolt straight on.
This should help spread the cost of putting a suitable frame together to except the BSA Unit single motors.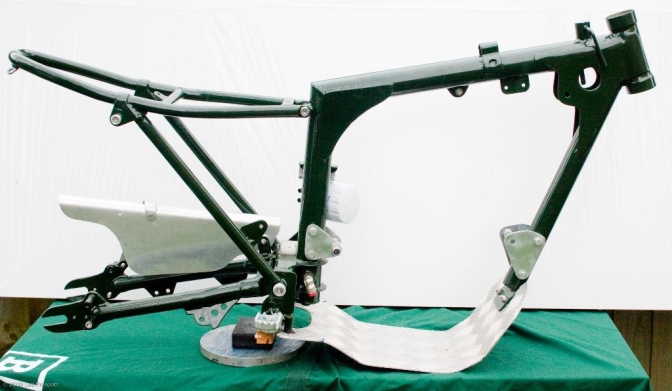 This is my first build copy of the Scott Ellis bike.
And very much to what I intend to build again, the difference is that the sub-frame and swinging arm will stay as standard, and not be widened by one inch like I did this frame.
And the top subframe mounting point will be nearer the top as the seat tube will be shorter to the swinging arm pivot.
The pivot will be like the available upgrade Triumph Cub trials frames available, and not the box, like on the Otter Frames.
This will enable a propitiatory footrest-rear brake kit to be fitted, to the bolt on engine mounting footrest assembly, that will go with the frame.
A steel shoe type engine under protector, will also just bolt on to the engine bottom mounting hole.
~~~~~~~
Engine mounting Alloy or steel plates will be used for the two bottom engine mountings, front, and rear, so that even other engines may be fitted, and give more adjustment to get chain-line right.
Oil will be carried in the frame the same as the original "Otter" frames.
Why bother with this project I hear you say. Just buy a "Foster frame", well you can, but there are people that like playing in there "Man Caves" and can spread the cost of the activity a bit further, and take advantage to build something more unique than the norm.
Not only that looking at the bigger picture there are still a lot of Triumph Mountain Cub and other models still very plentiful in the USA so a front frame that the rest bolts onto seems like a very good idea.
But there is nowhere to ride a trials bike today? Well of course there is. But a lot of the fun is just being able to bolt a machine together.
And experience the thrill of the first rides on a machine you have built up. And to have something different than anyone else owns, priceless..
~~~~~~~
So for the past month I have been collecting parts for the project and have now got a new old stock Triumph Cub sub frame, and "has new" wide type swinging arm, I also have a superb hardly used BSA D10 wide type (3"across flanges) rear hub that I have laced into a New 185 wide steel rim, that was a very good price, that good I bought two.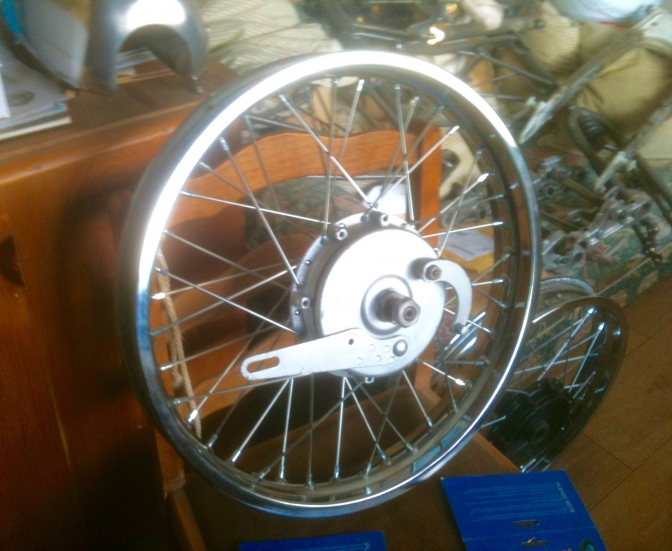 BSA/Triumph four stud forks will be used as I have managed to build a set from my spares, so as not cost me the £300-£400 you now seem to have to pay for these forks.
Front hub and rim will be one of my Yamaha TY wheels that I have collected over the years and now seem very popular since I started using them. Also again widely available in the USA.
One of my "Ray Small" Glass-Fibre tanks will be used, as the machine will run on ASPEN fuel.
A pair of my Glass-fibre guards will be also used. Along with an Ossa type seat that I now have a mould for.
Engine is to be my third converted to "F'Type motor with Victor gear conversion and modified B25 barrel and piston.
This engine will run a Mikuni VM 22 carburettor and a new ignition system from a pit-bike.
A full cost of the complete exercise will be kept like the "Otter On The Cheap".
And we will see how it compares in price and more so how it rides.
And don't forget this machine is a True copy of the Original Scott Ellis BSA Trials motorcycle.
~~~~~~
18/03/2018.
I have just spent a merry couple of hours reaming out the New swinging arm bushes to get the spindle to fit smoothly,
It is one of those jobs I hate doing ,it is so difficult to do with only a adjustable reamer, and when you think your done it still needs one more pass to get it right.
And you know me by now the job, just has to be right.
I was watching "Steam Shop Dave" reaming and grinding Mike Waller's valve guides and seats, and, it was that same story with those, it just takes a lot of careful work to get right. and the time adds up.
But we have got there and I can now concentrate on getting the frame tubes together, for the Foster Jig. I have most components, in fact I just found a pair of steering head bearing cups that I had made some time ago, so we have a start on that.
I hope this bike is going to be one that puts itself together you can only hope.
~~~~~~~
31/03/2018.
Spent four hours at the workshop today machining up the swinging arm pivot for the Foster front frame section of the bike.and also found the patterns for the plates that hold this section to the frame.
this unit will have the combination of bronze and Mig welding as I feel that the pivot section will be a better fixture and with less distortion if it is Mig welded to the "flinch plates" that surround the seat tube and are then bronze welded.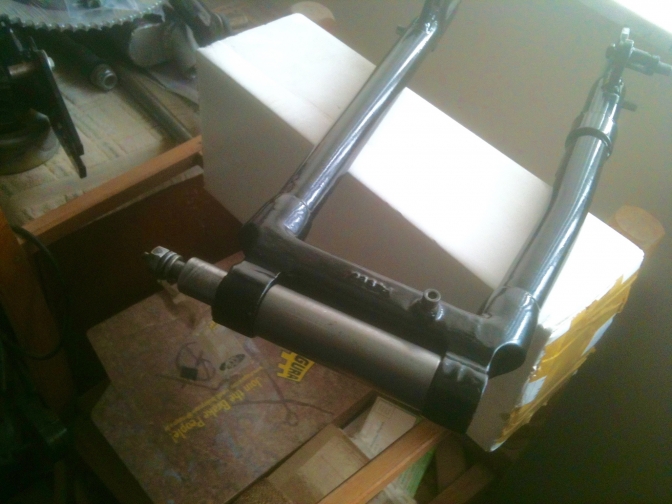 This section as I said is designed so that any Trimph Cub Compatible parts can be fitted.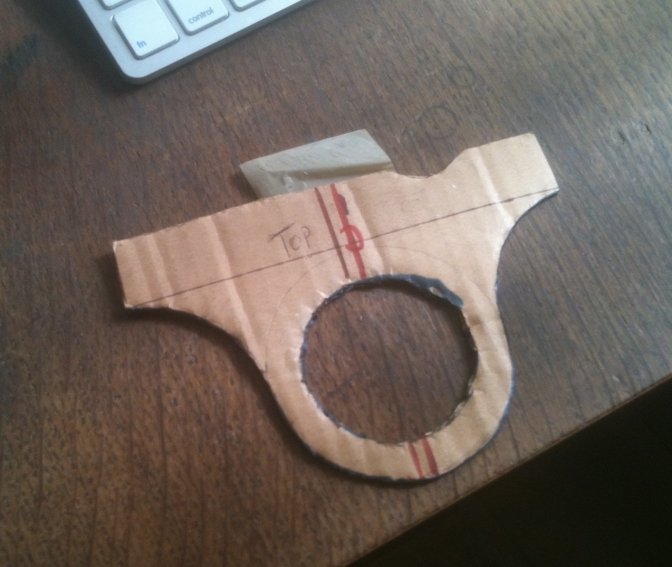 The two plates taken from this pattern will be Mig welded to the pivot sleeve in the photo above and then slipped over the Foster seat tube on the "Original Jig" and then bronze welded into place.
Photo Later.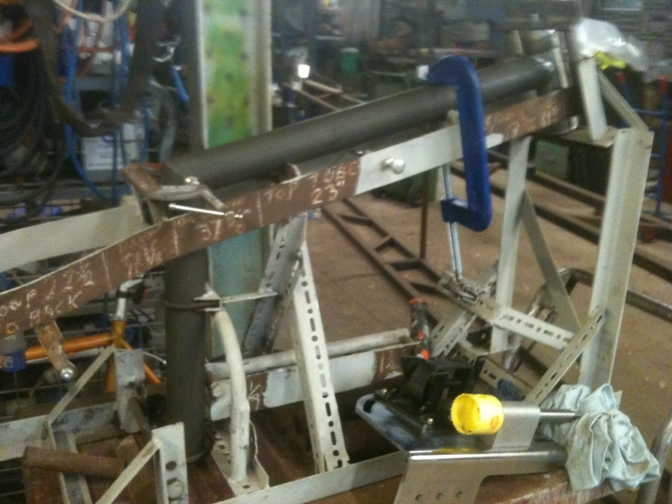 12/06/2018.
So after updating the "readers Page" I thought I better press on with the "OC" frame, so head stock and main tubes in the jig today and I am going to do the swinging arm junction tomorrow. so we may have a frame kit by the week end. forks are now built too.
~~~~~~~
13/06/2018.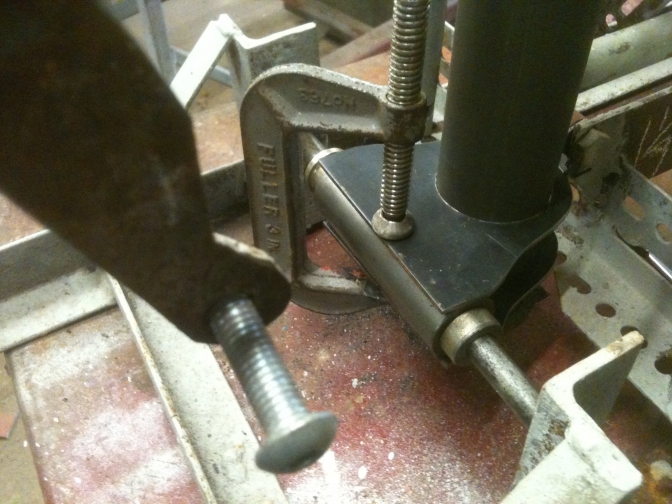 13tenth today and I was not expecting to get much done , I am not superstitious but if it is in the back of your head nothing seems to flow as it should.
Well after a struggle and I don't know why, I finally got the seat-tube joint right, or as good as I could hope for on today.
Then I made the two 3mm plates to hold the swinging arm section to the frame, and except for burning my hand, when profiling the two sections, and thinking about something else when I picked up the hot plate, things went really well, and using hand washing soap with a hole saw is one of those things that you would never believe, and it was only because I was feeling my bad legs and did not want the journey down stairs to the tap that I used it.
One for the future me thinks.
Anyway after machining two collars for locating the spindle of the Foster jig to reduce the size for the BSA/Triumph swinging arm spindle, and a mod to the frame jig to get the plates to fit.,by the end of the day I was pleased with the result above,
More tomorrow but I have got a pair of 40 spoke hole rims to drill and lace up so this could be a update for the wheel building page.
21/06/2018.
Well after an up and down week health wise. I finally took the "OC" frame out of the Foster jig yesterday and fitted the Triumph TR Cub swinging arm and subframe, and I must say it went together splendidly.
And all I have to do is make the top mounting point for the subframe.
So today I will fit the oil filler cap and pipes along with stating to make the flinch reinforcing plates.
So the frame may be finished by the week end and then I need to build the rear wheel up and find a Yamaha front TY out to get the machine into a rolling chassis next week.
Here are a couple of photos of the frame.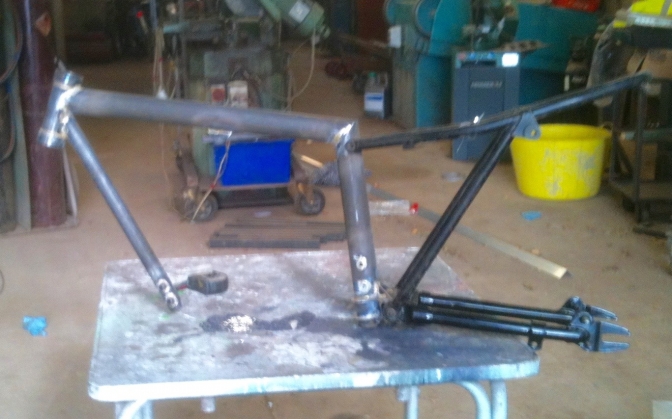 Frame looking good.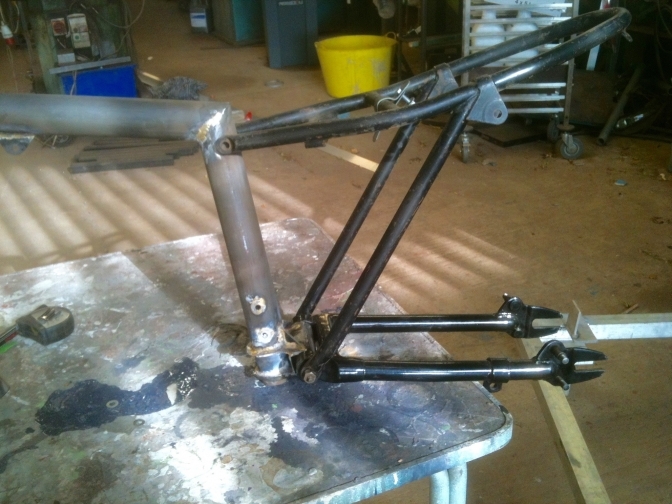 Looking the part don't you think?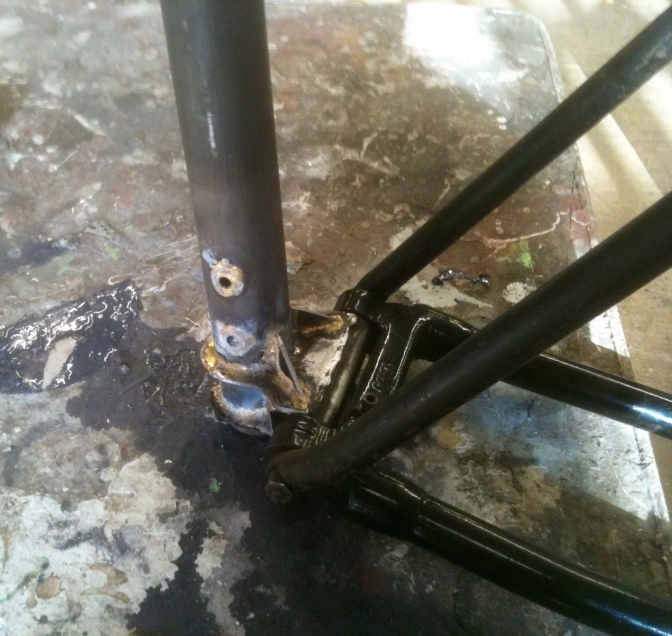 The swinging arm cluster works very well with the Triumph TR 20 swinging arm and the new old-stock Triumph Cub subframe.
I have now finished the top seat tube mounting which incorporates a front seat fixing bolt.
The reinforcing plates (Flinch) are going to copy the plates on the original Scott Ellis bike,
just because I have never used this pattern before and it would be good to see how they turn out.
So far this exercise has turned out just like I expected and although designing the Swinging arm cluster and having to make other alterations. the frame has gone together well. and proves that adding already available parts does help speed things up on a build.
I have fitted a pair of Feked-Off Triumph Cub footrests and the rest of the kit to a Triumph TR20 Cub this week too. Well I am going to incorporate a Kit like this on the "OC" bike.
There was a couple of modifications to the kit I had to do to fit it but I am sure these will be put right when Feked know about it.
Photos below.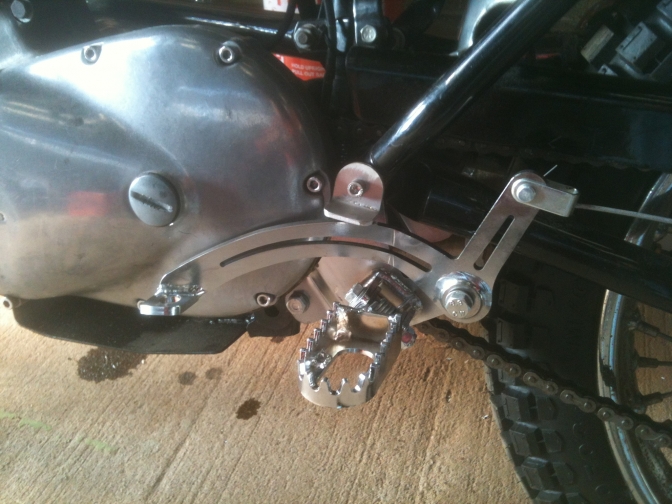 I had to make a brake pedal pivot spacer as that was missing three footrest spacers had been put into the bag.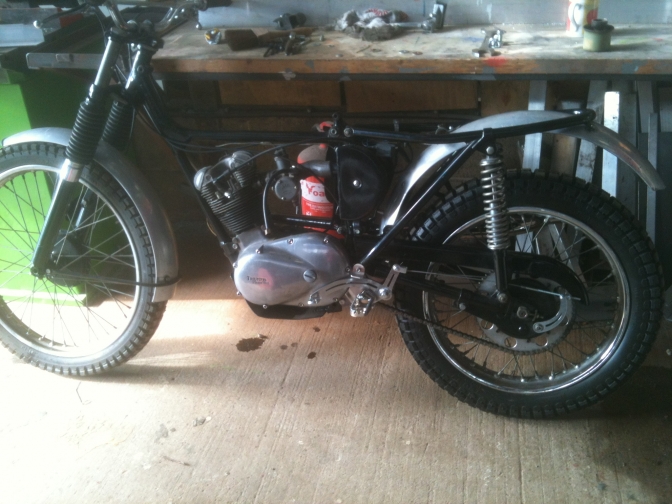 The cable was also too long, and had to be shortened I remember this problem from Sammy Miller Products before when I needed one of these cables for a "Otter",so the kit has just been handed on.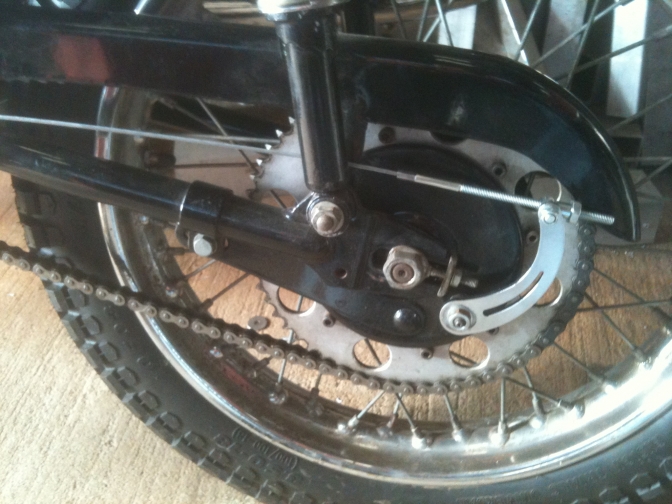 The other problems with the kit was the back actuating lever was too thick for the job and bound up when the nut was tightened, cure I put it into the Bridgeport milling machine and with a large end mill took the width in that area down to the original thickness, then with a flat washer fitted into the recess the arm clamped up nicely.
The other mod was to drill out the pivot for the rod to go through as this was threaded and hindered adjustment.
But all in all a good kit for the price and again saved a lot of time, that is why one is going onto this "OC" project.
More Later tomorrow.