HOO 66H is Lost.......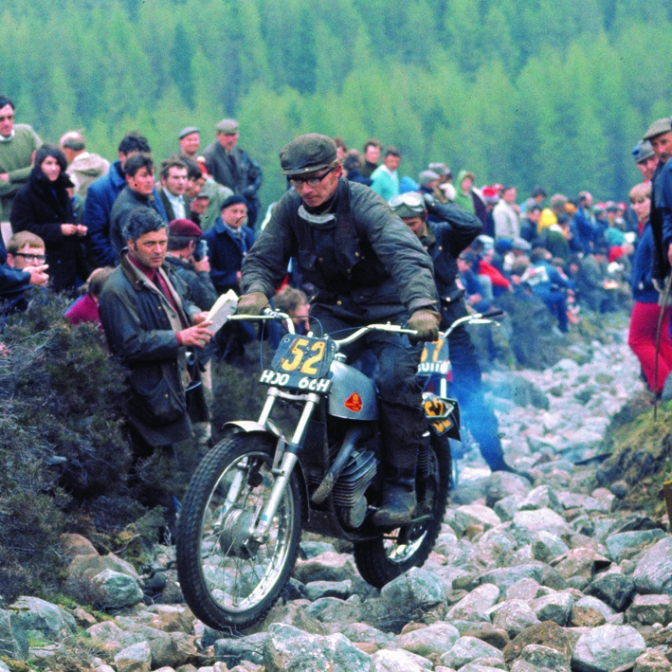 Photo Courtesy Deryk Wylde . ORRe...
You know over the years I have had several requests, and it seems to be at this time of year, for people that have set their minds to find trials bikes that have disappeared without trace, when you would think that they would be treasured for ever, as a part of motorcycle history...
We have after long searches found a couple of ex works bikes before, so lets hope this happens again this time.
We now know that the rider of the said bike, did not purchase it, and that it was in the remain of the factory after he finished riding the machine.
So where do we go from here. Over to you John.......
HOO 66H, is well known as Scott Ellis's
Works Pathfinder.
Where is it now?
Several years back Cambridge GRA member Dave Pink acquired a
frame with the same number as HOO66H which is 59A103. When
he went to register the bike with DVLA they said there was
already a bike with this number so he had to register it
under another number EHJ441H but retained the same frame
number.
(That bike is now in the Puch Museum in Austria).
Looking at the DVLA web site HOO66H is
'Not Taxed for Road Use' so looks to have been
stored away by someone, possibly an employee at the factory
as Greeves were known to sell off 'works bikes'
after they had been replaced with later models.
John Wakefield of the (Greeves Riders Association) is trying to
locate the original HOO66H for GRA records, anyone who has
information can contact him on 01223 843802...
Or email me at bsaotter.com.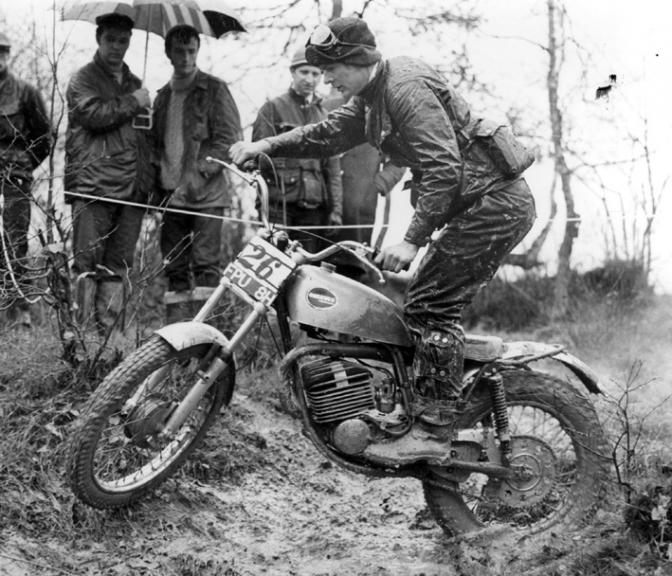 Photo Courtesy Deryk Wylde ORRe...
Here, Mick Wilkinson aboard a works Greeves Pathfinder.
And I have a niggling feeling that the Scott bike could be in Mick's trials bike collection..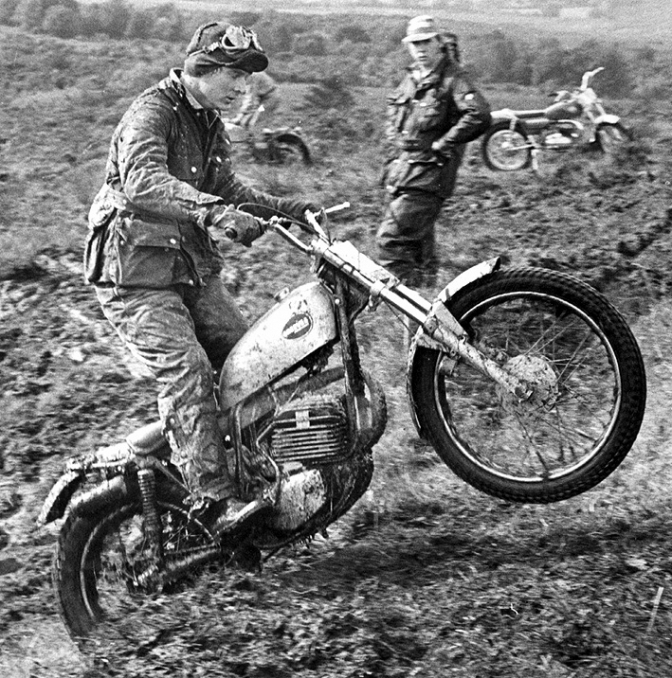 Photo again Courtesy Deryk Wylde ORRe..
I know that Mick Wilkinson is "laid back", but could he really ride a trials bike while he was asleep? Looks like it...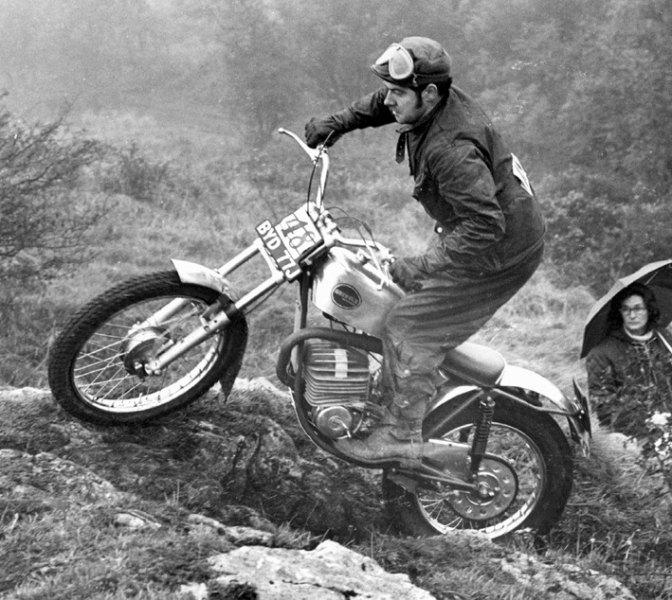 Photo Courtesy Deryk Wylde again an Alan Vines Photo...
Here scrambler extraordinair Pat Lamper, and local to me..
Pat rides a Greeves Pathfinder in the winter closed season to keep fit...
He was, and still is, a very good trials rider too...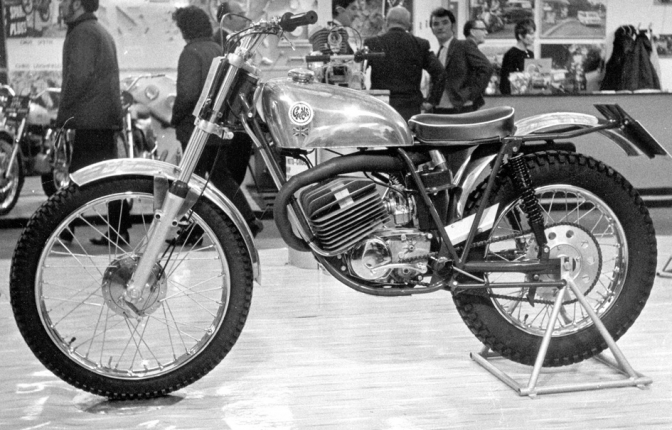 Again a Deryk Wylde. Photo from ORR...
The Greeves Pathfinder on the show stand in London. And is that Frank Hipkin from Sprite behind, keeping a check on the situation?
OK I have one of these motor castings under my bench as you may well know.
A sturdy little engine that was created from a much more humble moped background, (Puch and Sachs engines were very similar )
Take a look at the "British-Rival" Page and you can see what I mean..
Unfortunately, the gearbox was problematical to say the least.
But don't forget after, Villiers pulled the plug on engine supply to the British motorcycle industry companies, they were desperate to buy anything that would keep them in business.
Conclusion for now...
So if one of the ex Works Bikes or even frames, are missing should we not try to find it as it was part of the Motorcycling history of the past.
And more importantly, it would bring the Greeves Riders Association register up to date.
What does annoy me greatly, and has done in the past.
Is that the DVLA have all of this knowledge registered, and will not part with the information, as it is a matter of National Security! So they say.
It's an old steel trials motorcycle frame, and not a great threat to anything is it...
So come on guy's, lets find it over the holiday....
We Are still looking for for the frame, or is it a bike we are looking for?
Any information would be great, it will be in the corner of a shed somewhere...
More Later...
Updat2021...