For Beta Or Worse...
The 1990 BETA TR 35 Reverse.
~~~~~~~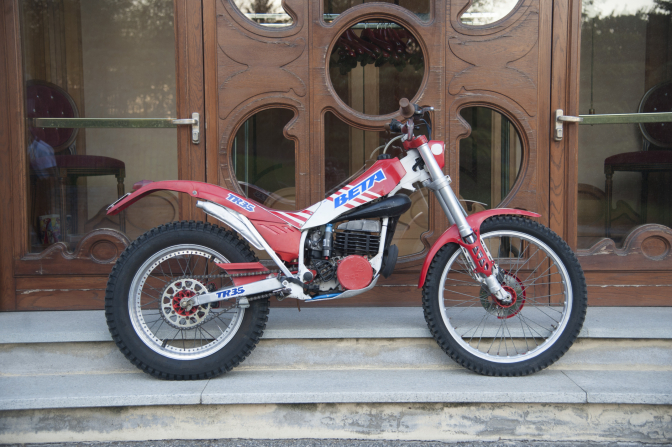 All Photos Justyn Norek Snr...©...
16/05/2020...
This is the first of a new series of Trials bike reviews and tests by the Two Justyn Norek's....
I have several already on the computer...
But there is a slight problem...
Justyn Snr is "Locked-down" in Milan...
And can't get to his scripts of the events until after this virus is over...
But that won't deter us... I will do my best with what I have and add to the pages later...Like I always do...
~~~~~~~
So BETA TR35 Reverse....
Reverse I here you say? Well if you look at the front end of the bike you will see it has Upside-Down Forks fitted... I.E. Reverse...
So that answers that one...
BETA.. Where did the name come from?
The company was started in 1904... like most motorcycle builders did, building "Cycles" ...
The joint owners were, Enzo Bianchi and Arrigo Tosi... The company name...
Societa-Giuseppe-Bianchi...(Joseph White)
Moving on to the forties Branding for companies had started to happen, and a more striking name that you could remember was needed...
So take the B from Bianchi the E from Enzo... The T from Tosi and the A from Arrigo...
And you have got BETA...
Moving on, again... So lets take a look at the bike...
Well the early nineties bikes all had the latest innovation for a competitive trial bike with the new spoke patterns and the upside down forks and disc brakes.. Mono-shocks of coarse, and the real start of the sloped GF tanks and floppy mudguards..
But unlike a lot of manufacturers at the time BETA made their own air-cooled engine, in fact they have always made their own engines...
OK... I will stop my "filling in" and move to what I have from Justyn...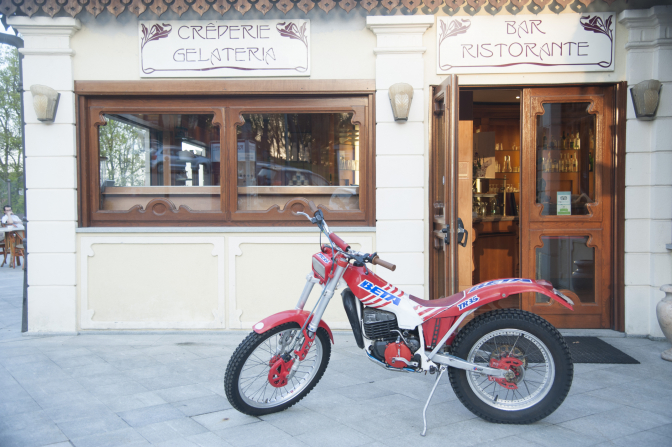 Beta TR35 "Reverse" is example of very harmonious and balanced design.
Still today it's very attractive with its simply and functional lines that do not age.
Fuel tank has dynamic shape thanks to connecting it with seat base and creating
one single unit.
Its very harmonious with front and rear plastic mudguards in same
Bright red, that blends with white area using optical effect of solid colour that becomes
Diagonal lines intervalled by white ones.
Its first example if I remember correctly,
of application of "OP-ART" to graphics of motorcycle.
Another interesting aesthetic-al solution is in the front mudguard mounting solution.
Due to fact that bike is equipped with up and down front fork, Beta had to invent
new kind of front mudguard stays that connect mudguard itself with lower part of
Telescopic forks leaving space between mudguard stays and sliding part of fork
leg. This has been brilliantly solved, using this element also to protect delicate surface
of sliding fork. Rear mudguard is little too flat and wide, but protects well from the mud.
Frame is painted in white to connect visually with white area of tank, while red magneto
cover connects with red tank.
Engine and expansion tube are matt black for good
heat dissipation, while silencers in aluminium like rear subframe in nicely tucked to
frame creating no obstruction to riders leg.
All together excellent example of design which was further developed by Beta with
Its successor "ZERO" which is perfect DESIGN MASTERPIECE thanks to many
revolutionary ideas....but about it next time when we will get chance test "ZERO"
Well done BETA !
Justyn...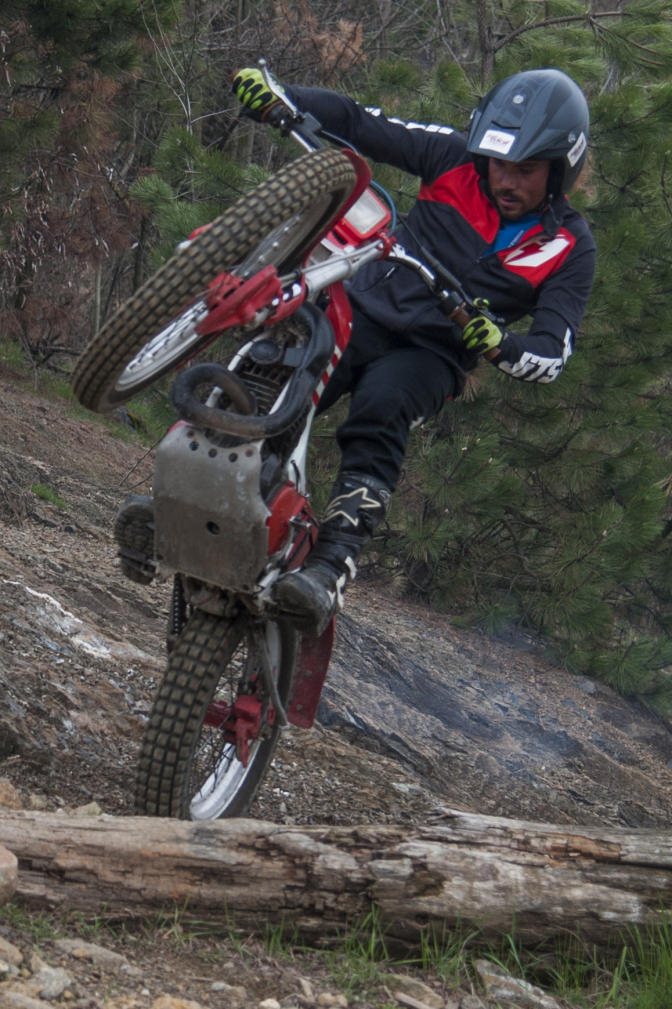 Typical Justyn Jnr Testing...
~~~~~~~
BETA TR35 "Reverse" trial test - technical data...
BETA TR35 "Reverse" technical sheet:
Model: BETA TR35 "Reverse",
Year of production: 1990,
Engine: Single cylinder, air cooled,
Type: two stroke,
Displacement: 260.7 cc,
Attachment and stroke: 76X57.5 mm
Max power: and rpm? I CAN'T FIND IT!
Change: 6 marches,(gears)
Frame: steel, single cradle, in steel tubes,
Screwed (and bolted) rear aluminum frame,
Tank: plastic, monocoque with saddle,
Capacity 3.5 liters,
Measurements:
Step ? - I CAN NOT FIND !
Ground clearance:?
Saddle height:?
Suspension:
Front: Paioli "upside down" telescopic fork with upside down stems,
Rear: Boge single shock,
Wheels:
Front: 2.75X21 ",
Post: 4.00X18 ",
And Italian...
BETA TR35 "Reverse" scheda technica:
Modello: BETA TR35 "Reverse",
Anno di produzione: 1990,
Motore: Monocilindrico, raffreddato ad aria,
Tipo: due tempi,
Cilindrata: 260,7 cc,
Allessaggio e corsa: 76X57.5 mm
Potenza max: e giri ? NON RIESCO A TROVARLA !
Cambio: 6 marcie,
Telaio: in acciaio, monoculla, in tubi di acciaio,
Telaietto posteriore avvitato in aluminio,
Serbatoio: in plastica, monoscocca con sella,
Capacita 3.5 litri,
Misure:
Passo ? - NON RIESCO A TROVARE !
Altezza da terra: ?
Altezza sella: ?
Sospensioni:
Anteriore: Forcella telescopica Paioli "rovesciata" a steli rovesciati,
Posteriore: monoamortizzatore Boge,
Ruote:
Ant: 2.75X21",
Post: 4.00X18",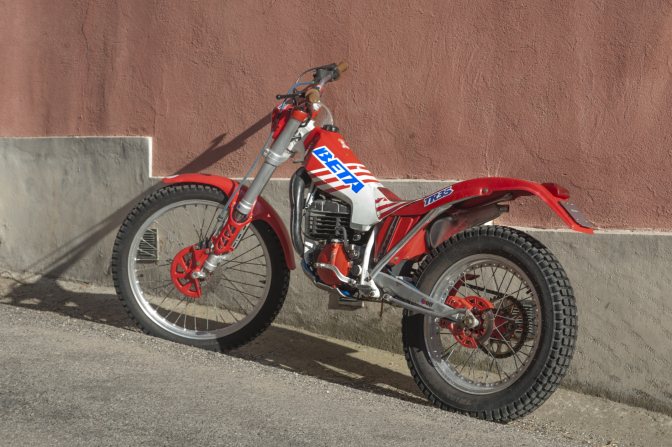 Trials test ...With Justyn Norek Jnr ...
Beta TR35 "Reverse" Trial Test - Riding impressions...
Beta TR35 "Reverse" Trial Test - Riding impressions by Justyn Norek Jr.
Beta TR35 "Reverse" occupies a special place in the list of my favourite trial bikes,
And this for several reasons. First because it's from 1990, the year of my birth, then
because my dad had one, and about 17 years ago I already tried to drive her in the garden
home that had a nice slope, but then lost ... and then again because it was developed by legendary Jordi Tarres, with whom years ago I did a trial driving course and taught me a lot and with whom I am in great friendship .
So when my friend CARLO MINIOTTI, passionate about motorcycles and cars,
bought a motorbike a little while ago, I tore them promise to do the Trial Test.
We decided to have a test day in a beautiful trial park in Rubiana, nearby
Turin, which has several obstacles suitable for all trial levels, from very simple to very much
Challenging.
The day was very beautiful, cool and sunny, and as it was Sunday, there were many people
many young Piedmontese drivers to train. And now I open the doors of my estate-carvan and
shoot out TR35 in the midst of all modern trial bikes: Evo (current Beta trial ...), Vertigo,
TRRS produced by friend Tarres, Sherco, Gas Gas.
Surprisingly everyone's interest
on my BETA also those who are 16 years old and ride modern motorcycles.
Satisfied curious, I filled tank with mixture, checked tire pressure,
and I started the bike, heated well, I started from the usual easy paths to get used to a new vehicle. Climb, descend, steeper and steeper the bike was very stable,
Easy to control, thanks to excellent disc brakes and mono suspension behind and
upside down fork stems at front.
Now I have moved to rocks and started to
go up the several steps. Engine and clutch are excellent and allow you to raise the front wheel in almost any situation in order to successfully attack steps too
of considerable heights, look at the photo's ... You can feel the imprint of master Jordi Tarres,
THANKS JORDI!.......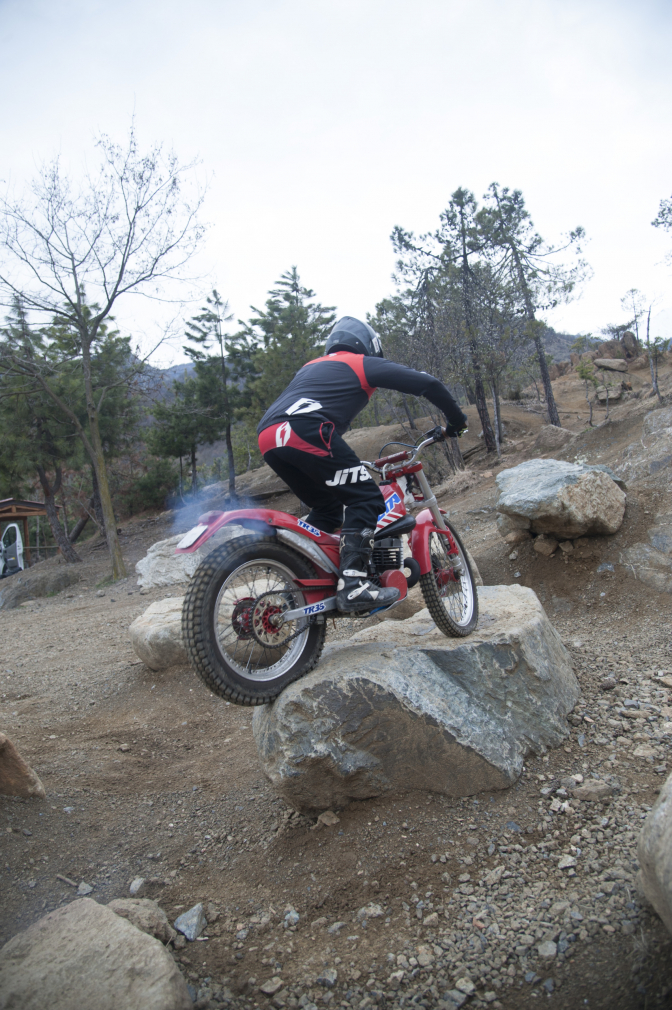 Even in tight corners the bike is very easy to handle and then if you have a problem you can
save yourself with "surplus"power by taking advantage of tireless clutch with perfect balance
of motion, which even if it weighs 84 kg, seems lighter.
Now I understand Tarres' technical mastery, which after the Beta, led to success
the Gas Gases and then built exceptional Jota Gas and latest TRRS.
To answer those who want to ask me what I think of this bike, I just say that
I'm already looking for one, to replace this lost, and then I want to find a ZERO,
a TECNO, REV, EVO4T, even a Beta enduro .... but that's another story ....
Great BETA!
And thank you Carlo Miniotti for lending it to me!
Justyn Norek Jr.
Trials test In Italian
Beta TR35 "Reverse" Trial Test - Riding impressions by Justyn Norek Jr.
Beta TR35 "Reverse" occupa posto speciale in elenco di mie moto trial preferite,
E questo per diversi ragioni. Prima perché e di 1990, l'anno di mia nascita, poi
perché aveva una cosi mio papà, e io circa 17 anni fa gia provavo guidarla in giardino
di casa che aveva un bel pendio, ma poi andata persa....e poi ancora perché e stata sviluppata da leggendario Jordi Tarres, con quale anni fa ho fatto corso di guida trial e mi ha insegnato moltissimo e con quale sono in grande amicizia.
Quindi quando mio amico CARLO MINIOTTI, appassionato di moto e macchine,
ha comprato poco tempo fa una moto cosi, li ho strappato promessa di fare Trial Test.
Abbiamo deciso fare giornata di prova in bellissimo parco trial a Rubiana, vicino
Torino, che ha diversi ostacoli adatti per tutti livelli di trial, dal semplicissimo a molto
Impegnativo.
Giornata era molto bella, fresca e con sole, e come era domenica cerano tante persone
molti giovani piloti Piemontesi, per allenarsi. E adesso apro le porte di mio carrello e
tiro fuori TR35 in mezzo a tutte moto trial moderne: Evo (attuale Beta trial...), Vertigo,
TRRS prodotta da amico Tarres, Sherco, Gas Gas. A sorpresa tanto interesse di tutti
su mia Beta da parte anche chi ha 16 anni e guida moto moderna.
Sodisfatti curiosi, ho riempito serbatoio con miscela, controllato pressione di gomme,
e ho fatto partire moto, riscaldata bene, ho cominciato da soliti percorsi facili per abituarmi a nuovo mezzo. Salite, discese, sempre piu ripide la moto era molto stabile,
Facile da controllare, grazie a ottimi freni a disco e sospensioni mono dietro e forcella
anteriore a steli rovesciati. Adesso mi sono spostato verso rocce e co cominciato a
salire sul diversi scalini. Motore e frizione sono ottimi e permettono alzare la ruota anteriore quasi in qualunque situazione per poter attaccare con successo scalini anche
di considerevoli altezze, guardate le foto... Si sente la impronta di maestro Jordi Tarres,
GRAZIE JORDI !
Anche in curve strette la moto e molto maneggevole e poi se hai problema puoi
salvarti con "surplace" approfittando di instancabile frizione a perfetto bilanciamento
di moto, che anche se pesa 84 kg, sembra piu leggera.
Adesso ho capito maestria tecnica di Tarres, che dopo la Beta, portato a successo
le Gas Gas e poi costruito eccezionali Jota Gas e ultime TRRS.
Per rispondere a chi mi vuole chiedere cosa penso di questa moto, dico solo che
sto gia cercando una, per rimpiazzare questa persa, e poi voglio trovare una ZERO,
una TECNO, REV, EVO4T, anche una Beta enduro....ma questo e un altra storia....
Grande BETA !
E grazie Carlo Miniotti per prestarmela !
Justyn Jr.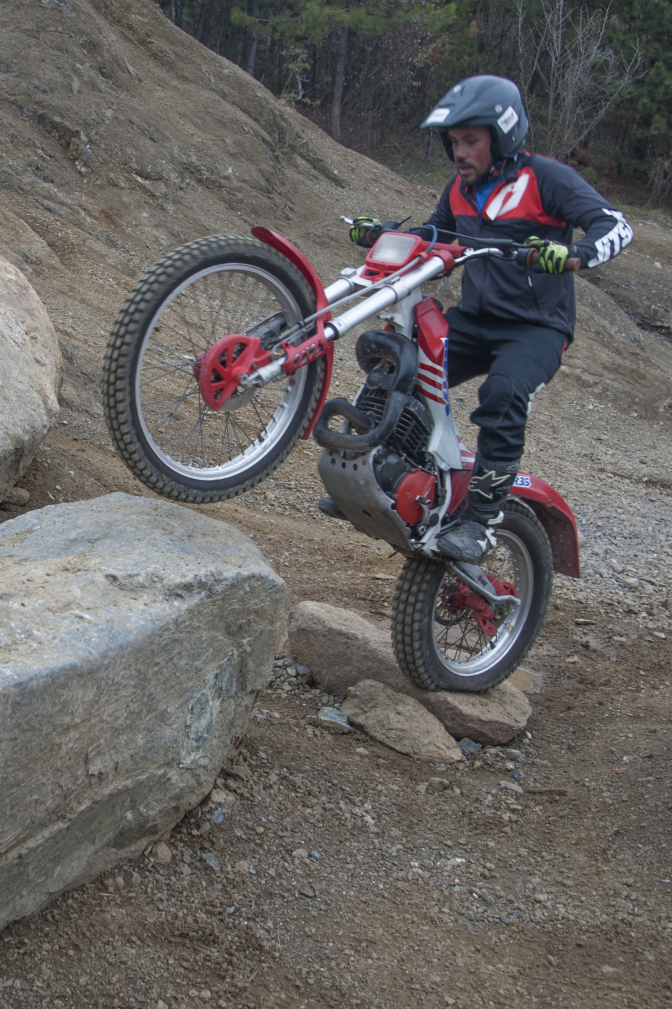 An overcast day and not good for photography...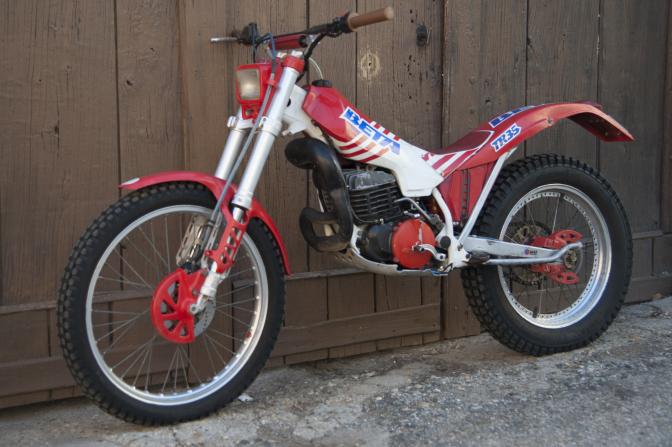 Good shot of the front end and the BETA "Upside-Down-Reverse" forks...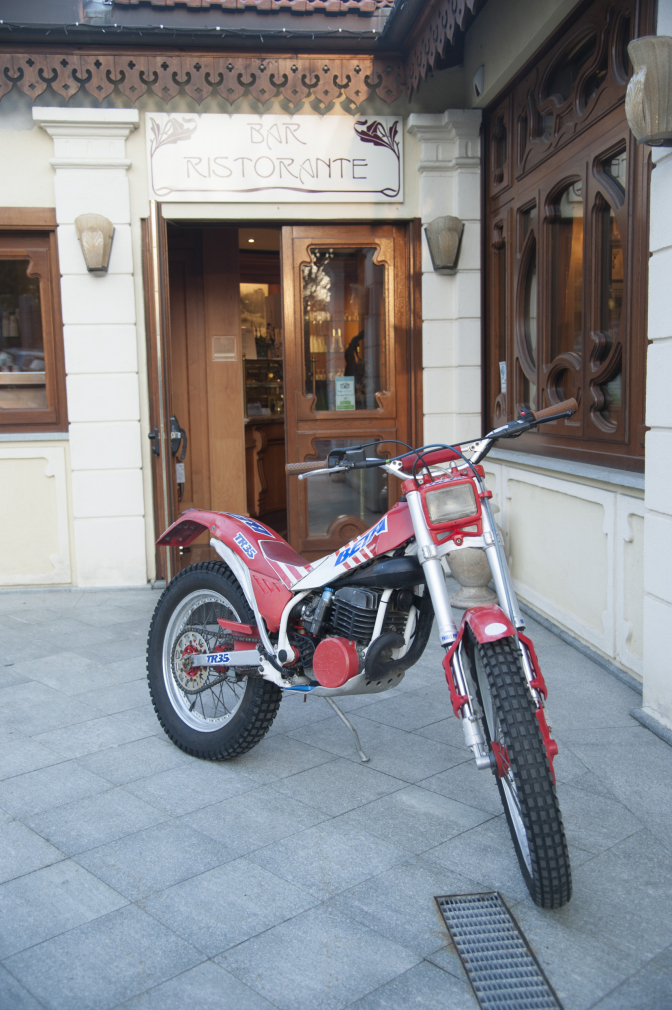 Sweet looking little BETA machine...
Start of the page...
Update and more photos Later ...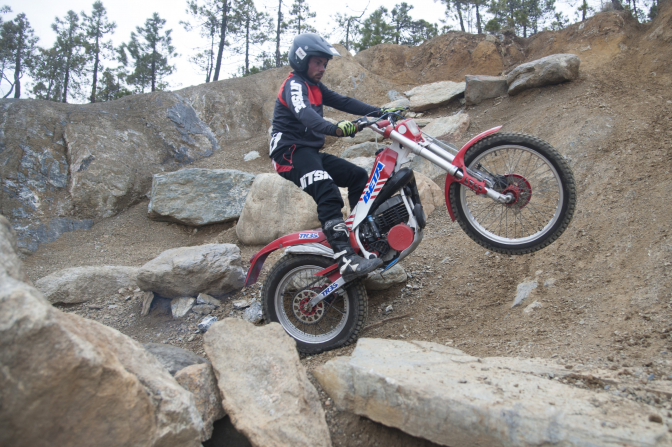 ~~~~~~~"Lockdown".......
BETA BY FAR...
More of update to this page later...
Another "Norek" Trials bike test brought to you by...

Updat2023...05...