Justyn Norek and son Justyn Jnr take a stroll around the 2019 Scottish two day trial Paddock..
We took it for granted that the Scottish Pre 65 two day trial would continue year after year, with the controversy that it sometime caused...
But then BANG, the world changed over night, and now we are pining about the things we took for granted...
I am sure somehow there will be another trial? But it wont be the same for years if ever!
So lets just look back at some of the bikes in that paddock when life was how we knew it...in 2019...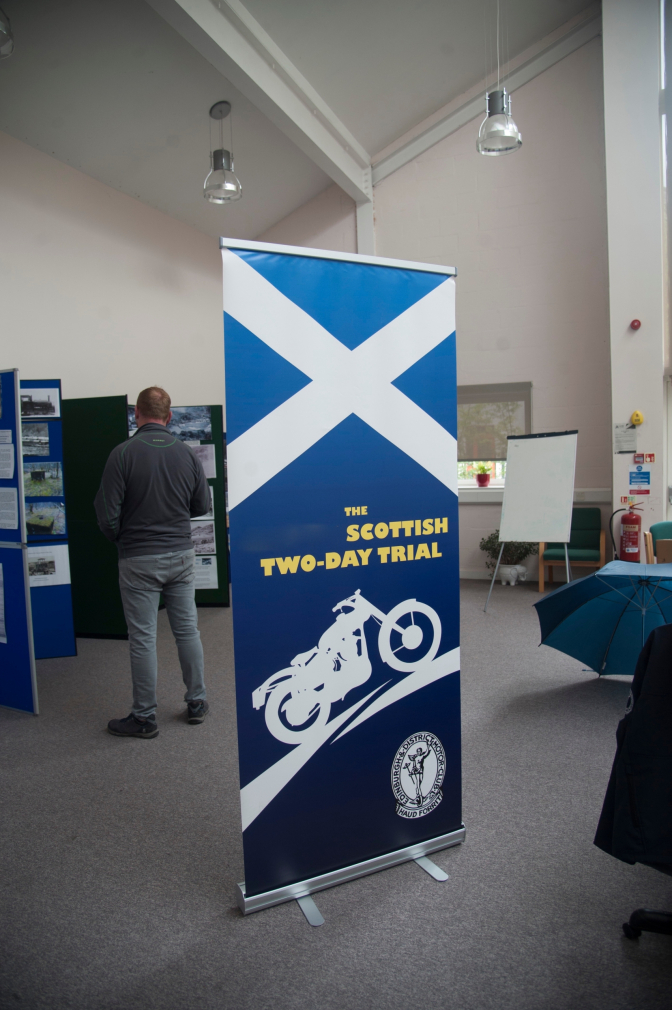 04/11/2020...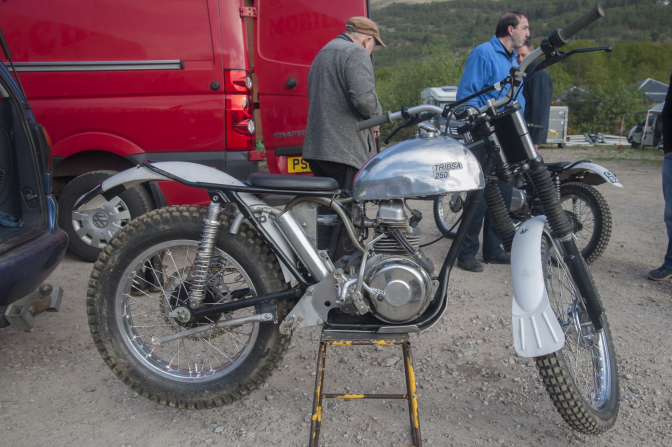 Here is a good one to start with. A Tribsa with Triumph Tigress scooter engine fitted. Number 200.
Update: from John Dickinson...
The Tribsa with Tigress engine. Was ridden by former factory Italjet and Comerfords Bultaco rider Chris Myers from Cumbria. Built by his cousin Jonty and is a 'Mark 2' version, the original sporting a Tigress engine in Cotton frame.
~Oo> Thank's John...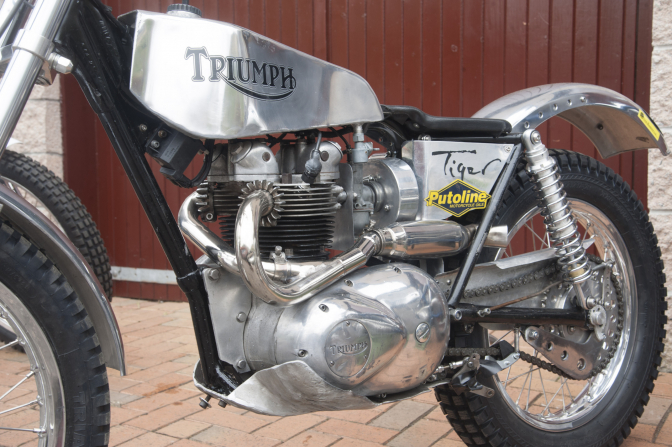 A well built Triumph Twin Number ??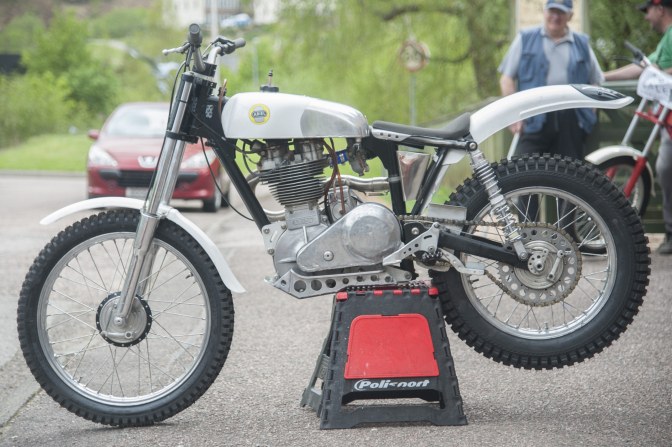 One of many smart Ariels... Number ??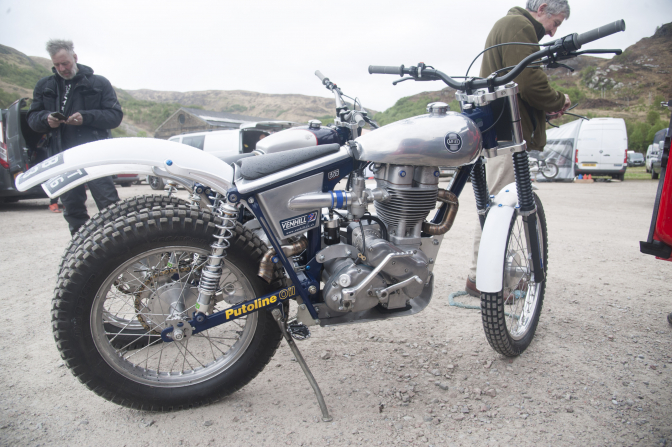 A second Ariel Number?..
And the other of two...
Numbers please...Think one is "Old Bings"
Update: from John Dickinson...
The two Ariel's are very special and completely self-built (including frames, tanks, hubs, yokes etc and had new cylinder heads cast) by Edward Dobson, his son Daniel and Andy Bingley, and ridden by Edward and Bing.
~Oo> Thank's John...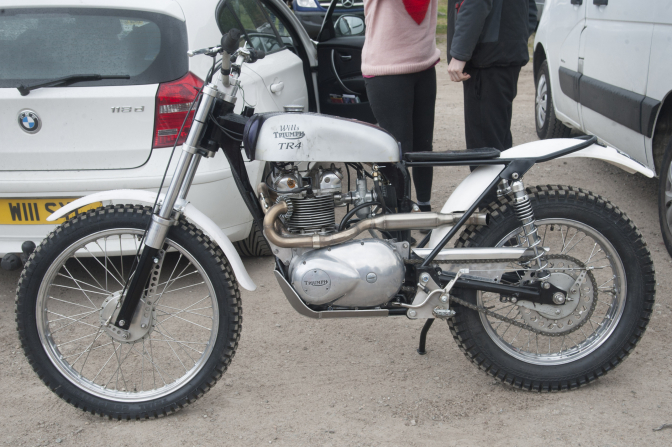 A Triumph Faber Mk3 Otter...Will's TR4
Number?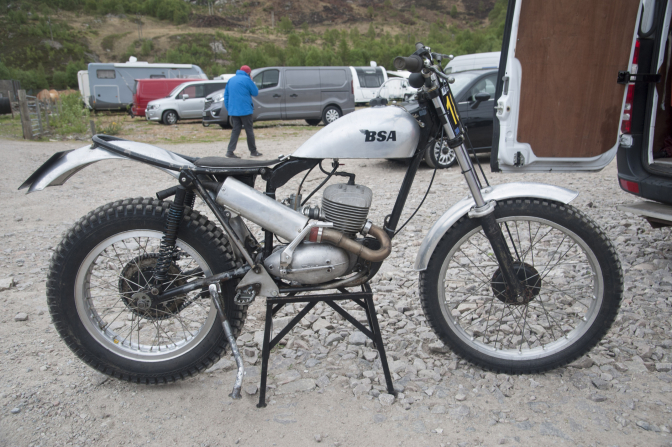 One of the many BSA Bantams in the trial...
Number please.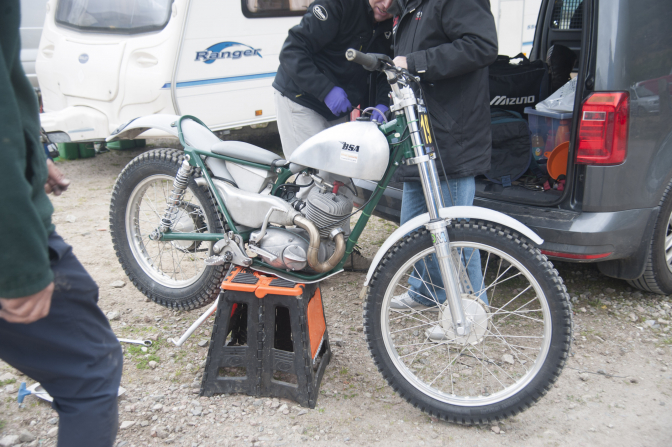 "Derby Road and Race" framed R.A.P.Bantam Number 190...
Note: Cylinder head steady..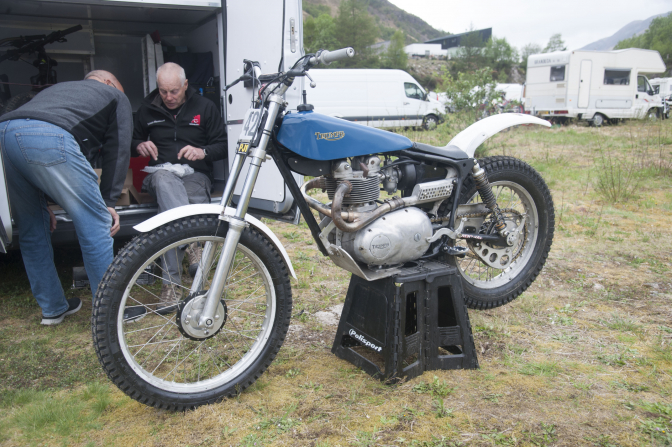 Triumph-Enfield fitted with the standard now... REH forks............
Duncan giving instructions...Number 42?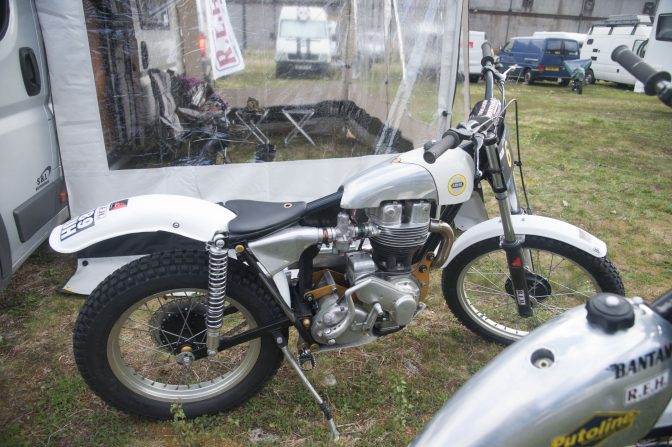 Here is Duncan's Hand built Ariel... Frame, tank, and forks all his handiwork.. And a lot more on the engine and gearbox and not forgetting the unique exhaust system too.. And even mudguards...and REH forks ...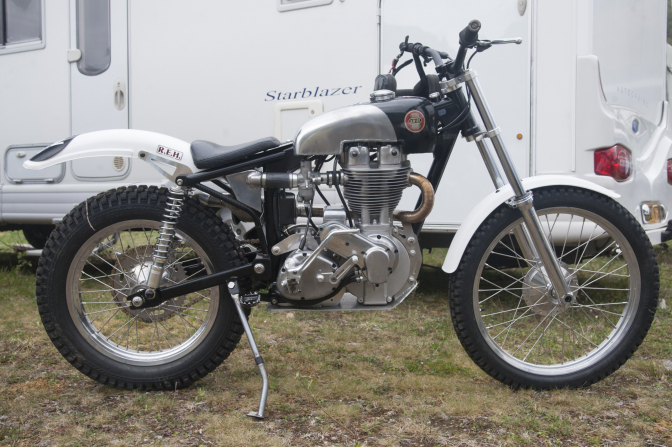 A tidy Ariel fitted with REH forks...
Number please...
~~~~
OK... there is the first ten photo's all by the Justyn's Norek, and their Copyright©...
I will put five more shots on every day... if one of the bikes is yours please send me a brief description and how you got on in the trial... and then it makes for better viewing...
More Later.
05/11/2020...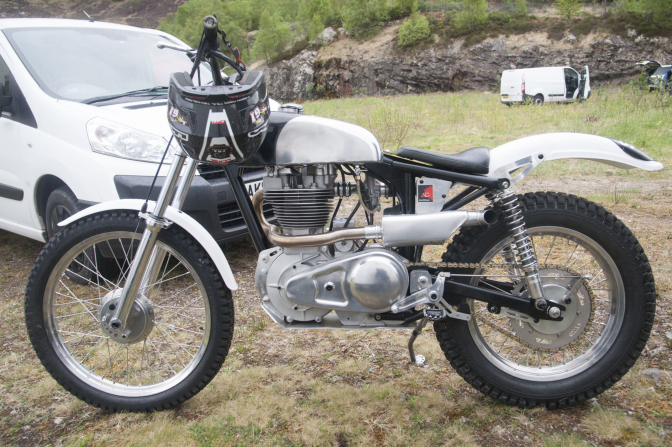 Another Ariel, Bartram frame and chain cover me thinks?
Number Please...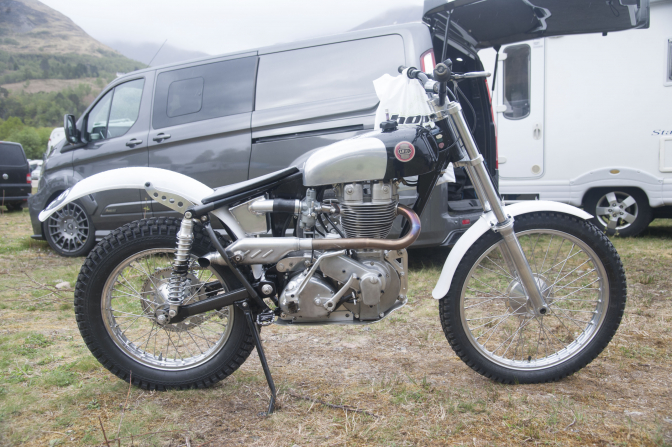 This Ariel I think has a Jackson frame but Bartram Muffler, (silencer).........................
Number Please.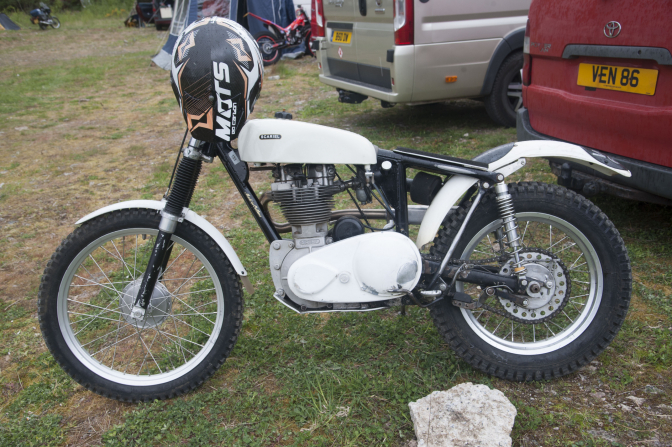 This Ariel has what could be a "Norman White" Mick Grant frame...
Number and information please...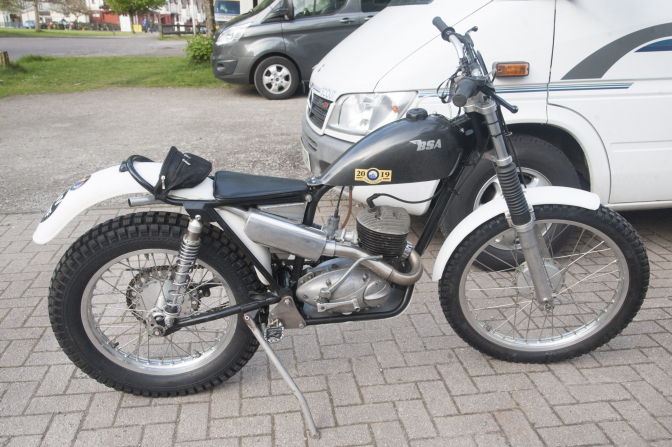 Another Drayton BSA Bantam...Old type cylinder head on this one...
Number please...
Triumph Twin, Enfield Crusader frame REH forks and Rockshocks ...
Number 16...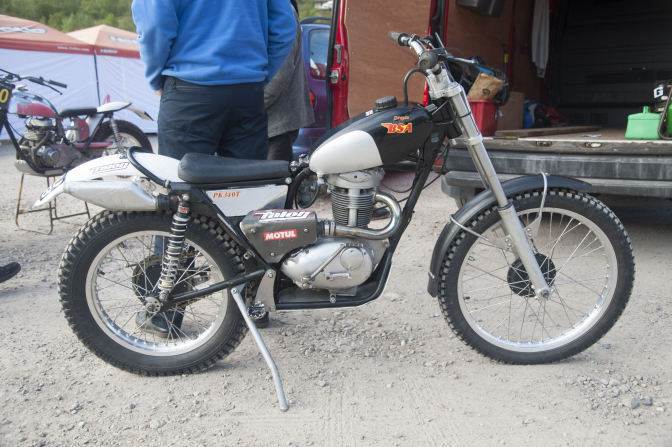 The Dave Wood, now Drayton framed 337 long-stroke Pete Kirby engined BSA...
Dave's bike is now for sale.... Here are the details...
Engine
Built by

Pete Kirby

from NOS bottom end parts it is a long stroke

C15

giving just under

340cc.

It uses a slipper type piston of

69mm

which enables the engine height to remain the same as a standard

C15

with the longer stroke which is

90mm

. The engine has just been rebored with a new piston. It has an alloy barrel and the head is standard

C15

with

22mm

intake, not big valve, Standard road type camshaft. Kickstart and gear shaft are both splined, kickstart is

KDX Kawasaki.

Gearbox has trials ratios and has a higher top gear for road use. The clutch is

Pete

Kirby's

belt drive diaphragm clutch

so oil free and pretty much fit and forget. A new belt has just been fitted, see photo.

ElectrexW

orld

ignition. Carb is

Amal

22mm

Premier light body. Both carb and ignition are virtually new. The engine is smooth and extremely torquey and will pull

3rd

gear up a bank with a no run up standing start. Although roughly the same capacity as a

B40

it has more torque and will pick up revs quicker. If you want it to, it will go from idle onto the back wheel in

3rd

no problem
Drayton frame

so there is little to say there, as their handling, reputation and popularity are well known. Wheels are

Bantam hubs

that were built into new

Excel

tubed rims about

4

years ago with new stainless spokes. Forks are

MP/Ceriani

with

Betor

internals and work very well. New

Betor

shocks. Billet parallel yokes. The tank is a modified

Ossa

tank. Nothing on the frame was altered to fit this so a

Drayton

tank and seat could be fitted, I just preferred the look of the

Ossa

tank.
The long exhaust is fitted with a

Terry Weedy

silencer as it keeps it fairly quiet. There is a shorter exhaust to come with it which has a modified Weedy silencer that fits behind the frame tube, see last picture. There is also another header pipe.
Registered on a

B plate so free tax and no MOT

required
The bike needs nothing now, it is ready to ride, has a great torquey engine with a fine handling chassis and has the right parts for

Scottish

Pre65

if that event is of interest. It cost a lot to put this bike together, particularly the engine which was from virtually all NOS parts. Obviously the bike has been used so there are knocks and scrapes, it's not a garage or facebook queen, it's a trials bike and that's what it was built and used for
Willing to listen to offers. Any questions ask on ebay or
07931 669549
~~~~~~~
All Photos Justyn's Norek..©...
More tomorrow...
06/11/2020...
Royal Enfield converted from a road bike.?.. Very Pre65...
Number 47...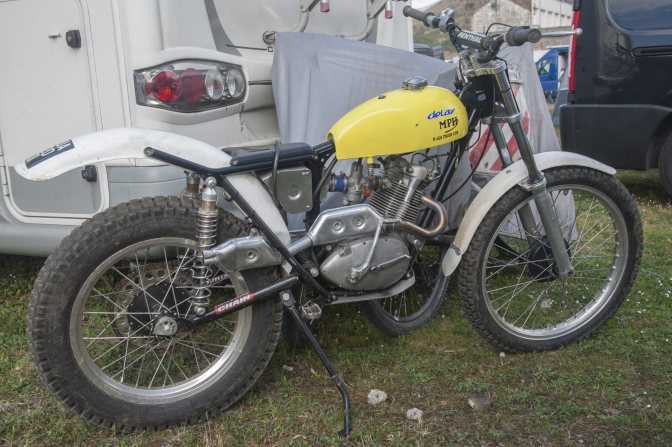 An Armac Triumph Cub...
Fitted with a Max Heys Large finned square alloy barrel...
Number Please...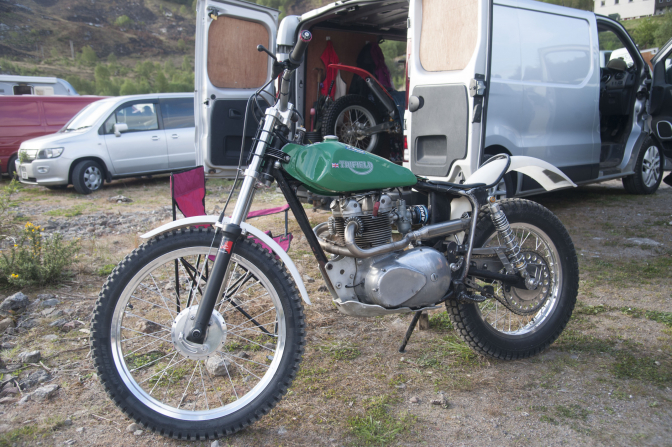 Another nicely built Tri-Field with REH forks..
Number?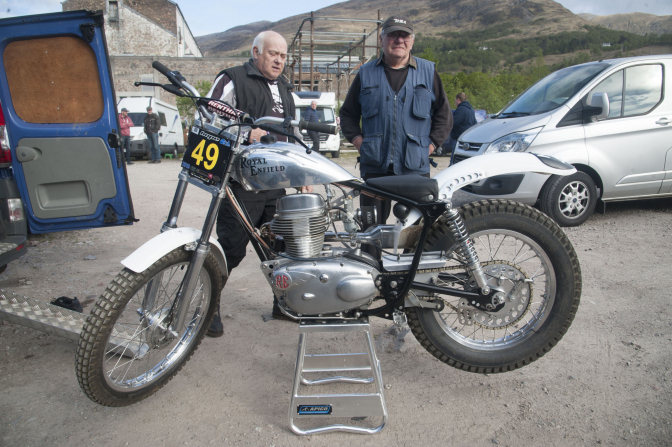 Royal Enfield Crusader Trials fitted with alloy barrel.. Could be of larger capacity?
Number 49...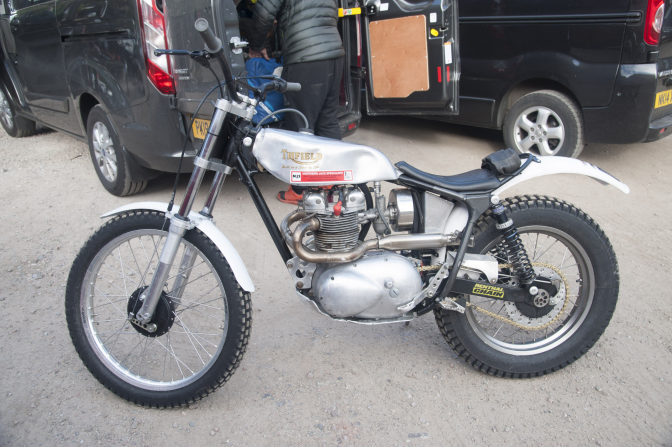 Yes another Tri-Field and another tidy job...Forks a bit of a mystery with slightly leading axle...
Number Please...
OK... one more for today...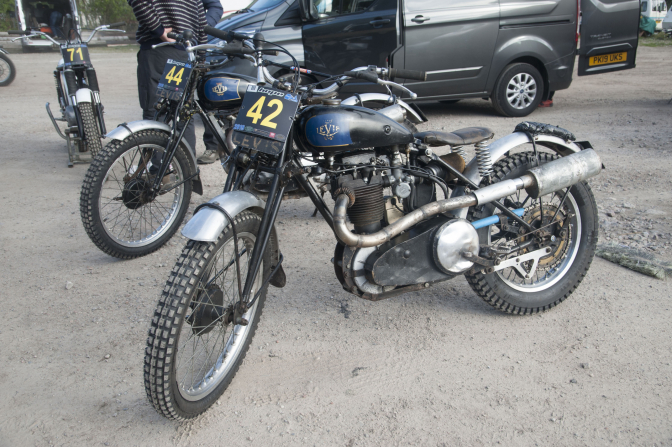 A pair of proper bikes...
Two rigid Levis....
Number 42 and 44...
Dont forget Justyn's Norek ©...
07/11/2020...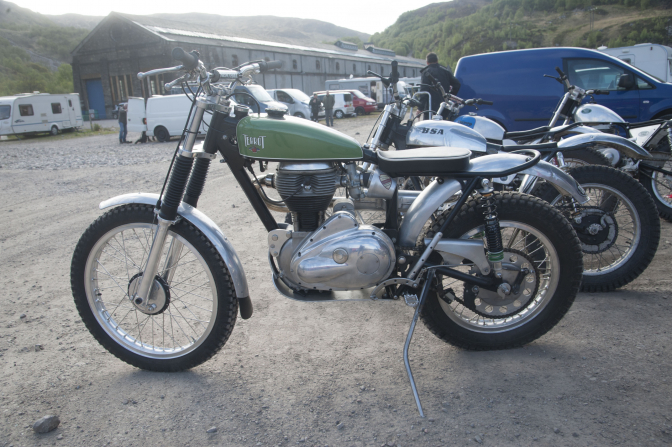 And from the continent... a superbly built TerroT...
If they had built a trials bike in the factory that is what it would have looked like...
Note: oil in the frame on this one too...Number ?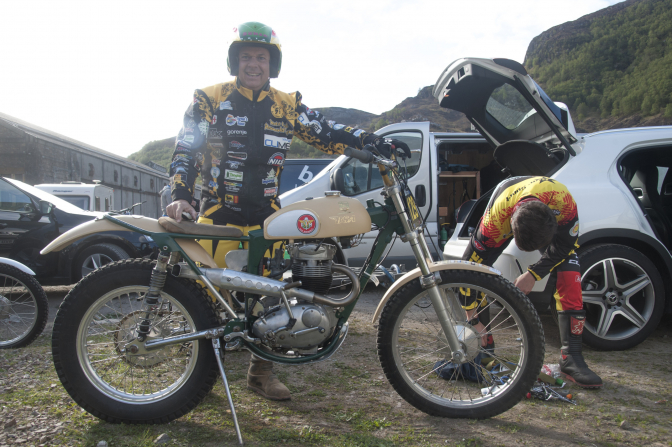 Another entry from Europe...
A Mk2 Faber BSA Otter...
Number 129...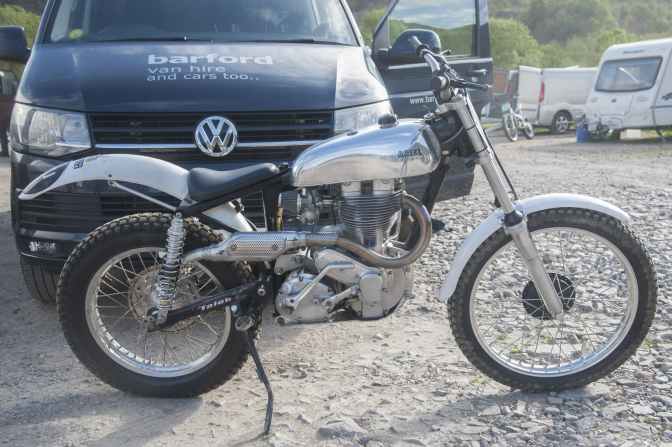 Bartram framed Ariel, this with the old Norton "Trick-Forks"...
Number Please...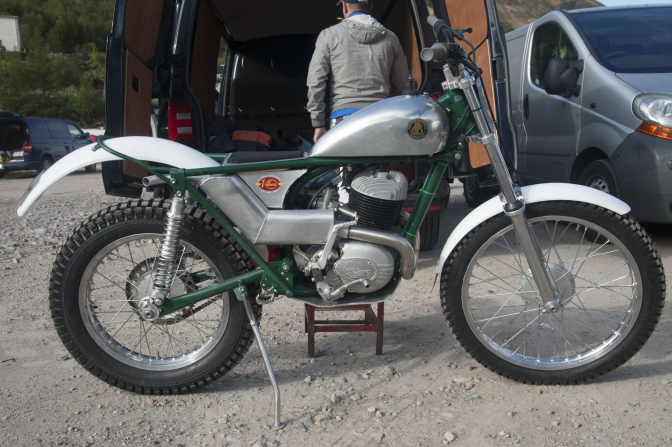 A Very nice Francis Barnett...
Can you remember, a few years back when there was a glut of these frames all pretending to be a MAR James...They were in-fact copies of the Francis Barnett Model 85, that were fitted with that Italian designed AMC 249cc engine that was a disaster from the offset as it was designed down to a price, and not to perform, or in many cases, even run...
How times change...
Number Please...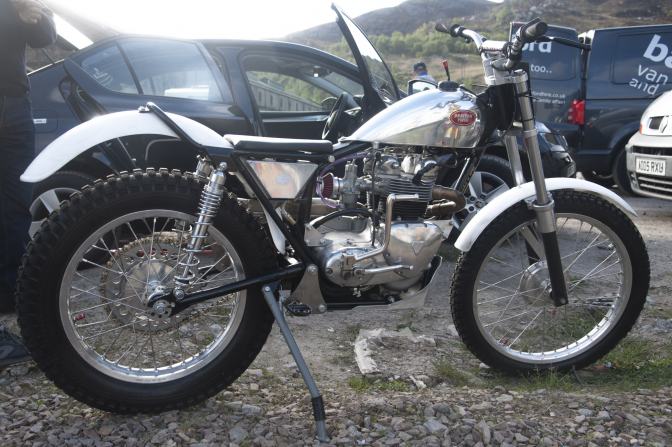 "Drayton Twins the Ones that Wins" is the saying...
Triumph Twins have won in the past you know..
Nice bike Number?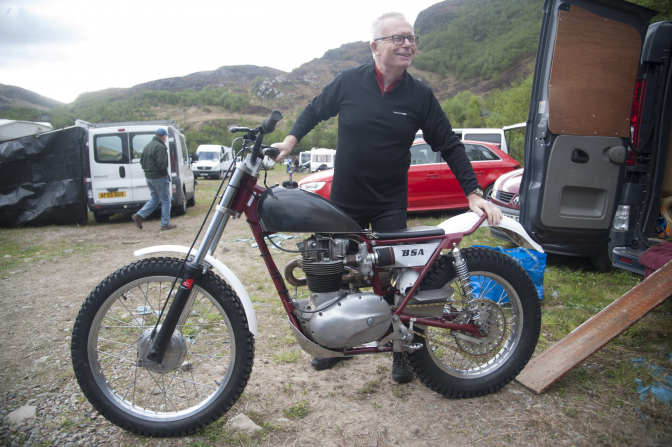 The man now responsible for Drayton with his C15...
Mark Lucas.....
If you want Drayton Parts his number is 07828 455383.
Photos all Justyn's Norek©...
08/11/2020...*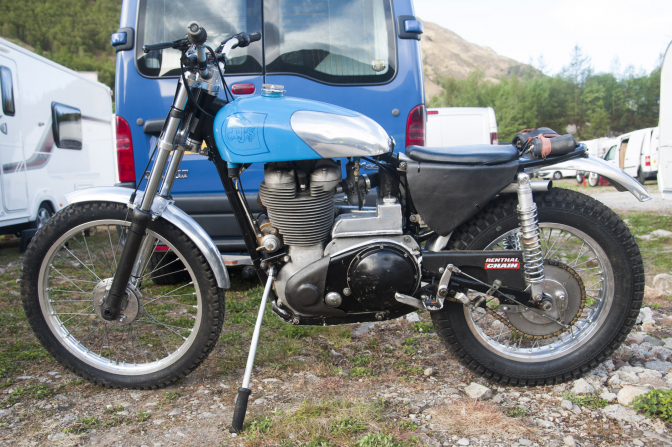 An AJS looking pretty standard until you take a closer look..
Number?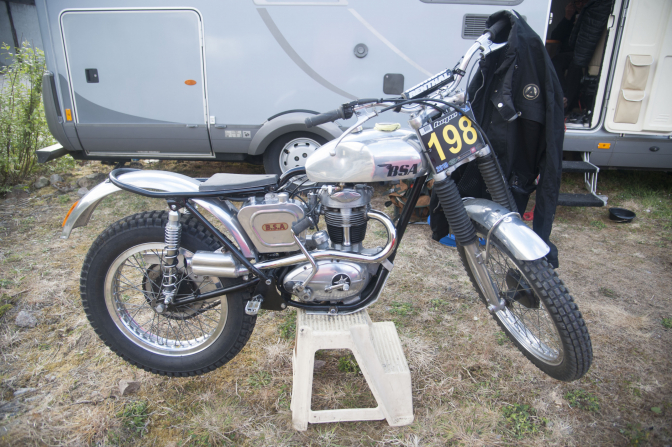 Nice Cotswold type BSA C15T even sporting a Distributor for show...
Number 198...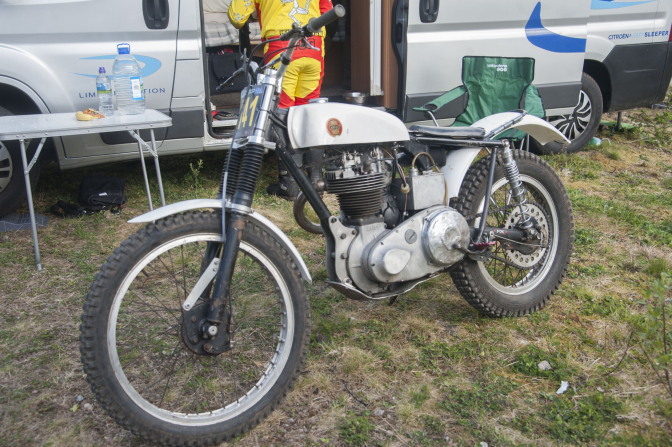 I think an NH Ariel engined bike and looking more like a bike that would fit the old image category, that most would not comply with...
Number 141?
A little R.A.P. BSA Bantam and a build a bit different,
Derby-Road-and-Race frame Note: the Villiers carb fitted...
Built by Dave Bartrum ridden by Tom...
Number ?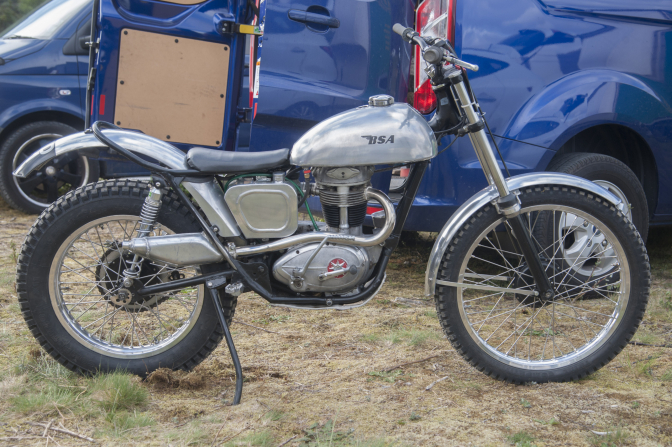 Another Swan-necked BSA C15T with an interesting swinging arm footrest arrangement, D type engine, and what could be Kawasaki forks?
Number?
Another five then all photos Justyn's Norek©
09/11/2020...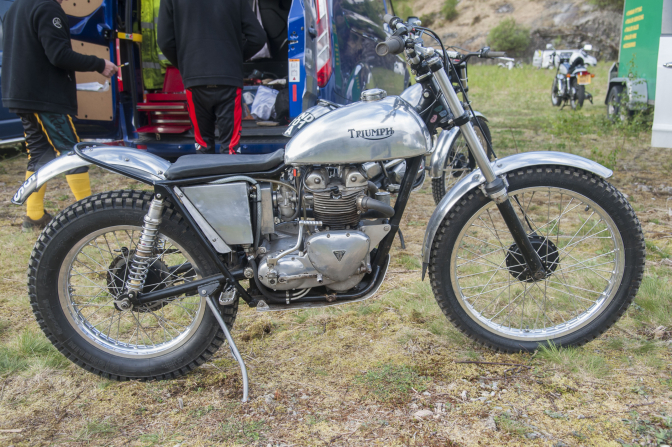 A Triumph twin, using the swan-necked frame,
and look at the foot peg position..
Number...?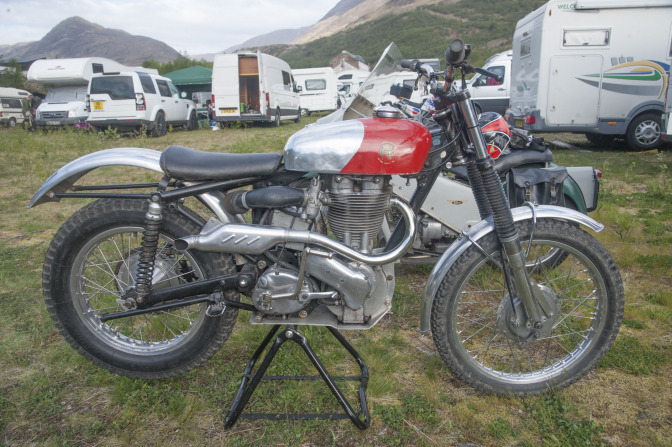 An Ariel HT with an oil tank, but sporting Norton trick-forks...
Number ?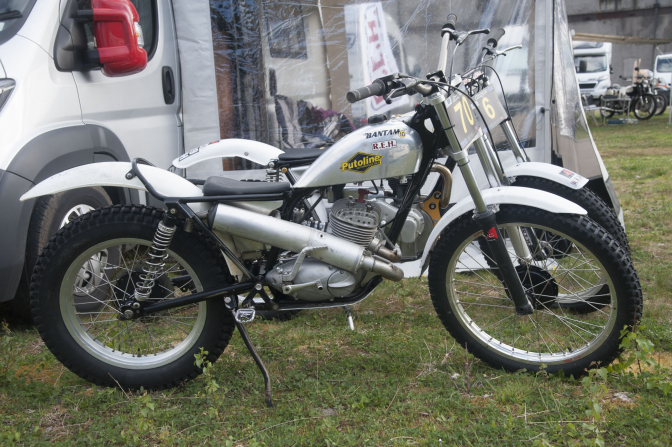 R.A.P. Bantam fitted with the new REH forks...
Number 70...
John Dickinson...
Bantam number 70 is as built and ridden by former TT lap record holder (on a 750 Kawasaki two-stroke triple) and seven time TT winner Mick Grant - . Mick was classified as the oldest finisher in the 2019 Scottish Pre-65 (aged 75 but don't tell anyone!)...
~Oo> Thank's JD...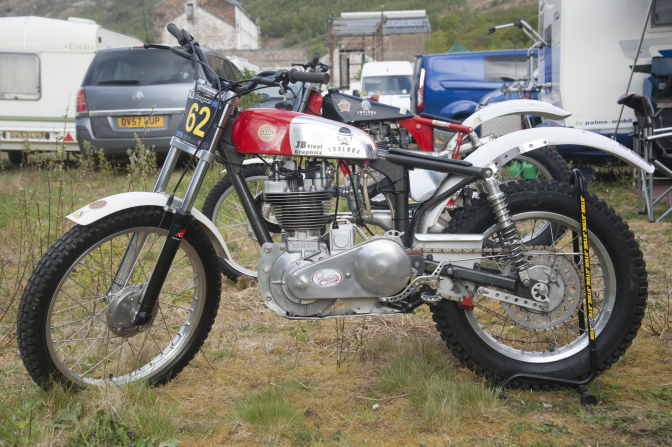 The Jack Butterworth Ariel, built by his grandad...
Number 62
Photos the Noreks ©
10/11/2020...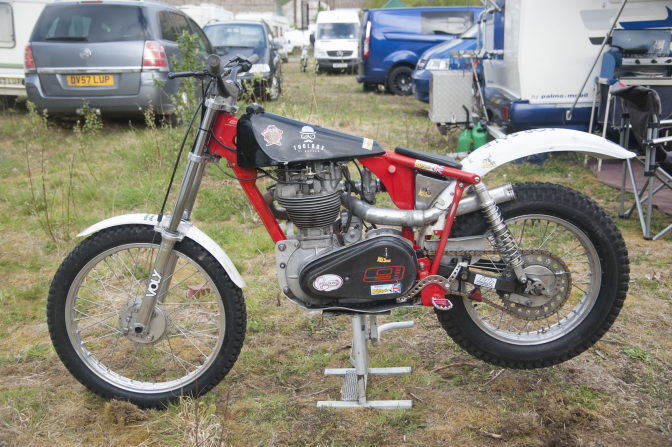 The Ex Neil Gaunt Ariel, at this time 2019 still owned by Ben Butterworth...
But now sold to Ben Wilmore...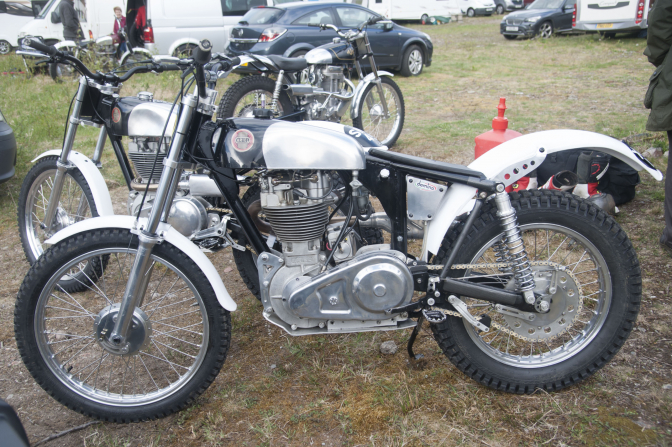 Another brace of Ariel's built in the same camp by the look,
both with the REH forks fitted...
Numbers please..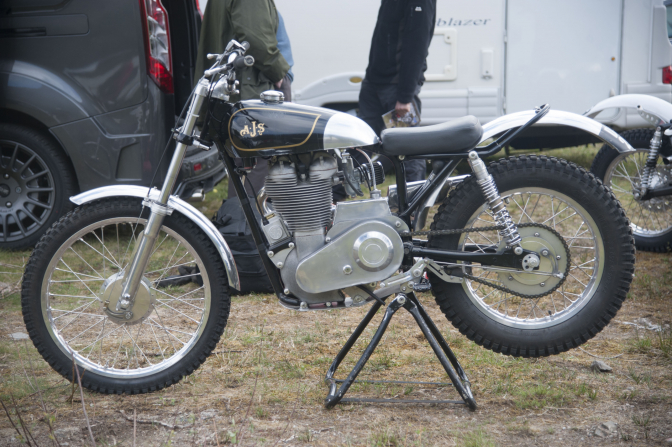 AJS again, with a lot of work put into the build, but looks like the correct frame and swinging arm? Or good replica's...
Number?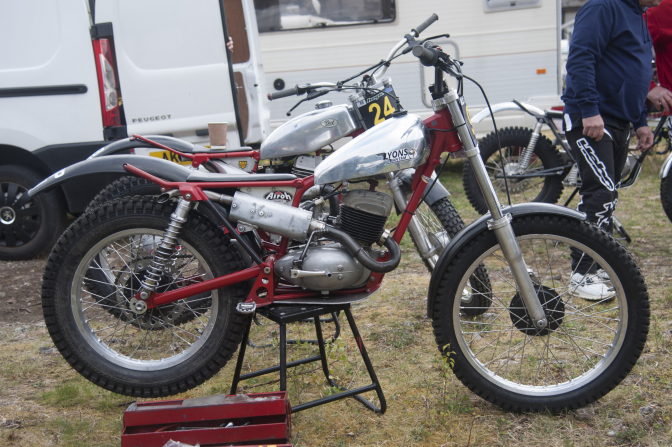 BSA Bantam... One off frame perhaps, I will dig deeper...
Number..............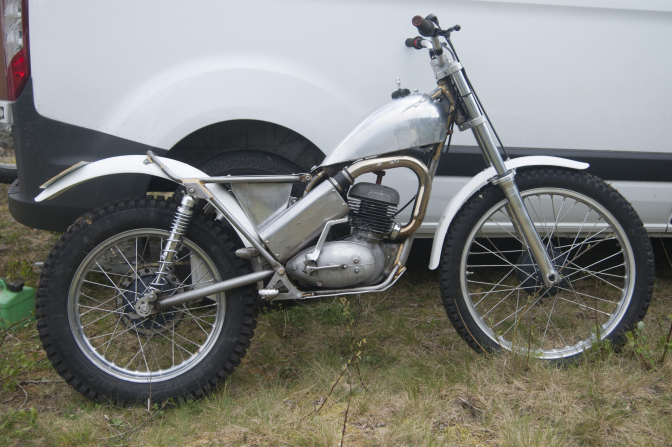 R.A.P. BSA Bantam...
That does not want to cover up Paul's exceptional bronze welding he does at
Derby Road And Race...
Number..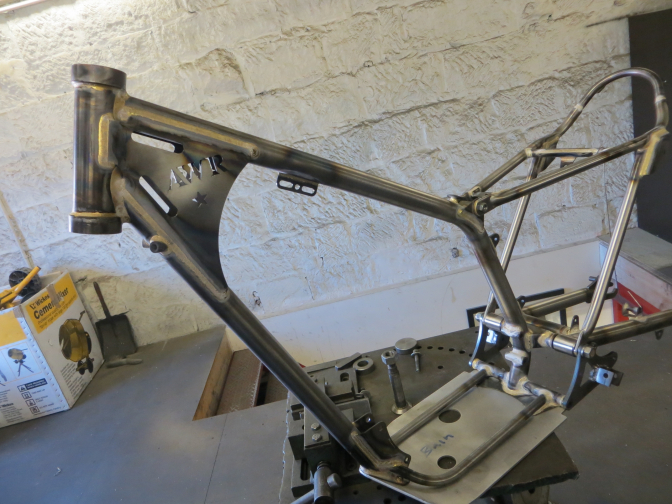 Derby Road and Race frame... this one for Alan Whitton Racing...
~~~~~~~
Another five photo's by the Justyn's Norek...©
11/11/2020...*****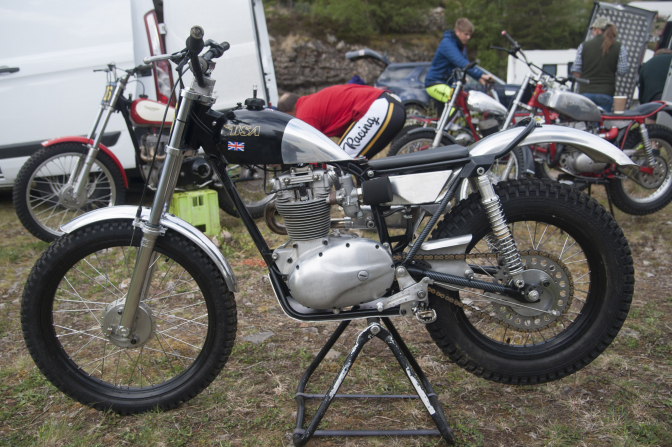 A Drayton framed BSA, REH forks...
Number?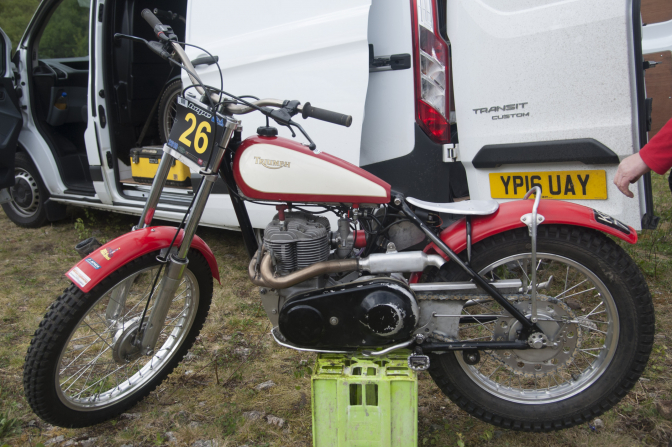 Nicely built rigid Triumph... With side valve "cooking" engine...
Number 26...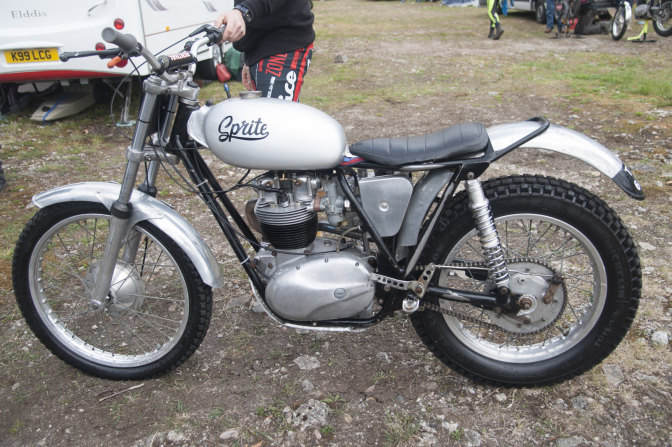 A 1966 Sprite framed BSA ..."Pitsville Special"?
Note: the hand brake is firmly on...
Number?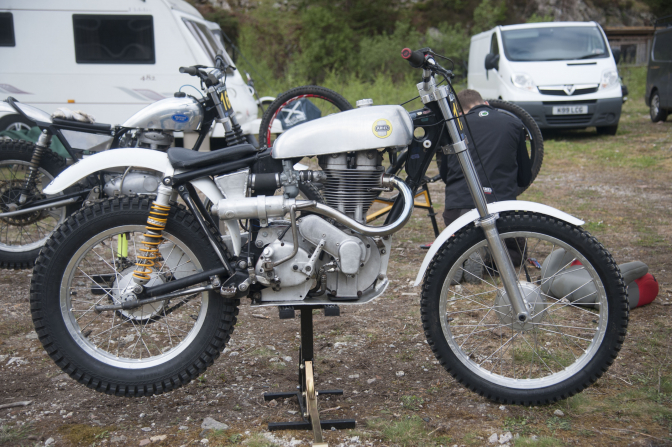 Ariel... White or Jackson frame, REH forks, and Oilins...
all controls on the right...
Number?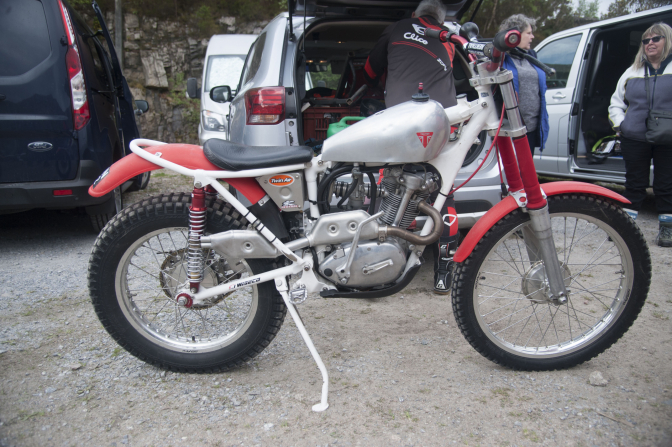 Triumph Cub with heavily reinforced steering head and carrying oil in the Miller type bolt on tank tube...
Number?
There you go, I will have to run back through the files and find some more...
All photos on this page by the Justyn's Norek ©
More Later...
Updat2023...09...