The Trifield, Trials page...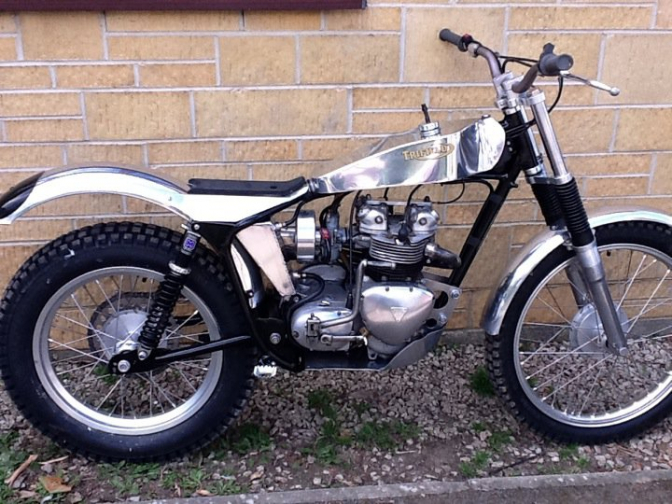 The Steve Saunders "Trifield"...
After last years Scottish two-day trial Justyn Norek Snr sent me photos that he, and Justyn Jnr had taken at the trial…
There were a series of photos of a very nicely built Triumph engined Royal Enfield Crusader framed bike, that Justyn Jnr had cadged a ride on..
I thought perhaps we should do a page one this what now seems like a poplar breed of trials bike, the 'Trifield'…This is after Steve Saunders won the Scottish trial on his lightweight version a few years ago…
I did enjoy building the Crusader that we built, and can see why the frame has became popular.
One thing that is not too good is the swinging arm on these Crusader frames, and unless you can find one from a sports model, you need to fabricate your own..
A lot seem to think it necessary to alter the steering head angle to make it steeper. But is this really necessary, when most fit longer rear shocks for better ground clearance, and this alters the steering head angle and makes it steeper.
So we will see where this page goes, as there is a lot of these builds now out there, and perhaps you, the owners of these bikes, would like to send me photos and build notes on your bikes, and I can add them to the page.
I am sure this page could turn into another of those pages that create information to those of you wishing to put a similar machine together. Lets see how it grows..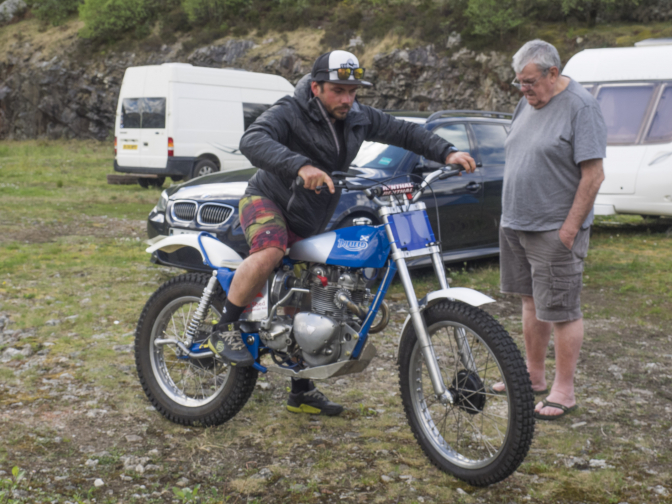 Justyn Norek Jnr, tries out the Scottish built "Trifield"...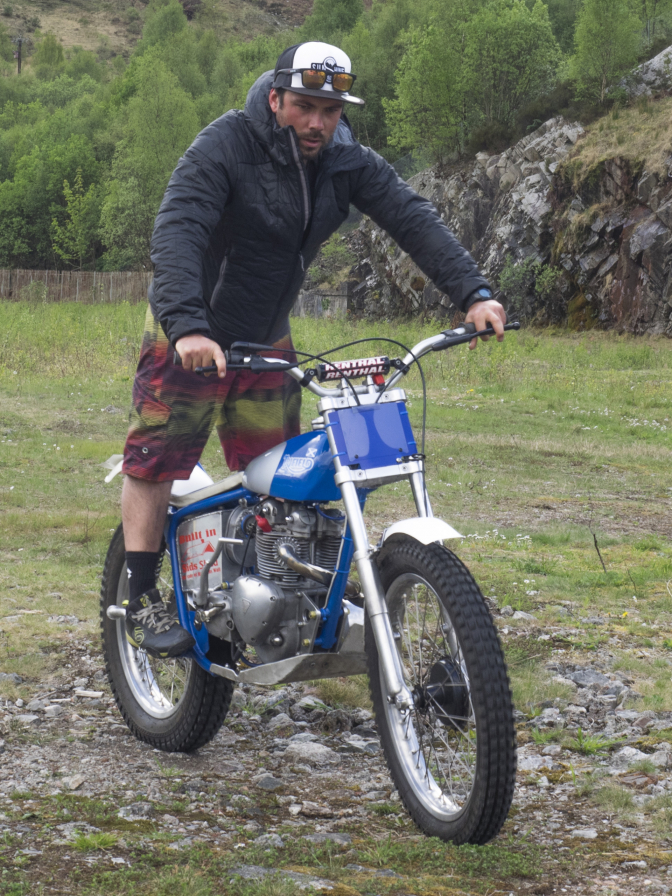 I think he likes the bike...But he likes all Classic trials bikes...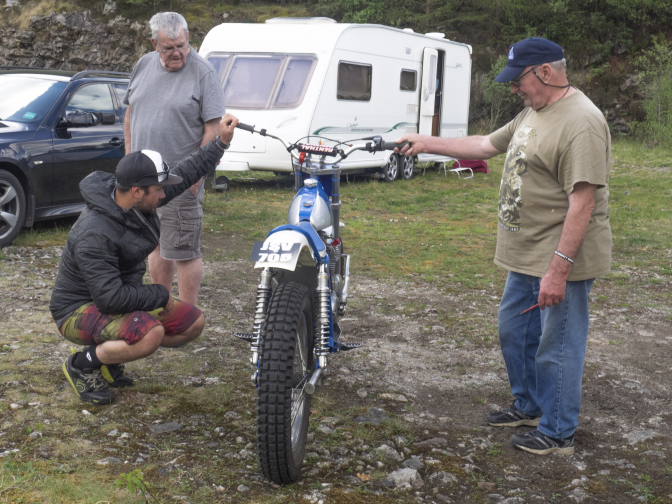 The proud owner-builder shows the bike to Justyn...
They do make a nice trials iron, don't they...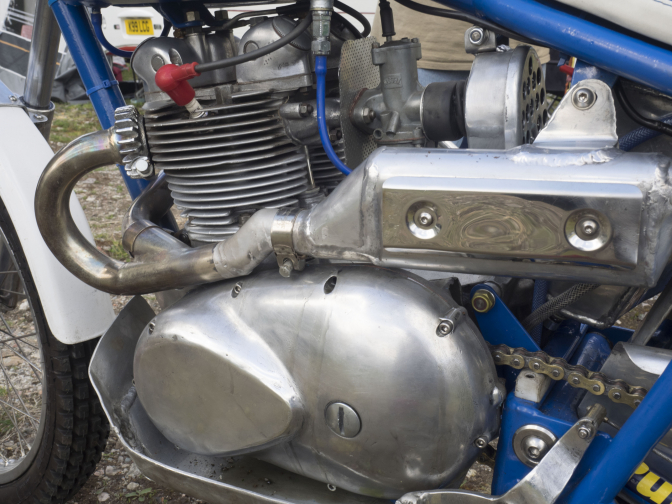 Looks like this bike wears one of the new alloy barrels that have become available.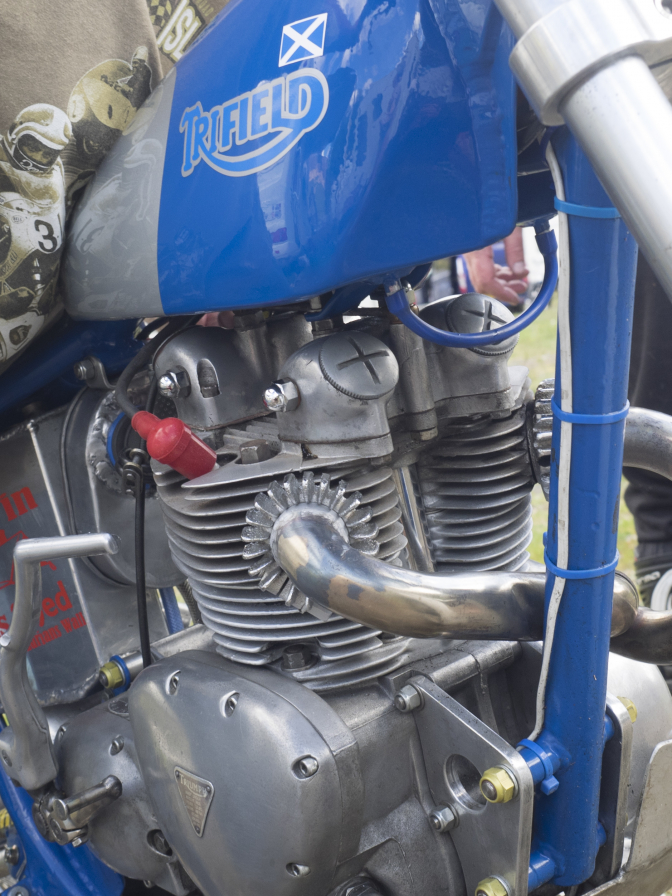 Yes that barrel looks very new...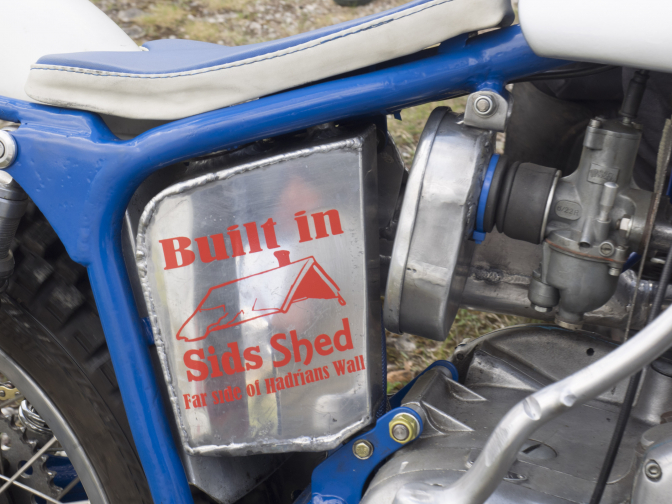 Well built Sid...And mates, good bike build there ...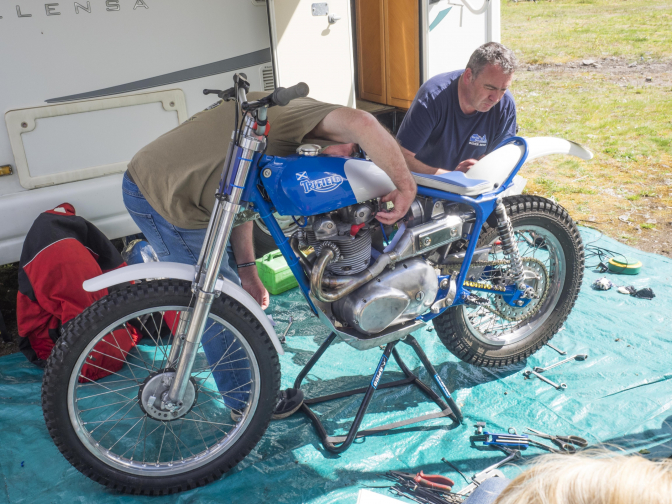 There is always something to adjust, and fiddle with before a trial...
Thank you for the Photos Justyn's Norek...©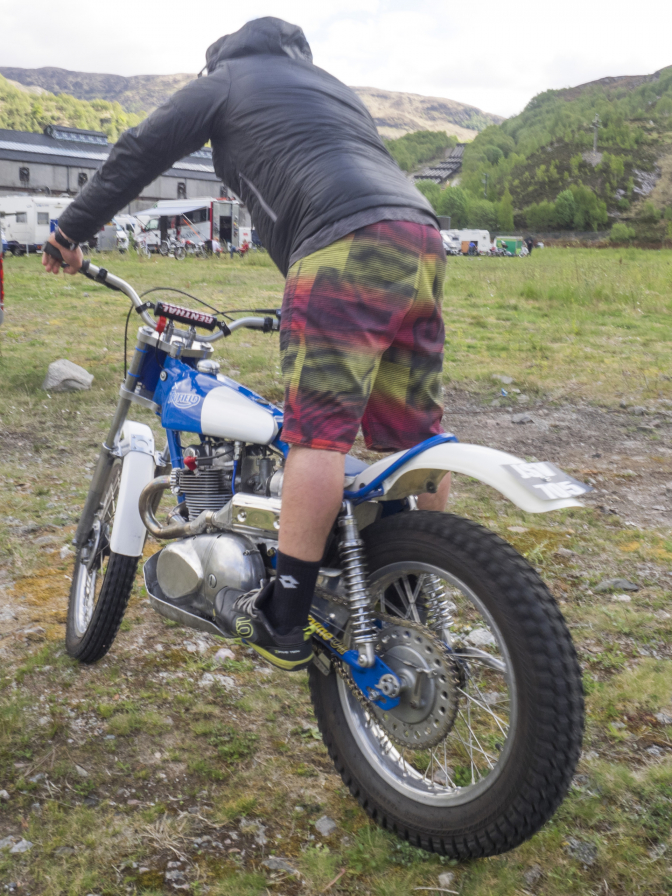 Bring the bike back Justyn, they need it for the event...
OK, this is a start as always, I have a lot more photos of Trifield's in my albums from over the years, so I will add these as I find them...
more later as always...
~~~~~~~
Mark Stokes Trifield...
Here is Mark Stokes "Trifield"
I seem to remember built in 2014 after he had seen the win of the Scottish trial by Steve Saunders, he wanted a bike with the same sort of look and the Growwwwwl…
It was probably that noise that persuaded him to go that route…
Mark again used the Crusader frame, and after looking closely at Steve's bike wanted the engine in the same sort of position, this meant lowering the swinging arm holes slightly, to get a good position and chain run… Nothing is simple is it to get a job right. The front end was taken care of by fitting a pair of billet yokes, and Betor forks, with later short leading axle Royal Enfield fork sliders.
The now standard fitments, of a pair of Alan Whitton's Triumph Cub replica alloy brake hubs, were laced to some trendy modern black rims. And used on both ends of the 52 1/2 inch wheelbase bike. The engine, Mark plumped for was a 490 unit, unlike many that use a 400cc lump. This had the low 7-1 Triumph pistons fitted from the Tiger 100. Unlike a lot, the clutch unit was a standard Triumph item, and a road going engine sprocket. Sitting in the place of the Lucas alternator was one of the Electrex World ignition units…
The most work on the engine was with the cylinder head, where Mark eventually came to fit smaller inlet valves, taken from a Triumph "Twenty-One" 350… This, and a 25mm Concentric carb, got a clean lift from the throttle…The use of a Honda wrap-around oil-cooler, fitted behind the fork yokes, helped boost engine oil capacity from the small alloy tank fitted, it is a job to get this right, as the twins always did run hot, and I have known the oil to boil. Some use the gearbox to carry engine oil, and a paper canister filter to make sure the engine oil is clean, but hot oil is still a problem, but in some cases if it is a wet trial like you nearly always get in the Isle of Man, and Scotland, this constant water cooling should help the situation. And of course, these are the two trials with the longest road mileage (or track)...
The bike as you can see, has a Brown and Gold colour scheme, and this I like, and have you noticed how well it blends into the natural background especially on a wet muddy day.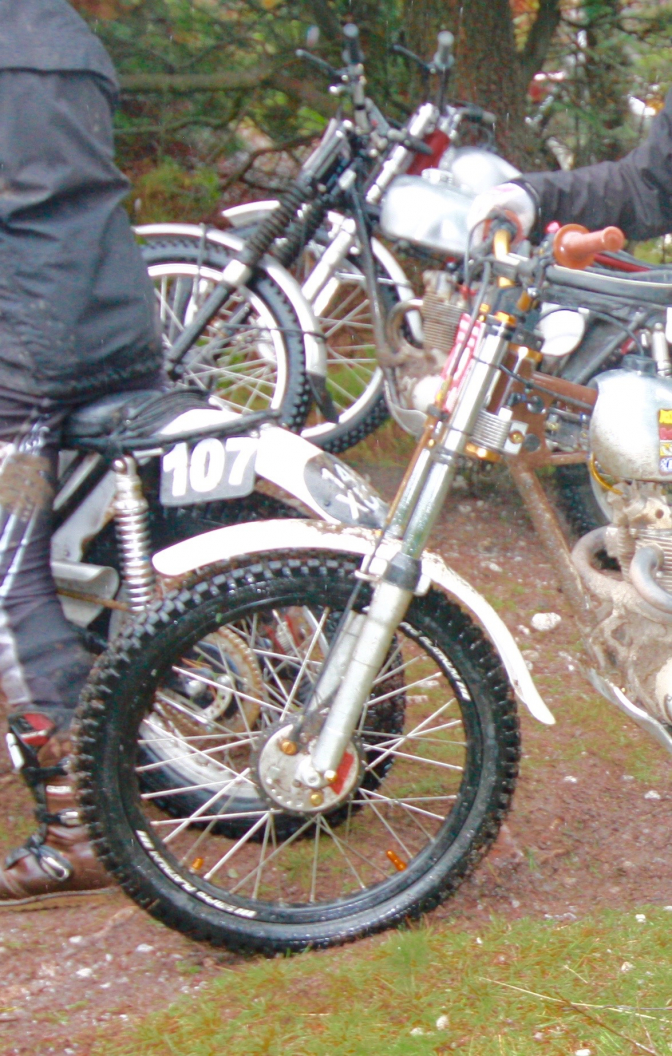 Betor Forks from a Ossa Gripper, and Magical springs, India Enfield sliders...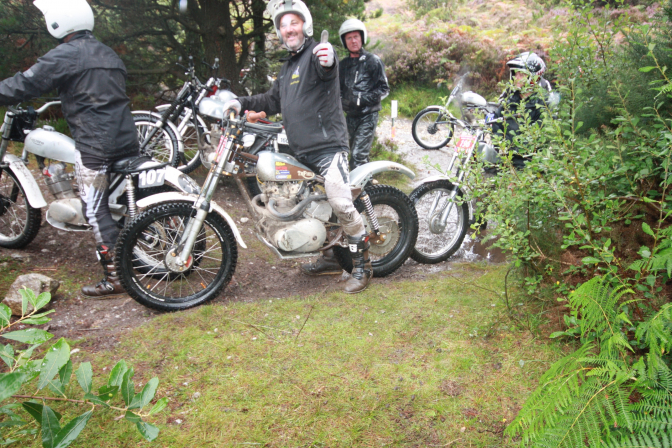 Thanks Mark...
~~~~~~~
Now is the time to send me your Trifield photos, and build notes, then we can add to the page...
More later...
Updat2021...