BMCA 2018-19.
With New reporter Luke Stratton.
We must say thank you to Al Ussher who has now handed over the report mantle to Luke, for all the work he has put in over the last past years. And don't forget to support his Air Ambulance trial in October, as turning up for that would be the best way of saying thank you.
Also Good luck to you Luke with your riding and reports.
So here is the First Report from Luke this year.
~~~~~~~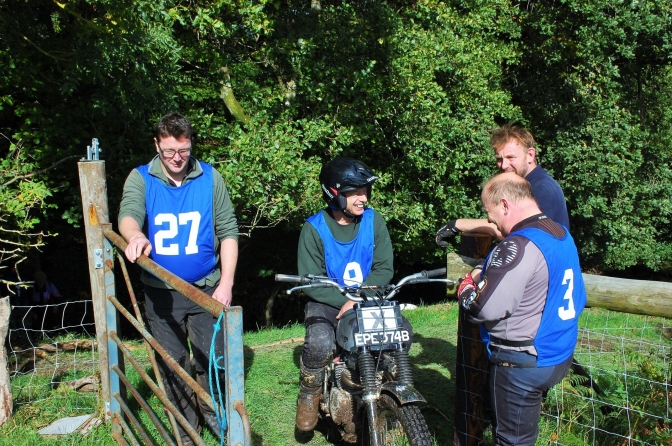 Our reporter in deep thought, while Pete Reed spins a yarn.
~~~~~~~
Stunning surroundings and views of Long Mynd greeted the competitors and observers as they arrived at the BMCA trial at Wommerton, 23rd September 2018 organised by Nigel Houlston and John Davies. Despite the forecast, the long reaching views from the paddock were clear, unobstructed, and made you feel honoured to be there larking about on a motorbike!
Podium places in the clubman class went to Ian Brittain (6points), Tony Hill (12 points) and Steve Haines (21 points) in descending order.
Un-hampered by the carburettor problems that afflicted him last week, Brittain strode ahead picking up points on only two sections after replacing the troublesome Monobloc with a concentric model.
Hill put in a solid performance with only one section proving a stumbling block. Haines rode steadily and brought home a well-deserved third place.
Steve Leyshon must take the medal for most determined rider of the week: his kick start broke, leaving him to attempt the entire trial with the engine running – it wasn't to be, unfortunately retirement was forced upon him.
With competition close in the intermediate class, twenty-three points spread over the class, Joe Owen (18 points), Mark Strong (20 points) and Kevin Walker (23 points) took the lead. Good control Owen proved his merit, cleaning section two on laps three and four where his contemporaries fell. Snapping at his heels, Strong narrowly missed out on first place, the only rider in the class to clean section nine every lap. Steady riding by Walker resulted in a creditable third place given he was suffering from a dragging clutch.
Close competition in the expert class was evident in the six point spread between first and third. Nathan Jones (5 points), Peter Edwards (5 points) and Kevin Taylor (11 points).
Jones took the win on most cleans, other than a five on section three he rode the trial clean. The five that Jones picked up, nearly cost him more than that: he was lucky that a tree branch to the face only took his glasses away leaving him with a black eye and nothing more.
Edwards followed closely with a great ride, but picked up his marks over more sections. The bark of Taylor's C15 echoed through the woodland as he skilfully piloted it to a convincing third place, eight points ahead of the next competitor.
A special mention to fourth place, Paul Howells: showing that the precise handling rigid Bantam is a capable machine in the right hands.
A mix of sections within the stream bed and others on the tall, steep banks made up the course. All well thought out and testing enough to take marks without punishing the riders.
Sections three to seven making up the stream work, gave less challenge across the board, yet were the favourite of many riders. Most marks were taken on the banks where the question of grip came in to play, the sections were still enjoyable and well received by riders.
'Grip' was the word heard in conversation all around the paddock, or more specifically how much lack of it there would be – the venue has a reputation!
The riders needn't have worried too much, as the ground conditions for most sections were fairly grippy with the odd exception. Where the grip deteriorated, it did so quickly, section two for example was a completely different section by lap two.
An unfortunate accident saw Graham Archer take a tumble between sections, forcing him and son Peter to retire. Reports are that Graham is well, which will be a huge relief to his fellow riders – we look forward to seeing him back in action soon.
Making a welcome repeat appearance this week, Harry Brittain observed on section three with Grandad Pat to keep him company. A very fine job they did too, enthusiastic and focussed, not a dab went unnoticed! It is a pleasure to see such a nice young man take an interest in trials and we hope to see him riding with us soon under tutelage of his able Dad!
Pulling all the stops out to close the trial at section ten BMCA stalwart, Pete Reed, raced through on the big Triumph to a round of applause from fellow riders. When told "its not a scramble Pete!" his response was "Well, when there's so many eyes on yer, you 'ave ter pull summit out the bag!"
~~~~~~~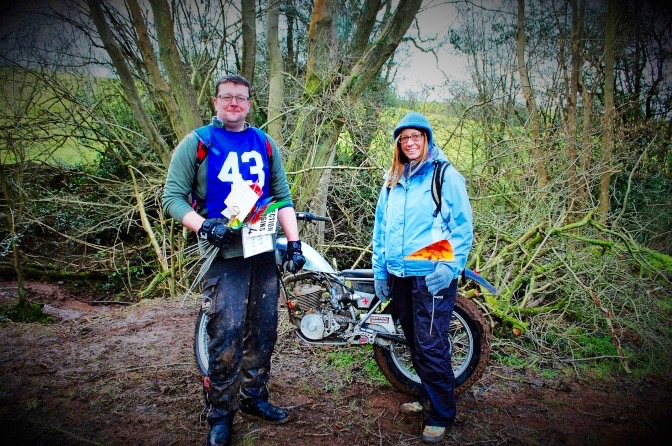 Photo Courtesy Hammertight,
Luke Stratton and Natalie Forman Pulling the section markers, so important to get involved this much to keep the scene running.
Thanks Guys.
~~~~~~~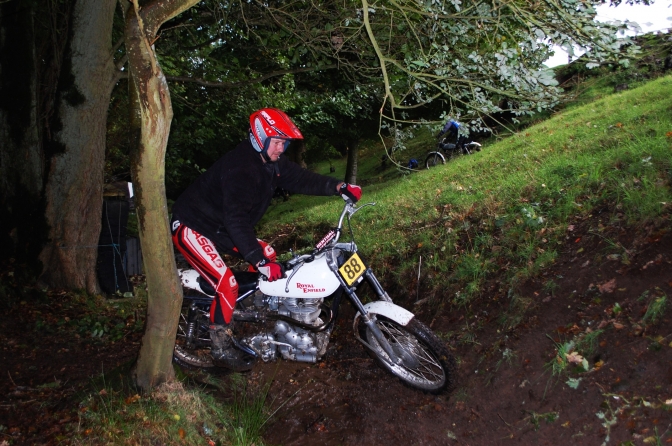 Ian Brittain Now with a Concentric carburettor has a better day without the spluttering and loss of power, I still blame the modern pump fuel for most carb problems.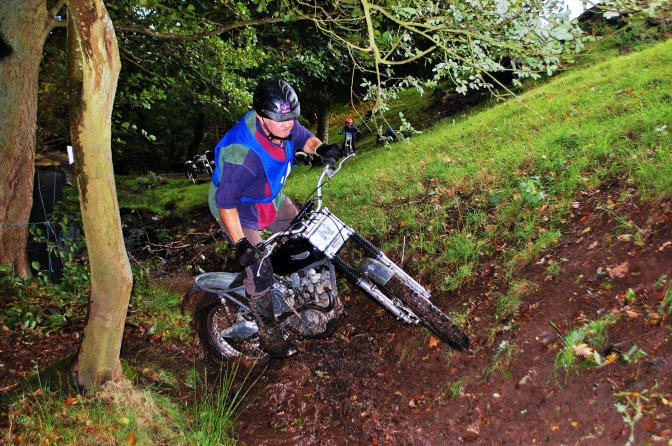 Kevin Walker on the Triumph Cub TR20 engine, but is that the Drayton frame that Kevin uses on one of his bikes.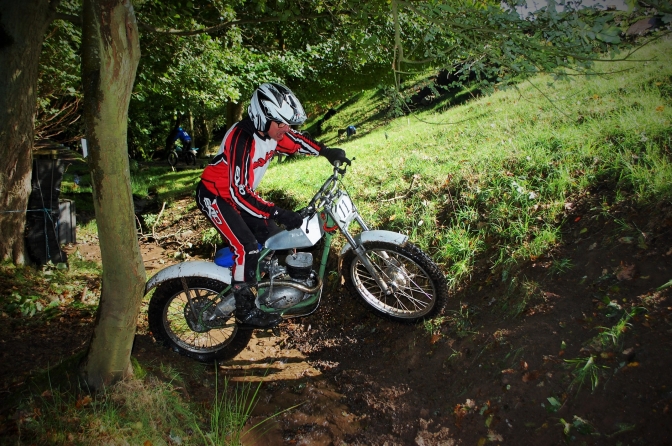 The Rigid BSA Bantam with a later engine than would have been fitted into the original D1 competition model, but still more in the keeping than a lot of the current crop of so called works replica D14 1967 BSA Bantams.Paul Howells proving what a good little bike it is.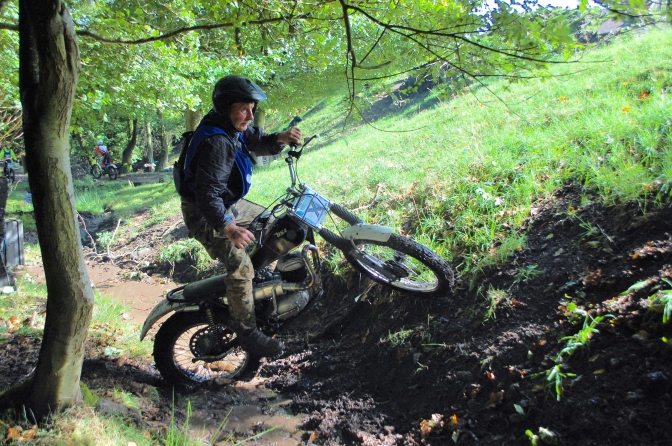 Mick Parkes BSA Bantam with the snake charming exhaust system enjoying his ride at the Wommerton trial..
Photos Courtesy "Hammertight".
More reports and Photos Next week from Dave Woods Trial.
30/09/2018.
Milwich. BMCA Trial.
Today, the BMCA regulars
risked nose bleeds and travel sickness by taking a trip into unfamiliar territory north of Birmingham for the fourth round in the current series
,
held at Manor Farm, Milwich, Staffs.
This was the third BMCA trial to be held at Milwich and riders were treated to the very rare sight of dry and dusty banks as opposed to the more common serving of mud, mud and more mud.
The weather forecast all week promised dry and sunny right through until late Sunday, so for section plotting the gamble was taken to make maximum use of the high banks that feature at Milwich and put in as many cambered climbs and turns as possible in an attempt to disorientate riders and snatch a few marks. It worked on occasion, more of that later…
In the clubman class the win was a closely contested affair between regular
Steve
Leyshon
and newcomer to a BMCA event
Simon Wilmore
on his C15, Simon edging it with 5 marks lost to Steve's 6.
Section 6 gave both riders the most trouble with Simon losing 3 and Steve 4 of their respective totals. It could though, have been decided here on lap 1 in Steve's favour when the C15 plonked a bit too low and seemed to stop. In that moment's silence you could almost hear the carb sucking on its terminal breath (as well as a faint sob from the rider, fearing the inevitable 5) b
ut
the motor somehow burst back into life and carried its very relieved rider to the ends cards. Lucky bugger - or just supremely confident throttle control after the
Mick Andrews
masterclass…
In third place 4 marks further back was Steve Haines with another of those what might have been results as a 5 on section 9 on the last lap put paid to what would have been a class win on furthest clean
In the Inters, there was another extremely close finish with
Joe Owen
just edging
Kevin Walker
for the win with 26 lost to 27.
These two posted very similar totals on most sections and put up great rides on the difficult cambered climb of section 10 where inters rode the expert route. Kevin remained clean here on all four visits but after cleaning effortlessly on lap 1, Joe had a bit of a groin meets fuel tank rodeo moment at the top of the climb and did well to salvage a 3 on a bouncing Bantam before reverting to nice cleans on his remaining visits. In fact, these two had amongst the best rides overall on section 10 with only three other expert riders staying feet up and only another two losing the same 3 mark total of Joe.
Great performances, which makes you wonder what they were playing at on section 6, a section I thought might nick the odd dab here and there around the back of the tree but took big marks from both of them. You never can tell. You also never can tell when someone is going to have a wretched days trialing….
In another episode of the 'what might have been' series on how to screw up your chances of winning, someone's afternoon was going from bad to worse.
Third place
Paul Cook's
sudden loss of navigational ability saw him go the wrong way, not once, but twice on Sue Jones' section 4 sticking 10 marks on his score.
That was the win gone there and then but prior to that things had already escalated to a whole new level of clowning on section 10, just to make absolutely sure he chucked away the win as far as possible… Arriving at section 10 on lap 1 with only 1 mark lost and with confidence soaring, a demonstration was thought to be in order on how to pivot turn up the first climb (been reading Bernie's book again…) Dropping down the bank onto the ledge, things were in control as the bike was turned into and up the climb. The front wheel rose in a perfect arc pawing the air gently as the bike came around to point up the bank –
but
kept coming and kept arcing as the tail started wagging the dog whose 'paws' got considerably larger as by now the arc had become a perfect 180 pivot turn
,

the front wheel no longer gracefully pawing the air but reaching for heaven
as the DOT launched itself back the way it came and mounted the
nearest tree.
Yours truly was observing and my enjoyment of a rather delicious chocolate hobnob biscuit was ruined as it was spat out in the guffawing that followed.
Lap 2 and this time I made sure I wasn't eating a biscuit. How wise a decision as the whole sorry saga of lap 1 was repeated. I thought it was groundhog day…
That'll be another 10 marks then. Some wise words from the observer had the ship righted for the
remaining laps with cleans recorded on each with ease – my invoice is in the post.
Cooky was riding a
D.O.T – "Dives On Trees"…
In the experts there were no such dramas
for
Steve Hay
who had an excellent ride on some tricky sections to remain
feet up all day.
Again, the fight for runner up was a close fought affair with
Kevin Taylor
on 5 just edging it from
Nathan Jones
on 6 whose loss of 2 on section 7 on the final lap, while Kevin cleaned
section
10 on his final visit
,
ultimately decided those positions.
And so another trial drew to a close, the last minute forecast of rain having held off thankfully. Hopefully everyone enjoyed the trial and the winner's marks in each class was about where they should be. Thanks to all who came and rode and to those who observed
Dave Wood Report.
~Oo> Thanks Dave first class as ever,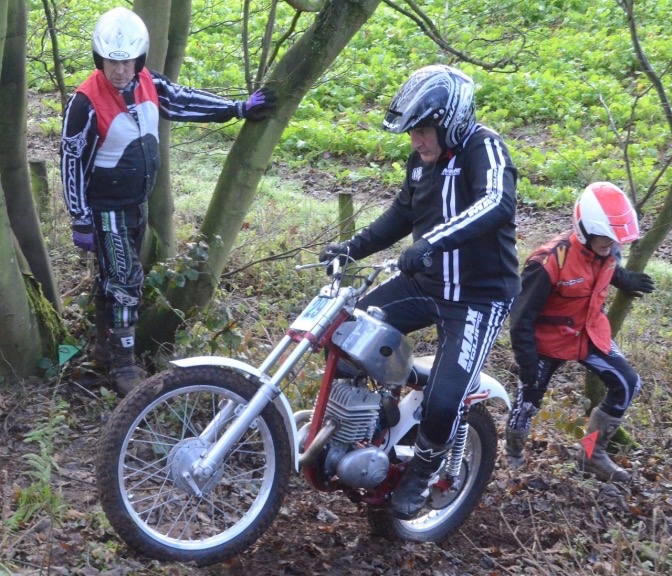 Paul Cook D.O.T. was the Star Attraction on the day,
Just a Pity there was not a Camera in action, or better still a Video.
If you go to any BMCA trials and take a few shot with your phone or camera please send them to me and I will publish them. you may become a star, and even find a New career.
~~~~~~~
The BMCA trial at Hunnington 07th October 2018,
~~~~~~
Set within grounds adjoining the clay pigeon shoot and local model aircraft club, commenced with a poignant minute's silence to mark the passing of long-standing competitor, mentor, bike builder and friend: Jim Pickering, who sadly lost his battle with cancer.
Organised and set-out by Steve Leyshon, ten sections covered multiple disciplines, with sections in the stream as well as making great use of the surrounding banks. A good mix of terrain and well-thought-out setting out, made for an enjoyable yet challenging trial.
Experts class top spots went to Steve Hay, Kev Taylor and Mick Parkes, a very tight battle with all three on 4 points or less.
Continuing his success on the ex-works powered Bantam, Hay fought off Taylor to win by one point to his two. Not far behind them, Parkes put in a solid performance and brought home third place on four points.
A good entry in the intermediates class gave close competition for places throughout the field. Mark Lucas proved the best rider, steady and confident, he was four points clear of the competition. Jones and Partridge tied on points and cleans, sharing second place. By a strange quirk of fate, they clocked-up the same points as each other on the same sections! Colclough, tired and weary from a two day classic trial in Scotland the previous weekend, rode through the pain with determination to a well creditable third place.
Clubman class is proving to be wide open this season, testament to the quality of the riders. John Cope rode like a champ to secure his first win in the class – great stuff considering that he has only recently recovered from a painful knee problem which required surgery. Second place went to Colin Billington, just two marks adrift from top spot.
Congratulations must be in order for Bob Davies, who after a long break from riding due to injury, scored only three marks more than the class winner showing he's still got it!
Frustration and persistence – every trials rider has their story of sticking with it when your bike is playing up. Once you've run your newly built bike through a two day trial, a road trial or two as well as a couple of closed trials, you'd probably expect the faults to be ironed-out.
So too did Ray Barrat, but unfortunately his well-presented Mick Mills framed B25 has picked up a bad habit of chewing on his drive chain. Frustrated, Barrat had to pull out of this week's trial, when the chain kept dismounting.
Despite his best efforts and those of helpful spectators, it was not to be.
Hopefully he'll have it sorted out before long. Brittain too, suffered mechanical gremlins which nearly spelt an end to his trial. A grabbing clutch made the going tough, but carburettor issues on top of this made things worse.
Recent events have reinforced the appreciation of the camaraderie that can often go un-noticed.
Stopping......... and thinking about it....... for a minute, you realise that we are blessed by good nature and friendship just by turning up to the trial:
Familiar faces manned the sections, old friends and riders enjoying a week out of the saddle.
Credit to them all, for their efforts and attendance, it may sound corny, but we couldn't do it without them.
A new face, although becoming a regular observer, showed us he doesn't need the hinderance of any grumpy old men, Brittain Jnr ably ran the show on section two: a tricky little weave through trees, which could catch you out easily if you didn't concentrate.
Eagle eyed Brittain made sure that nobody got away with a sneaky dab and called the riders through with confidence.
Making a welcome return to the saddle Bob Davies and Craig Richardson rode like they'd not taken a break – it is great to see them back.
Long may we keep it up, in memory of those we've lost.
Charlie.~Oo> R.I.P. Jim.
BMCA Results: Experts up to 350cc: Steven Hay (BSA) 1, Kev Taylor (BSA) 2, Mick Parkes (Ban) 4, Laurence Alden (BSA) 5, Jim Teague (C15) 9, Nigel Randall (BSA) 10. Experts over 350cc: Peter Reed (Tri Twin) 17. Inters: Mark Lucas (C15) 7, Dave Jones (BSA) 11, Scott Partridge (Cub) 11, John Colclough (James) 15, Craig Richardson (Cotton) 16, Ernie Johnson (Cub) 18. Clubman: John Cope (BSA) 8, Colin Billington (Ban) 10, Bob Davis (Ban) 11, Tony Hill (Ban) 16, Dave Harrison (BSA) 17, John Nyons (Ban) 21. Report by Spanner & Hammertight. Photos by Eric Miles. 9413 - Scott Partridge (Cub) 9540 - Kev Taylor (C15)
Cheers - Luke
Thank you Luke.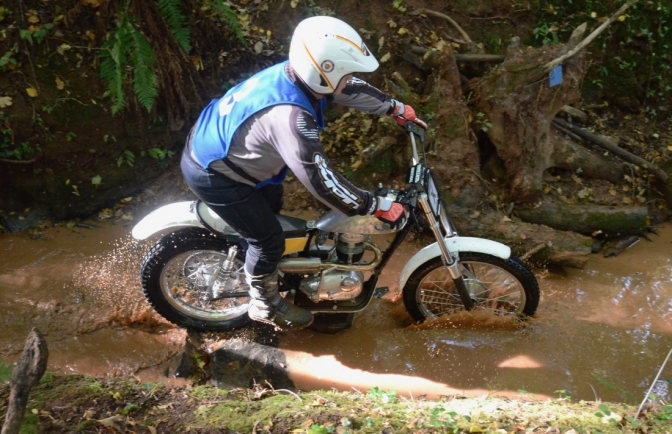 Photo Courtesy Eric Miles.
Kev Taylor riding his Drayton BSAC15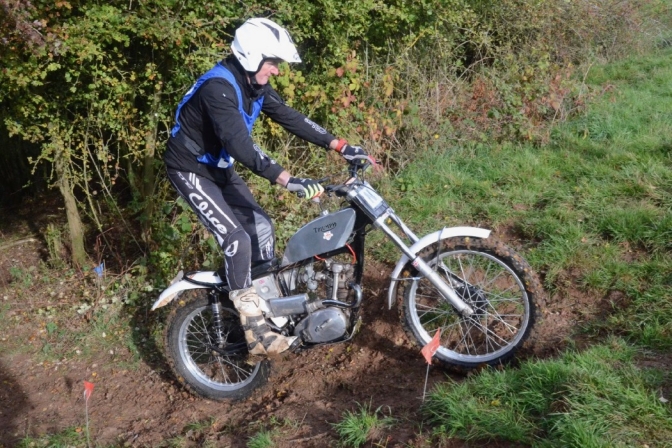 Photo Courtesy Eric Miles.
Scott Partridge forces on his barking Triumph Cub.
~~~~~~~
More next week.
Photos to follow later.