"The Fraser Honda trials bike".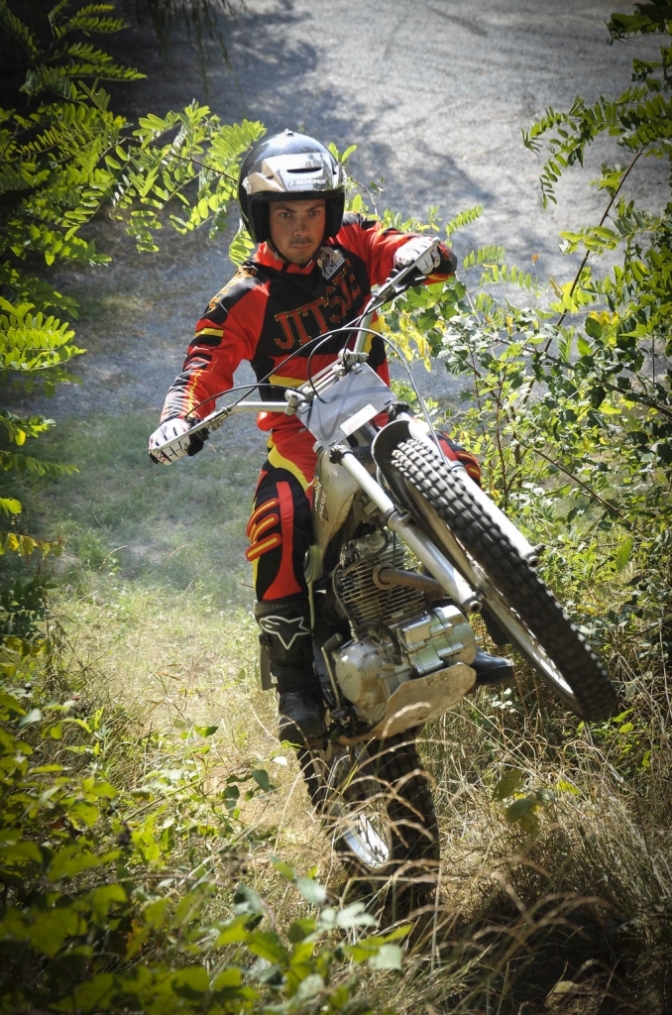 Photo Courtesy Justyn Norek Snr.
>Justyn Jnr aboard Carlo Ramella's Fraser Honda.<
After re-examination of this photo,
This is Justyn riding his own "Fraser" Honda, the bike with no front down tube,
After a load of research we did in 2014, we could not find out anything specific about this machine.
So information of any type would be of value.
With Colin Tipping being no longer with us, it is very difficult to find any information, and company records don't show up for "David Fraser Products".
So It is you guy's that have the machines, to give us information.
I do know there were a couple of bikes built with a swinging arm lay-shaft drive to the back sprocket. picture later when I find it on the computer.
*******
2015,
I have been doing some research into the Fraser Honda trials bikes for friend Justyn Norek,
I am amazed how little knowledge there is about this brand of trials bike.
There were at least twenty bikes or frame kits made. And most seem to be different to the one built before it,
The late Colin Tipping, under the name of "David Fraser Products," built them in and around Redditch Worcestershire.UK
Various Honda engine units were used, in the run of production in the eighties.
The frames were basically built using ERW tubing round and square and rectangle in section. The swinging arms seem to have been a problem built using rectangle tube. And bending badly under torque from the engine.
As I say the information on these machines is very sparse.
There have been the odd photos of bikes in some publications and books but only a couple of lines about the machines.
I feel that the makers were not the favourites with the press at the time so the stories never got written.
We do know that nearing the end of production twenty frames were purchased from DMW motorcycles in Wolverhampton. These were the large top tubed frames that carried fuel in them.
Various engines were fitted into these by "David Fraser Products."
And that seems to be where production came to an end.
****-------
Bleep. Bleep. Bleep. Bleep.
But you can see they were a good machine.
*******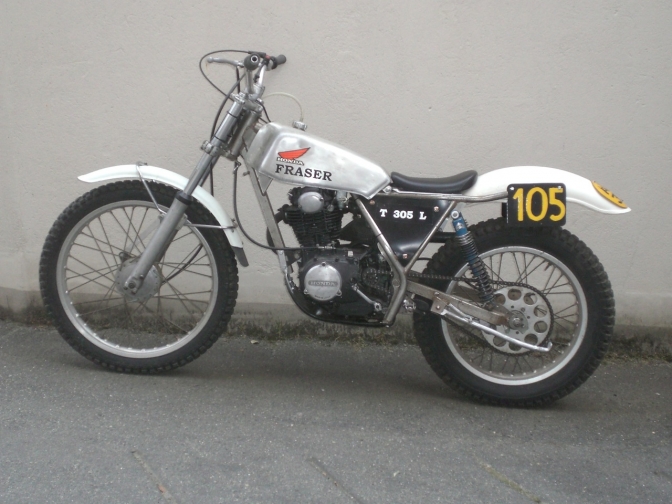 This is Carlo's Fraser Honda that Justyn has tested.
*******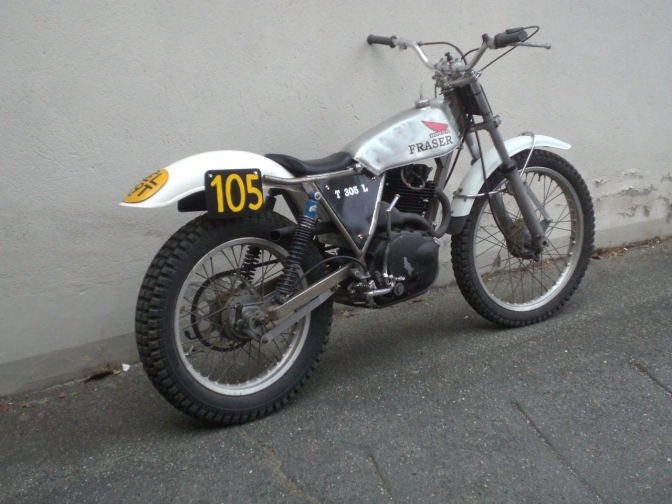 And a shot of the other side.
*******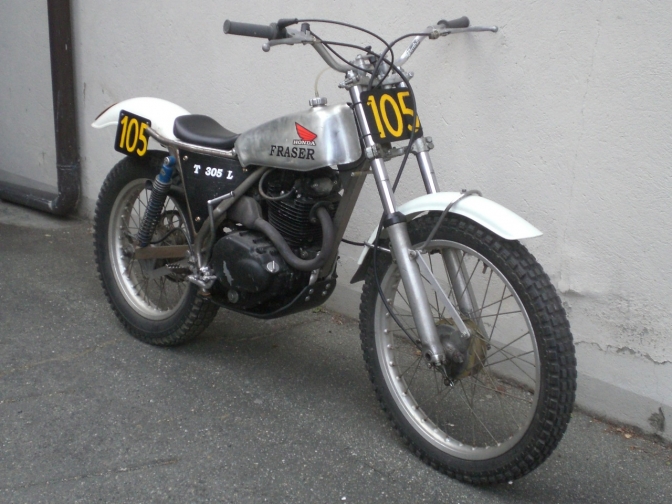 *******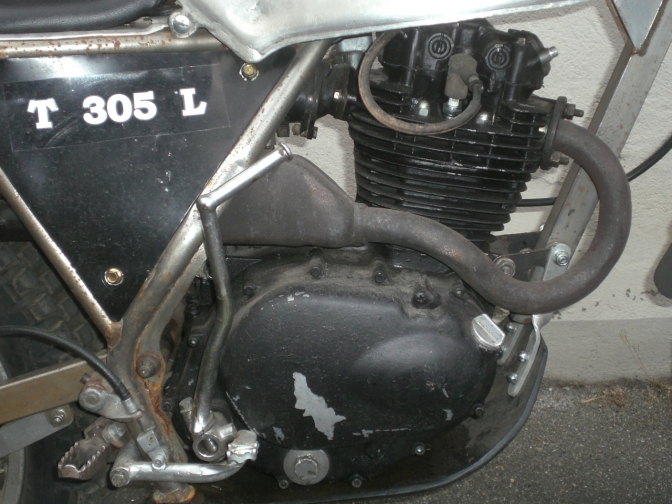 *******
On 7 Aug 2014, at 20:56, "Carlo Ramella" wrote:
I'm Carlo Ramella from Italy

Trial's machine collector and lover!

I think that the machines rebuild now, to looking a Classic trial,are not "Classic" but "Special"

Because they are a new machines,with Classic look (they mean a Classic from 10 meters,but,when you are near,you can see that they are a"modern" machine..

it is clear that I love much more the original "Classic" machine

Charlie,>

I totally agree with you.

But how do we stop persons building modern bikes to there mind, "look like bikes" from the time.

But not fulfilling a rebuild of a period bike to the same specification as that bike that came out of the factory.

And we all know that this is possible without making the improvements.
So if any of you have any information about these machines let me know and we will dedicate this page for these bikes.
And these were built in the eighties, and not copies built today. These were a true cottage craft industry. built on a love of the sport and not designed to destroy it.
Colin Tipping used to buy crashed and discarded Honda's from the USA, and use most of the items apart from the frames, and these he built to create these machines, because he loved trials bikes,
and in his head thought that he could take over where Honda left off.
What do you think? we all have dreams.
And it is proven that Colin made very little money out of building this brand of machine.
As it seems to me to be a lot like when I started researching the BSA "Otter".
And now look what we have!
So we keep finding more.
*******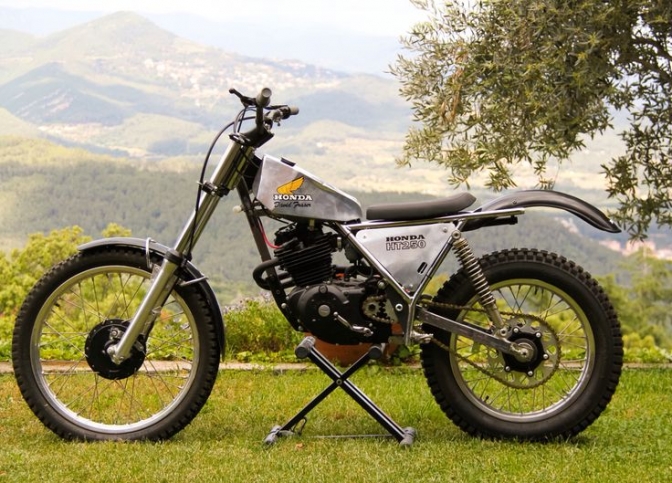 Here is one of the Three?? HT 250 machines.
Every one of the builds that Colin took on was different, most of them with engines bored out to take a bigger piston and about 305 cc. The guy just liked creating something different.
This is Callum Robertsons bike.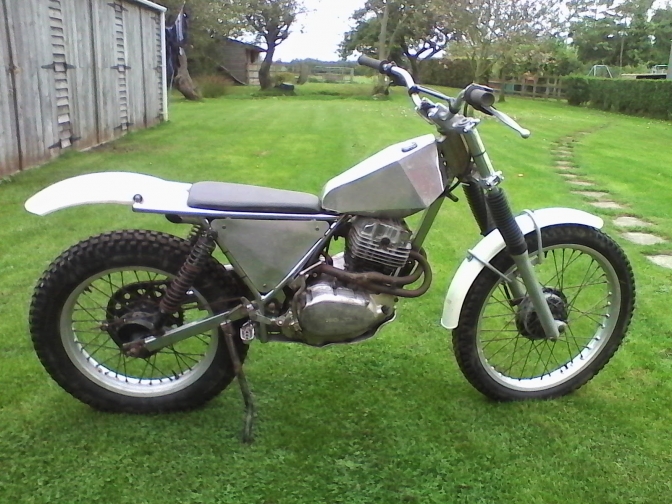 And the other side of Callums Smart Fraser Honda HT 250.
We hope to have the story of Callum's bike later,
thanks for sending me the two photos Callum.
And Callum says there is a third HT 250 machine out there, Do you know where it is?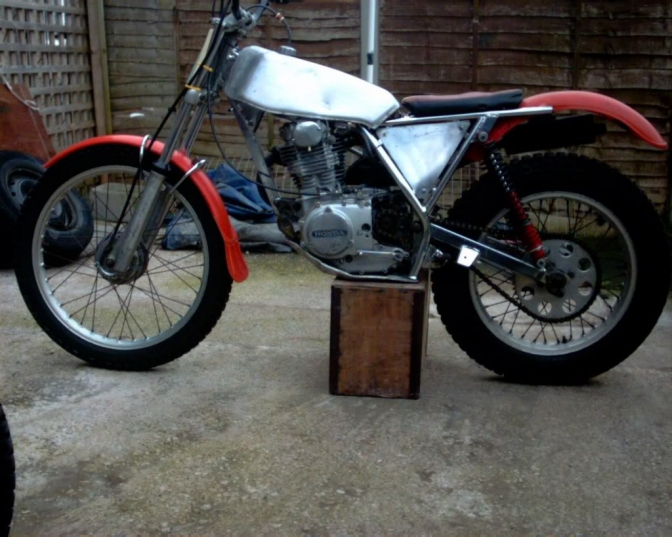 This one from the North of England, and looks like a bigger engined machine.305 cc ?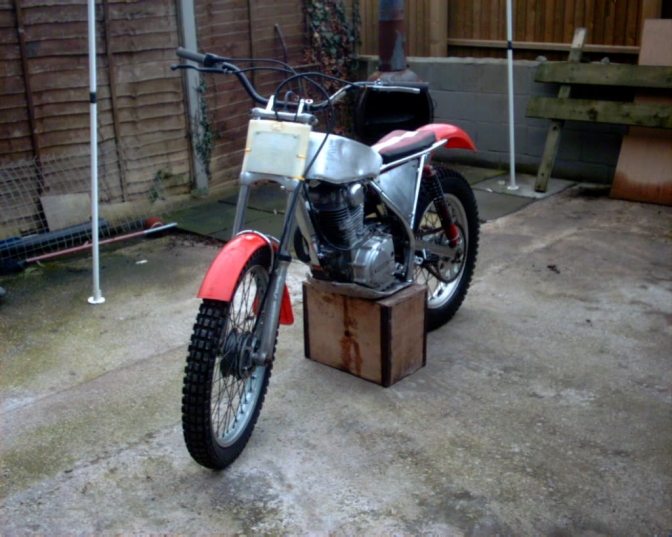 *******
And then Colin bought a batch of frames from DMW and fitted Honda, and Villiers engines into them.
This I still can't quite understand, was he thinking beyond the box at this time or just in trouble with the company. you decide.
I just don't like this machine.
A Step To Far, and why buy the frames??
I need to know.!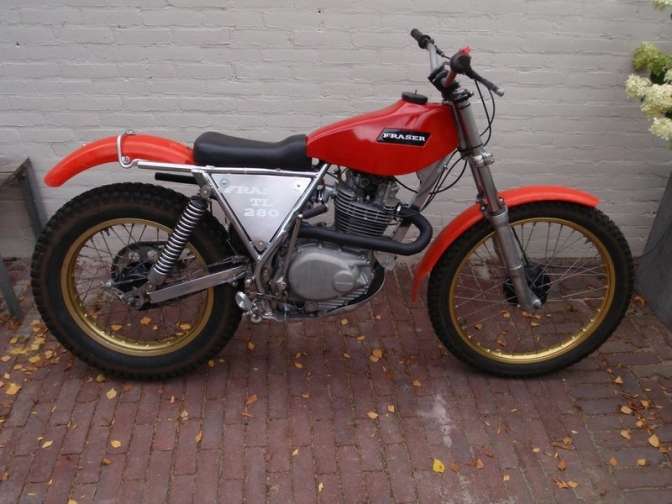 This bike seems to be one of the famous 280's.
Another Fraser Honda I have found on my computer stock, so don't know how's it is?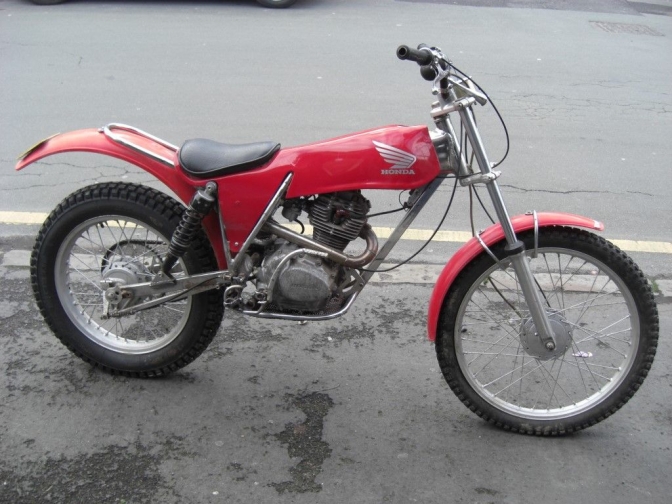 Here is a better example of one of the twenty DMW framed "Fraser" Honda's.
And we will get More Later.