"The Fraser Honda trials bike's".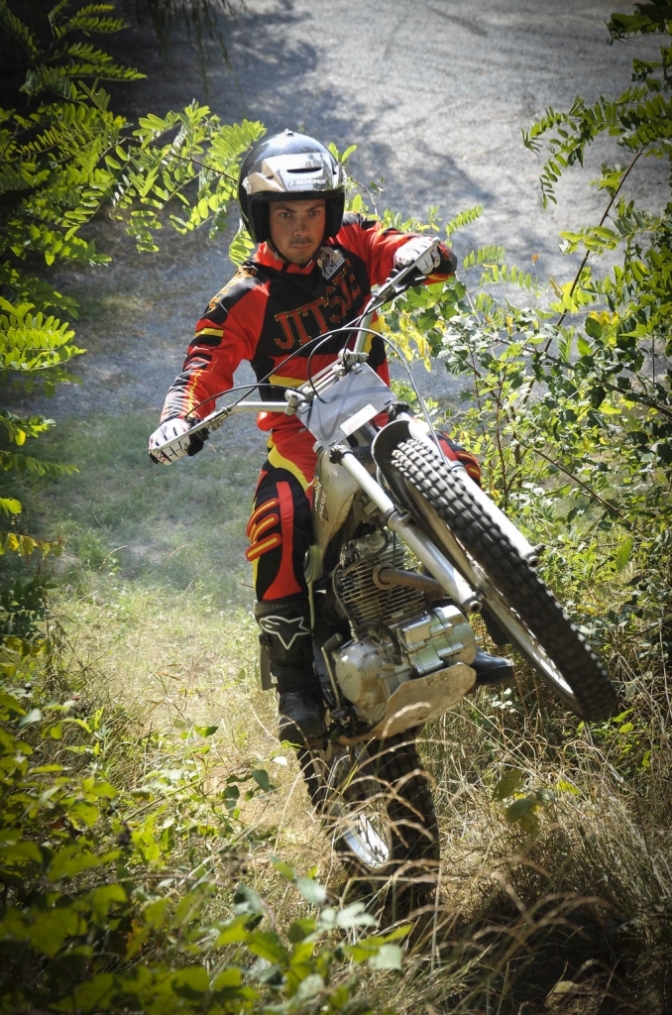 Photo Courtesy Justyn Norek Snr.
This is Justyn Norek Jnr riding his own "Fraser" Honda TL200, the Fraser model trials bike without a front down tube...
The engine hung from the spine type Steve Wilson built frame.
After a load of research we did in 2014, we could not find out anything specific about this machine.
So information of any type would be of value then.
Fraser Honda …
We Now Have it...25/05/2019
The Steve Wilson , story….
After all these years unearthing the word on the Fraser Honda's built in Redditch UK..
We get Steve's true version of what really happened.
Colin David Tipping started up making crash-bars etc, for Kawasaki race rider Mick Grant.
The Company name "David Fraser Products"...
Now Steve says there never was a David Fraser, and the David came from Colin's middle name but where Fraser came from is unknown, unless the name had somehow been connected with Colin in the past.
This was now 1977 and the work on the crash bars was getting slow, And at one of the coming together's of three people who happened to be at the factory at the same time.
Colin, Steve, and our old sidecar trials friend Stan Tranter who was the man to go too for fibre glass products and who supplied Sammy Miller with such parts.
They were looking all three at Colin's 125 TL Honda, and the conversation turned to how the little bike could be improved into making a more competitive little machine. There were already on the market, kits to up the capacity that gave the little engine a bit more torque.
Steve Wilson suggested a spine type frame to hang the engine from and do away with the front down tube.
Stan Tranter would come up with the fibreglass work, and do you know they had a trials Honda upgrade kit…
Within weeks Colin and Steve had readied the factory at Heming Road, Redditch for Steve to commence frame production. With the introduction of an heavy old steel band saw to cut all of the plates and parts necessary to make frames.
(I still use mine today).
These frame kits soon became popular, and Pete 'Eddy" Edmondson, Who was supplying the Girling shocks for the kits, being a wheeler-dealer that he was, bought ten of the frames to sell.
Rock-Shocks History...
Rock-Shocks have a long history in off road competition with success in all branches of the sport. After many years of close association with Girling, Eddy Bar Products was formed as a registered company in July 1976. The main product range at that time was the Girling "Gas Shock"...
When Girling ceased production of the popular Gas Shock it was decided to fill the gap in the market with our own "Rock-Shocks".
Initially these were made by another company and the first batch made their début at the Scottish Six Day Trial. Every rider using Rock-Shocks finished the event.
Rock-Shocks began to dominate trials in the 1980's. Almost every British National Solo and Sidecar Trial Championship, including Schoolboy A & B held in 1980, 81, 82, 83, and 84 was won on
Rock-Shocks...
With the arrival of the Monoshock, the decision was taken to cease production. Thirty years later in 2006, Twin Shock Trials were growing in popularity and new improved Rock-Shocks are back by popular demand.
Now Pete Edmondson after all the years of developing such a good product has decided to pass on the Rock-Shock business to John Bull. John has been involved in sport for many years and in motor sport through his CNC Machining company which has since been sold. This has now allowed John to concentrate on the constant development and improvement of these world class shock absorbers. This company has now been sold on again to a new owner.
Gary Fleckney took over ownership of Rock-Shocks in February 2013 from John Bull.
~~~~~~~
Visitors like Bob Wright used to visit the Fraser factory for bits of welding, so the word soon got around to what was happening at Heming Road, Redditch...
Frames were constructed for the bigger brother engines the TL 250's and even a few of greater capacity. The yellow and white fibre-glass of the machines, made them stand out and the built up bikes started performing very well…
This even was noticed by our friends from across the water, and a prominent French trials rider at the time came over to the factory for a test ride on the new factory demo "250 HT "machine. Colin was persuaded to let the Frenchman take the bike home with him, for a trial period, as he could prove it over there, and get more sales. The bike was never ever returned and never ever paid for...
I wonder if it has anything to do with what happened further down the page, and why I was asked to remove some material by the French Club...
It would be good to know if the bike still exists, and if it is still in France...
It was all-right being a busy factory churning out frame kits and complete bikes, but selling for the prices they were to keep competitive with the market, was not earning that much money. And the overheads on a factory unit of the size at Heming Road were now getting too great.
This was a New town Redditch don't forget, and grants were given for new startup business, and in fact that is how Steve Wilson managed to get his council house, as working for the company David Fraser Products was part of the deal, if you had a job you got a house near to live in.
But after the initial grants the council up the rates and the money gets tight.
A move to a smaller unit in the town was called for and the company moved into the old Argosy Works unit in Redditch...
Metal Profile were supplying the forks for the kits, and you know at the time MP was owned by DMW, and Steve was asked by DMW, it could have been Mick Parkes even, if he would like to construct some frames for them.
This meant Steve travelling all the way from Redditch to Dudley everyday, and he spent more time travelling than he did working on the frames.
So a suggestion was to move the frames to the Fraser factory in Redditch to finish the batch of ten frames, (not twenty, as the story went)...
These frames were to be marketed as DMW's but some seem to have got a Fraser sticker put onto the tank .
The steam was running out of the boom in trials frame kits at the end of 1979, and eventually Steve and Colin Tipping parted ways. Steve going on to, in cooperation with Halfords to develop the first BMX cycle frames built in the country.
And also build frames for the Spanish engines Bultaco and Ossa.
That story later…
Colin found a new line for production, Golf Trolleys, and even ended up with them selling in the House Of Fraser….
Thank's Steve we got the true David Fraser Products story, that is now part of trials history….
~~~~~~~
Back to 2014...and all I had to go on Fraser at that time ...
With Colin Tipping being no longer with us, it is very difficult to find any information, and company records don't show up for
"David Fraser Products".
So It is you guy's that have the machines, to give us information.
I do know there were a couple of bikes built with a swinging arm lay-shaft drive to the back sprocket, because I have seen one, Alan Wright was riding it...
~~~~~~~
2015...
I have been doing some research into the Fraser Honda trials bikes for friend Justyn Norek Snr...
I am amazed how little knowledge there is about this brand of trials bike.
There were at least twenty bikes or frame kits made. And most seem to be different to the one built before it.
The late Colin Tipping, under the name of "David Fraser Products," built them in and around Redditch Worcestershire.UK...
Various Honda engine units were used, in the run of production in the seventies...
The frames were basically built using ERW tubing round, square, and rectangle, in section.
The swinging arms seem to have been a problem built using rectangle tube. And bending badly under torque from the engine.
As I say the information on these machines is very sparse.
There have been the odd photo's of bikes in some publications and books but only a couple of lines about the machines.
I feel that the makers were not the favourites with the press at the time so the stories never got written.
We do know that nearing the end of production twenty (10) frames were purchased (actually built for) from DMW motorcycles in Wolverhampton. These were the large top tubed frames that carried fuel in them.
Various engines were fitted into these by "David Fraser Products."
And that seems to be where production came to an end.......
-------
Bleep. Bleep. Bleep. Bleep.
But you can see they were a good machine.
~~~~~~~
The Fraser 305 "TL"...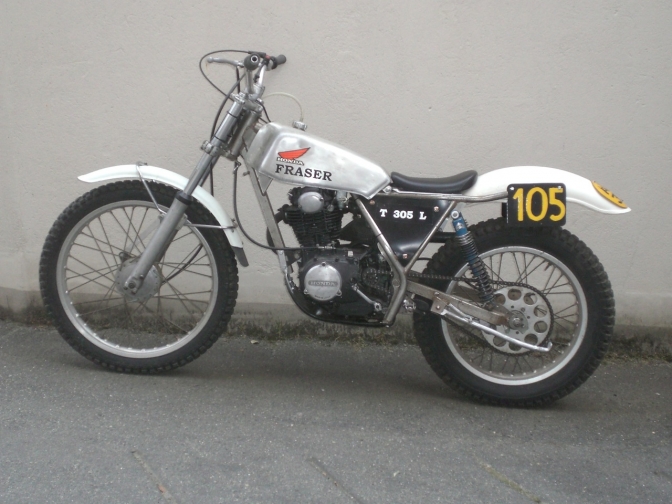 This is Carlo Ramella's Fraser Honda that Justyn Norek Jnr has tested.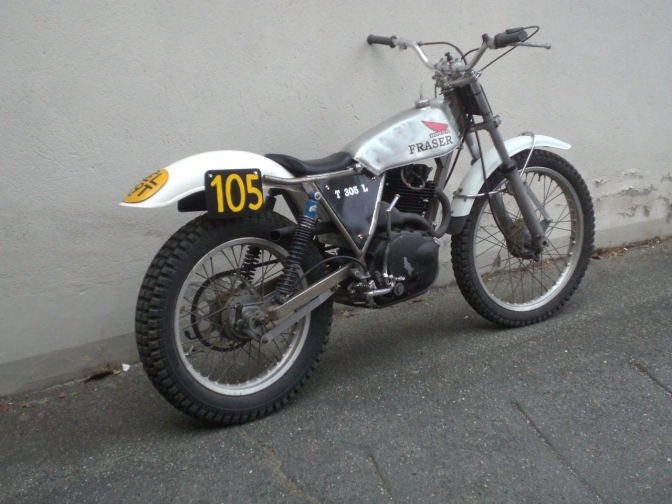 And a shot of the other side, of Carlo Remella's Fraser 305 TL...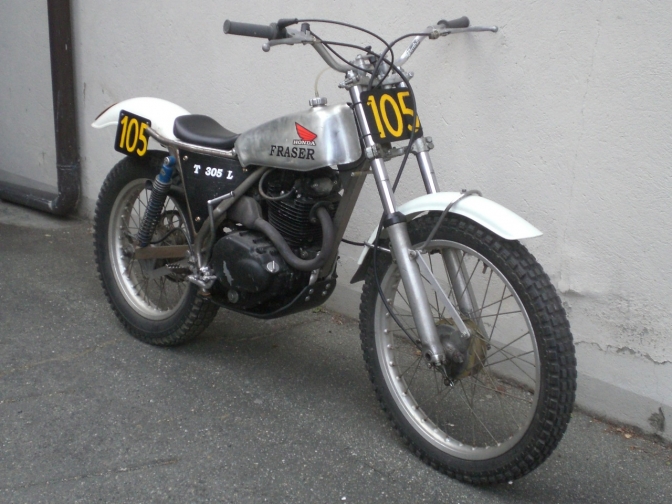 Fraser Honda T305 TL...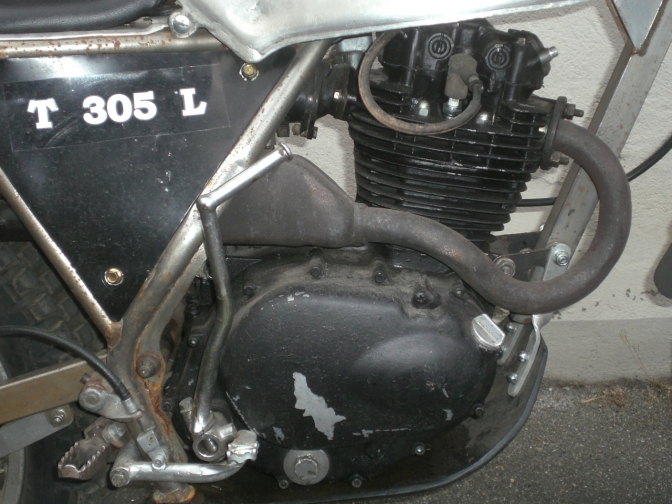 Photos of Carlo's Fraser Courtesy Justyn Norek Snr..©
And a larger capacity

Fraser 380cc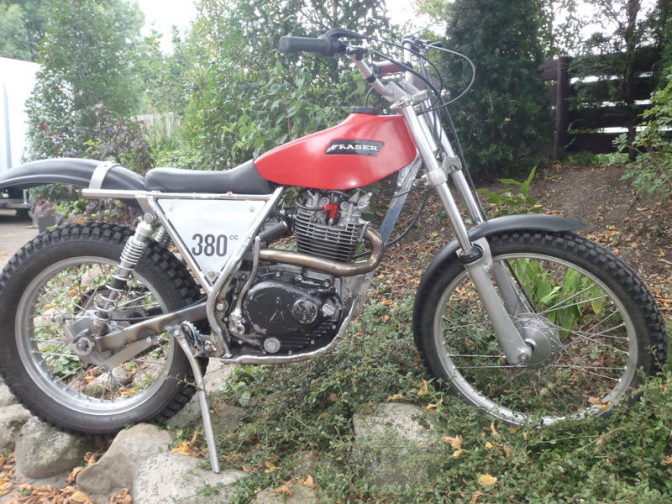 Found on my old computer stock.... Photo Credited...
On 7 Aug 2014,

at

20:56,

"Carlo Ramella"

wrote:
I'm

Carlo Ramella

from

Italy

Trial's machine collector and lover!

I think that the machines rebuild now, to looking a Classic trial, are not "Classic" but "Special's"...

Because they are a new machines, with Classic look (they may look like a Classic from

10

meters), but, when you are near, you can see that they are a"modern" machine... built yesterday...

It is clear that I love much more the original "Classic" machine

Charlie,>

I totally agree with you

Carlo.

But we can't stop persons building modern bikes to what they have in their mind, "look like bikes" from the time past....

And not fulfilling a rebuild of a period bike to the same specification as that bike that came out of the factory.

And we all know that this is possible, and without making the improvements that people do.
So if any of you have any information about any model of these machines let me know, and we will dedicate this page for these Fraser bikes.
And the ones built in the seventies and not copies built today.
These were a true cottage craft industry.
Built on a love of the sport and not designed to destroy it.
Colin Tipping used to buy crashed and discarded Honda's from the USA, and use most of the items apart from the frames, and these he built to create these machines, because he loved trials bikes,
and in his head thought that he could take over the development of the trials TL 125 where Honda left off...
What do you think? we all have dreams.
And it is proven that Colin Tipping made very little money out of building this brand of "Fraser" machine.
This page seems to me to be a lot like when I started researching the BSA "Otter".
And now look what we have!
So we keep finding more.
Fraser "HT250"...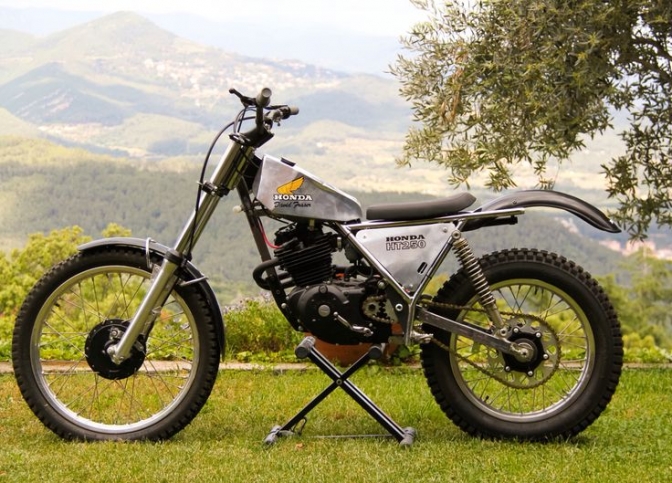 Photo Credit and his machine Joan Forrellad.
Thank You...Joan...
Here is one of the Three or more "HT 250" machines.
Every one of the builds that Colin took on was different, in some way most of them with engines bored out to take a bigger piston, and some using the 305 cc.engine. The guy just liked creating something different.
The HT 250 was the bike that some had the counter-shaft running on the swinging-arm pivot.
This was thought to just be an exercise in keeping the rear chain at constant tension. But the truth is Steve Wilson tells me, they just could not get the gearing right so the main reason for the exercise was to gear down using this second sprocket.
There was a problem though, the small front chain running over this small a distance used to get very very hot and not last long. This would also suggest that it would also wear out the sprockets quickly. Not a good position for a oil feed either.
This is Callum Robertson's Fraser HT250...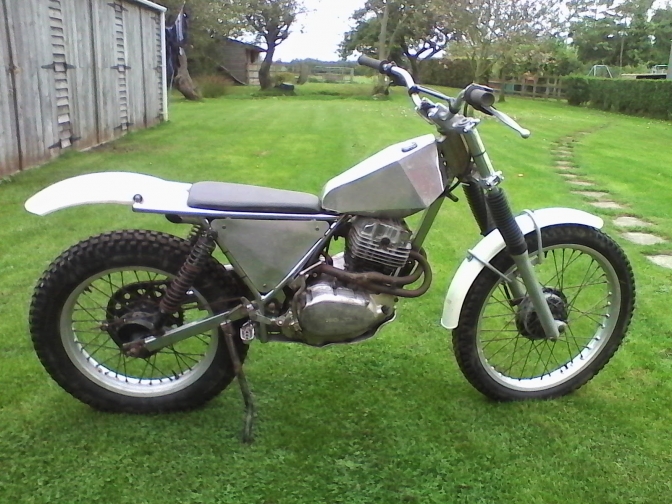 HT 250 Two
And the other side of Callum Robertson's smart Fraser "Honda HT 250."
We hope to have the story of Callum's bike later,
thank's for sending me the photo's Callum.
And Callum says there is a third HT 250 machine out there.
Do you know where it is?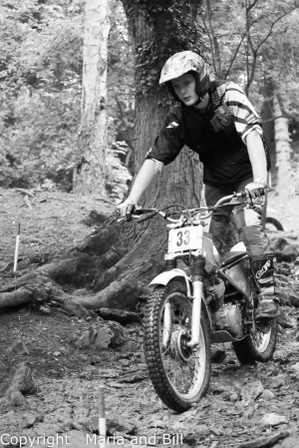 Callum's son riding his favourite Fraser Machine the HT 250.
Here are some photos of my Fraser HT 250 as far as I know there were less than ten ever made of this model, it is the only bike I have that I have not yet renovated every time I am ready to do it my son needs to ride it he says it is his favourite twin shock he loves the torque and grip especially when wet I don't know much more about it hope these help and if you find out any more please let me know
Callum...
28/07/2018
Well we do now, and even a fourth.
Hi Charlie, reading your page relating to Fraser Honda, here is my HT250, I rescued it about five years back, it had been used as a donor to build another which was for sale on twinshock shop web page for some time, that makes four HT250 bikes that still survive, now back in the Midlands not far from where it was made, thank you for all your hard work that's been put in your site, I use it regular for trials bike info, and a good friend of Dave Wood.
Regards John Dodsworth,
Charlie Oo> Thank's John another good find, and thank's for your kind word, it is you guy's that keeping finding me New information, and machines, that keep the site interesting. And recording the history of the unrecorded at the time.
Thank's again John.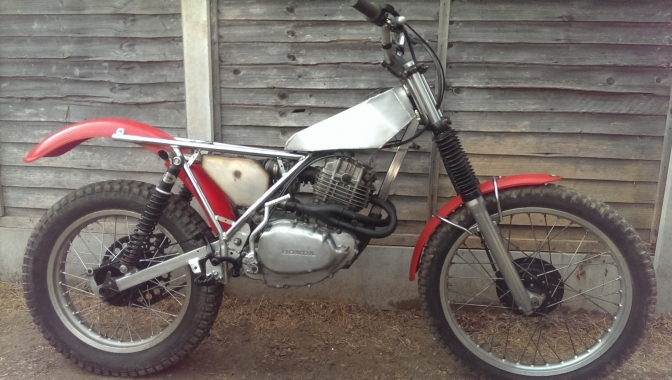 HT 250 Three...
John's HT250, Photo Courtesy John Dodsworth.
B-I-A-S~Oo> John also has a Fraser trials bike, and would like to know if any Fraser HT owners have photos of the tank and seat part of the bike, as he says "I am stuck on tank seat mountings "? Thank's again John,
Lifted from the Elstar page.
~~~~~~~
And we now know of this Fraser HT 250 now, and it is for sale 22/11/2022...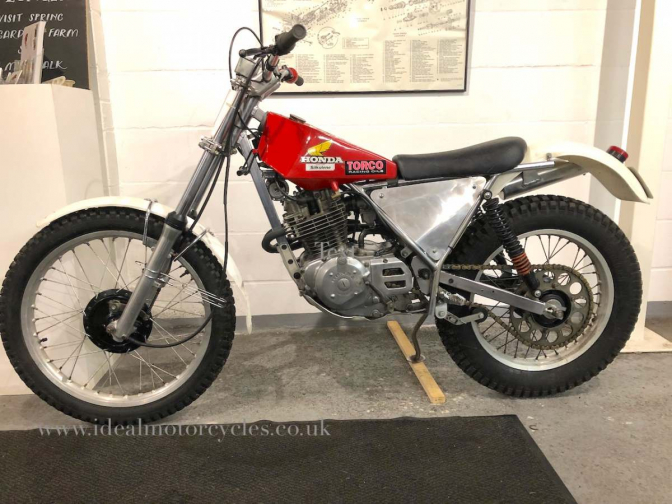 HT 250 Four...
~~~~~~~
DESCRIPTION
1980 Fraser Honda HT250 Trials
Extremely Rare Trials bike. Excellent condition. Runs well.
Built by the late Colin Tipping of 'David Fraser Products' Heming Road, Redditch in collaboration with Frame Builder Steve Wilson
and Fibre Glass Expert Stan Tranter in 1979/early 1980. One of 10 built and one of only four known.
V5C present.
Fraser HT 305...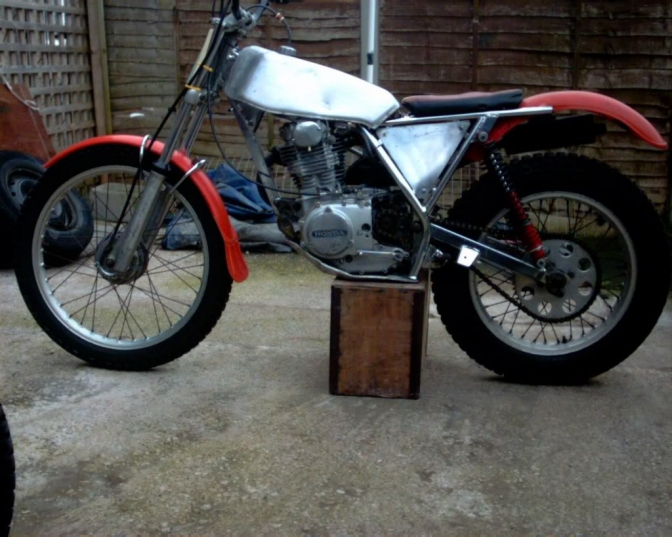 This Fraser is from the North of England, and looks like a bigger engined machine.
305 cc perhaps...?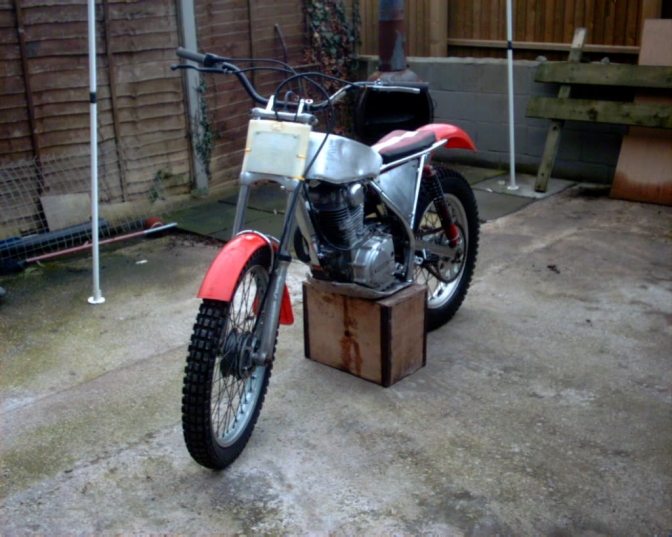 ~~~~~~~
And then Colin bought a batch of frames from DMW and fitted Honda, and Villiers engines into them.
This I still can't quite understand, was he thinking beyond the box at this time or just in trouble with the company. You decide.
~~~~~~~
We now know that the couple of lines above are wrong.
The Steve Wilson Story above put the speculation right..
It was Steve that moved the frames to Redditch, and to David Fraser Products to save on the daily travelling to Wolverhampton. And they should have been labelled.
"DMW-Fraser"
28/03/2020...
Here are two photos of Nigel Roe's rebuilt Fraser Honda of this type...
ninety nine percent finished and waiting to be trialled when this current crisis is over...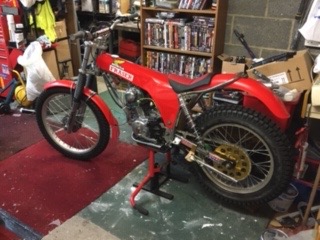 Good Job Nigel, turned into a nice little bike, and different...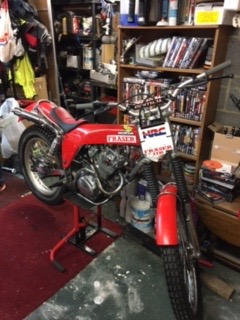 Lets hope you can ride it soon...
16/09/2020...
Nigel has just sent me these first class shots of his bike. And after getting a ride in a trial a few weeks back, is looking forward to another trial, if we can only find a format that works in these new times...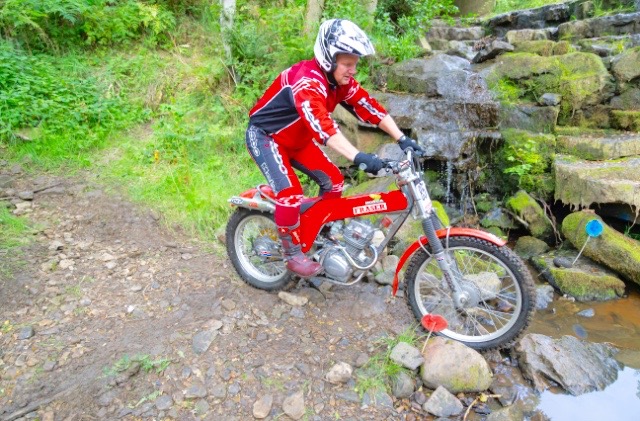 First class restoration job of a little known Fraser machine at the time..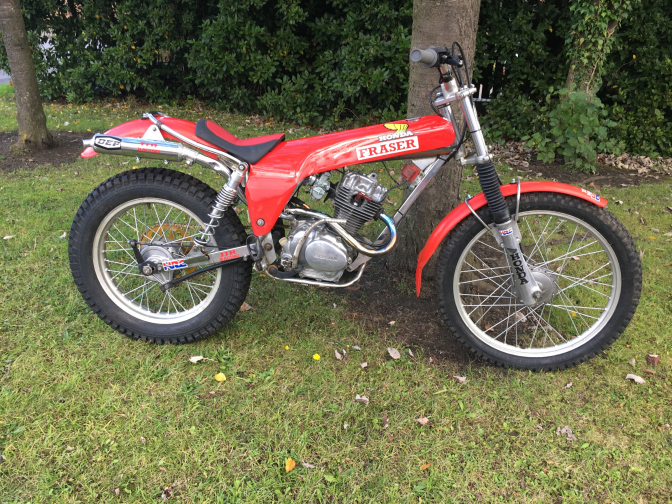 ~~~~~~~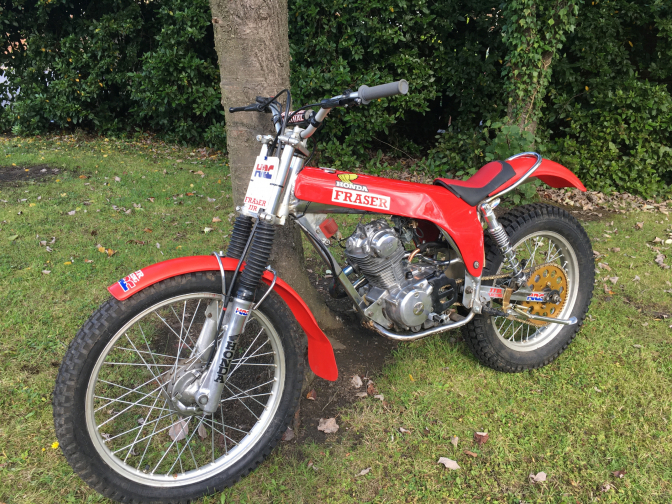 Superb rebuild job Nigel...
~~~~~~~
I just did not like this type of machine until we get the true story...
05/2019...
We do now. Read Steve Wilson's story.
Now 30/06/2018.
We have a advertisement from a T-MX sent to us to use by Alan J.
Thank's for that...
Here you can see the MK2 kits clearly for sale for fitting the popular TL and CG Honda engines.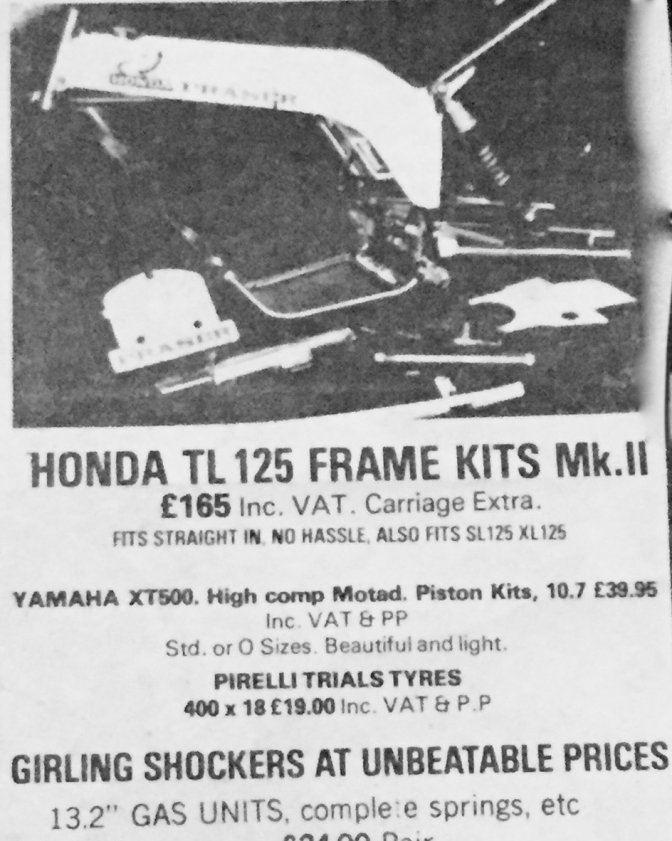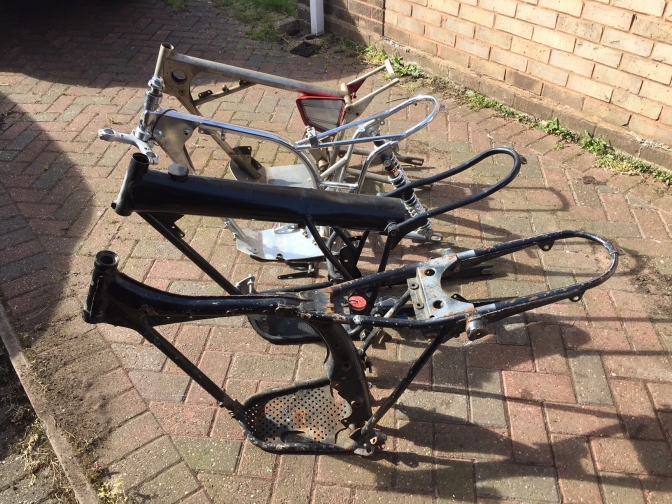 The second frame is one of these, and owned by Alan J, we hope to see this and the other frames built into machines Alan.
~~~~~~~
05/09/2019...
Another DMW -Fraser Honda has come to light.
We will get better photos later from the owner, David Cole..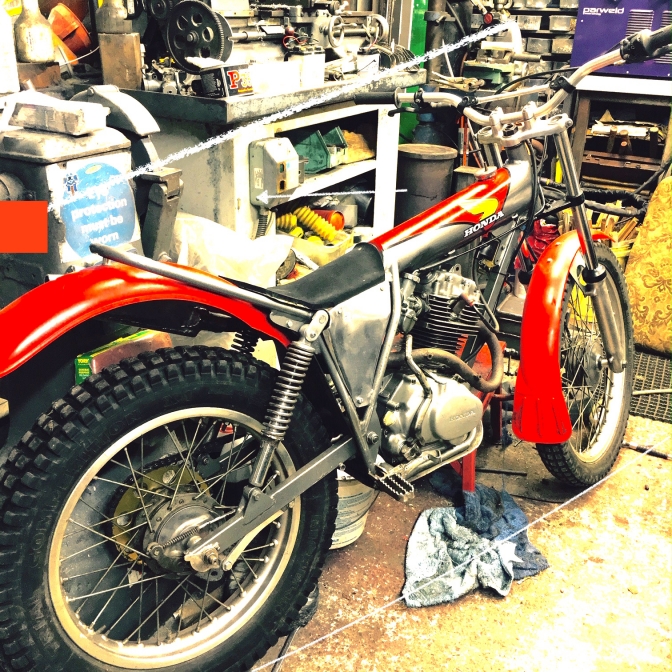 Hi Charlie this is my Fraser 125. It was originally owned by
Dave Hammersley, his name is still on the log book. The engine has been bored and stroked to 240 cc. It originally had an aluminium shroud covering the tank, but unfortunately I junked it years ago... Thank's David Cole another Fraser...
30/08/2020...
Dave Hammersly has just sent me these photo's to up the story a bit more...
Who would have thought when I started this page in 2014...we would have got the response we have with the "Fraser-Brand"...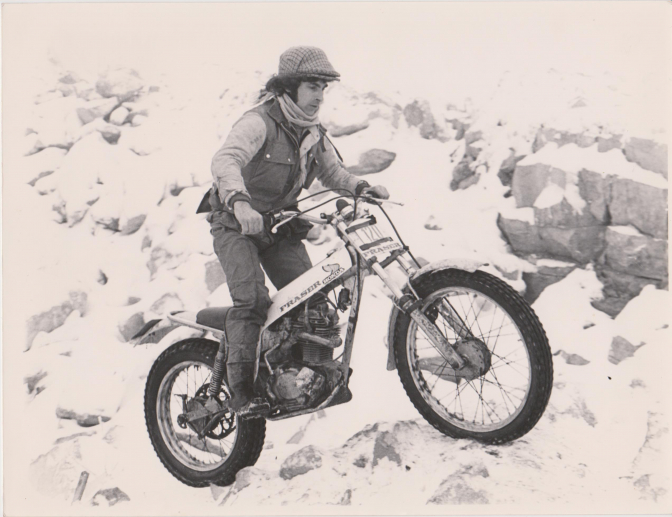 Wow, we all had the cold days like this to ride in at that time...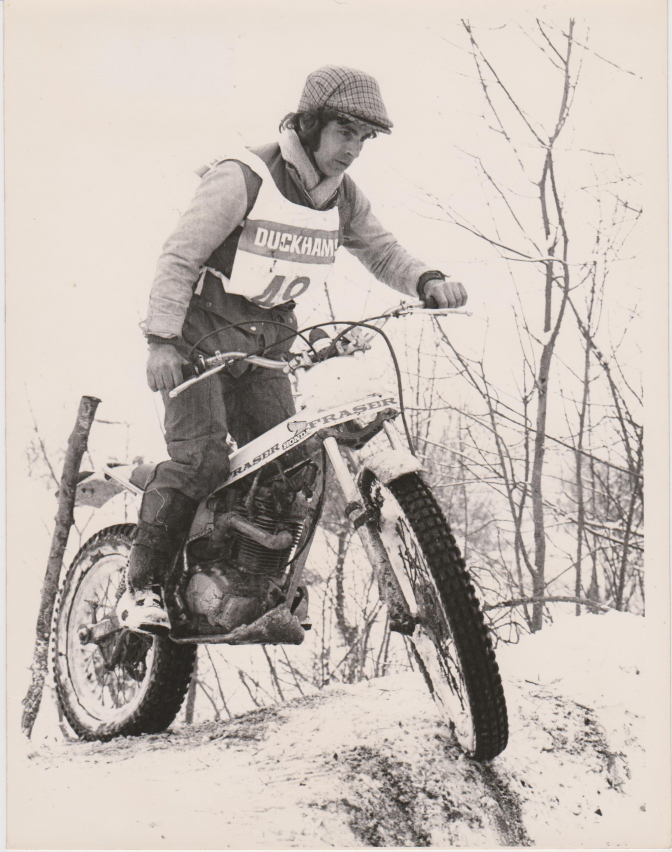 Dave aboard the Frettons Fraser Honda...
TWO trials, and still the snow stays on the ground...
What trials were they Dave?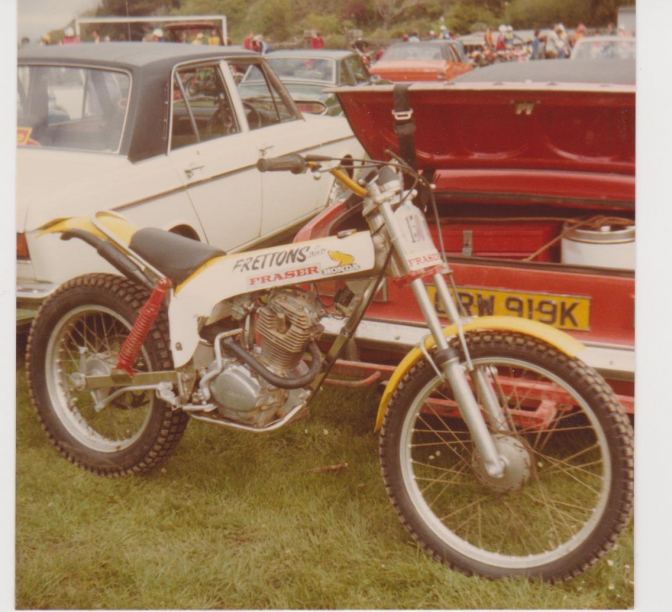 Good shot of the Frettons Fraser Honda...
Thank's for the photos and information Dave first class mate...
~~~~~~~
Avid Fraser collector Linden Thorpe has also travelled a long distance to buy another Fraser for his collection! Just down the street to his next door neighbour...
Well done mate you keep collecting them...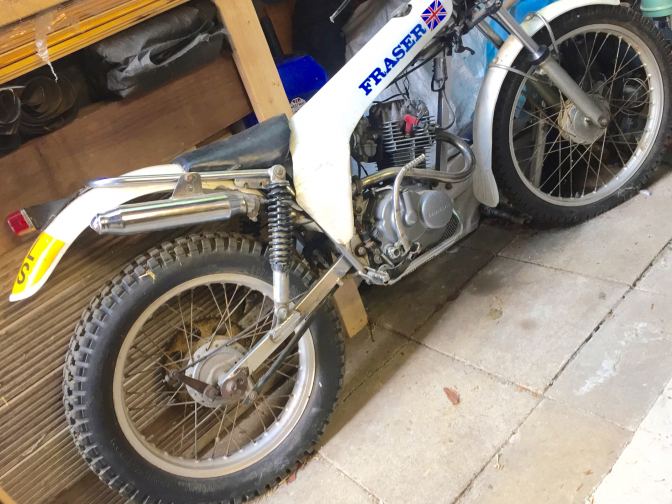 Another nice DMW-Fraser saved and in tip top condition...
~~~~
And the Fraser TL 280 example...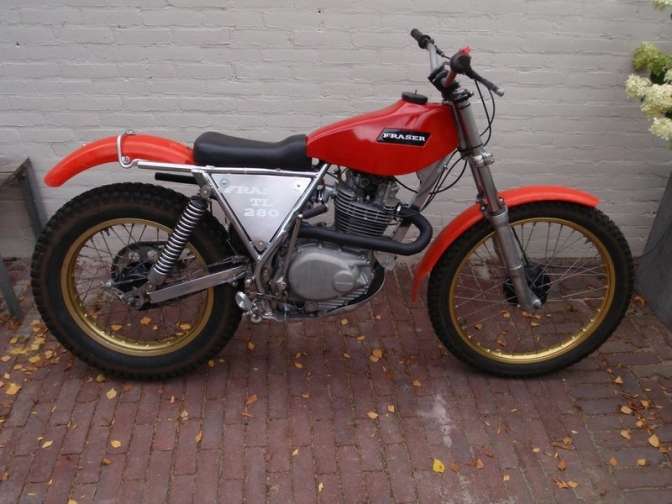 This bike seems to be one of the famous 280's, bored out 250...
Another Fraser Honda I have found on my computer stock, so don't know who's it is? Yet...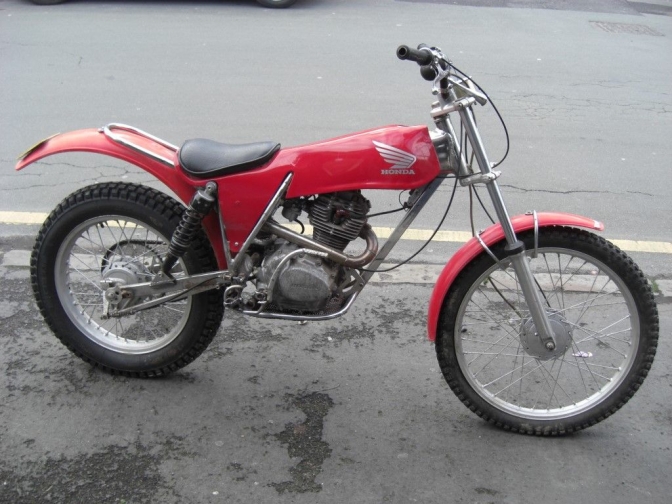 Here is a better example of one of the (10) DMW framed "Fraser" Honda's.
~~~~~~~
28/11/2017.
We get a big break through from Justyn Norek...
The "Fraser HT 200"
New Frame for TL125 Honda.
Following a year of development by Midlands Centre trials rider Colin Tipping, a lightweight trials frame kit to except a Honda TL 125 engine front forks and wheels is to be manufactured by a Redditch company David Fraser Products.
Essence of the design are top and seat tubes of 2 1/8" diameter affording a rigid beam from which the engine is to be hung... The pivoted rear fork is constructed from 1 ½"X ¾" RHS tubing.
The complete Fraser Honda kit comprises of the frame and rear swinging arm Girling rear shocks side stand brake pedal, and sump under shield. , Plus a glass-fibre tank and seat unit with alloy internal tank. A Complete exhaust system air filter box, with foam filter, chain tensioner, rear chain guard rear mudguard and front competition plate. Frame and forks are Nickel plated in Redditch, and the tank-seat unit is white and yellow gelcoat finish. The first frame kit of the initial batch is earmarked for Coventry rider Dave Hammersley, who is to be sponsored by Frettons .
The manufacturers claim that the complete machine will weigh around 170lbs. as compared with the standard 125 TL at 224 lbs.
The steering head angle is shallower than the TL, so the complete front TL forks and wheel can be used. Without using special angled yokes.
Colin Tipping said the wheelbase has been extended by 1" mainly to move the engine back for a better position and to provide more room between the footrests and bars and to make a better riding position with more room. Ground clearance on the machine is increased to 12 ½".
There are now so many Honda engine conversions on the market boosting the TL 125 to 140, 175, or even 220. That we felt it was time a decent frame was available. So that the average rider could begin to treat a Honda as a serious trials tool.
Steve Wilson will be assisting us with frame construction, and plans for the future include an enduro frame. Different design as we can see from Steve's photo of his machine. But retaining the backbone principle. That frame is to take the Honda SL and TL 125 cc engines. And a further enduro frame for a Yamaha DT 175 250 and 400cc trailbike engine.
Makers are David Fraser Products Unit 32T Heming Road Washford Heath Industrial Estate Redditch Worcs.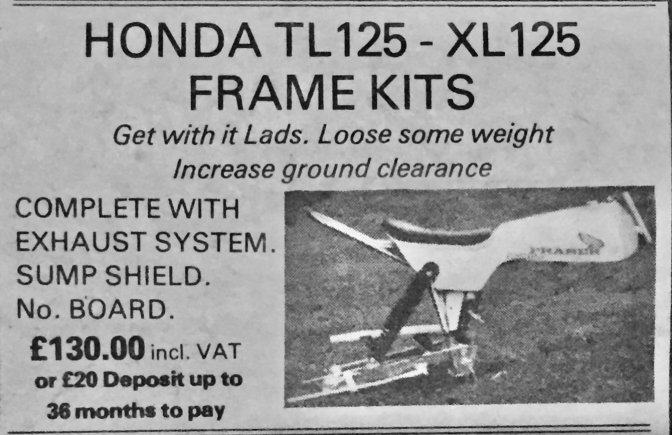 From Alan "J"... page from T-MX News...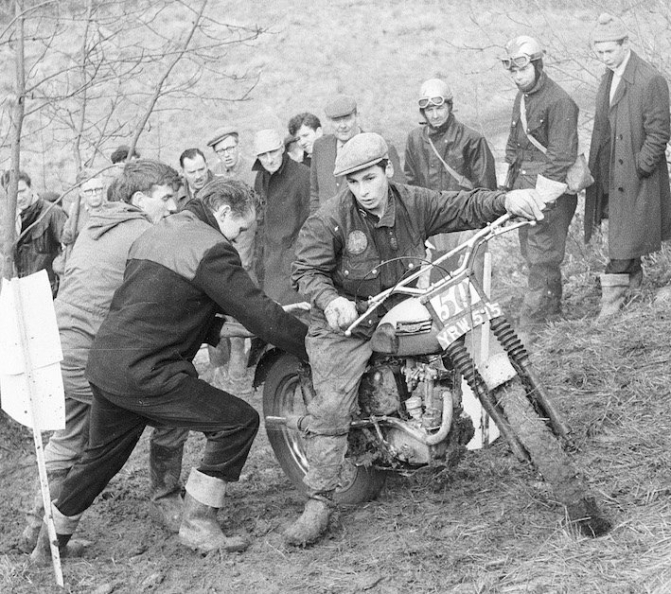 Photo Courtesy Deryk Wylde, Historic Offroad Motorcycles.
Here Is Coventry's Dave Hammersley being helped on "Camp" section in the Cotswold's, a while before he got the ride on the Fraser Honda.
Charlie~Oo> Explanation.
Although the clipping from a English motorcycle weekly magazine, that anyone could have...
I have been asked to remove it because it is allegedly the property of...
A French Honda Motorcycle Club...
And they don't want the History of a British built machine, placing on a public domain.
So I have typed my own version until I can lay my hand on the news paper article.
They also wanted the photo taken from that paper removed also.
So here is my sketch of the frame for you. This is now my © how childish, some people of the World are ...
And I did not expect that from a respected trials club.
Photo. Otterman ©
~~~~~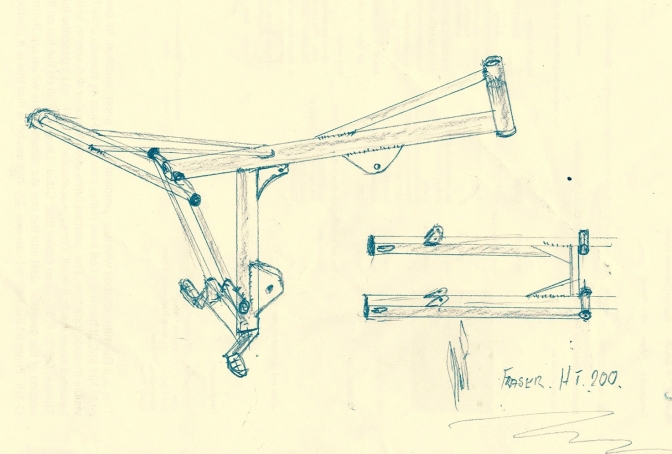 By "Otterman" ©... ...
We can now explore the Steve Wilson road, to get more information about the Fraser breed.( We have now found Steve and have just that information...)
Below is Tim's brother-in-laws Fraser HT200 and shows the frame off very well.. It will be nice to see this one rebuilt Tim...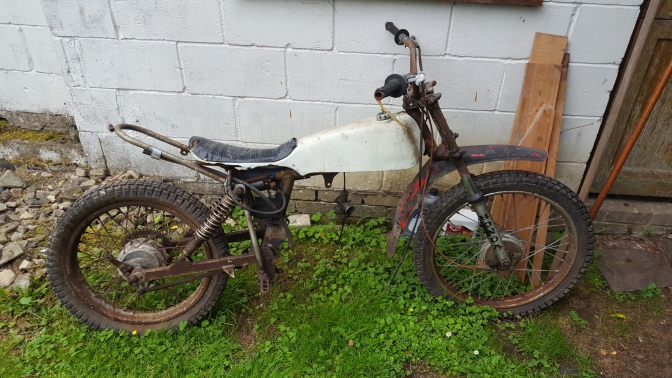 ~~~~~~~
Justyn Norek Jnr's HT200...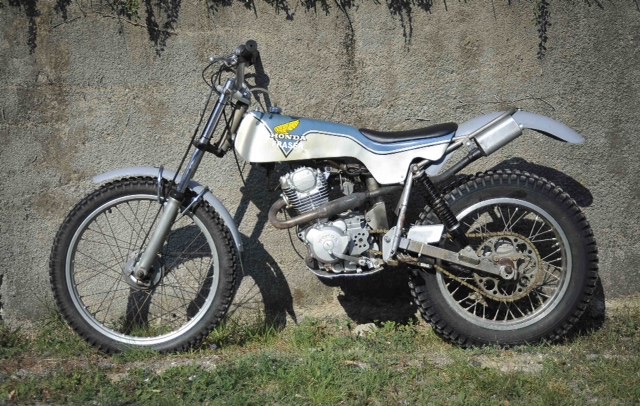 The engine in Justyn's "Fraser" looks to be a Honda XL 185 engine probably with bigger piston fitted, making it 200+ these were classed as the "Fraser HT200"...
A friend has suggested that the engine in Justyn's bike may be one of the 196cc Clone engines that are now very practical to buy. And are even of better manufacture than the original Honda units, in a lot of respects
~~~~~~~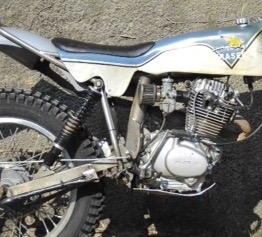 This is Justyn's "Fraser HT 200" Honda.
~~~~~~~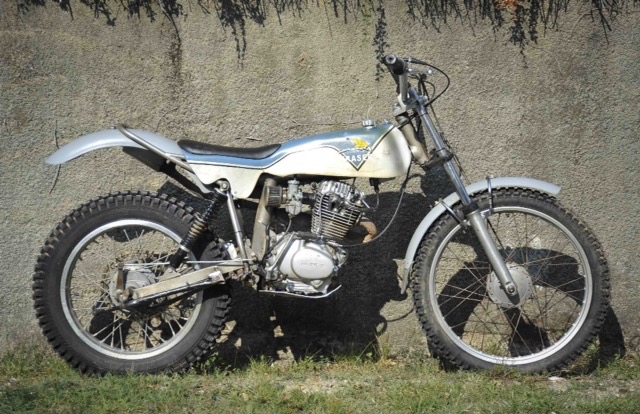 Photos Courtesy Justyn Norek.Jr.©
~~~~~~~
_______________________
Photo Removed,
___________
_____________
As a Courtesy to Justyn Norek Snr....
One of the Fraser Honda's with shall we say "Otter" type frames ( The HT 200) at a Classic bike show, could be Stoneleigh Warwickshire?
~~~~~~~
Hi Charlie
Merry Christmas to you all also, and the Fraser in question was bought by me early this year 2017.
( see photos )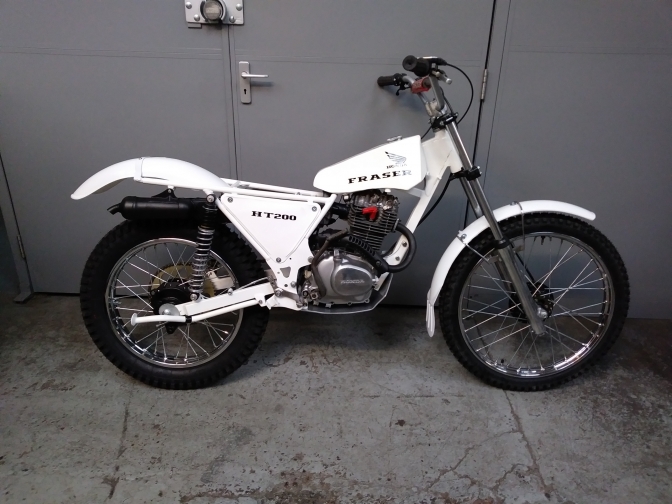 Photos Courtesy Paul Davies
Pauls restored Fraser HT200
Note: this frame is more like the HT250's
As I like unusual bikes to restore, rather than the run of the mill, and as I had neither seen or heard of one of these before, and living near to Redditch where they were built,
I took on the challenge.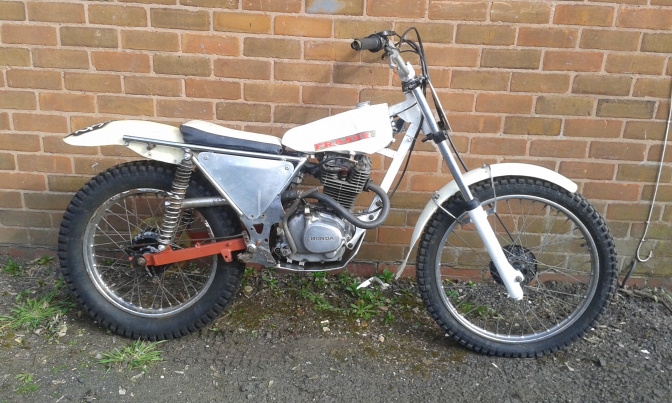 The bike is under full restoration at the moment but as it was mostly there I have only needed to sort out various parts to complete the restoration, and soon I hope it will be complete and ready to use or show.
As you might be able to see, the bike had had a hard life, and the original alloy tank was badly dented, this has been cut open and reshaped to as new condition, as has the frame, and the wheels have been rebuilt with new tyres fitted.
And the engine has been refreshed.
I also have a press cutting from July 1980 from T&MX NEWS showing the bike as a featured special,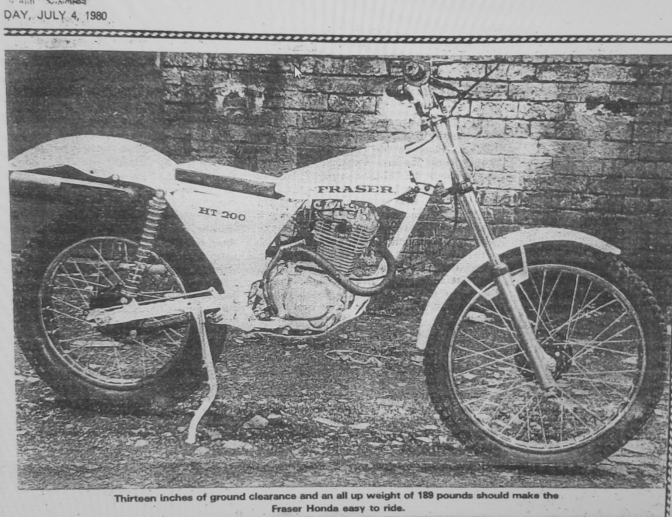 Very Best Regards, Paul Davies.
Thank's Paul what a super job you have done restoring the little bike...
~~~~~~
And One from Linden Thorpe.
I've been speaking to

Paul Davies

as we have the same model

Fraser

HT200

from the early

80's

so thought I would share the photo's of my project.
So this is two of this particular

HT 200

model we know of, anyone know of any others?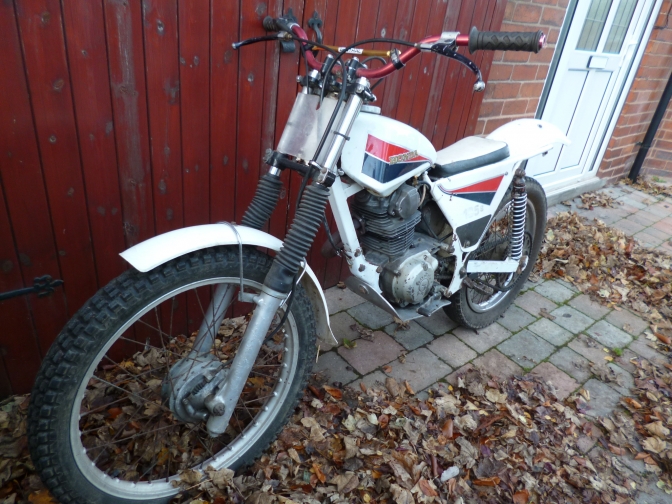 We keep finding these

Fraser

bikes don't we, were there more than was first thought ? Or have most of the build bikes survived?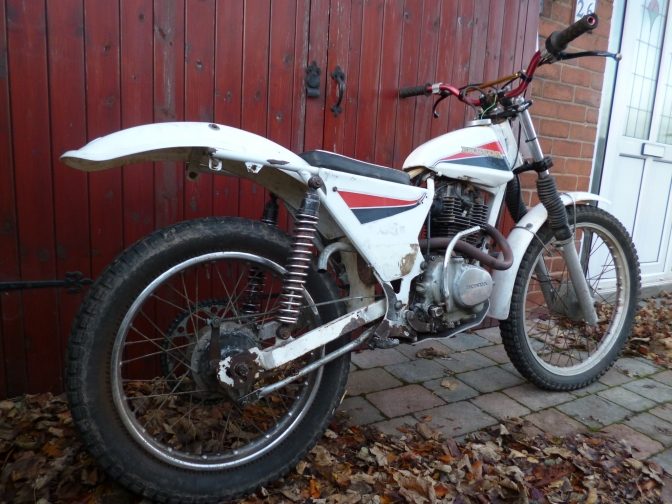 I like the brake pedal arrangement on this bike, and this is the same set up as I need for the

Jialing

wheels I have.
Lindon.

..Hello again

Charlie...
I see in the article sent in by

Justyn Norek

that

Fraser

had plans to develop an enduro version with the aid of

Steve Wilson

so here are photo's of my

Fraser Enduro

project.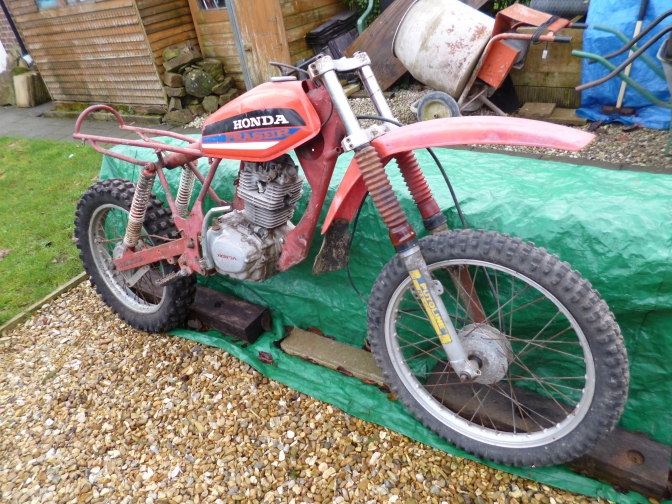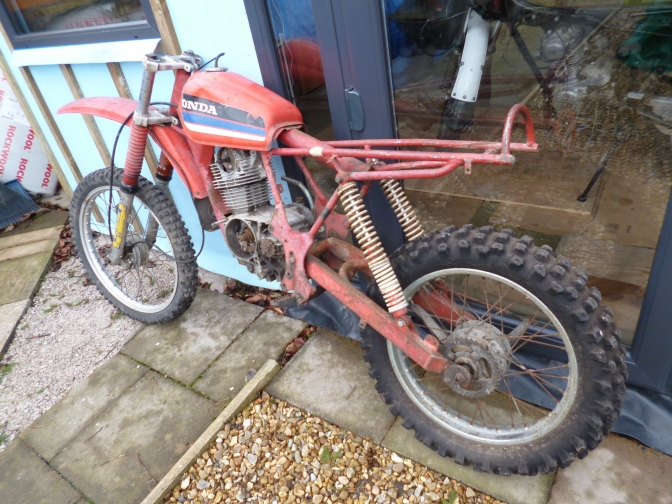 Anyone seen another? Or know how to get in touch with

Steve Wilson?

did he end up down in

Cornwall?
Thank's in advance,

Linden.
It Now seems the appropriate time to try and find

Steve Wilson,

for I am sure he can help us with information on the

Fraser

Brand, as well-as the

ELstar.
Well we now have

Steve Wilson

on-board, and

Linden

he says that

Colin

must have been playing with the enduro after

Steve

moved on to the
B

M

X
bikes...
There was also a

Yamaha

frame kit built by

Fraser

because here is the advertisement.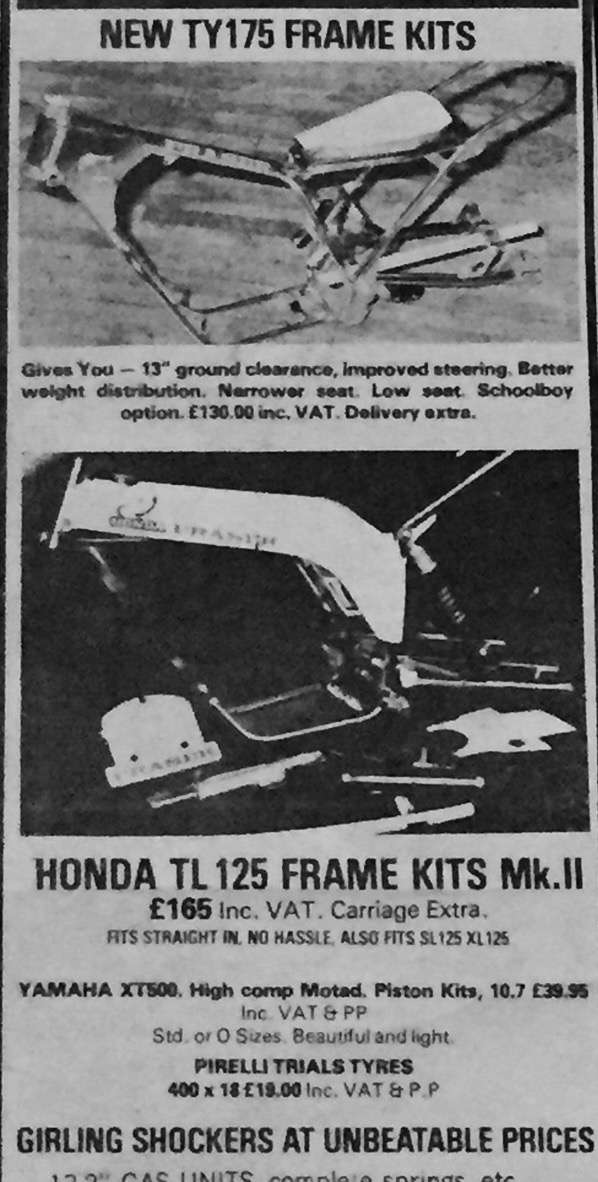 Photo Courtesy, Alan J...
And we will get More "Frasers" Later.
Updat2023...05...