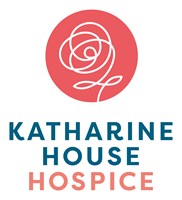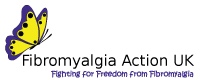 Charity Begins at Home.
So is the saying of the old proverb...
"But how shall we expect charity towards others, when we are uncharitable to ourselves? 'Charity begins at home,' is the voice of the world;" – Sir Thomas Browne, 1642

15/06/2022...

Here are the photos of the build of the machine... and of the charity run, now on it's five years down the line this weekend, and we've not been able to complete any other runs because of the pandemic... But we dont give up... and there will hopfully be another one day......

Ruthwell to Banbury Ride. from Anthony Prescott on Vimeo.

02/02/2017...

So the story so far.
Our Charity Run, for the above Charities, Begins at the home of the Savings Bank Museum,
in Scotland.
Just a casual chat in the TSB Bank in Banbury about adventure on a cheap 125cc Motorcycle fitted with a sidecar. The conversation ended with me saying a Chinese built bike would fit the bill very well,
Gareth the manager,of the TSB Banbury branch, said what a good idea, perhaps we should do a charity run on motorcycles, from Lands End, to Banbury stopping at TSB Branches in certain towns and cities on the route up.
I stipulated that it should be done on Chinese built machines then.
This was after I had told him and the staff, that eldest son Lee had done a
"Edge Of Britain" and then two years later the "Edge of Iceland" solo trip on his trusty Honda Transalp machine, for charity.
The next visit to the bank changed thing's again, because a female staff member from another branch of the bank said she would like to join in on the fun.
So I suggested why don't we fit sidecars onto our Chinese built machines as well.
I then sketched out what I thought looked like the ideal sidecar.
On my next visit to the TSB Bank Gareth sat me down at his desk, and said he might have a problem with our scheduled route, he had met one of his colleges from the Northern branch of the TSB.
And this gentleman had become very interested in the project.
But had asked if we could not change the run now to start at the Savings Banks Museum, Ruthwell Dumfries DG1 4NM, that this year has a rather special birthday, and perhaps we could then call in and visit Major TSB Bank Branches on the now, route down.
I said I could see no problem with this idea if it was likely to make a greater response to what we were doing.
So the new route is now starting from the museum, and finishing at the home of the Katharine House Hospice at Adderbury near Banbury.OX17 3NL.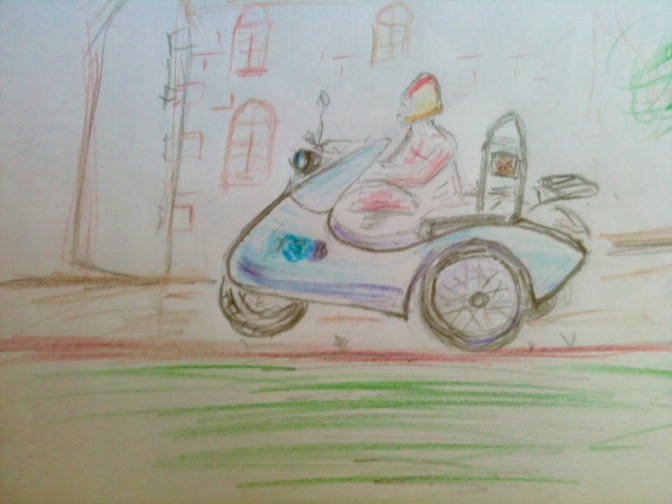 Sketch "Otterman 2010 ©
Then I sat thinking! a mistake! If we could purchase an e-Ranger sidecar ambulance, when we have finished our Charity run the machine could be donated to one of the Africa health care agencies or even Unicef, if we could find a sponsor.
I suggested getting in touch with the local Rotary Club. like the one in Wales that have now purchased SEVEN units to go to Africa.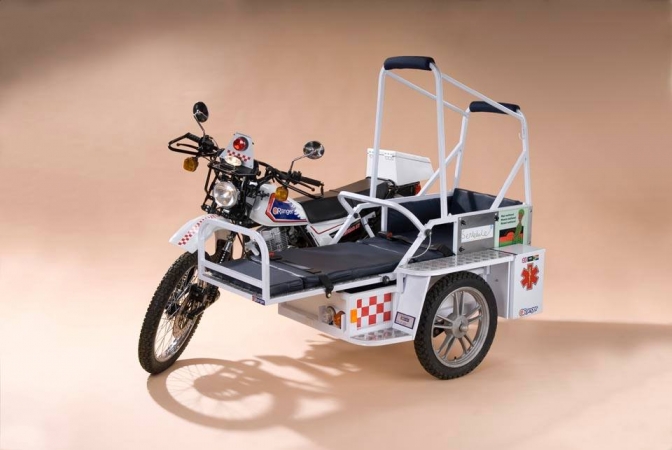 e-Ranger Ambulance.
But then Gareth dropped another bombshell, he wanted a machine built, to be able to push onto a stage at a TSB conference on February 8th 2017.
So with this deadline the only way to get one of these machines ready for then was to build it ourselves.
So that is what we are now doing.
The Scrapbook for this build, is on the China Jialing e-Ranger page for you to follow.
I will keep this Jialing machine after our run, for further charity work, to bring an awareness to the need for a vehicles such as these, to get patients to Health Centres quickly in developing country's.
This Page will now Build and Build.
And the two young guy's that basically instigated this whole idea,
have now had a article in the local paper the Banbury Guardian published, about their inspirations for a circumnavigation of the planet Earth. to keep their lives alive.
Good Luck Guy's.
But on a Scooter and sidecar? you will need our support.
12/01/2017.
Update on progress, and New pictures tomorrow snow permitting.
All of the tubing for the sidecar is now sat on my welding table waiting to be cut and bent.
All lights suspension unit, new wheel and tyre, inner tube, and bigger bearings for the wheel are here, or on the way.
Drawings and work photos are also done.
So I spent this afternoon machining parts for the New square tube bender. My brother had spent the last weekend making and machining a 1" larger radios lever bender and roller for the 3/4" tube, so I finished making the other parts to bolt to the face table today.
So weather permitting we should be constructing the sidecar this next week end.
More later.
28/01/2017.
As You now know if you have been following the Scrapbook of the build on the China Jialing page. the SideCar-e frame work is now at the powder-coaters to get its white livery carried out.
We now have a week to build the bike up for a photo-shoot next weekend.
Today Gareth popped over to the workshop, to check on progress, and take some photos for the TSB, and himself, for publicising the events to come.
Here are a couple of the photos of the Jialing in it TSB livery.
Photos Courtesy "Otterman".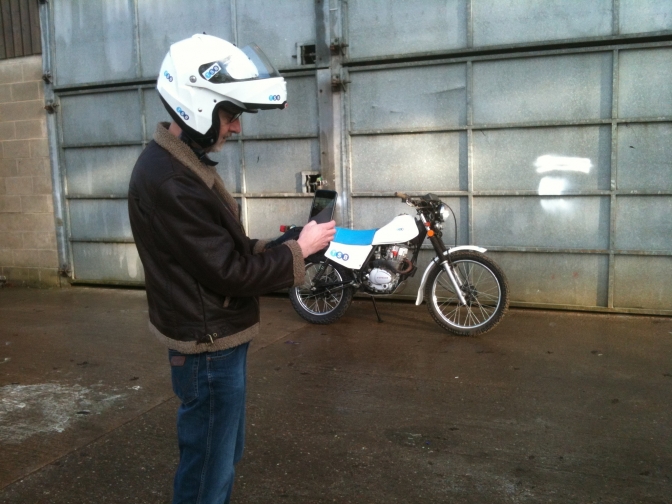 "T"minus eleven and counting.
Gareth, pushes the button.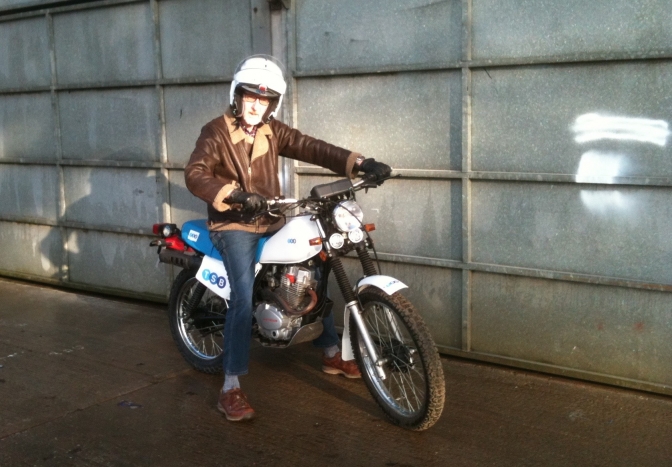 "Thunderbirds are Go".
>>>>>>>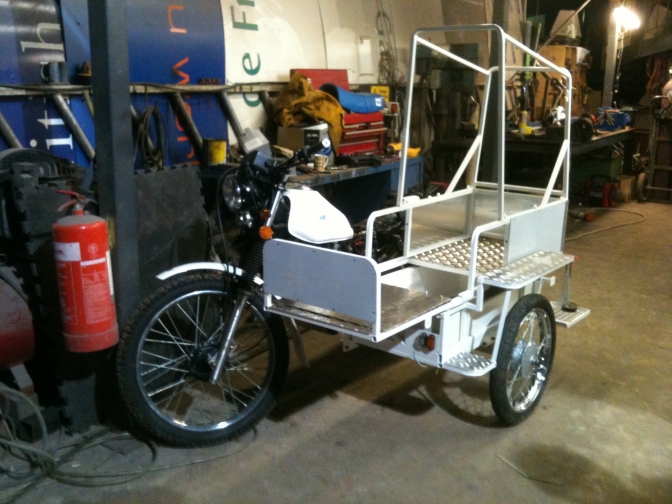 SideCar-e Project ,
Nearly there, plugs graphics and wiring today Sunday 5th Feb 2017.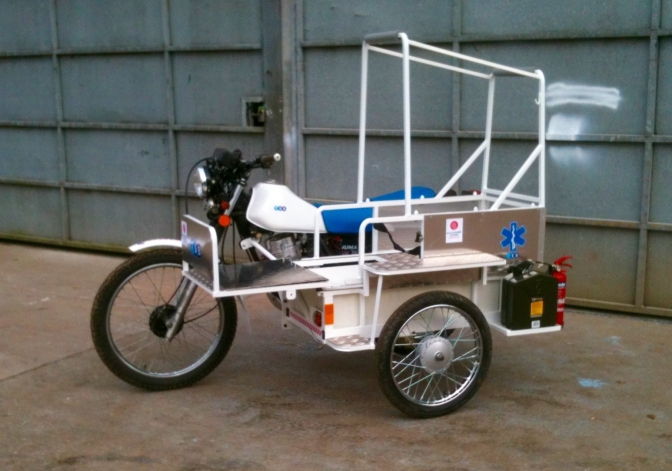 Sidecar-e ready and waiting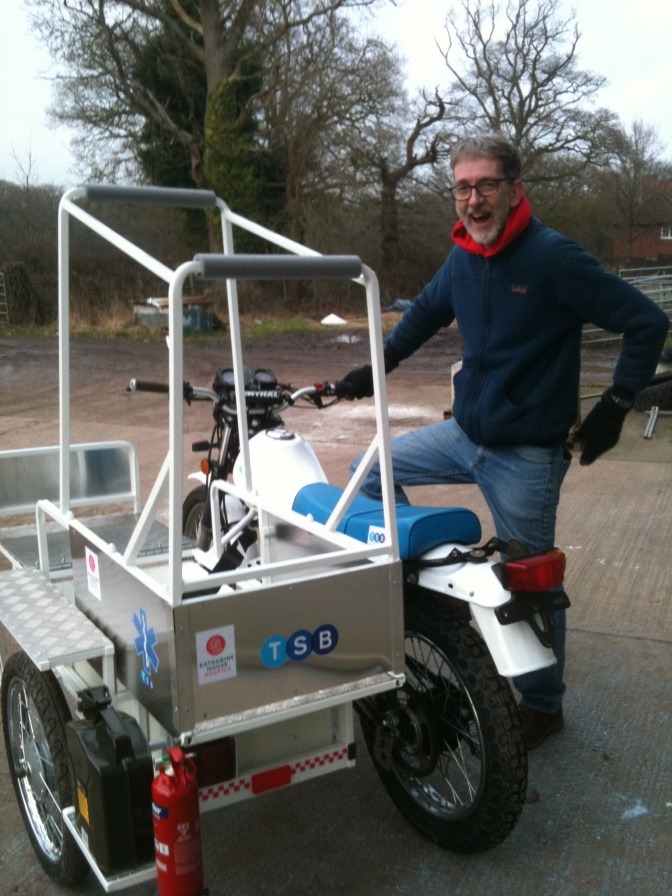 Gareth likes it!
Ready tomorrow.
11/02/2017.
Well we got the SideCar-e to Leeds after some last minute hick-ups.
We had to use a New trailer to take the machine as it would not fit into the van without dismantling it. and I did not want that.
So phase one of the exercise is now completed . we have more photo shoots in the next few weeks and the SideCar-e will be making other appearances at more venues before the Charity Ride.
I am amazed at how much Gareth raised at the conference, that amount he will reveal in a press release later.
Here are a couple of shots that say how we feel at present about getting on with this very worthwhile job.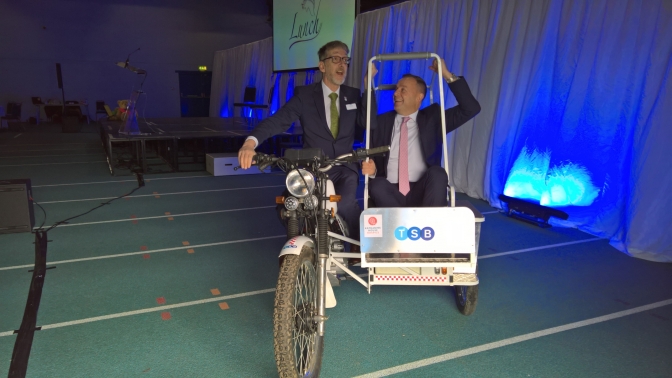 Photo Courtesy Malcolm Kew.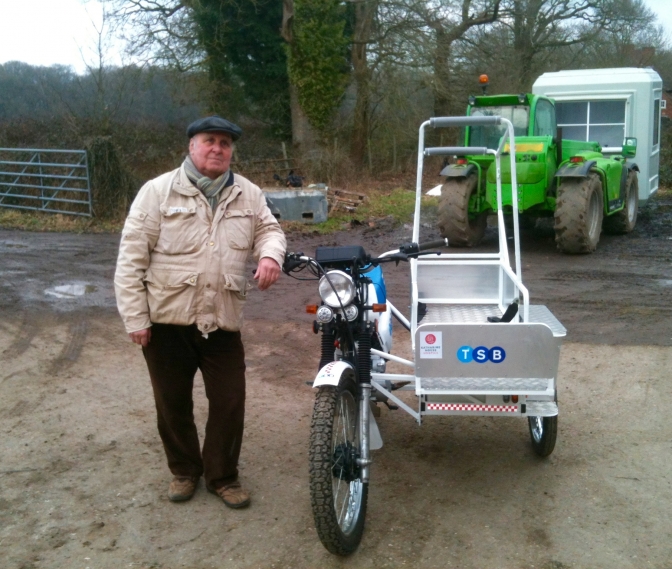 Photo Courtesy Chris Smith.
Charlie,> Look, Just think about it, we built this simple vehicle as a publicity object! but I also built it to prove that something as simple as this, can save lives for people that have nothing like we have in this part of the world, and struggle staying alive, and a machine like this could save many many lives. and we all want to live. don't we.
17/05/2017.
Shocking News from Claire, and now this makes it more important, that we bring awareness to the eRanger Ambulances plight.
Check out all of Pikilily Workshop.site and listen to Claire's video diaries.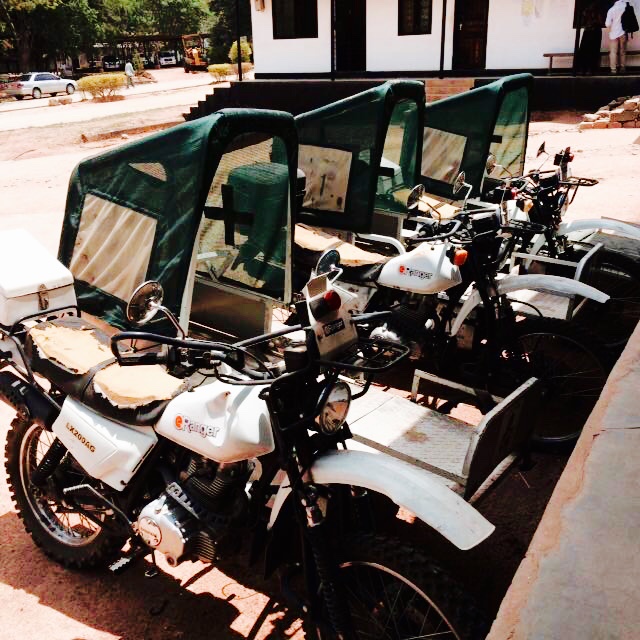 We can help.
Now Diary 25 from the "Pikilily Workshop", you can see that there has been progress. And it looks like Two eRanger ambulances may be put back into use.
You need to listen to all of Claire's diary's to get the full picture.
So we got our Sidecar-e finished for the TSB conference.
But my whole intention for building this machine was to bring awareness to the usefulness of these little machines in saving lives in Africa, and following the progress of a couple, Juli and David Kramer that delivered two of these machines from Daventry in Northamptonshire UK, to Africa in the "Budapest to Bamako" charity rally.
I decided that with the cooperation of the inventor of the eRanger ambulance
Mike Norman.
We would bring more awareness to the usefullness of these machines in developing Nations, in this country UK, if we had a Proper eRanger Ambulance here for the next few years to run on charity rides and show at events across the country, UK.
So Mike and I have organised a eRanger Ambulance being brought into the country (UK) from the factory where they are built in London South Africa.
We will hopefully get our machine here for the TSB charity run in June this year.
I have decided to set up a Donate account for funding this machine, and for others to be sent straight to there destination in Africa, or elsewhere in the world.
I can also be contacted if you are a Corporate body or company that think you may be interested in having your company logo on the machine, or helmets, and clothing that we will promote.
So if you are remotely interested in helping this great cause get in touch today as there is only limited space for advertisement.
char7748@tiscali.co.uk
If you have a conscience Think about it Now.
••••••••••
More Later,
But take a look at "Austin to Africa" for and idea of the commitment we have to how workman like. these machines are..
*******
The two eRanger Ambulances that were delivered safely to there destination followed this route in the documentary below.
Pictures of the machines later.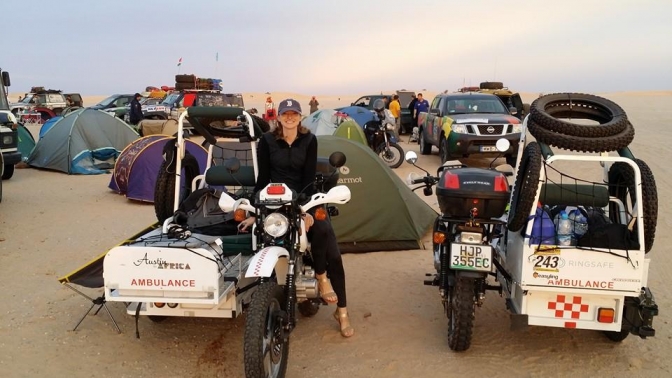 Photos Courtesy "AKA" Austin To Africa.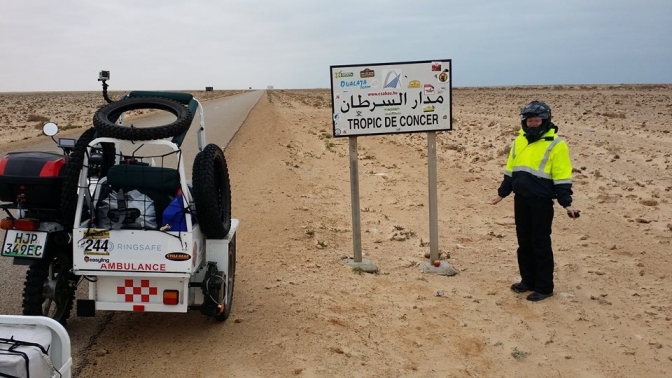 Photo Courtesy David Kramer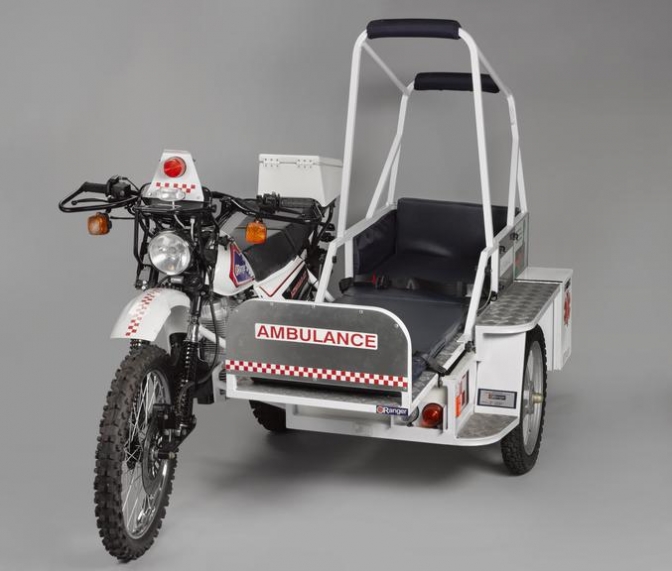 Our eRanger Ambulance.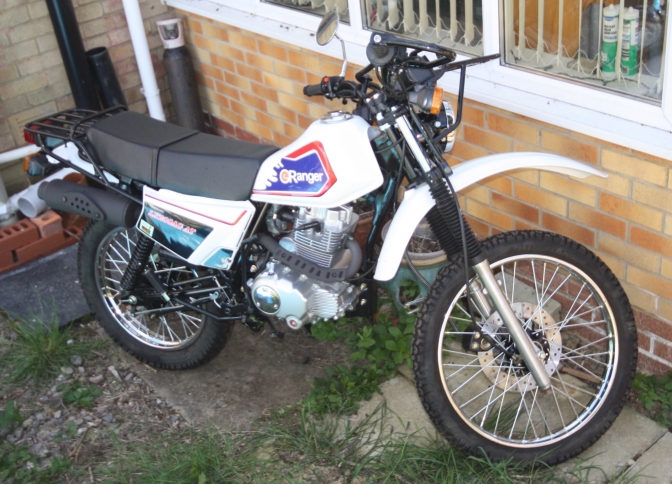 Photo Courtesy "Otterman",
Bike is now here, we are awaiting shipping of Sidecar Ambulance.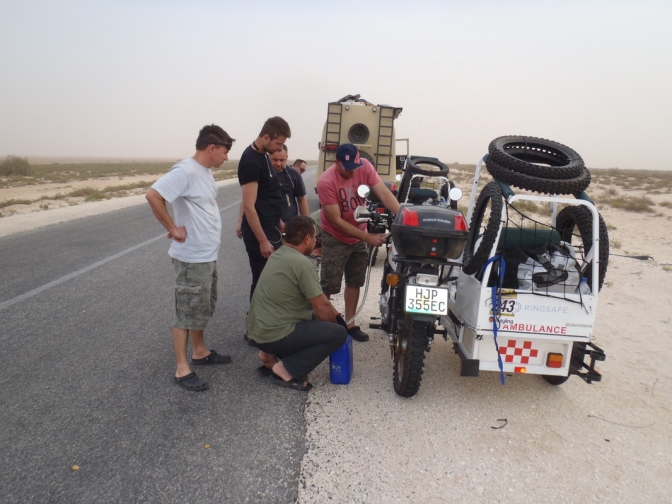 One of the snags on route was that Diesel fuel got put into the two bikes instead of petrol (Gas), then the lot had to be syphoned out and the carburettors cleaned.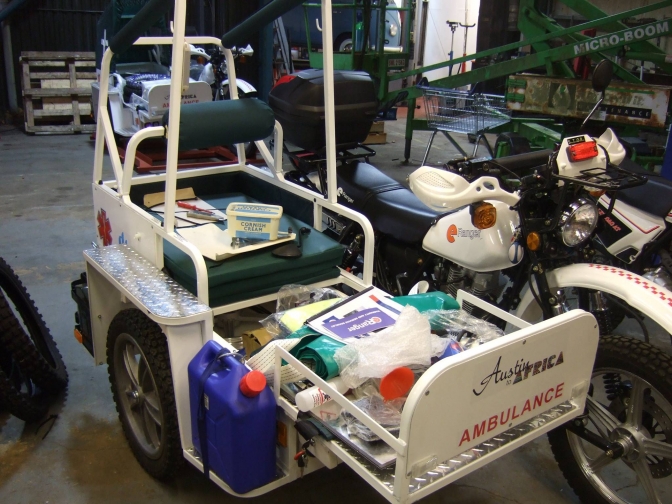 The machines had been shipped over to the UK on pallets for the start of the journey,
and were prepared by Mike for the trip.
Note the Cornish Cream carton. and all the equipment and spares that come with every eRanger Ambulance.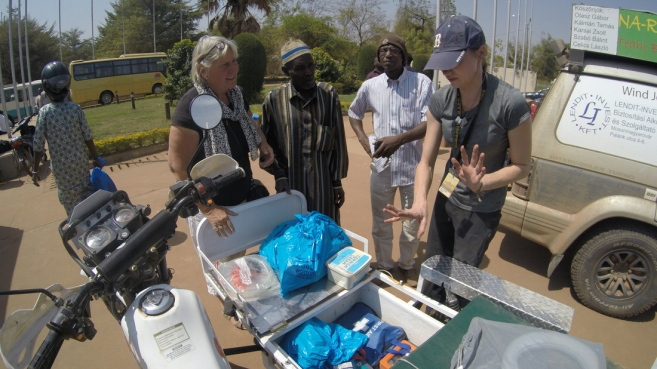 And at the hand over of the eRanger ambulance, after its mammoth journey. the equipment and the Cornish Cream tub have made it.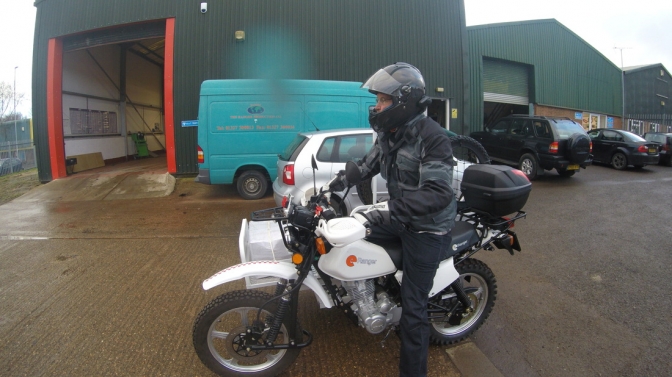 David Kramer tries the second eRanger machine out, outside Mikes workshop in the UK,
before the journey.
Even the motorcycle top boxes come with the equipment supplied.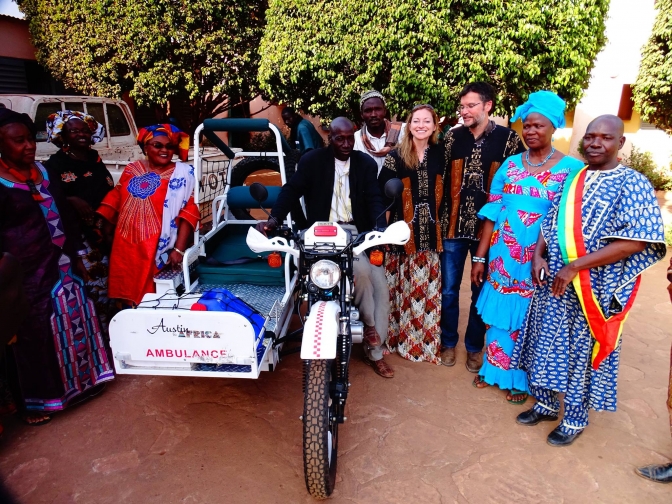 And that second machine is handed over to the village elders that are taking responsibility for its use and upkeep.
Good Job Done Guy's.
Yes we may be building one of these later?
Join in, and help us save lives here, and abroad.
Copyright BBC©
Another good idea for the use of the eRanger Ambulance.
More on this connection later.
I am sure that the use of sidecar ambulances here would be of great benefit.
August 2017.
We Now have the eRanger Sidecar Ambulance arrived, and I have picked it up from Mike.
Over the next couple of months I will be building the machine up and preparing it for Charity runs and shows, (events), later in the year, and for next year.
I am looking for a corporate body to pay for advertising space on this machine, to fund as many events as possible next year.
The more it is seen the more chance we get to fund others for the emerging nations of the
World.
If you are interested in donating to this fund there will be a donate link later, along with more information.
Thank you, Anthony.
updat2021...