Home! James...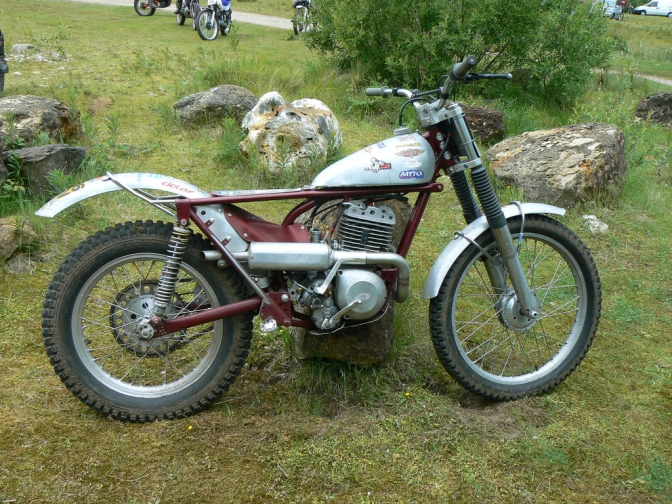 Photo Courtesy Mr Martin...
The "Mick Andrews Replica" works James,
With James Holland Frame.......
Home! James……
We take a look at the phenomenon that was a new! Well replica, trials machine, which was the "Mick Andrews Replica" James.
That's after Mick had put the bike on show a couple of times at off-road shows, and I for one remember seeing it for the first time, at a show in Coventry, put on by Wrighty…
Well I think it was about 2005, it could have been before, I will have to check, anyway every man and their dog wanted one of these "MAR" James, (Actually the frame they all wanted to copy was a Francis Barnett Model 85 trials frame, AMC had just re-badged the works AMC bikes James, and gave them a coat of maroon paint.) (Oh yes and replaced that terrible AMC engine back to a Villiers.)
Well what seemed like over night, nearly every named trials motorcycle frame builder in the country, were copying what James Holland had created for Mick. James Holland had used the old beaten up original works frame of Mick's to make his Jig for the replacement machines frame...
Some frame builders were even constructing jigs out of wood to catch this boat before it left port.
By 2007 these James "MAR"frames were everywhere, some were good quality, and some really poor, and a lot heavy as well.
Even Mick thought his James Holland frame was heavy, and drilled holes everywhere he could on it, even to the extent of drilling holes in the steering head tube and then plastering the holes with little paper stickers.
Apart from the frame builders who were cashing in, other classic motorcycle engineers were making fork conversion kits to fit into Norton Roadholder fork sliders or AMC using Beta or Marzzochi stanchions and damping…
Even though Mick's James MAR sporting a small Montesa front hub, and replica REH Grimeca type conical rear hub, these were not fitted to the replicas as a certain trial beyond the Scottish border, said these were not allowed in their so called rules at that time, or even now.
So most were fitting BSA Bantam replica hubs made from aluminium….. which were deemed OK...
Nice set of Norton converted forks, and Bantam type alloy hub, from Alan Whitton...
Most power units were the Villiers 37A type and Maccelle type barrels fitted.
Even the thriving Kart scene were getting short of Villiers engine parts as most were now getting ploughed into the MAR bikes…
By 2010 some of the replicas were that sophisticated, that even modern mapping of ignition and carb was being tried behind the scene…
Then for some reason the James "MAR" Replicas started to slip out of favour, was it the poorly made frames of some that were dragging the good ones down? Or shortage of Villiers spares?
Or just that the fad for these bikes had come to an end, and something new and different was now needed, to replace this "MAR" James as they were just, well, to many in numbers, and competitors wanted some thing different again... And could that have been the rise of the, new phenomenon that is or was the Drayton BSA Bantam, or indeed any frame with a Bantam late type engine in, four speed that is...
In 2021 it seems even the bubble may have burst on this brand too?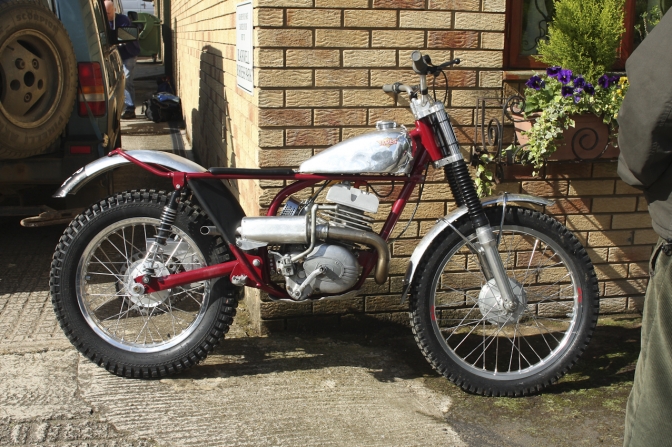 Here is Dave Paxton's James MAR bike 2009....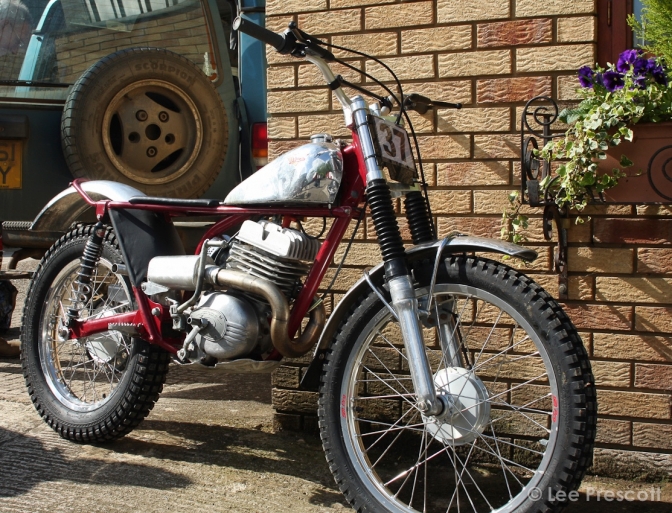 This has a frame constructed by Wasp Motorcycles......
This company was responsible for a a great many of the "MAR" James frames constructed...
~~~~~~~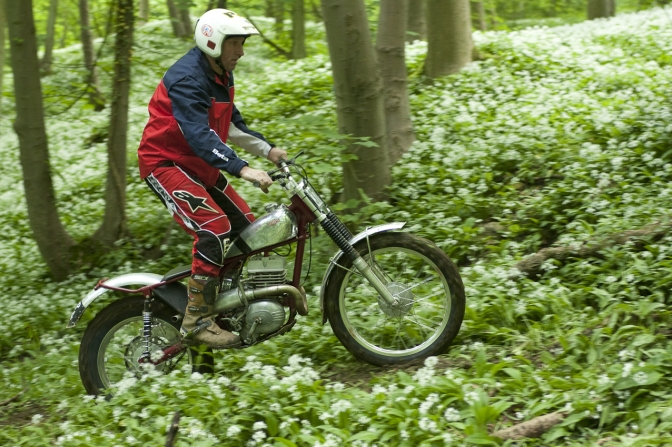 And Dave at full steam in the wild garlic of Weston Wood.......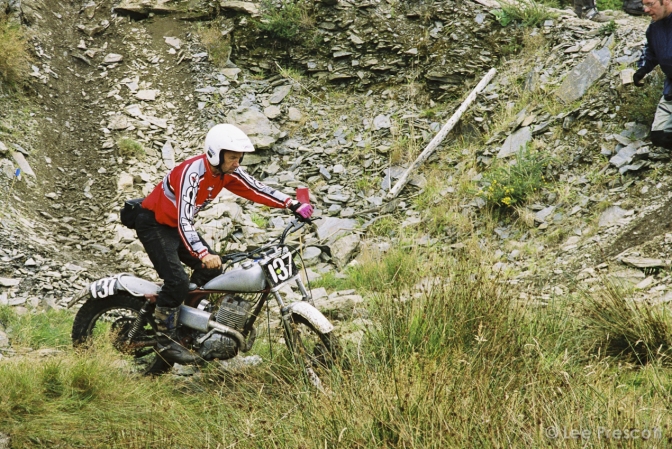 Alan Wright Manx Classic 2007.......aboard his version...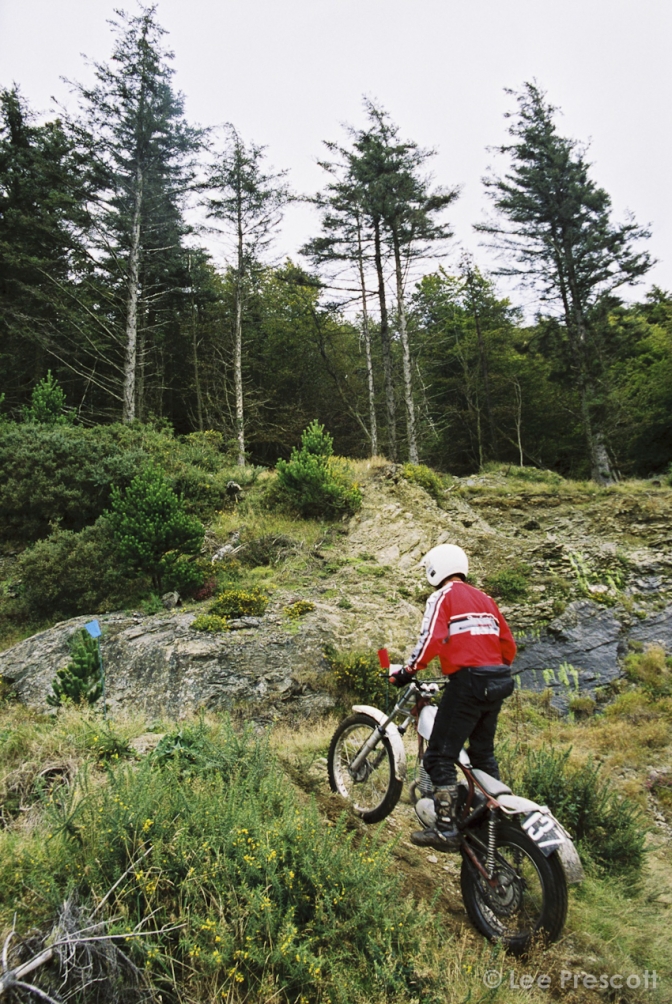 The other side of the Wright, "MAR"James.......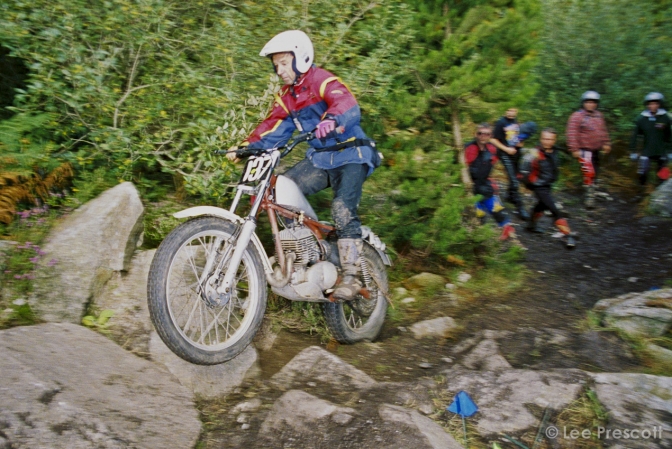 Old Stoney Mountain, Wrighty again moving, after a L---o---n---g time inspecting the section...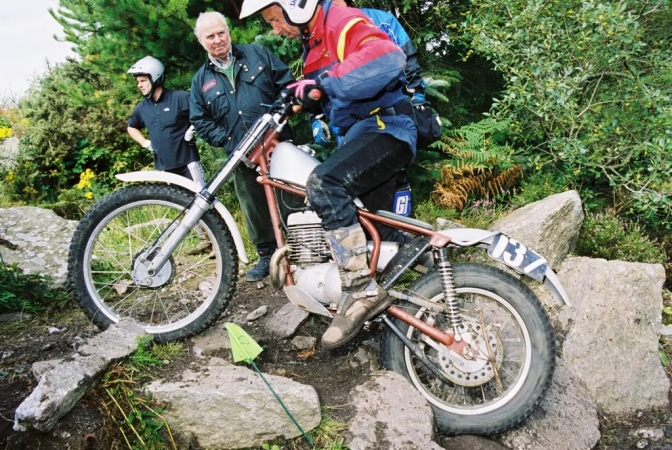 Then his foot slipped off the peg... Was it the evil stare?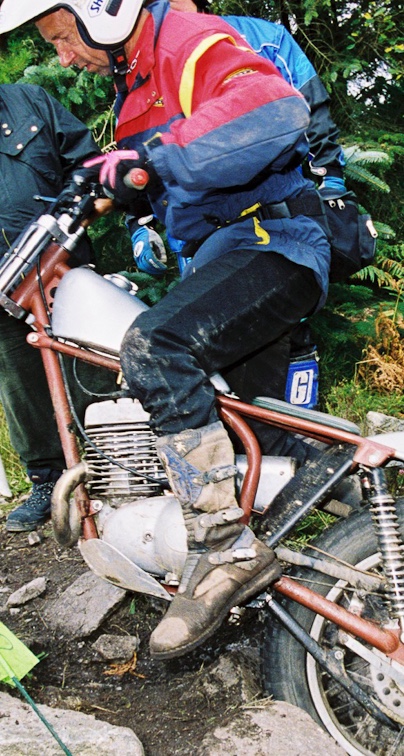 This was 2007 and Wright'y still only had the frame in red-oxide paint.
and note the kink in the top-frame-seat-tube bend...
Work in progress perhaps...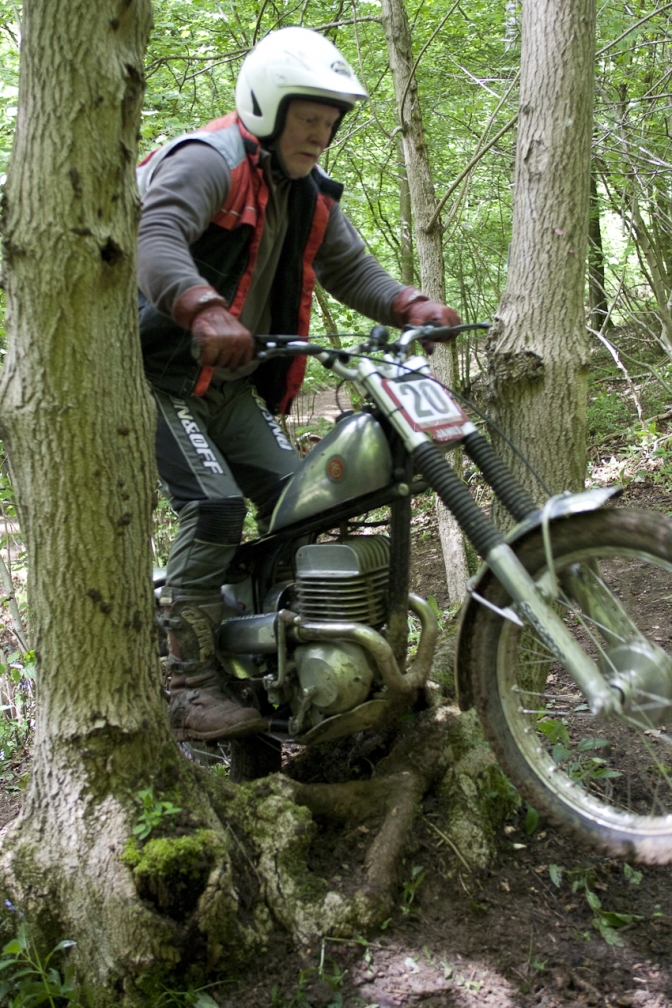 Here is "Rock legend" Barry Micklethwaite, riding his Francis Barnett version in the Sam Cooper trial.............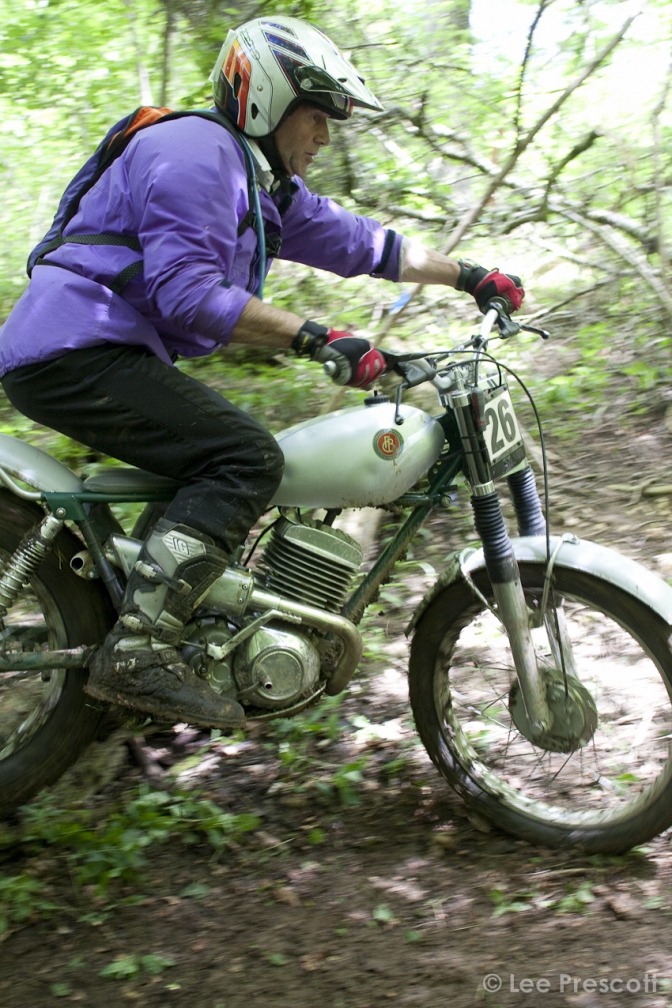 And another "Fanny Bee" version in the same trial, in 2007...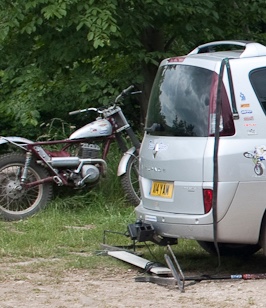 The proper job "MAR"James hiding behind Mick's Transporter, at
Bury-Cliffe Quarry...
June 2010...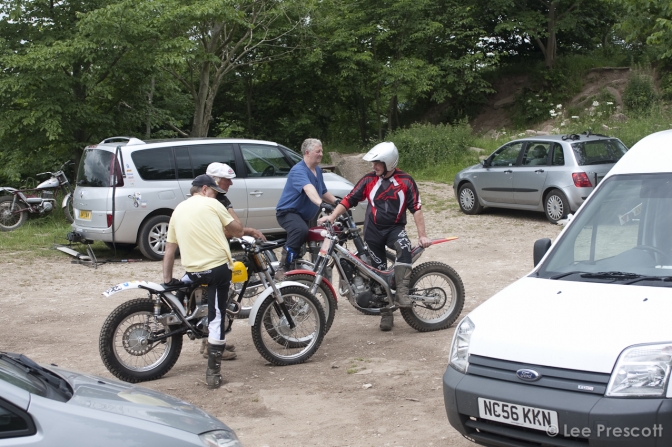 Mick and his disciples.
Have they found that Van yet?
The van was Alan Whitton's, and it was later stolen...NC56KKN...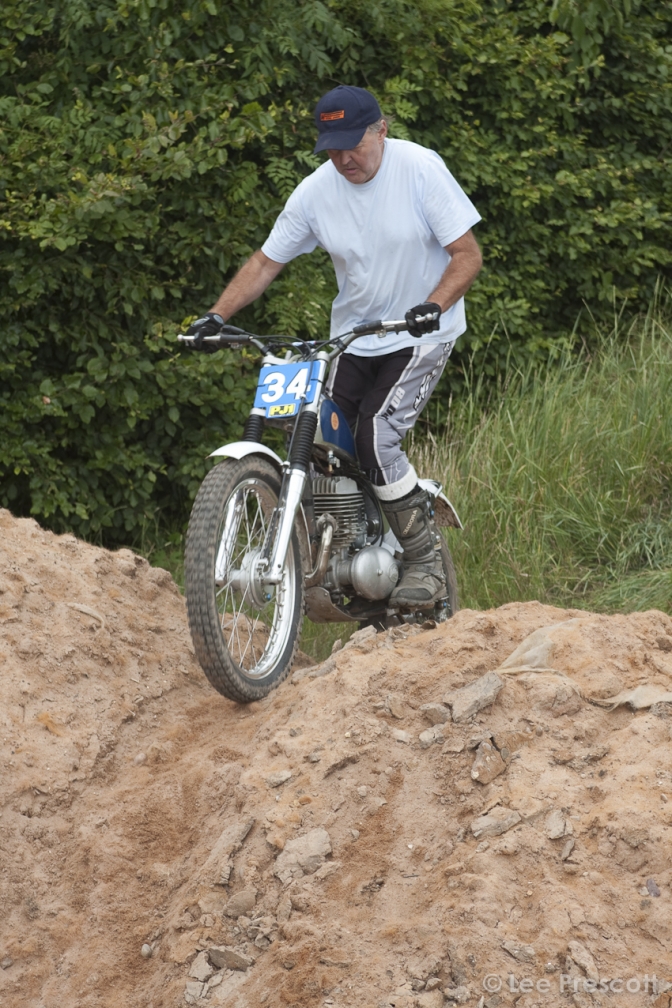 Alan Whitton's "Top-Of-The-Range James "MAR" version, with him aboard...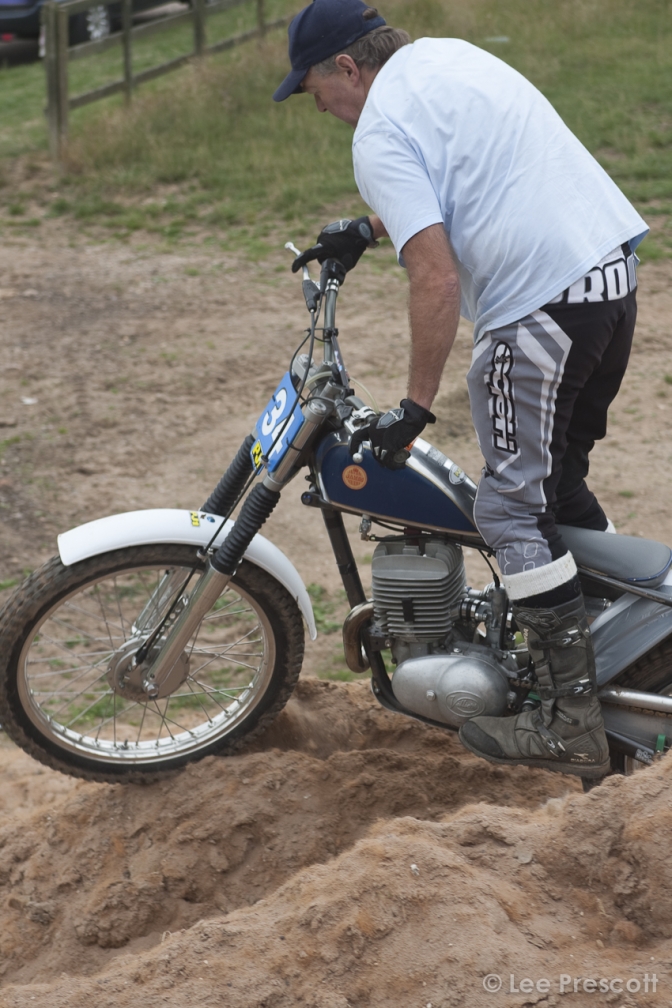 Photo's Courtesy Lee Prescott©
Why does Quality always stand out?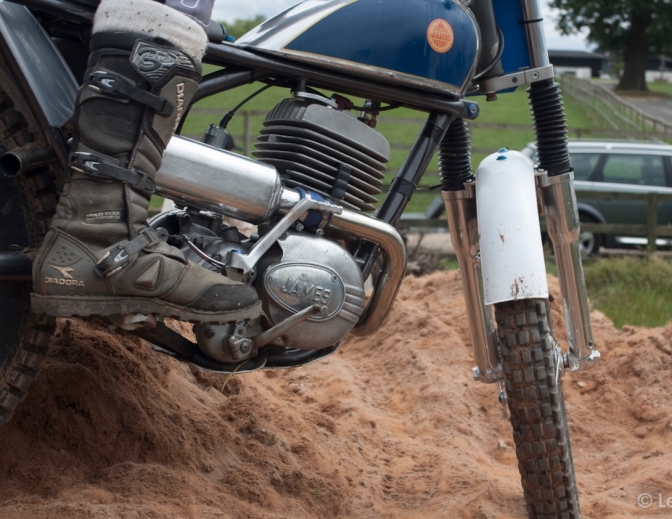 Most Photos Lee Prescott ©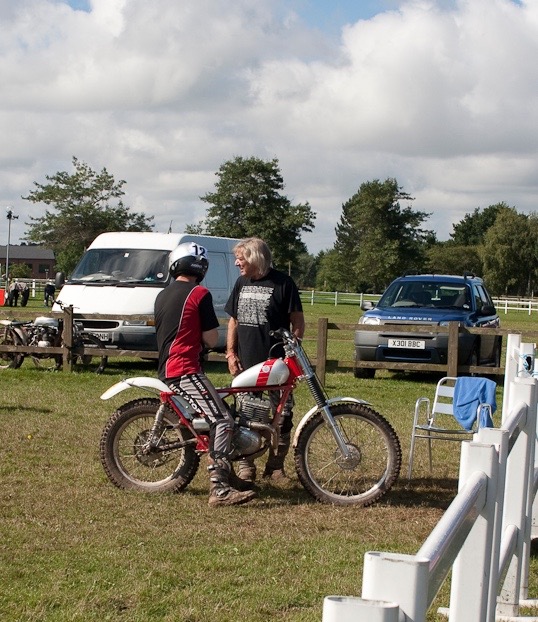 The two Mick's, Andrews, and Gallagher, with the Gallagher version of the James MAR...
And one of the first New batch in the public eye...Mike's bike sported the James Holland-Mick Andrews designed "MAR" frame.".....And also the Mick Andrews porting to the cylinder barrel...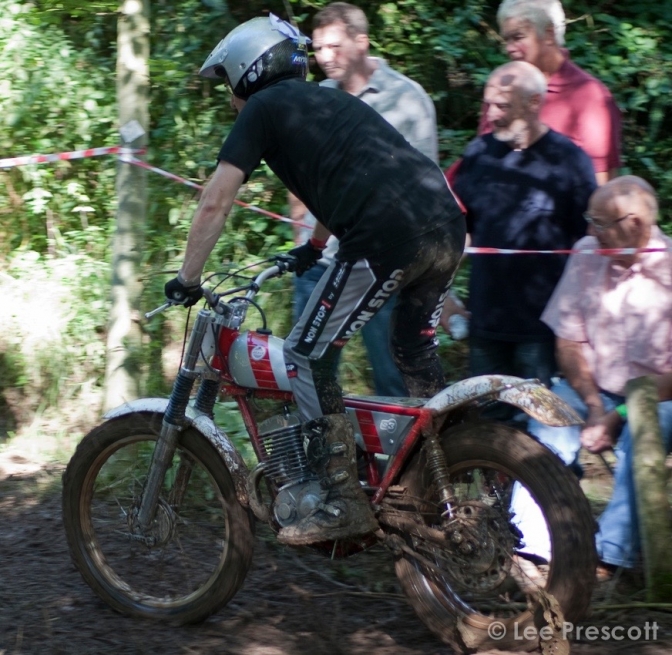 And Mike Gallagher riding in the 2010 Classic Trials Show...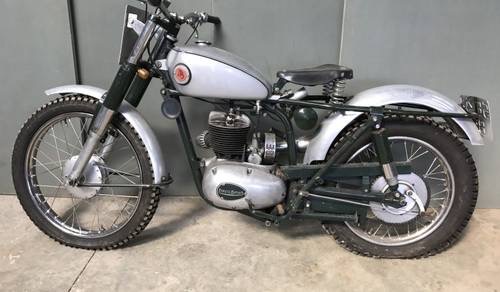 And this is the frame they were all trying to copy.
The Francis Barnett Model 85 Trials...
~~~~~~~
So the big question is, have we seen the last of the
"Mick-Andrews-Replica" James ...
Or will they make a come back?
Or do we get more like this.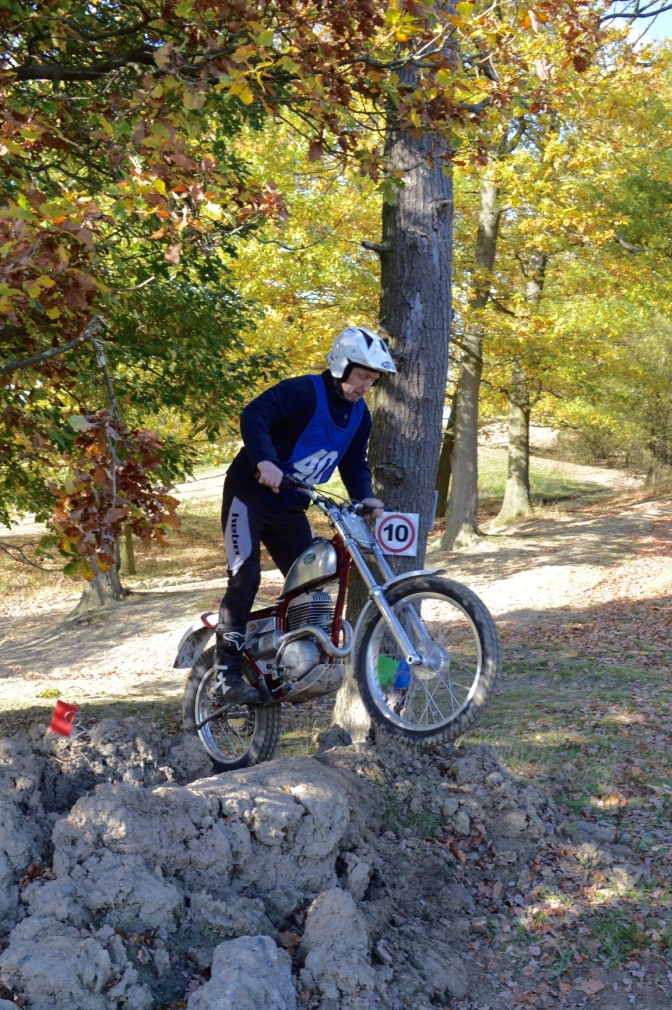 Steve Gollings aboard his James, with Drayton frame, and New Villiers engine, off the shelf, I am told....
As Always More Later.......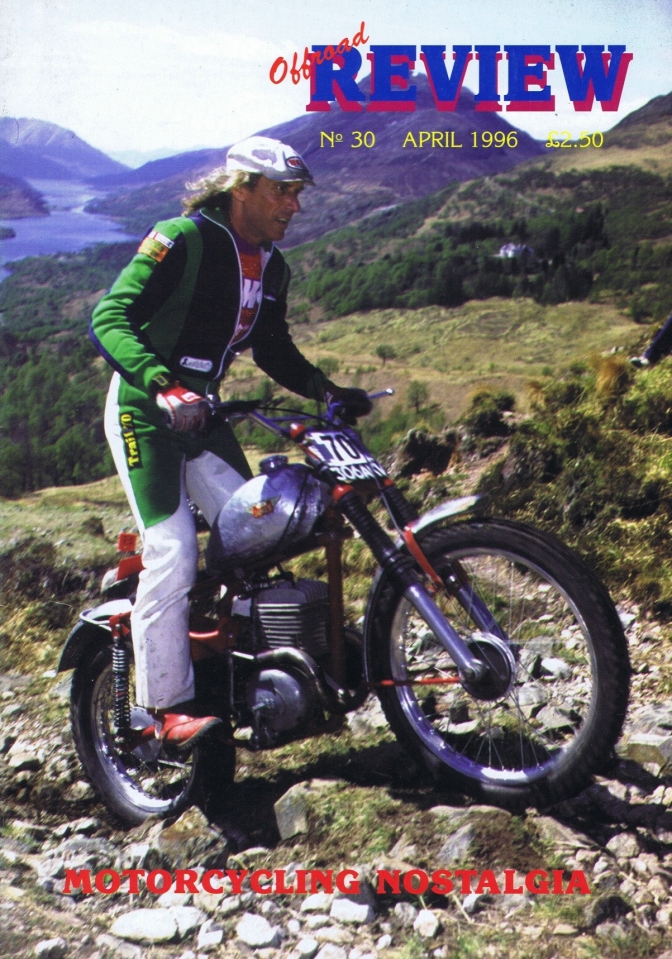 Mick Andrews riding in one of the first Classic Scottish trials...
Was this the old works bike ? I think so...........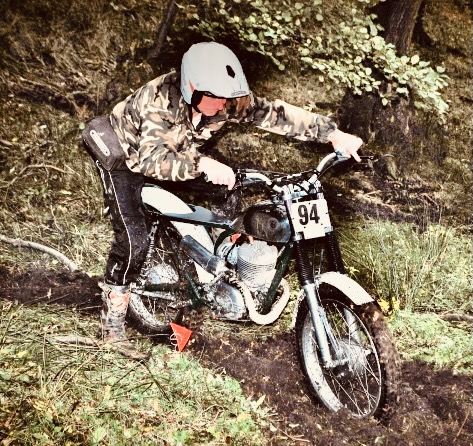 Photo Courtesy "Hammertight"...
2016 shot of Giles Hixson riding his Francis Barnett version in a Autumn BMCA trial...
This frame was made by Wasp, has were quite a few others at the time, including the Dave Paxton James MAR above..
~~~~~~~
The frames that Alan Whitton sold and rode, as did Mick Andrews,
(the last James "MAR"bike) that he rides.......
Were, and are, made by, Paul Rogers-Ridgard, at Derby Road and Race....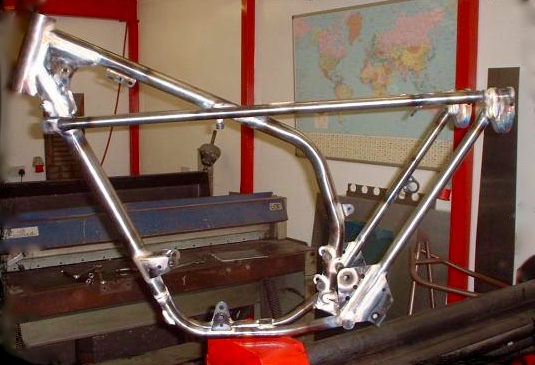 Derby Road and Race... MAR James frame.......
More Later....with a New "MAR" James to come....this year 2023..07..
updat2023...05...