Welcome,
Benvenuto,
Bienvenido,
Bienvenue.
To BSA "Otter".Com.
The "BSA Otter", 2019 News page.
For all that is happening in the
"Classic" Motorcycle Trials World.
~~~~~~~~~
~~~~~~~
~~~~~
~~~
Theme for this year is
"Onwards and Upwards"
Lets leap into this year with every thing that is positive in the Classic Trials World.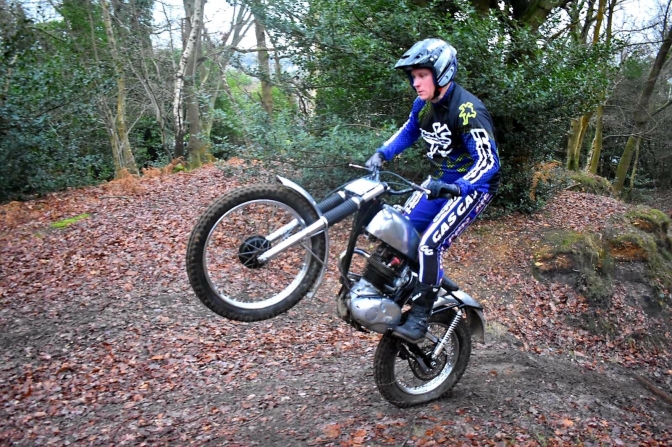 Photo Courtesy Chris, and Ian Ballard.......
~~~~~~~~~
Young Paul Chalwin aboard Ian Ballards "Foster Otter" in the TALMAG Club Thames trial.
Lets all try and get a younger generation interested in an old British BSA trials Iron, this year.....
Take one along to a trial and let them have a try on it.... I am sure they would get hooked on just the sound the engines make.......
I intend to do just that and get Stuart back on a BSA along with the eldest Lee....
~~~~~~~~~
What am I doing this year..
"Build up Year " for me.
I spent last year just building frames, so now have five bikes to build up over the Next few months.......We will see how we get on.
More later as always.
~~~~~~~
Brian riding "Mini-Otter One" at "Bimms Field" IOM....
New Photographer..
Photo Courtesy Steve Corran © IOM...
Superb shot Steven ! makes you want to buy a "Mini-Otter"...
```````
17/09/2019...
I have the computer problems again... with difficulty loading anything to the site... A combination of slow internet and confusing browsers working against each other...
Try the Mike Waller Enfield Bullet page to see if that has worked...
stuff now backed up. I need to sort this problem...
10/09/2019...
I have just started to wade through all the New material I have, it has taken me two days...
I will now start updating pages and finishing the New ones...
Two intersting pages updated, and I have done more.
One is Footage of Mike Wallers trial on the British H&H trials page...
And two, on the WK CFmoto page at the bottom is a machine that may open doors into a new chapter of trials bikes... There is another TW trials model in the pipeline too I have been told...
08/09/2019...
Just spent a sunny Autumn afternoon riding around the country lanes testing this little bike designed and built by Meteorworks®
Superb... I want one...
Para-Blad-e Medic Bike-e from Anthony Prescott on Vimeo.
05/09/2019..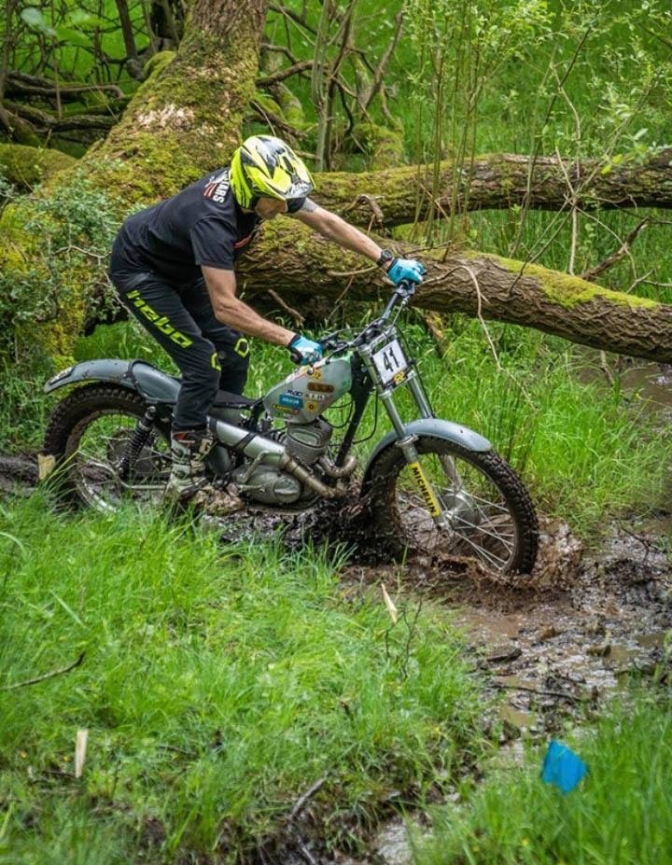 Photo Courtesy REH Forks.
Kiaran riding in an earlier trial this year.
~~~~~~~
TT rider Kiaran Hankin won the Premier award at the Manx Classic trial..
Riding a REH forked BSA Bantam, one of thirty two Bantams in the entry. Only to be topped by the Triumph Cub brand with thirty seven runners. James and Francis Barnett followed with seventeen James badged bikes and seven badged FB..
Brian could not find a Otter in the entry... Shame...
02/09/2019...
OK I will be back working on the web site now the Manx Motorcycle extravaganza two weeks is over...
Been a difficult year with the weather this year...
One thing that has amazed me is how international the Classic Two Day trial as become... not added up the countries competing yet but there were a lot.
And the Manx GP Newcomers this year 49 percent of the entry were from countries abroad and two French winners in the week...
Pictures and reports later...
Also if anyone is interested there is a Saracen frame tank and two engines for sale from Jane Goodfellow.. Information will be on the Saracen page...
23/08/2019...
This young guy is a Star ... and his Mum...
Trying to find coverage of the Classic TT.. I could find Not A Thing... until this morning I stumbled upon this live streaming coverage. And again tonight...
Is it that NO one cares that this is now a major motorcycling event, the Manx Festival of Motorcycling.?
Or are we just complacent to our every day lives...
This young guy and his mum have decided to give us all a view into this major motorcycling event ...And did you see anyone else bothering to put any effort into showing an interest? I hope the young man goes far with any career he chooses..
All I can say is thank you from me....
~~~~~~~
19/08/2019...
Episode six on Mike's Enfield trials build ...
16/08/2019...
M...All Mini-Otter pages have now been put together in the navigation bars.. and all have been updated...
I will over the next few weeks try to group other relevant pages together to make navigation better for you...
Gary Britton Number Five build Page updated...
14/08/2019...
A few of you say you have difficulty reading the side menu... as your eye sight like mine is not very good.
I have just sent this to a friend.
Hi…
Navigation.. on the web site…..
Go too the top right hand corner on the opening page … And the word MORE:::> appears..
Click on that and you now have a full sized menu for the web site that you should be now able to read…
Check it Out…
Regards Charlie. PS I am working on improvments for the site , but still like the old format... Do You?
12/08/2019...
Episode Five ,of Mikes Enfield trials build now on...
11/08/2019...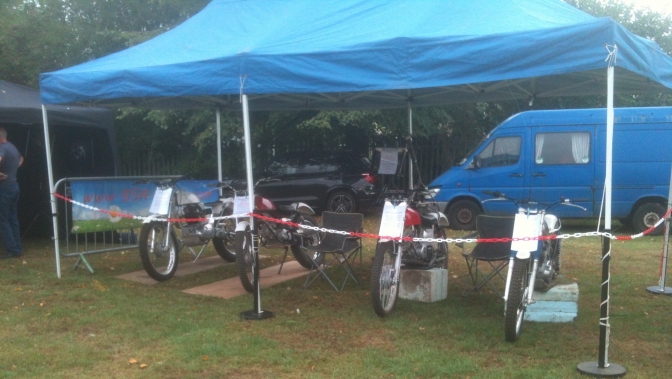 Would you believe that twelve months ago today we were at the Brackley Festival Of Motorcycles...
Well unfortunately this year had been given a miss by the event, has it had totally outgrown, over the past ten years, the amount of work that has to be put into an event of this size. So a year off to re-group was called for.
The team that run the event just need more volunteers to help with the organisation and work load of the event. So if in the next months you feel you have the ability to help for next year, please get in touch with the organisation..
I must say that the organisers may have made the right decision this year as the weather has been appalling today...
Anyway has I said below I have spent today in between the thunder storms and IT black outs updating a few pages and putting some more together.
Yesterday I spent much as I did this time last year putting together a Mini-Otter. this time not number "Two" has last year, but number "Five"...
Updating Pages ,and a new one later...
List later...
My Mk 2 Faber Otter Page...
My BOK228C Replica Page...
Alloy Fuel Tank, Methods of Construction,Page.
Faber Otters... later..
New Page Later.. and more updated that I have not listed...
06/08/2019...
Meteor Works Gas Fluxer... from Anthony Prescott on Vimeo.
This will be on the "steel bike frame" page later...
04/08/2019...
Episode Four of Mikes Enfield Build now on that page.
And Mike has sent me a video he did for me, on the Tenaci-Wong ... and that is on that page...
03/08/2019...
"Whats next to prosper in Pre65 class"? on TC...
Here you go Jim...
"Pre 65 C90 Honda Cub Replica.". and new replica frame built on the 03/08/2019....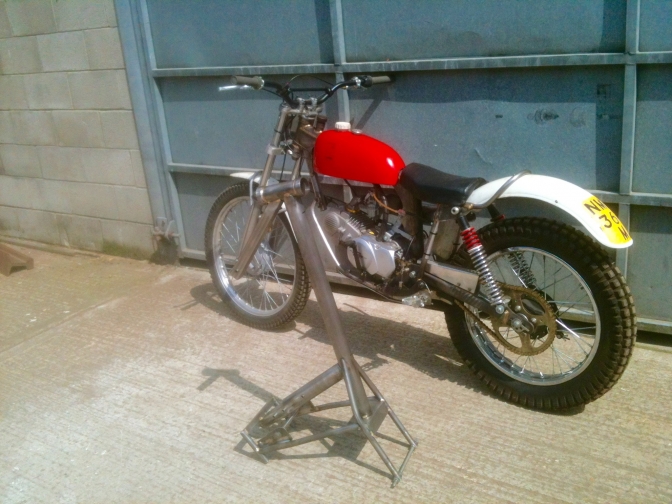 02/08/2019...
Tenaci-Wong TWC200 page updated and will continue to be over the next few weeks.. So keep taking a look...
01/08/2019...
New Veloatelier "London Para-Medic", Prototype E-Bike....
Is this the future ?....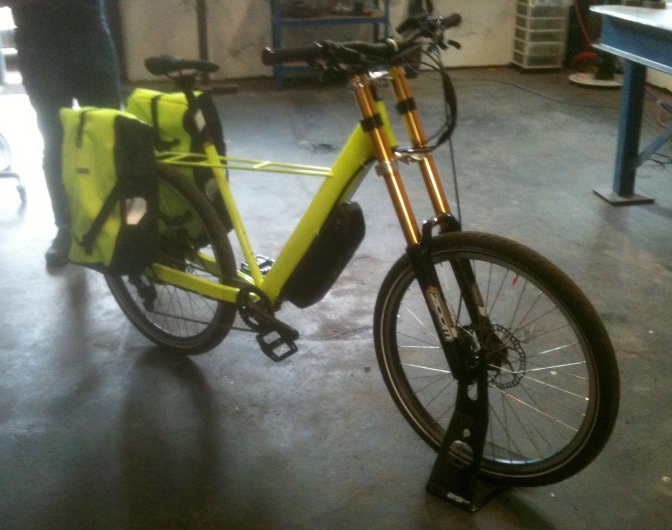 Don't forget you saw it here first...
Designed and built in ten days by Lee & Lee...
31/07/2019...
OK enjoy this video, Great Stuff..
Because it may become more important in the coming weeks...
~~~~~~~
29/07/2019...
Mikes Enfield Build ,
Episode Three, Now on that page.
26/07/2019...
Chris Leighfield Page updated, with the story about the Taylor TC120 Suzuki
22/07/2019.
"Episode Two" of Mike Wallers Enfield trials build now on that page...
21/07/2019...
New Page Mini-Otter Five.
15/07/2019..
New Page Up... Mikes Enfield Trials Build...
14/07/2019...
~~~
"So you go" in kids speak, something has got to go wrong!!!
But I had one of those days... that only happens once in twelve months if you are lucky...
I had the big workshop to my self all day, brother is ill, and not good I must say...
I arrived before one, and made the most of the opertunity, knowing that I had to pull lettece from the garden, and spend an hour watering it..
another of brothers bright ideas...
So we have Lee Cooper over from Cov on Wednesday to show us how to set up the bronze welding with the Fluxer, so I need a frame or something to weld...
Set too and get the next Mini-Otter frame sorted I thought.
But I have struggled with the jig for this for the past four frames. ( don't forget we were only going to build one.
I thought after setting up the top tube and steering head yesterday, I would just have an easy day and set up the seat tube.
First thing I needed to do was hole-saw the 2" tube at 70 degrees. but the hole saw jig only goes to 60...
I tried for thirty minuets trying to fathom this out, an then realised half of 70 is thirty five...
And the tube set the other way about in the jig at 35 was exactly what I was looking for. and the hole saw cut through it without hassle...
Then I needed to cut it to length , I had not noted this before (only one don't forget.)
I measure thrice and cut once but it was sill too long...
I measured Bike number two several times .. and still got it wrong...
I need to get this right once and for all I thought ,and I have struggled long enough.
then after trying to set every thing up correctly realised the top frame tube carrying jig was over to one side. it may have worked in the past but I was determined to get this right this time..
Elain on Sunday did not help..
How can you speak to a tune and get paid for it big time.
Anyway I was inspired for the next hour, I cut bent and welded bits of steel before I had a true jig to be proud of. And by the time I pulled the lettuce had three tubes in a jig ready to tack bronze weld and also ready for the next...
This only happens once every twelve months so God knows what the rest of the subframe will be like.. Good day though and one you dream about...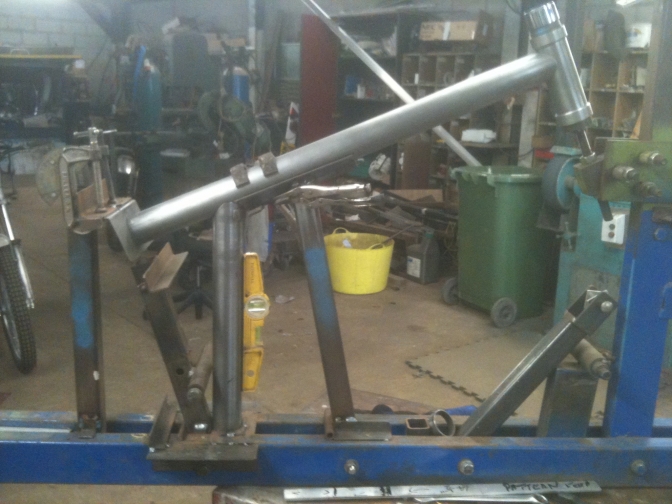 ~~~~~~~...
A week spent sorting the new gas welding equipment, and getting it working with the new GasFluxer.
Just can't believe I have waited all these years before buying one, the difference it makes to the job is incredible.
Just had to start Mini-Otter Five frame just so I have something to weld up with the equipment.
The "As-seen-from-the-sidecar" lads have been on another Mini adventure on Mini Bikes just to prove how good Honda bikes are. but not the ones to fit a sidecar too ? the two mini bikes I mean...
Byfield-John O'Groats and back in four days in pouring rain. 1400 miles without a hitch and at full throttle.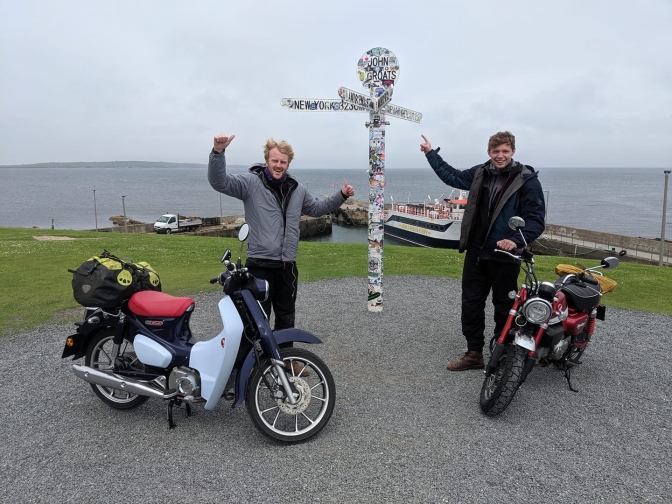 ~~~~~~`
10/07/2019...
Memories...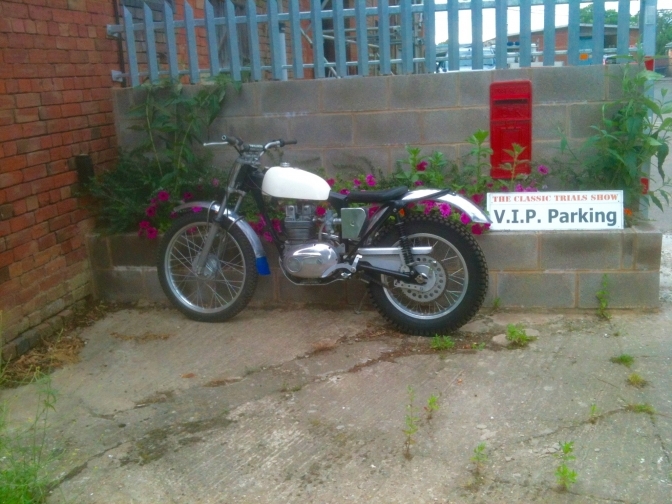 Page update Brian Brown Page with interesting little bike...
Day one with the NEW Gas Fluxer...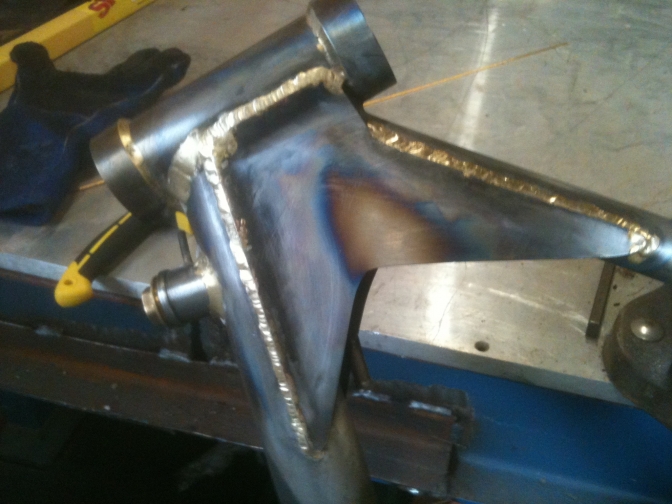 09/07.2019...
Well that has been an hectic two weeks... and not with the motorcycles but with showjumps.. an order was overlooked and six shows were already out, so we had to find two complete sets of jumps for last Friday.
and this involved making parts,down to the deadline...
But I am back on the Otters now...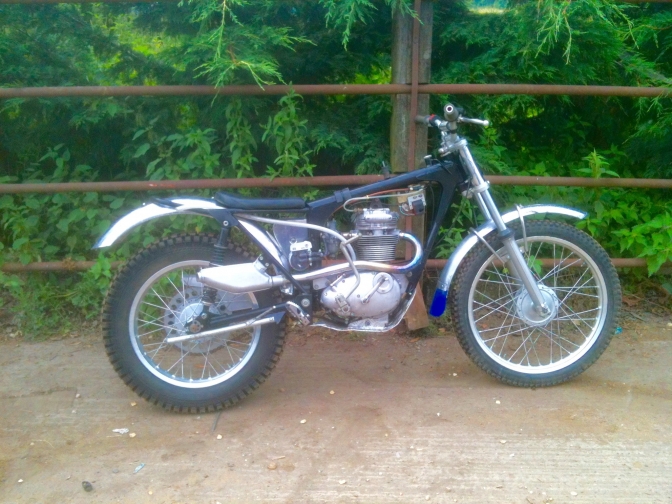 This is my Faber Mk 2 Otter. now out of the store....
Faber Mk1 Otter frames…
After a long chat with Howard Fawkes on Sunday.
He tells me that he is now full time making motorcycle frames, having retired from the electrical business he owned.
I asked if he still would consider making the MK1 frames again.
He said he still has the jig… and if there was an interest in a batch of five he would again build them and as early as September this year.. And the price would still be as competitive as it always was…
So if you are at all interested in securing one of these five frames?
Please get in touch with me, and when we have five secure orders the frames will be built. And a deposit will not be asked for until the frames are started.
Price will applicable at the time….
29./06/2019...
Take a look at the New video I have put onto the "Steel Cycle Building" Page..
None-Stop-Trials... I have called it..
25/06/2019...
My BOK228C Replica... page now updated.
24/06/2019...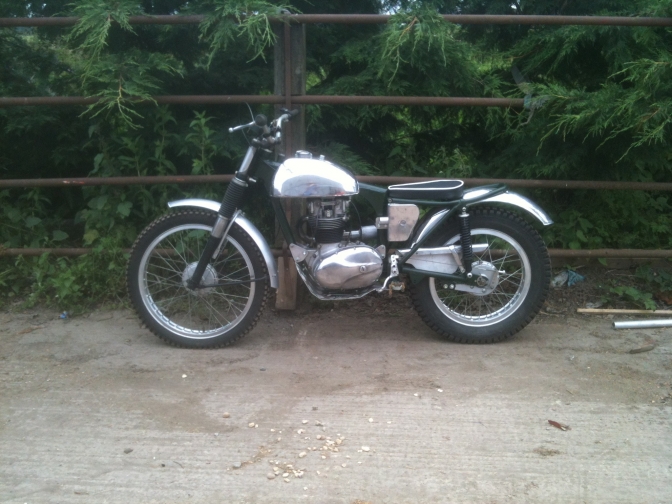 The 2019 builds have started to come together ....
Two bikes nearly finished ...
This is the Scott Ellis Replica bike started way-back-when...
It now has the Cotswold Draper BSA C15G engine fitted...As I consider this little bike deserves a really good engine.. just waiting for a 520 X 54 tooth back sprocket from Amanda at Trialsbits ...
OC bike next.. B25 engine into this one... The shall we say, less expensive engine, I have in to this bike, could buy three New Mini-Otter engines for the price though....
21/06/2019...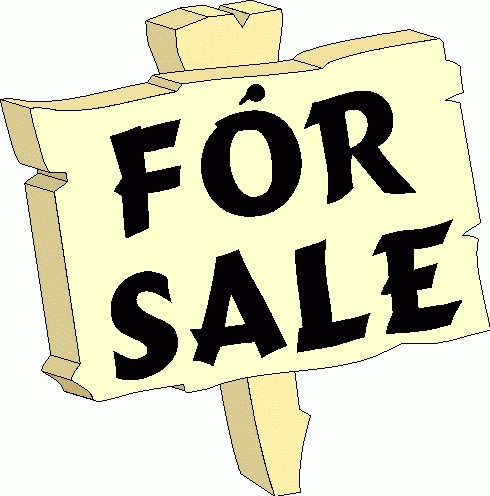 Over the past few weeks, I have had several new owners of BSA Otters that they have just bought contact me, with questions about the machines they have now got, and how much they are enjoying owning and riding the machines…
Seems to me that we have a new resurgence in the ownership of the BSA Otter breed…
Not only that but only this week I have an enquiry from a young man of fifty wondering where he could purchase a BSA Otter…
I said we would try and help, by seeing if we could find a suitable BSA Otter for him by advertising on these pages, the fact that if there is one of you Otter owners out there and thinking of moving your machine on for some reason or another, perhaps if you contact us here, we could save all the hassle of advertising it and having the unwelcome aspect of callers or mailers with little interest in your machine, other than to try and beat the advertised price down.
So if you are one of these owners why not contact me and I can simply pass the numbers of people I have wanting a BSA Otter onto you…
And we know we have any information about the breed that you can both rely on… So contact me first if you have a BSA Otter for sale wont you.. We can also place them onto the "For Sale" page if you wish..
18/06/2019...
You have seen what James has done this week and know doubt now he is qualified, for the big one, he will be back next year to fulfil that dream too.
One-Step-At-A-Time.
You need to take a look at this...
15/06/2019...
11.24 BST...
James has just finished the Race Across The West... in third place Solo male..Time; 3 days 14 hours 32 min's total miles covered 928.41...
Well done James Brilliant, and all for a good cause...
Photo Shortly...
13/06/2019...
Heading into Arizona now to Ts4 over 200 miles in...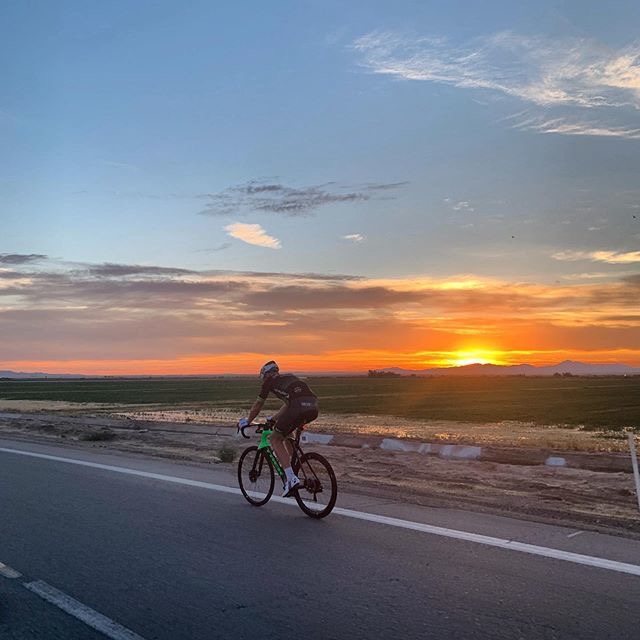 12/06/2019...
Sorry for the lack of updates but been very busy... working on Otters and the new build facility. including now a Gas Fluxer that I have been dreaming about for years... We now have it for not only Otter Production and also "Hubbo" frames ,along with cycles...
This week is about Cycles and one man in particular...
A Legend that is "James Golding"...
who is currently doing the Race Across The West (RAW)
Check out his story by Googling the name... you wont believe it...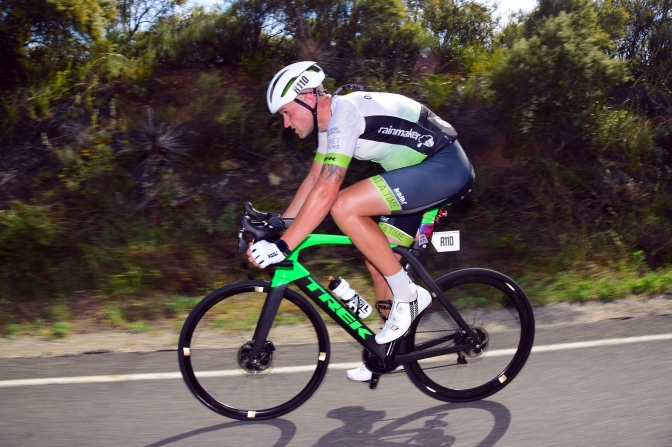 James in the desert on the first day of the 2019 event....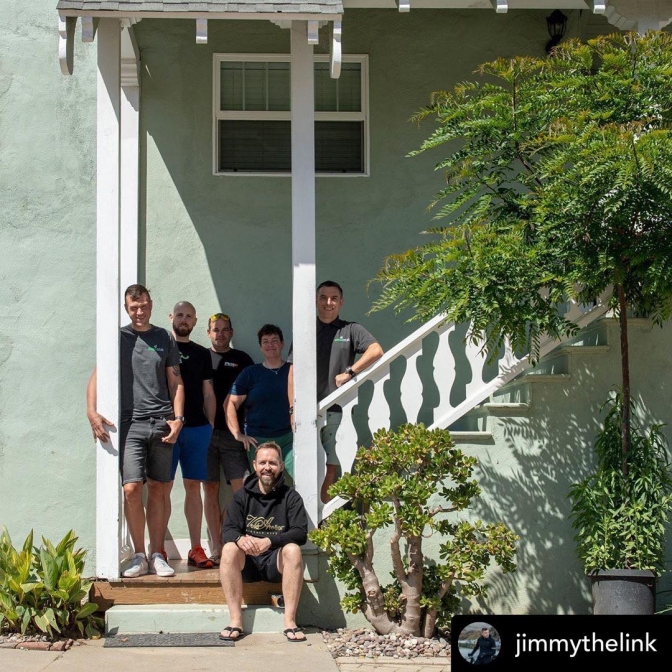 James on the left and his hand picked crew....
Our connection sitting at the front Mr Velo Atelier... Lee Prescott...
______
01/06/2019...
Still no TT races...
Anyway updated the "Alloy tank" page for you...
27/05/2019...
Pages updated. "Scottish Pre 65 BSA Otters."
and the Steve Wilson Page.
Saracen later and "Alloy Tank "page.
25/05/2019.
Page Update. "Fraser Honda," With the true story of what realy happend at "David Fraser Products".
by the man that built the frames Steve Wilson...
21/05/2019..
Still struggling with computer...
But I will get back to how we were...
Has that really been six years in the making the
Mini-Otter-Super Cub...
Mini-Otter Super-Cub Development project... from Anthony Prescott on Vimeo.
PS. Now on the fifth build , of the little bikes...
17/05/2019...
So started on the page updates, the first is the "Amal Carb page" with a review of the Wassell copy carb...
16/05/2019...
Well another week with IT problems. I have only now been able to get onto this page to update it... the questions have been flying back and forth to Freeola and they informed me it was at my end.
I tried everything but kept getting the page "Safari can not open this page"...Drrrrr.
So after asking the eldest for advice , "download "Chrome" he said.
So that is what I have done..
Unfortunately I also emptied the Cache folder,
and have lost a load of links.
Think it is time for a new computer...with more capacity than this now Old Apple I Mac.
So I will try and update what is stacked up every evening , as we are busy with the first batch of Foster Otter frames.
And me building up the three Foster bikes for the advertising video.
Interesting time at BSA Otter at the moment.
~~~~~~~
One disappointing thing to report is the fact that there is to be no Brackley Festival of Motorcycling this year in August...
Jon tells me there is just not enough volunteers to run the show as it has got so big so they are having a break to regroup... but should be back in 2020...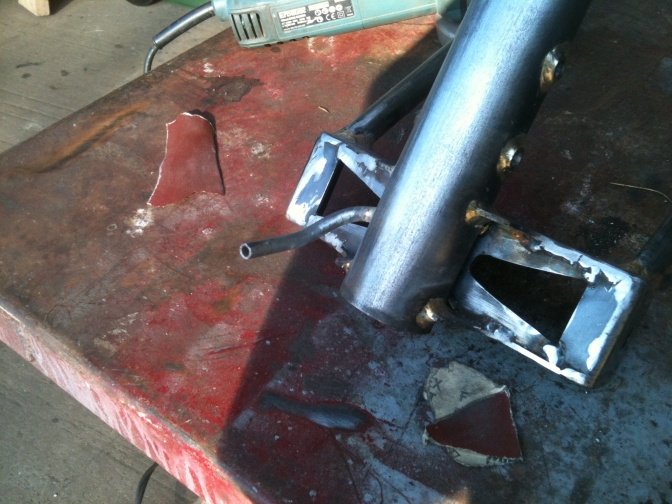 The New Foster Otter Frame swinging arm box reinforcing....
05/05/2019...
Pre 65 Scottish Two Day Trial 2019 Day 2 from John (Bigfoot) Hird on Vimeo.
04/05/2019.....
Scottish pre 65 2019 day1 from John (Bigfoot) Hird on Vimeo.
Thanks John...
NEW Page... The Steve Wilson Page....
03/05/2019...
First Day of the Scottish "Two day Brit-Bike" trial.
Report Later..
First Day Leaders...
Five front runners on 1 mark lost...
Colin Bailey...
Dan Clark...
Ben Butterworth ...
Dan Thorpe...
Steven Murphy....
Sorry can't add to this, the secretary forgot to post the list before closing the office...
~~~~~~~
We are riding High with a New Contact with years of Classic trials bike builds behind him.
Mr Steve Wilson...
A New Page, and all updated pages with the bikes he was connected with and some we probably didn't know existed...later...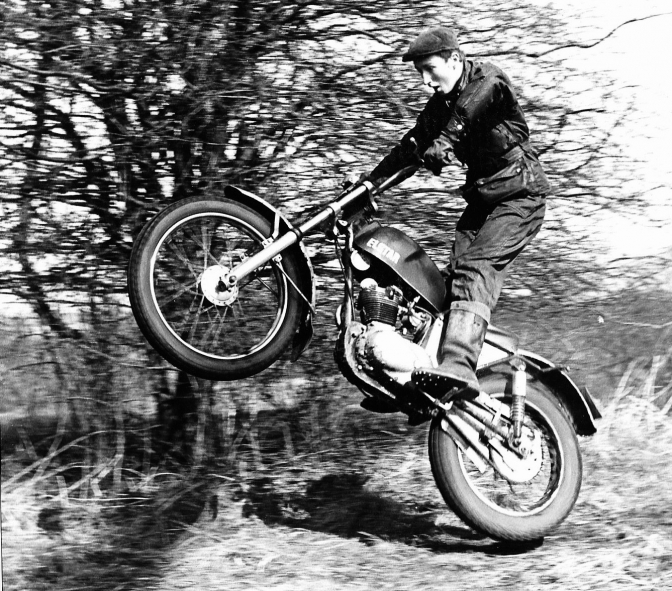 Steve and the ELstar Cub...
~~~~~~~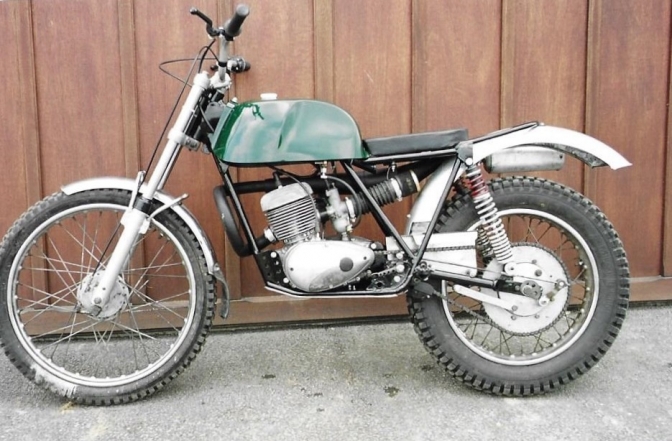 And the BSA Bantam engined ELstar...
Built in the "Bob Joyner Elstar" workshop by Steve, and bought by the Len Vale-Onslow's, So that Steve could compete on it... Story on that page Later...
~~~~~~~
29/04/2019...
Andrew Paxtons Cotswold BSA,Page updated...
26/04/2019...
ElStar page updated ... We have found Steve Wilson... and great stories to update... with a Elstar bike we did not know existed.. and it still does..
New Page up "The Cotswold Goes Dutch"
WARNING…
Just one week to go until the Scottish two-day trial…
And just a bit of a warning to entrants to make sure the bike registration number is actually for the machine you are riding, and at least two major components of the machine are actually dated from the registration document. And not just a Number stuck onto a NEW machine, Why?...
Well just recently I have had a couple or more emails, of bikes that have been sold to the unsuspecting new owner as registered for the road, only to find that they have been presented with a log book,(V5) and a loose alloy frame number tag, that too be honest has nothing at all to do with the machine that they purchased…
Now through this giggery-pokerey, the DVLA have got wise to what is going on with the so called Pre65 trials machines, that have not one component that was made anywhere near the time stated, or the year on the logbook, presented with the bike.
I have had a hint or shall we say rumour, that there could be a presence at the Scottish event by the DVLA and even back up by the Police..
Now you know if your documentation is not correct and is checked out by the officers, which may be there.. The end result is that your bike could be confiscated at the event and taken away to a pound.
So Please double check that your documentation is correct.
One of the persons that mailed me, can not get an insurance company to even consider insuring the bike, in fact they wont touch it with a barge pole…
So you may find your bike is not insured too..
Stupid little things like No speedo or battery powered horn even come into the equation…
Just a warning has I say.. And I hope you all have a good ride in the event. We will be watching…
~~~~~~~
21/04/2019...
OK just one more.......
When you love what you do...Keep doing it... No matter what...
Keep Rocking Jenny.......
20/04/2019...
With this sunny weekend what better than a day out at the freak Hill climb at Red Marley...on Monday...
And then you have this to look forward to in August...
BSA Otter will be there again...
19/04/2019...
BMCA Badlam Trials report...
15/04/2019...
All Mini-Otter pages updated...
"Clutching at straws" page ,
And loads more...
13/04/2019...
New Page on " The Smallshaws and George"
More later.
08/04/2019...
I have had the Sad news yesterday that one of the founders of the Foster Otter brand and name, Carol has passed away two weeks ago...
Carol Foster was the backbone to the "Foster Otter" frame business and back up to Harry, both of them ran the business with passion, for not only what they produced, but also with the sport they were involved with.
Not only were the Foster Otter frames in their portfolio. But the many trials sidecars they built along with other products that shared the brand name.
If it was not for Carol contacting me about the famous "Otter" frame jig, and then agreeing for me to have it to carry on production.... The Foster Otter name might no longer exist... But It does, and we will make sure that it carries on, in the memory of Carol and Harry Foster...
More later..............
31/03/2019...
New Page on "Trials Lesson with Mick Andrews"
Weekly update later..
Another busy week. working on four bikes.
Mini-Otter Two is back from the Isle Of Man. So had to do a few jobs on that before I take the bike apart again to powder coat the frame..
Just want a ride on it first..
The BSA Otter (OC) frame is all back together and the wheels ready to put in to make it a rolling chassis next week, considering putting the B25 engine into that now...
I am working on the ex Brooker Ariel as this has the frame back from the powder coaters too.
I have to make another Glass-fibre tank for that in Ariel colours, and also making a rear G/F mudguard for it out of my Mike Pearce mould.
Tomorrow I start to assemble Mini-Otter Three too...
I will put the tale about fitting the bigger ignition flywheels onto these on to that page.. What a pain that was ..
Several pages have been updated this week too.. I will do a list later ...
28/03/2019 ...
How Time Flies...
Is it really five years since we started the Mini-Otter project...
The video is not that good but the Little bike (Mini-Otter) has just got better, and with constant development,(now on bike Five)...
The project is ready for a production run...
I started to make the production jigs yesterday...
24/03/2019...
Weekly update.
Well with nearly a week after getting the phone line repaired, I have just about caught up with the emails... and replied to most.
So I will try and get the material received onto the site this week.
Brian has been over from the IOM for four days this week end, and we have had a blitz on the Mini-Otters...
I made a MK2 swinging-arm for the development bike the same as the rest.. that has taken me 12 hours..Brian has fitted an heavier flywheel onto the bike too, we will fire it up today and see what it is like..
If we get on well in this warm spring day, we may start to put number three back together with its newly powder coated frame.
The alloy welder has been out too, and the start of the TLR tank has begun. I have instructions from Chris how to do the job so I just send him photos of the progress and wait for the next instructions.
So you can see there is a lot to fit onto the site this coming week..
Oh and there is a page about making your own trials seats...
Get your wife's or your mothers sewing-machines at the ready...
~~~~~~~
18/03/2019...
Sorry!
Hi,
Sorry I have not got back to you.
The phone went dead two weeks ago today.

and I have been without IT since

BT

what a shower…..
Just sent an engineer all the way from Bristol this morning. He fixed it in ten mins at the Box down the road,

"The insulation had come off of the cable buddy "

he said"……..
So now have 566 emails to get through.. and a

weeks updates on the website….
Updates on most pages this week.
BSA Otter OC project page updated.
04/03/2019...
Weekly Update......
Another good productive week.
Working on three-even four bikes...
Started fitting out the frames now back from powder coat. IE, Mini-Otter Three.. and the Foster derived OC frame...It is now that you think a bit of forward planing would have been the order..
But we don't do that. do we...
I thought I had two sets of steering head bearings in stock but could only find one set...the same with rear chain adjusters..the right length rear wheel spindle etc... The parts have come quickly but have stopped the flow of the builds..The TLR fuel cap was changed after a word with Chris. so I had to order a new one of those..
And then I am working on this Matchless Scrambler for my brother, and we decided to fit an NEB speedway clutch onto this... Yes there is an appropriate clutch centre, now I have found who manufactures them...
But now need a cush drive rear hub....Period ...
I must say having the little powder coat gun is a winner, just need to get hold of an old kitchen oven now ,the three I asked to be kept by my kitchen design friend were skipped... Ah, well we will get there..
A few pages have been updated including the Elstar page with an interesting bike. So more later. and PS do you want me to continue publishing the BMCA Trials Results?
~~~~~~~
24/02/2019....
First attempt with the new Powdercoating gun, so Update on the "Painting your Otter Frame Page."
23/02/2019...
Weekly Update....
Well this week I have been mainly been doing the Yamaha clutch conversion as you can see on the "Clutching At Straws" page, and today I have updated it further as Ian Bowers sent me photos of how he did his conversion and also the actuating mechanism...
We have also got the Transformer TIG up and running so Alloy Tanks here we come. as well as air-boxes etc.
I also have back the Mini-Otter 3 frame, along with the
Otter-Cheaper, frame from the powder coaters. so Build time for these two bikes.
Also working on two AMC bikes has well more on that later..
So busy time.. and Number 5 Mini-Otter headstock is on the jig...
19/02/2019...
Just about to build a couple of these up, story later.....
So I got sent this link... Hmmm those two lads at "Wasp" have some skill...
18/02/2019...
Well that weekend went quickly...
Here is one photo from the Telford Show. there are loads more taken by Stuart for me... I will find a page to place them all on.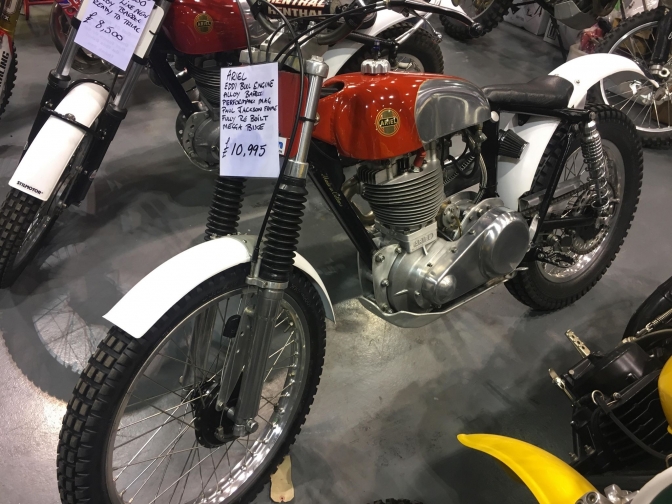 ~~~~~~~~
Photo Courtesy Stuart Bedford.......
I have for the past few days been putting my spin on converting a BSA Bantam clutch to the full Yamaha Modification. I will update the "Clutching at Straws" page with the full details....
16/02/2019...
Page updated .
"Gary Britton builds bike number five"..
After working on other projects Gary is now back onto his own Number five BSA "Bariel" build bike.
I should have photos from the Telford Show later this evening... or tomorrow.
10/02/2019...
Pages updated and there are more I will have to note them down more often...
Change Of Name ,now "The D.O.T. motorcycle page...
Bill Todd's Square Deal Special Page...
Wilf Couldwell Motorcycling Tales. Page.
Steel Cycle Building Construction. Page...
OK Lets Build A Trials BSA Bantam Page...
and a Lot More...
~~~~~~~
Could not resist putting this On Sorry...
How did they get the result they did? Just had a delivery of a pair of shocks for the scooter, drivers name Gabriel... and he brought the spare wheel last week.... Do you think there is a Guardian Angel?.......
The Film will be good when it is made...
~~~~~~~
A List of pages updated this week later and there have been a few...
07/02/ 2019...
Remember this ?.......
Go and visit the chaps at the MCN Exel centre Show in a couple of weeks, and visit the "As seen From The Sidecar "website for further information......
06/02/2019...
The ex Dave Wood BSA C15T is for sale on the "BSA Otters for Sale" page... Take a look if you would like to own a superb machine and part of trials history...
It will sell Quickly so Hurry.......
02/02/2019...

CENTRAL ENGLAND CLASSIC series.
Tim Fairbrother has managed to put together a four trial series not unlike the Sammy Miller series that was.
These are to be road based trials for classic machines.
There will be two routes hard and easy.
This should cater for six or seven classes-covering rigids, pre-unit, unit, two-stroke, and twin-shocks, there could also be a sidecar class if there was interest, and up to the club that is organising their event.. There is also the potential to consider classes for trail bikes, and-or modern's.
But the idea for the series is to bring awareness and to encourage more interest in the Classic trials scene in the Midlands and the South of England.
The four trials this year and there is room for a fifth says Tim, if you give him a ring, if you are interested in organising the fifth event, his number is 01562 754827…….
So the four are the Cotswold Cup at Stroud on the 24th of March, The Sam Cooper trial run by the Stratford-on-Avon club on provisionally May 19 th, The Greensmith trial in Shropshire in October, and then back to Stroud for the Guy Fawks trial in November.......
Charlie~Oo> This could be the turn around year in more ways than one. So please get that Classic bike, especially that "Otter"out and compete in the series. If it works this year there could be a full blown National series next year.......
01/02/2019...
Thought I better put this photo up, as there is a lot of fresh interest in these bikes this week
This Is Mini-Otter ® Super-Cub Number "Four".
More on the Mini-Otter Pages.......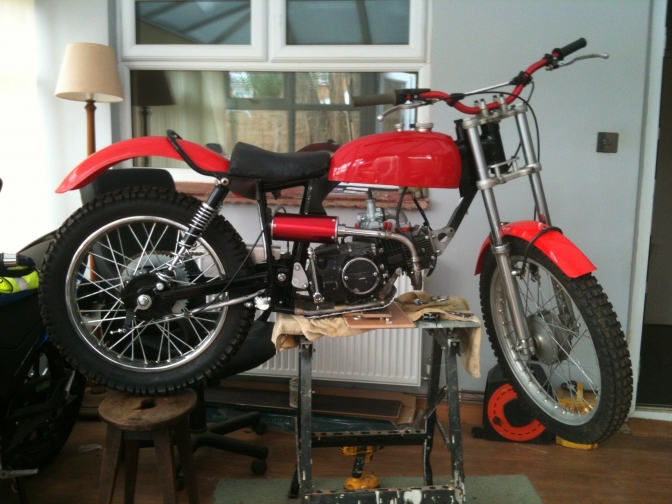 All in Red your all in Read...You Are...
31/01/2019..
Got a New name for the "Back of the Shed" bike....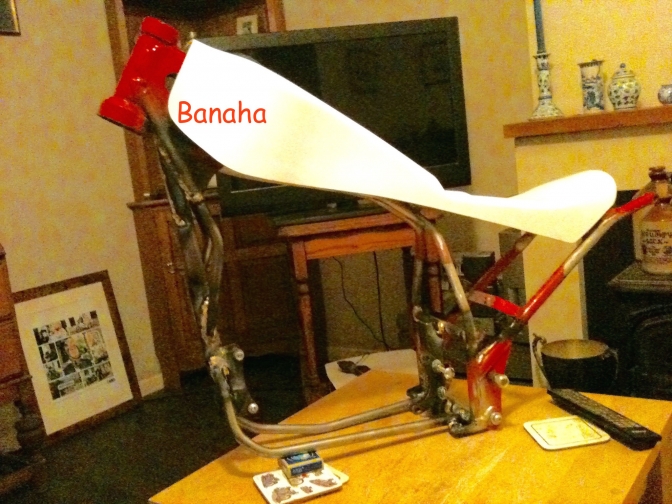 And it no-doubt will be by some?
~~~~~~~
The new concept front down tube on the frame I call the "Grapevine" strengthening approach we'll see how well it handles...
28/01/2019.......
Ian Ballard page updated with video...
~~~~~~~
And look at this well put together Video of the Talmag 2019...
So Where are they the rest of the year ?
~~~~~~~
27/01/2019.......
"Back Of The Shed" Page Updated with the New Project...
24/01/2019.
Another new project that has introduced its self...
And we have all the parts in the "Back Of The Shed"... so it will be on that page...
And it is all British product..
Godden Mini-Majesty frame BSA Bantam D10 engine.
Ariel Leader hubs Yamaha Ty forks with Four-stud sliders.....
So good for BMCA trials?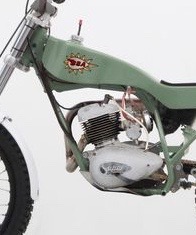 Not a good photo, but all I have to work from, and you get the idea.....
~~~~~~~
23/01/2019.
BMCA Hunnigham trials report. 2019 trials now at the top of the page.......
21/01/2019.
20/01/2019..
With the theme for the year "Onwards and Upwards"
These two chaps now back home after their epic charity ride, to bring awareness to Modern Day Slavery can only head in that direction with what ever comes next..
Well done chaps.......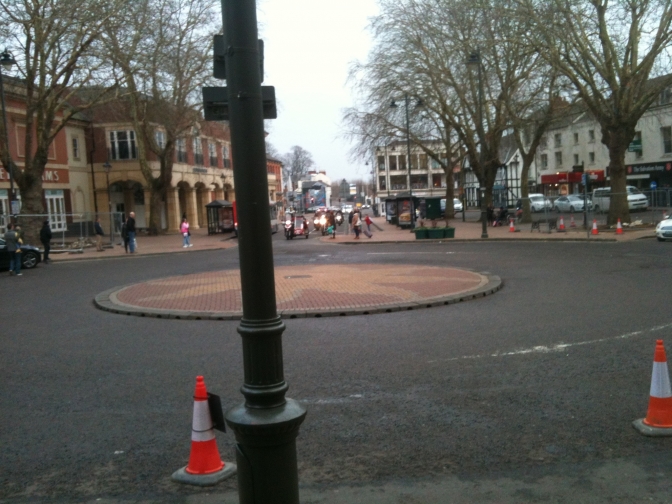 Arrival to Banbury Town Hall.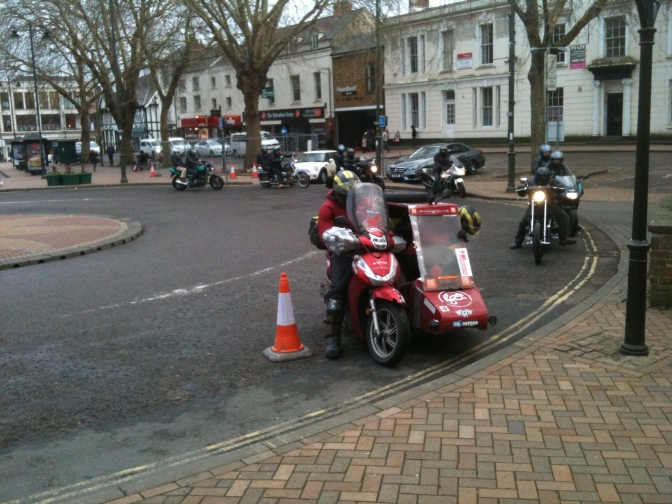 "Bikers of the World Unite.."
19/01/2019...
The Chaps Made it to the Ace Cafe...
https://www.facebook.com/AsSeenfromtheSidecar/videos/2147796015243938/
~~~~~~~
If you can make it tomorrow they will be back at Banbury Town hall at Three o'clock. If you live locally, just come along to welcome the Heroes Home.. and take a look at the Honda SH300I and sidecar......
Great for Great Britain...
18/01/2019...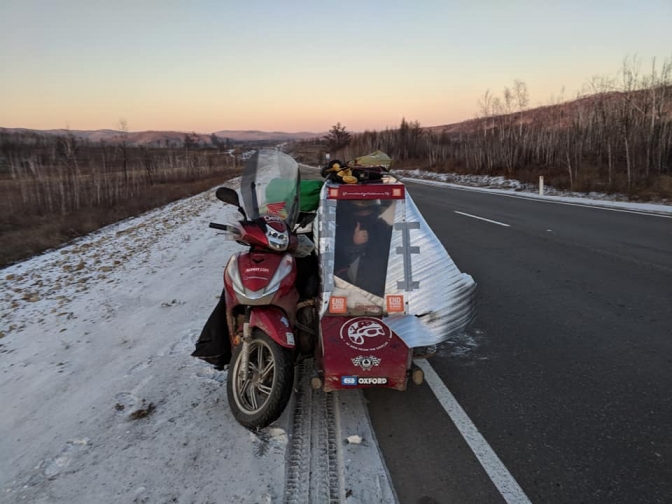 The Intrepid Duo have got to Calais.
and are on Euro-tunnel in the morning...
They have achieved an amazing journey on a Vehicle that was only built to commute a few miles to a job of work.
But then with an attachment, the vehicle was never designed for , they circumnavigated the World.
And all for the cause of "Modern Day Slavery".
With the shenanigans that have been going on with our so called government, UK, and perhaps another more powerful force that again wants to shut off people of the world.
I know who are my heroes.....
Back at the Ace Café in London Tomorrow at Three.
and at Town Hall Banbury at Three on the 20th Sunday.
please if you can come along....
~~~~~~~
14/01/2019.
NEW, Tenaci-Wong TWC200 Page now on..
ASFTS Chaps have new engine fitted and are on the road again tomorrow.......
13/01/2019.......
Tenaci-Wong trials bike first look.
Watch out for the colourful language,
but they were exited about this little Chinese trials bike.
12/01/2019....
The ASFTS Chaps were in a spot of bother in Poland when the final drive gave up big time.
But then that Angel again 100 kl up the road from where they cooked it, found another engine. Needle in a haystack situation again......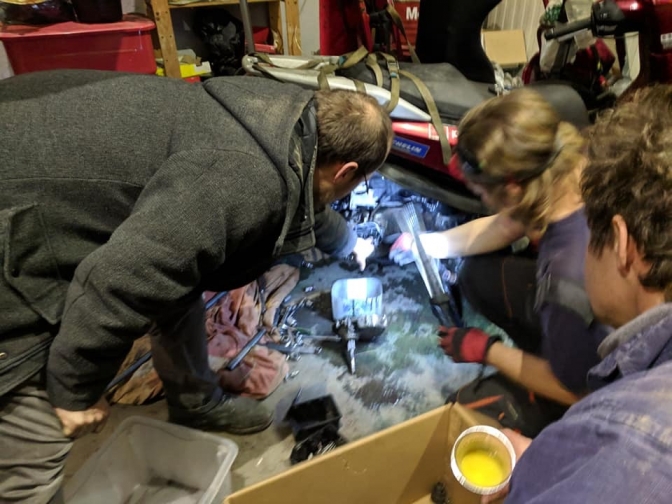 ~~~~~~~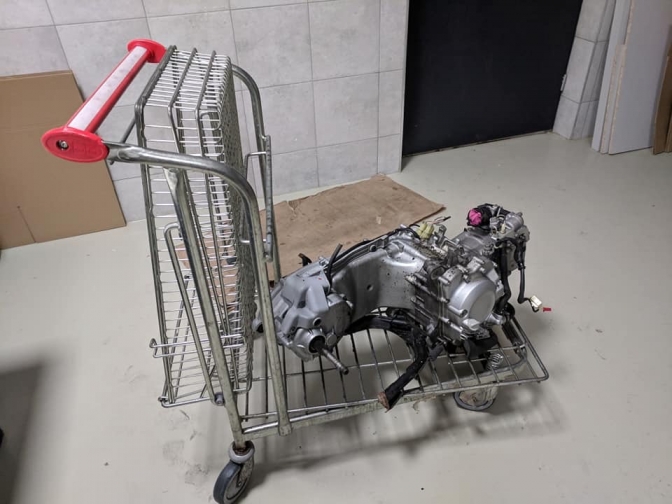 ```````
WOW..........
10/01/2019.......
TLR Honda is it a Dream, Page Updated.
The Scott Ellis page updated.
Sadly Selwyn Perry has died in a tragic road accident, near his home. He was eighty one...
09/01/2019.
BMCA ,Coney Green trial report, on 2018-19 page
02/01/2019
Ian Ballard Page Updated.
Mini-Otter page later...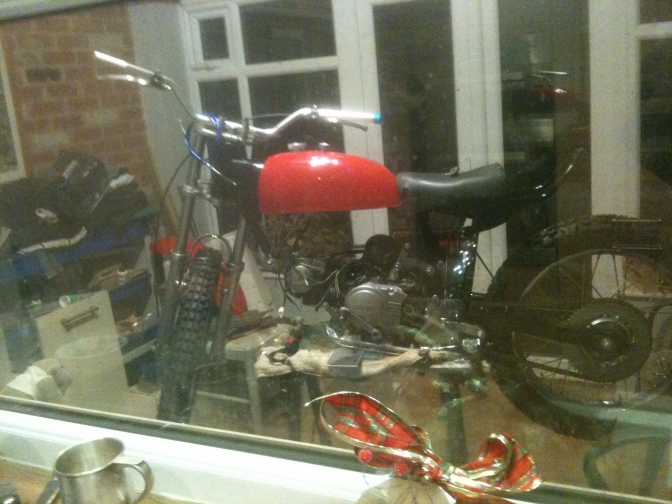 Been playing with the "Lego" kit in the conservatory, over the Holiday.
More later.......
04/01/2019.......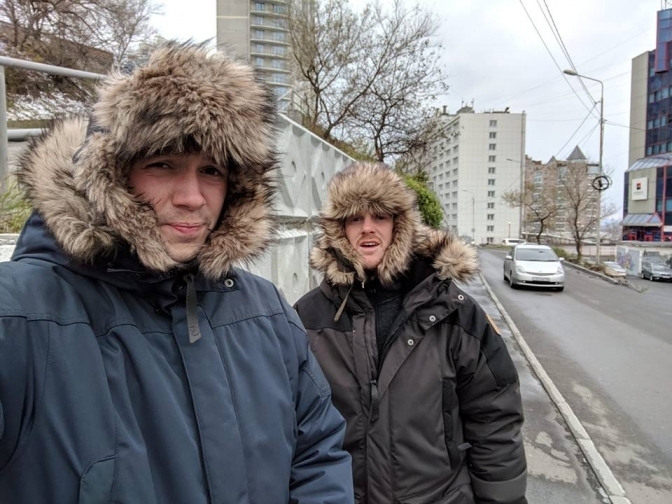 In 16 days time the Heroes from Banbury are due home......
We need as many people, preferably on bikes, back here to welcome them....
When the Book...Film.. and Documentary about this epic journey is written and made, you will wish you had attended their homecoming...
and you could even meet me....
Over to Gareth...
~~~~~~~
Ladies & Gentlemen these wonderful none motorcycling lads left the Ace café in London October 2017 and have travelled 43,000 to get home to Banbury on January 20th at three pm - we are looking for Motorbikes / Trikes / Scooters to escort them from the Ace Café into Banbury - I am so Proud of these lads - they have raised many thousands of pounds for Anti Slavery Charities- around the world - if you cannot ride please join us at Banbury town hall %uD83D%uDC4D@ 3pm %uD83D%uDC4Fand meet the boys, (Chaps), their Honda Scooter & a Charlie Prescott build side car - this will be a Guinness World Record %uD83D%uDCA5
As Seen From The Sidecar
PS the weather has been organised %uD83C%uDF1D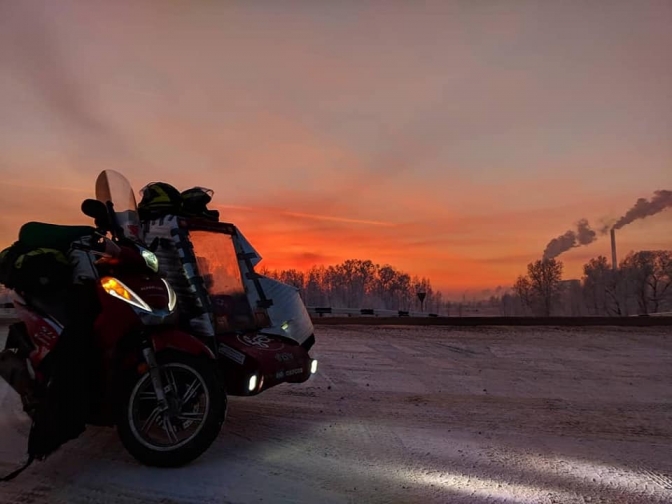 Honda The Power Of Dreams.......
New Project, hope to get it running by the 20th January.......
Honda TLR Trials...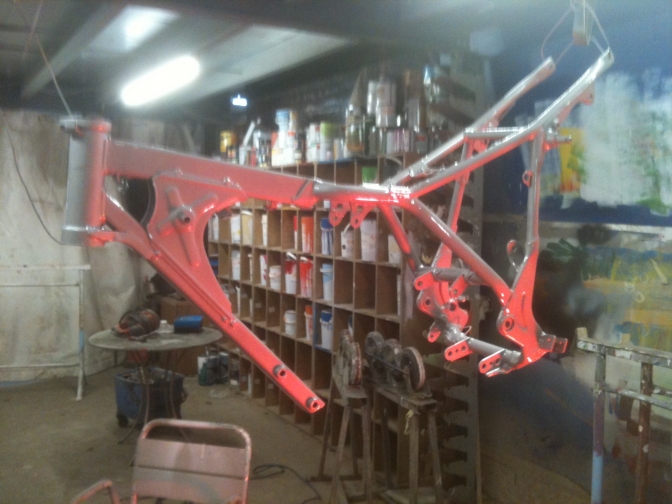 More Later.......