Welcome,
Benvenuto,
Bienvenido,
Bienvenue.
To BSA "Otter".Com.
The "BSA Otter", 2019 News page.
For all that is happening in the
"Classic" Motorcycle Trials World.
~~~~~~~~~
~~~~~~~
~~~~~
~~~
Theme for this year is
"Onwards and Upwards"
Lets leap into this year with every thing that is positive in the Classic Trials World.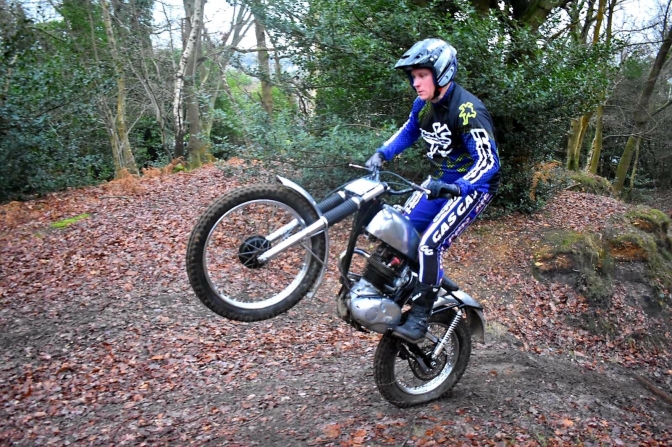 Photo Courtesy Chris, and Ian Ballard.......
~~~~~~~~~
Young Paul Chalwin aboard Ian Ballards "Foster Otter" in the TALMAG Club Thames trial.
Lets all try and get a younger generation interested in an old British BSA trials Iron, this year.....
Take one along to a trial and let them have a try on it.... I am sure they would get hooked on just the sound the engines make.......
I intend to do just that and get Stuart back on a BSA along with the eldest Lee....
~~~~~~~~~
What am I doing this year..
"Build up Year " for me.
I spent last year just building frames, so now have five bikes to build up over the Next few months.......We will see how we get on.
More later as always.
~~~~~~~
18/03/2019...
Sorry!
Hi,
Sorry I have not got back to you.
The phone went dead two weeks ago today.

and I have been without IT since

BT

what a shower…..
Just sent an engineer all the way from Bristol this morning. He fixed it in ten mins at the Box down the road,

"The insulation had come off of the cable buddy "

he said"……..
So now have 566 emails to get through.. and a

weeks updates on the website….
Updates on most pages this week.
BSA Otter OC project page updated.
04/03/2019...
Weekly Update......
Another good productive week.
Working on three-even four bikes...
Started fitting out the frames now back from powder coat. IE, Mini-Otter Three.. and the Foster derived OC frame...It is now that you think a bit of forward planing would have been the order..
But we don't do that. do we...
I thought I had two sets of steering head bearings in stock but could only find one set...the same with rear chain adjusters..the right length rear wheel spindle etc... The parts have come quickly but have stopped the flow of the builds..The TLR fuel cap was changed after a word with Chris. so I had to order a new one of those..
And then I am working on this Matchless Scrambler for my brother, and we decided to fit an NEB speedway clutch onto this... Yes there is an appropriate clutch centre, now I have found who manufactures them...
But now need a cush drive rear hub....Period ...
I must say having the little powder coat gun is a winner, just need to get hold of an old kitchen oven now ,the three I asked to be kept by my kitchen design friend were skipped... Ah, well we will get there..
A few pages have been updated including the Elstar page with an interesting bike. So more later. and PS do you want me to continue publishing the BMCA Trials Results?
~~~~~~~
24/02/2019....
First attempt with the new Powdercoating gun, so Update on the "Painting your Otter Frame Page."
23/02/2019...
Weekly Update....
Well this week I have been mainly been doing the Yamaha clutch conversion as you can see on the "Clutching At Straws" page, and today I have updated it further as Ian Bowers sent me photos of how he did his conversion and also the actuating mechanism...
We have also got the Transformer TIG up and running so Alloy Tanks here we come. as well as air-boxes etc.
I also have back the Mini-Otter 3 frame, along with the
Otter-Cheaper, frame from the powder coaters. so Build time for these two bikes.
Also working on two AMC bikes has well more on that later..
So busy time.. and Number 5 Mini-Otter headstock is on the jig...
19/02/2019...
Just about to build a couple of these up, story later.....
So I got sent this link... Hmmm those two lads at "Wasp" have some skill...
18/02/2019...
Well that weekend went quickly...
Here is one photo from the Telford Show. there are loads more taken by Stuart for me... I will find a page to place them all on.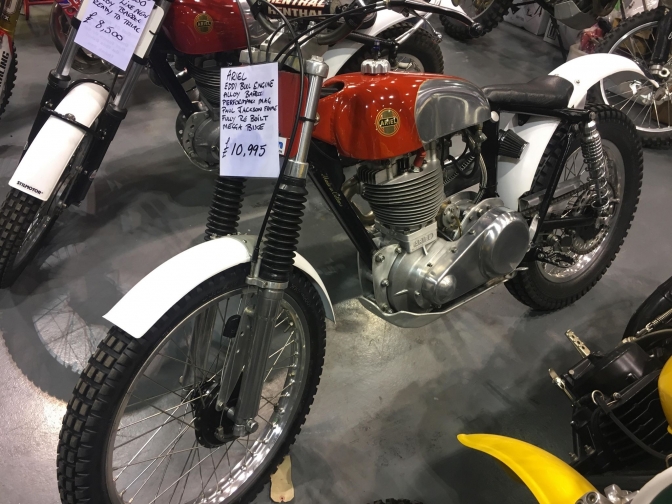 ~~~~~~~~
Photo Courtesy Stuart Bedford.......
I have for the past few days been putting my spin on converting a BSA Bantam clutch to the full Yamaha Modification. I will update the "Clutching at Straws" page with the full details....
16/02/2019...
Page updated .
"Gary Britton builds bike number five"..
After working on other projects Gary is now back onto his own Number five BSA "Bariel" build bike.
I should have photos from the Telford Show later this evening... or tomorrow.
10/02/2019...
Pages updated and there are more I will have to note them down more often...
Change Of Name ,now "The D.O.T. motorcycle page...
Bill Todd's Square Deal Special Page...
Wilf Couldwell Motorcycling Tales. Page.
Steel Cycle Building Construction. Page...
OK Lets Build A Trials BSA Bantam Page...
and a Lot More...
~~~~~~~
Could not resist putting this On Sorry...
How did they get the result they did? Just had a delivery of a pair of shocks for the scooter, drivers name Gabriel... and he brought the spare wheel last week.... Do you think there is a Guardian Angel?.......
The Film will be good when it is made...
~~~~~~~
A List of pages updated this week later and there have been a few...
07/02/ 2019...
Remember this ?.......
Go and visit the chaps at the MCN Exel centre Show in a couple of weeks, and visit the "As seen From The Sidecar "website for further information......
06/02/2019...
The ex Dave Wood BSA C15T is for sale on the "BSA Otters for Sale" page... Take a look if you would like to own a superb machine and part of trials history...
It will sell Quickly so Hurry.......
02/02/2019...

CENTRAL ENGLAND CLASSIC series.
Tim Fairbrother has managed to put together a four trial series not unlike the Sammy Miller series that was.
These are to be road based trials for classic machines.
There will be two routes hard and easy.
This should cater for six or seven classes-covering rigids, pre-unit, unit, two-stroke, and twin-shocks, there could also be a sidecar class if there was interest, and up to the club that is organising their event.. There is also the potential to consider classes for trail bikes, and-or modern's.
But the idea for the series is to bring awareness and to encourage more interest in the Classic trials scene in the Midlands and the South of England.
The four trials this year and there is room for a fifth says Tim, if you give him a ring, if you are interested in organising the fifth event, his number is 01562 754827…….
So the four are the Cotswold Cup at Stroud on the 24th of March, The Sam Cooper trial run by the Stratford-on-Avon club on provisionally May 19 th, The Greensmith trial in Shropshire in October, and then back to Stroud for the Guy Fawks trial in November.......
Charlie~Oo> This could be the turn around year in more ways than one. So please get that Classic bike, especially that "Otter"out and compete in the series. If it works this year there could be a full blown National series next year.......
01/02/2019...
Thought I better put this photo up, as there is a lot of fresh interest in these bikes this week
This Is Mini-Otter ® Super-Cub Number "Four".
More on the Mini-Otter Pages.......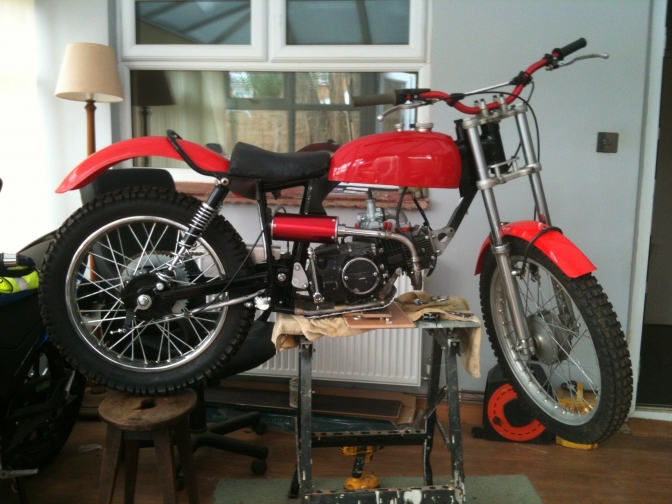 All in Red your all in Read...You Are...
31/01/2019..
Got a New name for the "Back of the Shed" bike....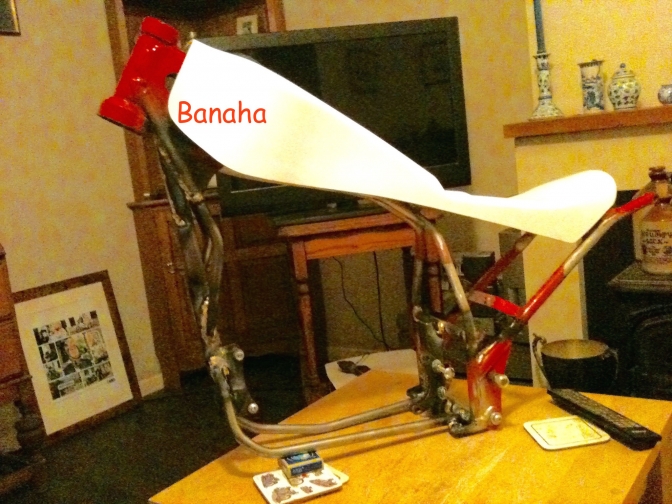 And it no-doubt will be by some?
~~~~~~~
The new concept front down tube on the frame I call the "Grapevine" strengthening approach we'll see how well it handles...
28/01/2019.......
Ian Ballard page updated with video...
~~~~~~~
And look at this well put together Video of the Talmag 2019...
So Where are they the rest of the year ?
~~~~~~~
27/01/2019.......
"Back Of The Shed" Page Updated with the New Project...
24/01/2019.
Another new project that has introduced its self...
And we have all the parts in the "Back Of The Shed"... so it will be on that page...
And it is all British product..
Godden Mini-Majesty frame BSA Bantam D10 engine.
Ariel Leader hubs Yamaha Ty forks with Four-stud sliders.....
So good for BMCA trials?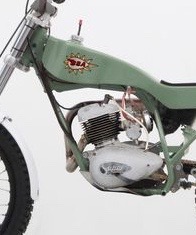 Not a good photo, but all I have to work from, and you get the idea.....
~~~~~~~
23/01/2019.
BMCA Hunnigham trials report. 2019 trials now at the top of the page.......
21/01/2019.
20/01/2019..
With the theme for the year "Onwards and Upwards"
These two chaps now back home after their epic charity ride, to bring awareness to Modern Day Slavery can only head in that direction with what ever comes next..
Well done chaps.......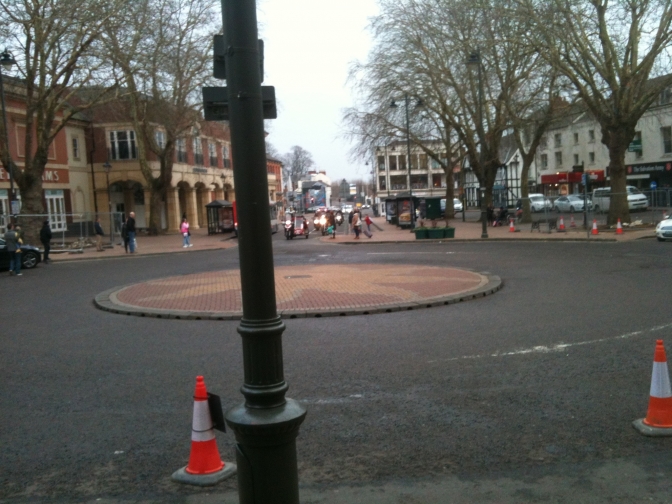 Arrival to Banbury Town Hall.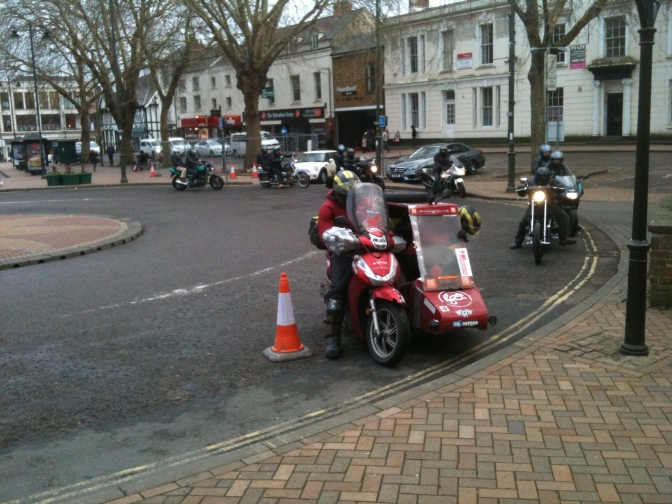 "Bikers of the World Unite.."
19/01/2019...
The Chaps Made it to the Ace Cafe...
https://www.facebook.com/AsSeenfromtheSidecar/videos/2147796015243938/
~~~~~~~
If you can make it tomorrow they will be back at Banbury Town hall at Three o'clock. If you live locally, just come along to welcome the Heroes Home.. and take a look at the Honda SH300I and sidecar......
Great for Great Britain...
18/01/2019...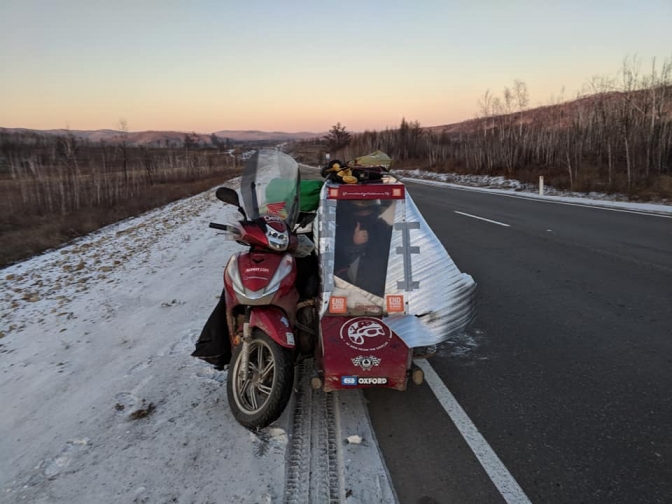 The Intrepid Duo have got to Calais.
and are on Euro-tunnel in the morning...
They have achieved an amazing journey on a Vehicle that was only built to commute a few miles to a job of work.
But then with an attachment, the vehicle was never designed for , they circumnavigated the World.
And all for the cause of "Modern Day Slavery".
With the shenanigans that have been going on with our so called government, UK, and perhaps another more powerful force that again wants to shut off people of the world.
I know who are my heroes.....
Back at the Ace Café in London Tomorrow at Three.
and at Town Hall Banbury at Three on the 20th Sunday.
please if you can come along....
~~~~~~~
14/01/2019.
NEW, Tenaci-Wong TWC200 Page now on..
ASFTS Chaps have new engine fitted and are on the road again tomorrow.......
13/01/2019.......
Tenaci-Wong trials bike first look.
Watch out for the colourful language,
but they were exited about this little Chinese trials bike.
12/01/2019....
The ASFTS Chaps were in a spot of bother in Poland when the final drive gave up big time.
But then that Angel again 100 kl up the road from where they cooked it, found another engine. Needle in a haystack situation again......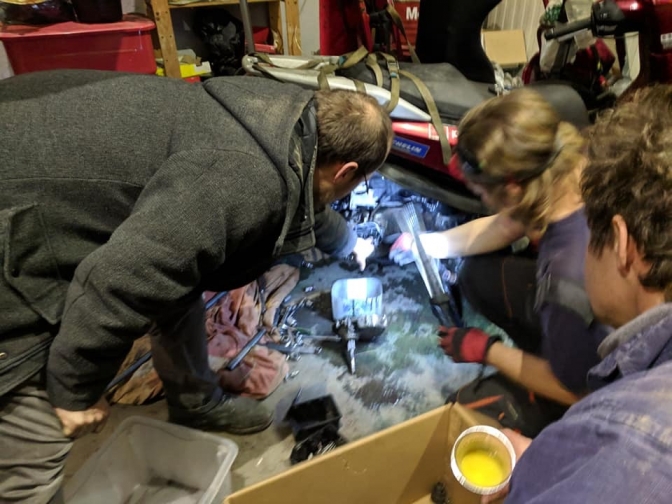 ~~~~~~~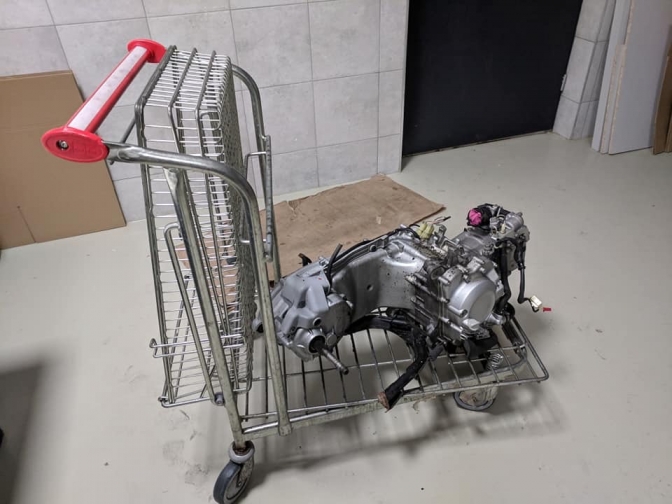 ```````
WOW..........
10/01/2019.......
TLR Honda is it a Dream, Page Updated.
The Scott Ellis page updated.
Sadly Selwyn Perry has died in a tragic road accident, near his home. He was eighty one...
09/01/2019.
BMCA ,Coney Green trial report, on 2018-19 page
02/01/2019
Ian Ballard Page Updated.
Mini-Otter page later...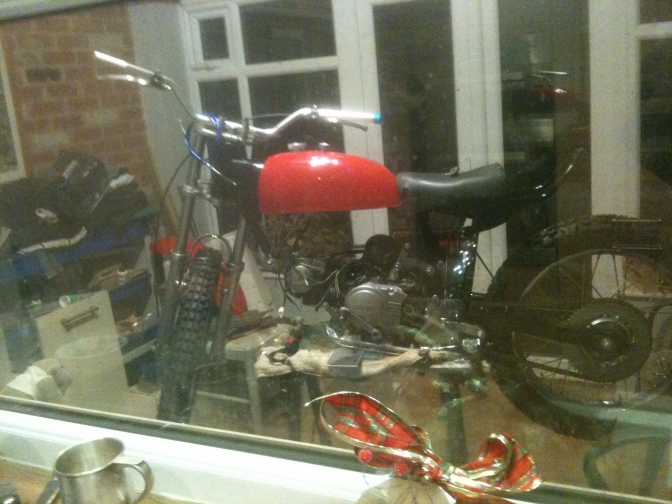 Been playing with the "Lego" kit in the conservatory, over the Holiday.
More later.......
04/01/2019.......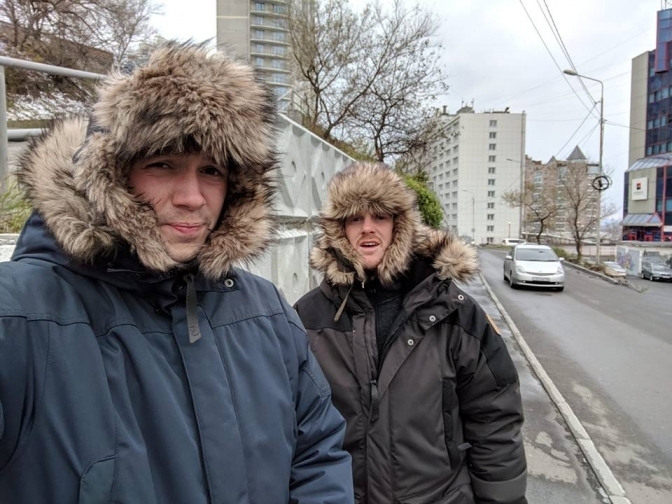 In 16 days time the Heroes from Banbury are due home......
We need as many people, preferably on bikes, back here to welcome them....
When the Book...Film.. and Documentary about this epic journey is written and made, you will wish you had attended their homecoming...
and you could even meet me....
Over to Gareth...
~~~~~~~
Ladies & Gentlemen these wonderful none motorcycling lads left the Ace café in London October 2017 and have travelled 43,000 to get home to Banbury on January 20th at three pm - we are looking for Motorbikes / Trikes / Scooters to escort them from the Ace Café into Banbury - I am so Proud of these lads - they have raised many thousands of pounds for Anti Slavery Charities- around the world - if you cannot ride please join us at Banbury town hall 👍@ 3pm 👏and meet the boys, (Chaps), their Honda Scooter & a Charlie Prescott build side car - this will be a Guinness World Record 💥
As Seen From The Sidecar
PS the weather has been organised 🌝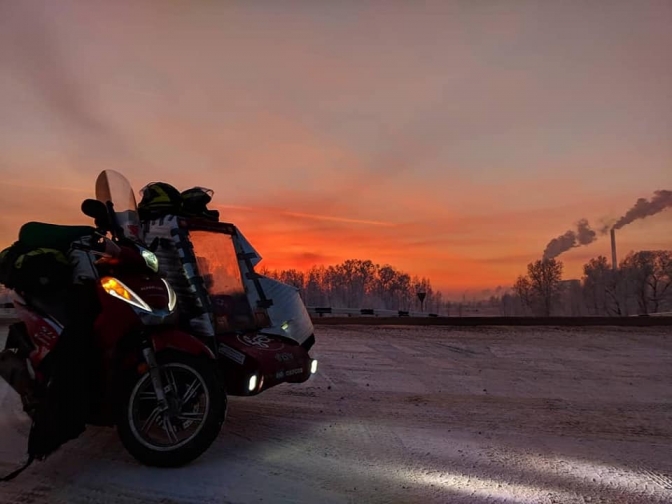 Honda The Power Of Dreams.......
New Project, hope to get it running by the 20th January.......
Honda TLR Trials...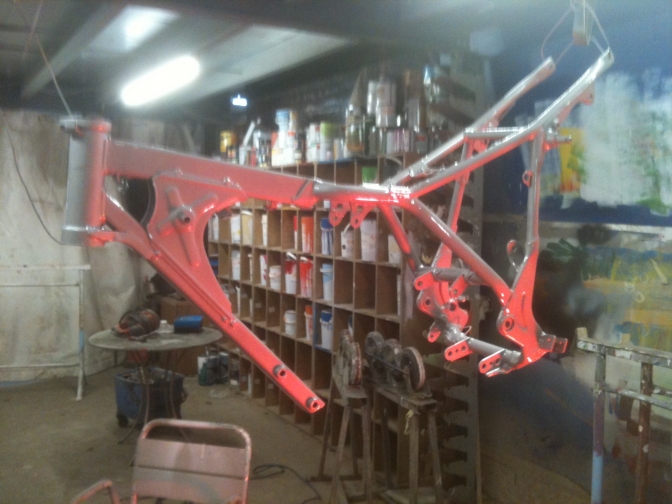 More Later.......