Chorizo

sausage slices, hand-full...
Can of chickpeas

, drained...
Can of tomatoes

plum or chopped ...
Curry-powder

or

chilli powder

,a shake...
A good half of a cup of home made

Yogart...
parsley, coriander, mint.

.. or any

chopped herbs

...
Some sort of

flat bread

or baked pasta doe... for mopping up the gravy...
In a large cast skillet, (Or Heavy Pan), soften the finely

chopped onion

in the

three tbls

of

olive oil.

..
about

ten mins.

.. it does not matter if it catches a bit but give it the occasional stir...
Next throw in the well drained tin of

chickpeas

, stir well and let the mixture cook for a further

10 mins

... it is better if you let the

chickpeas

get a bit

brown

in patches...
Next start to add the tin of

plumb tomatoes

, but not all at once one or two at a time and let the juice steam off when you have split them, ( you want this to be a dry dish) stir and add a couple more, and do this until the tin is empty...
Add the seasoning plenty of

paprika,

and

black pepper

, and a few flakes of

chilli, or chilli-powder

...
Now add the hand-full of sliced

chorizo.

.. and stir in...
Stir for about

five minuets,

and let rest for two, before plating up...
add a good dollop of your

Yogart

and the

herb

of your choice...
I used

Mint

and it was superb... I also used some of my home made wholemeal loaf to clean the plate...
Lemon and

Yoghurt

Cake with lemon and ginger drizzle...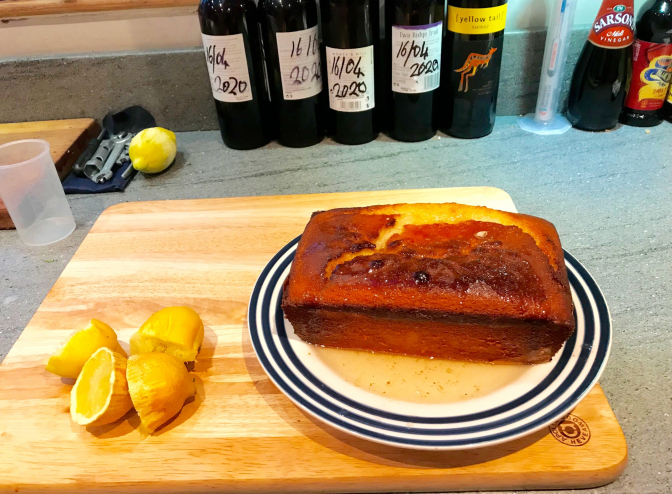 210g

of Plain Flour. (I used Self-raising).
2 tsp

Baking powder (I used 1).
2 tbls

Lemon Zest.grated.
1/2 tsp

Vanilla Extract. (I had none).
125g

Icing sugar.( I used whizzed granulated).
2 tbls

Lemon juice, (I added some ginger juice from my ginger beer making pulp.)
Sieve together, the

flour salt and baking powder,

into one bowl.
Then in another add the

wet ingredients, and sugar

, beat into a batter. Then gently mix into the other bowl with the

dry ingredients

in. (larger).
Beat again until smooth...
Grease, and paper line, the bottom of a bread tin or similar, and flour the sides. Pour in the mixture, and place the tin into the centre of the oven for about

50 minuets,

(mine took a bit longer for a skewer to come out clean).
While the cake is baking, put the glazing ingredients ito a small saucepan and heat until it becomes clear (Mind it is very hot).
Remove cake from oven and leave to cool for a while... remove from tin and place onto a dish or plate and

pour over the glaze

letting it drizzle into the cake...
Well you can see what it is like! and it tastes divine...
With Onion gravy and

tinned Peas..

.
Just good old

Yorkshire pudding mix

...
A

ramekin full of flour

(had to use SR)...
A

ramekin full of half milk

, and topped up with

water..

.
Two eggs

, tends to be the same amount...
pinch of salt

, and beat well while your four compartment tray is getting Hot in the oven drop of

veg oil

in each compartment.
Stick the four sausages onto a tray and place them on the shelf under the

Yorkies.

.. while they rise...
They should both be ready at the same time...
I use this method as it tends to eliminate a

Yorkie

with a

soggy-bottom.

.. We don't want that...
Make up your

gravy

and add a few

scorched onion

segments (Finely Chopped)...
I just used

tinned peas

out of the store cupboard...and added a few flakes of

chilli.

..
I have had a request today to continue with the

Lockdown

Recipes

, as it looks like we may be

"locked down

again".

...........Well I have been saving a few over the last few months as I have been trying to release the pressure on the extra store cupboard and the

still packed freezer,

and then there is all the

fruit and veg

we grew. What do you do with extra large

cucumber and marrows

?

pickles

?...
I think so, and the hotter the better. And someone has suggested

Marrow jam,

that should be interesting. So watch this space, I have not just neglected the recipe page

Chris Smith

, I have just been busy while I can...