2021...
Welcome,
Benvenuto,
Bienvenido,
Bienvenue.
To BSA "Otter".Com.
We have got to hope for a route over this rainbow in 2021...
Let's just keep busy in our sheds for a couple of months, building our dream bikes, as we have time...
And more than that look forward to riding them again as soon as possible, for competition and pleasure...
...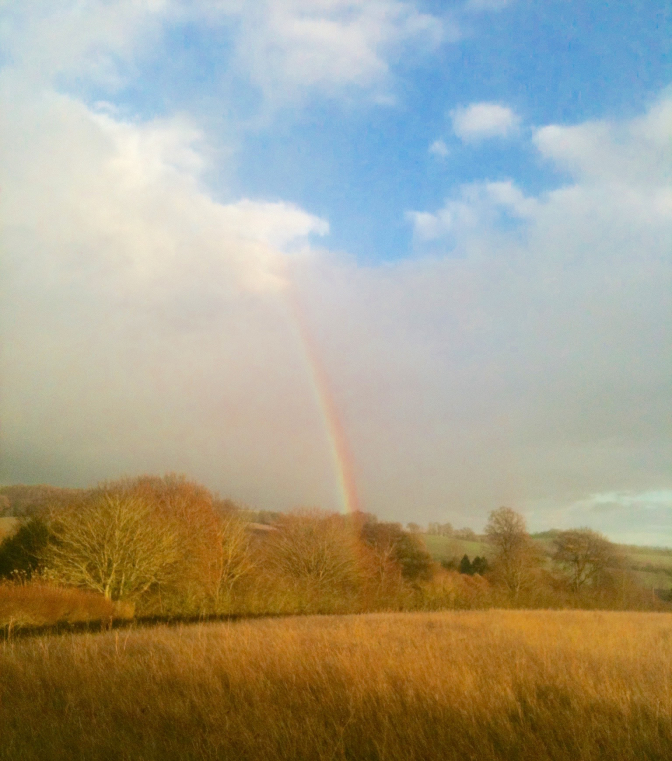 One World, One Hope, One Dream...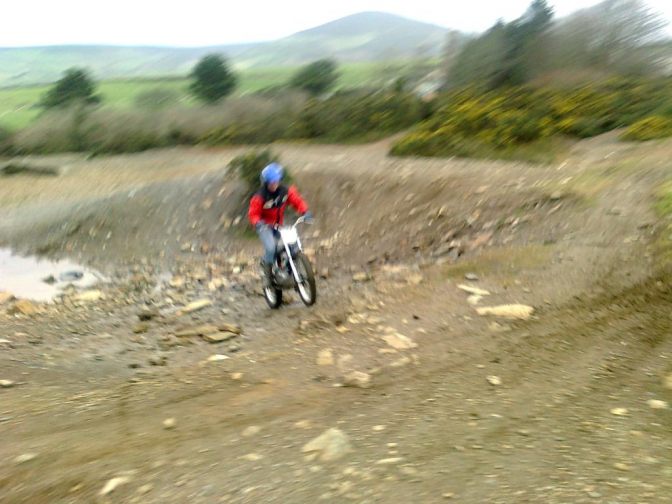 One of the safest places in the World...
Isle of Man...?
~~~~~~~
31/12/2021...
So summing up 2021, won't take very long… A year that did not really happen for BSA Otter. I must have had only a quarter of the content sent to me this year compared with all previous years. And there is only so much you can do without this input.
We started the year with the Norman Hanks Beam Bantam story...
There were a couple of gems like the "Burian" trials bike that Simon Hatcliffe Bought not knowing what it was, and then after a bit of delving we came up with the John Banks "Burian" so that made an interesting page… Then after that we had a 350-60 Royal Enfield Crusader turn up and that set the scene for a page on this very little known about model…
We had the Mike Waller videos of the Triumph Otter he built, and updates on the Foster Triumph Otter build from Ian Ballard, more photos and update on that build shortly…We then had the Triumph engined Greeves that also spurned a page, but that was about it. I spent a very long week updating all of the pages and adding content that I had.
To be honest I did not spend half the time I usually do at the workshop with that lock down etc again… I did get one frame built and a couple of engines but, not what I wanted too, my health problems stop me doing what I need to achieve but I can't change that…
So lets just look forward to a better 2022…
29/12/2021...
OK...OK.. I know...
But I made this one for me, to see how well the suspension worked with the modified forks, and the NJB "Ultimate" Shocks fitted, a lot of dosh but they work..
Maybe I may get a bit of discount? Norman...
28/12/2021...
We got there in the end...
I love those little bikes...
~~~~~~~
OK. Here is the Longer Version and I spent more time on... You Decide..
$$$$$$$$$$$$$
More of the Mini-Otter story in the New year...
27/12/2021...
I hate Computers>>>>>>>....
Trying to upload video for an hour ,,,it don't work... IT get me out of IT>>>
Do you like that... try again Later...
Of this little bike performing very well...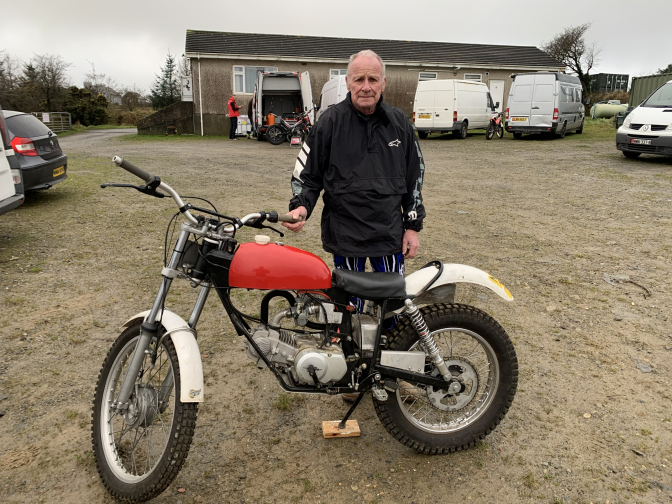 Best Wishes for you lot on the Isle-Of -Man for 2022...
21/12/2021...
One of my Favourite photos, and an inspiration of how to treat a classic trials bike or two...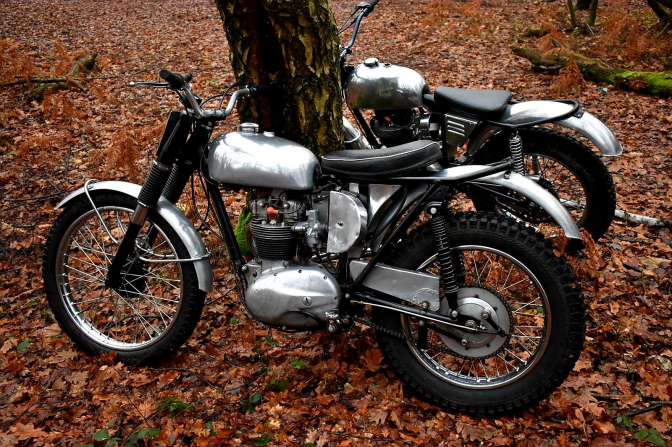 The Ian Ballard BSA C15T, and Foster Otter...
Merry Christmas Ian...
20/12/2021...
Just spent the day using my frame-making skills...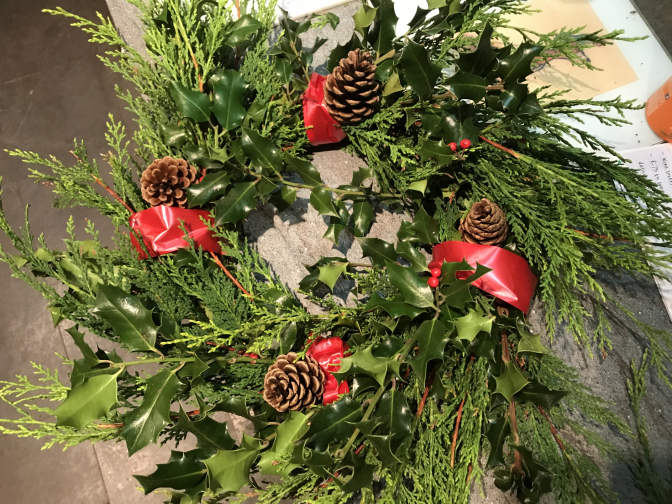 17/12/2021...
An Otter site fan from Day One...
Sent me this card...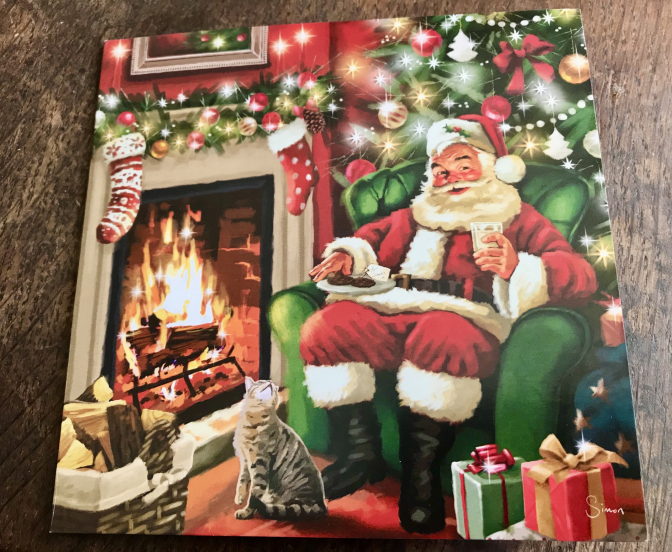 ~~~~~~~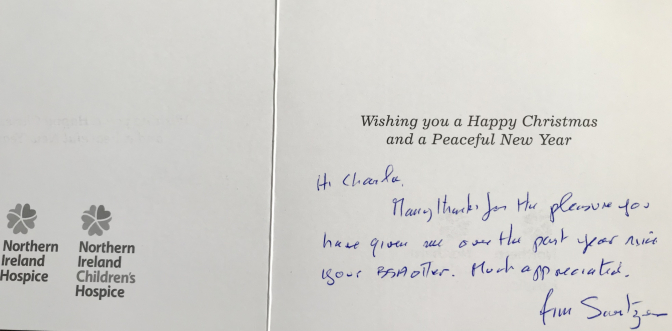 Wishing you a Merry Christmas too Jim and everyone...
And thank's for all your support...
On My Doorstep.. Enjoy...
Thank's Andy...
15/12/2021...
Just found this photo going through Old emails... From 2014- 2019...May do a page from a load of photos I have found un-published...As yet...
Thank's Deryk...
"Spirit of the Sixties"...
Barry Kefford and passenger ? enjoying the ride...
~~~~~~~
Fraser Honda Page Updated...
13/12/2021.
Mike Waller gets the Triumph Otter done...
Take a look at the video on that page...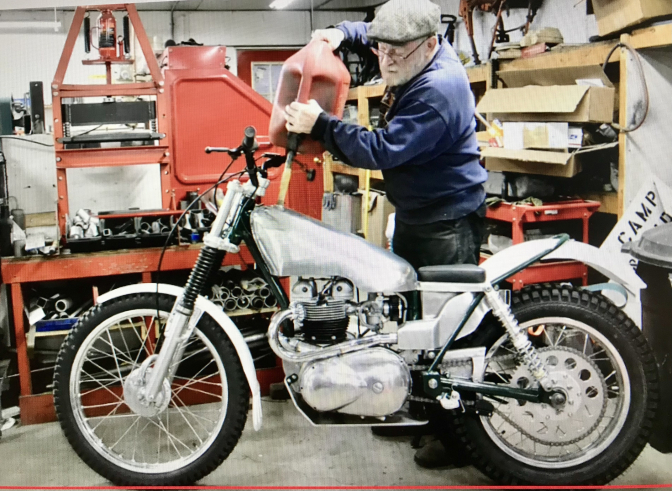 Note: The ground line and where the engine sits...
Well done Mike...
10/12/2021...
New Page up Triumph-Greeves Trials Motorcycles...
06/12/2021...
Mike Waller's Triumph Otter build Alloy tank Episode... On the Alloy tank making page...
03/12/2021...
Good morning folks...
Two interesting eMails this morning...
Phil Hyde sent me this very welcomed photo of Harry Foster aboard his Triumph-Greeves... And has Phil as been into this breed for over thirty years there are more Triumph-Greeves photos to come...
I feel a page for the breed coming on...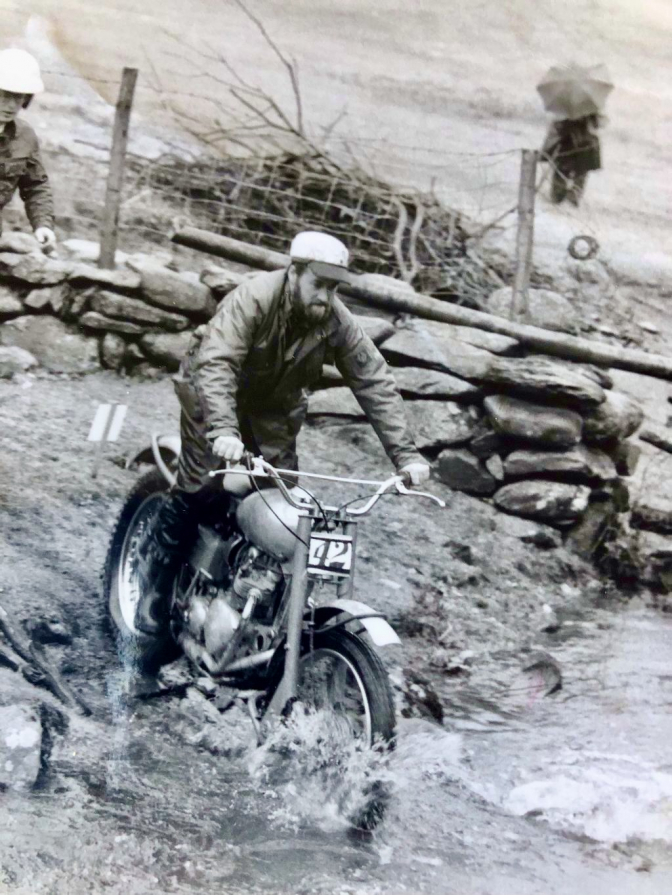 Second eMail from Dave Tomlinson....
I am trying to build a
1937

B26.
I see you are a later BSA man but obviously have a lot of clutch experience.
The problem I have is that prewar clutches are impossible to find so everyone seems to fit 6 spring B series ones. My problem is that the gearbox mainshaft was shorter in the prewar box which make the clutch sleeve off a B25 useless.The taper is cut 16mm inboard down the sleeve. I need one like the one in the picture, with the taper against the sprocket.
I think a
C12
/or similar might do it. Although I would lose the oil thrower detail which is OK.... Thank's Dave...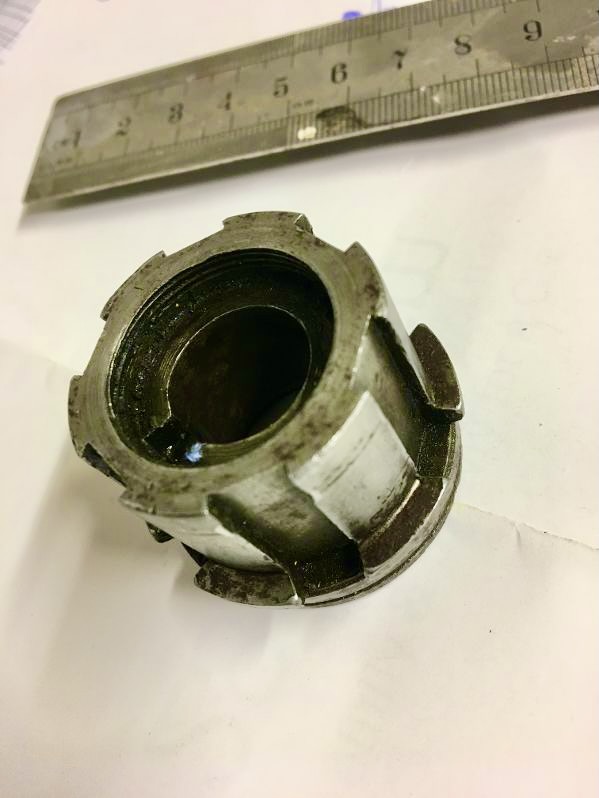 Can we find one for Dave so that he can get this old bike built up...
Just email me if you think you have one that may do...
29/11/2021...
Britshocks Tools Of The Trade... Page updated with more of my jig fixture details...
19/11/2021...
The Dan Shorey Bultaco Sherpa N story, Page re-written...
13/11/2021...
Time for us to Remember who we have lost again...
10/11/2021...
Scorpion Sportsters page updated, with an important photo of the designer of the brand...Paul Wright...
09/11/2021...
Coming soon a Four part video story about designing, building, and testing the Mini-Otters...
08/11/2021...
She Runs !...Check out Mike's Otter Triumph page...
07/11/2021...
Ducati trials bikes Page updated with a new build...
04/11/2021...
Spent a couple of afternoons in the Meteor-Works frame building workshop....
31/10/2021...
So What frame do we think this is?
Butler... Or could it be a Diamond, what do you think...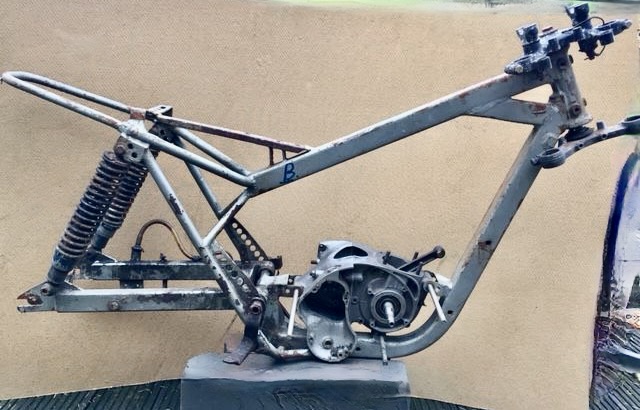 28/10/2021...
Stuck at home this week, so thought I would have a play with IMovie on my new Apple Mac Mini...It is that good I have got to shoot new content now when I can...
18/10/2021...
Ian Ballard's Triumph Otter page updated...
Read it, there is a warning to all of us...
"Well Street Garage Buckingham" page also updated...
12/10/2021...
Built with Emotional Dedication...
Lee...
We designed the geometry based on Nigels fit, which we have worked on for several years. The components was a eclectic mix of Shimano Di2, simple to maintain Juin disc brakes and Nigels much loved SRM power meter.
​
The paint scheme was the bit that took the most thought and effort though. Nigel wanted it to be a commemoration of his friend, Mark Easy, who had recently passed away. Mark was a talented artist and we were sent a piece of his original pottery to use for inspiration along with details of a tattoo he had.
​
We would like to think we have created a fitting tribute to Mark which Nigel can use to celebrate his life on every ride.
​
In Nigels own words
"
Mark was a Brand & Design manager at Cambridge Consulting, he studied design in Norwich at what is now the Norwich University of the Arts. He took up pottery after his stage 4 prostate cancer diagnosis in.
I think it really helped to have this to occupy his mind with all the other stuff that was going on. He was really good at it which kind of summed him up. The Icelandic tattoo that both he & Cal had came about after a trip to the island for a holiday a few years back.
He also used volcanic dust in some of his glaze!
After Mark passed away I put the bike on hold because I really didn't know what I wanted to do with it & couldn't decide on the paint scheme but I kept coming back to the sake set that Mark made & I just loved the burnt orange glaze with the grey & that's what I settled on.
After a few design disasters of my own that Mark never let me forget (the Nike trainers 🤦🏻‍♂️) I left the detail to Lee rather than torture myself…"
For Mark...
06/10/2021...
New Page Up... Fiction or Fact BSA 250...
Take a look...
05/10/2021...
Yesterdays news gets more intriguing now I have done a bit more delving... on what is said to be a "Works" BSA... The bike was last sold by Bonhams in 2016 at Stafford...
And here is the write up...
1975 BSA 250cc C15T Trials Special
Registration no. KOE 68P
Frame no. CDF 29
Engine no. CDE 42
BSA's 250 trials model, which first appeared in 1959, became one of Britain's most successful trials machines, although the C15Ts that did the winning were often usually modified from standard. KOE is no exception.
Originally registered as BSA 250 it was ridden by both Brian Martin and Jeff Smith. According to an accompanying letter from Brian Martin (July 1998) to Roy Jordan the then owner, and himself a respected Midland Centre competitor, the BSA registration number was transferred to another machine. The same letter confirms the bike is fitted with an experimental Bantam frame, and that the motor is effectively a C25... Other "BSA Comp Shop" improvements include a staggered fin cylinder barrel, B50 fuel tank, narrower primary chain case, and a pair of neatly tapered hubs. It was in 2000 that Roy sold the machine to Peter Taft, who sadly died in late 2015. Peter and younger brother Paul, always astride BSAs, were top level national scramblers in the 1950s. While it is known Peter rode it just once in a Bonanza Trial, it is believed he did not subsequently ride it competitively. Dry-stored for a dozen plus years, and in a visibly fair condition, it will clearly require re-commissioning before further use. A fit-for-purpose ex 'works' machine; part of trials history!
A foot Note: by the auctioneers says... That they could not find the Frame or engine number to confirm the above...
Saleroom notices
We are unable to locate both the Frame and Engine Numbers.
But The bike today claiming to be five years older 1970... Clearly has the engine number stamped onto the crankcases...
There is more... Needs a page of it's own I think...
We are hoping to get a reply from Jeff Smith, who can say Yey, or Ney...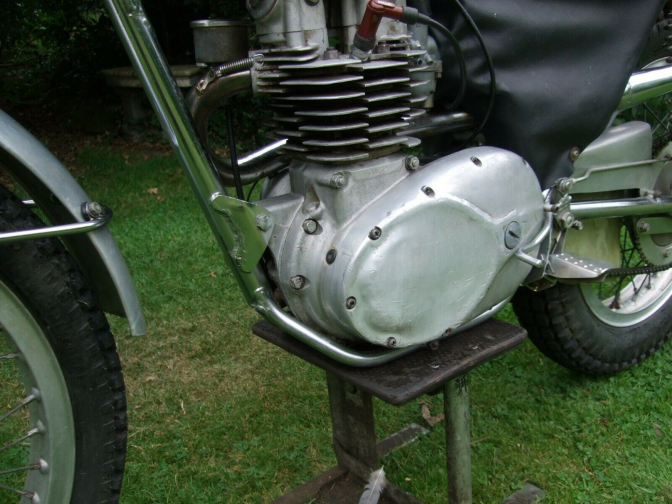 04/10/2021...
Need more information on this bike that is said to be the last bike to wear the BSA250 plates and built by Brian Martin and Jeff Smith...
Is it true?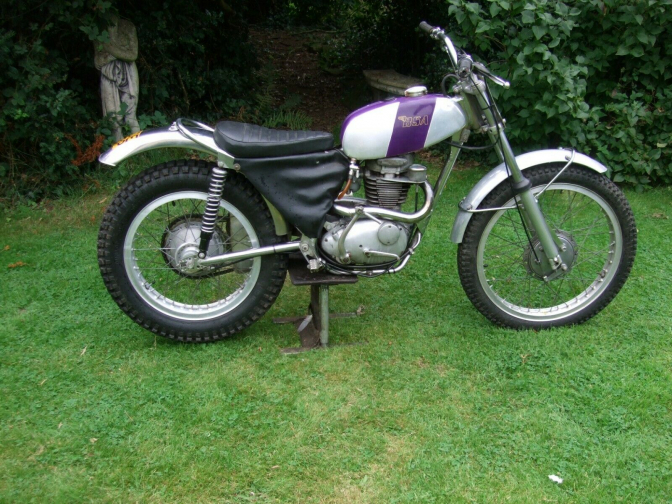 We know it was a prototype Bantam frame used...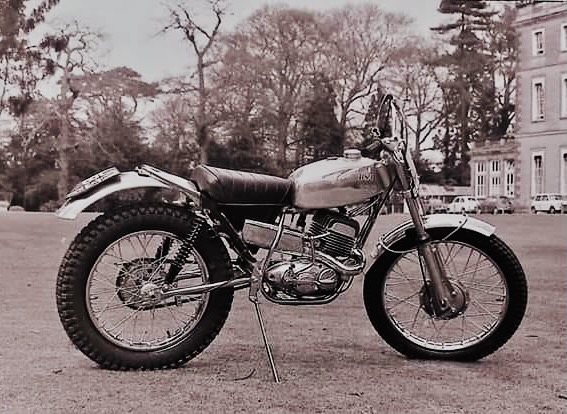 Was it one of these BSA frames that was converted...?
02/10/2021...
New Page up, Graham Dale's BSA BanStar build...
01/10/2021...
Okay. I have now updated most pages, it has only taken 120 hours...
I can now start putting together some new ones that I have, so watch this space...
23/09/2021...
Having a break from wading through the pages updating them, a cup of PG tips, and a watch of this Live! channel, gets me back into a good peacefull mood...
20/09/2021...
Phew... I have spent Sixty hours this last week updating pages,
Just got to the Saracen story page, and need a break...
So if you see Updat2021... at the bottom of a page it has been updated......More later...
09/09/2021...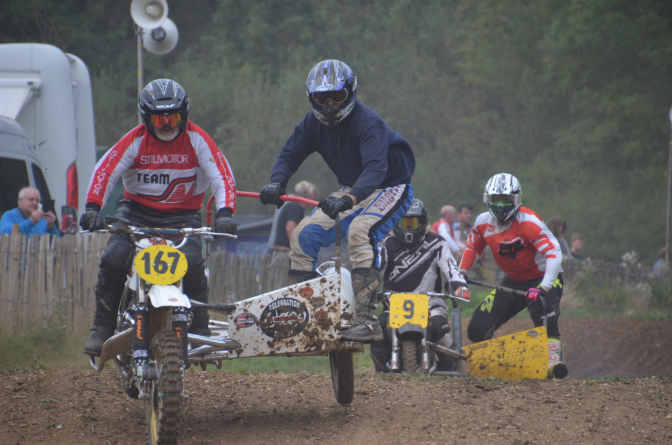 Photo Ian Ballard...
BSA Otter owner Dick Ramplee, and Shawn, just proves OAP's can still strut their stuff, at the recent Wasp Celebration event...
Also, Ian Ballard's Foster Triumph Otter page updated...
08/09/2021...
New Page Up...John Hand Racing...
A superb frame builder...even artist...
Take a look...
06/09/2021...
I have spent many hours this week updating pages...
to get us compliant, so they say...
So if you see a page with "updat2021... at the bottom, I have been through it...
Looks like a New Bantam Page coming up, with the questions I keep getting asked, where there is NO information on the Net...
And I have suffered my self putting this D10A engine together. Do you know the selector forks are different?
01/09/2021...
John has these BSA parts for sale...
And has kindly left his phone number and e-mail address for us...
Your e-mail:
Phone number:
Your message:
Hi Charlie.
I have decided to sell all my C15 parts and wondered if someone on here may be interested?
Items include a brand new Mike Mills Frame.
Rebuilt C15 trials engine with W gears.
Plus many C15 engine bits

Very best
J
31/08/2021...
"If we could turn back time"...
2012...
This weekend, playing in the Isle Of Man...
Bims Field...
28/08/2021...
Royal Enfield 350 Crusader page updated...
24/08/2021...
So yes got the spacer made, after sitting in traffic on the A46 for over an hour (by Warwick) wish I had paid the £12 for one from RCR and stopped at home, but at least I got out. So today, I will get the gearbox put together, I told my self. So with a spell in the kitchen cooking the crankcases to fit the bearings, I was on a roll, have you fitted four speed Bantam gears? I thought I would be clever and not take the gear selector assembly off, and struggled for some time before giving in...
So now with the selector plate in the right position and with instructions from Gary Bee 175 ? what could go wrong.
"You may have to fiddle with getting the layshaft into the correct position" he said, well after thirty minuets with no result I had to think of a plan "B"... So the culprit was the copper thrust washer with a dimmple in it to locate on the pin in the crankcase. My head was spinning by this time, it does not do stress any more.
I rolled up an old sanding disk and stuffed it up through the needle bearing and said washer from the under side. Placed gears back into position and pushed the layshaft down, plop and the old disk fell to the floor as the shaft clicked into place, Yea.. always a way if you look for it...
I hate Bantams, but this one is growing onto me...
Photos Later...
22/08/2021...
A busy week again, trying to catch up, how you do, when it seems time is shorter...
After thinking it time to thin out the bikes in the fold, you know that is a BIG mistake, because nothing goes to plan...
Well I have spent the week putting together another "four speed" D10A Bantam trials engine, swapping the gears and finding all the parts, bar for a gearbox sprocket spacer, which I will make tomorrow... This is to replace a re-built 125 engine that it seems people in the trials game think is not Pre 65? where as it is the 175-185 motors that are not, and not the"four-speed" but that is the way it is, and I am too old to argue anymore...
So it has been interesting to me as I knew I had most bits to build the motor, but the time it takes dressing new "Made in England" trials sprockets, etc, and bearings to fit the cranks, you wonder where British engineering went. All down to price I am told.
So we will see where we get to next week, but I have found most parts to build a NEW BSA B25 engine and even a Pete Kirby drive clutch system , so watch this space as they say in the modern world.
15/08/2021...
The Burian trials bike, page updated,
Simon is making a first class job of restoring the little bike...
13/08/2021...
It is a shame when a bike leaves the fold, but time marches on, things have to change.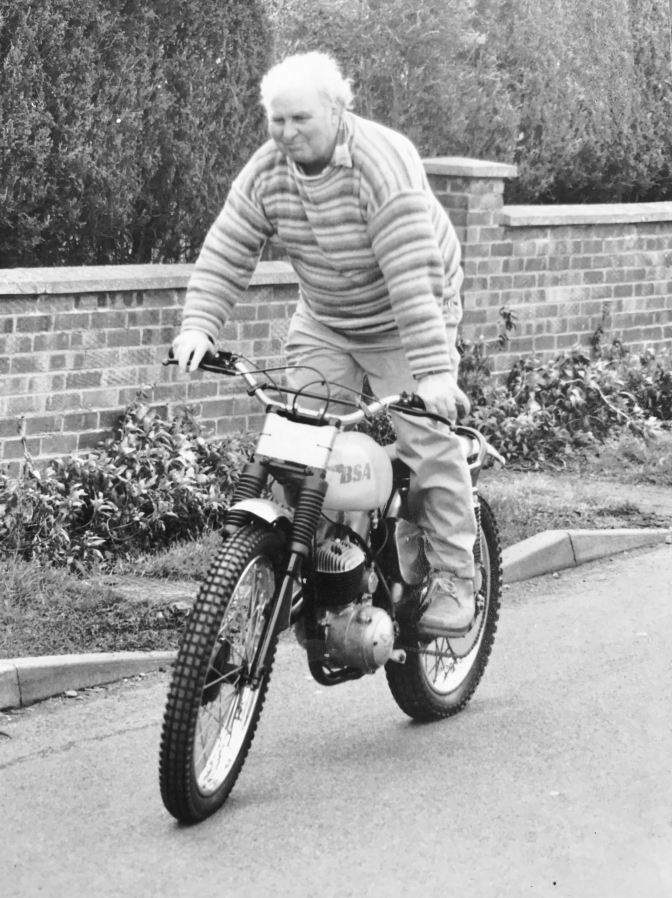 2001...Otterman photo...
Second bike in the collection, and you can see the smile it put onto my face,
Nice little bike with good memories, Now Not Sold... see story above.
Having above engine fitted...
11/08/2021...
Been chatting to Howard from Faber Frames this afternoon,
he now has the stainless exhaust systems for BSA B40 and Triumph 5TA twins, just about in the production stage.
So if you are interested in them get in touch with Howard at Faber, or I can pass on your enquires...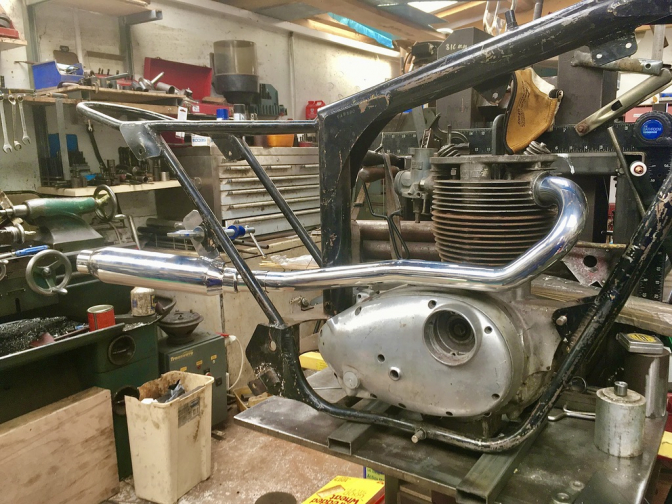 The Faber BSA B40 SS trials exhaust system...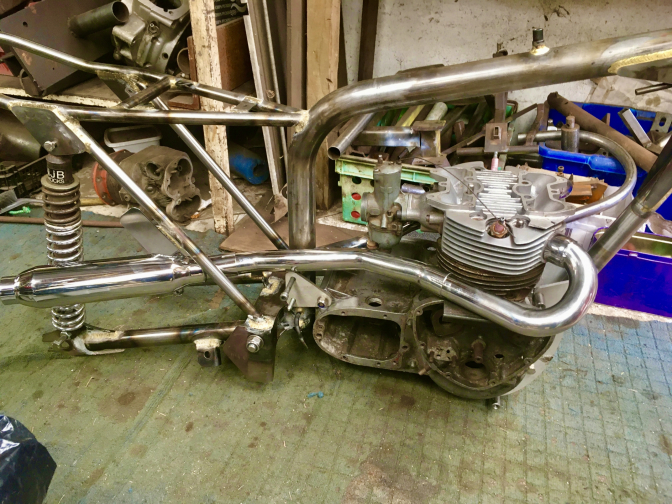 And the Triumph Twin version...
I will put more details on the Faber pages...
Just been asked how much it costs to build a Bantam trials bike again....
So I have lifted this from "OK lets build a Bantam Trials "page.......
Bantam Trials bike pricing.
*******
Hi Peter.
Off the top of my head, it is going to cost you £3000, however you do it.
You can spend an awful amount of time buying and modifying a Bantam frame, like I did.
Or you could buy one of the Drayton, or Alan Whitton, Bantam frame kits which will give you a good start,
I think they are about £1,800 for the kit.
Then you need a fuel tank, of some kind £50- £375.
A pair of Bantam hubs, original or billet. £50-£300?
Rims, and lacing up. £300.
Tyres about £200.
Then the engine, you could be lucky and find one for £300, but then you need to spend at least £100 replacing oil-seals etc.
The gears want swapping around, and you will need electronic ignition. Electrex is about £180 without looking.
Bars and levers another £100.cables £50.
If you can find a motor for £300 that is good and running, and fit cheaper bars and levers along with a fuel tank for £50, and Bantam hubs for £50.each...
You get just over the £3,000 by £30.
Doing the lot new comes out at £3,705.
Plus a fair bit of time spent. and this is only what I have added up.
And we forgot about a pair of forks so that has to be added on £300-£2000.
So now tell me the bike for sale below is not going to be a cheap way into trials on a BSA Bantam...
09/08/2021...
Mike has a few problems "Snagging" on the Triumph Otter...
We all know what that is like...
And chaps in the Classic trials trade do nothing quickly do they...
08/08/2021...
NEW Page up, Royal Enfield 350 Crusader...
07/08/2021...
Some of the bikes at the yard are getting thinned out...
This one was going to France before Covid struck...
It is now on eBay so you could grap your self a bargin,
if you are quick.
1959 BSA Bantam D7 fitted with "Triumph Mountain Cub" front end.
1959 DDB 125 engine, so 1959 bike, new tyres fitted, basis of good little trials mount. Built originally by a Triumph test rider...
Currently Not SOLD.......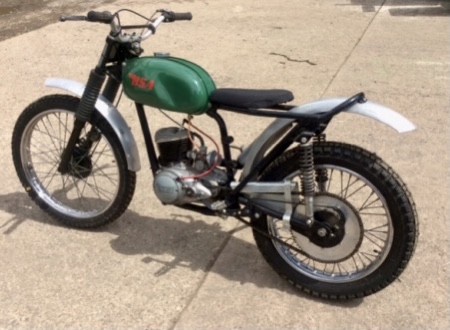 Proper Pre65 BSA Bantam...
Also on eBay a D14B recon engine that would drop into the frame nicely
Item number 384306789568 £875...
28/07/2021...
OK, I have been concentrating on the cycle side of life for the past couple of weeks. I need a new bike built, but so does everyone else as it seems. So I have to take a back seat, or build my own. I have just got to keep my leg muscles working, or I wont be able to walk at all.
But when you have reports like this below, you know there will be a long wait...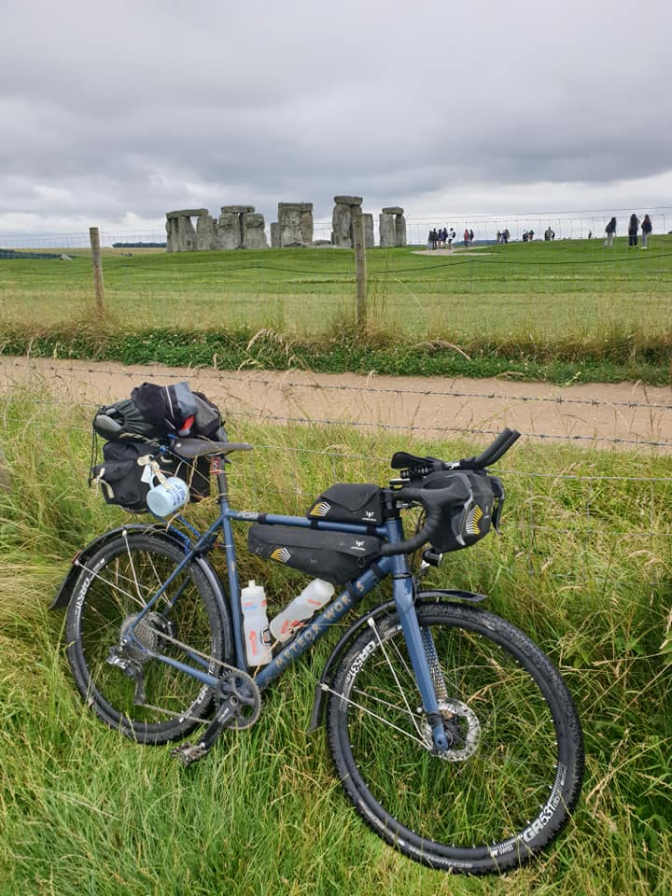 Photo of a Meteor Works AEsir...
Adventure Bike...
From the moment I walked into your studio I knew that I had made the right choice. Many cyclists will have had a bike fit in a cycle shop where you are measured to fit something already in their showroom or from their stock list. This is generally acceptable but when you are, like me 6'6" it is likely that the outcome will be less than optimal. Consequently, now in my late 50's I'm riding around our pot-hole strewn roads on an expensive rigid Italian carbon framed sports bike that is very unforgiving and frankly quite uncomfortable.

Your first question to me was "what are you looking for?" Previously I would have been chasing a brand, style, group set or a particular set of wheels but things are now different - comfort, ease of use and practicalities are foremost in my mind.

The custom built bike that has resulted from that bike-fit and our subsequent discussions is nothing short of fabulous. I feel that I am at one with the bike, rather than sitting on it and it is so much more forgiving and comfortable than its predecessor. What I have is the cycling equivalent to a Jermyn Street shirt, a Saville Row suit or a last crafted pair of Northampton shoes - something that fits just perfectly and which glides along the lanes taking all the road imperfections in its stride.

In terms of kit purchases my Meteor Works custom is without doubt the best decision I have made. When you consider that this hand-made, totally bespoke piece of engineering art can be bought for the same money as a mid-range branded road bike you realise what incredible value it is. It is also a pleasure to deal with a local cycling professional who is at the top of his game as well as being a thoroughly nice guy.
~~~~~~~
Yes very proud Dad...~Oo> Charlie...
22/07/2021...
Two- Four- Six- Eight-How much does an Ariel cost to make?
Gary Britton knows...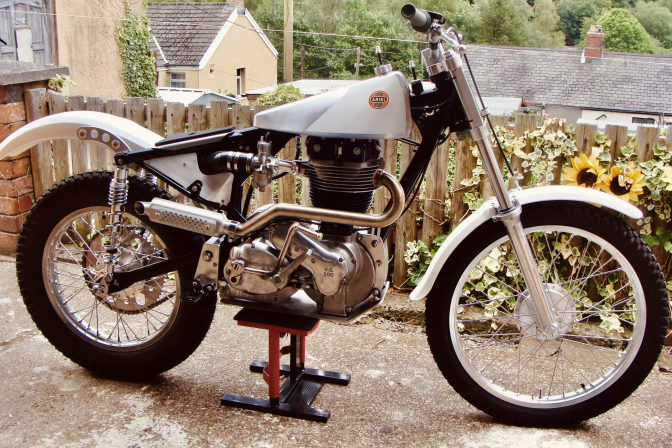 Cost later on that page...
10/07/2021...
Had some interesting motorcycling people visit this week, and they brought interesting parts for the bikes with them...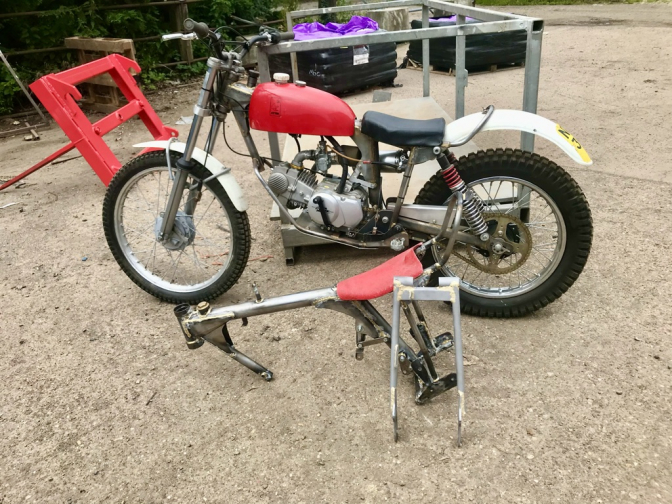 Mini-Otter frame Seven now finished, and engine being fitted for dry build.
07/07/2021...
Back building bikes again...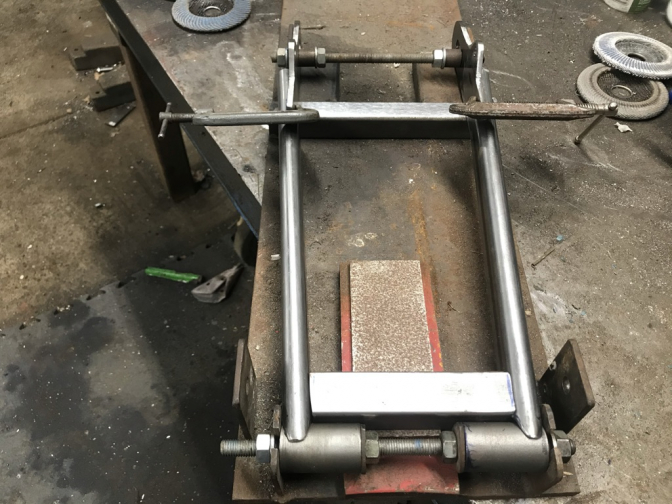 Swinging arm for Mini-Otter "7", now bronze-welded...
01/07/2021...
Spent the last two weeks with my head in the clouds.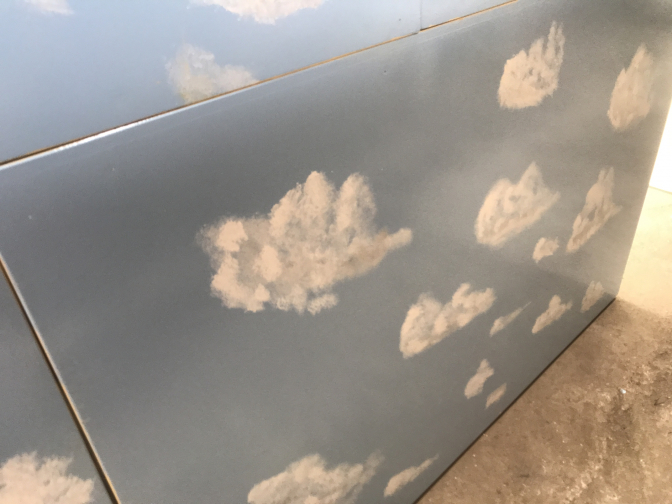 Well painting two show jumping walls and adding the clouds too...
Just imagine the horses thinking they are jumping into the wild blue yonder...
We have been building show jumps solid for a month, as the shows are now able to continue. But most dates now clash, so we need twice the amount of fences... And I thought I was retired from this "Event"game....
Spent a week following, trying to catch up with the bikes,
got a rather special trials rider coming to visit...Wow...
28/06/2021...
Mikes Triumph Otter build Episode Eighteen..
Building a trials bike from scratch, can get complicated...
27/06/2021...
Sorry about the lack of content, in the past couple of weeks....
But all will become clearer later....
And still learning to drive this new beast of a computer....
14/06/2021...
Finished Mini-Otter Seven frame,
Bit different this week starting to build my "Towpath" cycle-frame,
Could be held up getting a groupset for the bike though....
06/06/2021...
Mini-Otter, Mini Fordson...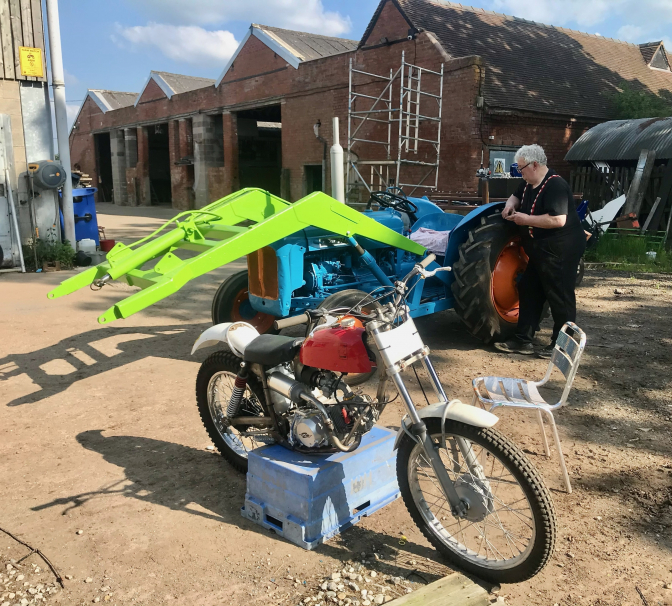 13/06/2021....
At last.... Thank you Apple... HEIC files...photo later when computer cooperates.
04/06/2021...
Frame M-O "Seven" almost done...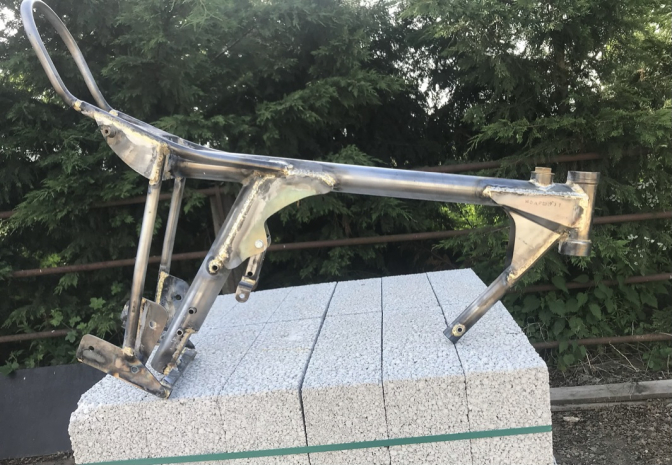 30/05/2021...
Nearly there with Mini-Otter frame 07...(photo's on that page)
But we do more than just trials bikes.
Loving retro life at the moment..fingers crossed..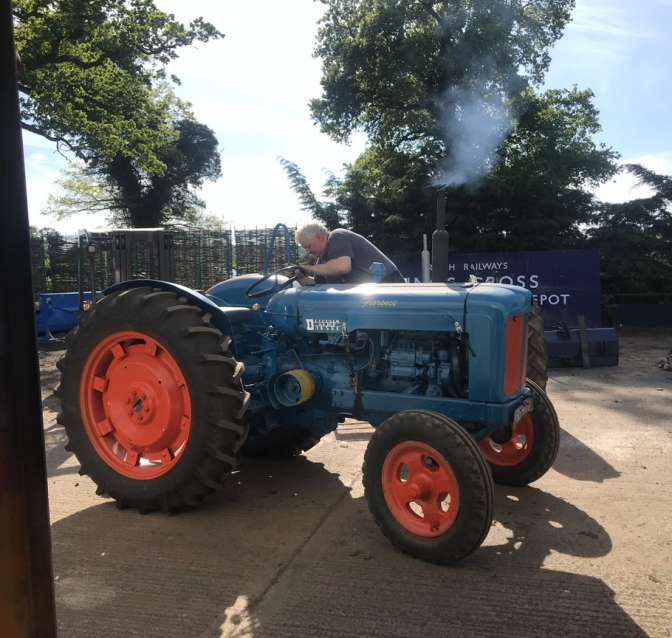 Fordson Major Diesel, with Mothers name on the bonnet, love that!..
23/05/2021...
Back on Mini-Otter frame seven today, how long has that been,Yea...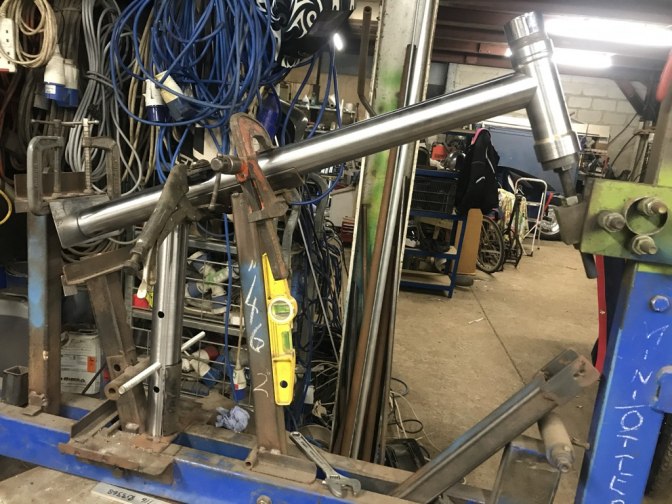 Photo: Steering head bronze welded, tubes polished ready for tacking...
22/05/2021...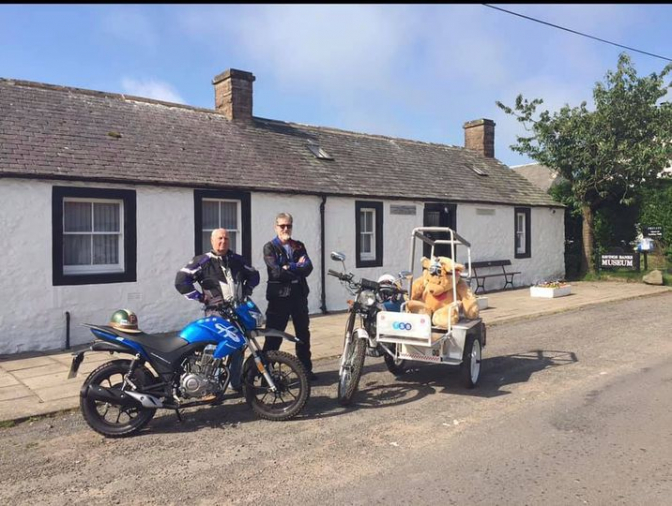 Remember in 2017 our charity ride starting at the Ruthwell Savings Bank museum?
And remember this advert
Now in their wisdom the TSB is to close the birth place of the Worlds first Savings Bank, the museum, "To Save But a Penny"...
Not if we can do something about it...
Watch this space...
This is part of World History....
15/05/2021...
NEW Page... "The Burian trials machines"..
11/05/2021...
Mikes Otter 500 Build Episode Eleven, now on after YouTube Glitch...
All my files are now living in the cloud so I can start to use some of them again without fear of loss...
10/05/2021...
Different "Otter" Episode from Mike this week.
I think he is trying to "Fox"us a bit... into the next move...
03/05/2021...
NEW Router installed...
Just waiting for the fibre broadband to be sorted on the fifth...
Fingers crossed we will then be back...
Just got to learn to walk without that weight, now missing from my right hand pocket...
Mike has had an exhausting time too, catch up with Episode Ten...
25/04/2021...
Episode Nine of Mikes Triumph Otter build now on...
24/04/2021...
I have drafted a letter for the "Readers Letters page", mainly to learn to drive the new document typing system..
But worth a read to see what we are doing..
23/04/2021...
BSA Otter is back…
After twelve months of struggling with a worn out Apple computer, I have bit the bullet and gone for a new up to date model, we know they don't remain up to date for long, as only today a new model has been announced.
This one should be good for a year or two though, we hope.
I can now after learning to drive it, yes you do have to do so, that much has changed, and I did not realise that I was using so many out of date applications. I am amazed already.
I had just started to get to know the IMovie program to edit the videos I intend to make,,,,,,,but find that the new version is totally different, are well, it has occupied my mind during this last "lock-down".
So I think I am going to re-write some of the pages I have stored on the old Mac before I publish them onto this site. Why ? Well I have found that the spellcheck on the Instant-Pro website no longer works, and you know how bad my spelling is. I have already updated a couple of pages to see if this Mac works okay and it seems too.
So with the new faster broad-band being installed next week we should be flying, and hopefully out of this Covid thing too. Let's hope so. Stay Safe…
22/04/2021...
A New rosy red Apple for the BSA Otter site...
Yes I did it, I splashed the cash, or dived in at the deep end, and got a New Apple computer.
So we are back up and running, when I have learned how to drive this one... YEY...New fibre-BB on the whey next week too...
19/04/2021...
Mikes Triumph Otter Build,
Episode Eight "Boxing-Clever" now on that page...
18/04/2021...
After another week of IT torment, changing routers, modems, and BBS line and speed checks, we still have a problem, and it looks like a new £1500 system to rectify the situation.
I can't do updates and new pages at the moment, as they keep crashing when I am working on them, and then they don't save. So, I will keep you informed, and do more work off-line for a while until the problem gets solved.....
If I can sneak a few items on I will...
Stay Safe.. Charlie.
10/04/2021...
IT Meltdown this week, end of line for me, and BSA Otter, if I can't get new computer, but working on it.. need a second jab in the arm I think!...
Saved this for you...Stay Safe...
Just Playing with IMovie...
Hope More Later...?
03/04/2021...
An update to the BSA Otter story...and a different Angle.
Read it on the Mikes Triumph Otter build page...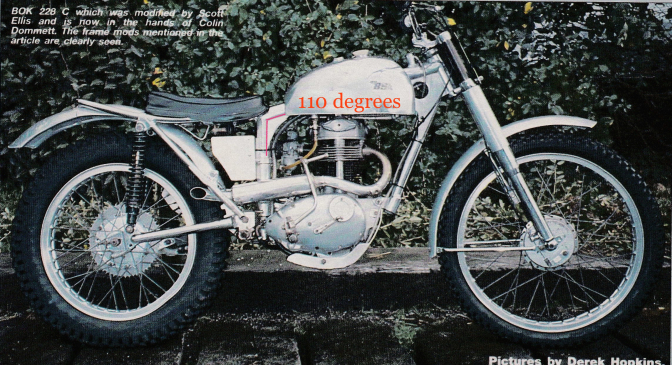 30/03/2021...
Ian's New build Foster 'Triumph Otter"...More on that page later...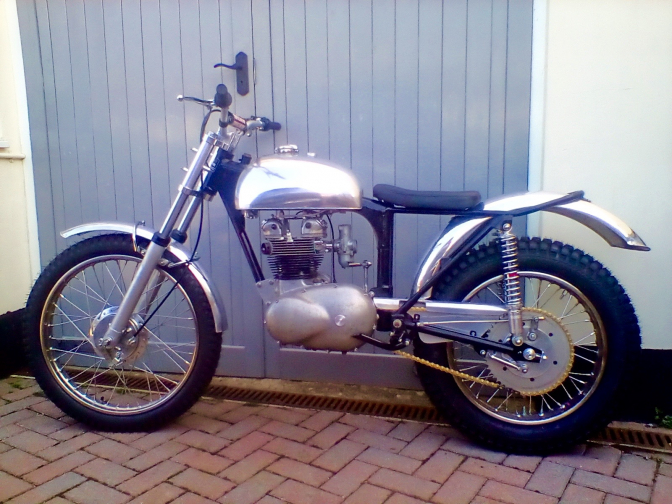 29/03/2021...
Episode Five of Mike's Triumph "Otter" build is on, with an all different angle on the story...
27/03/2021...
Yep That Works Richard...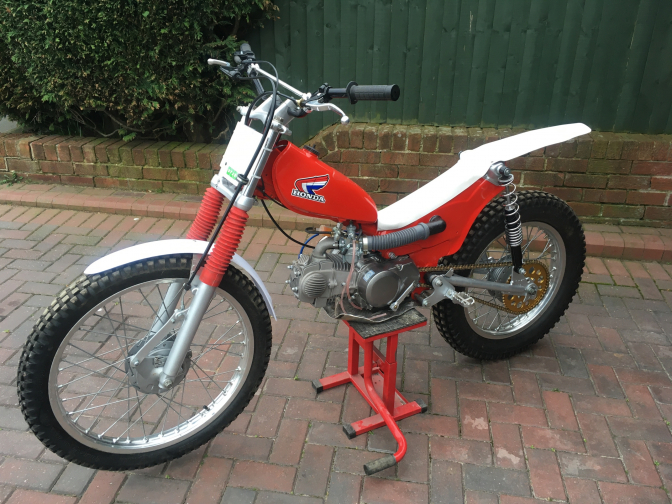 Richard has built this little Gem of a Honda C90 bike up from information on these pages, and a couple of questions .
Low down on the bike later...
21/03/2021...
"BSA C15 F type Duplicated" Page updated, with a tale of woe...
18/03/2021...
Faber 2020 Page updated with new Items from Faber for sale...
14/03/2021...
Loads of pages updated this week, I will try and do a list later. I am updating the Pre65 Rules page later today, to answer a readers questions the best I can...
Another Dream Bike Build of a superb MeteorWorks steel frame..
Yes I know it is a Cycle and not a Trials Motorcycle, but it is out of the same camp, and built by the person that will be taking over this site one day, and hopefully the production of the "Otter" trials bikes...
So take a look and see the superb standard of workmanship...
03/03/2021...
Swinging -Arm page, updated...And More...
And this is the sort of "Tow-Path" rides I'am thinking of...
01/03/2021...
NEW Page "Mikes Triumph 500 Otter Build"...
27/02/2021...
Well, I was telling Lee about sitting my trials chains on top of the old grate stove in the kitchen in the farm-house at Wigginton (1960), the chain was in a sauce-pan three parts full of a mixture of candle wax (Paraffin wax) and a drop or two of Castrol "R"... this bubbled away for thirty minuets, mother loved the smell but my aunt was not too keen...
I like that he said, and the rest is history. The old ones are the best...
PS, If you fancy a AEsir ( Ice-ear) bike the list for them is growing, for this years production, so don't wait too long...The BEST way to get Adventure this year...
I'm using mine for "Tow-Path" rides, I have spent hours reserching these rides, and will put a list, or a page, on later...
I have watched every one of these videos to get the cycle routes worked out. This is a good day out ride, ending at the Bosley Cloud. Take a look, you may get hooked...
22/02/2021...
For Mike Waller Channel viewers... To save you looking for it...
A better one on later...
BSA Otters...
~~~~~~~
Mike does a couple of jigs, while I do the slow waltz...
Slow, Slow, Quick Quick, Slow...
Yes my life is on slow.
Ever since I had the first Covid jab the Oxford version,(three weeks ago today) my life has been on slow.
If you read back the last year page, you see in November I thought I had the Covid, and eventualy went for a test that was negative (by then),
but now I still think I had the virus, because my Fibromyalgia is twice as bad as it ever was, and all the same symtoms. Then having the jab has made it worse again. So just doing things when I feel OK for half an hour, but mainly my body is drained all day, so can't even get out for a small walk... Just needs the spring to get here perhaps...
Anyway we have Mikes Triumph Otter build to look forward too don't we...
Take Care everyone...
15/02/2021...
Mike Waller fires up the BSA C15T copy bike, on that page..
10/02/2021...
Another Proper Trial...
Lets hope we are back there one day...
BSA Otter's Works rider on observation duty at 14-51 mins in...
09/02/2021...
Proper Trial 1963...
Thank you Graham... Enjoy...
04/02/2021...
Keith Ives...
Hi. I contacted you last year, and you very kindly posted some articles that my dad Philip Ives wrote, one being about his Otter. One of the other bikes that dad had was an Ariel HT5 I.S.T.D., reg XOB 440, that was similar to Sammy Miller's GOV 132.. I recently heard that his HT5 had been sold at auction by Bonhams in December of last year, and I was delighted to learn that the new owner is none other that the afore said Sammy Miller, and the bike now resides in his museum in New Milton.
More of an update on the "Tale of the Otter" page later...
03/02/2021...
" Triumph-Twins-the-ones-that-Wins"...
Ok here is a treat for you Triumph Twin unit owners, with trials bikes, and Scramblers.
Martin Perrett is the man that can supply you with an Alloy barrel for your Twin...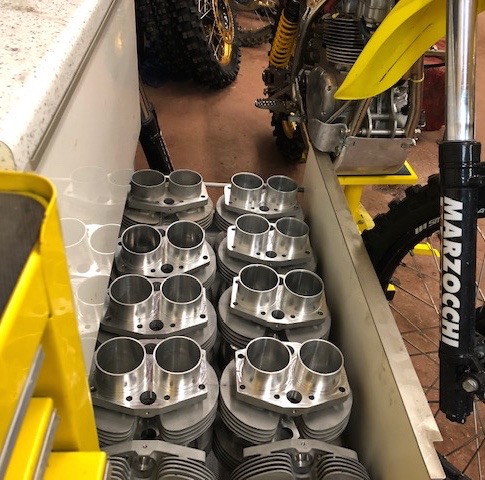 They are all one piece LM25 alloy heat treated including the liner.
Prices are Barrel machined ready to Nikasil £320.00
With Nikasil plating completed £520.00
With pair of alloy cam blocks £599.00
All plus VAT / postage where relevant.
This is Martins eMail address if you are interested.
31/01/2021...
Ace bronze welder and fabricator John Hand, who left the Wasp frames company, to set up on his own when his grandfather Robbie Rhind-tutt died, has come up with a New trials frame to house a Triumph twin engine. This is to carry oil in a tank constructed within the tubes surrounding the steering head. Based on a BSA B44 GP type design, and incorporating trials dimensions.
The mock up is just Mig tack welded, to get a feel for the frame.
Production frames will be made out of T45 aircraft quality tubing and bronze welded in John's superb style.
We wait with bated breath to see the first production frame appear.
I am sure we will do a page for John's outstanding crafted frames. Just take a look at the crop of Metisse frames to see the quality of the welds…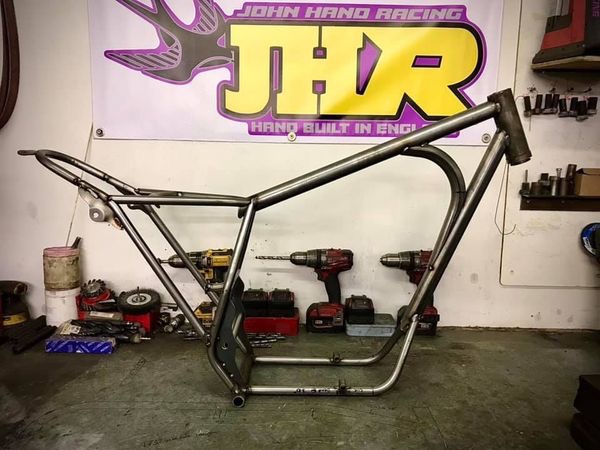 Just the "Mock-up" frame to get a feel for the design...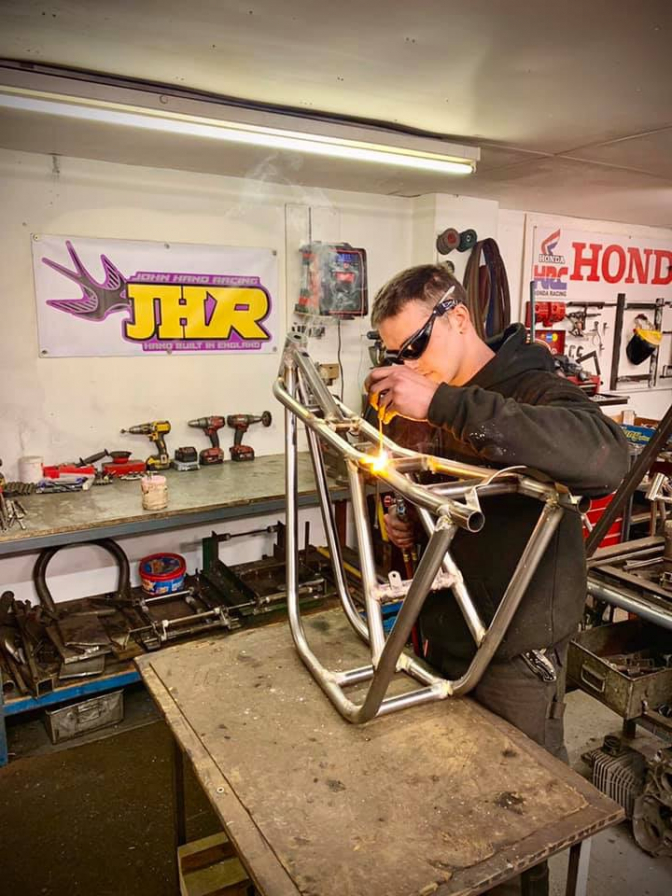 John Bronze welding a Metisse frame, in the superb welding style he has made his own...
John Hand Racing, "Hand" "Built in England"...
29/01/2021...
More updates on the French Motobecane page...
27/01/2021...
Scorpion Sportsters Page updated, with a superb new finding, that nearly completes the brands story...
23/01/2021...
The French MotoBecane page updated, and also the French Connection page next to it, with superb photo shots, from the 2014
Manx Classic Trial...
21/01/2021...
For You Mike...
Here is a good one for you....
Take the spoken description with a pinch of salt....
This BALCO Faber Bariel framed Otter, is a prime example of what you can turn out of a shed!
19/01/2021...
More Comments on the "Pre65 Survey Page", have you commented yet?
Yes. No. answers ...B.A.B. seems to be popular...
18/01/2021...
"Rummage Through Your Draws" Page updated...
Just Listen....and take heed...
Thank-you Richy Vida...
15/01/2021...
New Page Triumph TR20 Cubs...
11/01/2021...
New Page Up... Gary Britton's Ariels...
08/01/2021...
The "Walwin"BSA page updated with some very good news...
"From Russia with Lov e" page updated the chaps get their Guinness World record...
Also other pages have been updated.. I am currently working through them all...
05/01/2021...75 today...
New Page up, Norman Hanks "Big-Beam" Bantam...
This explains the frame below.. Enjoy...
01/01/2021...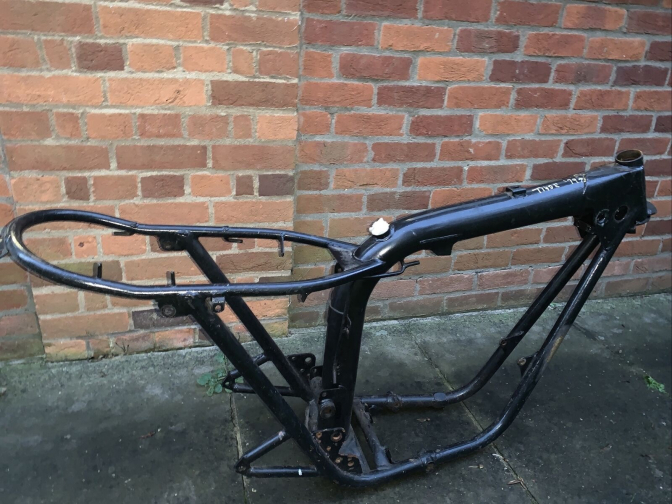 What has this frame got to do with a Works built Classic Trials bike?
Watch this space in the next couple of weeks...
~~~~~~~
My Prediction this year is that we could have one-two or five Triumphs..
But a couple could turn out to be "Mongrels"!
02/01/2021...
What I said yesterday...
Bit of a Triumph of a year...
More later with some page updates...
Best Wishes for this NEW Year everyone...