Scorpion Sporsters 1963-1965.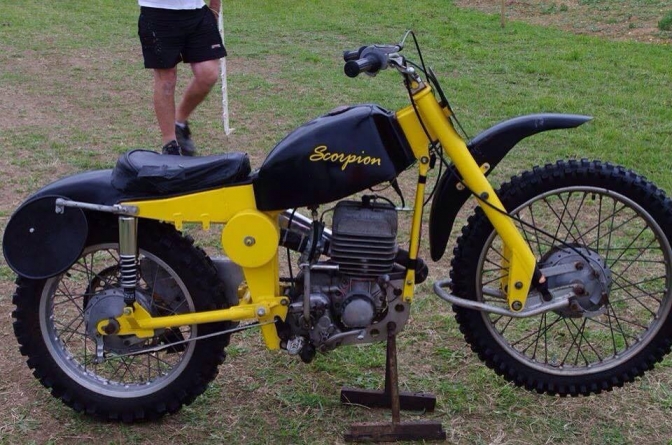 Photo Credit ******later.
Motorcycle article 7th March 1963
This week marks the arrival-of another manufacturer of sporting motorcycles.
the machine is the Scorpion, designed and produced by 26 year old Paul Wright at Bishops Stortford.
Paul has practical experience as a rider in trials, scrambles and grass track, meetings.
And he is the designer for one of the country's leading sport-car firms.
This combination stood him in good stead when he set out to design a trials and scrambles bike just over a year ago,that met his ideals, and ideas.
the aim has been to produce a model that would except a number of power units that would suit the choice of the individual.
The spine type frame fabricated from sheet steel is roughly L shaped ,its 5 inch deep member tapering to two inches wide at the front, which carries the steering head to four inches at the back.
Welded to the rear is a vertical member providing a location for the pivoted rear fork spindle.
Again the rear fork and two arms which extend rearward from the angle of the main frame to locate the rear suspension units, are sheet steel fabrications.
A bolt-on engine cradle that can be made to take various units is of square steel RHS(Resistance Welded Hollow Section) tubing.
It is attached just below the steering head and curves rearward to meet the lower extremity of the vertical member.
Front forks are of leading link-pattern with a bracing loop.
Armstrong links and front and rear suspension units are employed.
The twenty one inch front and eighteen inch rear wheels have MotoLoy full width hubs with six inch diameter brakes.
Rubber Cush drive is fitted to the rear hub.
Mudguards are Glass-fibre, the rear one being quickly detachable and incorporating a seat and rear number plate.
removal gives access to a tool box in the vertical frame member underneath.
Glass-fibre is used again for the fuel tank which is available in either one or two gallon capacity.
Weight of the machine is 210 lbs with a Villiers Power unit fitted.
Other details include Amal alloy brake and clutch levers, and adjustable rear footrests and brake lever.
It is intended to market the Scorpion in kit form,
Cost will be about £110 without an engine,
Villiers 197cc, or 246 cc with Marcelle or Parkinson conversion will be available.
Address of Scorpion Motorcycle Development: is
40 Rochford Road Bishops Stortford. Hertfordshire.
Peter Fraser 7th March 1963.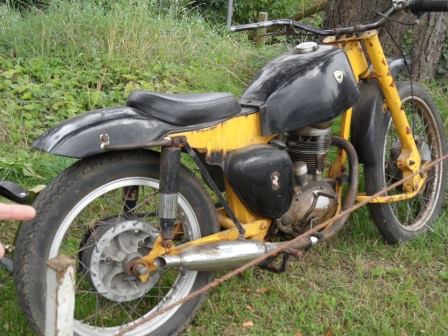 Photo Credit Ray Fazey.
This is friend Mick Salts BSA C15 engined machine, now in the process of getting rebuilt to put onto the road to be ridden, for the fun, of riding a Classic 1963 very rare sports motorcycle.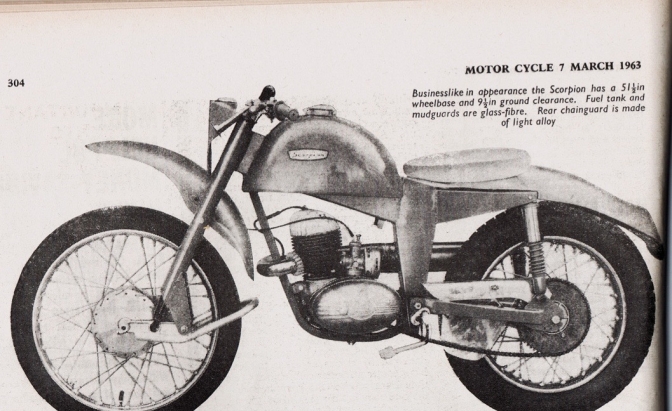 This must have been the original mock up machine?
The production Glass-Fibre tank and seat-mudguard unit made by Chris Butler of Butler Mouldings were a more angular shape has can be seen from the photo of Chris Cullen riding in the1965 SSDT below. It was said that Chris kept a welder very busy over the week of the trial, but that was one way to test a machine, in the logest toughest trial in the world at that time and now.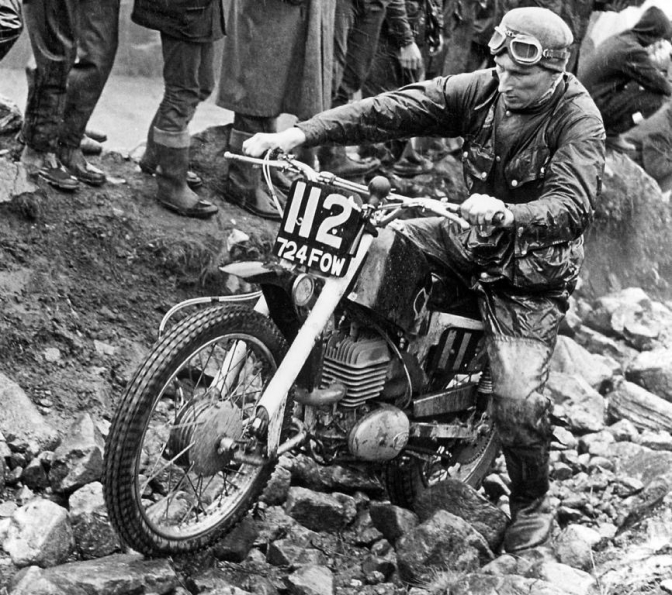 Photo Credit Deryk Wylde Off Road Review-e.
This next photo of Dave Lomas who was one of the few to actually have owned a production Scorpion trials machine, converted his frame to hold the fuel in the top frame member, a very sensible idea, and one that would have probably been put into practice by the factory if the production run in there new unit at Whitfield near Brackley in Northhamptonshire, had been longer. The run of production unfortunately was only two years and the factory closed in 1965.
What a shame, probably lack of funding and the running down of the motorcycle industry in this country did not help. But I think the concept that I still feel is brilliant was way ahead of its time?
But was it ? don't forget the Japanese motorcycle industry were already making pressed steel frames for there machines.
But Paul Wright's thinking of keeping it simple, meant that the frame unit could be built in a small workshop with nothing more complicated than a steel sheet folding machine and someone that could weld steel seams. Before the appearance of a mig welder,don't forget ,these seams were probably done with a gas torch.
(I will let you know when I have looked closely at one of the welds,)
The first frames were actually built in a small workshop in north London by two sidecar road racing engineers, Bob Robinson and Ted Young.
So that proved a point ,yes anyone with these facilities could still make a Scorpion type trials frame,using this very same method.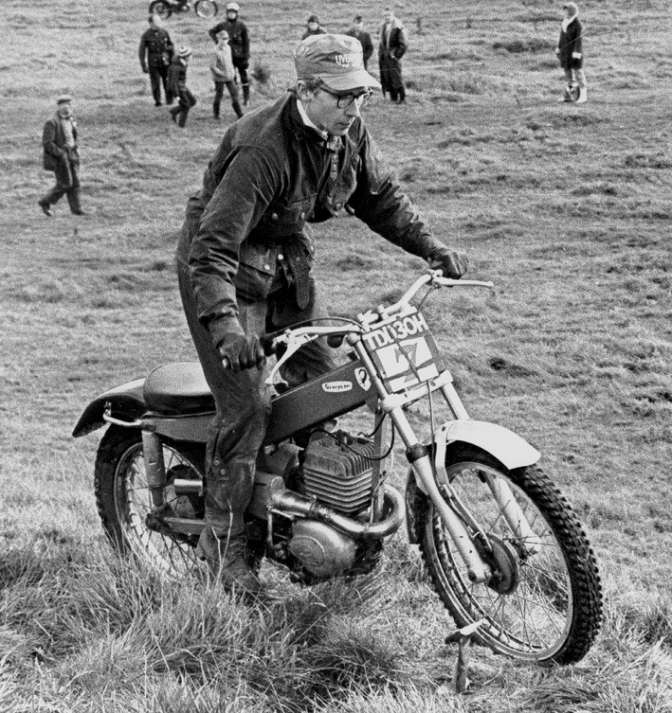 Again photo credit ORR-e
This machine that Dave Lomas is riding was later passed on to Ben Falconor.
Who rode the machine a couple of years ago (2012) in the Scottish Two Day trial in May.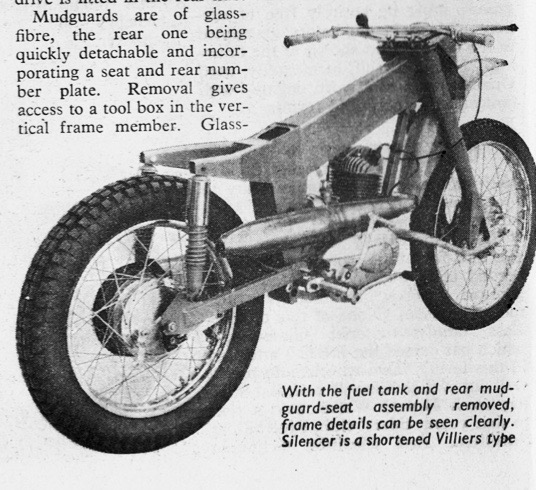 You can clearly see the space for the tool box in the vertical seat box in this scan shot.
And just look at the footrests, and the position of the handlebars,how times have changed.
This seat pillar was used for the air-cleaner unit on the Scrambles version has can be seen in the heading photo.
I hope to continue on this page when I get new material. Later
Below
This is the race version that I saw at the motorcycle show in London
We all thought there were no engine innards.
It was a very pretty machine even in its mock up state,
Banbury Motorcycle journalist Bruce Cox allegedly had arranged to have got Banbury GP road racer Rodney Gould the ride on the bike once it was finished, but I don't think Rod ever threw his leg over the machine.
These next two are Ben Falconer machine,
He rode this in the Scottish Two day trial, in 2012.
And has an entry again this year 2016,
We will see how he gets on.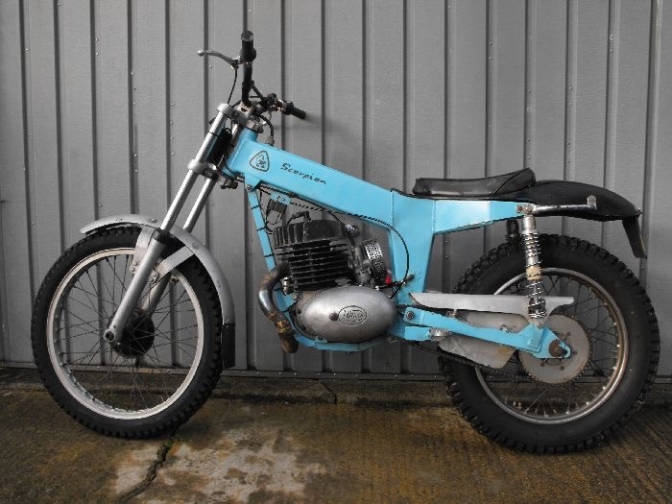 Photos are Bens.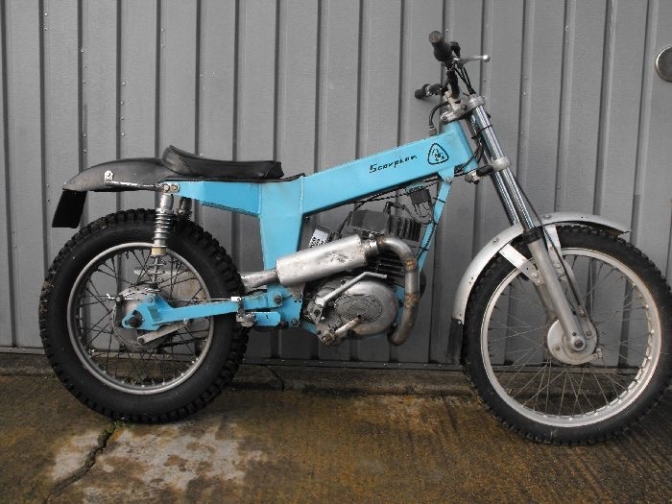 More later Hope to get Bens Story.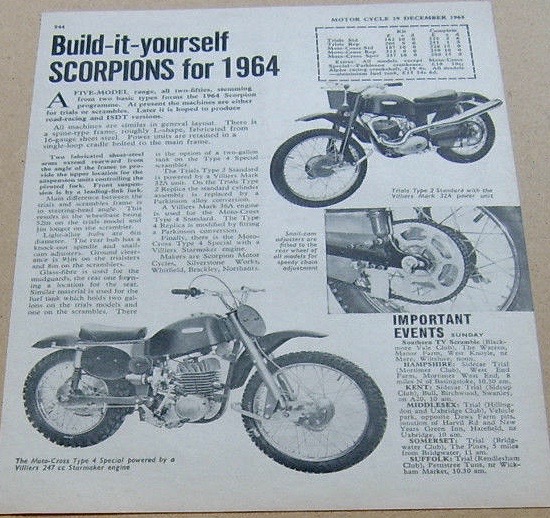 You can see by December 1963 the address is Scorpion Motorcycles,
Silverstone Works,
Whitfield,
Brackley,
Northamptonshire.
:There is a Spine type frame built out of 16 gauge sheet steel;
:Trials TYPE 2 is powered by a Villiers 32A unit;
:On The Trials TYPE 2 "Replica", the standard cylinder assembly is replaced by the Parkinson alloy Conversion;
08/03/2017.
Hi Charlie,

I've enjoyed your Otter site for several years, but until this morning
I had not noticed the page on the Scorpion frames. The article and
photos of the scrambler and unit single BSA are new to me and much
appreciated! I already had some of the SSDT photos from Trials
Central.

I can see that the above-engine spine and seat boxes/rails are welded
to the front and back of the vertical box. How are the main boxes
formed?
Did they do two "C" halves and then weld those together with
two central seams on opposite sides, fold it all up from one piece and
have one weld seam in the middle of a face or at a corner, fold a
large "U" shape and then add a plate to close it off with two edge
seams on either side of that or ?????
Do you know if there were any
bulkheads in the main boxes as seen on some riveted-up aluminum RR
monocoque frames?

I had a vintage scrambles project based on a Motobi with a box section
frame and you can see some photos of the Motobi frame here:

http://www.eurospares.com/motobi2.htm

cheers,
Michael Moore

Charlie,> Michael, I will get in touch with the owner of the BSA engined Scorpion, and go and take some photos ,because I also would like to know how the frames were actually folded and welded. a Very interesting machine and it is a shame the a draw to the film industry actually was more than likely why production ceased? Or did it actually ever really start?
Get back to you Michael.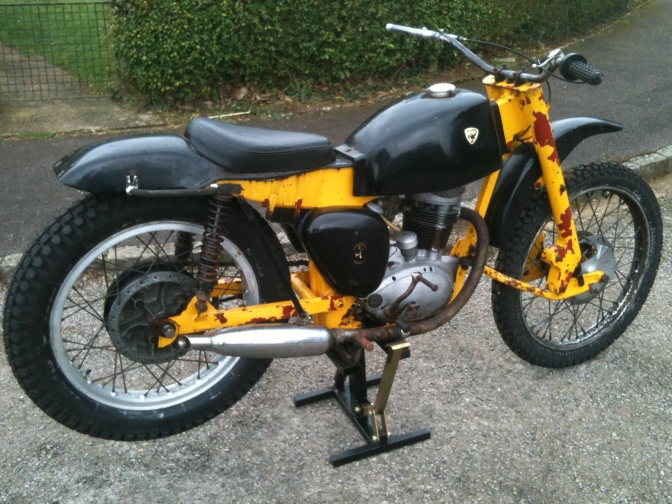 *******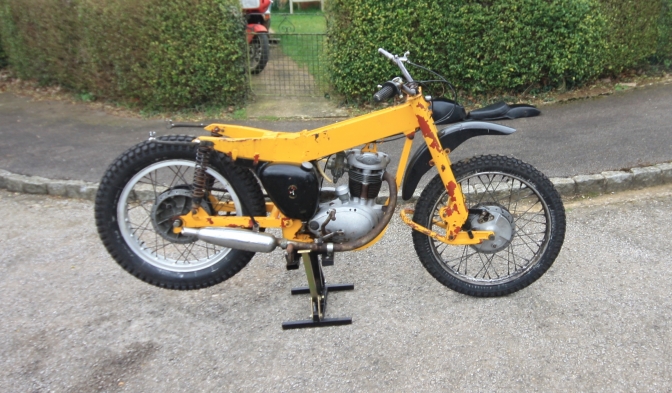 *******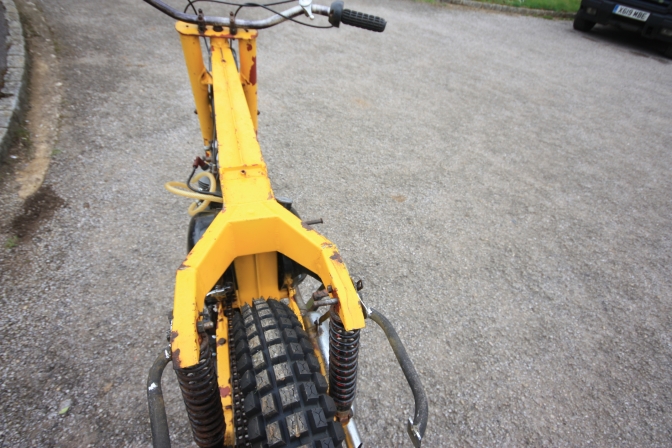 *******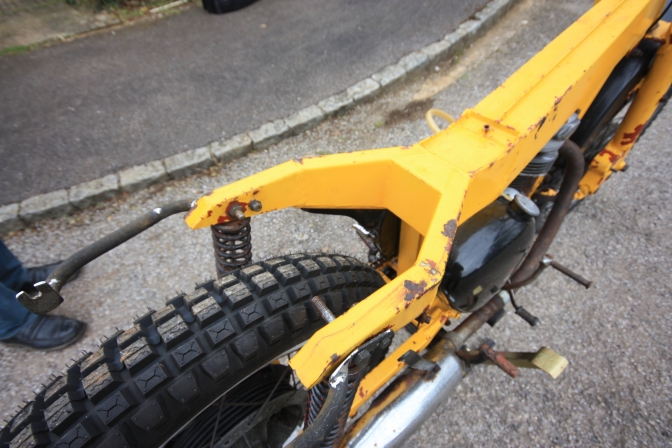 *******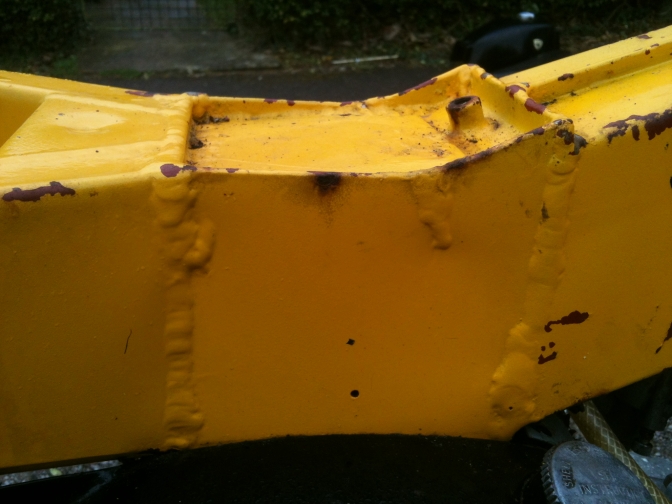 *******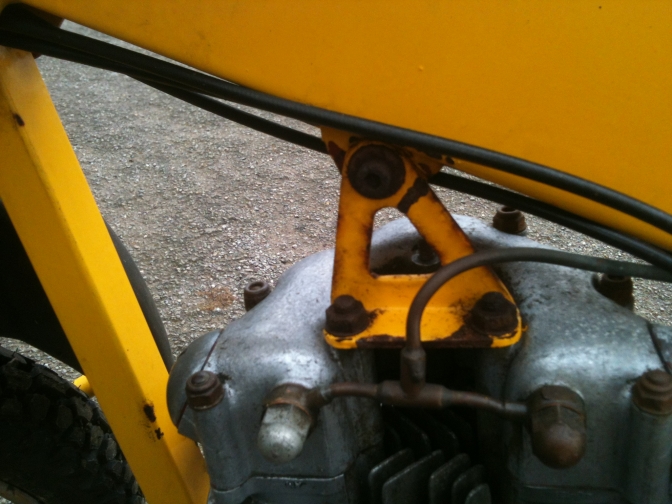 *******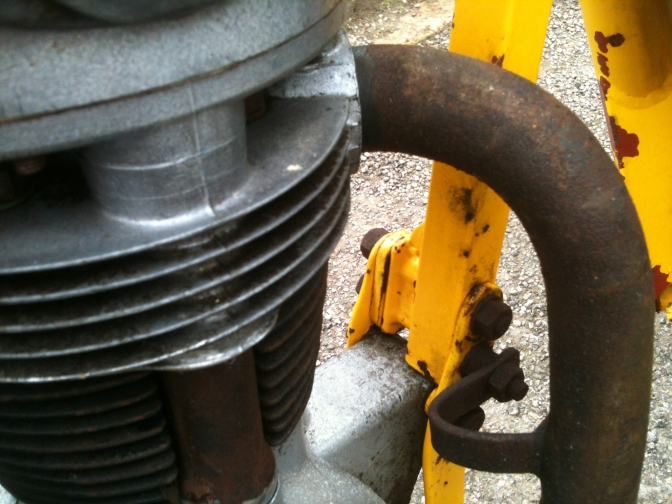 *******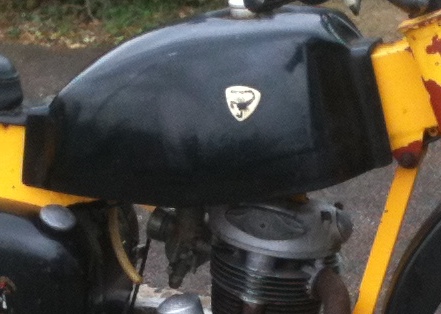 *******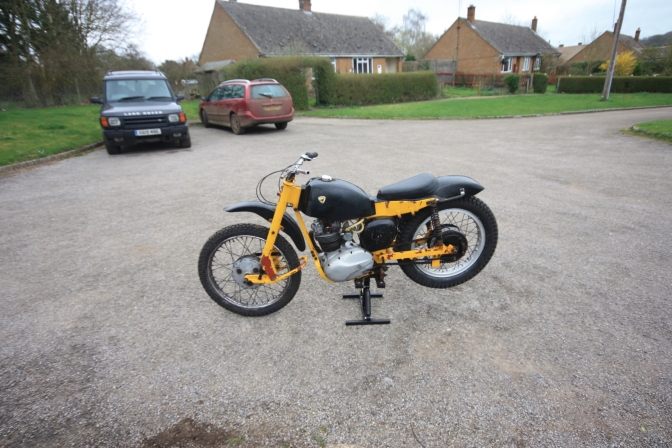 Photos Courtesy "Otterman"©
This is Mick Salts rather special Scorpion.
After taking the photos and closely inspecting the machine it is conclusive that this machine was built by the Scorpion factory in the format that it is still in today.
And the only conclusion that I can come up with, is that it was built to be a Welsh three Day trial or ISDT machine.
This would account for the British Hub front brake being fitted, the same as used on the Cotton Telstar racer, and the rear quickly detachable Norton hub fitted. the fitments for the sprocket guide etc, where defiantly Factory fitments.
And there are holes on the Butler back mudguard seat unit for attachments of numberplate and lights.
The late 1959 BSA C15 engine unit fitted looks to be in unused condition, even with the small head fin next to the spark plug in tact.
Fitted with a 376 large bore Amal Monablock Carb again makes me wonder what is inside the engine.
This may become a story on its own if a very prominent BSA personalty gets to take a look inside.
The frame number 00003/4 would suggest to me that the machine had been built in 1963? hence the "3" and the 4 standing for Four-stroke, Mick suggests "4" stands for scramble bike/
Or Would the "3"or "4" suggest the number of machines built?
*******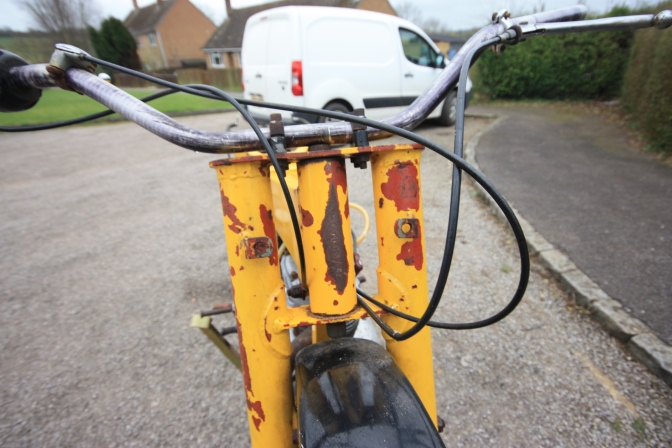 Photo Courtesy "Otterman"©
*******
For you Michael Moore,
The frame construction is of considerable interest.
It is made up of basically two folded tube box sections, these where finished with a two flange seam and then gas welded without using a rod and just melting the flange steel together,
(This was one of my first tasks at college to make a box in this manner, I chose to go further and made it into an oil-take to the amusement of the lecturer at the time.)
Anyway these two box sections the top 18" long 4"at the rear, and 2" at the 6 1/4" steering head end were Bronze welded, to the steering head and the 18"long tapering seat/swinging-arm box section this is 4" X 4 3/4" at the top.
what surprised me is that the suspension top mount measure 10"across.
Swinging arm is 18" long from pivot to wheel-spindle. and 15 3/4" from the brace tube.
Every thing brackets Etc. are Bronze welded, and only the box seams are run along with a gas torch, and I must say the guy that did these could use that torch.
*******
The story on this machine will now run as it is planed to press on with the rebuild as soon as possible.