Wilf Couldwells Trials Motorcycling Tales.
In His Own Words.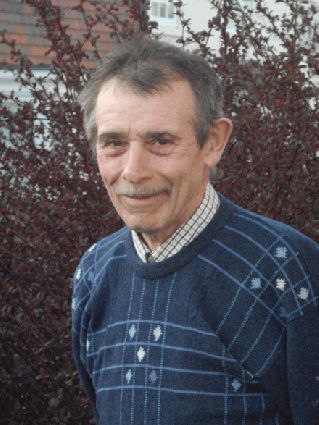 Wilf being a Yorkshireman from birth he knows what he wanted and was determined to do it his way, but you may say they all do that...
With eighty plus years behind his belt in the motorcycle game, for most of these, and also a respected journalist and the author of three books you know there is a tale or four to tell.
So it is a privilege for us here at BSA Otter, to welcome Wilf aboard
For some of the Tales he recalls.
And we will respect his © of these Tales.
We start with the "Cotswold BSA".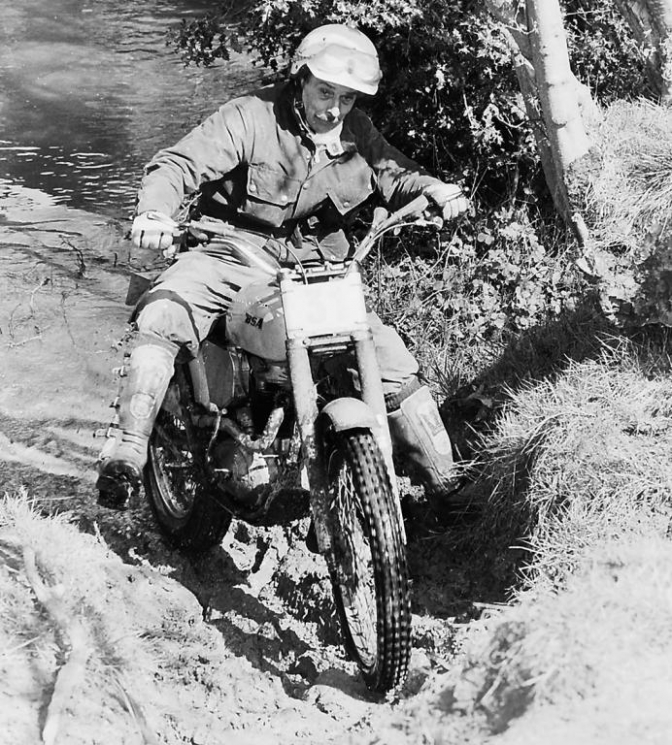 Photo courtesy Deryk Wylde Offroad Review.
Sadly Wilf Passed away Peacefully at home yesterday 29/09/2017.
There will be a tribute to the grand old chap on this page later.
And I may publish a few more of his letters he sent me.
But you can see from this one, that he ejoyed what we were doing.
RIP mate.......
Charlie.
*******
Hello there Charlie.
I have just had a look at the map of Ewden Beck, and to be fair I'm sure most readers will be able to follow it. So thank you for the added information.
As it happens I had just logged on to give you a ('Hows that for a coinsidence') bell regarding the picture. Acually my stock of black and white pictures are diminishing rapidly especially the ones relating to the BSA period, but as you may know most of my 'what can I say' other periods of my years when I rode Dot's. I have quite a few of these!
But as you know most cameras were mostly carried by such people as Venables, Robinson or Kitchen and others for they were the ones who carried all the neccessary specialist equipment needed. I did'nt have a camera myself and I can't recall anyone who did, it was only these specialists who would give us the riders a spare copy if they felt like it.
Anyway on to another subject -
It would seem as if you, your self, was brought up in a countryside enviroment, and that is why you can understand the many different ways of us country people! And why I have to keep mentioning all my facts are completly true correct, for i'm sure some of the towns people would actually frown at some of our antics if they only knew?
Anyway I thought I would give you a bell, just to let you know how pleased I am at what you are doing. No one else will be able to pass the information on when we have gone.
So I will carry on writing whilst I can for you to pass on.
Best regards
Wilf.C.
*******
Tribute bottom of the Page.
Cotswold.
I had just handed back my B40 trials BSA, the one I had been riding for Gareth Thomas when I decided it would be a good idea to have my own bike to ride.
I had ridden Gareth's BSA B40 in the Sammy Millers series for the previous two years 1992 and 1993 where I finished as runner up in the series.
However Gareth had received an offer for the bike,with a figure for which he couldn't refuse and sold it on.
However this situation didn't help in my situation for I was left without a ride in the midst of yet another Sammy Miller series.
Gareth had a couple of Tiger cubs to offer me, but I always found that Triumph T20's were always somewhat flighty and lightheaded to me.
So Gareth and I went in search of a suitable bike to replace the BSA he had just sold.
Our search eventually took us to Ross on Wye to visit a motorcycle breakers yard, to see what John Harding had in his yard.
John Harding was to me a very interesting fellow, he was at that time an official of the Francis Barnett owners club, the secretary or something like that.
When I first visited John's house it was with mutual friend Gareth Thomas who lived nr Abergavenny.
In fact the very first time I met John was when the three of us John, Gareth and me, had all agreed to travel together in John's long wheel base Van with our various bikes and kit.
The occasion was to take part in the International St-Cu-Cufa pre 65 trial.
Just a minute …..Actually there were four persons as I recall, for John had driven down to Portsmouth to pick up a friend or relation of his who was a pupil in the Portsmouth University there.
So off we went together in the van across on the ferry to France where the three of us adults were to take part in the St-Cu-Cufa International.
However things didn't work out like that (Do they ever?) we had arrived in the middle afternoon in a well organised camp where we had set up to have our supper.
However for some reason Gareth went off to meet someone across the other side of camp site and came back with a large bottle of Calvados, which as you may know is an extra potent apple brandy.
Anyway after supper Gareth and John foolishly decided to test this Calvados before going to bed. But a sip developed into the entire bottle becoming empty, not may I say by the sensible ones such as myself and the youth (Can't remember his name) during the night the snoring was so loud in the van that I had to roll underneath to try and get some shuteye...
After the youth and I had cooked the breakfast for us all, which also entailed waking up John and Gareth who were still Snoring?
However neither of them wanted any breakfast and they didn't want to compete in the fourth coming St-Cu-Cufa trial either.
So it was down to me to solely represent Wales in the trial, on a 350cc rigid Royal Enfield bullet borrowed from yet another mutual friend who lived in Wiltshire.
After a highly successful day on my bike I won the trophy for the best rigid unit class.
John and Gareth eventually came around during the day much to their disappointment of missing the action.
Eventually we all returned to Ross on Wye in a very subdued manner, taking the youth back with us too!
______________________________
Now we're back to where I knocked on John Harding's door at a much later stage to see if he had any trials bikes for sale, first of all we went to have a look at the lower level of the building where at that time there were at least 20 or thirty bikes lined up of all sizes but none of them suited my requirements.
Next John declared he had a few on the upper level where he kept a few competition models including one reputed to be a genuine Arthur Shutt works Francis Barnett, I had a quick look at it but my mind was set on a four-stroke.
As I looked further I could see a rather tatty BSA B40, and I asked John if it was possible for me to have a better look.
So he dragged the BSA out into the open on his garden path by his house, and there it was in all its glory.
I didn't have to look any further it most certainly was a Cotswold but it was in such a state of disrepair one had to be certain, but I was sure.
Obviously John could see that I was interested (But as I was a true Yorkshire man I didn't let on what I had discovered) so he checked the tyres around tickled up the carburettor made sure the clutch was free and with a single kick the engine roared into life.
I couldn't wait to throw my leg over it to test the gears or the clutch and the brakes.
We went back into his house to where we had a discussion on what was a reasonable sum of money. After handing over to what was a suitable sum of cash, the paperwork was handed over to be verified. Next my truck was loaded with the BSA Cotswold into the back, and I drove away a happy man.
When I arrived back home I made sure my purchase was correct and above board, so there we are, at the point where I became the new owner of a Genuine 341cc Hubbo Cotswold BSA.
The BSA Cotswold B41.
Chapter two.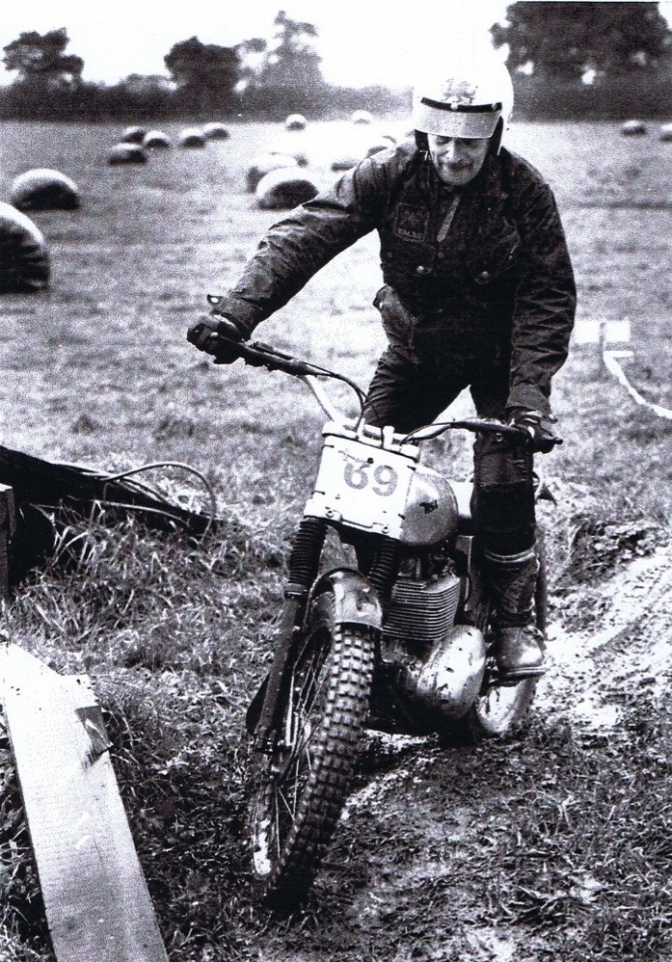 Photo Courtesy Wilf Couldwell© and taken by the late Ralph (Raph)Venables .in 1999.
After a clean-up of the cycle parts, and an engine check, it wasn't until I started to ride the bike on some serious sections that I found the "Cotswold" had a fault with engine, or should I say gearbox.
It would seem that the gearbox was prone to slipping out of second gear, which as you will know is one of the most used gears in any trials bike box.
For as soon as started to get serious in reasonably rough sections the BSA would slip out of gear.
All the other ratios were sound, in fact the second gear became so annoying in the lower gears, it started to loose me marks, which it should not have done if it had stayed in gear.
So it wasn't long before I had to decide what to do about it, but when I inquired about any replacement gears, I was told that looking for replacement gear box parts for a BSA GB B40 engine was, like looking for hens-teeth!
However after making it known around the trials paddocks, I discovered that a rider by the name of Mick (Mike) Mills who lived in the Cirencester area, had the one and only new gearbox in the area?
And when I enquired about the gearbox parts he said that the GB gears were brand new and would in fact slot straight into my gearbox housing without any trouble.
Indeed he guaranteed that the new cluster would sort-out my gear problems once and for all, and that I could have them for a reasonable sum of money?
During my negotiations, I found out where Mick lived together with his wife, in a somewhat large bungalow on the outskirts of Cirencester.
On my first visit Mick showed me what appeared to be a brand new gear cluster.
At that stage I didn't divulge my prior knowledge about the shortage of BSA unit gearbox spares.
I kept that information to myself.
To show my good intention, I dragged out my somewhat meagre load of dosh, to try and speed up my intending purchase.
Obviously at that stage I didn't know whether the proffered cluster was sound or not, so I made a somewhat tentative enquiry about if there was a warranty attached to the deal, to which Mick appeared to take offence to my mere suggestion. However he quickly settled down and agreed to what I was asking, saying they would be fine.
I was then able to go home with certain knowledge that all being well, and what Mick had said, the new gear cluster and Mick were both genuine, and sound.
After I had installed the gear cluster into the engine unit, I gave the bike an extended run around on my own trials sections, and to my great relief everything went according to plan.
Later after close examination of the original cluster that had been slipping out of gear, I couldn't see much difference at all, but there must have been, for after fitting the new gears I did not have any more trouble with them after that.
During my consequent conversation over a cup of tea, I discovered a somewhat interesting development about Mick Mills.
I discovered that Mick was still working, as a development engineer for Ohlin's the shock absorber people.
But before that even when the BSA Factory was still operating, Mick had been a development engineer, in the competition shop, working with such illustrious personnel as Sep Ellis, Mick (Bonky) Bowers and Sammy Miller.
During the current year I was riding the Cotswold BSA and Mick Mills was riding on his "Very Special" BSA.
Both he and I were competing in the unit class of the National Sammy Miller Series.
Ably organized by Deryk Wylde, and his wife Mary.
We had many laughs and disappointments along the way as we rode around the countryside in fair or foul weather, continuing to campaign our respective championship chases, in the Pre 65 Unit classes on our "Special" BSA's.
Just a final note to say how delighted I was to be riding the "Cotswold BSA" that year, and how I had one notable success with it in 1990, which was the National Downlands Trophy trial at the Horse and Harrow venue, Winston Grove, Oxfordshire.
And that was where I "Won" my Final Premier Trophy of that year.
To be continued later Wilf. C.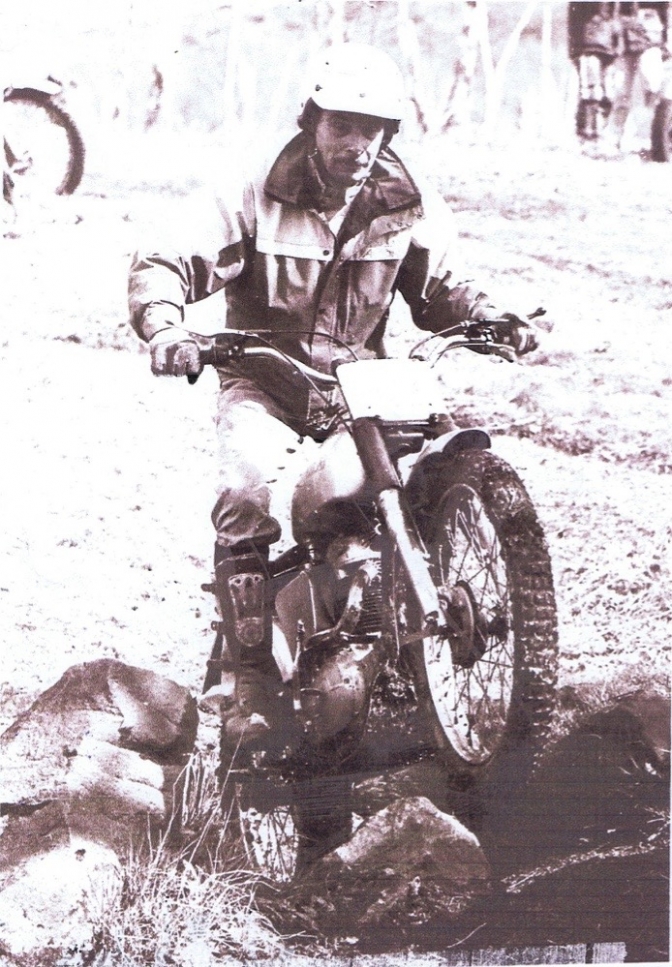 Photo Courtesy Wilfred Couldwell© BSA B41, The Gareth Thomas machine.
"Bagshot Summer Trial".
*******
Chapter three.
*****
As I continued into the second year of riding with my Cotswold BSA, I began to feel that the front end was becoming loose and not has predictable it should be, so I investigated the front wheel during a routine brake shoe change, where I found slight wear of the spindle ends.
Even though the fork sliders and caps, had been modified to the four-stud type,fork
I realized the best thing to do was fit a replacement spindle, rather than try and build it up by welding it.
And bearing in mind what Gareth had said earlier about like finding hens teeth, I called on Gareth again, (and don't forget he lived in the Abergavenny area) to see if he had any spares for the front forks that might fit my BSA Cotswold trials bike.?
Much to my surprise Gareth Thomas promptly produced a box full of front BSA wheel axels, some had been used, whereas some others were new, so with careful selection I was able to select a new specimen, to fit my front wheel, it even had it's original price label attached to it still.
Later as I was busily installing the replacement axel, I began to think where I had actually seen this type of axel before?
And then it dawned on me, it was used on the Triumph's such as the Adventurer or the heavy duty Sports Cubs of later years.
Normally, or should I say originally, the standard BSA C15 trials bikes were fitted with the two stud cap variety, which let's admit it,were rather weak specimens, which after a period of time were apt to distort and flex especially during rough usage.
To get over this problem some owners had discovered that they could replace the bottom fork leg sliders allowing the four-stud type caps and spindles to be used, which in turn toughened up the whole assembly, such as those already fitted to my Cotswold BSA.
At a later date as we were talking over a cuppa, Gareth casually mentioned that he had heard on the grapevine,
That the latest Sammy Miller trial regulations at that current time, were proposing to ban the four-stud BSA Triumph front forks altogether.
Which in turn made my own Cotswold bike illegal for the series.
This left me with a quandary; the problem was what should I do about it?
After considering the pros and cons for a while, I finally agreed with myself with what I was thinking, that if I wanted to continue to ride in the Unit Class of the Sammy Miller Nationals, I would have to do something drastic, which I then did.
I decided to modify the illegal caps, I did this by milling the underside of the four-stud fork leg caps, to allow socket headed Allan screw style bolts to replace the studs, so when these were installed and tightened they became flush and could not be detected easily, unless one knew of course.
When the four Allen screws were securely tightened the whole assembly became rigid, much better than the standard two stud versions, no doubt.
I rode the BSA like this for a few weeks until my next National event came along, where I had to declare which class I wished to enter on the entry form.
I selected the "Unit" class that was my normal class in a National event such as the "Cotswold Cups" trial at Minchinhampton.
On the day of the "Cotswold Cups" trial, Adrian Moss was the machine examiner, and he duly came along with his clip-board, checking each competitors entry, when he came to my number, he gave my bike a cursory glance, before moving on.
I had been very wary ever since Gareth had warned me of the impending ban,of the Four-Stud forks in this series, so I gave a huge sigh of relief when Adrian had passed me by, thinking that I had passed the test.
But low and behold, just as I was pulling on my riding boots ready for the start the trial, Adrian Moss came back with his clip board to have another look at the bike, this time he peered closely at the front wheel spindle, then he quickly and sharply snapped " You can't ride that that bike with those fork here today!"
Whilst he scribbled something on his clipboard sheet. To that effect.
My first thought was, maybe someone had tipped Adrian Moss off about the modification to the bike, but there again I had kept that a close secret so really know one else knew of the mod.
So I was disappointed to say the least, thinking that was the end of my days ride, but I didn't want to go home, I wanted to ride the trial.
I thought about the situation for a few minuets, before finally I went to see Adrian in the Hotel foyer where the secretary's desk was situated, just to seek advice, even though I knew for a fact I had been caught out red handed so to speak.
This time Mr. Moss had his official cap on, which didn't bode well for me, but after listening to my mumblings and weak excuses, and complaining, Adrian gave off a loud snort, before rising up to the top of his short stature, to declare "I'll allow you to ride today in the "Specials" class, -if you must".
So that's what I did, I didn't want to go home without riding, so the next best thing was to enter and ride in the "Specials Class"
Actually I was quite surprised to see how many owners of machines rode in the "Specials" class that particular day.
One of those was the well known rider Mick Mills whom I had seen at many events riding his own brand of BSA, but I hadn't realized that he rode in the "Specials" class in most of the events, including the Sammy Miller National series.
Photo below Gwent Police Motorcycle Club trial.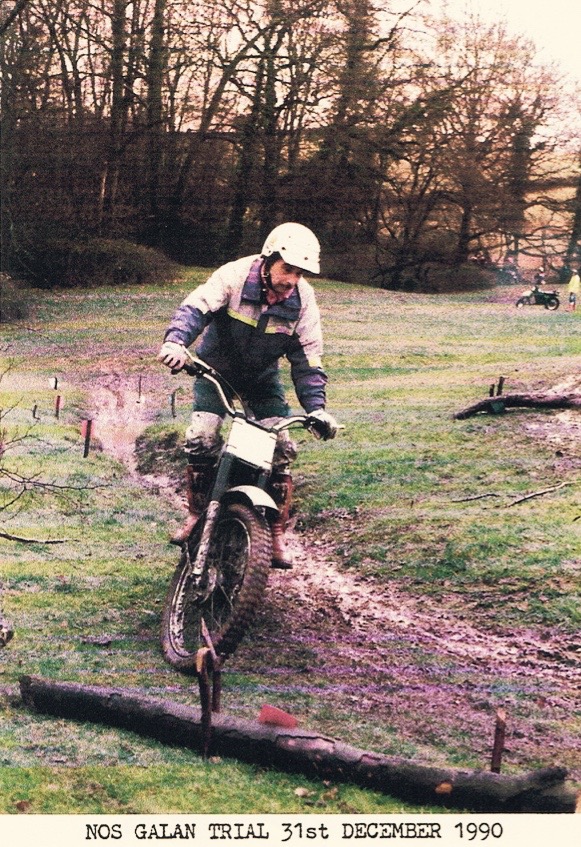 Wilf riding the Gareth Thomas BSA B40...
~~~~~~~
Chapter Four.
*******
"Cotswold BSA" another installment.
"Footrests".
I had two trials bikes during the late nineteen nineties, one was the 441 (Hubbo) Cotswold BSA, and the other was a Beta two-stroke, both of them were kept in a nice dry garage at home.
But has you know if you don't keep a check on bikes and keep a sharp eye out for faults, they will start to deteriorate rapidly, if you just leave them after you have ridden them.
One of these instances was when I was leaving it a bit late for the forthcoming trial.
I was looking around the Cotswold BSA to see if I had missed anything important, when suddenly my eyes got drawn towards the footrests.
And for some reason I took a closer look, and found what seemed to be a small crack in the side of one of the footrests.
I selected a suitable lever to give me a bit more leverage on the rest, and there was defiantly a crack there.
Oh dear I thought to my self, this was the last thing I needed, for the next day I had to travel to the Sammy Miller, South Birmingham, Greensmith Memorial trial, on the Clee-Hills in Shropshire.
As I considered the problem, this became rather more urgent, for the footrest if left might collapse during the event, and probably cause me (and the bike) considerable damage.
It wasn't a problem for me really because all I had to do was pull out the securing bolt, and then with a couple of minuets with the Mig welder, refit the footrest, and I would be away again.
But during the process of welding the rest, I could see the actual footrest was deteriorating on the hinge section, just through the wear and tear, but I didn't have the time to do the job properly, so just gave it a quick weld and replaced it temporarily so that I could ride the trial the next day, and then I would take a better look at the problem after the trial.
It lasted for the trial, but it was a couple of weeks later before I could take a better look at the problem, I wasn't quite as pushed for time as before, but even so had another Sammy Miller round coming up, and I needed to have a good look at the footrest problem before things went from bad to worse.
As I unbolted the footrest on one side my thoughts went back to as similar problem I had with one of the DOT sponsored bikes I had reason to work on, we were dealing with footrests at the time when fixed style rests were just on the way out, and the hinged type footrest were starting to be used.
Bultaco trials bikes were one of early machines in the mid nineteen sixties that had hinged footrests fitted, quickly followed by Montesa, and Ossa, but has far as I recall DOT. let us riders that were riding for them alter our own footrests.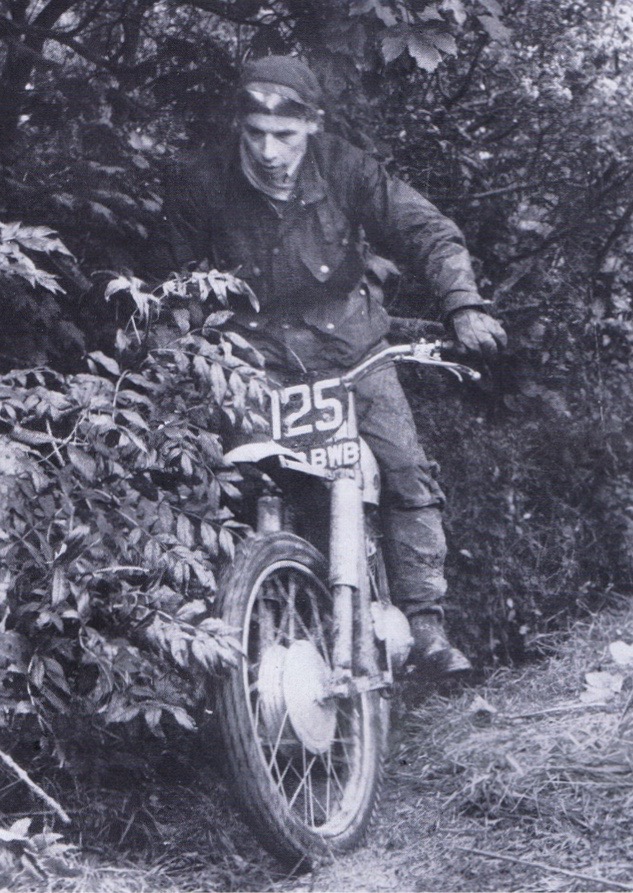 Photo Courtesy ORR, Volume ONE, Thank's Deryk. for a run of super Reference Magazines.
"Wilf riding his "Works D.O.T."
Some of which were quite strange, especially when trying to get around the rear brake pedal arrangement, which were still actuated on the wrong side.
So I now had the same problem with the Cotswold similar to the one I had with the DOT. them many years ago.
I was quite intrigued to how close the two were in style, and how I finally had to widen the footrests by half an inch each side, so that my boots fitted nice and secure on them.
After the new footrests were completed, and I had fully tested them on my own sections, I must say I was delighted with the result, (A job In The Town) said to be a Welsh expression for a job well done.
More later.
Wilf C.
~~~~~~~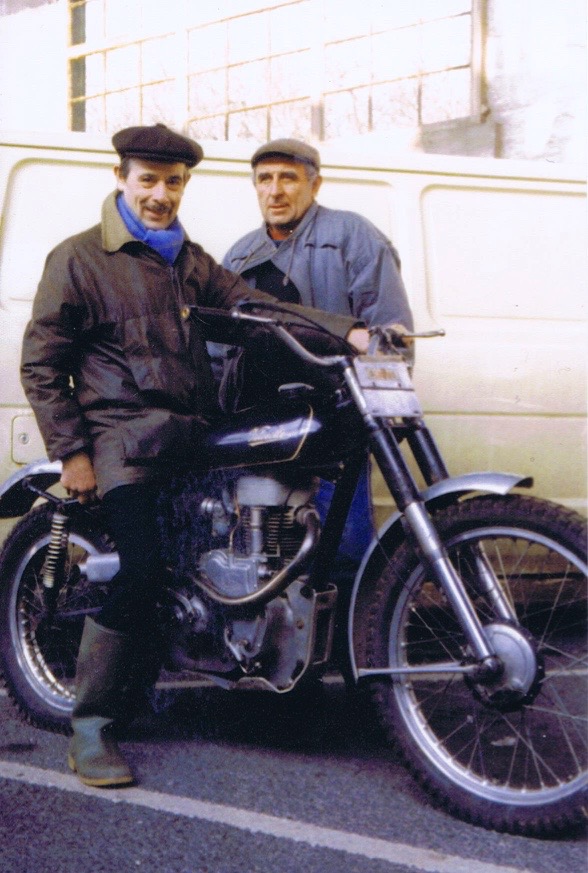 Photo Courtesy Wilf Couldwell.
Here Wilf astride the John Husband famous Vellocette trials bike now owned by Gareth Thomas also standing by the machine.
*******
Chapter Five.
Just Thinking.
One day as I was cleaning my Cotswold BSA , and generally fettling the machine, ready for the next week ends event.
My mind slipped back, onto something else from the past, (as sometimes it does) instead to the job in hand.
I was looking at my Cotswold BSA and thinking that my BSA based bike must be one of the best bikes John Husband (Hubbo) ever produced.
Then my thoughts drifted onto another theme, as to how Gareth Thomas had very kindly allowed me to ride his BSA B40 for the entire Sammy Miller Classic Series, during the previous year. And to think how lucky I was to have such an owner as Gareth who not only allowed me to ride the BSA but to also maintain it as well.
However my thoughts then continued to where one day a stranger turned up at Gareth's house, (I was there!)
To where the said stranger, offered Gareth a load of cash in exchange for the BSA.
This was the very same bike I was going to ride during the next week-end (1998) the sight of so much money, must have influenced Gareth to such an extent that he promptly sold the bike for the agreed sum to the stranger. (Dave Paxton)
My first thoughts were however of disappointment, and then somewhat annoyed, for I had become attached to the bike, even with defects and foibles, I knew the score to where I had previously agreed terms, so I didn't have any reason to argue with the decision.
But this meant of course that I was without a Pre 65 for any future rounds of the Sammy Miller Classic Series.
I had been riding so well, infact, that I had maintained a regular runner up position in the Pre Unit Class, which was good for a road-based machine!
So now let's go back to the start of my story to where I managed to buy, an original Cotswold BSA from John Harding, with which I had replaced the Gareth Thomas BSA B40.
And my dreaming continued to thinking that I hadn't had a single mechanical problem during the entire season with the B40.
So this is where you discovered me fettling my bike, new to me, in the shed ready for the next event.
However after thinking back –I did have a problem which I wasn't able to solve.
The problem was the B40 rear wheel tyre, which just absolutely refused to remain in a set position on the rear wheel rim, even though there were two sound security, bolts fitted.
I remember having to realign the inner tube neck virtually after every event, but I must say I never had a puncture at all.
It was the "not quite right" feel, about the moving about on the wheel rim that I didn't like.
I would have liked to have said that the main cause of the problem was because the standard BSA had a steel rimmed wheel, which was apt to be rather slippery especially on a wet day.
But there again I could have been wrong?
Later and shortly after buying the Cotswold BSA, I discovered that the rear wheel was in fact alloy with a serrated tyre mount milled around the inside edge of the rim which certainly seemed to stop the creeping problem.
I had competed on all the early rounds of the Sammy Miller Series with the Gareth Thomas BSA, and when I bought the Cotswold, it was only natural to continue where I left off.
The bike I rode for Gareth in the Sammy Miller Classic Series was a BSA B40 in trials trim fitted with road gears!
But obviously using different sprockets and configuration.
But as far as the Cotswold BSA was concerned; that bike was a completely different machine, for the "Hubbo" had a rather special alloy engine and a GB wide ratio gearbox.
Another difference was that the BSA B40 had an iron barrel, and then I remember the front fork stanchions were chrome plated like the wheel rims.
I am now starting on the second year with the Cotswold where I continue to try and keep the bike in very good condition.
I didn't have much spare time, with having to earn a crust, but when I have time, I am always quite busy maintaining the Cotswold, for trials which up to then have included several rounds of the Sammy Miller Series.
I have noticed for the next year the organizing clubs have added several new events to the calendar.
Whilst I have been competing in events on the Cotswold, I have had several enquires about the originality of the machine.
Such as is it a genuine Cotswold BSA? To which I say yes it is!
Then if other questions were asked, like about the cycle parts; are they original?
At that point I would have to say No! For all manner of reasons, as I have introduced several modifications, including the John Husband foot-rests, where I described them as rather flimsy, and easily bent, especially if clouted on, or colliding with something solid such as a lump of Welsh rock, and we have plenty of these in Wales.
More Later in my next column. Wilf C.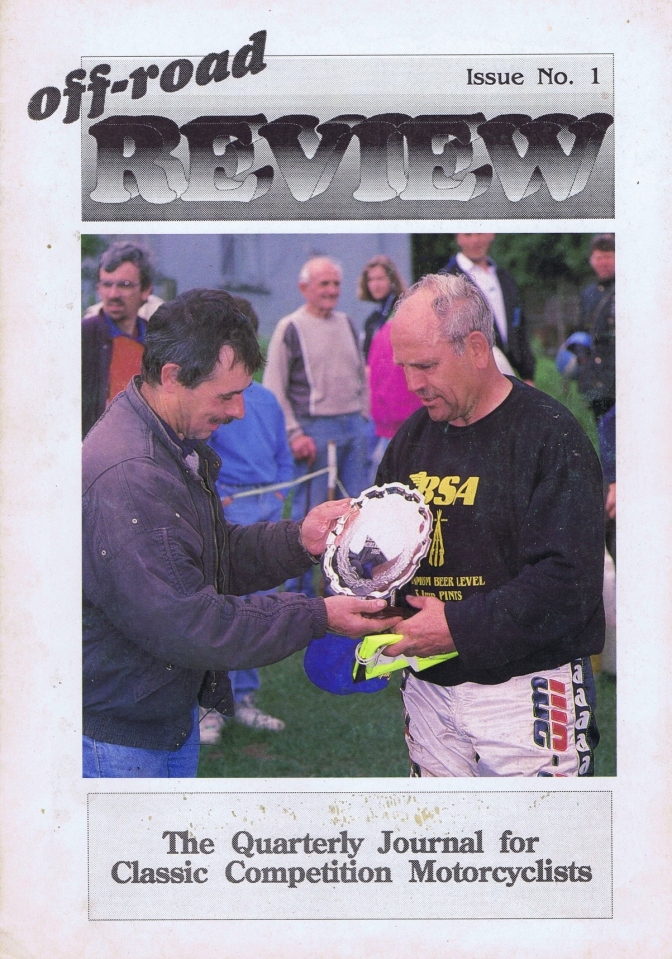 Scanned from The First Offroad Review Magazine. courtesy Deryk Wylde.
Here Wilf receives the Chris Goulding Trophy, form Jeff Smith, at the Bonanza Meeting.
*******
Charlie> Wilf was a contributor to this magazine in this issue "One" and several others.
I will ask Deryk if I can use some of this content.
*******
Wilf and I have now decided that, to portray a full Picture of Wilf's years with Motorcycles, it would make sense to start at the beginning.
So this story does exactly that, starts with the first motorcycle
Wilfred Couldwell owned.
Chapter Six
My first bike.
The year was 1946, and I was ten years old when Cousin Bernard Dyson of Wigtwizzle Cottage Bolsterstone, came to call on us at the farm.
It was summer time, and I had already had a full attendance day at School.
Lewis Scholey with his school taxi had dropped me off at home with my brother Lewis in the taxi, I had quickly changed to working clothes ready for the afternoons milking session.
We milked 6 cows at that time which fed half a dozen calves, a couple of pigs with milk, cream, and cheese at various times for the house.
We milked by hand, and we were well into our milking session when father declared that he had heard a motorcycle arrive in the yard.
At that time we milked a couple of Ayrshire cows with big horns this made us (father and me) rather wary, for cows such as Ayrshires, aren't exactly immune at lashing out occasionally, when an unusual sound or stranger came into their midst.
Presently our visitor appeared through the cowshed door, it was my cousin who lived in a cottage known as Wigtwizzle.
Bernard, three years older than me, was a noisy character, always arriving by his normal method which was of course quite vocal and loud, so we had to be very careful with our pail of part full of newly drawn milk, before getting up from our milking stools to acknowledge his presence and to welcome him.
We didn't normally see much of our visitor ("Bud" as he was known,) now that he had left school, for he had recently entered the military, and passed his exams to enter the Coldstream Guards based in London.
Cousin Bernard' was the son of my uncle Jim my Mothers brother, who worked as the head man or foreman at the Broomhead Hall Farm Estate, where he had several cowmen, and game keepers, to look after.
This was probably where Bernard got his father's loudness from, for Uncle Jim was just the same. Neither of them could speak quietly, we just had to get used to it.
*****
Anyway we had almost finished milking so we finished off, and loosed the cows out into the holding field to join the calves so they could have a go suckling the cows for there tea.
When that was completed father and I had time to listen to what Bernard had to say.
What "Bud" had to tell us was that he had enlisted as a member of the Coldstream Guards in London, where his duty included guarding Buckingham Palace, where apparently "Bud" had asked the CO at the barracks if he could keep his motorbike in the garage whilst he was on duty, but the commandant had refused.
Instead of letting the bike rot away here at home he "Bud" wished to give me his Ariel rigid girder forked motorcycle as a gift.
The fact that my cousin "Bud" had even thought about me having the bike was quite mind blowing.
In fact I couldn't get over the idea that Bernard was going to live in London, never mind the fact that he was going for an extended duty.
I didn't get what Bernard or "Bud" as he was always known locally, had said , so I had to ask him again what he actually meant, so he repeated what he had said, and he declared that he wished to give the old Ariel 350cc Girder Rigid as a present to me, in a few weeks' time.
I still wasn't quite with it somehow, "did he really wish to give the Ariel To me?
I was still awestruck at what this meant, as no one had ever given me anything like that before.
But here he was telling me again and my father heard it too.
Father was the first to realise what this all meant, so he declared that we should go into the house and asked what Mother thought of the idea.
So we all went into the house to where mother was preparing our meal.
After we had all sat down including "Bud" father announced the news Bernard had told us, the instant mother heard the news about "Bud" giving me the bike, her first reaction was "No Chance, our Wilfred's not having any motorbike at this house", she declared, She repeated this statement with such vigour, that my new found hope of having the motorcycle, began to completely disappear, Father however didn't seem to appear all that worried, one way, or the other, but mother was adamant and that seemed to be that.
After we had all eaten a hearty meal, "Bud" brought the subject up again, this time Father had the first word, by suggesting maybe a motorbike may come in handy around the farm, and this could have been the start to persuade mother, but mother still appeared to stand by her earlier statement, but after father had again declared such a thing as a motorbike would certainly help around the farm, he began reminding Mother how he (father) had been an ardent motorcycle rider, both solo, and sidecar, before he had married my Mother. And gently reminding her that he wouldn't let anyone come to any harm who rode it, finally father declared that he knew all about the dangers of motorbikes.
After a long pause and a lot of complaining Mother finally relented and declared if anything happened to Wilfred (Me) the bike would without fail be sent packing to the scrap man.
*******
To be continued
Wilf.C.
Jumping Forward to 1962 for this story as it is relevant for this time of year. The Gap years will be filled in later.
Wilf' Latest Column. 22/02/2017.
.
Chapter Seven.
The National Intercentre Team trial...
1962
My motorcycle club at that time was the Sheffield North End MCC, where I was a regular member of the Yorkshire centre ACU. It was I suppose around 10 miles each way, totalling twenty miles there and back, from home. One of my bikes was a 350 B31 BSA- tele rigid, and I can honestly say that bike was without doubt the best road bike I ever had to ride on whether short journeys or extensive tours.
Other than that I also had a model 100 Panther which I had removed from being a single sports sidecar to making a frame to carry lightweight workshop duties, or for competition bikes, carrying, my own transport.
Mondays each week was the SNE (Sheffield North End,) club day, where I would try to collect the latest regulations and entry forms, which club secretary Charlie Cripps would bring into the club meetings.
Occasionally a club member would bring a news reel or event film for us to view during an evening entertainment.
The SNE (Sheffield North End) was a good trials club with a good membership of weekly meetings, and after business had been attended to, we would have a good natter over an orange juice (I didn't drink alcohol whilst riding my bike).
It was quite early in the year of 1962 (January?) when we received the entry forms from the Yorkshire centre requesting that our club should try to enter a team of trials riders and enter them in an event known as the Inter Centre Team Trial.
When Charlie Cripps (club secretary) brought this to our attention we had to bring to his attention that the event was only open to expert trials riders, and that meant only myself and Terry Savage were eligible.
To qualify we had to furnish a list of achievements from with which the selection panel could specify.
My name came out as the preferred rider. I recall Terry didn't like the idea one bit as he thought he was a better rider than me?
But it wasn't for him to choose, it was for the judicator.
____________________________
We were all surprised when it was announced that Jack Oliver our able ACU Yorkshire centre official who had been nominated as the Yorkshire centre (Team manager).
During the ensuring few weeks Jack gave me quite a time, with PEP talks mostly about preparing, me, and my bike, for the forthcoming National rated event.
All was well, as my D.O.T. bike had recently been to the works to be serviced, and brought up to date. And I was as fit as I could be, but the only thing we couldn't control was the weather.
As the event came closer, a letter was sent out to me, which listed all the information required, showing that a Yorkshire centre trials team driver would be coming to pick me up in a big van, and he would collect me from Midhopestones in the early morning of 10th March 1962, and our destination would be Newton Abbott Devon.
Our team consisted of
Peter Gaunt, Blacky Holden, Bill Wilkinson, W Metcalfe, Ray Sayer, Arti Ratcliff, and finally me Wilf Couldwell.
Incidentally even though there were seven riders in the Yorkshire team, six were members of the West Yorkshire centre, with only me, representing a South Yorkshire group rider.
All was set for the team van to collect me at Midhopestones cross roads where the vehicle drivers would both carry on in convoy to Waterlooville Newton Abbott, where the event was to take place.
But things didn't exactly turn out like that?
For during the early morning of Thursday that week we had a huge fall of snow which blocked our single track road completely, it was so deep in fact that the Milk lorry couldn't get through, in fact father had to get out the heavy duty horse powered sledge normally housed in our cart shed, to transport the Milk churns to the dairy in Stocksbridge.
I had by then given up the idea of taking the D.O.T. to Midhopestones to join the van contingent taking its way to Devon.
However things turned out differently once again, for in the middle of the night of March the 10th, our cow dog in the yard started barking, which alerted father, who in turn roused Mother, and finally me, where we discovered three SNE club members from Sheffield milling around in the moon lit farm yard.
These were headed by Barry Jenkinson from Pilley Pit Barnsley, where apparently they had worked there, way with shovels from Midhopestones, through the deep snowdrifts to Garlic House, with the principal intention of taking me, and my bike, to meet up with the West Yorkshire team van at Midhopestones.
They were all absolutely soaked in snow, sweat or both.
Father turned out to bank up a roaring fire in the hearth, whilst Mother scuttled around preparing everyone a full breakfast.
In the meantime Barry Jenkinson and I had coaxed our old Farm tractor into life, and fitted the big link box onto the back.
_______________________________
Everyone had a sound breakfast inside them by the time we began the trip back to Midhopestones.
A couple of hours later my bike was awaiting the team van at Midhopestones cross roads as agreed.
With my riding kit and boots sorted, and my D.O.T. ready and waiting when the team van arrived, another ten minutes the van left more or less on schedule heading in the direction of Newton Abbott Devon.
Now that's what one could call a close call, but it's completely true all the same!
*******
So we eventualy got to the "Intercentre Team Trial" in Newton Abbott in Devon where the Waterlooville club had successfully conducted, the National status team trial. You may have noticed in my story of how recently D.O.T. had serviced my bike at the factory. But what I didn't mention in my story was how I lost a couple of very unnecessary marks in the event.
It went like this - If you recall on that actual day, it was Saturday 11th March 1962 where during the week leading up to the event it had rained and snowed most of the week.
The weather was so bad in fact that the numerous brooks and small rivers were spilling over, with flooded water making it very difficult for us the riders to see what was in the bottom, such as small stones etc.
This meant of course there were numerous falls, with riders coming off their bikes.
You will have noticed that this year's date is 2017 which you would agree is now more or less 60 years or so ago!
All that time ago during that trial something happened in the event that I have never ever forgotten.
I had entered a narrow water filled brook/ stream, winding its way towards a slightly wider area, where the section direction took us up and over to the right-hand side, and out of the water, as I continued towards the end of the section and into another water filled hole, my left handed handlebar rubber grip slid off the metal handlebar with a loud plop into the water leaving my left hand off the bars,with no control.
From that point on I was all over the place, I didn't actually stop, but my feet were waving around while I was trying to get my hand back on to the handlebars, finally footing through the ends card, and leaving me absolutely devastated, in fact I was so shocked at loosing those unnecessary marks, I never recovered all day..
__________________________________
I have lived with this problem for over 50 years with the same question?
Was it my fault?
Or was it the D.O.T. factory's fault for not fitting the grip correctly.
There had to be a reason, so if the rubber had been correctly fitted it wouldn't or shouldn't have come off?
Or, would it?
Another scenario was, had the deep water in that brook done its work and softened the fixing glue allowing it to come off? Or was the grip just pushed on without glue?
But now everyone will know what happened that day in Devon, for if one looks at the "1962 Inter Centre Team Trial", the results are clear for all to see.
I lost three unnecessary marks on that section for no apparent reason!
Charlie> The 1962 Devon event was won by the Midland Center with a big margin, and making it there fifth consecutive victory.
The 1963 event was run on Sunday March 10th with 16 entered teams of five,and started from Longsters Garage Pateley Bridge, Yorkshire.
Closer to home for Wilf.
The event known as the Inter Centre Team Trial is still listed on the events calendar, usually held during March each year, but where the event is run nowadays I couldn't tell you.
Another story coming soon.
~~~~~~~
Chapter Eight...
This is the beginning before my first motor bike!
I was I suppose about nee high to a grasshopper, (8 or nine years old) when I first wanted to investigate a large shed amongst the collections of farm buildings.
It wasn't like others farm buildings, where it rained inside and out during wet days.
In fact that 'shed' was the only building that had a proper roof and a door it even had a key which father had to use to open it.
As I became older and slightly wiser, I realised that I wished to have a look inside for myself and see what lay inside that shed.
In fact I had already discovered that the shed had a large window around the other side of the building, but it didn't matter how I tried I couldn't see through that window for it was covered in dust and cobwebs on the other side.
At that time our farm didn't have any form of electrical or permanent lighting, so if father wanted to go inside that shed he had to carry either a storm lamp or a Tilly lamp to light the way.
____________________________________
Later still when I had reached an age of trusting my brother enough to allow him into my own thoughts, I broached the subject of wanting to find out what lay behind that shed door, from there we had a long discussion on how we, (my brother Lewis and I) was going to achieve the easiest way of reaching our goal, and we decided my brother would have to climb onto my shoulder to reach the key to the door.
I was quite adventurous for my age whereas my brother was three years younger so it took me quite some time to persuade Lewis what we were doing wasn't all that naughty it was just lets, say a little adventurous!
One day when we knew father had left for the cattle Market in Penistone. - He had gone with Tom Moxon (the cattle truck owner) in his truck with our fat beast inside.
It was quite normal for some owners of cows wanting to travel with the cattle truck owners to sooth what could have been a somewhat frightened animal.
Anyway, both Lewis and me knew for a fact that the only other person at home that day, was Mother, and she trusted us enough not to get into mischief or trouble.
Little did she know what her boys were up to that day, as Lewis finally persuaded by big brother Wilfred 'Me' finally slipped the key into the lock to open the shed door?
Lewis had previously agreed to stand guard at the door –to listen whilst I looked around the shed contents.
Most of the boxes contained rusty nuts, bolts and washers, until what appeared to be an intriguing pile of canvas. I gingerly lifted up the tarpaulin to discover what I thought was an empty tarpaulin only to find a motorbike.
Yes a motorbike, and not just a motorbike but it had a sidecar attached, and I was absolutely "Gob Smacked", at finding such a machine.
I was still staring at the bike when Lewis suddenly squeaked ' Mothers coming Wolf' (everyone especially the smaller children called me 'Wolf') instead of going outside I had for some reason jumped up and pulled the key out of the door, yanked my brother inside and pulled the door shut from the inside.
A few moments later Mother appeared on the scene and on the prowl, but she didn't shout out or stop she just walked past the grubby window, alongside the rick yard and back into the farm yard, missing us entirely.
I recall quickly hissing to Lewis 'get outside quick and we will shut the door', Lewis clambered up on my back and put the key back into the lock and turned it..
Neither our Mother nor Father knew we had been in that shed at all.
_________________________________
As for me I was never the same after that, I had to have another look at that motorbike, however it was quite a few months later when father went to market again.
This time I had found a better way of reaching the shed door key.
I had found a milk churn just the right size for me to use and stand on to reach the shed door key-hole.
So during my more leisurely investigations I found out that the bike was a 1927 BSA and printed on the tax disc it declared the bike had a 500cc engine; I also noted that it had a flat petrol tank with hand gear- change; whereas the sidecar didn't have a top on, but it looked like a sports sidecar.
By that time, and looking at the machine again, I couldn't wait to quiz Father about that motorbike in the cart shed! but I was not supposed to know it was there!
Sometime later the opportunity arose, and it happened in such a different manner I would never have guessed.
BSA AND SIDECAR 1927.
Why that particular motorcycle was parked in the cart shed lay a story on its own or why it had lain there for such a long time.
But the original reason could be traced back to when my father had first met my mother for the first time, when my father had proudly suggested to his girl-friend (his future wife) to go for a ride! His girl-friend Dorothy Dyson who lived nr Bolsterstone village had viewed the idea with a certain amount of trepidation for she considered the idea of a motorcycle and sidecar as being a somewhat unsafe method of travel, but after much chatting and cajoling Dorothy reluctantly climbed into the sidecar with the help of Walter, to go for a spin!
Apparently during their trip (Dorothy and Walter) who had been just friends until that stage met someone with another sidecar going the other way, during which father had to stop where a somewhat strained altercation developed between the two motorcycle riders. Walter's girl-friend Dorothy didn't like what was happening at all, so she clambered out of the sidecar and announced to anyone who was listening, never to darken her person ever again!
_______________________________
But things didn't end there for my father was so infatuated with Dorothy that he continued to try to make amends.
Dorothy's problem appeared to be, she didn't want a motorcycle rider even Walter calling regularly on her doorstep, and she told him so!
Apparently things came to a head when he started to think about marriage instead.
Dorothy (who was a strong willed person) had the last word when she announced – "Walter, you have two decisions?
One is to ride your bike where ever you want with no hindrance from me" – then she continued by saying "or I will accept your proposal of marriage but I don't want you to ride that thing (meaning the BSA) ever again!
It's either me or the bike?"
After a decision of that magnitude father was brought to his senses - as one might say, and he went away to think about what Dorothy had said, then later after all the fuss and palaver had settled, the happy couple were married during the year of 1930 in Bolsterstone Church
_____________________________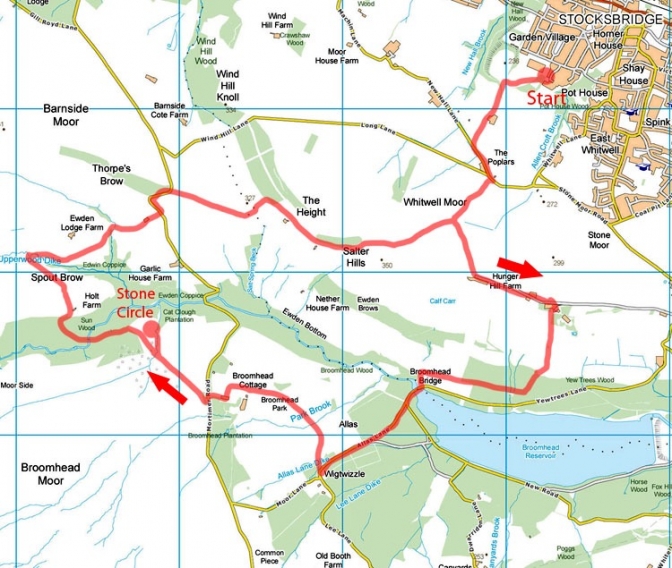 Contains Ordnance Survey data © Crown copyright and database right 2010
Later however it would seem that my Mother had to relent slightly with her ultimatum when father became the sole bread winner.
The problem was - Garlic House Farm (where they lived) entailed several miles of walking each day to work and back, at Stockbridge. However the travelling became such a problem to father that he began to consider restoring the BSA which was still parked in the cart shed in the farm yard, indeed the BSA was by then beginning to show signs of rust through lack of use.
Eventually after several discussions with his wife, father decided to buy a gallon of fuel to top up the BSA tank so that he could start using the BSA for work again, which would make things easier.
Several years later and father had decided to become a full time farmer,the BSA and Sidecar again become parked in the cart shed to become covered in dust and cobwebs through lack of use!
And that is where we boys found it when we maneged to clamber into the locked cart shed.
________________________________
Moving on.
I was the oldest, of the two boys, and by 1941 I had reached School age while father was gradually building up his stock, starting off with a couple of milking cows, and a pair of Shire horses.
By then of course I had reached the age of continually wanting stories to read,or be told, and it didn't matter whether the story teller was by father, or by my mother.
But one particular story I couldn't get enough of, where it concerned a motorcycle used by one of our nearest neighbours.
It went like this.
Our nearest neighbour's farm lay towards Midhopestones known as Barnside Cote where the son of the farmer there was Willie Hague.
Willie (the farmer's son) worked for Samuel Fox and Co and his mode of transport was a BSA Solo motorcycle.
It would seem that occasionally both Willie and my father Walter would agree to stage a race.
The race would consist of Willie Hague's solo BSA, against my father's BSA and sidecar the start would be the car park in the steel works, and it would finish at the top of our hill - Ewden Beck ,several miles away from where they could both see their respective farms.
Almost without fail my father would win the race, it didn't seem to matter when, or where the race took them, there would always be some form of doubt, to the result of the race, but nothing was ever proven, how my father managed with a BSA and sidecar to arrive first at the finish, of virtually every race they entered.
Whether father had some form of short cut or not, one never knew, or found out, but there you are, he usually won, one way or another.
~~~~~~~
And here's another story which went like this.
This also contained fathers BSA and sidecar. Apparently father had an old cow droving dog known by the name of Meg, she would occasionally sit in the middle of the road outside our farm gate with its head cocked on one side 'listening', then all of a sudden she would take off, she would run to the top of our steep Ewden Beck hill, and disappear over the top.
About another mile or so from there was a very rough road known as Long Lane which father had to drive his bike along every day?
Apparently Meg would sit by the side of that lane - waiting.
After a long day's work father would appear with his BSA and sidecar on his way home during the morning, or sometimes night shift.
It would seem that when my father reached the same point along that rough lane our dog Meg would be there waiting.
Meg would leap out of the roadside hedge whilst the BSA was still moving and jump into the sidecar and settle onto the seat where she would ride the rest of the way home.
It didn't matter how much I quizzed father about the stories being genuine or not, father would always declare them to be absolutely true, Wilf ?
BSA STORY CONTINUED.
By the year of 1947 things had changed, some say for the better?
Things no-doubt had changed for me when I reached the age of eleven for that was the year I joined the big boy's class in the big School.
And it was the year Cousin Bernard (Bud) left School to join the Army.
That was the year Bud had suddenly announced that he was handing over his old Ariel 350cc motorbike to me, If you remember.
However when I first heard what Bud had said I didn't believe it, I knew for a fact that Bernard had known for quite some time that I admired his Ariel, indeed every time I saw Bud ride his bike on the road I must admit I was quite jealous.
I wanted to be that rider, on that motorbike, but up to then I had never had the inclination or the money to buy my own, what ever it had been.
My Cousin (Bud) lived with his parents in the little hamlet of Wigtwizzle he was a shade over five years older than me.
Everyone knew the Dyson family and that Bernard was interested in becoming a full time soldier, so when he had completed his rudimentary training via Night School Army cadet college, he promptly signed up to join what was known as the Cold Stream guard's, His Mother - my auntie-, declared that Bernard had only joined up so that he could wear what was known as a "Busby."
In fact when Bernard came home for regular leaves? Sometimes he would bring his big black busby helmet to show off to everyone in the area, in fact he allowed me to try it on one day and it fell straight down past my ears to rest on my shoulders.
Apparently one of Bud's duties was to stand to attention outside Buckingham palace London in one of those little box things. (signal box) And even that made me jealous!
Somewhere in my story I have mentioned how Bud had gifted me his old Ariel 350, it was the occasion when Bud discovered he couldn't, or wasn't allowed to park his Ariel for a parking permit in the London military Barracks.
Someone had advised Bud to be extra nice whilst asking permission from his CO, but for some reason the commandant had flatly refused the request, which didn't go well with my cousin Bud.
When I had asked Bud why he had been rejected, he just didn't know.
He had asked several places if he could leave his bike while he was on duty but every time the answer was an emphatic "No", so he gave up the idea.
This of course meant I was the lucky rider as the Ariel was still a quite good rideable motorbike and Bud gave it away to me, his wild bushy headed young cousin Wilfred , instead.
______________________________
By the end of 1947 I had more or less mastered the art of falling off the Ariel which showed in many places where I had collided either with stone walls or even a couple of cows on one occasion not quite as hard but the accident brought me off just the same.
I still had a look at the BSA Outfit occasionally in the shed but really the BSA wasn't as important now that I had the Ariel to tinker with.
But when I say tinker with, I didn't mean with spanners as I didn't have many spanners of my own at that time, which meant as soon as some part fell off the Ariel it had to stay off as I didn't have the means of fixing it on again.
This meant by a short time the Ariel became quite slimed down, first it was the front mudguard which went missing, and soon after the headlamp disappeared along with such things as a speedometer, horn, and stuffing out of the dual seat.
But the seat was easily fixed for a good arm full of straw tied on with binder band made it almost as new?
The next item to fall off was the rear number plate complete with back light and all the wiring.
So as you can imagine the Ariel became not only lightweight but easier to push when the occasional lack of fuel demanded a trip to the petrol filling can.
There was one item which came off but shouldn't have, and that was the primary chain-case which exposed the clutch and chain.
Indeed on one occasion the actual clutch fell off, which caused me quite a problem when the fixing nut had disappeared.
After what appeared to be hours of searching I eventually found the missing parts including some extra' such as a long-time missing crankshaft nut and cam spring.
With these item restored I was able to carry on once again riding regardless.
The bike was probably used every day for one thing or another which helped both father and me to conduct our daily chores. One was when I had to take the cows and change them from one field to another especially when the weather was dry when the grass was slow at growing in the big pasture fields.
______________________________________
I don't know why but I have suddenly remembered another occasion,when there was an incident.
This was during one evening in the summer time when the cows had been turned out after milking into the small collecting yard, when father suddenly shouted –'take this bunch out to the grazing field will you Wilf' – this was a daily task which I usually enjoyed.
This entailed about a dozen or so mixed milk and dry cows! (ones that had no longer milk until their next calf.) that were ready to be moved on into the next field.
Adjacent to our farm yard was a narrow gate, where the cows waddled their way through the narrow gateway on their way to the field known as the "Croft", the cows then crossed the rye field on their way to the grazing field.
This task entailed me riding the Ariel opening and closing gates along the way, the first gate was OK if I rode carefully I could usually ride through that gate without putting my feet down whereas the next couple of gates I had to stop and drive the cattle though before I could close the gates after them.
Next gate on from the last two, was the awkward gate!
This was where the two stone pillars had started to lean in towards each other, making it quite narrow causing me to wriggle the Ariel handlebars through without getting them wedged.
However on that particular day I was having one of my bad days where everything went wrong.
I chased up to the front of the cows on he Ariel to push my way through the narrow gateway only to hit both of the handlebar ends.
Well what a to-do, I thought I had broken all of my fingers as I struggled from under the fallen Ariel.
The engine was hot as was the exhaust so by the time I had dragged the bike out from the middle of the gateway for the cows to come through, I was in a complete mess as you may well imagine, as I had also fallen in the deepest sludge hole in the gateway, in fact I had to leave the Ariel propped against the wall and stagger across the last field on my feet to let the cows go through the last gateway into the last field.
By the time I had walked home (staggered more like) across two large fields I was feeling quite ill.
Most of my moans when something went wrong were met with my mother declaring, 'What did I say nothing would be gained by riding that thing' ( Meaning the Ariel).
Even so mother bandaged my hands up as best she could, but I couldn't carry on with my work that day.
Father was only slightly sympathetic with my plight, as my misadventure meant he would be without his best workman for a couple of days, but two or three days later I was much better managing to retrieve the Ariel and bring it back into the farmyard.
More in the Next issue.
As Lewis Scholey came to a halt outside our farm yard gate bringing me home from school with his taxi, my younger brother Lewis came rushing out of the house looking all agitated. He was looking all worried and squeaking as he grabbed my jacket and pulled me towards the wide open cart shed door. I quickly slammed the taxi door and rushed across the road to see what was wrong, within seconds I had discovered that the shed was empty and the BSA had gone.
I looked around and stared with disbelief including under the tarpaulin, but the BSA had gone.
The very idea that the bike was missing was almost beyond possibilities for the only person who could have moved it – other than me was – father. As far as Lewis my brother was concerned he knew that tampering with the BSA was more than his life was worth, anyway he was too small at five years old.
After quickly looking in all the nooks and crannies in the cart shed, I rushed across to the house almost sobbing with grief to ask mother if she knew where my beloved BSA had disappeared to.
______________________________
Here I better try and explain this situation, from the start, with a bit of history about our family, the Couldwell's.
I was born in 1936; and I was only a few weeks old when my parents had to rush me to the Doctor surgery to see what ailed me during my young life.
Father had taken me in the families BSA sidecar outfit, all wrapped up with mother against the inclement weather to visit the one and only Doctors surgery in Stocksbridge.
Amongst other things Father had been a farm worker for several years before deciding to take on one of the Broomhead farm estate farms which was vacant at the time, there were several farms in the area which were vacant, so after due consideration father eventually chose one which he thought was within his means, this was a 200 acre holding named Garlic House Farm Ewden Beck Bolsterstone.
When father had moved into the farm he had hoped to make a reasonable living buying and selling livestock, but things hadn't turned out like that as the land proved to be so poor he couldn't raise enough feed for the animals or indeed bring in enough money for his growing family, with just running the farm.
As a last resort father had decided to go back and work for Samuel Fox's Steel Works in Stocksbridge where he had worked previously.
So in reality father had two jobs one as a labourer in the steel works, and the other as a Farmer working on his own initiative for as long as the daylight hours would allow.
___________________________________
So as I say above, I arrive home with the school taxi, where I should have been fit and ready to change into work clothes to join in the chores of the day helping father around the farm.
However we now had a new problem (a serious problem) the BSA which had disappeared from fathers cart shed, and one day I expected it to be mine.
Quickly I dashed into the house to find out what Mother knew about it, where she explained that a friend of fathers Alfie Reynolds had decided to remove the sidecar and take the BSA to pieces before taking it home with him.
I was as you may imagine absolutely grieve stricken, for I had been led to believe that I would be the next one to ride it as soon as I reached the age of being a legal licence holder.
I blamed father completely for my state of mind, in fact I didn't speak to him for well over a fortnight except when I was told to do something specific.
Father had let my side down big time, and as time went on it didn't seem likely that I had a hope of retrieving my hoped for BSA ever again.
When father did eventually tell me the whole story he declared that he had exchanged the BSA for a weekends labouring; when a five acres field of corn was ready for hauling just before the weather broke,and this was the only way he could pay Alfie.
However this didn't pacify me in the slightest, except that the BSA became forgotten later when the Ariel was given to me, and that took over the main focus of my attention during my farmyard help days.
_______________________________
As all good stories come to an end yet another one springs to mind.
And this story concerns spring time on the farm.
One morning just as we had finished our breakfast father suddenly announced Wilf? " Do,s tha think tha could burn them rough gorse bushes on top'n yon field' on thee sen like",.
I knew what he was talking about for we had been talking of doing it for a while but we hadn't had the time to do anything about it.
It was a job we had to do every year at a specific time for if we hadn't the gorse would quickly spread loosing valuable grazing grass land in the bargain.
Usually that particular job would take two of us (father and me) to do it.
For to prepare things properly we usually required borrowing Grandad Dysons flame thrower. This machine (shaped something like a "flit" fly-spray), was normally used for controlling heather on the Broomhead estate grouse moor.
This was a ferocious thing, I think the container contained Petrol or paraffin (I wasn't completely sure) so when it was lit the actual machine was as I said ferocious, father had borrowed the fire machine in readiness so the only thing I had to do was take a box of matches and some old newspaper to light the thing with.
On the first morning suitable for the work in hand, I rode my Ariel across several fields with the fire machine on my back, then parked it against a high drystone wall out of harm's way?
Father had warned me to keep the bike well away from the gorse bushes for when flames get going gorse bushes can be quite lethal, and burn really quickly.
I walked the rest of the two or three hundred yards away from the Ariel before selecting a suitable bush to stuff a bundle of old news paper underneath ready to go.
Next I had to prepare the flame thrower, this meant having to light the "Wick" with a match, when the wick was lit the method was to pump the handle furiously producing a huge flame which lit the gorse bushes.
One of the dangers was wind, the slightest wind was dangerous!
Luckily on that particular day there wasn't any wind at all.
However within a few minutes of me starting to light up a breeze developed which caused the gorse to flare up, this fanned the flames more than I had anticipated, I quickly looked around to see where my Ariel was situated and decided to move it pronto.
Making sure the fire machine was out and on the floor I raced across to the Ariel kicked it over and rode it into the next field.
With the Ariel out of danger once again I hurried up to retrieve the Fire machine, but I was too late for the flame thrower was surrounded by flames out of my reach, at that point I suddenly noticed that the spreading flames had started to burn through a stake and barbed wire fence belonging to one of our next door farmers land, I quickly managed to grab a flogger (A makeshift flame extinguisher made from a tree branch) and scrambled over the fence to attack the new danger. However just as I had managed to scramble through to the other side the wind changed direction again quickly veering it the other way, sending the flames back into our original field. This was good for the fire had already burnt most of the gorse anyway.
Eventually after rushing back and forth I managed to get things in order.
I was somewhat perturbed whilst looking for Grandad - Dysons flame thrower, for it took me quite a while to find it, I found it in a hollow where the gorse had been burnt off (what a relief). From then I made sure the fire was out and able to ride home with the Ariel and the flamethrower intact.
As you can imagine I was as black as a chimney sweep by the time I arrived home later that day, my clothes were covered in soot, singed and burnt in several places.
Thinking later the actual fire that day could have easily turned into a catastrophe.
I decided there and then that I didn't want to become a fire fighter, in fact it rather scared me.
The flame thrower of the fifties was made by primus and was fuelled with Paraffin, a small pump to pressurise the system was like on the side of the blow-lamp used by plumbers. Wilf was right they were lethal.
*******
It was quite a while before anything notable happened again. In the meantime my father had cleaned up and returned the flame thrower to where it normally belonged, in one of Grandad Dysons ferret sheds at Hungerhill cottage.
But that isn't really where it was supposed to be housed in fact the flame thrower didn't really belong anywhere near Grandad Dysons cottage it actually belonged to where the "Grouse racks" were housed across the yard from the kitchen where the housekeeper lived in Broomhead Hall Yard.
None of the Gamekeepers liked the idea of working in the area where the Paraffin was stored - the majority of the workers preferred the flame thrower to be stored on my Grandads premises where it was away from the Hall but easy to get at when required, and easy to get at on a cold winters day during the heather burning season.
1946 was in fact one of the easiest years most of the keepers could remember, where only 100 acres or so of deep heather required burning off. The head gamekeeper (Harry Ward) had declared that 1946 had been such a wet and cold year that the heather hadn't grown as much as it should have and the chicks were such poor quality, that he had declared the adult grouse bag would have to be selected by having shorter and less driving days that year, or it would rebound onto the following years crop as well. In fact one of the youngest gamekeepers had to be declared redundant which didn't go well with the rest, but as Harry said he had no option especially when a strange disease also afflicted the older birds. It was a wonder more of the keepers lost their jobs but things picked up as the new season came into sight.
____________________________
Before moving away from moorland and grouse, let us move back to the earlier decade of the 1940' (Before my time) when a crop of 2,843 birds were shot during a couple of days shooting, which was a record and has never been bettered, in fact this became a record and was recorded throughout the British Isles, which as far as I can remember still is! In fact Grandad Dyson received a trophy from the Broomhead Hall estate depicting all the data on a silver plate built into a large sideboard clock which he was immensely proud off.
All the gamekeepers on the estate received a memento of that occasion.
My Grandad was well into his eighties and still patrolled the moors daily, when one day whilst I was with him, and we were having a rest up on Margery rock when Fred (as he was known as) told me how to survive a long time in this life?
He declared "to do as one is told" and no more, he went on to say that he had been offered the head gamekeepers job many times over the years but he didn't want the hassle.
In fact he had lived on the Broomhead Hall estates all his working life and one of the longest serving gamekeepers on the Yorkshire Pennines.
________________________________________
Chapter Nine.
Continuing on with the BSA Story, where Alf had been given the machine for payment for his labour.
It was quite a while before Alfie Reynolds made an appearance again at Garlic House farm. However the following year during high summer Alfie rode into our yard on his AJS motorbike accompanied by a newcomer riding a Norton motorbike.
After being introduced they wished to help with the Harvest again.
Neither, father or I had heard the newcomers name before, so it didn't register at the time,but when Alfie enlightened us that his name was Frank. M. Fox and it would seem that he was a regular rider in the ISLE OF MAN where he had won several races in the 1950's using different bikes ranging from a Manx Norton' to a M.V Augusta.
With considerable success, we were told, anyway as I have said Frank (F M Fox) came to our farm several times to help during harvest times that particular year.
But actually I never became completely friendly with Frank, it was his sister who worked in Marshalls Paper shop in Stocksbridge who I became to know (I can't remember her name now), but she worked in the magazines section, where the Green one (Motorcycling) and the other the Blue one (The motorcycle) came out every week were to be found.
Which were two of the most popular motorcycle magazines of that period?
I recall for any reason she was going to be short of copies she would save a couple back for me behind the till, and it worked well.
Born in Gleedless, near Sheffield, Franks first TT experience was in the Clubmans Senior race of 1952, finishinh in 11th position.
However, he had ridden in the Manx Grand Prix since 1951, Winning the Junior Manx Grand Prix in 1953.
Moving to the TT the following year his first 'proper' race the Junior ended in disappointment, retiring from the action when on the leaderboard on the third lap at Kates Cottage with a 'dropped valve'.
The Senior saw him take 38th place.
1955 saw a reversal of roles, finishing 13th in the Junior, and retiring in the Senior with a broken gear lever.
1956 and Frank had three entries, Lightweight 125 and 250, plus the Senior.
Both Lightweight races were run on the Clypse Course, although he was forced to retire from both races with mechanical trouble on the MV Agusta machines he was riding.
The Senior did bring him a 16th place again and yet another Silver Replica.
Golden Jubilee Year, 1957 brought the Yorkshireman his best results.
Riding for one of the sports major sponsors, Reg Dearden and having built the two Norton machines from spare parts, he finished 15th in the seven lap Junior, and 12th in the 'Blue-riband' Senior TT, run over an extended eight laps.
By now a 'professional racer', a change of direction took place in 1958, moving from solo machines to sidecars, both as a driver, and passenger!
For that years TT he was passenger to Bill Beevers- they failed to finish the race.
Retiring from racing in early 1959, due mainly to the spiraling costs, he was back racing on the Mountain Course in the 1960 Senior, finishing 30th on a brand new Norton loaned to him especially for the TT, gaining his last Silver Replica.
*******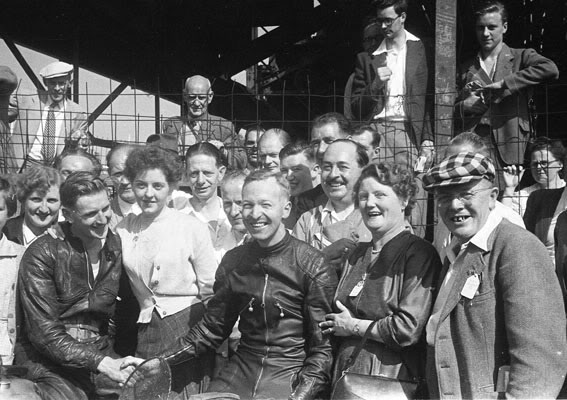 Frank with runner-up Dennis Christian after the 1953 Junior Manx GP win.
Charlie,> Frank lived on the Isle of Man in retirement Playing Golf with a handicap of 13. in his eighties until his death on fifteenth of October 2009.
A True Yorkshireman.
More to follow
Wilf.C.
Chapter Ten...
Moving on with the trials bikes.
After a couple of years riding a little BSA bantam, I moved onto a two stroke Dot which initially improved my prowess amidst the trials scene. However the Dot was quite a handful at the best of times, indeed some riders never managed to master the unusual swept back style front forks which allowed the forks to drop left or right with a heavy centre of gravity whilst riding sections.
I persevered with the Dot until I decided enough was enough and wanted something better. Then one day as I was riding my old farm bike I had a thought which developed into an idea, this was, why shouldn't I ride a four stroke and join in the big bike brigade, where the big bikes held sway amid the better riders at the time.
I continued to have thoughts or bouts of "fourstroke Fever" where I almost bought a big bike but cried off during the last minute negotiations.
As you will recall I had been riding a rigid girder, 350 Ariel which had served me well (even though it was gradually falling apart).
In fact I had developed the Ariel to such an extent that I could ride the bike on some of the proper "sections" where sometimes the Ariel made me wonder if I could, or even if I should, have a go at riding big bike trials.
Eventually I couldn't get the idea out of my head so one day I decided to go around to the best trials rider/dealer I knew which led me to Vernon Bentleys motorcycle shop in Ecclesall road Sheffield, to ask (The proprietor) what he thought of the idea.
I knew for a fact that Vern was the Dot agent at the time, and no doubt he would want to try and sell me a new machine (they had by then developed a new style of front fork), as nice as they were to look at and pleasant enough to ride, but I still had my idea of riding a big four stroke. Eventually Vernon finally realised that my mind was made up, so he turned around and declared 'Well leave it with me 'Wilf' and I will find out and let you know'? Which he did, for within the next week I had received a letter from him declaring that a Sheffield and Hallamshire club member wished to sell an almost new 500 HT5 Ariel.
The bike concerned was a genuine 1957 model which the owner wished to sell and he also agreed to let Vernon place it in the showroom until such a person came along to buy it.
I remember well the day I gave the Ariel a short test ride up the side road and back, the Ariel was so powerful it almost left me behind; in fact I was so enthusiastic, I decided to have it!
Vernon had already declared that he would take my existing Dot as part exchange.
Later that same week I managed to change over my insurance which allowed me to ride my Dot to Vernon's shop, and then ride the Ariel back home to the farm.
As I left behind the built up area of Sheffield on my way home to High Bradfield, then Ewden Beck Bolsterstone, I let the Ariel have its head, and I was absolutely delighted.
_________________________________
However the euphoria didn't last!
About six months or so after buying the bike the engine began to develop weird noises which became noisier and louder the more I used it.
Which eventually, caused me to investigate the problem?
First of all I thought it was simple piston "Slap"? But after checking and testing before rebuilding. The noise was still there! But I was still more or less sure I knew what the problem was, so I had the cylinder re-bored and fitted a new piston.
But even after completely rebuilding the engine the noise came back.
Next I stripped the complete engine to have a new con rod and the crankshaft and balance, but to no avail the noise was still there.
By then of course I was at my wits end, so I had a detailed engineers report conducted by Bill Kenyon of Sheffield where he suggested that even though the main shafts were worn, they didn't warrant renewing.
But I still went and had the very latest new metal spray technique done where the main-shafts are metal sprayed and then machined back to the correct size!
After all the rather expensive mechanical work was completed the noise actually disappeared to a certain degree.
But even so the original noise was always going to be on/in my mind.
Whether it actually did I couldn't say for I sold the bike soon after and bought another make of bike instead.
Back soon
Wilf Couldwell.
Charlie,> The Ariel HT engines always were and are noisy, some a lot worse than others for some reason. The Alloy cylinder barrel seems to increase the volume of the rattles.
Wilf is right it sound like bad piston slap, but I think it is cam and valve noise.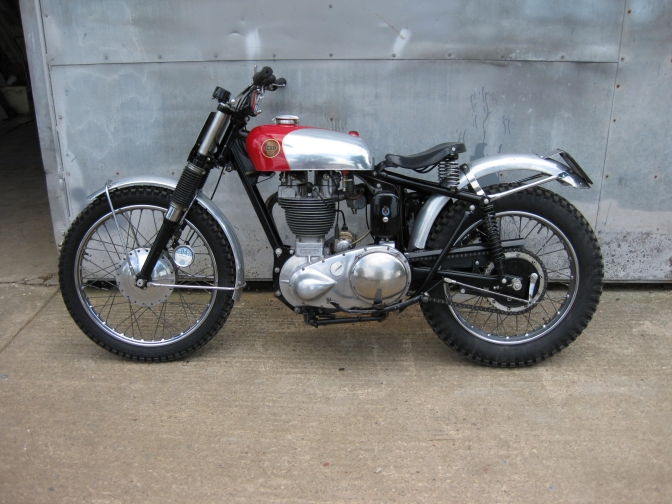 Photo Courtesy "Otterman", A 1957 Ariel HT5 in factory condition.
Rebuilt by Deryk Wylde.
Chapter Eleven...
The Matchless G3C
My good friend Barry who lived in Pilley Pit village Tankersley Barnsley, would occasionally ride together on our trials bikes to have a practice session. He knew I was having trouble with my Ariel and that I was getting rather fed up with the constant problems I was experiencing. One day Barry had been discussing with me what we should do about the problem, where we came to a decision to take a trip around the Sheffield and Barnsley motorcycle shops to see what we could find in respect of a suitable replacement for my Ariel. Barry's normal bike was a BSA B34 in trials trim, to which in his own words he described as a beast of a thing! Which it was, but it suited him!
To carry on….however after an extensive search, amid several Sheffield and Barnsley emporiums we eventually arrived at Leather and Simpsons, motorcycle shop which we regarded as one of the best BSA dealerships in the area.
Initially neither Barry or I could see a competition bike amongst the many road bikes on display but as we were about to turn around to go home Barry as always eagle eyed made a be - line for what turned out to be an almost new Matchless G3C finished in gleaming maroon paintwork. Harry (the proprietor) came over and fussed over the controls for a moment or two before giving the kick start a quick prod to which the engine started imeadiatly, whereas the exhaust sounded flat, in contrast against the somewhat noisy Ariel.
Satisfied with the results of our inspection, Mr Simpson turned around to enquire about my own bike the Ariel? To which I quite truthfully declared that I had just restored the engine but it will need running in. To this Harry cast a quick look around the Ariel, gave it a blip on the throttle before going on to discuss terms, these allowed me sufficient funds to use the Ariel as a part exchange. Within a week I was the proud owner of a Matchless G3C trials bike.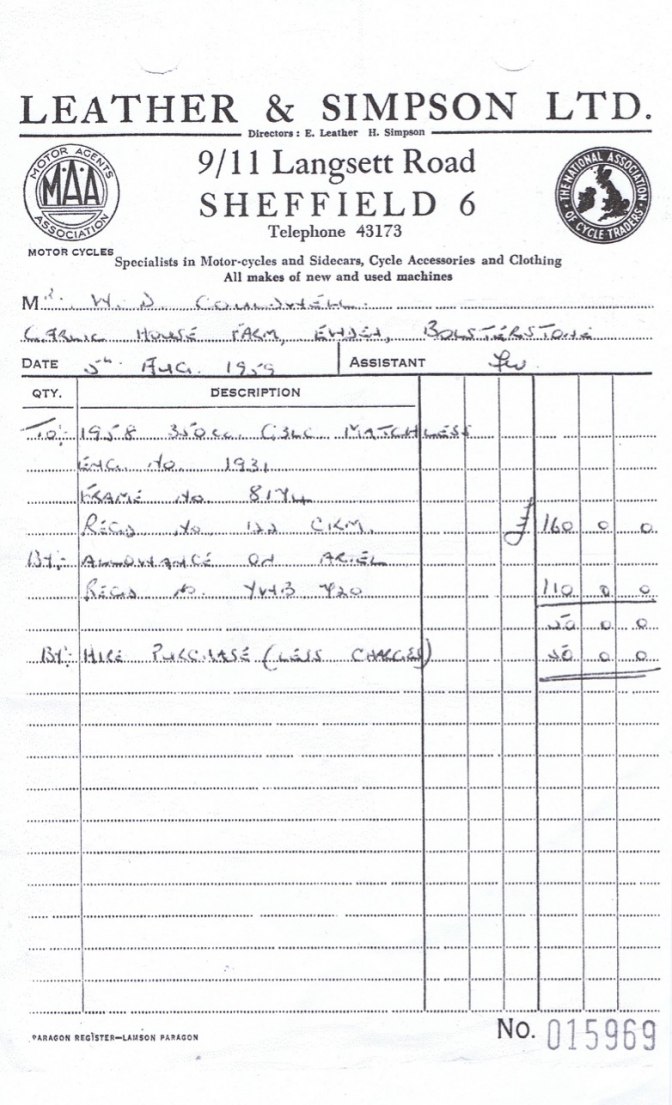 *******
It was autumn and the weather was quite good so we opted to ride our bikes together, the event was billed as Sherwood Forest, where the sections were quite sandy. I had successfully negotiated the first two laps, and another to go when suddenly a spectator shouted and pointed "Ho Mr" Your bike is leaking! I quickly stopped to investigate and to my consternation the chappie was right my bike was leaking.
In fact the engine oil was pouring out all over the lower crankcase. I was shocked and dismayed at the same time as I propped the bike on one side to have a closer look. The bottom of the crankcase had caved in where the drain plug was normally screwed in, it had sheared off taking with it a chunk of alloy casting. In fact I could actually see the flywheels through the broken hole in the alloy casting.
As an after- thought we never found the remains of the broken sump housing! As I was wondering what to do next Barry appeared on the scene, including several spectators. As we were discussing the situation one of our Sheffield North End MCC club members arrived "Jack Oliver" he came across to see what the trouble was. As I explained the situation and the possible problem of not being able to get home with the bike, Jack declared 'no problem' just hang on a minute I'll be back shortly. He was as good as his word arriving shortly after with a Volkswagen Transporter van into which he promptly loaded my bike ready to go home. As for Barry he retired from the event and followed Jacks van back to our farm. Arriving home we pushed the Matchless into the workshop. Next we all had a cup of tea and a slice of cake
It was getting late before Jack decided to go home, as did Barry, but as far as I was concerned I was left on my own with a broken bike wondering what to do for the best. The following day my mind was much clearer, I had decided to write to Associated Motorcycles in Plumstead London explaining what had happened on that fateful day. Within a couple of days AMC wrote back with such a nice letter of how to strip the crankcase down, place the damaged item in a wooden crate and send it off to the factory where they would assess the damage and raise a pro forma invoice for me to send back with the money.
In the meantime they would repair the damaged pair of crankcases and return the items back to me, as good as new.
A few days later a British Rail lorry arrived in our farm yard from Deepcar Railway station carrying a wooden crate which contained my repaired crankcases. Within a couple of days I had the Matchless up and running ready for action. I must say I couldn't have received a better service from any motorcycle manufacturer.
I will just mention here that I made an alloy shield below the frame tubes which would hopefully prevent any damage happening again.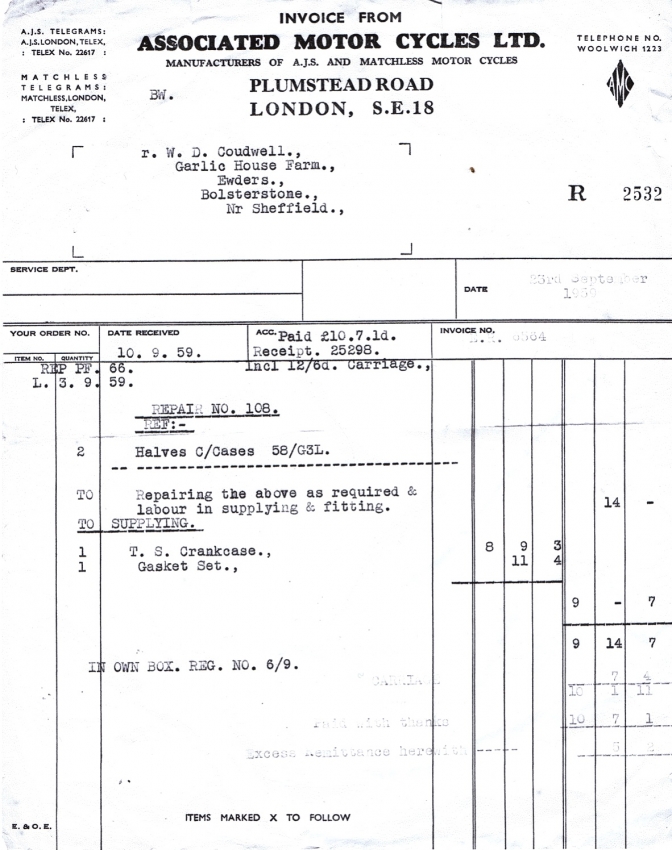 *******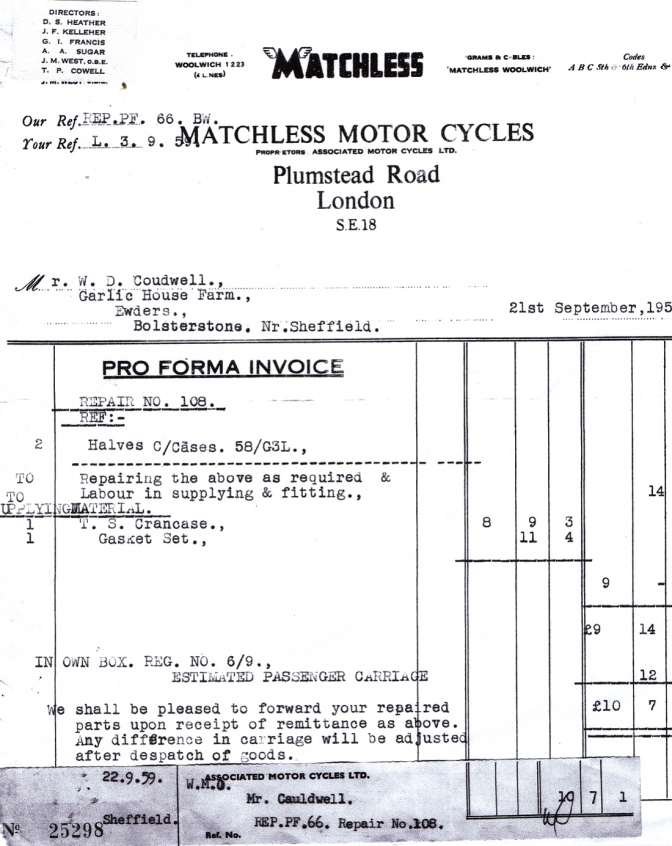 More Later regards.
Wilf.C.
"I think we need lighter bikes".
*******
It all began with Barry - my regular companion - who started me on about his bike, and I knew for a fact that Barry' bike was way too heavy for him.
His bike at that time was a BSA B34 with the all alloy motors, and swinging arm at the rear. It must have weighed a "Ton" at least.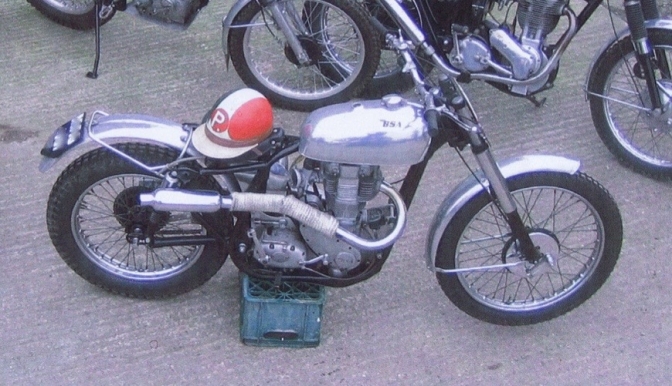 Photo and BSA B34 Courtesy of "Otterman"
But there again Barry was a big lad and on a good day manoeuvring was easy.
I had mentioned to him several times why not ride the local events such as (South Yorkshire Group) (SYG) where the sections are far more reasonable!
But Barry being Barry wouldn't listen, he persisted riding in the National events with me where he would invariably become a casualty, and he would finish up with half the following week hobbling about the workshop or warehouse with something akin to a bandaged leg or foot.
Nothing went any further until one day Barry suddenly announced "Well Wilf old boy, I don't know about you but I am getting rather disillusioned with my BSA, so I have decided to pay a visit to Sheffield where I can take a look at what there is around the showrooms".
After Barry' sudden outburst things went quiet for a while, until after yet another regional Restricted (RR) event came and went where Barry became slightly "Injured" and once again had to lay low for a couple of weeks until his "injury" repaired itself.
As we were preparing our bikes once again for another SYG trial Barry declared "Maybe something lighter or even smaller would suit me" Barry's preamble without notice.
Actually these very same thoughts had passed through my mind not just for Barry but for my mind also for the Matchless even though it was in good condition I had decided that it was too heavy and a replacement was needed.
_________________________________
This time we didn't need to traipse around Sheffield, this time as we went direct to Leather and Simpsons shop where Barry and I had found what we wanted on an earlier occasion.
During our inspection Barry and I found David to be fully engrossed with a youngster asking questions about a learner sized BSA, when the Young fellow had gone we honed in on David to ask our own questions?
It would appear that BSA the motorcycle manufacturers were in the process of designing what was going to be known as the C15 a road bike. To follow this would be OHV fourstroke C15T trials and finally a C15 Scrambles, they were all almost ready for testing and then on to distribution.
The factory had already issued a couple of shiny pictures to follow these up.
David suggested that we should call again in a couple of weeks, where he might be able to give us some information.
However things didn't turn out like that for it was almost 3 months before the Road going C15 emerged from the factory, to wide acclaim.
So our search for smaller machines was on hold again for a while.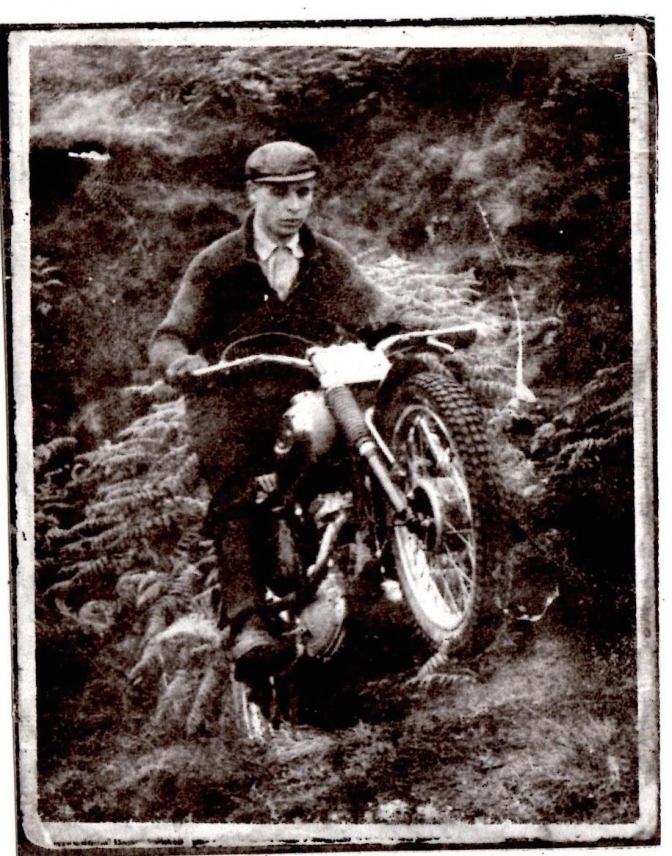 Photo Courtesy Wilf Couldwell.
~~~~~~~
Here Wilf was aboard ones of those lightwight production BSA C15T's.
~~~~~~~
Follow up later.
As you can see from the photo of Wilf.. He later managed to buy one of the first BSA C15t trials bikes, and rode it just has it left the factory in 1961...
Unfortunately Wilf died before he could give us the "true" story of the little C15 bike...
But I think he must have enjoyed riding a smaller fourstroke trials bike despite the many problems that the first C15T's had with the ignition, and the big end bearings, and if you have read above you will know that Wilf did not like any noise coming from an engine. What ever happened in the trials riding days on the BSA C15T, the BSA must have left a long lasting impression on Wilf or he would not have gone back to riding BSA's later in his life...
I will dig out some old magazines etc and see if I can find any results on the bike in 1960-61....
I have found some more photos of Wilf on Classic bikes later in life....
and am hoping son Steve can help us put some more stories together just to keep the old boy's memory alive...
Some Letters to me..
Wilf.C.
Charlie.> These are letters from Wilf to me .Thank you Wilf.
Hi.
I have just been browsing through the internet when I came to the story on the Cotswold BSA. And then I came across the Deryk Wylde picture of myself.
This is a picture I havent seen before, so what I should like to do is place this picture as a screen saver for a while anyway. But I cannot see of downloading it. If you are the person involved with the picture is it possible for you to let me have copy of this picture where I can print it onto my computer.
Best regards
Wilf.C.
*******
Charlie.> Hi Wilf.
So nice to hear from you.
I have many stories told to me about your bikes and trials riding, by Deryk Wylde and others ,I was told by Andy Paxton that his dad Dave bought the BSA from you, but I know that you had one or two through your hands. at that time.
I have just found out the photo that Deryk sent me and will mail it to you.
If you have time to jot down a few tales about your trials riding on the BSA's and the history of them, it would be a honour to put them onto a page on the BSA "Otter" website.
I have been trying to get a copy of your book but don't know if it is still in print?
I am so glad you contacted me Wilf. hope you are well.
And hope to here from you later.
Regards Anthony(Charlie) Prescott.
More later.
And you can already see that Wilf just loved telling the stories about his life, and the hard upbringing we had living off the land in the post war years.
And he could see although I am younger we both loved the rural suroundings we grew up in.
Charlie.~Oo>
~~~~~~~
Wilf...
Hello (Charlie).
Keeping things in order firstly you say you can let me have a picture by Deryk which I should be very pleased to accept.
Next it is correct that I did sell the Cotswold in one of my lets say "silly" moods which I have reluctantly regretted ever since I should have kept it, but I was going through a phase when I wanted a lighter bike.
You are correct in saying that I write regular columns for several publications but bearing in mind I am over 80 years old now I will be pleased as you say to "Jot" a few down.
Next. I am not in the best of health as I am not able to ride a motorbike at all never mind a trials bike. I have to do with a quad nowadays instead.
Finally you mention wanting one of my books.
Well I have one and only copy of my first book " A decade with Wilf Couldwell and his bikes". as I have said I have only one copy at the moment. My second book is called "Living at the back of beyond" of which I have only one copy available. And the final book is called " Moving On" of which i have several copies. So if you are intereted you can take your pick.
They all have a certain amount of motorcycle reading but the main one is the first which could be the most interesting about competition bikes.
With that off my mind, thanks for asking. I have to hurry up now to see to a leak in my kichen ceiling before it pours down again.
Best Regards
Wilf.C.
More later.......
~~~~~~~
Born in Yarkshire Alway's a Yarshireman.
The seventeenth of November 2016 at fourteen forty-three, I had an email from the one Wilf Couldwell.
I had researched and written the stories about several Cotswold BSA's, that several people were now riding, because they were renound for being so good a handling machine and found grip where other BSA's did not. And the name, Wilf Couldwell kept cropping up.
Then I had a mail from the guy, (or should that be chap).
I respect anyone now-a-days that puts a bit of effort into putting into words about their past life with motorcycles, as there was just not the stories and photographs from the period after the second world war or earlier come to that.
It was only journalists and their photographers that did the stories, and took the photo snaps, we just did not have cameras then, and I only used a Brownie box camera for the first time taking a photo of a wild Scandinavian goose at Slimbridge Wildfowl center, on a school trip, in I think 1958.
So there was the journalist view or none at all.
So you can see that even then the story was one sided and photos and stories only got put into the motorcycle press if your face fitted and they had a sponsor for the story.
I did a couple of stories for the local paper at the time, but after spending ages honing my somewhat poor English skills to the limit, I found that I had one half a column inch of space and the other seven were discarded.
So I gave that up as a bad job at the time.
Then when I got to the age I am, I thought, hang on nobody has actually recorded a lot about the truth of the situation with motorcycle sport at the time.
So after starting the web site purely to promote a Classic trials show that was another dream I always had, I set up the website. And this just built and built.
I could have just packed it up after the show. But kept it going.
Then over the years I have had people contact me like Deryk, Chris, Jim Susans , etc and then Wilf.
And this has proven that the truth was far from that. And the myths of the past have just got exaggerated over the years. And this has again happened this week.
We will miss Wilf greatly because he was one of these people that in his own unique way, could tell stories about the actual truth of the past Classic trials scene, that was mostly buried by the press of the time, with their need to get quick reports in to fill a couple of columns to keep readers looking for results, but bombarded on most pages of the papers by the advertising media that paid for the rag.
Thank you so much Wilf for giving me over a short period of time, so many super "True" tales, and letting everyone know that is interested in the sport what it was really like to compete, and the camaraderie etc, that was that period. It will never be the same again. RIP Old Chap....
Charlie,>
10/02/2019.
I am now going to find out more stories that Wilf wrote and some that have not been published before...
I have been in contact with Wilf's son Steve, and I am hoping we can put together some New tales with the material that Wilf left..
Wilf was one of those quiet characters that only realised that he needed to tell the tales of his life before it was too late , and unfortunately that time came far too early.. I know what tales I need to tell before it is too late.. So we will see what rests in the archives of Wilf's notes, and hope we can piece together some more gems of his tales, and they are all true you know he would say too me.......
Charlie...
Wilf.C.
[This is a more or less word for word story from a delighted owner of a Cotswold BSA]
More later. Copyright© Wilfred Couldwell
Updat2021...