Gary Britton build's,
"Number Three"...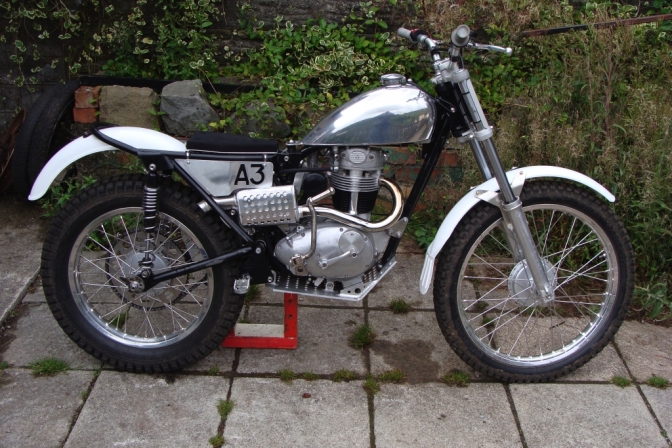 A 3rd BSA build useing some of the original heap of BSA C15 parts "dumped "on Gary.
Here is the story.
"This is number three."
Garry Britton's, Third BSA trials bike build.
I had a D7 BSA Bantam frame lying around (I'd bought for the log book for No 1 Project.)
A set of crankcase's and cylinder from the original "pile of junk" and wondered if a C15 engine would fit?
Well if you try hard enough, and are not afraid of the angle grinder you know that anything is possible.
I took off the bottom tube, drilled the tubes for mounting bolts and placed the motor as high as it would go.
I then made up the cradle/bash plate and Sean at Rally-Weld did the magic with the welding torch.
I must say that
Without Sean's help none of these projects would have been possible, He is a Top Bloke.
The motor is held front and back and by the cylinder head. The cradle ties it altogether, basically the same as Number 2.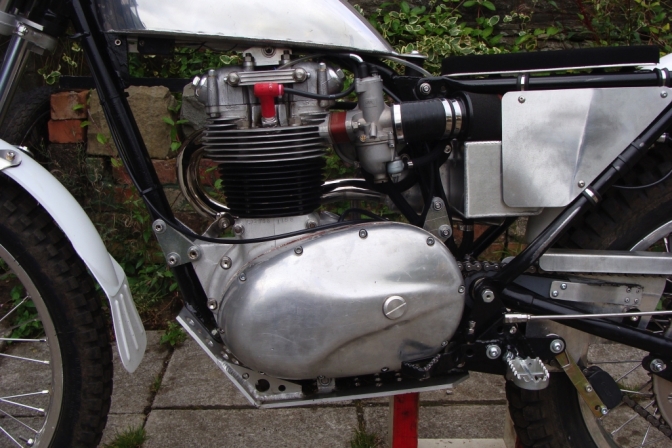 All Photos Courtesy Gary Britton.
I moved the top sub frame mount lower and back, lengthened the swinging arm by 1 inch, cut off the top shock mounts and welded them back on in what looked like the right position.
(None of this computer design geometry here).
A set of Bantam wheels were bought at Shepton Mallet from the same bloke that sold me the frame a few years ago, and was widened as per your article.
Sorry I have no photos of this early work, as they were lost in a computer crash.
(I hate Computers).
Charlie~Oo>(So do I Gary, most of the time!!!).
I bought the rims and spokes from Central Wheel in Birmingham and planned to get the local wheel builder to put them together, but thought I'd have a go, and to be honest found this black art quite easy.
Beginners luck maybe?
Triumph/BSA Four stud forks were fitted as on the other two builds.
I had to make up adapters for the taper roller bearings.
Shocks are Sammy Miller Products, ( now named, "Fecked-Off"!).
mudguards are Bultaco.
I think and the fuel tank is from Holt works, expensive but very nice.
I designed the oil tank and exhaust and they again were welded by Sean at Rally -Weld.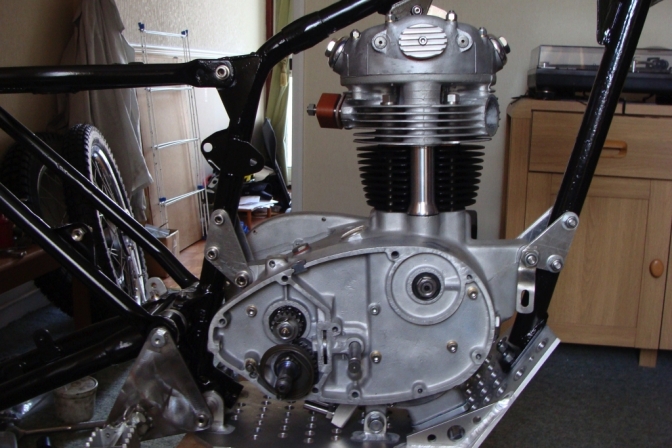 I found the missing parts for the motor on eBay, and at Auto-jumbles.
The list is long and covers most of it used in the build.
Most notable parts used, are a
"Pete Kirby belt drive, diaphragm clutch.
An Amal Premier Alloy Carb,
and Electrex World ignition,
and a car type oil filter.
Well that's about it, on the build of Number Three.
I'll let you know if it all works later.
Regards, G.B.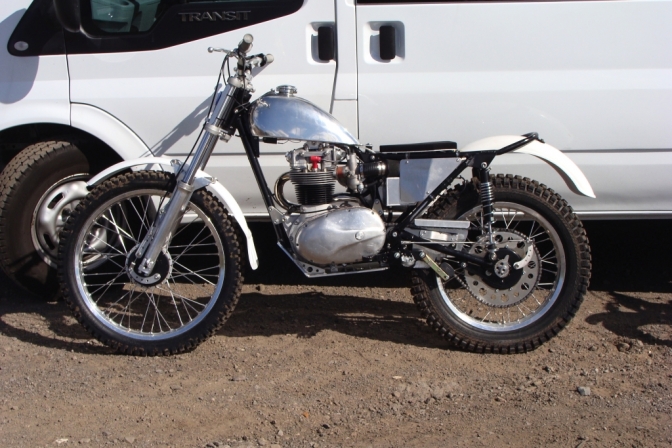 Another fine example of workmanship Gary, let us know how you get on with this ride.
The pile of original engine spares must be getting small now?
Or is there enough for another?
Update Later.
And proof again, you don't have to spend a fortune building a in-keeping British trials bike.
The "Pete Kirby Clutch unit" adds up to about the same cost as buying all New bits for a traditional BSA clutch and most parts are now Copies.
Yes Holts tanks are expensive, but the cheapest on the market is £200+.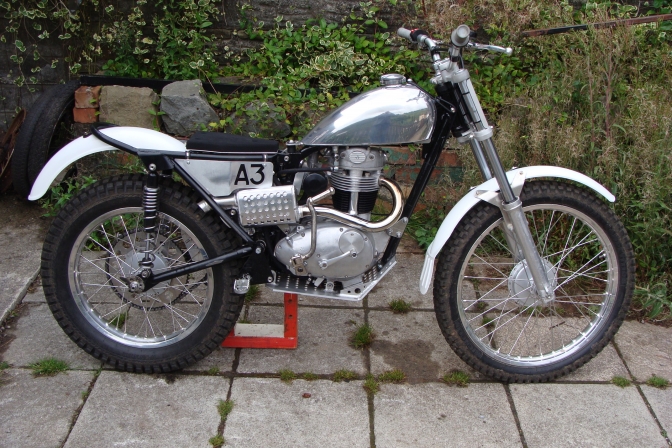 Nice "Cobby" C15 Trials bike that...
~~~~~~~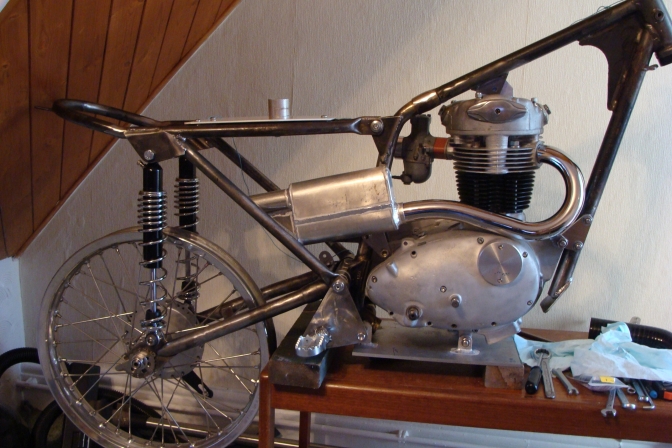 Note that Gary has kept the engine mounting "Through bolts" for the plates has high as posible for a more stable mounting! ( the engine pulling down on the plates...) The back ones are the same if you look at the photos...
~~~~~~~
It amazes me what power-units get put into a Bantam frame now-a-days.
~~~~~~~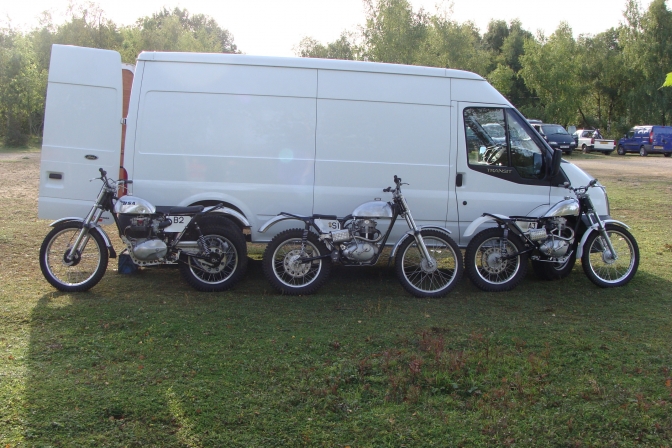 A "Works Outing" for the Britton Boys...
"Build, Ride, and have Fun"...........
19/06/2023...
Another outing for the Britton Boy's and friend Mark.. at the Somerton Classic's two day British Bike trial at Lower Pitts farm Priddy Nr Wells in Somerset... and all of the enjoyed the fine weather summer trial in June..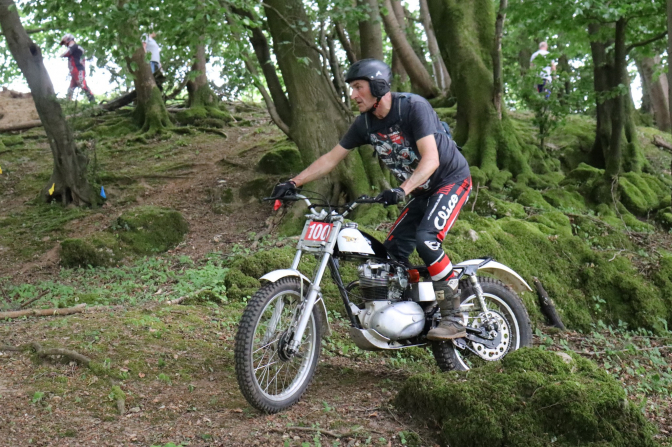 Here Gary's friend Mark enjoying the ride on BSA Build Number Three...
Update Later.
Updat2023...04...