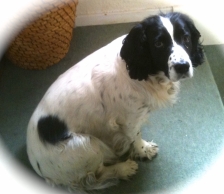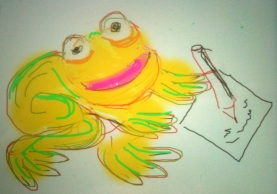 "Classic Trials Bike Scene",
Now "A Monthly Column"...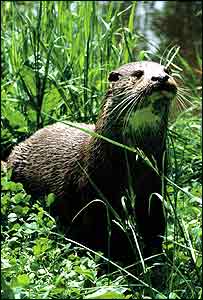 "Discontinued" at the moment...
By Natter-Jack, and Miss Win, and now with Charlie Otter.
Sadly Miss Win died...
"~Oo>"
They seek him here, they seek him there, but "Charlie Otter" is everywhere.
Just watch out to where he may pop up with a cutting comment.
He has made a start down this page.
You can comment about this page on the Forum site. or contact page or just e-mail me.
And I will post your reply and comments. "Simples" ~Oo> "Do It".
It will only remain for one month then a New comment on the page will appear, about a totally different subject. It may be "Hare coursing". or "hair standing"? you never know!!!.
*******
07/09/2017.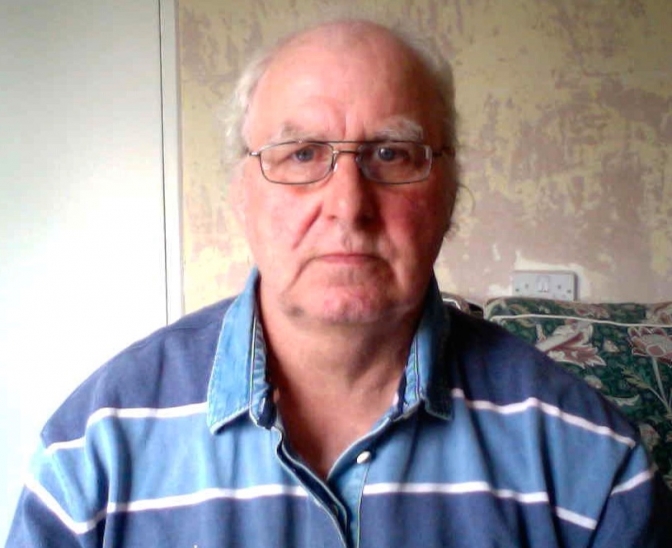 WELL LOOKS LIKE THIS HAS TURNED INTO A YEARLY COLUMN. DOES IT NOT.
BUT TO BE QUITE HONEST THERE HAS NOT BEEN THAT MUCH TO WRITE ABOUT FOR THE LAST TWELVE MONTHS OTHER THAN TO SAY THAT, I PERSONALLY CAN SEE THE DECLINE OF THE SPORT CONTINUING.
THERE IS A LOT OF OUT SIDE INFLUENCES THAT CONTINUE TO PUT PRESSURE ON THIS ONCE WORKING MAN'S SPORT, NEW RULES AND REGULATIONS FOR EVERY THING.
IT LOOKS LIKE ROAD BASED TRIALS WILL BE A THING OF THE PAST WITHIN A COUPLE OF YEARS, NOW THAT THE AC-U HAVE PULLED THE PLUG ON THERE CLASSIC BIKE SERIES......
AND ONLY THE COUPLE OF CLUBS THAT HAVE DECIDED TO BREAK FROM THE GRIP OF THIS SERIES, AND RUN TO THEIR OWN RULES HAVE GOT ENTRIES AND COME UP WITH A RESULT.
BUT WE ALL KNOW THE AC-U DID NOT WAN'T THE CLASSIC BIKE SERIES TO SERVIVE FOR SOME REASON, THAT IS ONLY DOWN TO THE COMMITTEE TO KNOW.
THE NEW EURO FOUR REGULATIONS FOR MOTORCYCLES IS NOT ONLY GOING TO HELP RULE OUT ROAD BASED TRIALS FOR CLASSICS, BUT ALSO FOR THE MODERN BIKES IF IT IS NOT NEW AND FITTED WITH ABS BRAKING SYSTEM, HOW STUPID TO EVEN THINK OF A TRIALS BIKE RUNNING THIS SYSTEM.
ALL TRIALS EVENTS SEEM TO HAVE TAKEN A HIT AS FAR HAS ENTRIES ARE CONCERNED, IS IT JUST THE PRESSURE OF MODERN LIVING THAT IS TAKING THE TOLL ON SPORTING ACTIVITIES?
ALSO THE NOW FLEXIBLE WORKING HOURS, NOT MANY WORK NINE-TO-FIVE ANY MORE, AND A LOT WORK OVER THE WEEK END.
THE TWO BIG CLASSIC TRIALS IN THE YEAR STILL GET ENTRIES DOUBLE TO WHAT THEY CAN TAKE, BUT THESE TWO TRIALS ARE TREATED A LOT LIKE A YEARLY HOLIDAY,
AND THE IOM VERSION YOU HAVE TO BOOK THE FERRY AND DIGS BY JANUARY, FOR THE TRIAL THAT YEAR IN SEPTEMBER, OR YOU WONT GET THERE.
AND THE SAME WITH WHERE YOU STOP IN SCOTLAND.
SO THESE ARE HOLIDAYS SO RULE THEM OUT.
THEN THE TALMAG TRIAL GETS A GOOD ENTRY ALWAYS BUT THIS IS A ONE OFF TRIAL, BUT THEIR SECOND TRIAL LATER IN THE YEAR GETS A GOOD RESPONSE TOO.
THE KIA SERIES HAS BEEN QUITE A SUCCESS TOO. FOR THE TWIN-SHOCKS,
BUT LIKE US ALL AS WE GET OLDER THE ORGANIZERS HAVE THEIR HEALTH ISSUES SO I AM TOLD, SO I HOPE THERE IS SOMEONE TO PICK UP THE MANTLE.
TO ME CLASSIC TRIALS ARE IN THE THROWS, OF "WHAT GOES AROUND COMES AROUND".
AND WE WILL JUST HAVE TO WAIT AND SEE IF THE TREND PICKS UP AGAIN WITH A NEW GENERATION OF CLASSIC TRIALS ENTHUSIASTS.
THE HUGE INTEREST IN CYCLING HAS NOW TAKEN THIS LINE AND THE RETRO CLASSIC BIKE SCENE IS GETTING BIGGER BY THE DAY, AND EVENTS FOR THESE MACHINES BOTH HERE IN THE UK AND EUROPE AND ALSO THE USA IS GROWING IN NUMBERS.
SO WE WILL KEEP PLUGGING THE CLASSIC TRIALS MOTORCYCLE HERE ON BSA OTTER DOT COM. AND SEE WHAT HAPPENS.
UPDATES AS THEY OCCUR.
It may be in a month or a year.
~Oo>
*******
29/09/2016.
Well you know I have let this column slip again, but I have other things to keep up with, and to be quite honest the whole Classic Trials scene has gone a bit stale and lost direction?
Don't talk rubbish I hear you say, just another of the so called rants that seem to come out of peoples mouths or minds that think they care about the lack of vision for this sport in the future. When all the time it is just bubbling along in the background.
We could just talk about the weather, and how the pattern of this changes very little in the long term and with one or two blasts of interruption carries on year in year out on about the same sort of level.
This is the weather I am talking about and not the classic trials scene.
But are they very similar?
We now seem to have got it in our heads that the term "Pre65" that Deryk coined for the old pre unit British Singles, has been abused enough and and now does not exist in anything more than a name that seems too difficult to remove from a couple of the major two day trials advertising material.
We now seem to have brought to the fore the best machines that seem to work in the current trials that exist, although fads and trends tend to change yearly.
It seems in the so called Twinshock Classes the Fantic and TY Yamaha are the machines to own at the moment, and I cant see that changing much, and the Bling on these as gone about as far has it can as-well within the guidelines.
The "Britshocks" (was it me that coined this name first?) seem to favour the lightweight BSA Bantam still, with brand leaders "Drayton" still just, from the "RAP" designed by the late Rob Hommer and now produced by Paul from Derby Road and Race for Alan Whitton.
Hence the R.A.P.
But there seems to be a trend now to go for the winning Triumph unit twin engined machines. and riders that even won on Cub's are taking this route.
God knows where the motors are coming from, but I can't find one.
Why would I want one? Well it would seem sense to fit one into a "New Foster" "Otter" frame now I have the Jig. and the first one ever built had a Triumph twin engine fitted if you remember.
But I digress, So is the current scene rosy or not?
Now we have lost the Original Big Bike series that just changed so much over the years that 2016 saw it slide slowly from the calender.
We will see later in the year what the "Trials" guys on the AC-U committee come up with as a substitute.
I am not going to waste my time going any further with suggesting ways forward because it just falls onto deaf ears, and I know when I am wasting my time now, and I think others that have tried hard, to stimulate a change have also given up, and like the weather we will take what ever happens tomorrow.
24/05/2016.
Trials Central has had another of the Brainstorms that happen Now and again.
I have got wise to the situation Now and just try to avide getting involved with the same pointless argument.
You know in the past I have tried my best to draw attention to the So called Pre65 situation. Oh Deryk what did you start all them years back .You were absolutely right at the time and the term has been abused ever since. And we all know the term means very little today, to people that know the true situation now.
Well a guy asked if he should buy a Drayton Bantam, and another asked how many parts on that were Pre 65. this lit the blue touch paper and stupidly I did say only two the earlier engine covers that most fit, and I have these parts for our Bantam.
It Is a good thing I did not say that the pistons are made in China or that would have been the full display.
Anyway out friend TT Spud had the last say and then promptly removed the posting as he said he would.
But Paul "OTF" Beswick. had copied it and has now re-pasted it so it his shout unless Andy removes it on TC.
So I thought we better have the posting for safe keeping on here.
And I know "TT" reads these pages.
Nurse nurse ttspud's stopped taking his medication again.



You really don't get it do you. The whole sport has been ruined by money and vanity beginning a long time ago. No-one in their right mind (to take a quote from above) is going to spend £6,000 to £10,500 on a bike that can just about be ridden if you live in Yorkshire, perhaps for a few years mostly to support a small cottage industry and other historic business interests. If you just want a fun day out in trials, you are better off spending £1200 on an easy to maintain bike, easy to find clubs, exciting performance and lots of riders to compete against. But yes, if it is so important to you to ride britshock (because pre65 is gone) then do it, but the voting is not on your side as is proven by the entry falling from 450 to no-pre-65s and about 12 britshocks starting by the throwing away of the rules to allow modifications to be sold easily into the sport. No other sport has been this stupid. If it had been left alone, with rules, then there would be more people like me enjoying the sport every week. Now it is an annual thing at one event with a handful of riders. No, that is no stupid an pointless argument. And if you had noticed, the insults have been flowing even against people that started the whole thing off and have given a lifetime to this sport. I have no axe to grind nor do I ride for more than a few hours a year, and no time to do much to sort all this out, and even I can see the nightmare this all has become over the last few decades starting with the ACU/Miller series. Deny all this if you like but it is true.

So, if you want to be fair to the original OP, no, do not buy a Drayton Bantam and waste the best part of 10k. Buy a 2004 Gas Gas for a fraction of the cost, find a local club and enjoy yourself, because pre65 has been long since been destroyed by people such as posting on this board. And now come the usual rounds of insults from club owners angry that there are whingers or anoraks or riders happy to ride pre65 bikes, and so there is no discussion, just abuse from people that saying they support the sport. You work it out. And others just don't want to watch any more of this, nor do I. Rather than watch the backstabbing that always ensues, I just delete the lot and let you all carry on living in a delusional world with your next set of modifications. All but killing a sport then recommending it, genius. So read this while you can, because I will remove it at some point because I do not want to waste another pointless minute in pointless no-discussion with people that sink to being personal, respect no-one, and act as they they are in some way being damaged. You all owe someone else a big apology, though I doubt those at fault have the integrity to. Welcoming, you probably need to look that one up in a dictionary.

06/03/2016.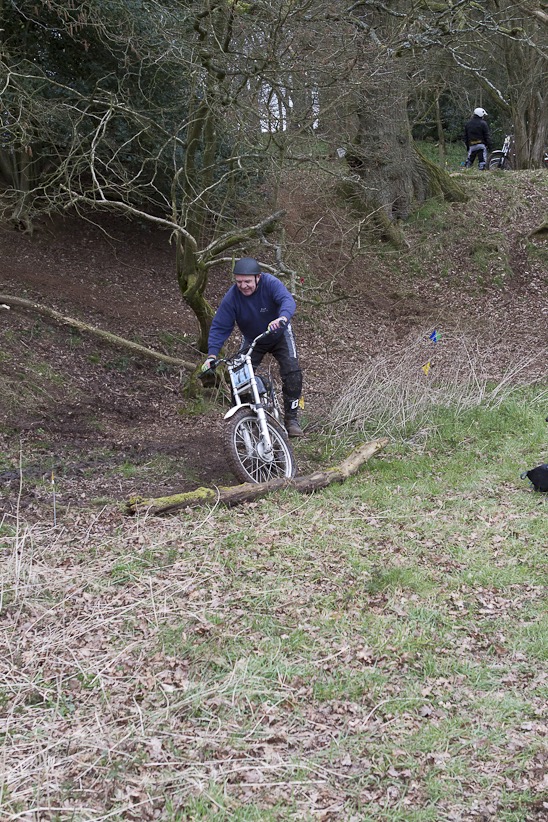 Photo Courtesy Lee Prescott.2016.
***Joe Owen 500 Triumph Twin Winning his Class in the BMCA trial at Ullenhall 2016
Bikes like this are no longer catered for in Classic Trials by the A-CU, it seems, it is a
Sad Sad Situation. AC-U. ~Oo> Well it is: a once proud organisation that don't seem to care about our heritage of Classic British Trials bikes anymore, or any others come to that.
After comments from friends about the lack of interest from the ACU on the subject of Classic Trials, and the way the Sammy Miller Series seems to have taken a tumble to never get back up,
I thought that I would spend some time trying to find an answer, or in some case the reason.
The more I delve into to the AC-U the more I feel it is part of the Masons organization.
I was trying to find the name of a friend that I know was on an ACU team either trials grass-track or road racing.
After trawling through list after list of people in the handbook.
I eventually found his name, down as a machine examiner.
At the bottom of a very long list.
Now I have no idea how the AC-U runs, or how you get an invite to join the organization but, although I would think most of the people on those lists do there part of there ACU job when called for to do it as Volunteers for FREE? Do they I don't know. Do they get expenses?
If they do there must be a vast amount of income going into the AC-U every year to fund this.
How do you get your name on a list to be considered as a candidate for a committee? Is it the Old Boys Network? Or do you have to Pay?
Or get backing by an organization that will pay?
I remember when being involved with the Now defunct Banbury NOBAC club (Well Roy Steel died, didn't he).
When a center Trial, or one of the brilliant Scramble at Deddington was to be put on, the ACU steward would arrive, usually in a posh car, and a pair of pristine wellington boots in the boot, and would adjust his neck tie before placing on that grass green arm band with ACU emblazoned in Gold.
And he would be treated like Royalty.
Respect was shown to his every decision. As this person knew his sport inside out and loved what he was fronting and encouraging this sport to go forward, which it did at the time.
I know times have changed vastly over the years but I don't see this respect and encouragement and guidance for The Sport of "Classic trials" anymore from this organization. And done and said all it is part of the Motorcycling scene.
Has the world now come to a position where every part of the sporting scene is governed by committees that only do anything that is funded to there benefit out in the open or more than likely by payments through the back door.
It is a sad sad situation in my eyes that, that Grass GREEN ARM BAND is hardly ever seen, and the respect that went with it along with the support and encouragement to go forward with this branch the sport is lost forever.
Quote: I do not have a specific interest in Classic trial's as there is too much bending of rules goes on and the incident last year proved this. : Un Quote ~Oo> See what I mean.
Good Morning AMCA. ~Oo> Please.
ITS,A Fixer Needed Me thinks for UK.
ITSA is an organization that provides a much needed service to the trials community. They are a venue for all twinshock trials bikes! There are classes for any and all twinshock, air cooled, drum brake machines. ITSA truly is "Trials by Trials Riders for Trials Riders!"
Nov-Dec.
As usual we seem to get a lack of interest in the Classic scene at this time of year ,
Christmas now starts early the end of October it seems
Family's always does, and should at this time of the year come first.
And the spending on bike projects unless you are very lucky, has to take a back seat until all presents and festivities have been taken care of.
It does not matter how you budget at this time of year you always over spend.
Perhaps some of you will get that extra special part for your bike you have been saving for.
So it is best not even to consider buying parts for your build until the Day has past.
If nothing else you may get those shop vouchers that you always rely on in your stocking.
I know several who rely on these for next years sporting budget.
And you know you are always popping to these shops or using the on-line verity for most of the year.
I am still very bias about how much people are prepared to pay on the Classic trials bike project.
I know I am a Scrooge we it comes to spending money, I know if you have disposable income to spare why not spend it on what you have dreamed of.
But It is the Image of this dream that has become out of proportion, to my mind.
I know I blame one trial for the encouragement to portray the wrong image to what has been in the people that run the trials eyes and rules, that encourages this over spend on building a machine for this trial.
And to then call it a trial for Machines built before the first of January 1965 is just rubbing salt into the wounds.
The idea of spending a vast fortune on hiding and disguising parts on a machine to make it look to be before that cut off deadline amazes me.
There are more Norton Roadholder forks in existence now than ever came out of the factory at the time, And bar for two or three pairs used in the trial, and these have to use gear oil in them to make any damping work, the rest we know have Italian or Spanish internals.
Most hubs used in the trial we know come from one source ,and nothing wrong with that they work, where has we know proper Cub steel ones don't.
But there are other brakes available second hand that do the same job, and these are used in other major trials for Classic bikes, and know-one takes the blind bit of notice that these are used. so there is a choice.
Everyone that builds a bike up budgets £200 for a electronic ignition of the chainsaw type,
PVL, and Electrex, and Horse-Power are favourites.
But I know under development are systems like the ones fitted to the modern trials bikes,
with two or three changes in the mapping of the system that can be changed with a laptop or with a switch.
Within the next twelve months these will start to get fitted to Classic Period trial's bikes.
And if these are then allowed to be used in the trial in question.
Every one with a deep pocket will want to fit these systems to there bike.
And so it goes on, and the cost of these Hi-Brid machine just continues to escalate.
Is it really in the right spirit of the game?
Just take a re-look at "Otter"On The Cheap".
And I can promise you that bike works well and is a joy to own.
Must go I need to turn out the lights, the Carol singers are just down the street and will be knocking on the door if they think I am in. Ba- Humbug. ~Oo> You tight Bastian.
Merry Christmas. ~Oo> Not for you I hope.
October 2015.
I will now try to make a new start on this page and If I only change it every month it should give me more time for thought. and actually do the job!
The old stuff will be left to the end of the year.
Just noticed 131000 now up. ~Oo> What do you want a medal?
I over the last month have noticed a lull in the amount of interest and comments on other Classic trials web sites, It does seem to go through these phases in the course of time.
I have personally come to the conclusion that I think the glitter band wagon is coming to an end?
I may be wrong? but I feel that common sense has prevailed and people have come to the conclusion that you really don't have to spend £10,000, on a Classic trials bike to achieve a never ending goal.
Or to that mater all that glitters is not gold.
Although Classic trials bikes do go up in value, most of the machines that have been built at no expense spared, are never going to achieve the cost that the bikes have accumulated over the build and period un-which they are ridden.
Going back to my number one priority, with this site is to keep the name "Otter" alive and well and make it a machine how ever modest the build, a person can be proud of and keep the name flying high in the Classic trials scene.
This is a proper "Britshock " trials machine and the name must be kept alive.
To give not only respect to the original designer of the frame and machine, or we could say designers, has I still feel Pat Slinn played a major part, but knowing that Scott Eliss put the original machine together and then went on to win the major trial of that year on this machine, a bitsa when all is said and done , but showed the factory the way forward had they just listened.
And then BSA to use this publicity for their own needs after the win just rubbed salt into the wound.
We also then must show respect to the guys that later kept this dream alive by building the replicas of the one off machine.
For this we have to congratulate Ally Clift, for seeing the vision, and the late Harry Foster for turning this dream into reality.
Then also after one of the so called lulls.
Sammy Miller and Howard Fawkes for reviving the dream once again.
In the year 2000, this second wave of "Otter" machines took off again and sold to an hundred quickly.
We know a steady flow has continued, out of the Faber stable, but the original concept has been in my mind compromised by the fact that a certain two day trial in Scotland has insisted that they officially won't allow this design of frame into there event, although most of us know that one or two slip through the net every year.
It Is now time for a new wave of "Proper Otters" to hit the scene, and perhaps we can persuade the powers that be in Scotland that they are not doing themselves a mis-justice buy now officially letting a "Proper BSA Otter" to compete in there trial. when most other machine have never seen 1965, and this one won a major trial that year.
So I have asked Howard at Faber if we can now have a new batch of Mk2 Faber Otter frames built, so that we can build ourselves a sensibly priced Classic "Britshock" machine that will keep the British Classic trials bike from history, competing ,and not going into the realms of endangered machines, with only a couple of example in motorcycle museums.
At the end of the day though It is up to you.
Let me know if you are interested in one of these frames and a part of history?
OK , I will try and get back to writing this column every week now.
One man band and all that .not enough time in the day to do everything,
And my house renovations have come first over the past couple of months, nearly there now though, until the spring.
So here is this weeks rantings. I will leave the other weeks for now has they are piniont to this week.
23 June 2015.
This week I will just paste what I have replied on to TC about what I feel has caused the decline of Classic Pre65 machines from most trials.~Oo> That was easy.
Hi Guy's.

Is it not now really time for the Truth?~Oo> Yea. that what has finally finished the old adage of Pre 65 Classic trials.~Oo> You are a joke at times.

Is that it is, not there fault? And every one needs to earn a living, but it is the few that have commercially took the bull by the horns so to speak, and fuelled the need by so many, to create the ultimate Classic Pre 65 trials bike at any cost that has finally finished the "Classic trials bike" scene?

This has caused the problem with "tighter sections"? That no one in their right mind would bring out a original built before 1965 trials machine out to ride around and enjoy the days so called sport.

If we then have a snap decision to bring back a road based trial after being dropped from the menu for a year or two, at the last minute, would we really bother to put the effort in now to get a bike road legal for this event when there is nothing else on the horizon in the near future for anything else?? No.

Unless a lot of people pull there finger out ,and start to think how we can rectify this situation, "Classic Trials" for this type of machine in this country is coming to an end.?

You think I am joking? well I am not.~Oo> well you do most of the time>

Regards Charlie.

There you go, what do you think? ~Oo> Rubbish.
I feel that the time warrants us BSA "Otter" owners to just try and find some clubs that will run classes just for "Otter" owners, yea. this would at least prove that you don't Have to spend TEN grand building a British engined trials machine that is not only competitive but is also fun to build and ride.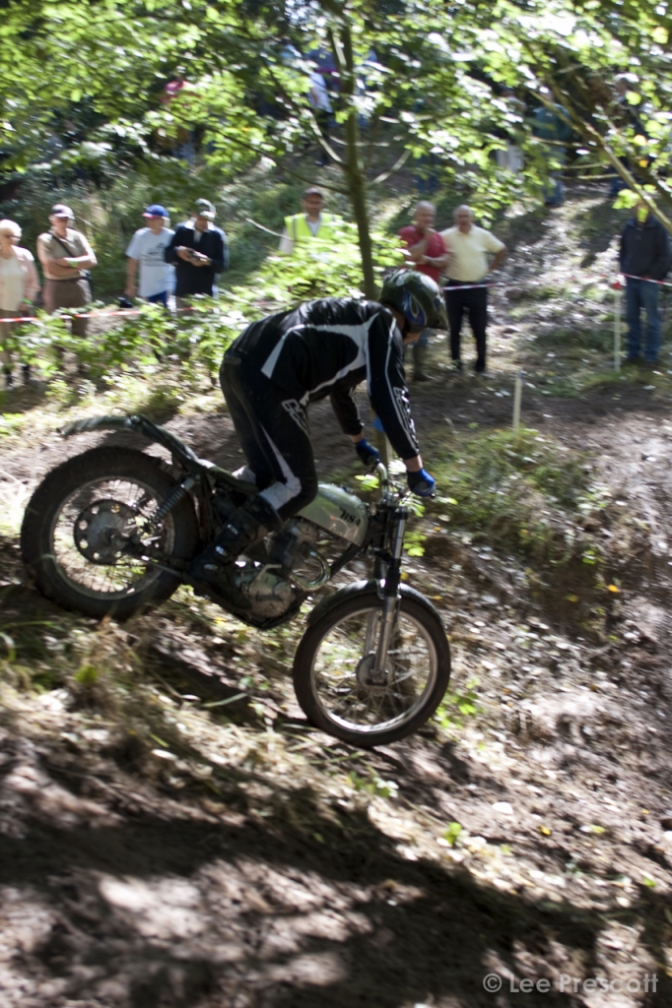 Steve Ransom enjoying riding is BSA "Otter" at the Classic Trials Show 2010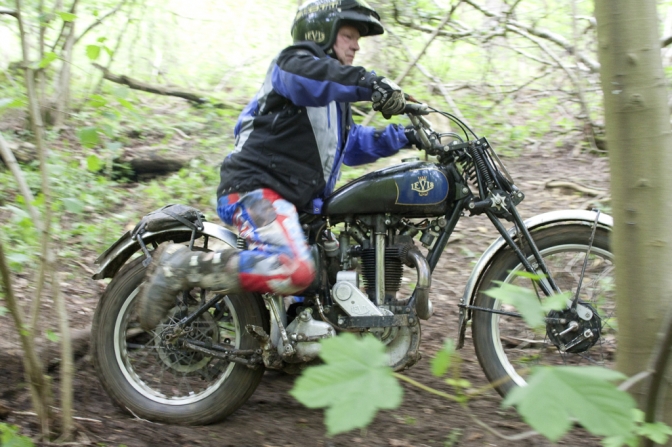 Photo Courtesy Lee Prescott. ~Oo> well me realy, great snap by the way.
This week we try and find why the decline of the big Classic bikes in trials and especially the Sammy Miller series has happened. ~Oo> Left on as it is more important now than it was at the time of writing.
OUT OF AN ENTRY OF 76 FOR THE SAM COOPER TRIAL only 4 were big bikes.
And one of them from our fold.
When the picture above was taken in 2008 there were half or more of the entry riding big British bikes And more Ariel's than I had seen for a long time. So what has gone wrong?
Well for a start it looks like the Stratford club have given up on there web site which is a shame.
For you know that the word now a days is passed on with this media.
The secretary for the club is also secretary for the New Kia Twinshock series so expect most of her efforts go into this site and the face-book that is also part of there fronting.
But you can not blame the lack of "Brit Bike" entries on this lack of communication?
The Rules of the series must be to blame? for lumping the classes into one for unit and non unit bikes/
I always thought that this was one of the best "Brit Bike" trials in the calender, but it looks like I was wrong.
If any of you were at the the Colmore Revisitment a couple of years back, you would have thought that this was the number one spot for this kind of Classic Trials activities?
So what is wrong?
Is it just the AC-U Sammy Miller series that has wrong footed the situation or is there another reason? ~Oo> They can't be assed.
Is it to close after that trial in Scotland? and do competitors just want a breather?
The way forward for this trial I feel is to sack the Sam series and get back to the routes of the trial that Deryk and his friends from the Stratford club came up with in the first place.
Just run it has a Four stroke only "Brit Bike" trial, and take the chance that this would be a success.~Oo> You are a brave soul at times.
I can see NO other way forward, bar for making the trial a Twinshocks only trial and forsaking the glorious past? Have you heard the Langston Ariel Chime up at the bottom of a climb? this is the history of this club, we must not let it die! ~Oo> Or frighten all my fish away with that racket., how do you think I eat?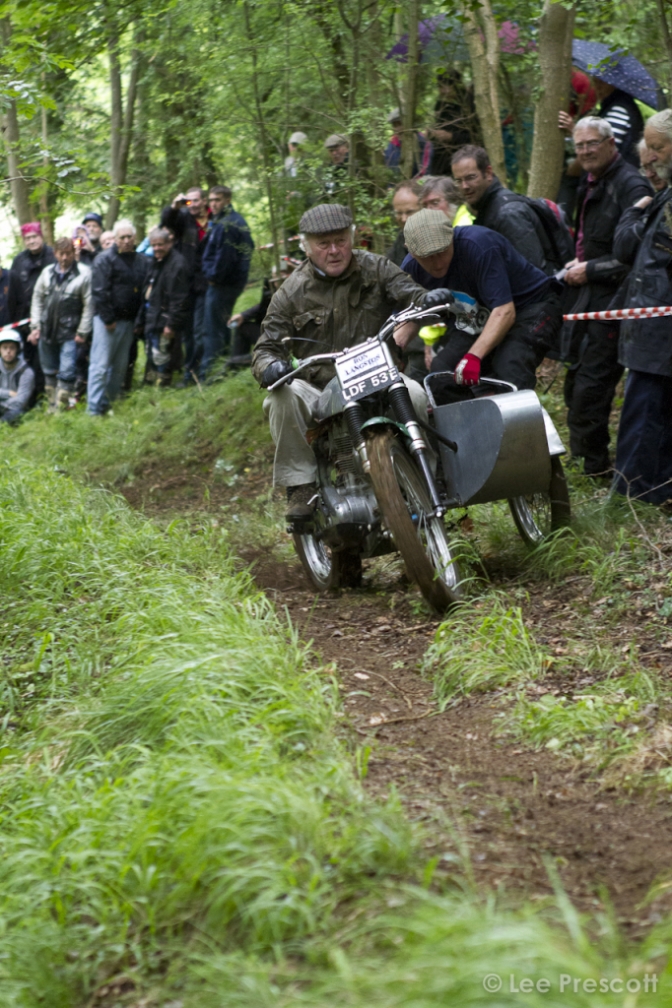 More later.
Week starting May 1.
OK it looks like we have lift off Huston please say you are now OK big time.
Well you will not believe the problem I have had with. A simple thing like trying to keep my computer clean.
I had spent the last couple of weeks using the keys with not dirty but grubby fingers, while at work doing my house extension.
I will just clean the keyboard I thought, so being half asleep held the keyboard in my left hand keys facing down and gave it a quick blast with the kitchen cleaner.
A sharpish buffing of with the tea towel, and I thought the jobs a good un.
And it did look smart again.
But after trying to buy some herbs on-line for my garden I found that I did not have a "P" and could not shift back. Bu***r I thought. And just when I was on a roll with the housework.
I tried every thing to try and rectify the fault but to no avail. ~Oo> Prat.
Friend Lyn said borrow my keyboard I don't use it any more, the cap is stuck so I can't remove the batteries, to replace them.
Naively I thought it would be no problem, so accepted the offer.
I got home with the board, and thought I will just remove the cap while I cook my dinner.
A two pence coin was bent nearly double trying to remove it with the help off a pair of pliers, No way, the heat gun was got out and plugged in, and the end of the board heated until to hot to touch, I then tried again to remove the stubborn retaining plug, No way again, a squirt of WD 40 and the keyboard was left until after my meal.
A large screwdriver was this time used, once again heating the end of the battery tube with a click the plug moved, and I eventually was able to remove it from the alloy tube.
Looking inside I could see that this was not the big problem? The batteries were well and truly corroded and stuck firmly into the tube.
A good squirt of WD40 down the tube and the board was left overnight to soke.
The next morning after reading that there was no way to remove the batteries without striping the keyboard out, I thought well I would try it my way.
The first battery was centre popped and then with a small drill I put a hole in the centre I used a broken stud removing tool to try and turn this first battery. Eventually with patience it came free.
The second was more difficult being further down the tube. The same start was achieved but the easy-out was not long enough, so a centre screw out of a window-fixing plug was driven into the battery,
Eventually it moved a small distance but seemed as though it was hitting a lip, so I used the battery drill with posidrive end to power the battery around in the tube and managed to get it out.
Then I could see that the tube basically wanted re dressing.
I fitted a wire bottle brush into the battery drill, and whizzed this up and down for a few minuets this shifted a lot of the crud but still needed further dressing with fine wet and dry paper, used dry I might add.
The tube now looked OK and the spot of muck on the contact had been removed with a sharp pencil.
Two new batteries were fitted and the board turned on?
Nothing! I fiddled for ages but still no joy.
So I shoved it into the box my keyboard had arrived with and took it to the workshop.
One hundred pound per square inch of air was blasted around the keys and into the battery compartment. Now work I thought, but not expecting it.
The batteries were fitted when I got home, and to my amazement the green switch on light flashed.
I then spent ten minuets trying to pair the board with my I Mac.
And has you can see, I did have lift off, pheww. ~Oo> you must say the boys a Trier or is it trying?
24th March 2015.
OK I said there would be a different subject this week.
But I have been hoping that the result from this last weekends Twin-shock trial would not be controversial!
But it turns out that again there has been a decision made after the event, again which can't be fair?
Perhaps not wishing to rock the boat at the event for the fear of bad feeling.
Well I have posted the below onto TC as well and I don't do that very often now.
I am fuming.
Another blow to the Super Cub Trials Projects.~Oo> and your pride.
Behind the scenes some of us in this country UK.
Have come up with the idea to build a cheaper to produce home build Classic styled trials Machine. ( Super Cub Mini Otter)
But there seems to be total dislike in what we set out to achieve by the whole of the trials organising committees across the land, and even the motorcycling authorities. Why?~Oo> They don't want your rubbish. Get it through to yer thick head.
Is there a commercial interest somewhere that I don't know about? That is backing a campaign against what we were setting out to do? ~Oo> most of the time we hope so.
Look the exercise was simple; buy a little motor unit for around the £300 mark, and put a rolling chassis around it for has little as possible.~Oo> that's quite good really.
Making a lightweight little machine that the elderly and young could enjoy riding (And the ones in between)
Without breaking the bank. ~Oo> Please you will have me weeping in a minute.
Jon and I and others, have worked hard to achieve this, but we seem to have hit a raw note with all of the trials organising world in this country? ~Oo> What did you really expect?
Now if Sam or Mick Andrews turned up on one of these machines would they be allowed to ride in the event and then get slung out of the results on a Monday morning?
~Oo> You make me roll about at times.
I for one will keep on doing what I am, to try and find a cheaper way into classic trials, rather than spending vast fortunes building or restoring machines.
Not that this is wrong, but it seems a shame that there is a cheaper way to build a Trials bike to ride, and we get only opposition.
What do you think? ~Oo> Well if you or Jon think you are going to sway an old set in there ways institution like Aunty AC-U you have got another think coming ,do you think they the majority of the committee that are only good at getting voted on to things and probably don't want to know a lot about a minority part of motorcycling which is Classic Trials as it will only spile their Holiday plans if they get involved. Take it on the chin you two guys you can winge all you like about it not being fair, life ent fair get used to it, you wont sway matters and that's an end to it. Get a life.
OK Week Beginning Sunday March 8 th 2015.
I will now try and keep this page up again. ~Oo> Yes you've said that before.
Heres a good one for you. anyway.
Spring is just around the corner, and time now to stop and take a long look at the Classic trials scene?
One of the problems is the generation gap?
Well Us Old Guy's are just not up to riding the bikes we grew up in the sixties with, well the majority of us anyway, although we would love to, most of us have old age related illness and joints etc that don't work.
We may have collections of bikes that we dream that one day we may just manage to ride them again, but this is not going to happen in most cases. ~Oo> You can say that again.
So if these bikes are pretty much still in there, original build they get left to look pretty or dusty in there adopted home.
The next generation down were brought up mainly in the Spanish years, and most seem to want to get back to riding the bikes from this period, only understandable, and although most of these bikes have lane in barns etc. for years, any that are left have had the buy-and-rebuild treatment. ~Oo> £££ again.
Most hopefully only back to the standard that they were originally.
This is not a cheap exercise in its self (Look at Dave's rebuild).
But you can when you have finished the build transport yourselves back to your youth by again enjoying sport on these machines. Good. Sensible exercise.
Then we get to the next generation down, who were mainly brought up with the first crop of monoshocks, and beyond these guy's have probably ridden this type of bike for years, but has they have got older thought that the Classic Trials scene looks more rosy for them, has they can't compete with the youth of today.
So look around for a suitable machine.
Two choices, the Class of machine that was supposed to have been built before the first of January 1965, but has we all know, was only put together in the last few months or was owned by a name from the past, and updated shall we say by them. ~Oo> YeH
Choice two for this generation is again the Spanish and Japanese "Twinshocks"!
But because of there age, they don't want to ride a standard geometry based bike.
They want the steering angle steepened so the machine feels more like the modern bike they were riding before the change of sport.
It does not stop their latest bars different yokes lighter and latest shaped tank, seat engine ported different carb, fat bars, etc. then the expensive swop to tubeless rims, uprated forks or internals, and the best rear shocks that money can buy. And upgraded still air boxes, and stainless or titanium exhaust systems with the latest designed ally or carbon fiber back boxes.
Cost of both choices of bike, that is fit for this New thinking generation, is a lot dearer than buying a current New trials bike or in most case two of them.
But with all this trickery this gives the, shall we say, mature young man or lass.
The chance to again compete for that elusive win that has been eluding him or her for years. ~Oo> And it still will do, all you have done is spent dosh that you had no need to.
Middle picture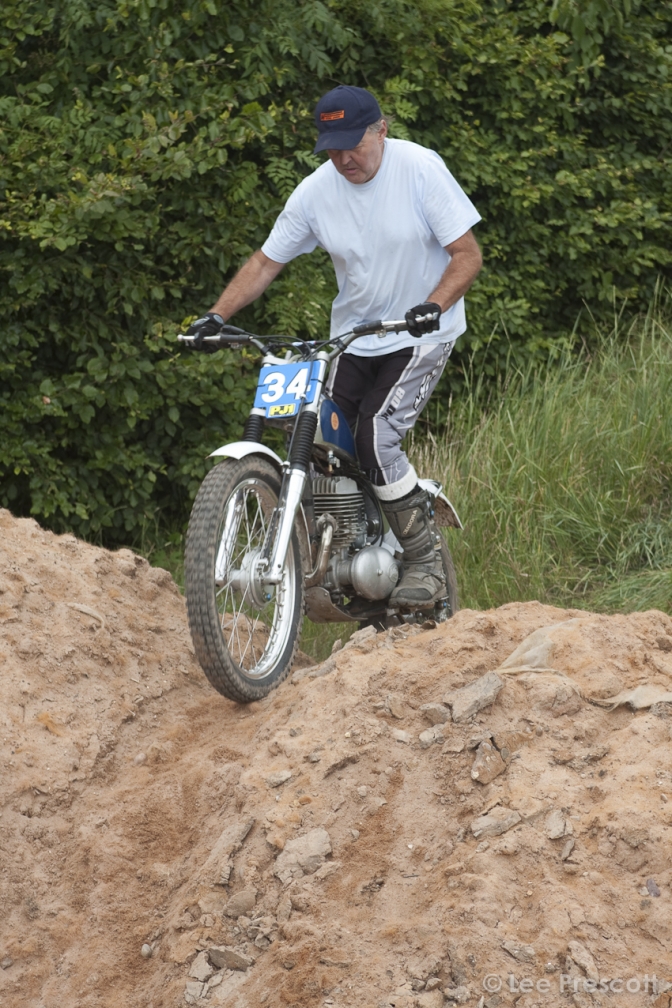 Alan Whitton, Race Engineering. Tel ,01246 419 805.
~Oo> Nice Bike that Al, you still building James? Or have you moved onto the Bantam Like Jim has?
Sunday,15th.
Well now only one week away from the first Twinshock Championship event of the new year.
A good number of entries too.
I will be interesting to see if this first event goes down without conflict or disgruntlement?
I am sure that most entrants have just grabbed what they had in the shed from last year to ride.
But there has got to be the few who think that they can outwit the competition with a New breathed on devise, that is in there minds within the rules of the stated class, but gives them an advantage.
Well done and said all this is only a competition to get a result??
Not in most cases, most entrants surely only want to get a ride on there machines with there mates that they see only on the occasion of this trials scene?
And most only go for the banter and the pints the night before.
Good on yer. ~Oo> I never get an invite ?
But there has always got to be the exception.
So it will be interesting to see what the outcome of this event is.
If I am wrong, and I hope I am, for the sake of the "Classic" trials sport, every one will be happy with their day and the results will reflect the good nature of the event.
~Oo> Well you were wrong clever dick, you think you know it all most of the time and know nothing, you can now see that the series has made steady progress. Hope Aunty AC-U dont get too involved then they should probably be OK.
More next week. Different subject completely.
I have left the page below again as I still have comments about its content now and again.
The photos of the continental machines that were on this page up until today will appear in another page shortly OK.
~Oo> Yea Or Next Year, Pull your finger out bad boy.
This week has seen the subject of the Scottish Pre 65 Trial crop up again on Trials Central.
~Oo> Not that again give it a rest for Petes sake.
I don't write on their any more unless I have to. (Slight misunderstanding with Andy).
~Oo> I bet he's so bloody glad.
In the background a few of us have been trying to come up with a solution, to try and get the old Pre Unit four stroke trials bikes back out competing. Or even just meeting and competing on easy sections in a gentlemanly way.
Then the eligibility subject came up for the Scottish Pre65 trial
And that rattled my perch. ~Oo> That don't take much.
I still think that it is this one trial that dominates the so-called Pre 65 scene, but with machines that were not even born in 1965, and most were only conceived in the last few years.
It is, the I am going to build a tricker bike than you syndrome that is the problem, and this is fuelled by the few that are supplying the demand for all of the trick bits, that are for some reason, said to be Scottish Pre 65 compliant.
Get this tag attached to the parts you are making and, the skies the limit.
These guys are only scraping a living supplying these parts, but it is a fact that if you have to put every part available into the build of your bike, the same has Tom next-door, to satisfy your ego,
This boosts the cost of the machine into astronomical heights and a second mortgage is needed, or your pension fund is gone to build these Scottish Pre 65 Machines.
OK NO problem, each to their own.
But after that trial is run the need for another trial most weekends is necessary.
And Mr. Clerk of the course sets out his trial to catch marks from each of these well suspended and tight turning works of art. ~Oo> Your a bit like That.
So the Old Geezer that turns up with his long wheel base "Pre Unit" machine struggles on section one, knackers himself just pushing the bike out of the section, and decides to jack it in after trying another couple.
End of man with big bike, who is also deemed a pain for holding up the other riders on there trick bikes ,that are itching to get on,with there adrenalin pumping for the win.
The unhappy Chapie on the "Pre Unit", says sod that I will go down the pub next Sunday, that is a lot easier than trying to enjoy my self on my bike. ~Oo> Ill be down after twelve for a pint.
And this is where the story will end unless a series of Sunday morning Sporting "Pre Unit" Gentlemanly trials series can be started. ~Oo> Your all bloody talk you.
I have several youngsters that would love to ride these bikes as well but not on the sections that are designed for the "TrickShock" machine.
I know you will say well get off your behind and do something then.
Well I would if I had the cooperation from a few others.
I don't wan't to harp back to the Classic Trials Show, ~Oo> But you will.
But this express trial format on easy sections would probably fit the bill for this series better than most. Just needs a venue central to every one to be found that you don't get charged a fortune to use.
Tagged onto this series would be the "Otter" Specials Class it goes without saying.
~Oo> Now Your Talking.
Week 19.
~Oo> I will look down the rest of the page later but my stomachs rumbling, better go and try and catch a Trout or a bloody Minnow would do.
OK I have had to jump a few weeks, due to the down time with the broadband.
So it would seem sense to build on items below.
During my yearly visit to the Isle-Of-Man I see that the twin-shock class is getting very much like the Pre 65 Class of olde?
Well a lot of money is now getting spent on twin-shocks to update them into this Century.
Where has, you have to have a Bling-Shock Triumph Tiger Cub to win the Premier Pre65 Class. It seems you have to have an updated Yamaha to do well in the twin-shock class, with a few exceptions.
My Camera never lies.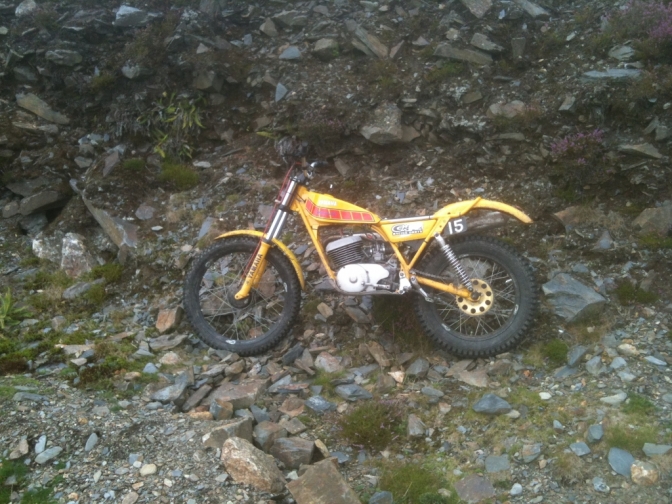 There were a lot of Yamaha's to this standard at the Manx Classic.
What I did find though was that the TY 175's tended to handle the terrain better than the heavier 250's.
Then we move onto the Super Twin-shocks like the bike of Bultaco works rider and the bike ridden by his daughter.
Vesty's Bultaco.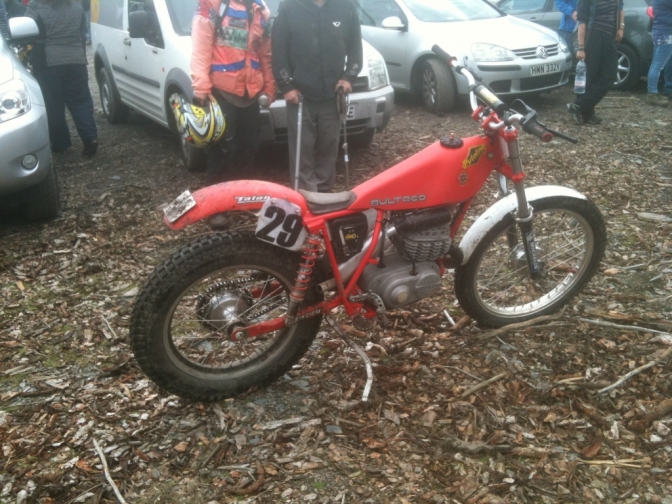 And now to this super little 125 Bike.of Hanna's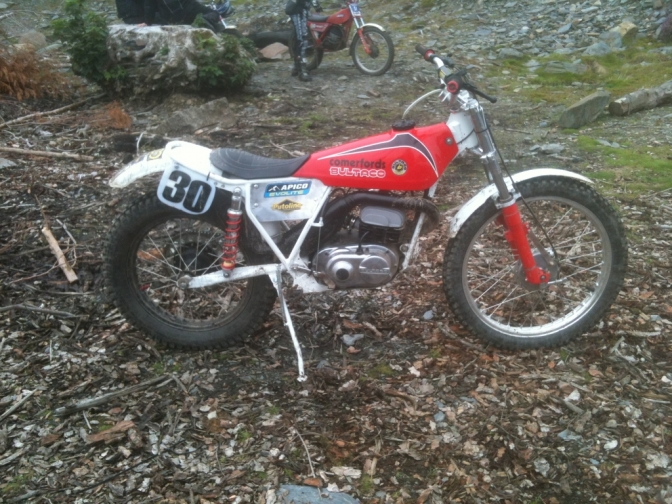 Commerfords would be proud of this little bike.
So you can see where I am going ?
To have the best Twin-shock machine you have to spend the same sort of money now-a-days as you have to spend on a Bling-Shock so called British bike?
Justyn below knows that for a collectors bike, to-day's Classic Trials Bikes are becoming Priceless.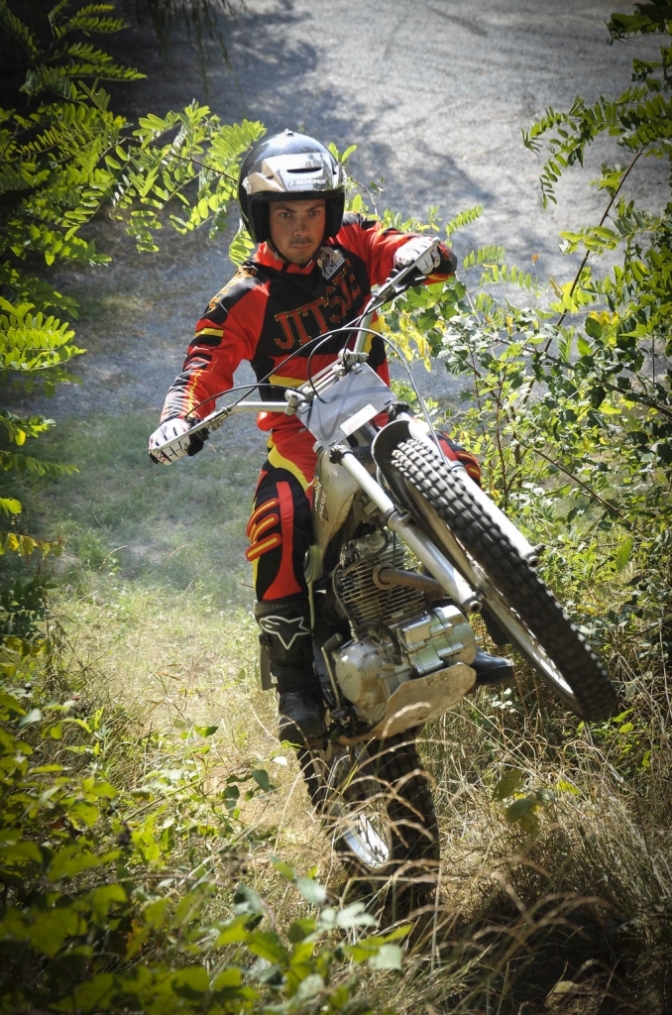 Week 15,
I have been doing some research into the Fraser Honda trials bikes for friend Justyn Norek Snr,
I am amazed how little knowledge there is about this brand of trials bike.
There were at least twenty bikes or frame kits made. And most seem to be different to the one built before it,
The late Colin Tipping, under the name of David Fraser Products, built them in and around Redditch Worcestershire.
Various Honda engine units were used, in the run of production in the eighties.
The frames were basically built using ERW tubing round and square and rectangle in section. The swinging arms seem to have been a problem built using rectangle tube. And bending badly under torque from the engine.
Has I say, the information on these machines is very sparse.
There have been the odd photos of bikes in some publications and books but only a couple of lines about the machines.
I feel that the makers were not the favorites with the press at the time so the stories never got written.
We do know that nearing the end of production twenty frames were purchased from DMW motorcycles in Wolverhampton. These were the large top tubed frames that carried fuel in them.
Various engines were fitted into these by David Fraser Products.
And that seems to be where production came to an end.
So if any of you have any information about these machines let me know and we will dedicate a page for these bikes.
Has it seems to me to be a lot like when I started researching the BSA "Otter".
And now look what we have!
The picture above is of Justyn Norek junior riding his Fraser Honda.
Taken and sent to me by his father.
There is a page in the pipeline on SWM bikes and there specification and some builds.
This will be followed by more makes of Twinshock's, Spanish Japanese ,Italian and others.
Week 8.
OK Page held for another week!!
I was told you like this page so have held it over, explanation on News page.
OK This week is a bit of a change,
Well I was asked by a lay person to the observation trials game, how to describe a "Classic Trials Machine"?
Well I scratched my Head, (the midges are bad this time of year).
And said, do you know, I don't really know. ~Oo> you don't think at all, until you have opend your mouth.
So here is a "Classic" picture of a "Classic Trials Machine"?