Twin-shocks Back To The Future.
With the amount of interest rekindled in the trials bike from the Seventies and Eighties, I thought that we should dedicate some pages to these bikes.
There were not only the Spanish invasion bikes...But bikes from Italy, and Japan, and more.
So in theory these should huddle into the same category of trials bike?
And the inclusion of the British bikes from this era!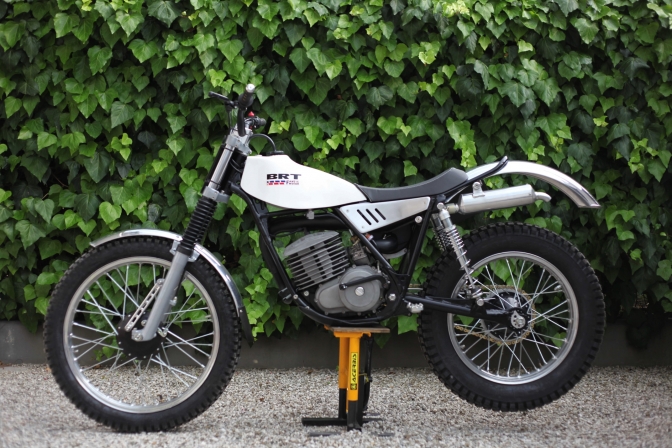 Photo Courtesy Bruno Casarsa.
Bruno Casarsa's Superb "special" based on a Fantic Trial 240.
"The BRT"...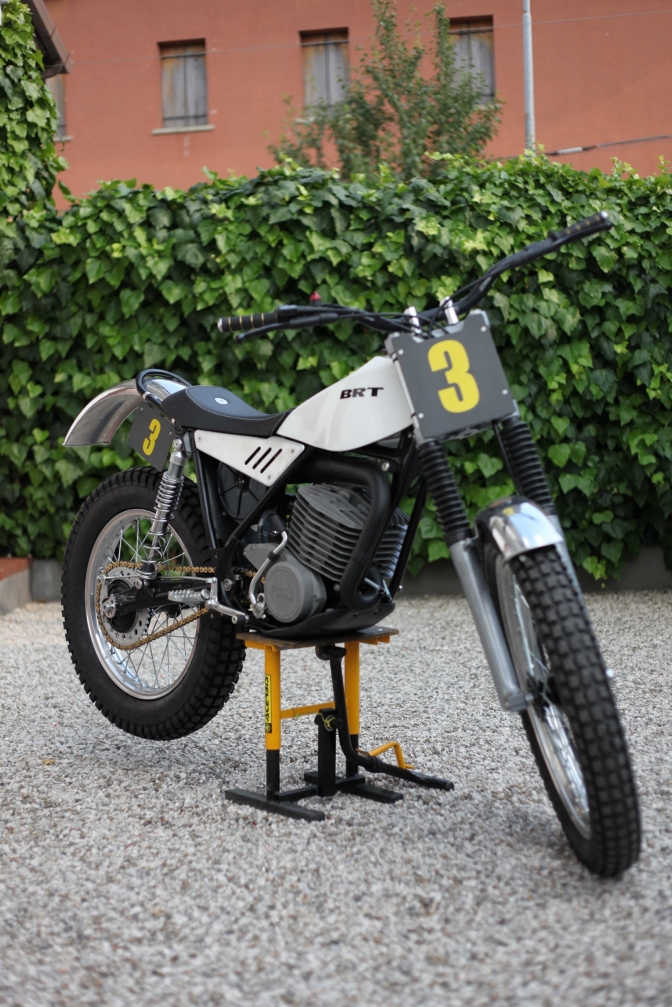 Photo Courtesy Bruno Casarsa.
Some machines just turn out to be beautiful, and this BRT Special is one ...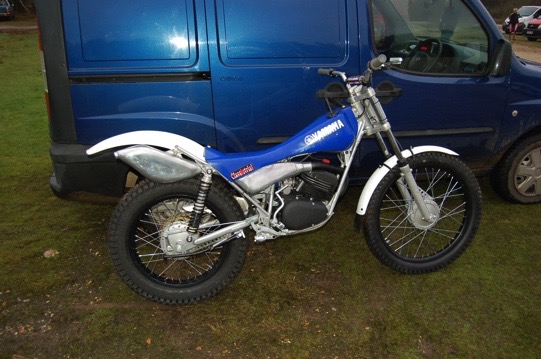 Photo Credit Cee-Tee...
This TY Yamaha 175. Twinshock in updated form, for todays tight turn sections...
And the Yamaha Majesty. The most sort after, Twinshock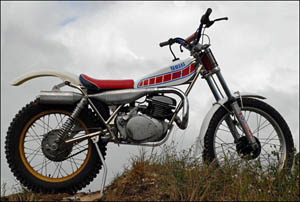 Photo WES Add...©...
This is the Twin-shock you should probably buy, A TY 175 or 250 "Majesty Yamaha", as there are still spares available and it is probably the most competitive for the price.
This bike is fitted with the superb WES exhaust silencer system.
Another person that brought the invasion of Spanish and Japanese twin-shocks to the fore along with Sammy Miller, and has kept his passion for the breeds of bikes long with the British even to this day.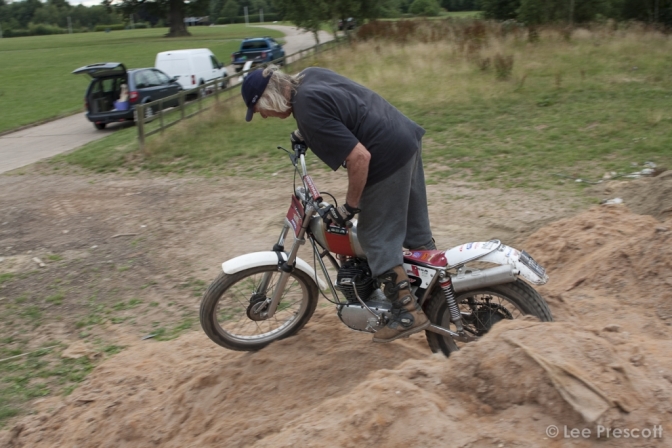 And here he is the man in question that has done more for motorcycle trials of this era, and before, and after,
to keep the sport firmly in the public view.
The one and only Mick Andrews at play on his Ossa MAR...
And as I say now, I will try and spell every thing out in Black and White.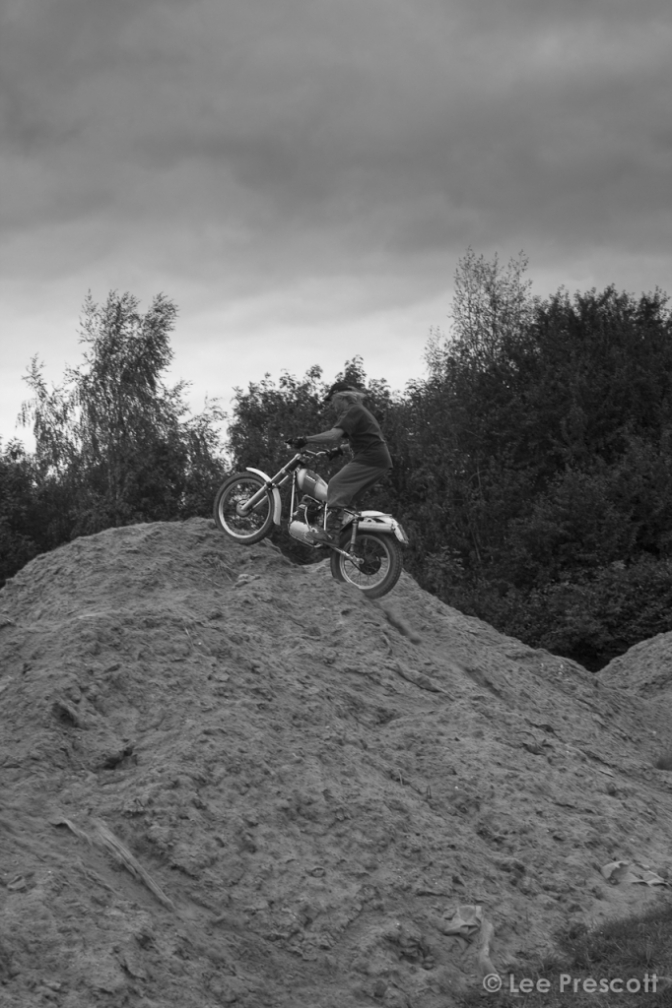 Photo Courtesy Lee Presctt..©...
The Legend that is Mick Andrews.
Talking about the Yamaha Years.
Just take a look at the sections... Long... and rugged.
±±±±±±±
Then Kevin Nolan riding his SWM.
Another case of Black and White.?
Or may be Not...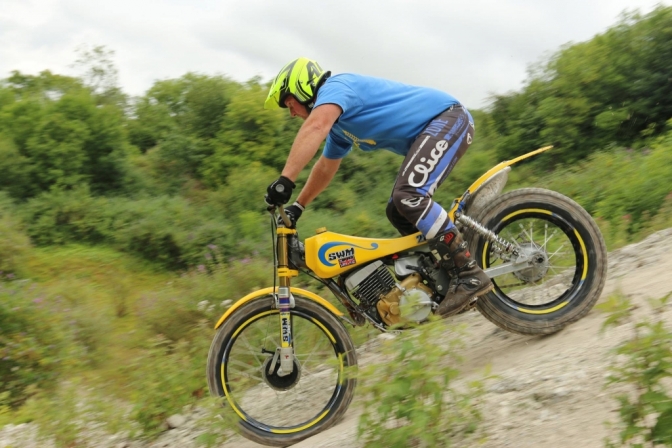 Photo Courtesy Cee-Tee...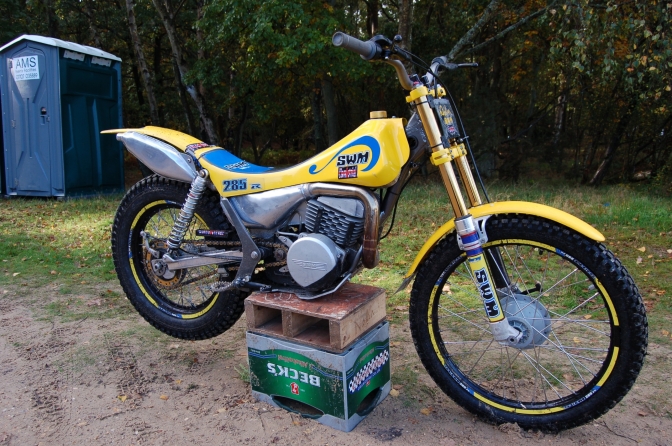 This is the ultimate SWM twinshock... so we are told...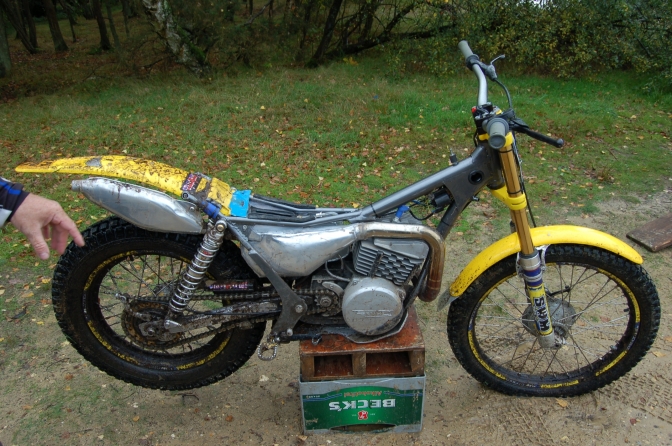 And the bike at the time that they did not like winning.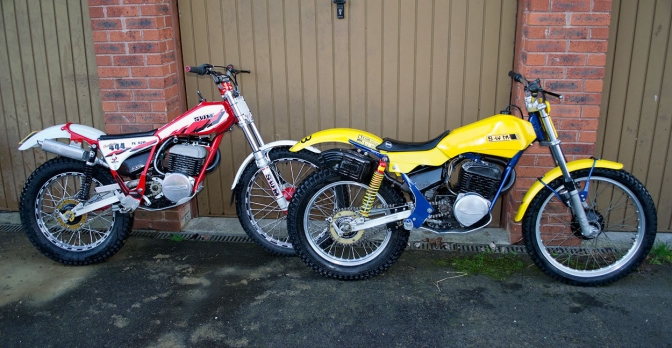 And another two SWM's the ex Dave Dawson bike on the left.
Well this bike of Kevin Nolan's had been built with no expense spared, and a copy would cost you £8000-10000. so I was told...
But, this is no difference than spending the same amount on a so called Pre 65 trick built machine, is it.
So are they both the way that we need to go? You decide...
If a person with disposable income to build either the best Twin-shock or Pre 65 bike to the specification that they decide is their goal, who are we to say different.
There are so many machines that have been lavished with money love and pride from owners in their builds...
So who are we to say that they do not fit in with the norm and must be banned from competition ( A stupid statement at any time, the sport needs every entry they can get, but how do we get a fair result with the two classes of machine competing together , ahy that is the rub.)... because too much money has been thrown at the project and the machine should not be allowed to compete with bikes that have had less of a update, but although updated fit neater into the category of a regular Twin-shock machine.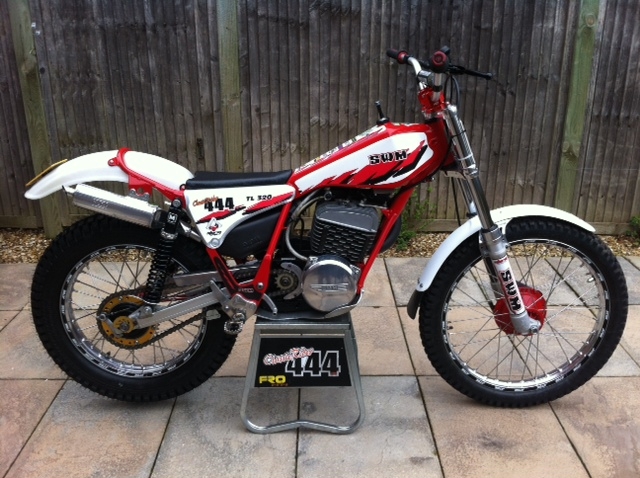 Photo Courtesy Dave Dawson ...
Dave and Pete Dawson..who built this bike.
Is this version SWM...OK...
So you see what the problem is ! How do you categorise bikes into a Class? Or does it really mater...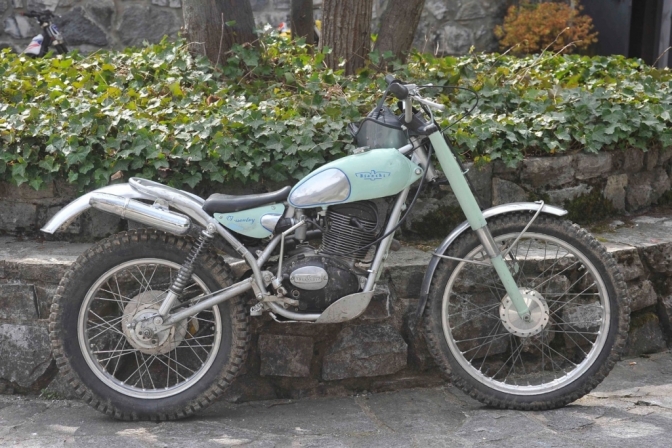 Photo Courtesy. Justyn Norek Snr.©.....
And Twin-shock's come in all shapes, makes, and sizes!
What a beautiful machine this is.
There are loads more.
And we will dedicate a page to each make of machine in turn OK...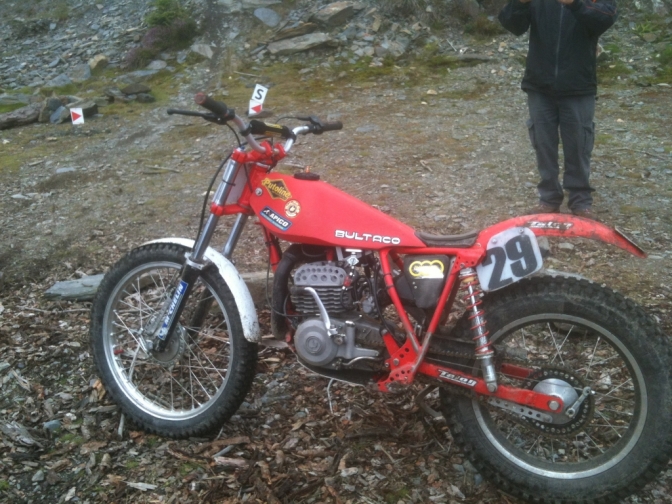 Photo Courtesy Otterman.
Yrjo Vesterinen's Bultaco.
More on Bultaco Later, and a page below this one.
±±±±±±±
Yamaha TY 175...
OK... Here is a normal standard looking model of this...Well some say Super little bike...the Yamaha TY 175...
We will follow its progress through out this coming trials season and just see what happens to the little machine.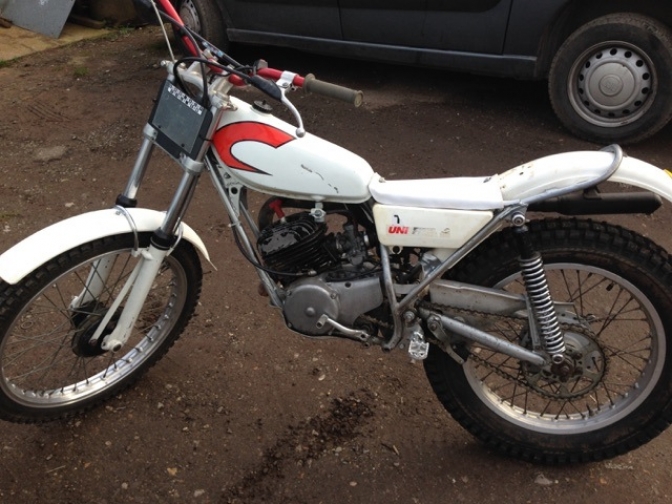 It could just sit in a shed? Or it could become a winning machine, we will see...
It is now November 2014,
Well late that year and the beginning of 2015, this little bike started to get a transformation into the "New Classic Scene."
The Magic Wand from a one Chris Stevens, started to transform this machine without great expense, because that is his philosophy, you don't need bling, just common sense and a knowledge of what you are doing and a way to achieve it.
Just look at the photo's to know he is right.
And with a rider owner like Ian Baker to prove that it works the sky is the limit for this machine, like others from the stable before it.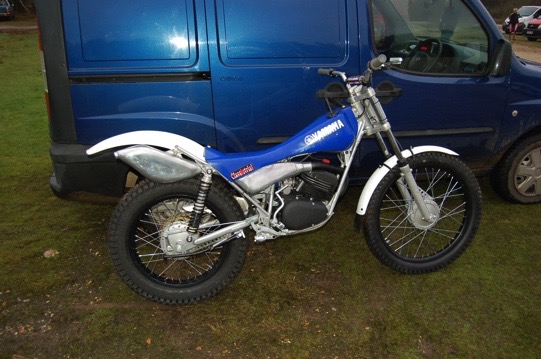 Photo's Courtesy ClassicTrial....
See what I mean about the Magic, this man has is opinions but by-jingo
he does just what he says on the tin...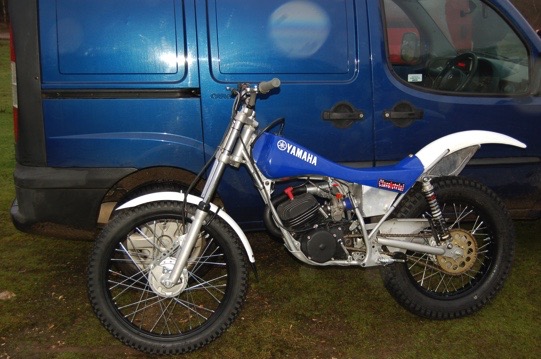 .
You will find that it is what you can't see that makes this machine Very Special.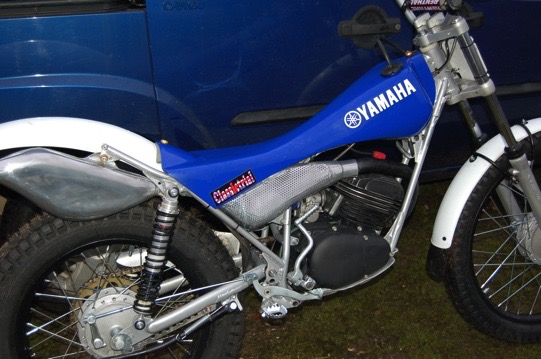 The matter of getting footrests right for the riders style, the suspension made up by a company that understands the requests of the rider and designer of the machine to get things right. And Falcon Shocks do just that, for both of them.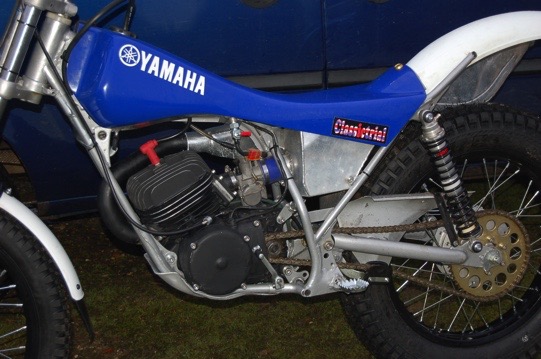 Photo's Courtesy Classic Trial...
The Carburettor needs to be designed for the way the machine is best equipped to carry the weight of the rider through the majority of sections with out hesitation, this also includes the ignition and how that is set up, and only a Magician can do this properly, or someone that has been working on this type of machine for years.
Good luck with 2016 guys we will be following your progress.
And it looks like you have another chance next year with the Peak Classic trials club to get the "Micro" bikes of the early seventies back out of the shed for an airing.
Peak Classic are running a "Forgotten Era" class for bikes with Suzuki Puch, Jawa ETC engines.
And makes like Wassel, Gaunt ,Dalesman etc will have a class to ride in .
And I must say on a sunny day there is not a better place in the world to be riding than in the Derbyshire Peak district.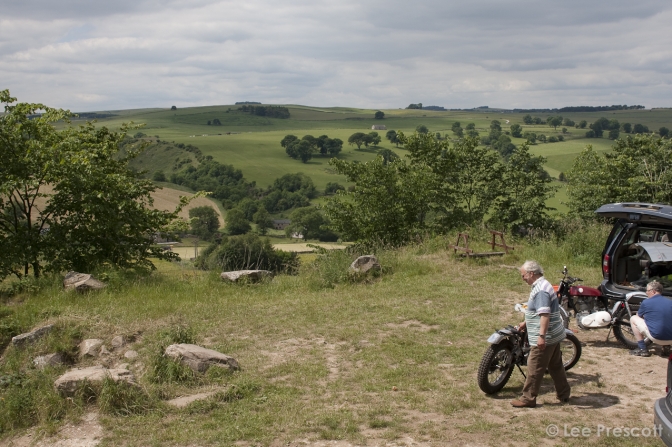 Photo Courtesy Otterman...
The fabulous Peak District.
"Just two Old guys spoiling the view". We Were there, Constable 1776-1837.
Old Guy's 1946-?...
A Day Out With The Legend Mick Andrews.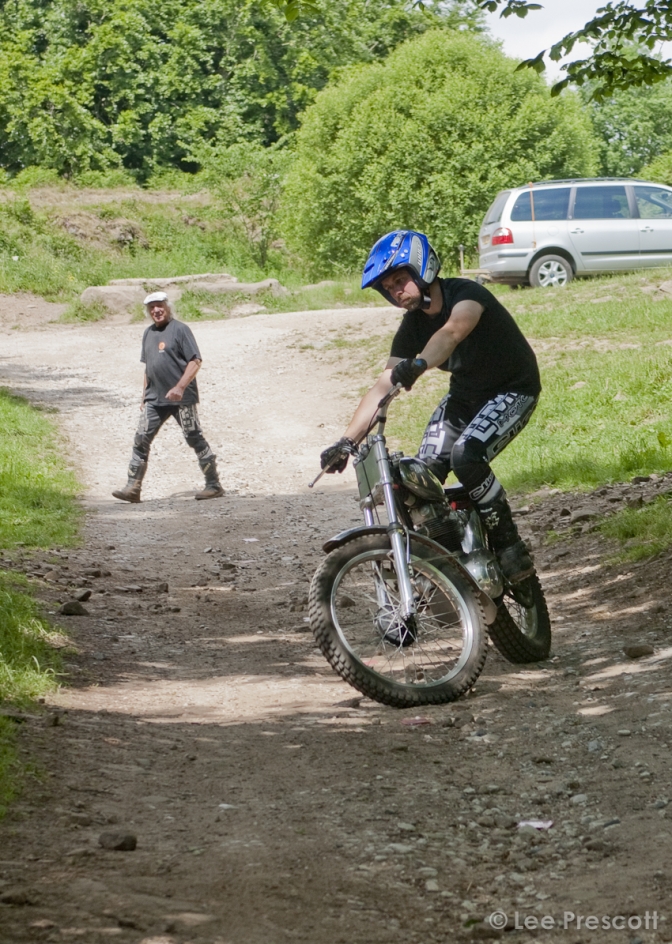 Photo Courtesy Otterman...
A Trials Lesson.with Mick Andrews...Lee Prescott aboard...the BSA C15 Faber Mk1 Otter..
±±±±±±±
The Bultaco Story.
The Bultaco Story has been quoted on several other Pages but should they be rebuilt has they were produced like Dave Wood rebuilds his machines ...
Or join the "Trick" Club"...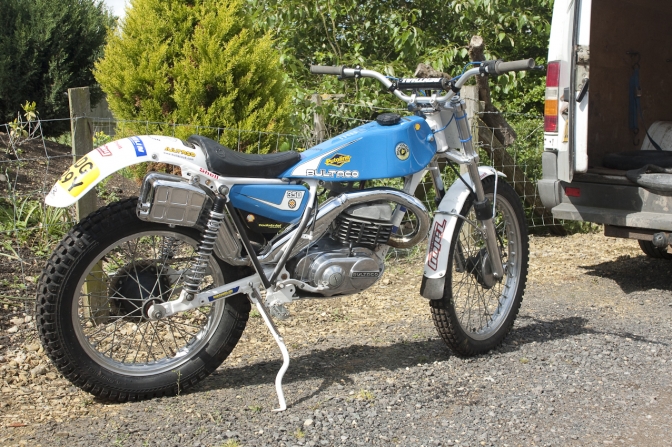 Photo Courtesy Lee Prescott 2007.
This was the Comerfords Bultaco bike of the time...and that had been modified...
Compare this machine with the Yrjo Vesterinen's Bike the red one above and below.
Photo's Courtesy "Otterman".
Comerfords modified Bultaco's from day one.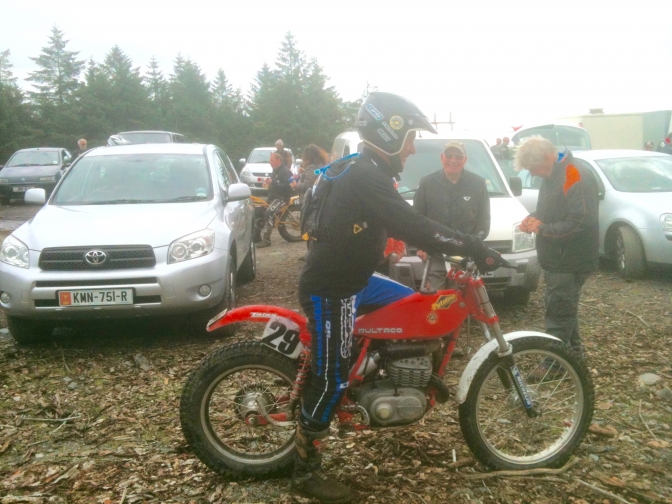 Photo's Courtesy Otterman...
Taken at the Classic Two Day Trial...Isle-of Man 2014.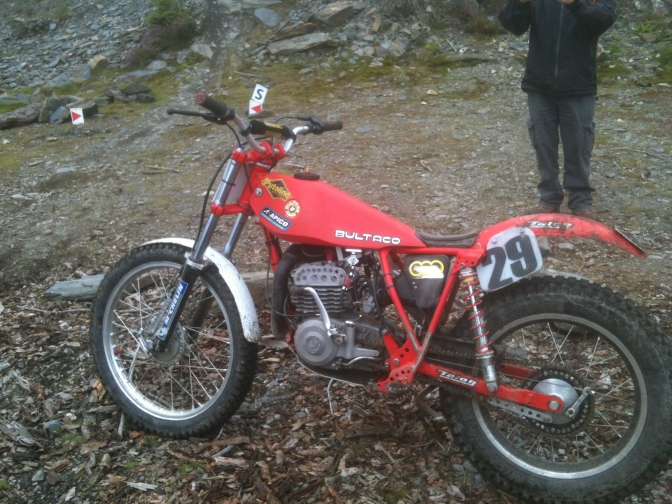 The thing is, trials bikes have always been modified to suit its rider No matter how skilful you are.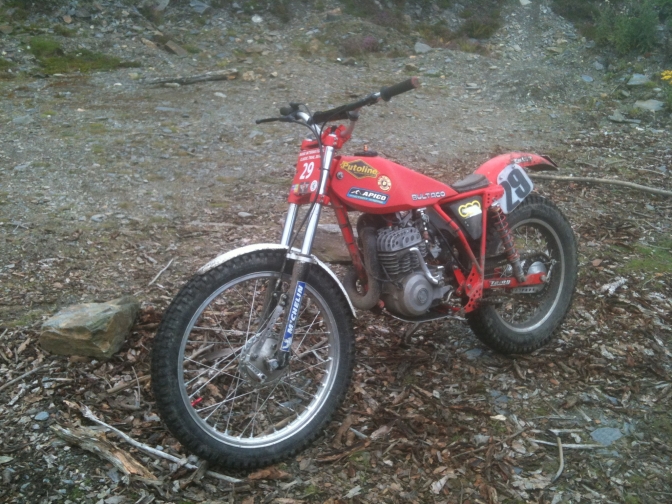 Photo's Courtesy Otterman...
Vesterinen's Bultaco that he has recently rebuilt...
The Bolton UK built CCM...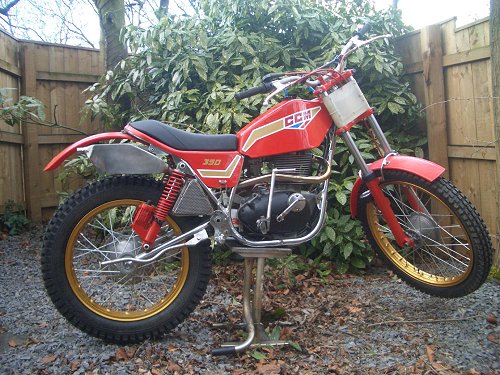 And a British Twinshock of the same era. The CCM, and look these had "Marzocchi Oleo" piggy-back dampers, how many of these do you see on current used bikes, and would they be tolerated in todays current trials scene ... Marzocchi Forks, and Grimeca brake hubs....
A true 1975 class Twin-Shock trials motorcycle...
Much more to follow.
Updat2023...05...