The Story of Mike Hailwoods 1979 Isle Of Man Formula One Ducati.
By Pat Slinn.©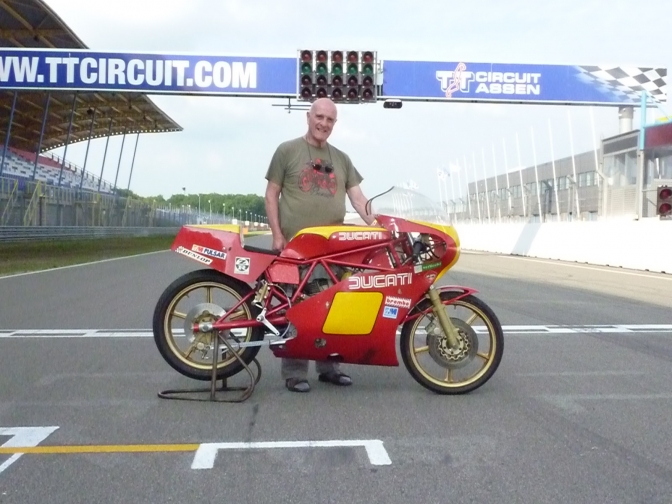 Photo Courtesy the Ducati Owners Club.
This is not the Hailwood machine but a good photograph of the Author of this book Pat Slinn.
The start of the story more when I have re typed it.
The Mike Hailwood 1979 Isle of Man Ducati TT Formula One Machine.
Page 1.
The following is my personal story and memories regarding the 1979 Formula One Ducati that the Ducati factory and NCR built for Mike Hailwood to defend his IOM TT Formula One, and the World Formula One title on.
The Sports Motorcycles of Manchester LTD 1979 Isle of Man Racing team consisted of the following personnel.
Sports Motor-Cycles Of Manchester Ltd.
Steve Wynne Managing Director.
Pat Slinn General Manager, and Racing manager.
Ian Dagnell. General Assistant.
Ron Winder. General assistant and "Super Gofer".
Ducati Meccanica, Bologna Italy.
Franco Farne. Ducati Technician, and Racing manager.
Nani Nero,
Ducati Mechanic.
N.C.R. Bologna.
Rino Carrichi. Director and technician.
Sponsors.
Coburn and Hughes Ltd. Ducati Importers for the United Kingdom.
Castrol, lubricants and team jackets.
Lucas Girling Ltd. Rear suspension units.
Champion Sparkplugs Ltd. Sparking Plugs.
Dunlop Rubber Co Ltd. Racing Tyres.
H&S Accessories Ltd. DID Racing Chain.
The Ducati owners Club. Assistance and moral Support, and course signalers.
The formula one factory Ducati that was built for Mike Hailwood to race in the 1979 Formula One Isle of man TT, was a modified version of the endurance racers the Ducati and NCR had built for the 1979 FIM endurance racing series.
After the success and subsequent increase in Ducati and Italian motorcycle sales (Coburn and Hughes claimed that Hailwoods win in the 1978 IOM F1 TT, and his win the following weekend in the British round of the F1 increased there Ducati sales by 20%) that Mike Hailwoods win in the 1978 Formula One Isle Of Man TT on the factory F1 machine, that was entered by Sports Motor-Cycles Ltd of Manchester had had , it was assumed that the Ducati factory and NCR, would have taken the 1979 Formula One TT and Classic race seriously, and built for Mike Hailwood a special machine for him to race and challenge once again for the F1 TT and F1 World Championship.
At the 1978 Earls Court motorcycle exhibition, and on the Ducati importers stand, Snr Franco Valantini, who was Ducati's export sales manager presented Mike with a Gold Medallion in recognition of his win in the 1978 IOM F1TT.
During a meeting that followed that presentation between Mike Hailwood, Mr. Ted McCauley, who was Mike's long standing press advisor...
3
Commercial manager, Snr Valantini of Ducati Meccanica, the three directors of Coburn & Hughes, Mike Coburn, Clew Hughes, and Ray Elliot. Who were the Ducati importers for the Uk, Steve Wynne, managing director of Sports Motor-Cycles Ltd, who were entrants of Mike Hailwood, Keith Davies, sales representative for Ducati UK, and myself, Technical and Service manager for Ducati UK Ltd. Mike told us that he would ride a Ducati in the 1979 F1 TT, and perhaps the Classic TT, and maybe some other selected short circuit events, and his fee would be £10,000. It was subsequently decided that Sports Motorcycles Ltd, Ducati Meccanica Spa, and Coburn&Hughes, would contribute one third each towards the £10.000. (Coburn& Hughes never did contribute there one third)
I drove Snr Valantini to the airport after the meeting for his flight back to Italy.
Before he left the UK he told me that Ducati would start work very soon on the 1979 F1 machine, and he was in no doubt that it had to be an improvement on the 1978 machine.
Steve Wynne and I took the opportunity during the exhibition to talk to and agree sponsorship terms with Dunlop who would supply what ever tyres were needed for testing and racing, and also we would have the services of a tyre technician.
We agreed terms with Castrol who would supply whatever lubricants were needed, and technical assistance.
Lucas Girling would again supply rear suspension units, and technical back up.
Champion Spark Plugs would supply spark plugs and technical backup.
At he end of 1978 I resigned my position at Coburn & Hughes as technical and service manager for Ducati, Moto-Guzzi, and Harley Davidson. (UK Importers) to take up a position of General manager and racing manager with Sports Motor-Cycles Ltd in Manchester. I was subsequently given the position by Steve and Lynn (Steve's wife and co-director) Wynne, as a director of Sports Motorcycles in 1979,
One of my first tasks when I joined Sports was to contact Ducati to establish exactly what was happening regarding the F1 Machine that was being built for Mike.
Steve and I really could not get any sensible information from Ducati, and my Telexes were being ignored. I knew that Franco Valantini had been in Australia and Japan during January, however two weeks after he had returned he cold not give me any positive information. A few days later I received a telex inviting me to a visit the factory.
I was expecting to see a F1 machine, however all that was offered was a meeting with Snr Doctor Engineer Fabio Taglioni. Who I had met and got to know reasonably well. Franco Farne who was Ducati's experimental department chief and chief race engineer, Guiliano Pedritti who was a senior technician in the experimental department, and Franco Valantini.
I was told that the bike that was being developed and built for Mike was to be based on a number of bikes that were being built by the Ducati factory, and N.C.R. to compete in the 1979 World Endurance Championship.
The two engines that were being prepared for Mike would have to be based on the current Ducati square-type of crankcase, and would utilize the standard type clutch.
The narrow sand-cast crankcases that were used on the 1978 engine had now been outlawed by the FIM (The World governing body for motor cycle sport).
Franco Farne told me that the power output for the 1979 engine was better than the 1978 engine.
I was shown an engine that was being built and also watched an engine being tested on the dynamometer, however it was noticeable that there were no power figures being taken! I asked if I could see a bike, I was told that all the bikes were being built at the N.C.R. workshops, and all the components were being manufactured, and there was nothing for me to see.
That evening Franco Valantini took engineer Fabio Taglioni Franco Farne and myself out for dinner.
It was noticeable that on the subject of the 1979 F1 machine Fabio Taglioni was vey quite, as indeed he had been during the day at the factory.
Franco Valintini told me after he had obviously realized that I was becoming very skeptical, that a separate budget for Mike Hailwoods machine was not possible due to restrictions being imposed on Ducati's racing activities by EFIM, the then Italian governments holding company that controlled Ducati, and Hailwoods machine would have to be financed from the endurance racing budget.
The alarm bells were now really ringing!
When I arrived back at Manchester I explained to Steve exactly what was happening and what I thought.
At that time we both thought that there was no way Ducati could make a hash of this, after all they had one of the Worlds Greatest Motorcycle Racers in less than three months defending his and Ducati's Isle Of Man TT and F1 title, and world F1 championship on one of there machines.
The press were now clambering for information and photographs, and we could give them Nothing.
During early May( maybe late April) I received a invitation form Ducati to attend the official press launch at the Misano circuit in Italy of their 1979 machine and riders that were to compete in that years world endurance championship.
It was glaringly noticeable that there was nothing in the invitation about the machines that Ducati had built for Mike Hailwood to compete on and defend his IOM F1 title and World F1 title.
I was partially reassured when I was told that Mikes bike was ready for him to test, and would be at Misano.
I called Mike at his home in New Zealand to give him the news and to make arrangements to collect him from Linate airport in Milan the day before.
I travelled by road ( a friend of ours had lent to us a 2.0 litre Ford Cortina GT) down to Italy with George Fogarty, ( Father of Carl).
We picked Mike up from Milan Linate airport and drove down to Bologna.
the following morning we drove down to Misano and met up with the representatives of Dunlop,Castrol, Champion Spark Plugs, and Lucas Girling.
Ducati had lined up all their endurance racing machines up outside the pit area and the press were busy taking photographs, until they realized Mike Hailwood was there, and all the attention was transferred to him!!!!!
However where were was Mikes machine?
I managed to track down Franco Farne who led us to a separate garage where Mikes bike was.
To say we were surprised was an understatement, there standing in front of us was the F1 Ducati machine that Ducati had built for Mike to defend his Isle Of Man F1 TT and world title on.......
Complete with front headlight,rear light, rear brake light switch, and wiring harness and various handlebar switches!!. There was also a modified endurance machine there that Mike might agree to race in the Classic TT, however it was generally assumed that Mike would race a GP RG Suzuki.
Mike could not believe it, neither could I or the representatives from our sponsors who had travelled down to Misano, Dunlop and Girling had sent to Ducati the previous week there tyres and suspension units to be fitted to Mikes machine, however the machine had Michalin tyres and Marzochi rear suspension unit fitted.
I asked Franco Farne if he could get somebody to remove the wheels so Dunlop could fit there tyres, and Girling fit their suspension units.
The original units Girling had sent could not be found!
But they had taken some more units with them. Franco Farne and Rino Caracchi from N.C.R. were reluctant to do so, more trouble erupted when Vince French from Champion Spark Plugs tried to fit his spark plugs.
Eventually I managed to calm the situation and every on down, it was obvious that Ducati's sponsors did not fully appreciate that Sports Motor Cycles and Mike Hailwood had separate sponsors.
Mike in the mean time was talking to engineer Fabio Taglioni to find out what was going on.
On closer inspection of the machine I realized that the gear change sequence was opposite to what Mike needed, it had been set up as one down and four up, Ducati knew only to well that Mike had asked for one up four down, al Mikes throughout his career had been set this way, and Ducati had know this from previous bikes that they had prepared for him to race, including the previous years Formula one machine.
I explained to Rino Carichi and Franco Farne that Mike could not be expected to test this machine fully whilst the gear change sequence was this way around, I was told that they had not had enough time to prepare the gearbox to the way he wanted it, my reply was to remind them they had found enough time to fit a complete set of lights and wiring harness! I found quite corner to have a word with Mike and explained to him what was going on.
It was very unusual for Mike to show any anger or dis pleasure, but he spoke to Farne in a very animated manner, Mike spoke fluent Italian so they knew exactly how he was feeling.
By the time that Mike was ready to test his bike a lot of television people had gathered to watch and film him. Mike circulated for about ten laps, he then pitted for Dunlop to check the tyres, and for Ducati and N.C.R. engineers to check the bike. During the brief stop Mike had told me that the bike did not steer very well, and it seemed to wallow around on the bumps.
He also commented the gearbox sequence was causing him a problem and that he found a neutral once or twice, also he said the engine did not seem very powerful.
Mike circulated for about another ten laps then after changing from third to forth after a fast left hand corner he found a fauls neutral, his instinct took over and he pressed down on the gear pedal instead of going into a higher gear he had changed down into second gear, this caused the rear wheel to slide, according to one or two of the press who were watching on that corner Mike had seemed to corect the slide, however the rear tyre gripped and he was thrown over the high side.
When Mike was brought back to the paddock area I accompanied him to the circuit doctor.
After examining him the doctor had suspected that Mike had broken one or two ribs, and possibly a bone in his right arm, and wanted him to go to the local hospital for some X-rays.
Mike however decided that the doctor should strap him up and he would leave for the airport to catch a flight back to London.
Vince French the Champion spark plug representative was going to leave Misano immediately after the test, to drive to Milan to catch his flight back to London.
I asked Vince if he would leave immediately and take Mike with him. We put Mike into Vince's hire car and propped him up with some cushions to make him comfortable.
As they drove up to Milan I asked Snr Valintini if he would speak to the travel office at Ducati factory and have Mike's tickets changed so that he could catch the first flight out of Milan to London Heathrow. Mike arrived back in London that evening and he was taken to a London Hospital, he was diagnosed with three broken ribs and a very badly bruised arm.
I spoke to Mike on the telephone that evening and assured him that I would speak to Farne and Carachi the following morning. I also kept Steve Wynne informed of what was happening.
The following morning I met with Franco Valintini and Franco Farne, RinoCarachi was not present at the meeting.
We spoke very frankly about the problems that we had at Misano the previous day. I explained to them that we were expecting a properly prepared racing machine that Mike was able and confident on to defend his TT Formula One, and Formula One title on,and not a half hearted attempt to modify a endurance racing machine.
Valintini asked me to try and appreciate the situation that Ducati had found themselves in. EFIM the Italian governments holding company that controlled Ducati, would only approve a budget for an endurance racing team, and the Hailwood TT machines were having to be prepared out of that budget. However every effort would now be taken to modify and prepare Mikes F1 machine for the IOM TT.
That evening I spoke with Steve Wynne and tried as best as I could to explain what had happend and what was going to happen.
As we were preparing to leave Bologna the following morning I received a call from Ducati asking me if I would call at the factory, I did not know realy what to expect. the previous evening there had been a report on Italian television that Mike Hailwood had crashed on a factory Ducati whilst testing it for the IOM Formula One TT, and an employee of EFIM had picked this story up and takken it to a higher level, during my meeting with Franco Valantini and a EFIM representative he had explained that EFIM were concerned that should Mike be involved in a serious accident racing one of their bikes Ducati could be involved in a huge insurance claim and EFIM wanted to withdraw from the IOM TT and subsequent Formula events!! Just Like That!
I explained that it was not as simple as that as Sports Motor Cycles Ltd had agreements and commitments to other sponsors and that Mike had his own personal commitments to meet.
The EFIM representative had asked to see a copy of the contract that Ducati had with Mike and or Sports Motor Cycles Ltd. But there was no such contract, Mike was technically contracted to Sports Motor Cycles Ltd, and with a lot of contracts in Mikes earlier racing days it was a verbal agreement.
Franco Valantini suggested a compromise, Ducati could invoice the bikes to Coburn & Hughes the Ducati importers for the UK, and then re invoice the Formula One and Classic bike in the normal way to Sports Motor Cycles ltd. However would Coburn & Hughes go along with the idea?
I spent some time on the telephone to Steve Wynne and explained to him another twist in this story. He said that he would immediately contact Coburn & Hughes and get it all sorted.
All that I needed to do before I finally left Bologna was to make sure that Ducati would send technical backup and parts to the TT.
Due to the situation with EFIM and their own commitments to their endurance racing team they could not promise who would travel to the IOm, but they would make sure somebody did.
By the time I had arrived back in Manchester Steve had arrived at a suitable compromise with Coburn & Hughes and they would invoice the machine to Sports Motor Cycles Ltd.
As the time approached for the TT Ducati told me that they would be sending Rino Carichi from N.C.R., and Nani Nero from Ducati experimental department by road with the machines, and Franco Farne would be flying in to the IOM shortly before practice started. When they arrived in Manchester with Mikes bikes it did not appear to have changed much from when I had last seen it in Italy. The exhaust system was still scared from Mikes accident, but it had been repainted and a new fairing had been fitted. The lighting components had been removed and a plastic plate had been riveted over what used to be the headlight appeture. Crucially the gearbox had been converted on the Formula One machine and on the Classic machine to the way Mike needed it.
Shortly before we left for the Isle of Man we had arranged for a test session at Oulton Park in Cheshire, for Mike to have one last run on the Formula One and Classic machines.
At this test session we realized that Mike was not really impressed with either machine. He commented that the handling did not seem right, and the power of the engines was down on last years. He did thank Rino Caricchi and Nani Nero for work that they had done on the bikes since Misano, by removing the Endurance racing bits and pieces.
After Mike had completed just one lap of practice of the thirty seven and a quarter mile TT mountain circuit, he pulled in and told Steve and I that it did not handle, in fact his words were something like it's bloody diabolical!! he also commented on the lack of power from the engine. That evening Farne Nero and Carichi worked late into the night, Steve and I stayed there with them to assist in anyway we could. They stripped and rebuilt the front Marzochi forks, checked the wheel alignment , and then suggested that the Girling gas rear suspension units could be the problem. The following morning I arranged for the Girling engineers to check their units against the original Marzochi units they had brought with them. The length was the same and the spring rate similar.
At that evenings practice we were more optimistic because Mike went straight past the pits for a second lap, but news soon got back to us that he had stopped on the mountain section of the course with mechanical problems.
After we had got the bike back to the workshop, Farne went straght to the front cylinder exhaust valve, it was soon clear that the exhaust rocker had broken.
All the pleas that Farne and Caracchi made that this was an unknown problem, and not one seen before fell onto deaf ears, especially when Steve and I realised that Farne had brought some rockers with him in his hand luggage!
The new rockers were fitted and more alignment checks made to the bike, Mike went out and completed two practice laps the following morning, however the handling problems were still there, Mike spent some time in the workshop talking to us all about the problems he was having in keeping the bike in a straight line and not bouncing about on the notorious Isle Of Man bumps.
It was decided that for that evenings practice session the original Marzochi rear units would be fitted, if only to satisfy Franco and Rino that it was not the Girling units that were causing the handling problems.
Mike also suggested that it would be a good idea if somebody else could possibly do a lap on the bike, if only for a second opinion on what the problem might be.
So we asked Eddie Roberts a Manx GP winner who was racing one of Sports other Ducati's if he would mind doing a lap on Mikes Ducati.
After Mike had completed his practice lap and confirmed that the Marzochi rear units had made no noticeable difference, we swapped back the Girling units, we put Eddies numbers on Mikes bike and he went out for a practice lap.
Eddie came back and confirmed what Mike had been saying that the bike was difficult to keep in a straight line, and it was bouncing about on all of the bumps. Before that evenings practice was over Steve had phoned Ray Elliott a director of Coburn & Hughs and asked if he could send Roger Nicholls 1978 F1 Ducati across to the IOM immediately.
Rogers bike was identical to Mikes 1978 winning machine and it had been masquerading as Mikes winning bike in Coburn and Hughes showroom in Luton.
Somebody had come up with the idea of putting the 1979 engine into the 1978 rolling chassis,. Desperate situations need a desperate solution!.
Franco Farne to his credit, agreed straight away without even talking to the factory back at Bologna. While we were waiting for the bike to arrive ( it would be a minimum of eight or nine hours including the ferry crossing from Liverpool), we all sat down to decide what was needed to complete the job.
The bike arrived about mid day on the Thursday of practice week. The engine was fitted into the frame and all the ancillary bits and pieces that needed modifying to fit the new frame were modified, front forks were stripped and checked, what could be used from the current bike was. used.
One particular stumbling block was the exhaust system, the new 1979 system was a high level one and was tucked behind the frame and would not fit the 1978 chassis, so the old 1978 system had to be quite heavily modified to fit. Dunlop were on hand to fit New tyres, and the Lockheed engineer either modified original brake hoses or made up new ones, inevitably the brackets to fit the modified exhaust system, and the new fairing, and the seat unit were not compatible so we had to make new ones.
At about one o'clock in the morning trying to find a supply of suitable steel for making the brackets was proving difficult until a hunt around the back of our garage I came across a pile of old steel beds. ( the building that we were using for a workshop was the old generator house for the Palace Hotel, and it was being used as a dumping ground for their old beds and furniture.)
Problem solved!. I think that the bike was finished at about four o'clock on the Friday morning, it was fired up outside the garage, much I imagine to the surprise of the people staying in the surrounding hotels.
Mike tested the bike in the mornings early practice, and after a couple of laps, in which he had lapped faster than any time on the original bike, he said that the handling was a great improvement, However the power of the engine was way down on the 1978 engine.
During Friday we all worked non stop to prepare and refine, not only Mikes bike but the other Ducati's that Sports Motor Cycles were racing in the F1 race.
Mike did just one practice lap on the bike on Friday evening to bed in new brake pads, chain and tyres. We were all more optimistic and positive than we had been for the whole of practice week. Much of the press had heard that the bike Mike was to race in Saturdays Formula One race was a "special", Peter Howdle from Motorcycle News was the only journalist to have actually seen the bike prior to the start of the race and he had already named it the "Bedstead Special"...
The history books record that Mike Hailwood finished fifth in the 1979 Formula One TT. During the sixth and final lap of the thirty seven and three quarter circuit Mike's Ducati cut out close to the finishing line and he coasted to a stop, Mike had thought that he would not have got the bike going again, however there were plenty of people on hand, including a policeman to help him and give him advice. The battery tray that was welded to the frame had broken loose and the battery was hanging by one wire, Mike quickly reconnected the other wire to the battery, jammed the battery back onto the bike, he managed to fire the bike back up and ride to the finish.
Both machines were returned to there original specification.
Roger Nicholls machine was returned to the showroom of Coburn & Hughes in Luton and again pretended to be Mike Hailwoods 1978 F1 TT winning bike.
After Coburn & Hughes ceased to be the Ducati importers the Nicholls/ Hailwood bike was sold to a German Motorcycle trader and retailer and displayed in their showrooms in Hanover Germany.
Mike had earlier refused, after doing one practice lap to ride the Classic 950 bike in the Fridays afternoons Classic TT.
the Ducati was just no match for the Suzuki GB's GP 500cc RG machine.
The 950 Ducati was ridden in the Classic race by George Fogarty, however George crashed at Signpost corner and the machine was extensively damaged. The remains of the 950 was taken back to Bologna by Rino and Nani in the N.C.R. transporter. N.C.R. repaired this machine and it was sold to Gonzo from Collezione Giappone in Tokyo Japan. Where it remains to this day. The original 1979 Formula One frame was given to Ron Williams of Maxton Engineering,( Ron had modified the standard Ducati Pantah 500 SL frame that was used for the Pantah Formula two machine that Tony Rutter had won the 1981 Formula Two TT with.) Ron was asked to modify the frame in any way he thought necessary to make the machine handle and steer. The machine was rebuilt and Steve Wynne continued to race it.
However George Fogarty raced it in the 1982 F1 TT and crashed on it at the bottom of Bray Hill, with no real damage to him apart from bad bruising and scratches. However the machine caught fire and was seriously damaged.
Ron was again asked to look at and check the frame over to access if the crash and fire had caused any damage to the frame. Ron took the opportunity to rebuild the Marzochi front forks and modify them. The bike was rebuilt and transported to Vila Real in Portugal during July for Tony Rutter to race in the World Formula One round. Tony rode the bike in practice and apart from us spending a lot of time to fine tune the Marzochi front forks the bike was a vast improvement.
Unfortunately Tony felt that after he had raced and won the Formula Two race in close on 39 degree Celsius temperatures he would not be able to justify or indeed do justice to the Formula One Ducati.
After the Formula Two race Tony along with other riders were severely dehydrated and were put onto a intravenous saline drip by the event doctor in a effort to rehydrate him. Tony was passed fit by the circuit doctor to race in the later Formula One race, but choose to ride Sports Motor-Cycles standard but uncompetitive Ducati 900cc Super Sport machine.
Steve Wynne continued to race with some success on this machine, including riding in the Battle of the twins event at Daytona in the USA in 1982.
During July/August 1982 Sports Motor-Cycles had been invited by Kenny Murakami ( a Japanese business man, and Ducati dealer from Tokyo) to Japan to compete in the Suzuka eight hour endurance event, a round of the World Endurance championship, and this machine was raced by Tony Rutter and Geore Fogarty. During practice for this event George had crashed on the "South" curve, a low speed corner, George was OK, and the bike was not to badly damaged. However the engine had developed a very bad oil leak, we presumed that was the cause of the crash.
This oil leak was traced to a cracked crankcase and the engine had to be taken apart, and I had to weld the crankcases using the equipment of Yoshimura at their head quarters close by.
Pop Yoshimura had given me his personal permission to use their equipment.
The following day after the engine had been reassembled Pop's Yoshimura had visited our garage to ask if the welding had been successful. Unfortunately after 87 laps George had retired the Ducati with gearbox problems.
I lost Contact with this machine after Sports Motor-Cycles Ltd went into receivership during August 1982...
The Machine was acquired by the Barber Motorsport Museum in Birmingham Alabama,USA during 1984, and is displayed in their museum as the actual machine that Mike Hailwood raced to fifth place in the 1979 Isle of Man Formula One TT...
More later. Copyright© Pat Slinn, Reserved by "Otterman 2010"©
Reading this story and then watching the Video above, can you believe Ducati and in fact the Italian government for not using what could have been the best publicity that Ducati could have ever had if they had provided a winning Ducati Machine for Mike to ride in the 1979 Formula One Isle Of Man TT.
What a Great shame. Charlie~Oo>.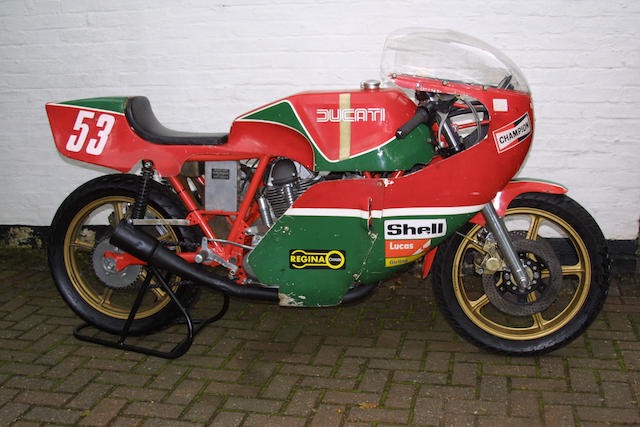 Photo Courtesy Bonhams.
Roger Nicholls' 1977 TT F1 Ducati - '014', the machine offered here - was collected from the Ducati factory in the spring of that year by Sports Motor Cycles' Pat Slinn, who at that time was working from the UK importer, Coburn & Hughes. It was originally built as an endurance racer and has a special frame incorporating eccentric chain adjusters at the swinging arm ends and similar mounts for the footrests. These arrangements are quite unlike those of the production frame and were intended to speed up pit-stops, the adjustable footrests making it easier to accommodate riders of different heights.

~~~~~~~
I have put this video onto this page until I have typed the story of this machine from the manuskript version that Pat Slinn Sent me.
So this is a taster for the story to come.
The Formula One Ducati that was ridden by Mike Hailwood at the 1978 Isle of Man TT, and other British Formula One Race meetings.
More later.
Updat2021...