The

British Rival
125 Competition Motorcycle.
This is the motorcycle breed created by Midlander Ken Sedgley.in 1977.
Ken himself was and still is a a top rated Trials And more so Scrambles rider.
Also a ISDT rider Britain riding Greeves for one.
And has even been a racing driver in the early Seventies driving a Formula 3 Chevron B17.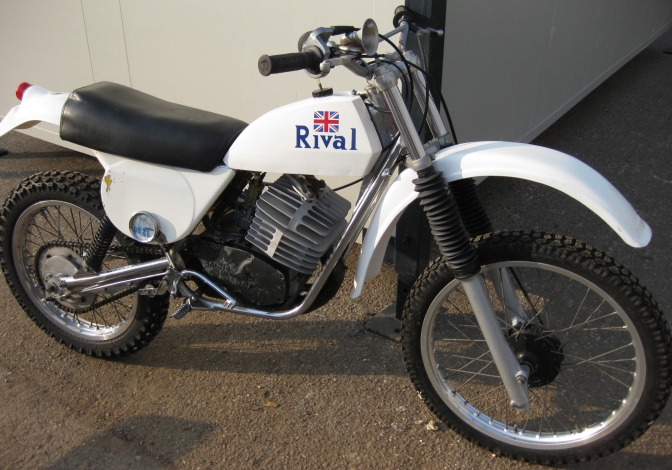 Photo Courtesy "Otterman"
***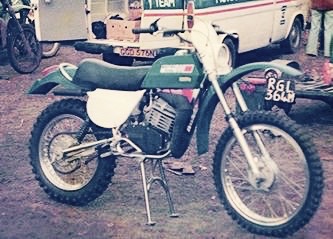 Peter Cheethams Collection, Photo.
These machines were built mainly to fill a gap in the schoolboy scrambles market.
But they were that good, they got used for the ISDT class as well.
The frames were commissioned from frame legend Eric Cheney.
These were very much like other frames Eric was building at the time, but built exclusively for Ken with dimensions more suited to the scrambles bikes that they actually were.
I few good young riders at the time trying the machine had nothing but praise about the little machine apart from the gearbox that did have to many neutrals in the box and not good to find one of these going into a sharp bend.
The cutting edge of design about the little bike stood out with the sharp lines of the bodywork that could only be from that period of the seventies.
Ken Sedgley had ploughed a lot of money and pride into this machine, but that period like I say was difficult to finance anything and so we lost a brand of machine that was more than just a winner at that time but was an example to anyone that if you have a dream just go out there and try to fulfil it.
So we know the frames were good.
Engines used were the German Sachs, mainly 125 because of the class but the ISDT bikes may have been of a different capacity.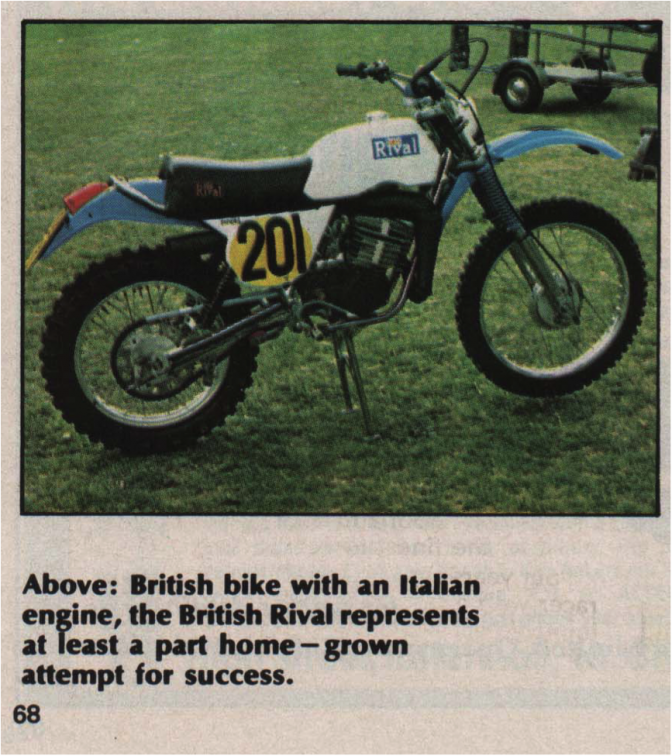 ***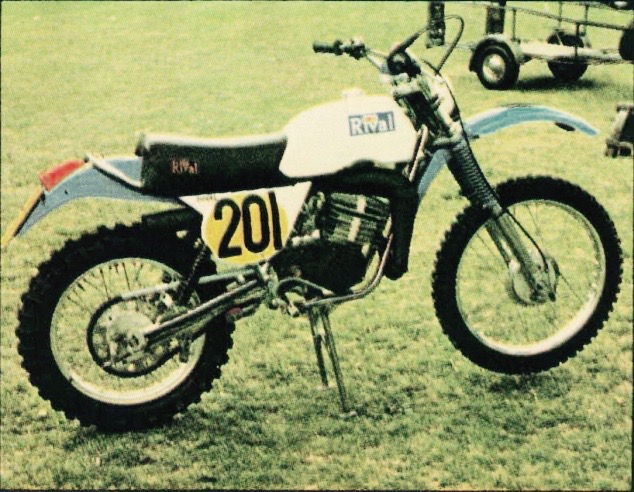 Photo Lightened by "Otterman"
Here is a machine in ISDT trim, ready for the WelchThree Day Trials of 1974?
the bikes had the six or some say seven speed gearboxes fitted and modified exhaust system.
Press get things wrong don't they.
Italian engine NO,it is not, German,Yes.it is but some say Austrian too.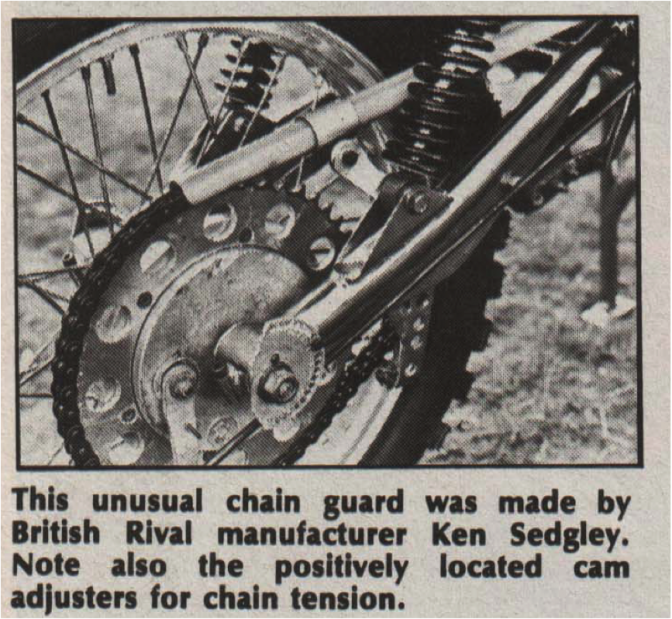 ***
These cam adjusters were part of the Eric Cheney trade mark.
and the frames could have only been made by him.
I think the hubs are REH, and not Rickman as Has been suggested to me.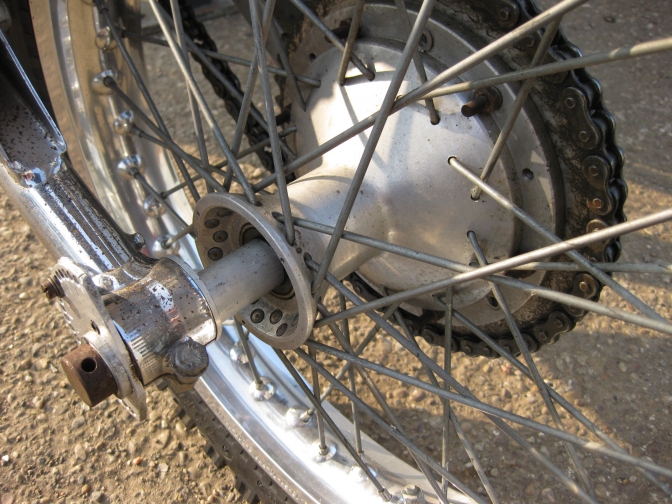 Photo Courtesy "Otterman"
Not really a One day trials machine but it would be worth a try. just for the ride.
It is just a pity we don't have ISDT's any more this bike would be ideal.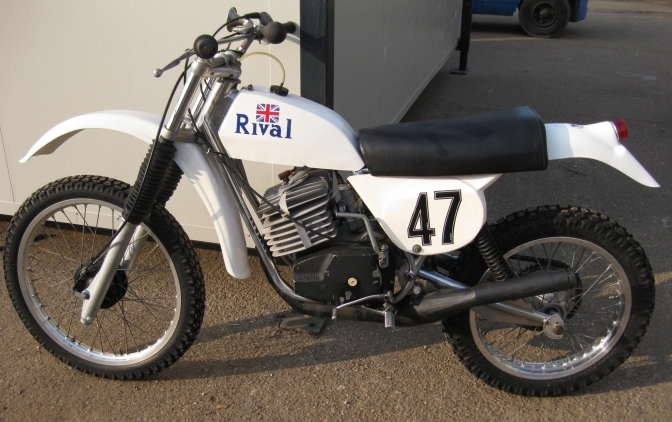 Photo Courtesy "Otterman".
The fork yokes on this bike are Metal Profile or REH. Legs and front hub could be Suzuki?
I have the MP 600 or Ceriani forks that could be fitted.
Here below, is the manufacturer Ken Sedgley riding his four-speed BSA Bantam in the Colmore "Revisitation" a couple of years back.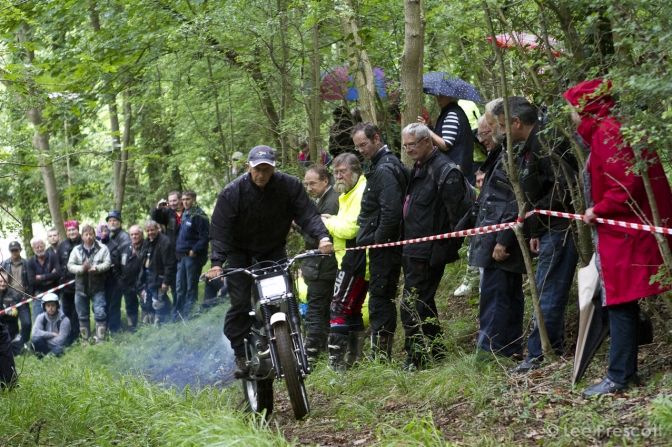 Photo Courtesy Lee Precott.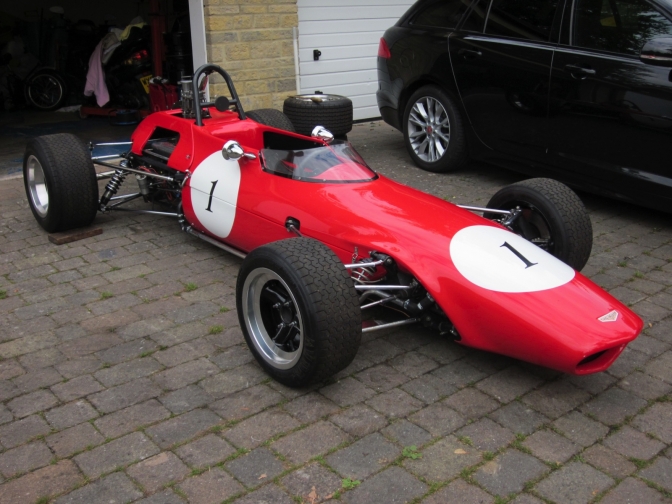 Photo Courtesy Jim Blockley.
Here is a Photo of that same Chevron B17 Formula 3 car that Ken owned all those years back.
Ken or any of Ken's friends reading this, Jim would love some information on this car
Livery used at the time ETC. Just contact me and I can put you in-touch with Jim.
OK back to the "British Rival" but it is a small world is it not.
***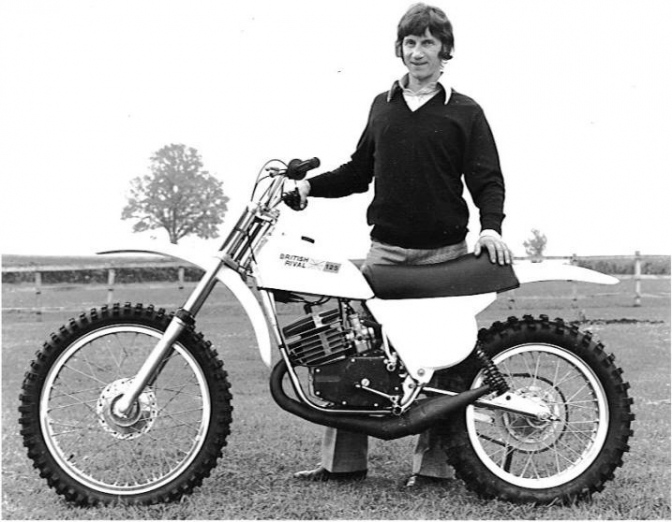 Photo TFT.
Here is the "British Rival" machine with Ken sporting the stylish nineteen seventies hair cut to match.
It is such a shame that these machines were not put into serious production.
With the Eric Cheney frames and a Sachs motor that was good, but needed the gearbox sorting out with its seven speeds being of fine cut and said to have eight neutrals,
This probable its major fault, cycle parts were the ones used by most other British small volume manufacturers at the time and complemented the machine perfectly.
It was just one of those under financed projects at a time when backing was hard to come by.
I know I had the same problem with a project at that time.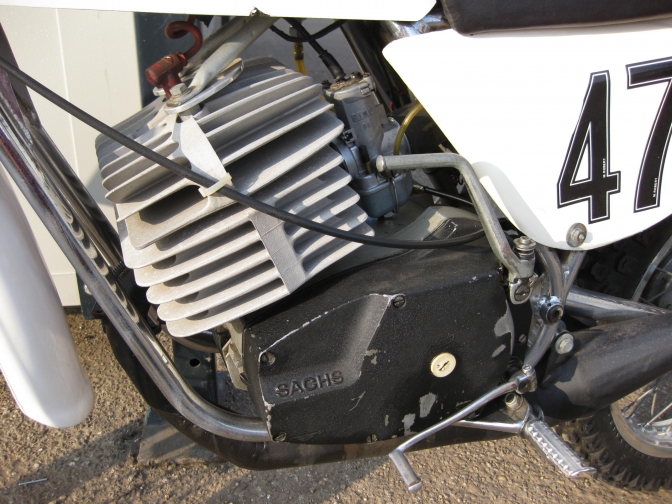 Photo Courtesy "Otterman"
The finish of the frame is typical Eric Cheney ,Just First class.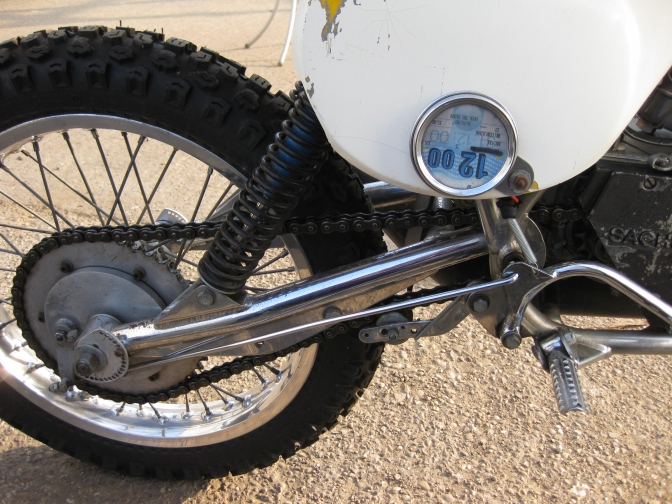 Photo Courtesy "Otterman".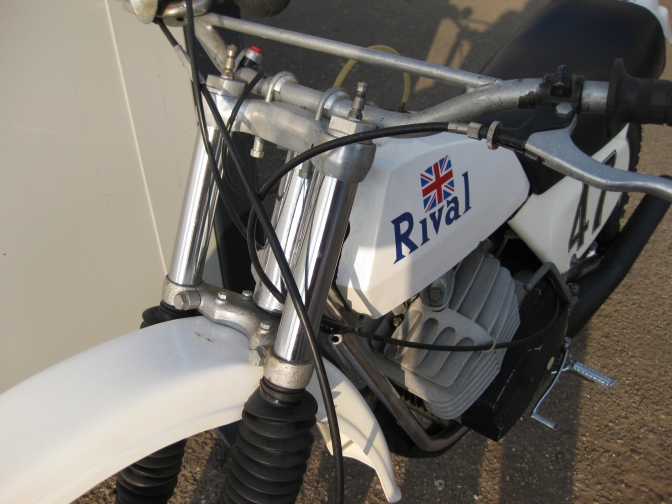 Photo "Otterman"
I think by looking at the fork yokes the forks are REH."or "MP" with air damping, that was the in thing at the time, and developed by a Guy from Banbury for his son Alan's Schoolboy bike
Wilf Jennings.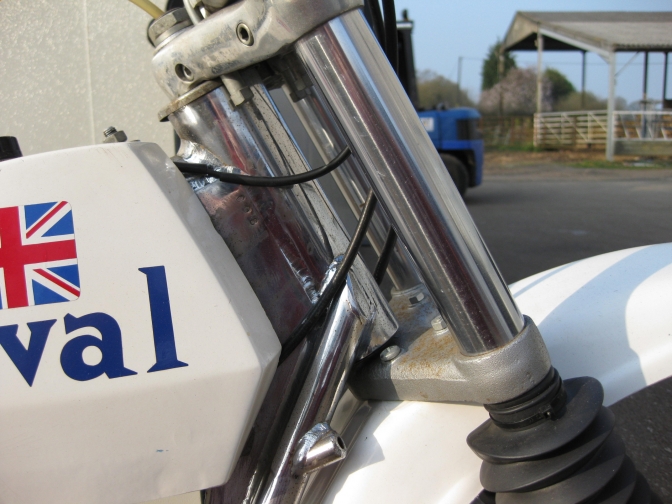 Photo "Otterman".
You just get a glimpse of the quality of the bronze welding of the Cheney frame on this Steering head. Frame Number "008"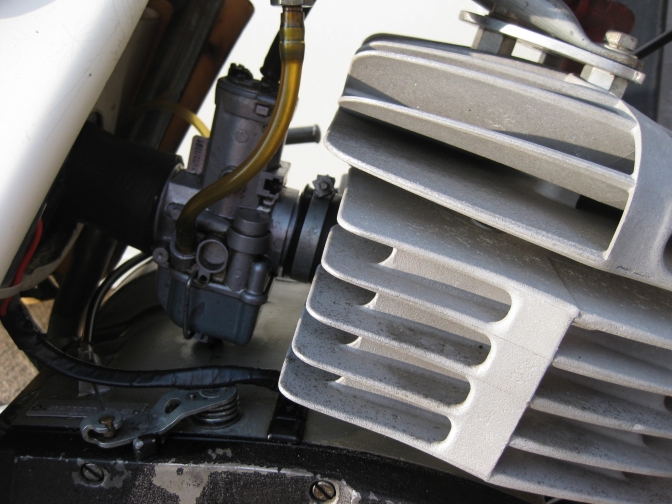 Photo. "Otterman"
Note that this bike is fitted with the wide finned barrel, still doing home work on these motors.
***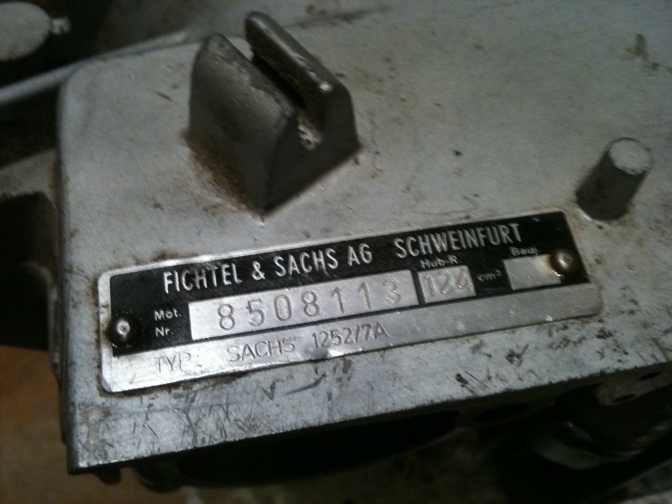 Photo "Otterman"
Here you can clearly see the engine type and cc 124 on the engine plate ,this is the spare motor mind.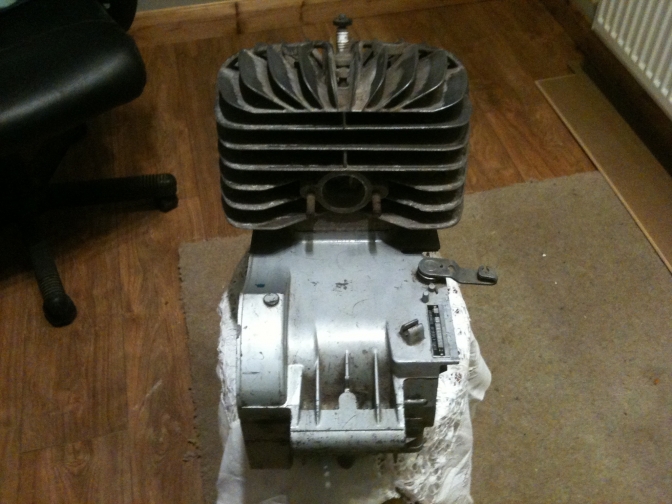 These motors certainly didn't spare on the finning did they. but the motor was good, it was the gearbox that was problematical.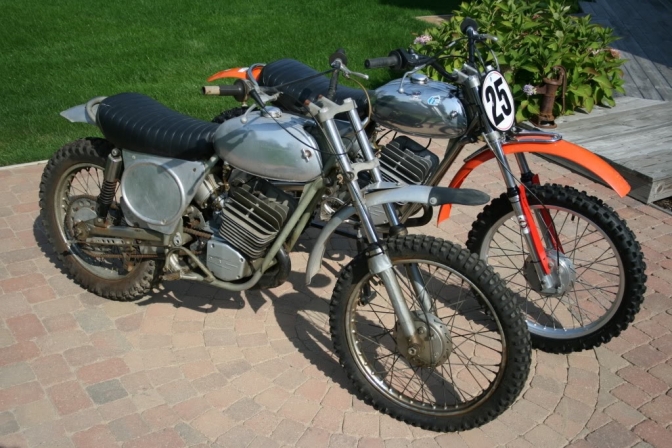 Photo Courtesy Dale Fisher.
The two bikes above are Cheney Scrambles bikes specially built for The Fisher's by Eric Cheney, Two of about 25 that Dale's Father imported to the USA, and was distributor for the product.
Dale still has a good collection of these machines and is always collecting others as he finds them.
You can see how close the relationship to the "British Rival" frame these are , well they would be, because the first Cheney frame built for the Fisher's was in 1972, so they were the guy's that had stood the development work of these frames.
Much More Later. with a report of how the bike rides.
*******
New material now arrived , on later. and the story.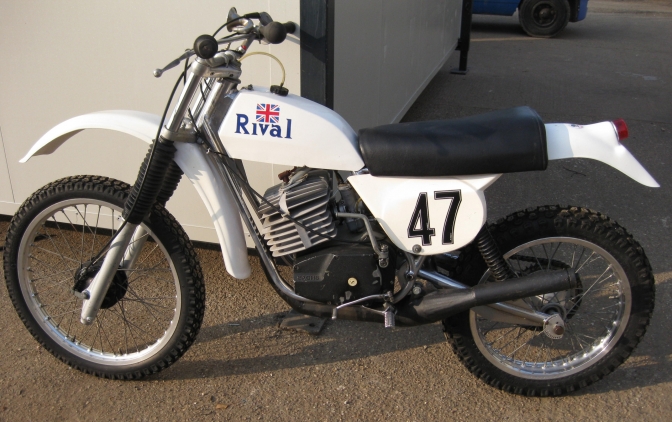 Photo Courtesy "Otterman"
I now have photos and information about a bike currently being used in Classic MX fitted with a CZ engine in-place and it looks as if it is a winner.
I am having a problem getting these onto the page at the moment but we will get there I am sure.
More Later.