Old Trials Stories from the Fifties-Sixties Motorcycle Magazines and Papers.
After spotting some interesting BSA trials articles on eBay, and purchasing them.
I thought what a good idea to set up a page for these, History of the factory machines and comments, and more, that we would never have seen...
So thank's to Mike Brown. and I am now on his favourite list.
I will start with the three he has sent me and add more when he finds them...
I will also look through my "Old Stock" and find more that I find interesting..
December 4th 1958.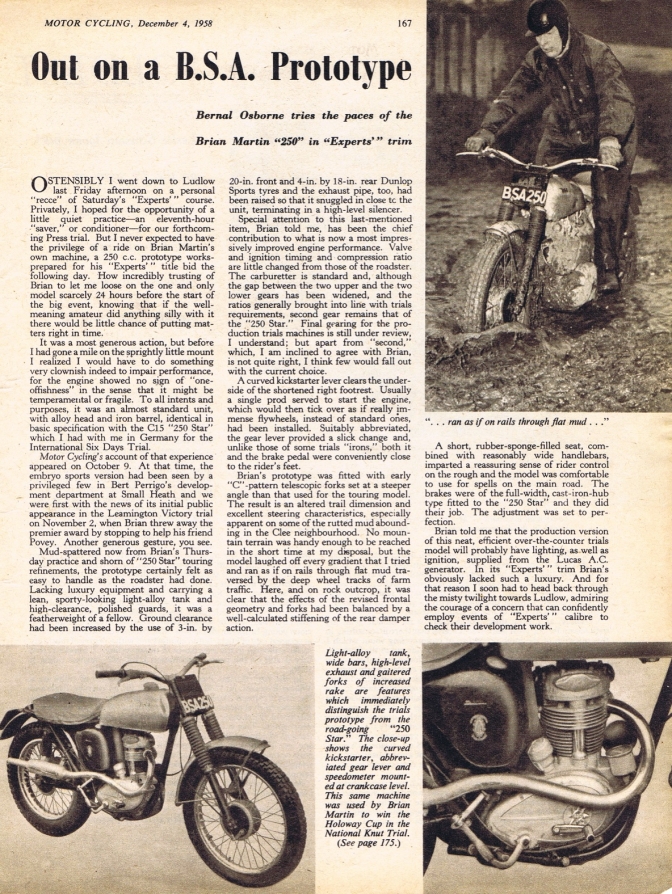 *******
Do you want the pages like above or tidied up like below?
Let me know...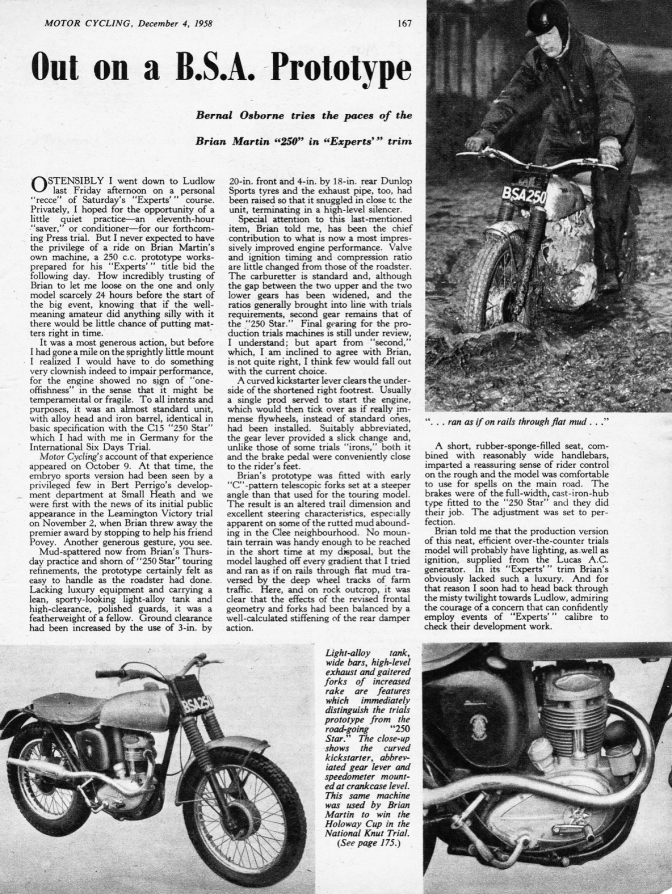 *****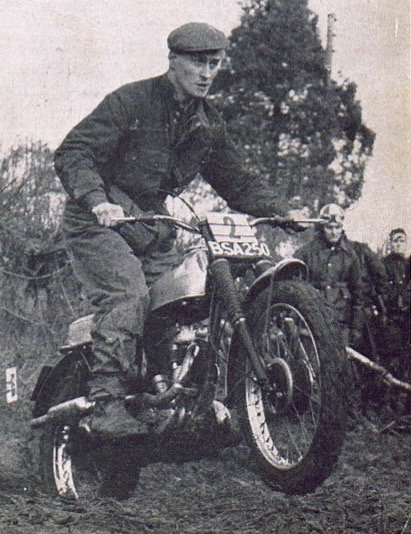 Here is Brian Martin riding that same BSA C15T machine.
Scanned from the book Trials Riding, By Max King.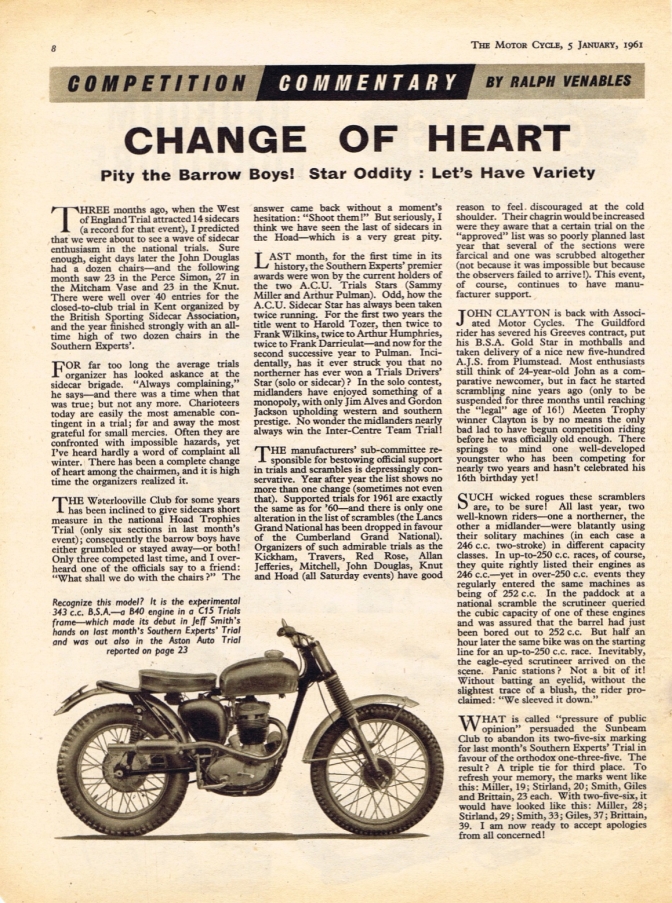 Check out how many sidecars.
December 25th 1958.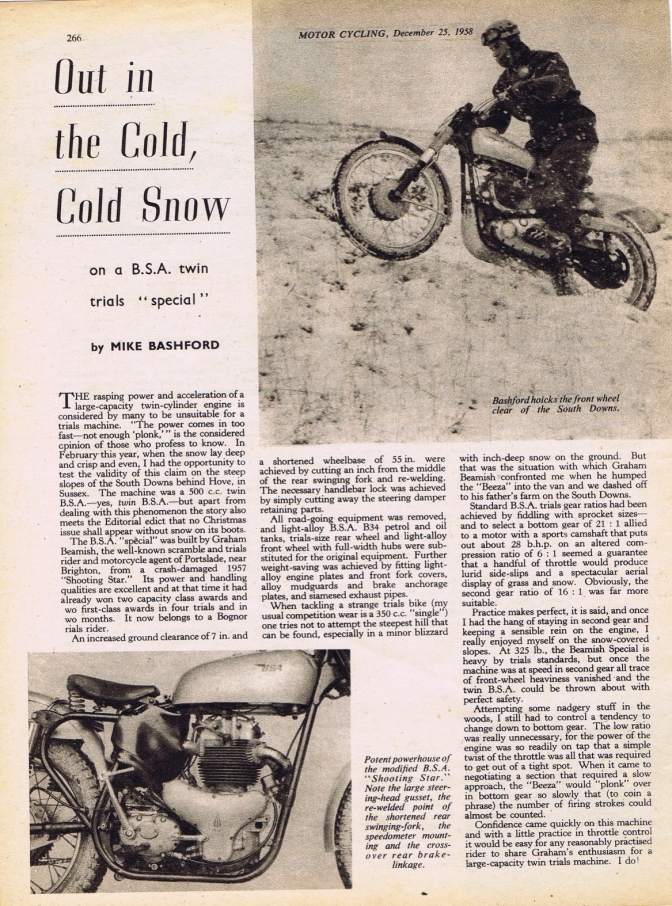 So Did you build your "Replica" BSA Bantam like this?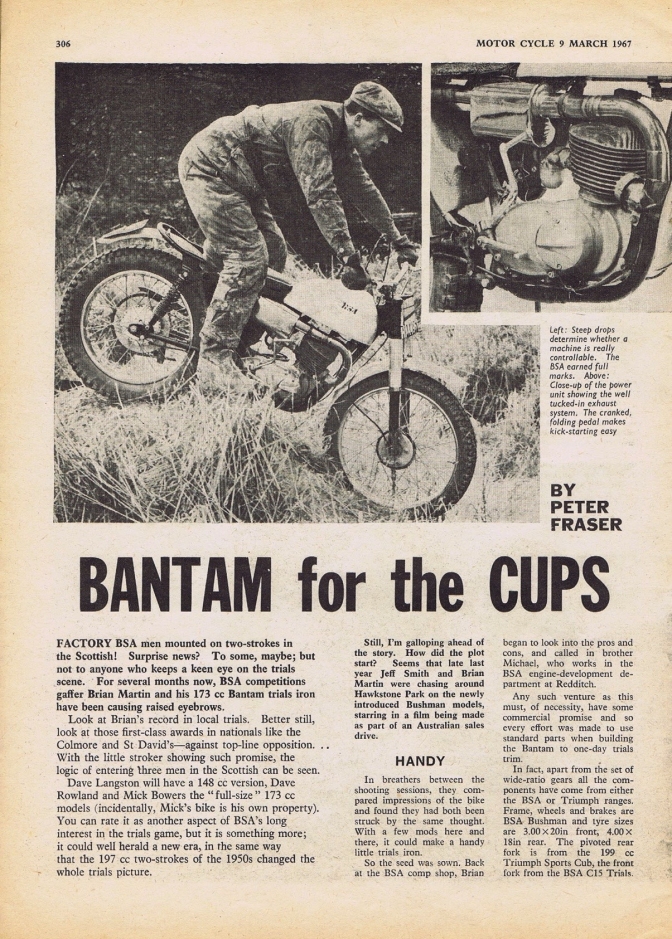 *******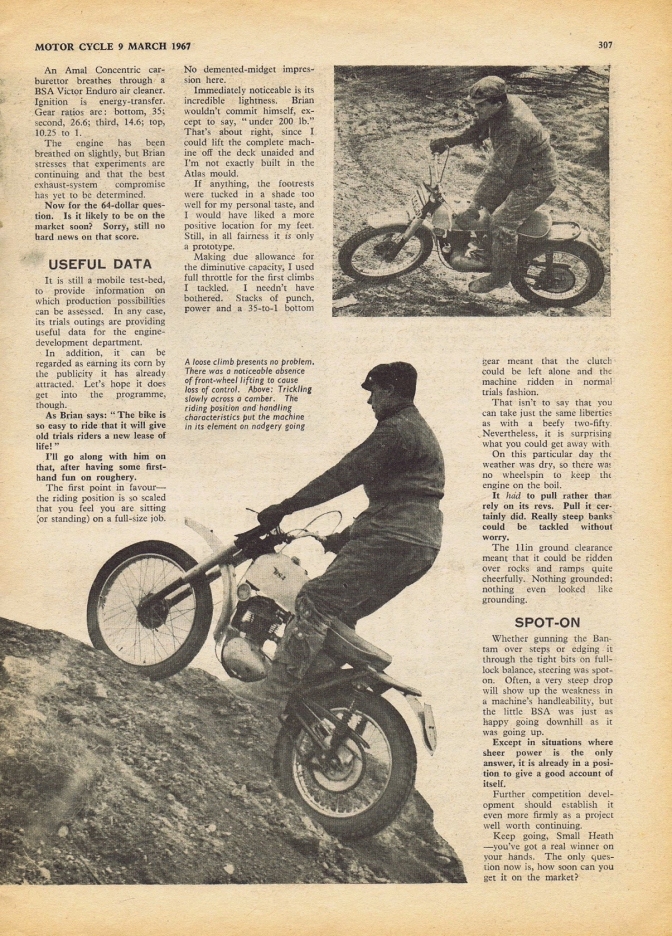 One from June,1967.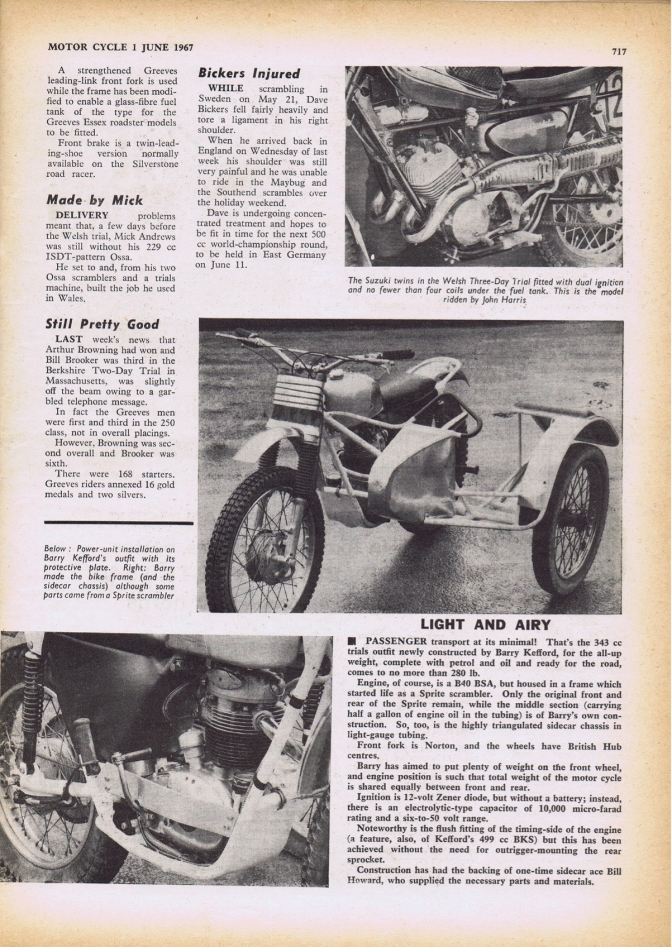 Barry Kefford... the last time I heard is still with us, and enjoying his evening in the pub once a week.
After he stopped building trials sidecars and he did build a lot, he took up building scale model steam powered motor vehicles, and showing them.
I have a picture somewhere.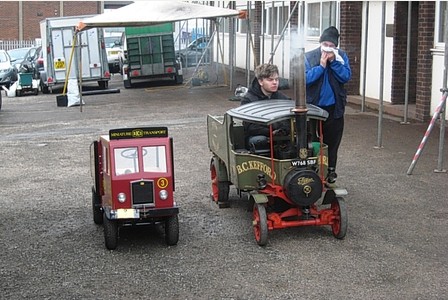 Barry's two steam models...
~~~~~~~
Heres a good one for budding frame builders...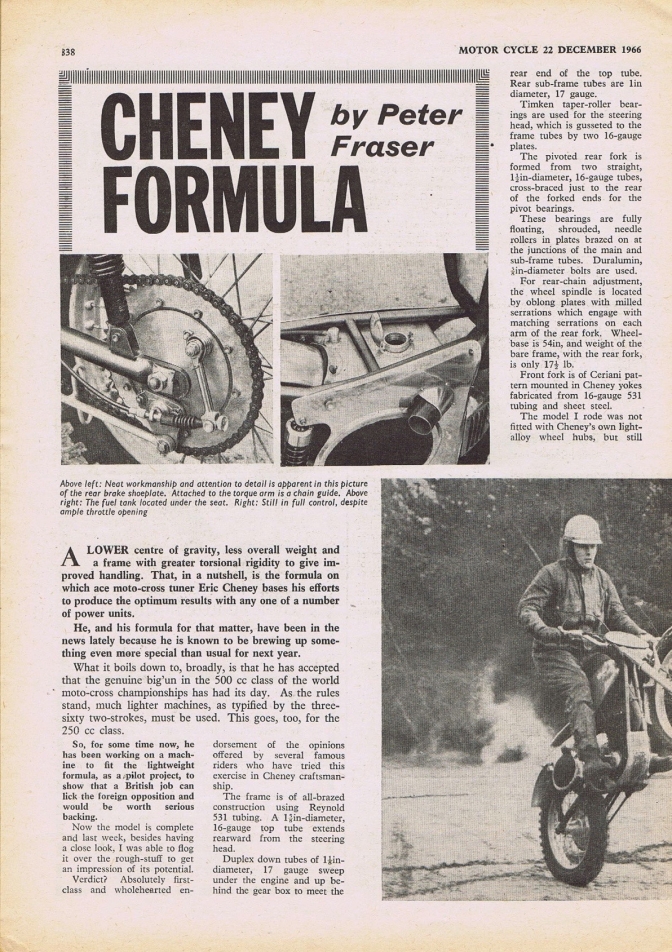 *******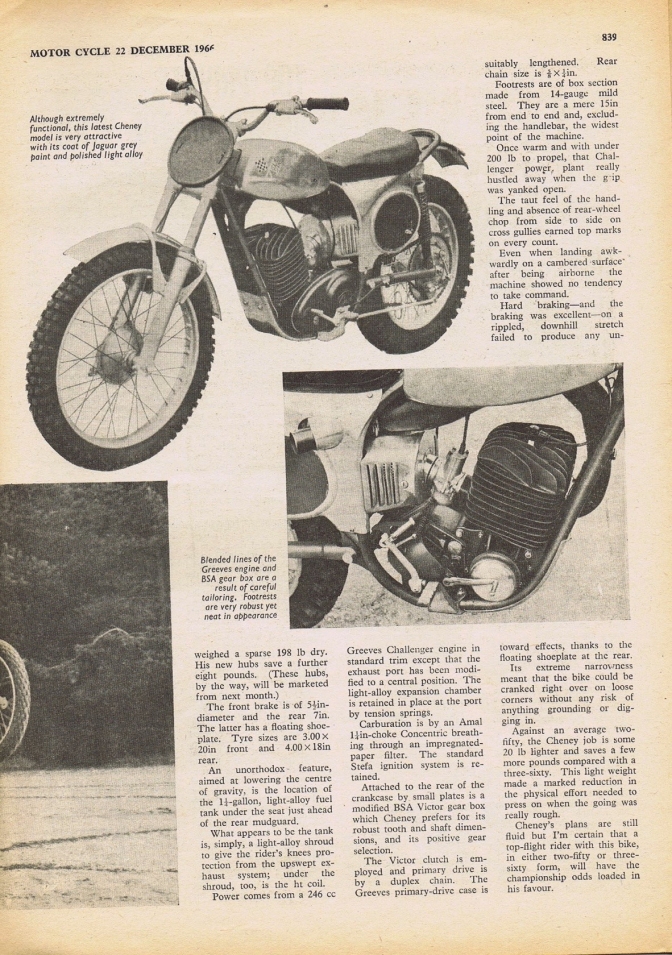 Yes that man Cheney could build bikes...
~~~~~~~
Now for a build and test report on a rather Special BSA B40 trials, influenced and with the help, of Jim Susans.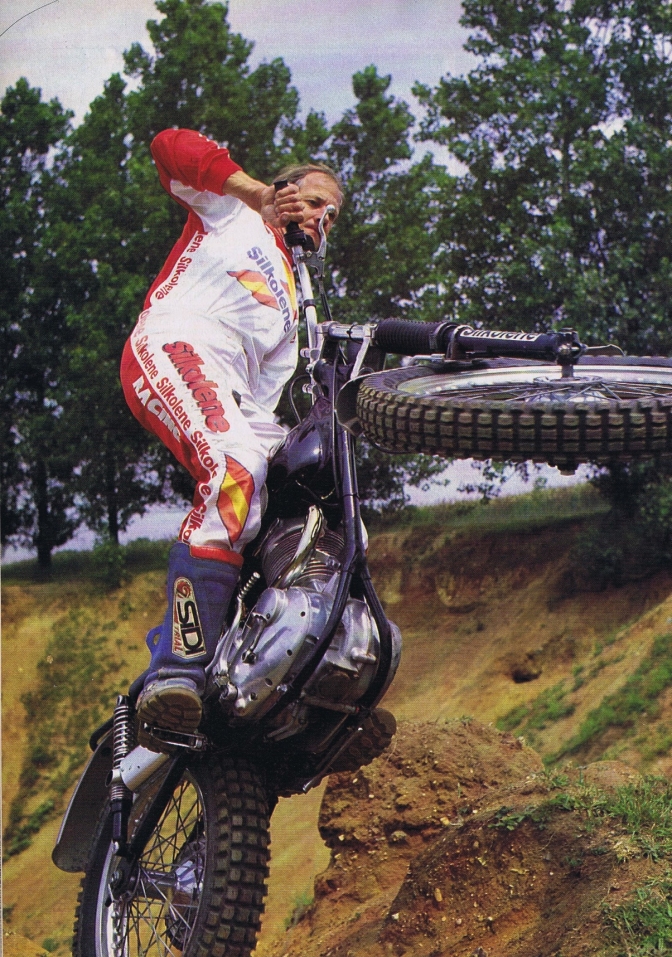 ~~~~~~~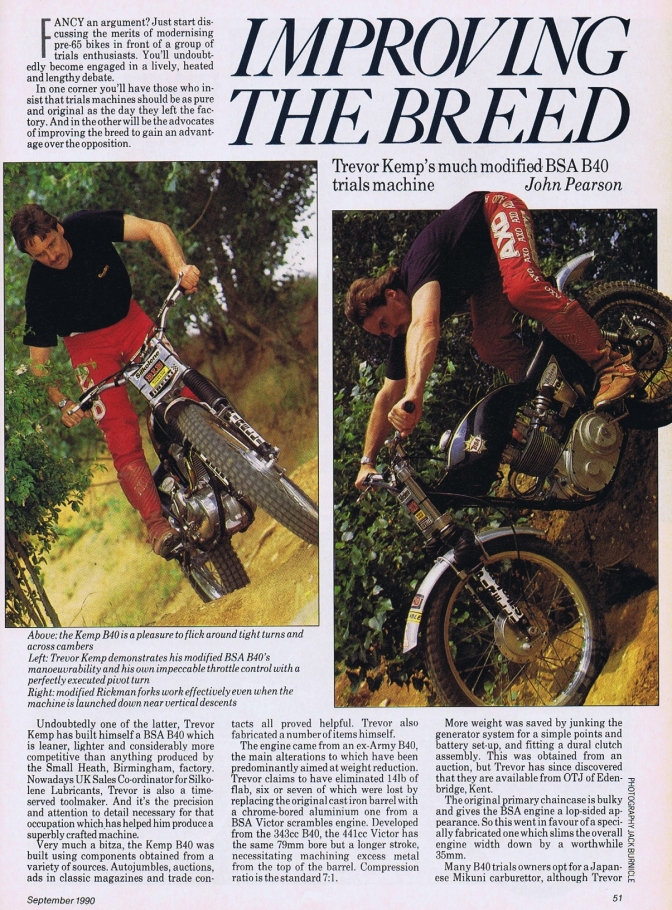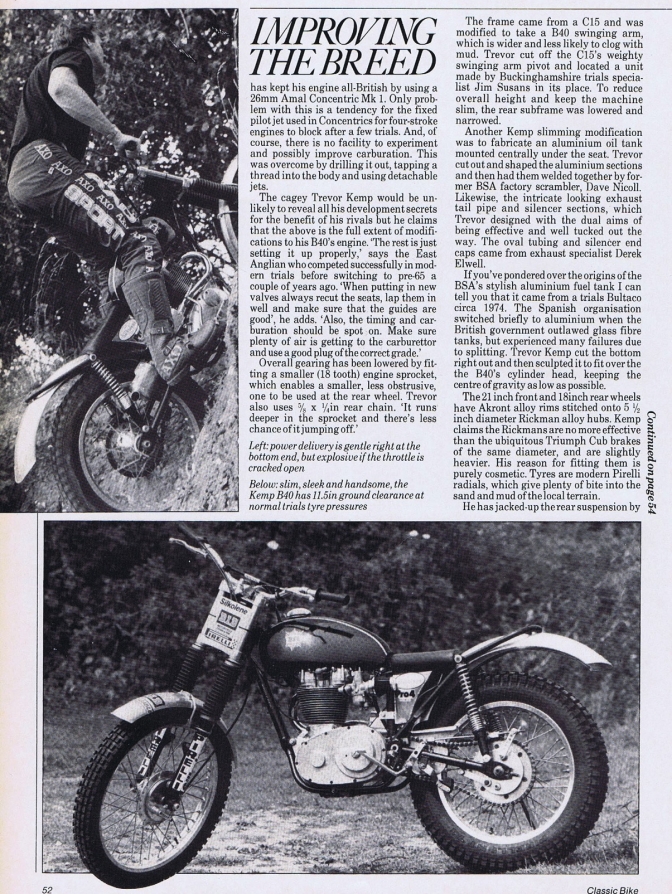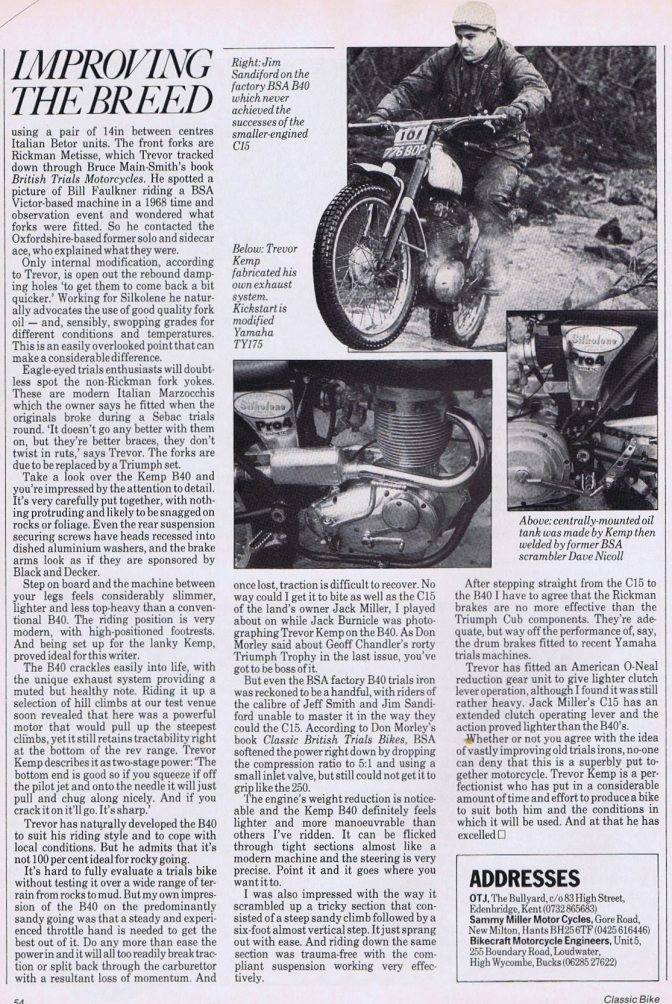 "The How to build a BSA B40 trials bike," is on the Jim Susans Page. take a look.
Very interesting...
~~~~~~~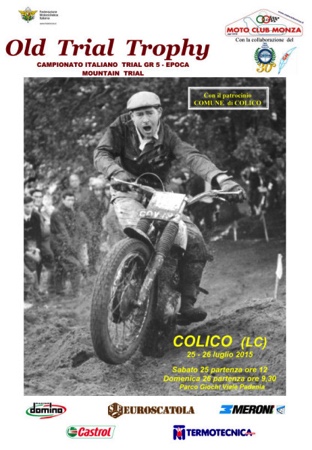 Here is a page sent to me by Justyn Norek Snr,
With Sam doing his best to stay awake.
I spose winning that many trials does get boring after a while.
And I bet he is thinking do you know, I need something else to do, I think I will set up a Motorcycle Museum?
±±±±±±±
You know when you had the "Blue -Un" delivered every week, usually on a Wednesday if the trains didn't break down,
Well some weeks even then you thought why am I spending 1s 3d on this every week?
There is nothing in it worth reading only the results. and then you got a week like this,
It was crammed full on every page of something worth a read, So here is the Starmaker story. There is Greeves to follow from this same Mag.
enjoy...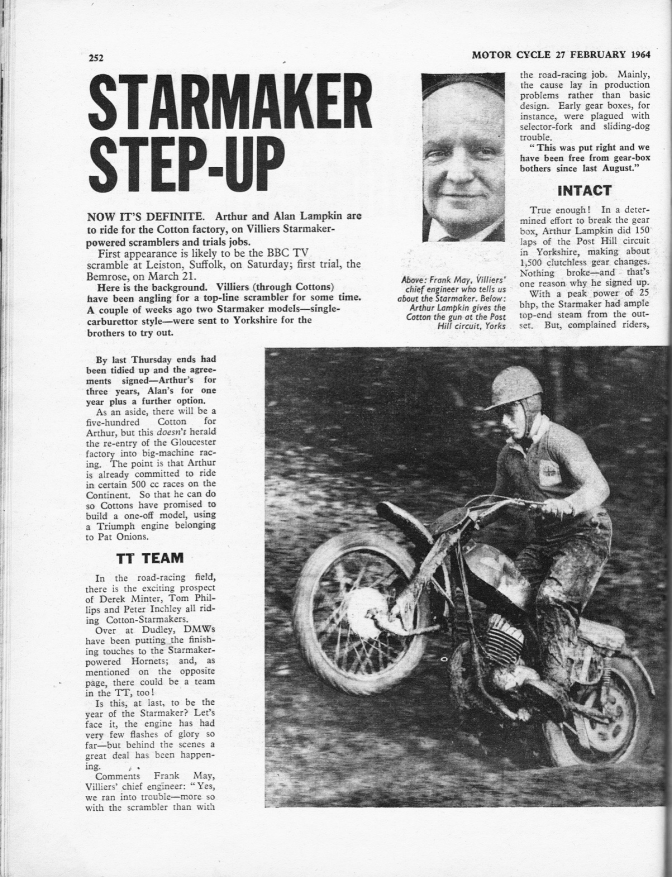 Page One of Two.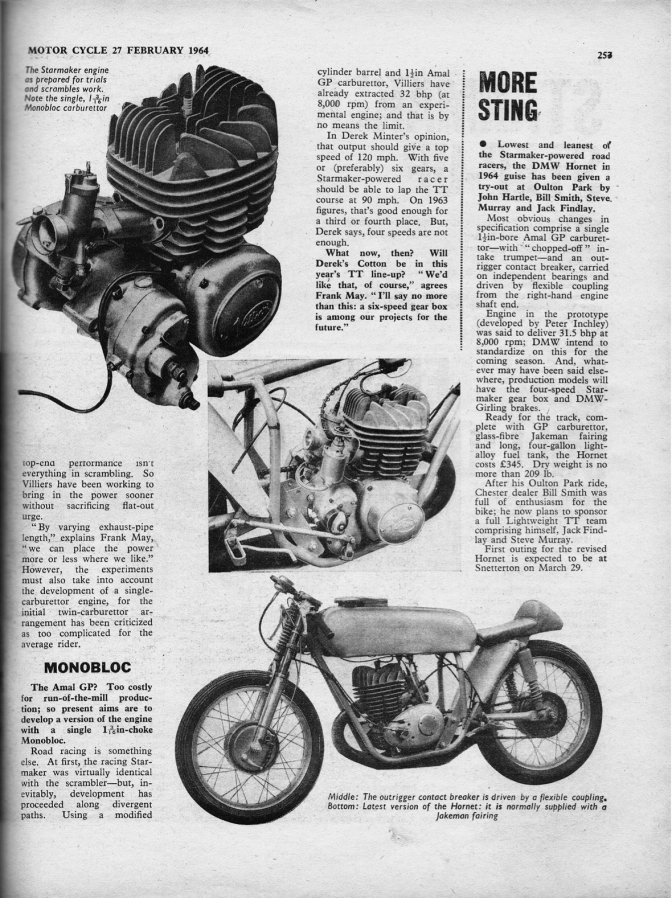 Scanned from my stock of magazines.
"Otterman"...
I will tidy the pages up later, and add some more.
I thought what better page than this to put on some vintage film of the same period...
So here is some unique footage of the 1960 International Six Days Trial.
Part One.
Part Two.
More Later. Back on this page shortly now it is Autumn 2017.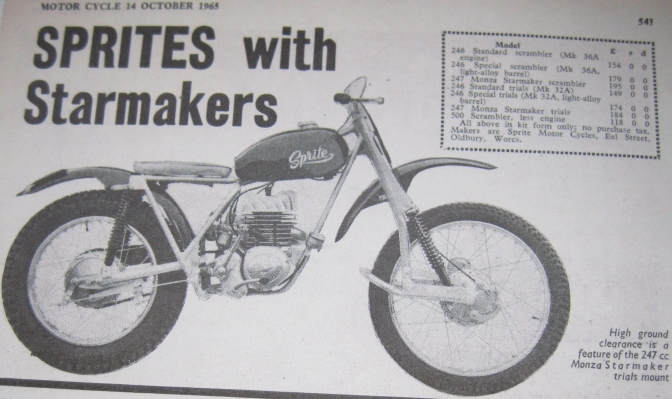 I found this on my Old computor, I may have used it elswhere on the site, mmm, but hey, here it is again...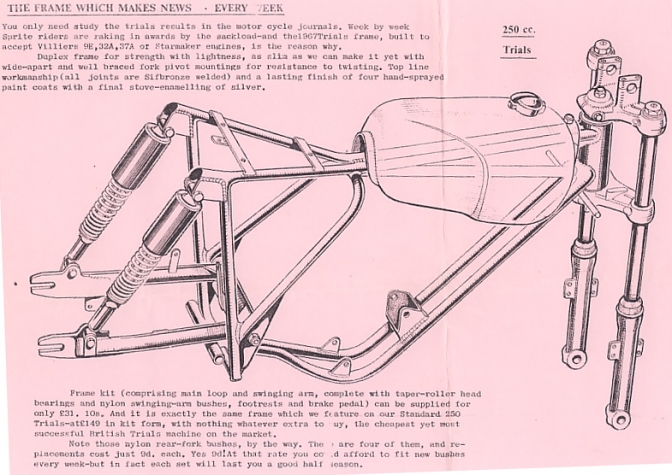 From the late Frank Hipkin when he sent me loads of stuff...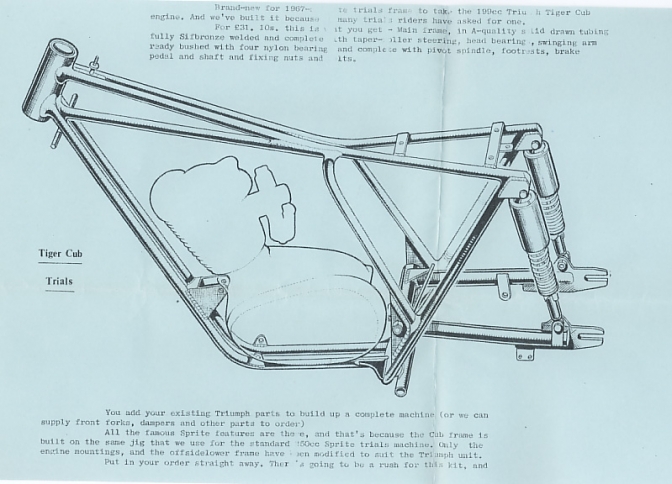 How many of these Triumph Cub engined Sprite's were built?
I never saw one!.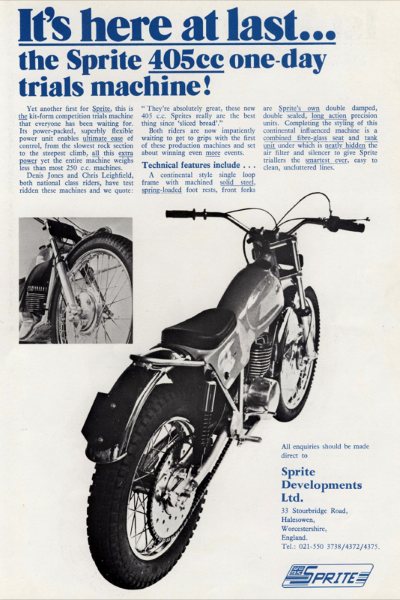 Just look at the size of the rear sprocket, this could have detracted from a few pending sales.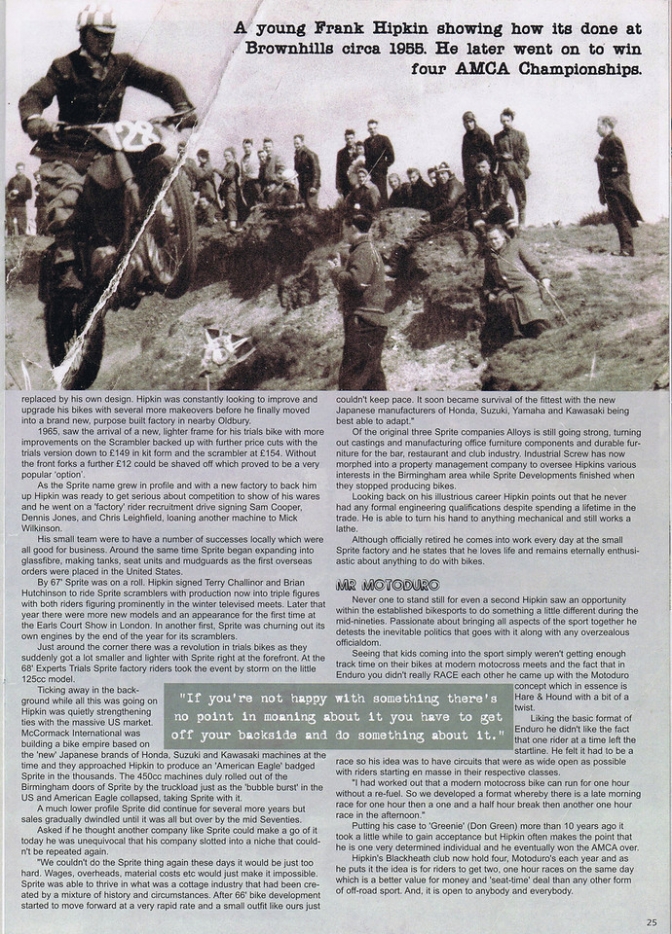 Frank Hipkin was just totally involved with the Off road bike scene while he was involved with manufacture, and still after production of Sprite's had ceased.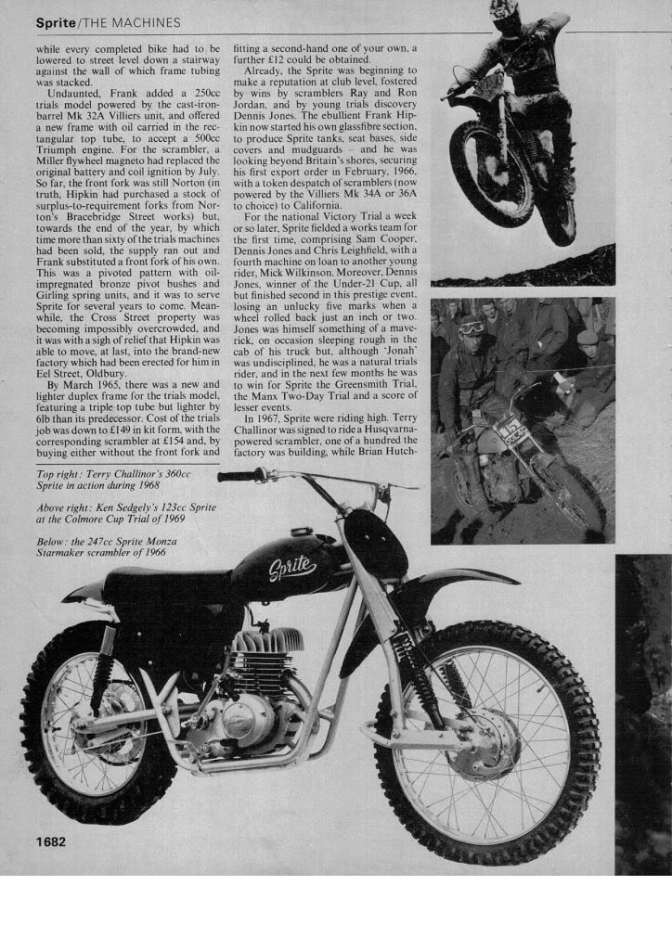 Thank you Frank, for the sixties you managed to put a trials and a scrambles bike under riders, that had we not had Sprite kits, would have never got into the sport...
And the stars that a lot of the riders were would have never have shone.
More Later...
Updat2023...06...