The French Motobecane Trials Machine.
"Tobec"...
There have been several glimpses of these trial machines on this side of the water,in the UK, but we have never taken that much notice of the Motobecane, apart from the odd look at a trial if one was competing.
So I thought that It was time to try and find out more about these machines.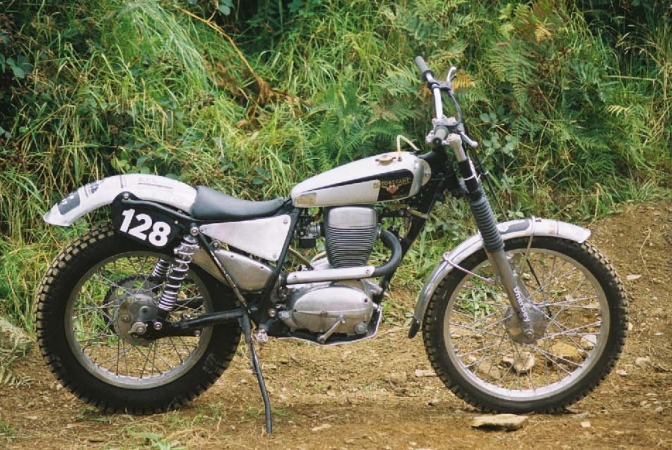 Photo Credit Lee Prescott. Taken at the 2007 Manx Classic Trial.
Apparently most of the trials machines were built up not that long ago, but we will get back to that in a while.
First a bit about the machines origin.
Firstly the name. Motobecane, which simply translated means Motor Cycle, in French, Moto being Motorcycle, Becane slang for Bike.
The factory was one of the biggest motorcycle and moped producers in France, up until the late sixties, when they, like other motorcycle manufacturers were struggling with the down turn of the motorcycle industry in Europe, eventually filing for bankruptcy in 1981
Eventually, the factory, and the motorcycle production, were taken over by the Yamaha organisation and re named, MBK, in 1984, these are still selling scooters today.
The Motobecane factory in the early sixties were thinking along the lines of producing a 165 cc four-stroke trials machine, based on the Z56-7 model, that dated from 1956-7, and had made most of the parts to manufacture the machine.
Then just has history does, a new law was passed in France, to allow 125cc motorcycles to be ridden without a licence, this threw the industry, into turmoil. And the concentration of building machines that came into this category came first, so the 175cc Z57 trials bike was sidelined.
The only glimmer of hope, was that all the parts to convert a road going machine were now made, and so were distributed to the various Motobecane motorcycle dealers around the country,
So then could be purchased for individuals to convert their own bikes, into a trials model.
Only the French and Belgium trials riders would know how many of these machines were actually converted.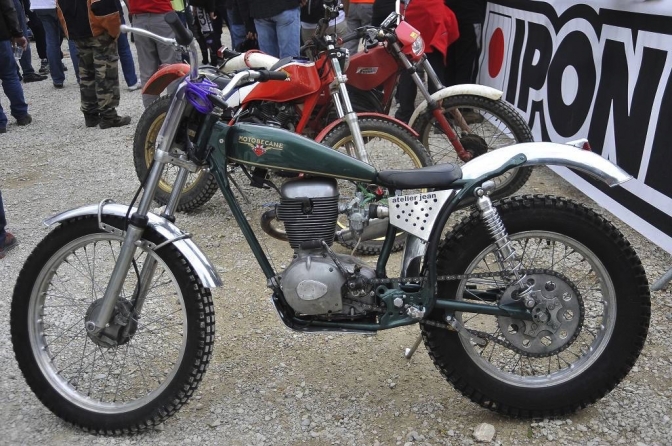 This Photo Credit Justyn Norek Snr.
Looking at Justyn's photo of this Motobecane, it looks like Yamaha Mono forks and Yamaha hubs are used on this build...
~~~~~~~
Right, back to the later years, and the Motobecane Four-stroke trials motorcycles, that we see competing in trials today.
Most of these machines seem to have been put together by Stuart Brown of BPS Engineering, in France, in about 2004-5...
Bruno Gilbert, a trials rider of some ability, from the town of Monpellier, was commissioned to make, and or, convert the frames and cycle parts, while Stuart Brown, converted, and rebuilt the engine units, some of the engines being bored out to as large as 260cc so I am told.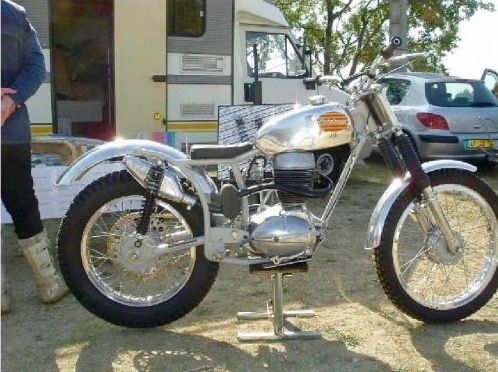 Photo Credit Reserved...
This 2004 photo of Stuart Browns 210cc BSP. Motobecane, shows the amount of work that went into the machines to make the brand a competitive trials motorcycle...
What they all have turned out to be, are really respected, four-stroke Classic Trials Machines.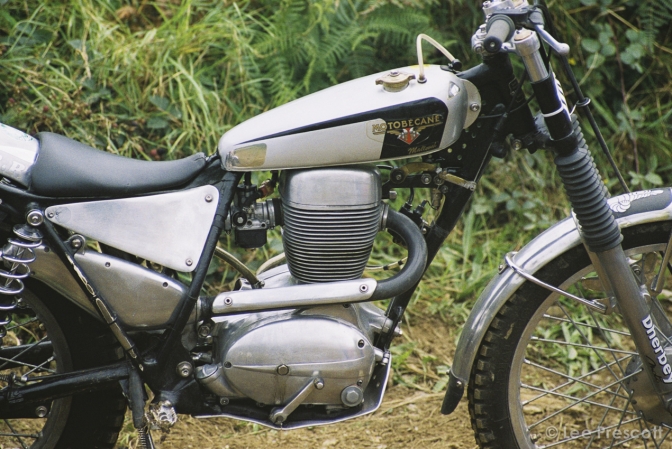 Just taking a look at this engine shot, you can see how workmanlike the engine gearbox unit is.
And not that disimilar to the BSA C15 B40 unit, except this little motor has the advantage of carrying the engine oil within the casings of the engine.
The Atelier Jean machine in the photo above, seems to retain the more traditional frame, and is a lot like most of the European frames, that are in the same vogue for this Classic Period, especially the bikes that are put together in Italy.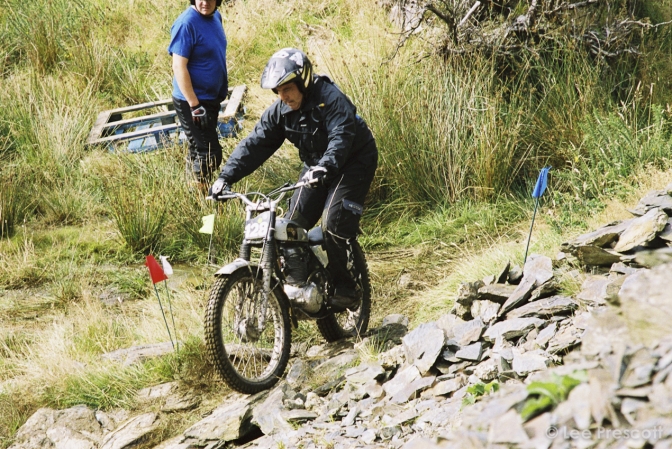 I must say with this shot from Lee, how neat the little machine looks, and I remember the sound of the motor from The Manx Classic Trial of 2007, and how well the little Motobecane engine worked, and without hesitation revved out, when needed...
All of the machines built by Stuart Brown and Bruno Gilbert seem to use the same small Italian styled hubs, and the front forks seem to be of the same manufacture, Marzocci perhaps.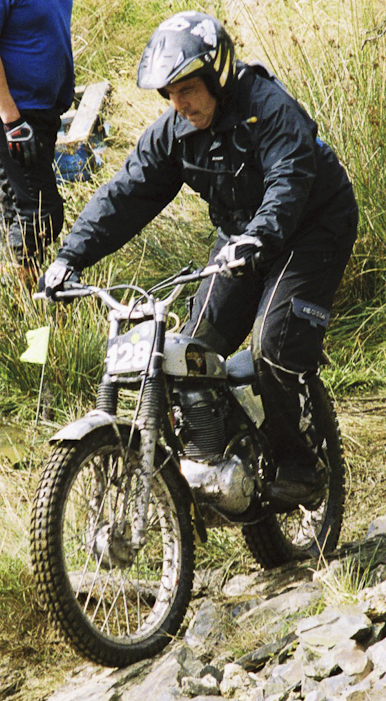 Photo Credit Lee Prescott again.
You can see what I mean about these nice little hubs used, with this expanded shot, by Lee...
Also, what I feel is a very well put together period machine, without many parts that you would describe as, "Bling"...
I will try and contact Stuart Brown, or Bruno Gilbert, and find out more about these machines...
So this is only a start for this page, and we hope that there will be a lot more information, about the Motobecane machines shortly.
Stuart Brown, and Bruno Gilbert, may even still build the machines to order? Has they did a few years ago,we will see...
22/01/2021...
After spending some time researching a bit more about the Motobecane trials bikes, I have realised that they seem to be a very popular trials bike to manufacture, in Europe, and more country's than just France...
There are a lot more machines in use, and in build, than I expected.
The amount of work that goes into converting the frames and engines is quite unbelievable, considering they are only a humble trials machine.
There are loads of photos on the net of build sequences, and finished machine, but until I can get permission to use them, you will have to look for them yourself if you are interested...
I have one or two that I feel I can use to tell the story unless advised otherwise...
Lets start with the frame, and I will find the model numbers out later.
First thing to do, seems to be, chop the steering head off through the top and front down tubes, then either alter the steering head angle to suit the forks being used, or graft in the steering head from the machine the forks came from, and I have an example from a Yamaha TY that was used, for one conversion.
When this is done and re-welded in, we move to the back, the swinging arms seem to be lengthened by about 25mm, and lightened, and braced, then on the frame the pivot point is lowered by about the same amount, this is done by cutting the frame plates and tube and re-welding...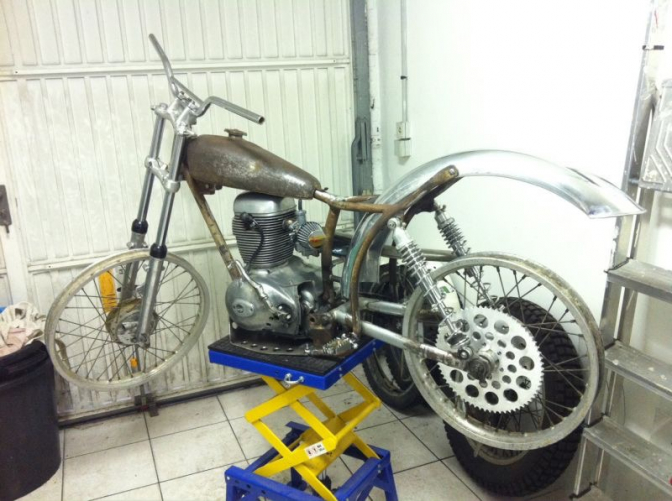 Photo Credit Reserved...
This is the Motobecane machine, that the Yamaha Ty headstock was grafted too,
and then Yamaha TY forks, hubs, and wheels, used on the build...
You can also see where the swinging arm has been lenghened, and the pivot point lowered, for better ground clearance...
~~~~~~~
The engines seem to have the same radical treatment.
The liner is pressed out of the cylinder barrel, and opened to the size of the newly turned liner, or the appropriate second-hand liner taken from another motorcycle.
A Honda liner seems to be popular... As you realise there is a lot of machining, and mixing and matching of parts, that go into a operation of this description, and most machines will not be built overnight, but are quite a marathon build...
It seems that the breed has been very popular on the continent from the Fifties, and until now in 2021...
We will add to this page again as I do a bit more delving...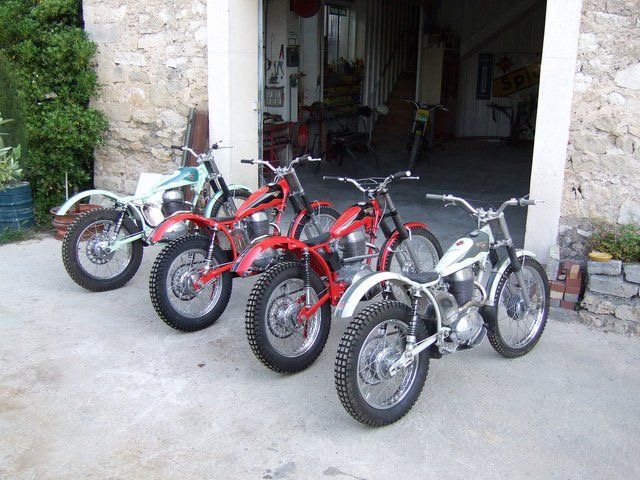 Photo Credit Reserved...
You can see how popular the Motobecane is by this shot, of what looks like newly manufactured machines outside the work shop ...
Nice sounding engine...
So More Later .
I said that these bikes had a distinctive sound, just Check this out.
I want one...
"Tobec" is just Moped in french slang...
Or shortened name for Motobecane...
26/01/2021...
Doing a bit more delving into the Motobecane, I came across another build this time from scratch, with a superb photo sequence of the build, that I spent a happy hour studying.
This guy only had basic tools and no jig to build the frame, so he just levelled the engine crankcases onto a flat steel table, and this was then his reference point for building the frame around this, using no more than a spirit level, and masking tape, to hold the tube in place while he tack welded them. And I did say basic, because the welding was all done with a ark (stick) welder… The swinging arm was constructed from what looked like a Yamaha Ty arm, but this was chopped to bits to lengthen it by what seemed a large amount, but the swinging arm pivot point on the Motobecane is right behind the engine, and through the middle frame tube. So after the added cross tube and the Yamaha front pivot loosing the middle section to fit the frame, only about 25 mm was added to the length.
Front forks were again Yamaha TY250, and the head bearings sat in aluminium pressed in to the head tube carriers.
Electronic ignition was also grafted on to this engine, that was opened out to 240 cc.. An intriguing build only using a spirit level and arc-welder, the bike turned out to look superb… I am still amazed that the amount of effort that seems to be put into these continental builds, with mostly only back shed engineering equipment… I think we over here in the UK should learn a lot, spending the money that gets spent on the Bling-Cycles, when you can turn something out as good as this bike I found with only hand tools…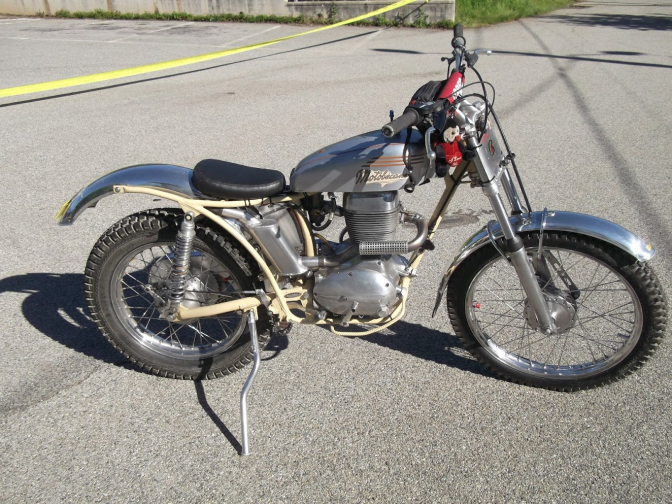 Photo Credit reserved for owner...Michel from Belgium...
What a superb machine all just built with hand tools...
I am still amazed...
PS: do you like the Reinforcing bar used for engine protection...
More Later...
With NEW material that I have just been sent from France..
Laurent's Motoconfort U57...
A lot more from this gentleman later...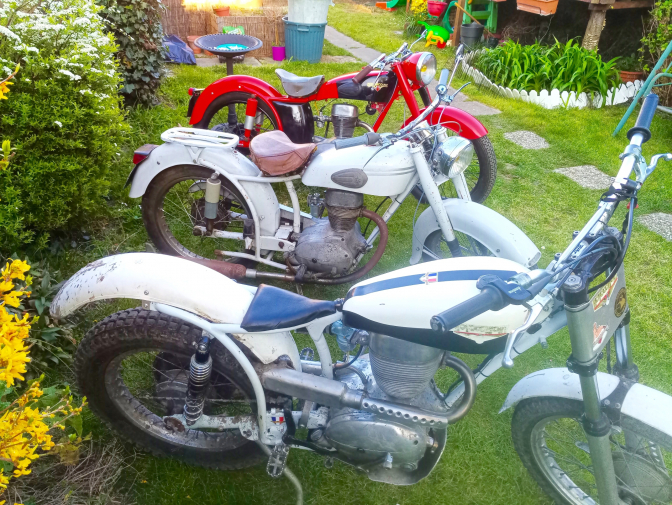 Photos Courtesy Laurent...
This is the Motoconfort trials bike of Laurent's in the foreground, and the bikes behind are his road going machines...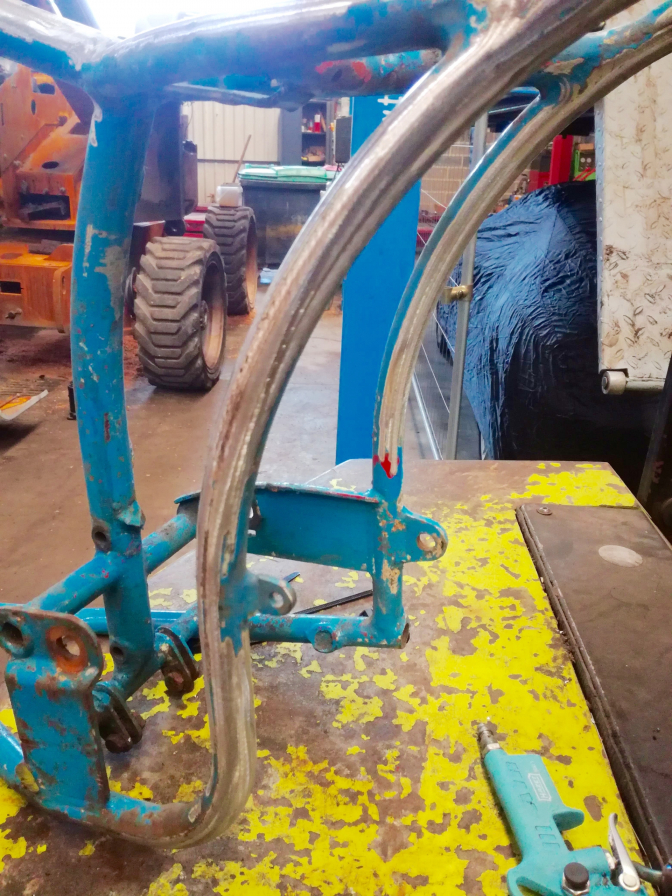 These next three photos are of the frame conversion that Laurent carried out for Pascal Couturier, for his now famous, Motobecane 175 trials machine.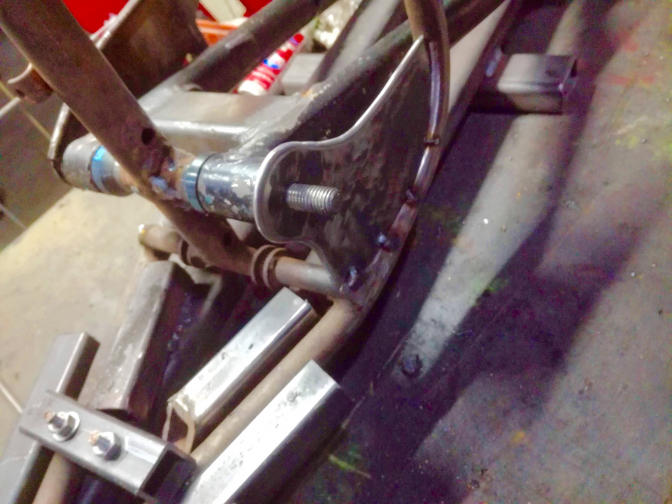 The jig Laurent used on the conversion is a lot like my frame jig...
Here he shows how the swinging arm pivot point, is brought forward by 5 cm..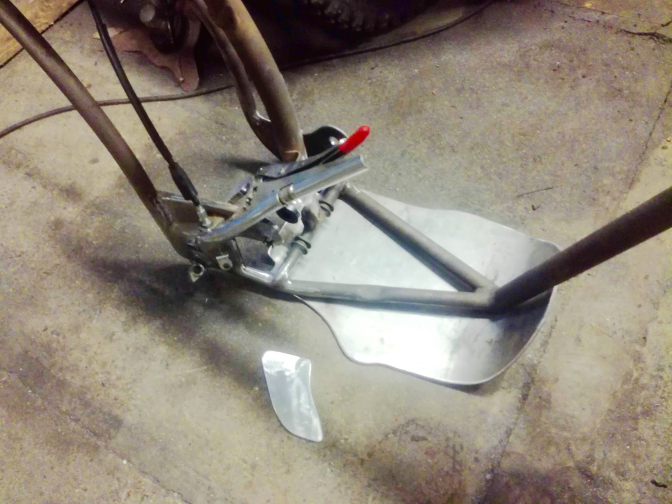 There are a lot more photos I am sure I could use, that would show the frame conversion better...
But these are the shots that Laurent sent me...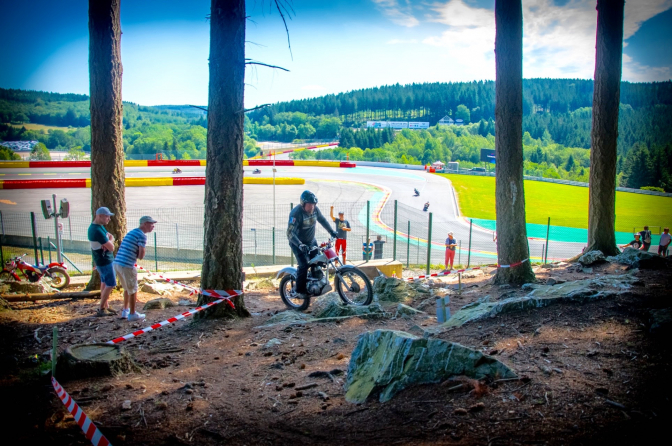 And Laurent aboard his Motoconfort at Bikes Classic meet at Spa Francorchams Belgium famous race circuit...
~~~~~~~
Here is the now famous Motobecane of legend trials rider, and head of Shoei Helmets France, Pascal Couturier...
If you look at this machine, the suspension is taken care of by British components...
New REH forks on the front end, and Falcon shocks on the rear...
Most machines still use steel fuel tanks taken from early Motobecane's...
I will later take a look at the engines used in these builds, being of simple design,with one oil compartment for engine and gearbox, and I believe splash feed too, although some have converted the motor to except an oil pump supply to components.
So this is well worth looking into...
More Later.
Story building well...
Updat2021...