2020, And the start of a New seasons trials bike tests by Justyn Norek Jnr... with words by father Justyn Norek Snr. and Carlo Ramella... Photos by Bogdana and Justyn Norek Snr...
~~~~~~~
First up then....
The Ex -Works Diego Bosis 125 Fantic Trial...
Right here is the story...From Carlo Ramella.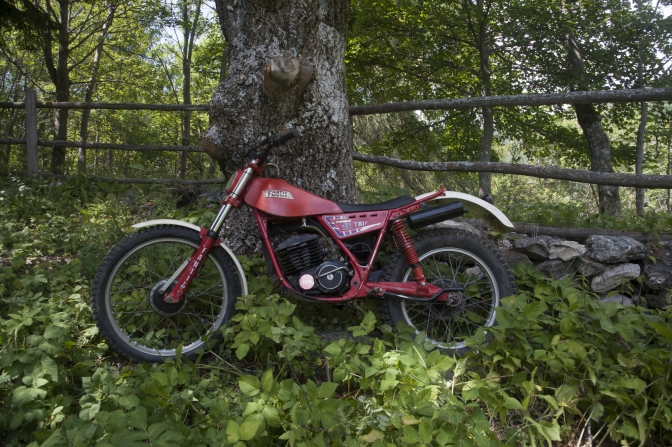 Photos Courtesy Justyn Snr, and Bogdana Norek ©...
FANTIC MOTOR COMPANY...
As many other motorcycle companies, at the end of racing (trials) season was donating competition machines to its riders, and also to important members of their team.
Also this Fantic 125 works trial finished in private hands of riders in my Piedmont region, and was used by different owners in club-man trials competitions.
At certain moment it was acquired by my nephew Rodolfo, who has used it as many young boys of his age just for fun !
After some time he asked me to sell his bike.
I didnt recognize it was Bosis mount, and almost have it sold to two teenagers, who answered my advertisement, but luckily we didn't agree, as otherwise this bike might have been lost forever....Or dismantled for spare parts.
One day my good friend and ex trials rider PIPPO BARTORILLA visited me and I have shown him this bike, "I am interested to buy it" he said, " as its very special trials bike"... I was not interested, so we quickly agreed and I sold bike to him.
After some months he came to me with this bike, perfectly cleaned up, with new tires, (tyres) rear chain etc, and he says to me:"this bike is ex-works machine of Diego Bosis, I recognized it, because in those years I was often riding with FABRIZIO CERCHIO, who was Fantic Team sport trainer, and I have seen this bike several times !
CANT BELIEVE IT ! I had it at home and didn't recognized it ! ! !
Pippo shows me some details, on the bike, confirming this is the ex Bosis machine, like special brake pedal, foot pegs, MIKUNI carb, supersoft clutch action, special mudguards, and number plate holder, and above frame from 240, as Bosis was training using 240 engine, then switching to a 125 for competition due to age limit. At this point I shout " I WANT IT BACK " and as you imagine, it came back into my garage...
From time to time I use it for "Old Trial Competition's" or for mountain trips for fun, because its so light, easy to ride over any terrain, with good power delivery, despite its "only" 125cc even if at low revs it could have more punch, (but for riding impression look at my friend Justyn Jr test) I am very happy to have this bike, so I have "3 Musketeers" in my collection: FANTIC 125 ex works di DIEGO BOSIS + prototype FANTIC, A 300 ex works JAIME SUBIRA + FANTIC...And a 300 ex works di RENATO CHIABERTO.
VIVA FANTIC ! ( LONG LIVE FANTIC ! ).
Written by Carlo Ramella.
Translation...Justyn Norek Sr...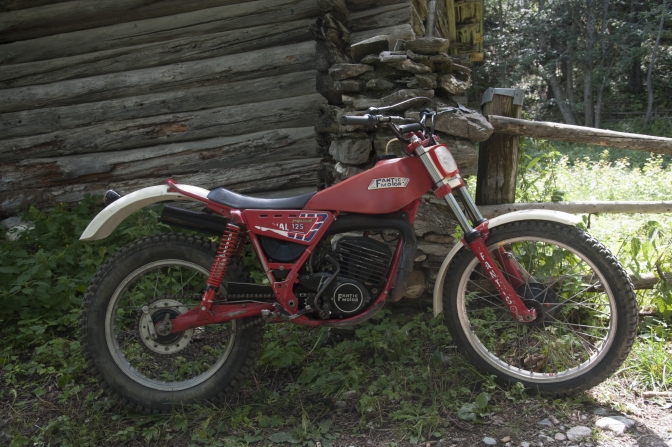 FANTIC 125 BOSIS TRIAL TEST - Riding impressions
So we Get the riding impressions of FANTIC 125 Bosis trials bike, by Justyn Norek Jr.
When I asked my friend CARLO RAMELLA what trials bikes from his collection we will test this summer, he has proposed Fantic 125 ex works bike of late top Italian trials rider of 80ties DIEGO BOSIS, Cotton-Minarelli 175, and Mecatecno 350 ex works bike of JUVENTANY, so I was puzzled which to chose for first...My choice finally was Fantic.
We came to Carlo's mountain house early in the morning on Sunday, in middle of a hot August.
Carlo and Pippo (Bartorilla) were already waiting for us as well as bike perfectly cleaned up and waiting for static photo session.
Without loosing too much time we took the bike to various places searching for attractive shots.
Soon after I brought the bike to start test in stream, outside PUY where Carlo has a stone mountain cabin.
As I am keen on 4-strokes, I was particularly curious to try this small two stroke.
One kick and engine started working with its particular "Fantic" sound that you
Easily recognize, and as I was warming it up I was wondering if I like it or not, that
Kick starter works forward rather than backwards like on almost all other bikes...
Its bit strange but after some time you get used to it...
Now I asked my mother BOGDANA NOREK also very good photographer to take position in the stream and be ready.
This time she will measure her skills to take nice shots of
me in action.
A few minutes of riding around to get feeling of bike and I jumped down
into stream bed. First thing that impressed me most was how light this bike is! Certainly this is characteristic (winning) of all Fantics. That was due to fact that bike started with
125cc moving to 156, then to 212, and finally to 249...
This lightness changed way trials bikes were ridden introducing style of Thierry Michaud and Jordi Tarres... So I too tried
"Surplasses" as well as moving bike sideways and enjoyed it a lot. So I must say that it
feels very close to modern bike of course with limitation due to its age.
Another feature I quickly felt at home was handling and riding position, just perfect for me.
It has excellent brakes and suspension allowing easy ride over obstacles always in full control of bike, but I had to learn using engine power coming with higher revs than I am usually used to... So at the beginning I stalled engine few times, but its my fault!
I only can imagine how much it will improve with engine of double capacity...
Another great aspect is very light clutch that with great patience resisted to my
abuse when trying modern "tricks".
If I Only could fit 250 engine, but Carlo will not allow me to do that, so I have a solution,
I will find and buy one 250, there are still plenty of such bikes around.... Now I understand why those bikes are so popular in "Classic Old Trials".
So its an impressive bike, and I am convinced to recommend to anybody, if you like trials
and can find one, BUY IT! Whenever its 125, 156, 212 or 249 BUY IT!
You will enjoy it. I am so happy that Fantic's reborn now even if current range is without trials bike, lets hope one day...
Tested by Justyn Norek Jnr....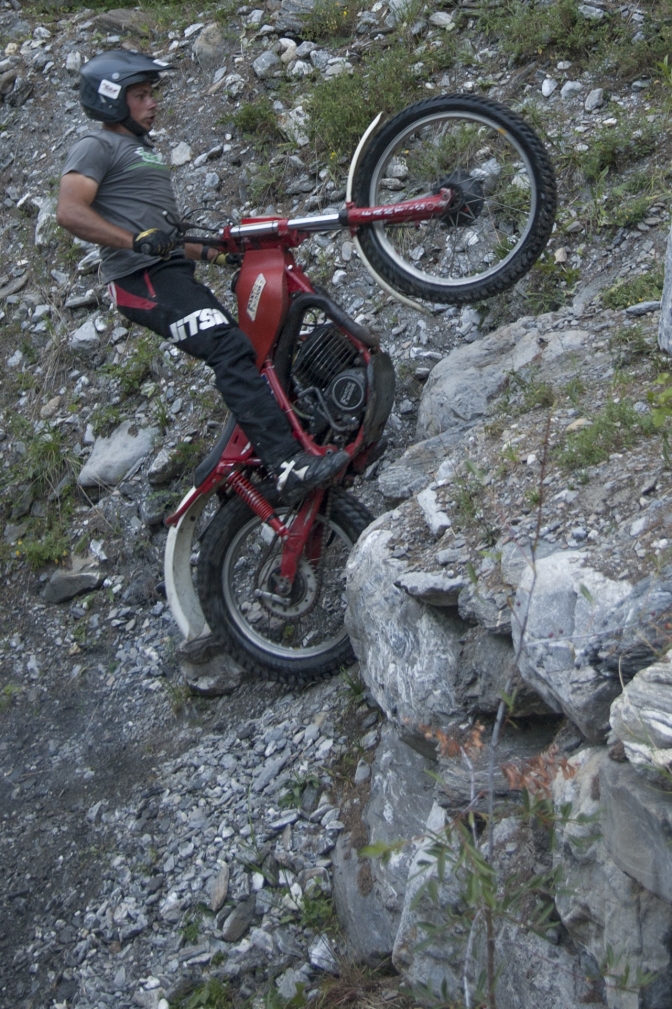 Justyn always gives the bike's the "Wheelie" treatment...
Too far or not?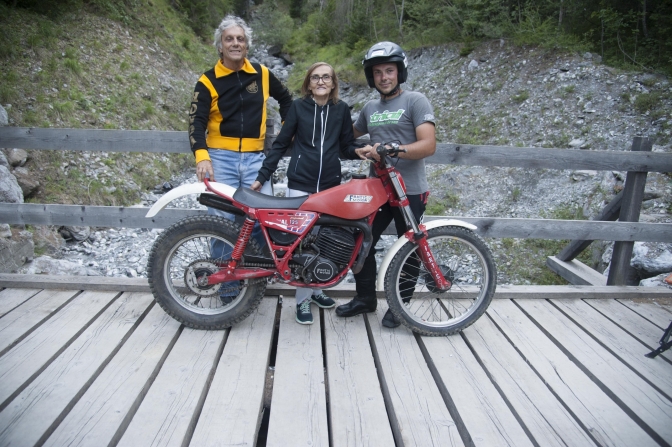 Owner Carlo, Bogdana, and Justyn Jnr... And the Fantic...125...
FANTIC 125 EX BOSIS TRIAL TEST - tech data...
Here is technical data of ex Bosis FANTIC 125 trial special:
Engine: Fantic-Minarelli type FM250, two stroke, single cylinder, air cooled,
Bore & stroke: 55.2X52 mm,
Capacity: 124.4 cc,
Compression ratio: 12 : 1,
Max power @ rpm: 12cv @ 5500 rpm,
Max torque: 1.36 kgmt @ 4708 rpm,
Ignition: electronic Ducati or Dansi,
Lubrification: mix 2% of Castrol 2T,
Carburator: Mikuni 26 mm,
Clutch: multiple discs in oil bath,
Gearbox: six speed with frontal engagement,
Frame: from Fantic 240, duple cradle in steel,
Suspension:
Front: telescopic hydraulic fork Marzocchi diam 35 mm, stroke 170 mm,
Rear: Marzocchi adjustable in 5 positions, stroke 110 mm, rear wheel vertical mov 145 mm,
Rims: Akront front WM/1 (1X21), rear WM/2 (4X18) in aluminium,
Tires: Pirelli "Moto Trial" 2.75X21 front and rear Pirelli "Moto Trial" 4.00X18,
Fuel tank: in thermoplastic material, 4.5 litres capacity,
Best regards
Justyn...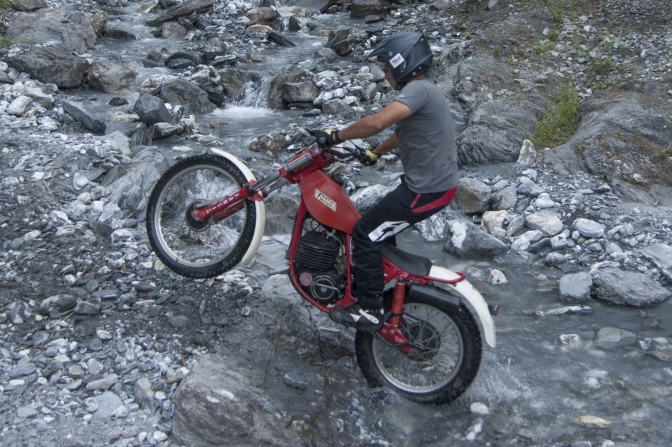 Justyn warming up out of the stream...
Charlie~Oo>...
I can remember going to a trial at a village not far from where I used to live, Hook Norton, at the start of the Cotswolds...
The local club Banbury-NOBAC used to run trials there on the old railway bank and in the nearby quarry...
One warm Saturday afternoon, I thought I would take a ride up and take a look, as I had been out of trials for some years, but had been involved with a Minarelli engined race bike... Of the brother in laws...
So the little Fantic bike made me interested in them... And it seemed that they were the "in bikes" at that time, for most of the trials entry were aboard one, or taking a lot of interest in them.
I thought surely this little bike can't compete with the crop of Bulatcos etc...
But wandering along the sections on the old railway banking... I was amazed how well these little machines performed. And I think the first three riders were Fantic mounted... And every one wanted to buy one...
I never got involved again for a load of years with trials bikes because of work commitments, as you may know if you have read "Seventy Years of AWP."..
But you now know that the little Fantic is the bike to own again (if you can find one) for the latest Classic Trials Scene.. So like they say,
"What-Goes-Around-Comes- Around"... Great little engine by the way...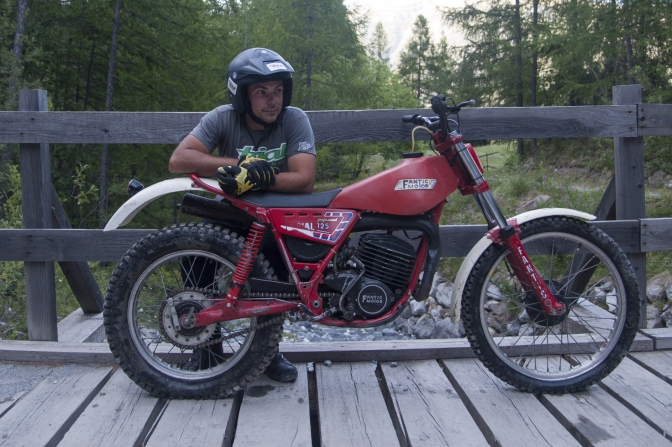 Photos Courtesy Bogdana and Justyn Norek...
More Later with loads more photographs...
~~~~~~~
Fantic Detail photos later...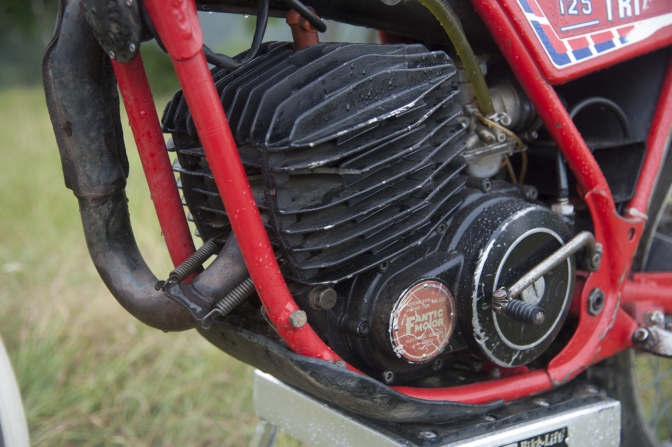 Minarelli Engine 125...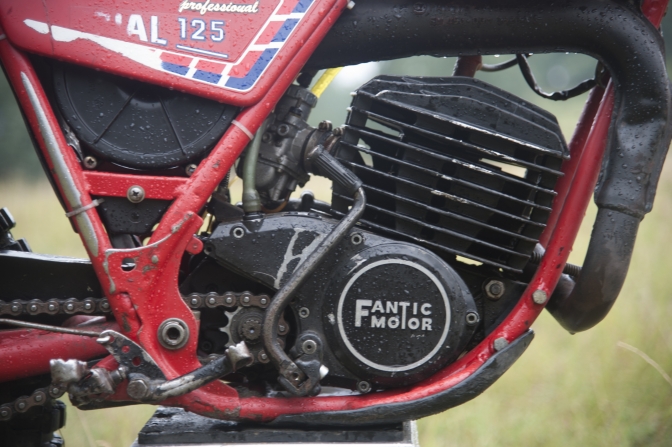 Forward operating kick starter...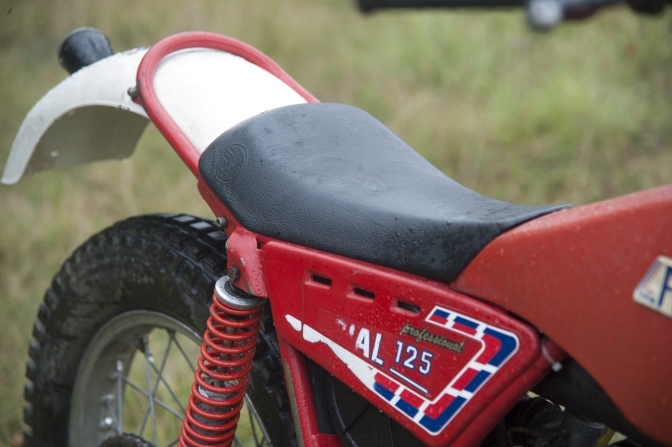 Just a neat and tidy little bike...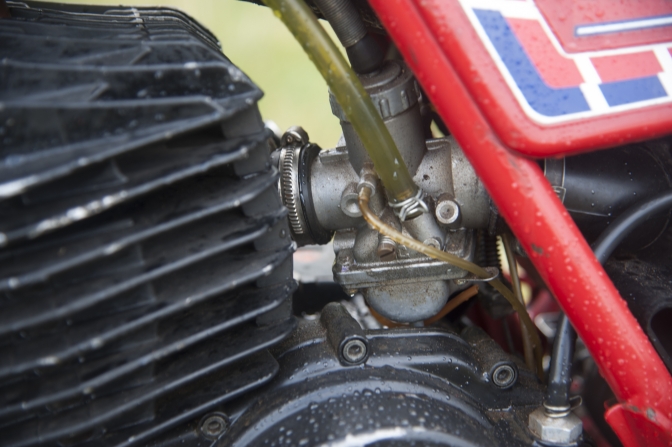 Fitted with a "proper" Mikuni carb...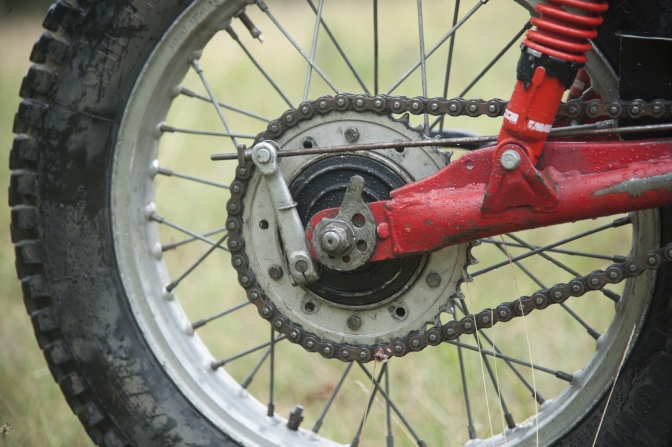 Short swinging arm, and Gremeca rear brake hub...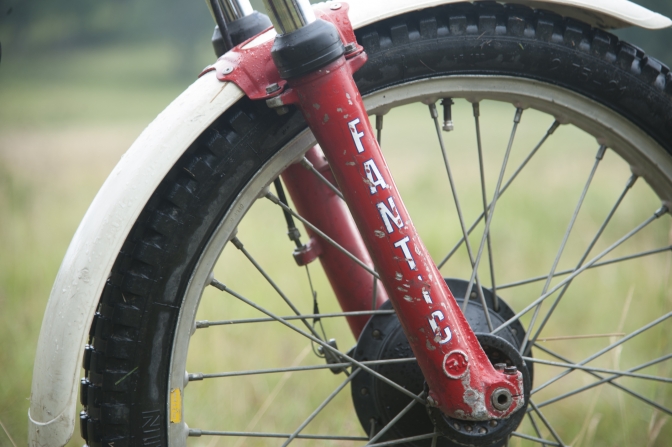 Marzocchi 35mm front forks, and again Gremeca front brake hub...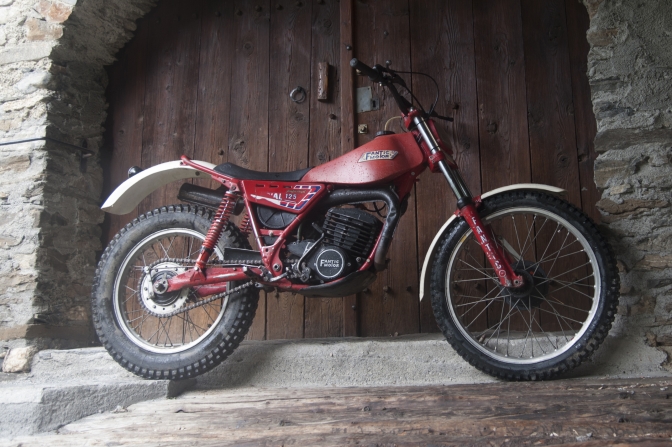 What a "Fantastic" little bike... And Why don't trials bikes look like this today?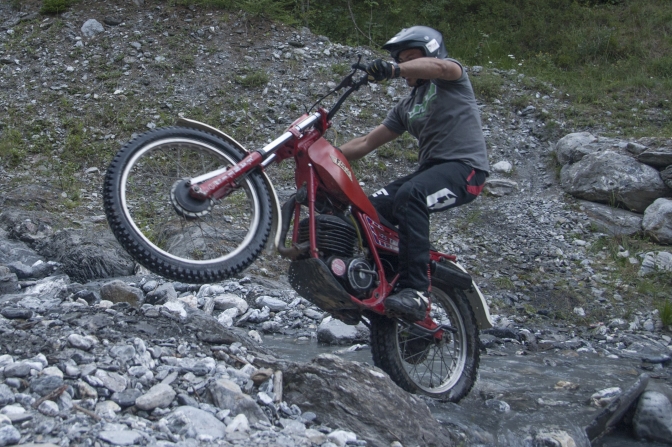 Thanks Guy's...Fantastic...
Another "Norek" trials bike test brought to you by...

~~~~~~~
Updat2022...