One Off Trials Bikes.
We see these trials builds, but once we have looked at them and the rider is not well known, the bikes disappear into the background and never get seen again. Well this page will at least get them recognised by us the readers of ,
"BSA Otter dot Com".
And if the builders of the bikes get to see them too, we hope they will do a build story for the bikes listed. We will see.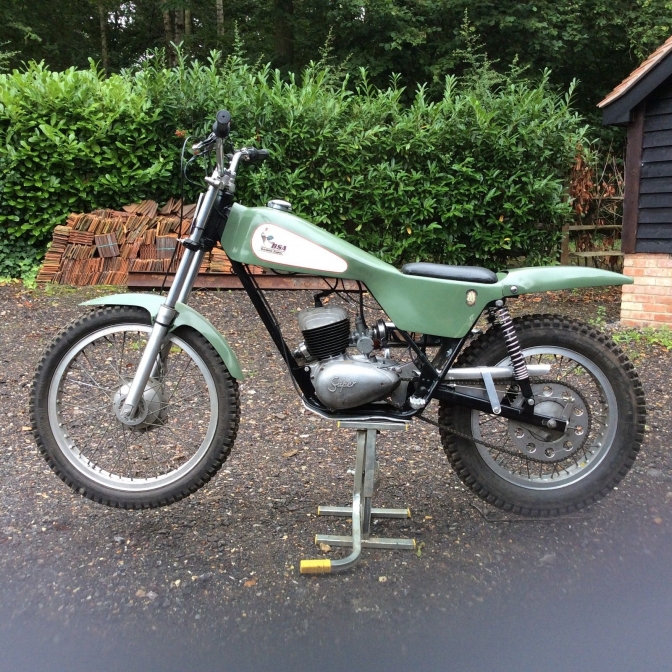 This one is a D7 BSA Bantam Trials Special, with a bit of a Rickman influence...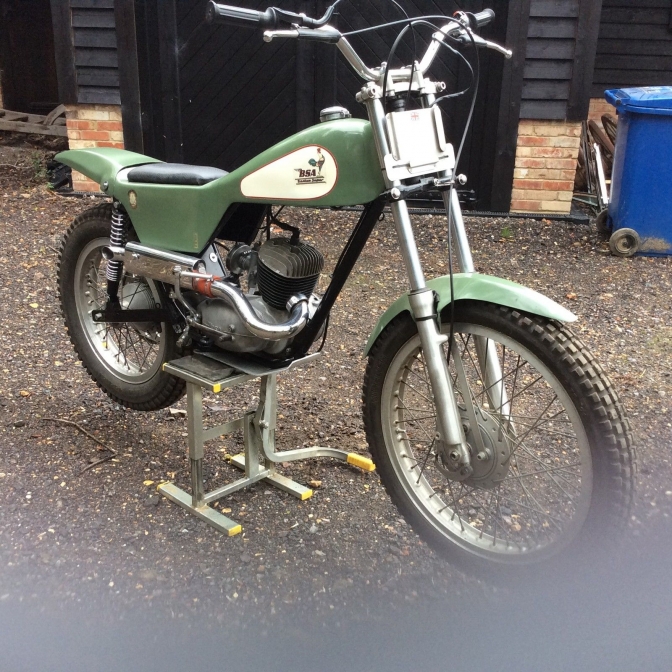 More Photos later..........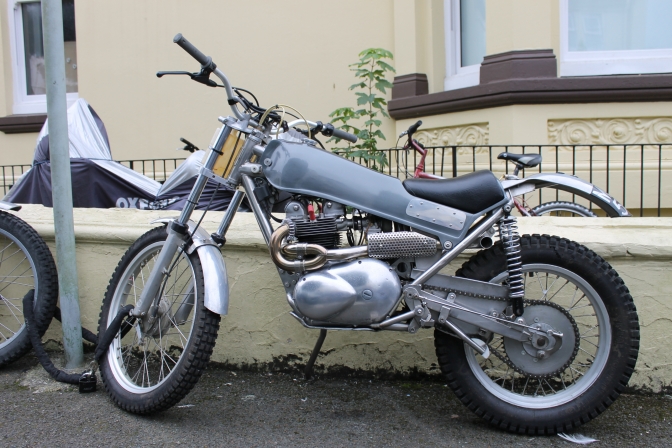 Photos of this bike Courtesy Jim Switzer.
This bike was spotted by Jim Switzer in Douglas IOM at the weekend of the Classic TT 2017.
Jim spoke to the owner but did not get his name?
The frame is built using stainless steel and the Montesa tank is just a cover.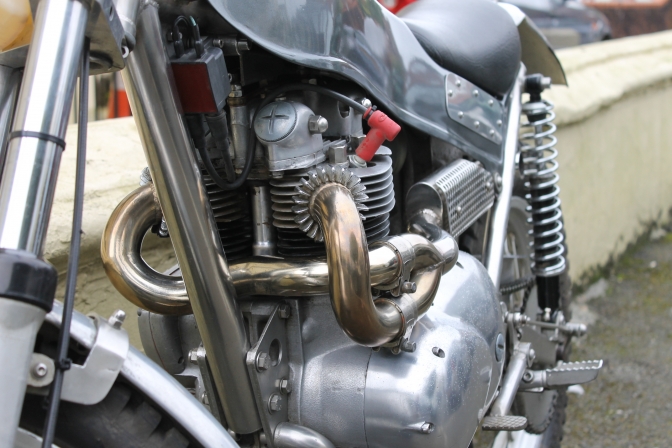 More pictures of this bike later.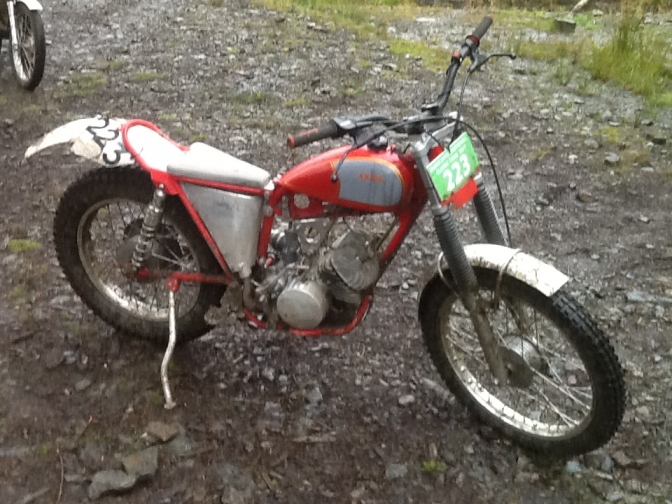 Photo Courtesy Brian Bedford IOM.
This superb Ariel Arrow engined BSA Bantam framed bike was at the Manx Classic at the weekend, and Brian had a word with owner? Andrew Webbe...
We would like the story on this build Andrew, and well done getting a first-class award at the trial. Villiers gearbox fitted I understand.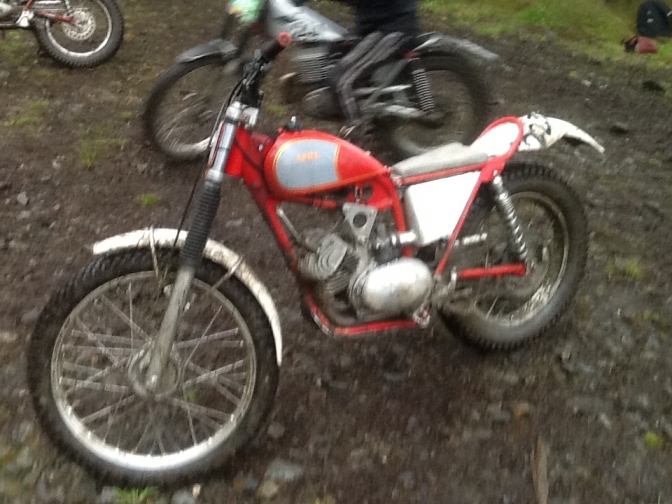 Villiers Chaincase.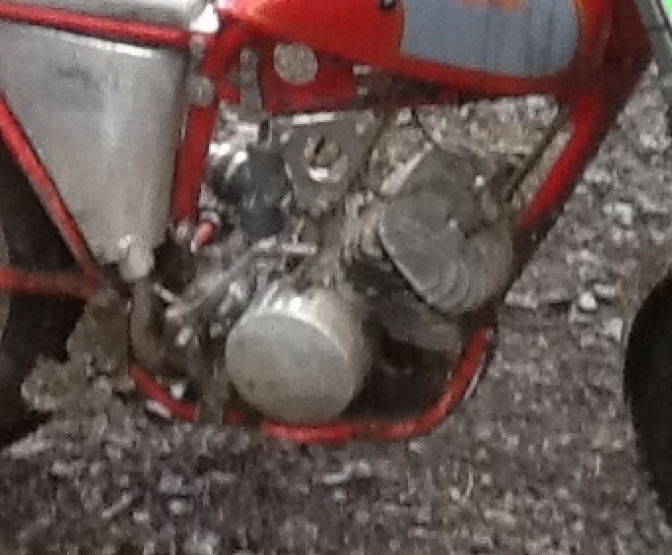 More pictures of this bike later.
I now know who built this machine, using a Drayton Bantam frame.
I will try and find the story later...
The bike was built by Harry Stanistreet for Andrew Webbe After he had fell in love with the Ariel Leader engined Zundapp that Harry had been riding for some time and asked if he bought a Drayton frame kit and the other parts for the build would he Harry build the bike for him.. Harry spent ages modifieing the frame to get the engine to fit because of the top hanging engine mounting the Ariel twin had to hang from in the pressed steel frame they were designed for ... The other problem was the gearbox on the Ariel so Harry grafted on a Albion four speed ? box from a Villiers engine along with using the Villiers clutch and 37A chaincase...
Would you build another Harry... "don't think so it was too much of a job"... More from Harry later I hope.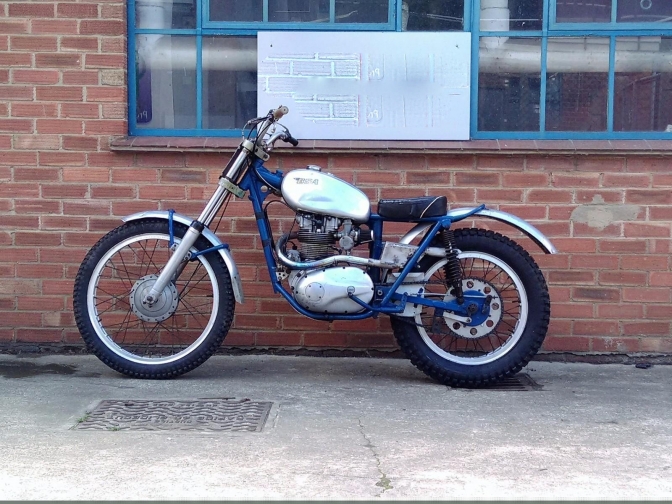 This machine was on a eBay sales page. And by looking at little bits of the bike like footrest's, looks like it was built some time ago and been stored for years?
But the question is, Who built this bike?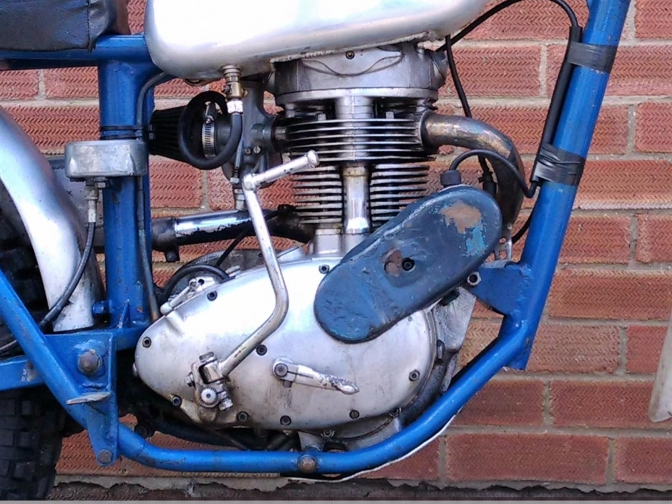 The magneto has got to be a clue to who built this machine?
More photos later.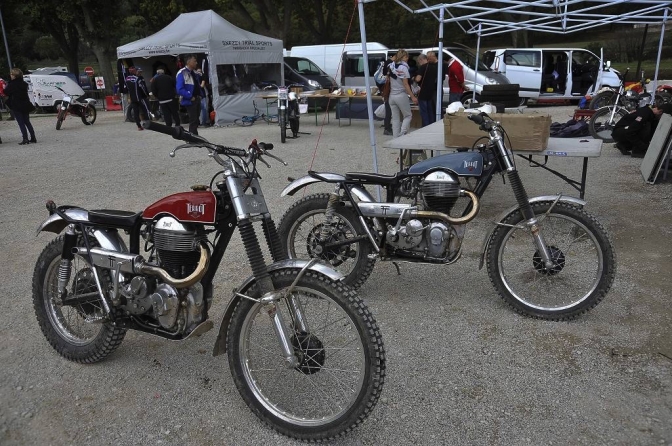 Photo Courtesy Justyn Norek?
One Off, or Two. We would love to know more about these bikes.
So you can see where we are going with this page, and just a start, it can now build and build. And if you have a ONE OFF let us know send in a picture of the bike.
Update later today. 04/09/2014...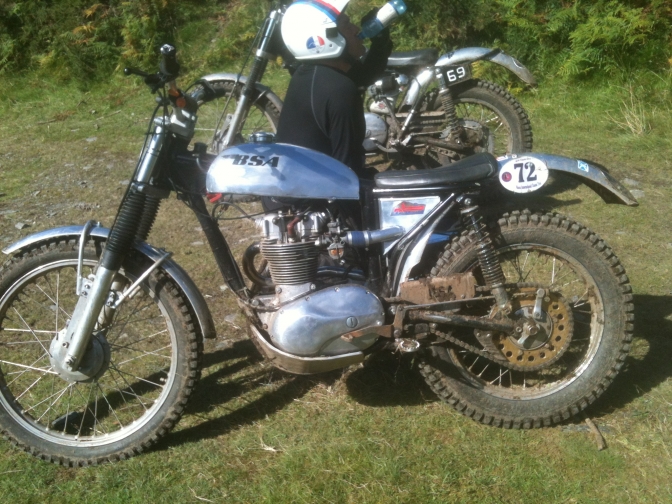 2014 now. Manx Classic trial...
We know the name, but who built this Ariel-BSA hybrid?
The flag on the helmet is a clue, France.
More photos of this bike later.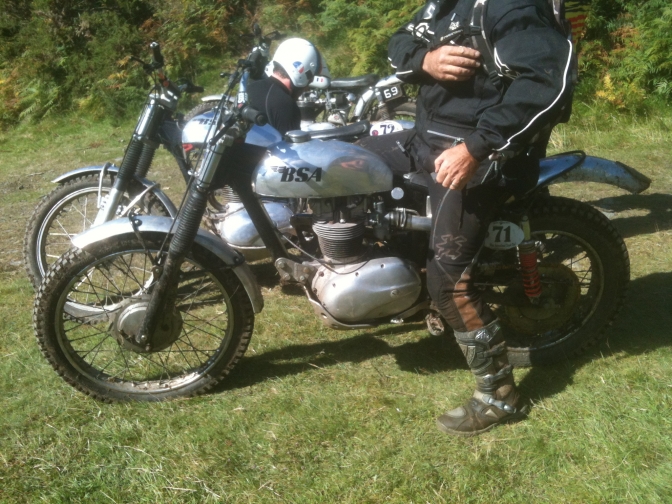 And this one even more of an Ariel-BSA.
Same trial, same gang.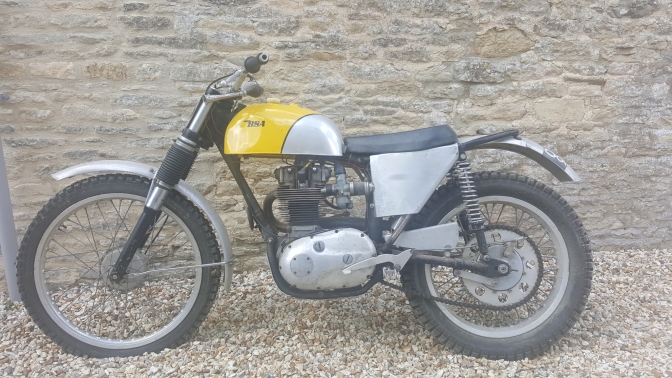 This nice BSA belongs to Paul Morcom, and he would like to know who built it.
The frame is in the "Otter" bracket, and uses a Triumph Cub subframe and swinging arm, in the Scott Ellis manner...
The frame if you look closely seems to be of a bent backbone type.
Paul purchased the bike through Adrian Moss if that gives you a clue.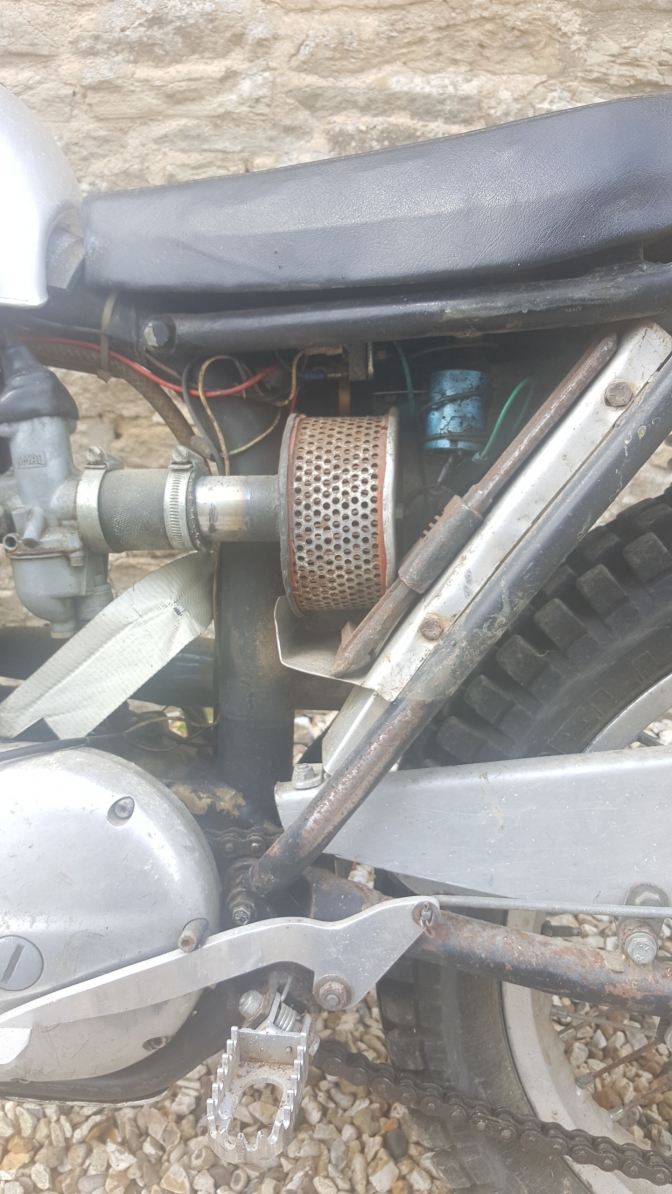 Note: the main tube, and the brake pedal, could be a clue to the builder.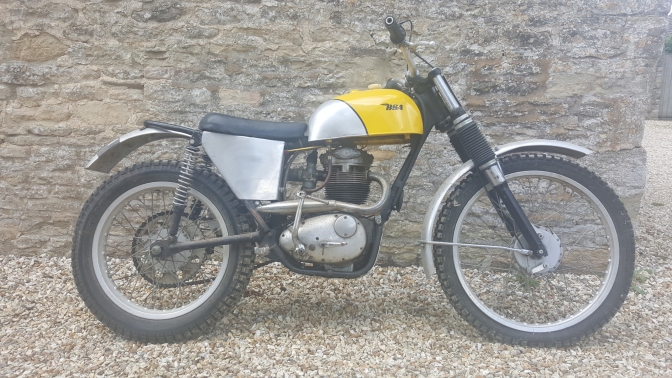 Compact looking machine with the BSA B40 GR engine fitted .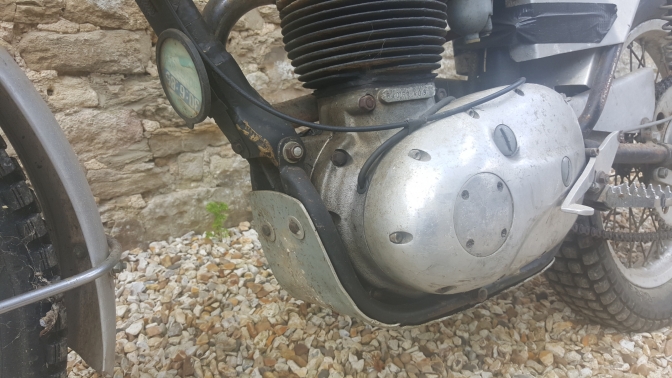 Built in the eighties I think...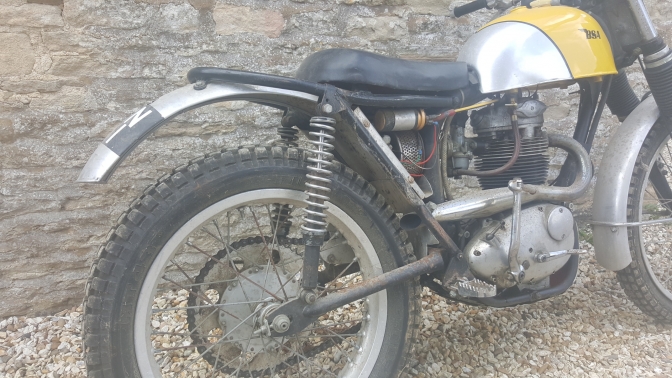 And the Triumph Sports Cub rear end.
03/12/2022...
Another "One Off" and the story of the build...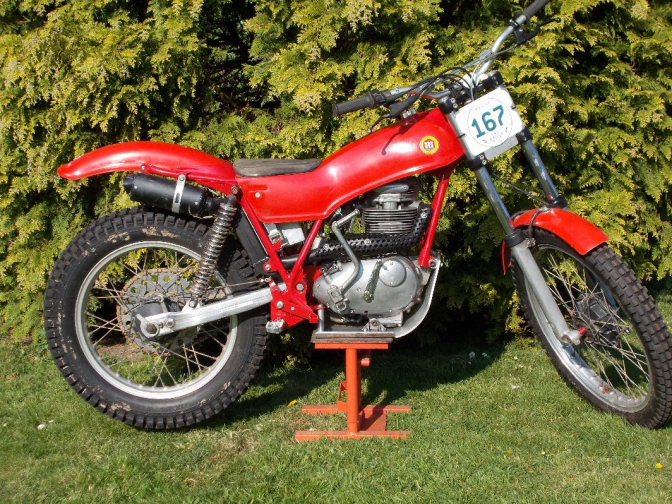 I thought you might be interested in the love child of a compulsive fiddler with too much time on his hands !!
Its more or less a
1985
Montesa 242
rolling chassis with earlier body work.
The engine I built from second hand spares, mainly
1968

&

'70
There is a fleetstar low compression piston in there & standard

B25

cam.
Ignition is
Electrex-
World
& the carb is an
Amal Concentric.
It has an
18t
crank sprocket driving a well fettled but still useless standard clutch...
Both gear change & rear brake levers are on the right hand side.
A few pit bike parts have been used in the exhaust system and oil filter.
The fuel and oil tanks are home made.
It rides really well and sounds spot on but let down by the crap clutch, the next thing to be modified.
The bike hasn't always been
BSA
powered ( but that was always the original idea ). In a previous life it had a
15Kw
electric motor powered by
72 volts
of

lithium batteries.

It was an interesting ride but it lacked the fine control
required for a trials bike. Oh, and it did try to kill me !
So there we have it, my

BSA-

Montesa

,

I love it...
Regards
Graham Williams..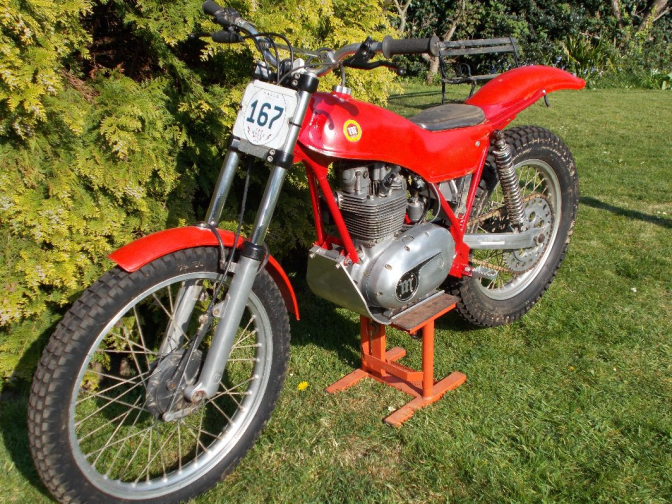 Love the
Montesa
badge cover on the
Triumph TR 25
Chaincase..

Graham..

.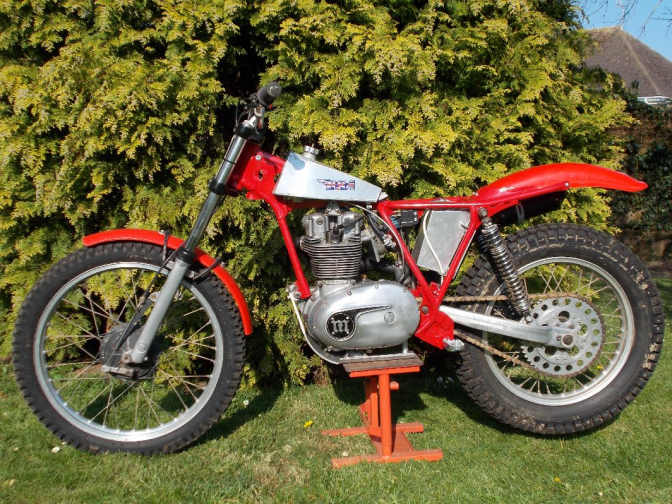 Nice job with the alloy tanks too, and how that GF cover instantly changes the image of the machine. Great job this, and first class engineering job...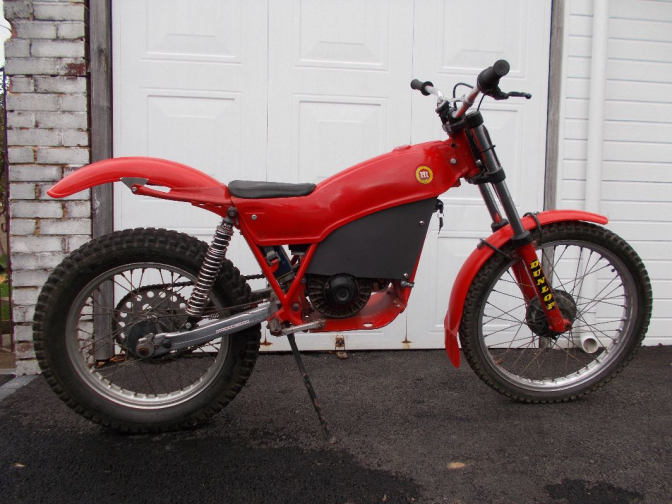 I bet that was a beast to ride with the power from that electric engine...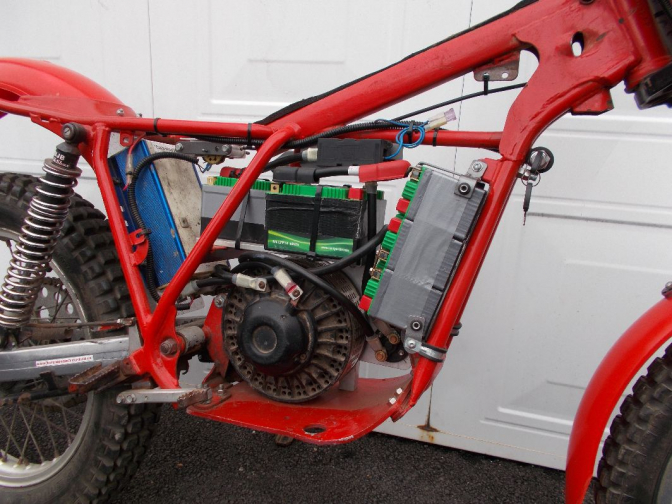 WOW... and that photo shows off the
Montesa
frame so well...
Thank you
Graham Williams
Nice one...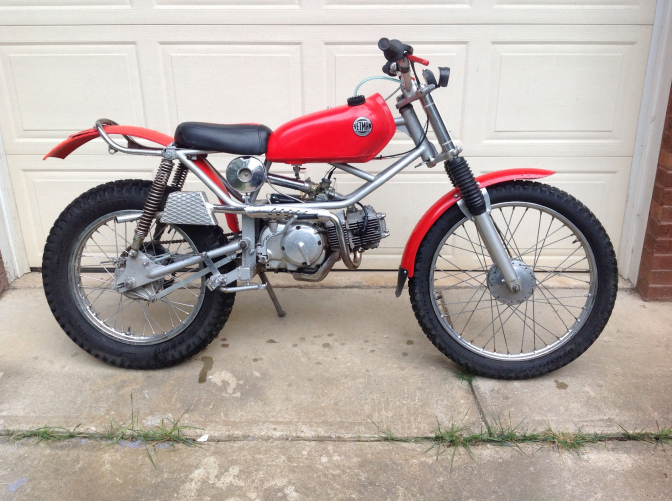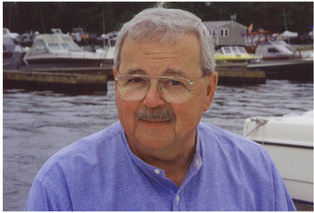 David S Yetman

born

1939...
David Yetman frames…
David S Yetman born in 1939, was an auto dynamics engineer in 1965 from Marblehead Masachsetts...when he saw a market for building space type motorcycle racing frames for mainly lightweight road racing bikes for Honda and Yamaha engines, from that period until 1976 when the frame business was closed after other successful projects taking his time…just short of four hundred frames were built, some for the emerging chopper market… So it looks like the little Honda Cub engined trials bike must have been built during this time frame… what comes around goes around… Thank's Mike Waller for the video find…
David S.Yetman has had great difficulty in deciding "what he wants to be when he grows up". After dropping out of high school, he worked as a mechanic, sheet-metal fabricator, entrepreneur, real-estate broker, licensed optician, draftsman, designer and mechanical engineer, eventually becoming an engineering manager for a high-tech company before retiring. Along the way, he acquired several patents for things as diverse as motorcycle frames and laboratory apparatus used in DNA research.
The "Yetman" motorcycle frames – mostly for use in racing – that he designed and manufactured in the late 1960's were quite radical in their day and are still much sought after by collectors and vintage motorcycle enthusiasts.
Retirement offered an opportunity to explore another of his interests, writing. He has since written four books and more than 200 magazine articles, mostly of a technical nature, all of them about boats and boating.
He and his wife, Pat, live in Maine and cruise the New England coast on their customized Albin Tournament Express convertible....
~~~~~~~
Why don't you send us your story of your "One Off" trials bike build...
More ONE OFF builds Later...
Updat2023...08...