Sammy Miller Hi-Boy Framed Honda TL125...
21/12/2020...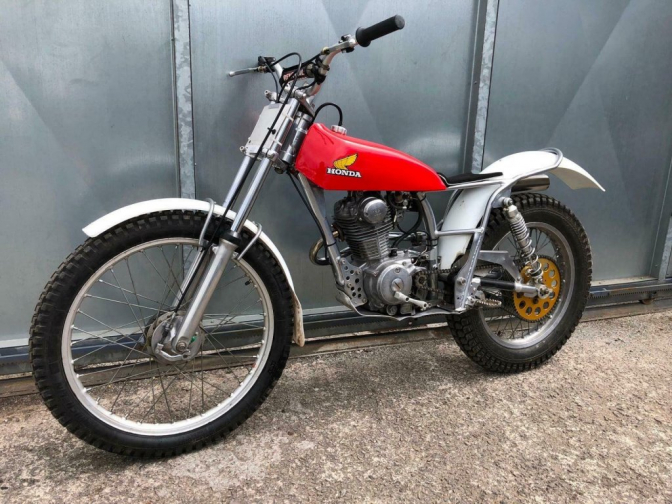 Photo Courtesy eBay...
A lot was thought of these little machines in the Seventies, and the Hi-Boy frame, and complete machines built up by the Miller staff sold very well thank-you. In fact about 750 Hi-Boy frames were made between 1974 to 1980...
A lot of the Hi-Boy frames were fabricated for Miller by ace frame builder and welder Mick Whitlock, out of Reynolds 531 tubing, that is until he got inundated with the production of the Beamish Suzuki frames, and had to choose one or the other, Beamish won the day...
So not all frames were welded by him...
If you are thinking of purchasing a Honda Hi-Boy TL today, please check for cracks in the frame especially just below the steering head, as Reynolds 531 tubing does suffer from fatigue over the years, and there has been hints that not all of the frames used this tubing...
I will hand over to the Justyn's Norek to give you the photo's and reports on the bike they tested and own...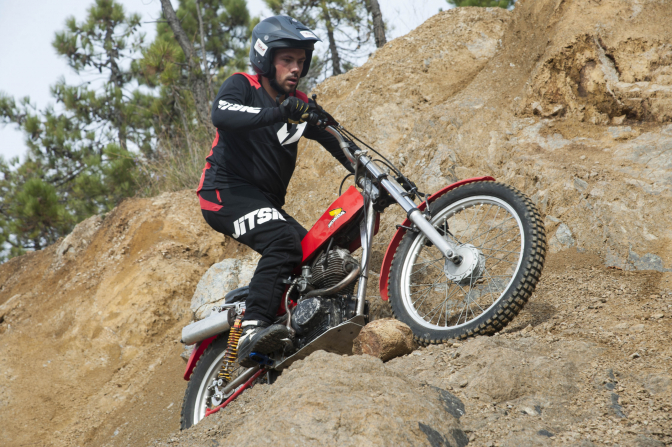 Sammy Miller HIGH BOY HONDA TL125 TRIALS - styling consideration
SAMMY MILLER's HONDA TL125 is really BEAUTIFUL trials machine and this is an excellent example of MINIMALIST DESIGN where what is not strictly necessary for functioning of device, is taken OFF ! Yet remaining elements are beautiful them self and are arranged in harmonious logical way. Let's start with Honda engine, painted black is heart of the bike, proudly exposing it's lavish square fins look quite aggressive and express power of an engine.
It's embraced by Hi-Boy frame designed by Sammy himself that's "stands out" proudly expressing its FLUID SHAPE, thanks to bright nickel finish. Particularly interesting is rear frame loop having continuous shape where normally frames are tubes cut and welded at sharp shape....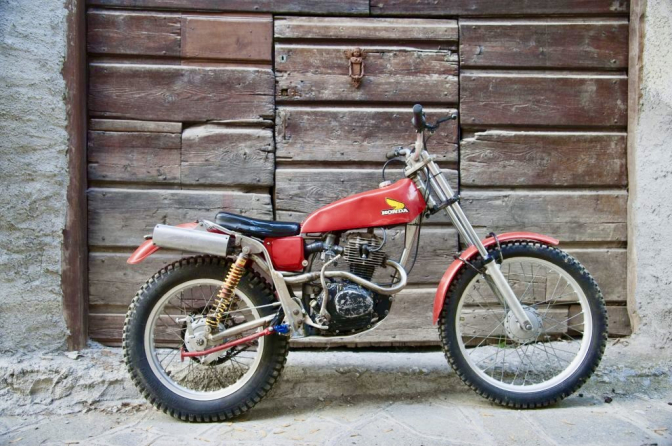 All photos Courtesy Justyn Norek Snr & Jnr...©
This detail is well echoed by sinuous shape of exhaust tube also in bright chrome finish terminating with rather big aluminium silencer.
Fuel tank is beautifully styled with long, low and slim shape that is also extremely comfortable allowing rider easily to move body forward on steep uphill sections.
On our bike it has not standard painting being in plain racing RED HONDA colour that is accompanied by red plastic front and rear mudguards and oil tank under black comfortable seat. Perfect ? Almost...I certainly would prefer neutral silver colour for rear shock absorbers and side stand.
This bike is really BEAUTIFUL and confirms, if it was at all necessary that Mr. SAMMY MILLER is not only one of BEST TRIALS RIDER in history as well one of best engineers, but also GREAT ARTIST !
Dear Mr Miller, please design for us another trials bike, may be ultra modern ELECTRIC ?
Regards
Justyn...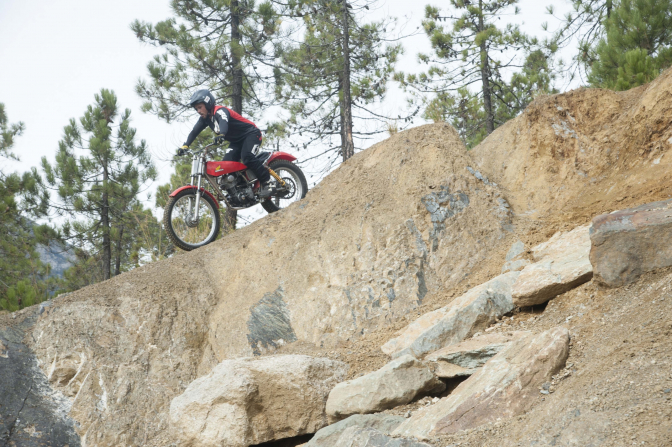 The little Honda's brakes are a bit weak for today difficult sections...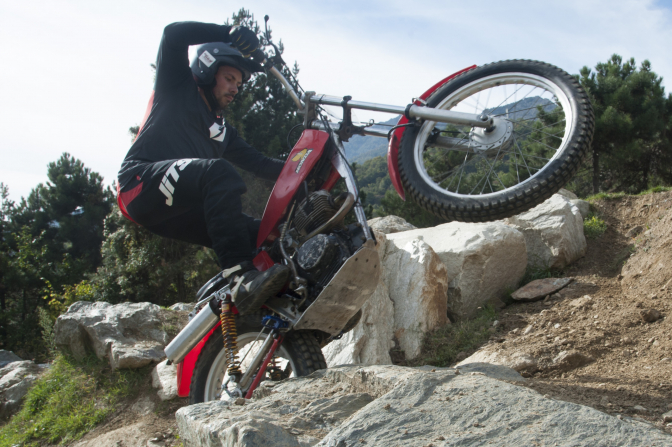 An agile little machine said to handle a lot like a Bultaco,
I wonder why...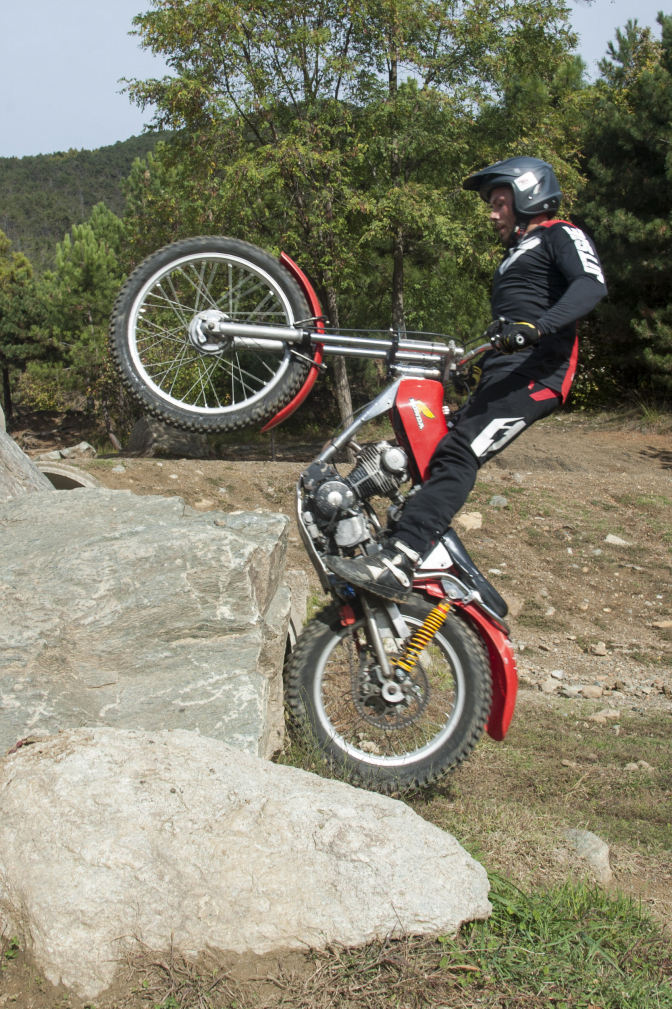 Honda TL125 HI-BOY Sammy Miller Trial Test - Riding Impressions
Here are riding impressions of Honda TL125 HI-BOY Sammy Miller,
To test this bike we have chosen Rubiana Trials Park close to Turin,
with endless number of natural and man made trials hazards. One can ride for
hours in woods and over stones without getting bored. It's training ground for
best trials riders of Piedmont Region. It was Sunday, quite a few guys training there
on modern bikes, and I must say when I downloaded my Honda from trailer it has
created general interest not only among parents but also teenagers and young trials riders, much to my satisfaction and obvious satisfaction of my father...
Soon I dressed in trials trim (modern), and gave bike starting kick, as tires pressure,
petrol, oil etc were already checked earlier at home. She responded eagerly as any
true Honda for first kick with nice low frequency noise.
Now it's time to ride around slowly and adjust riding position, mainly control levers
and handlebar. Engine already warm, I started to make uphill and downhill runs trying
to get feeling of handling and brakes.
Of course being accustomed to modern disc brakes I found them not very impressive,
while in contrary handling was excellent ! It must be another trick by Maestro SAMMY,
and his knowledge to design trials frames ! Bike was very stable, easy to control and
easy to manoeuvre. Also in turns it was razor sharp and precise. Much credit must go
also to good suspension as well as to geometry of frame with it's short wheelbase
and well positioned centre of gravity makes bike so easy and pleasant to ride...
So far so good, but how it will perform on rocks and stones ? Oh here are some that
I know from rides on other bikes. First attempts are not so successful as my feeling
Is lack of power...oh, I forgot it's 125 !
Indeed with another cylinder added on this would be almost ideal bike...I need a 250 !
I looked at web, seems biggest conversion of new cylinder is around 200...That should
Be great improvement, so this is the next step I am thinking about.
In any case after some attempts I managed to clean some considerable rocks, and
steps. Lifting front wheel for aerial manoeuvres was as easy as on bicycle, and bike performed well also on slippery ground and on roots in forest.
If I only could get more HP....I will ride it in serious competition.
It's an ideal bike for young riders, that can grow with bike as it's engine can be
increased to 150, 170, and eventually 200, making it very competitive, could be
Kind of modern Triumph CUB !
Great Maestro SAMMY has done it again.
I would like to recommend it to ANY TRIALS ENTHUSIAST,
An ultimate Fantastic FUN bike. I am so happy we have bought this bike....
And it's also BEAUTIFUL !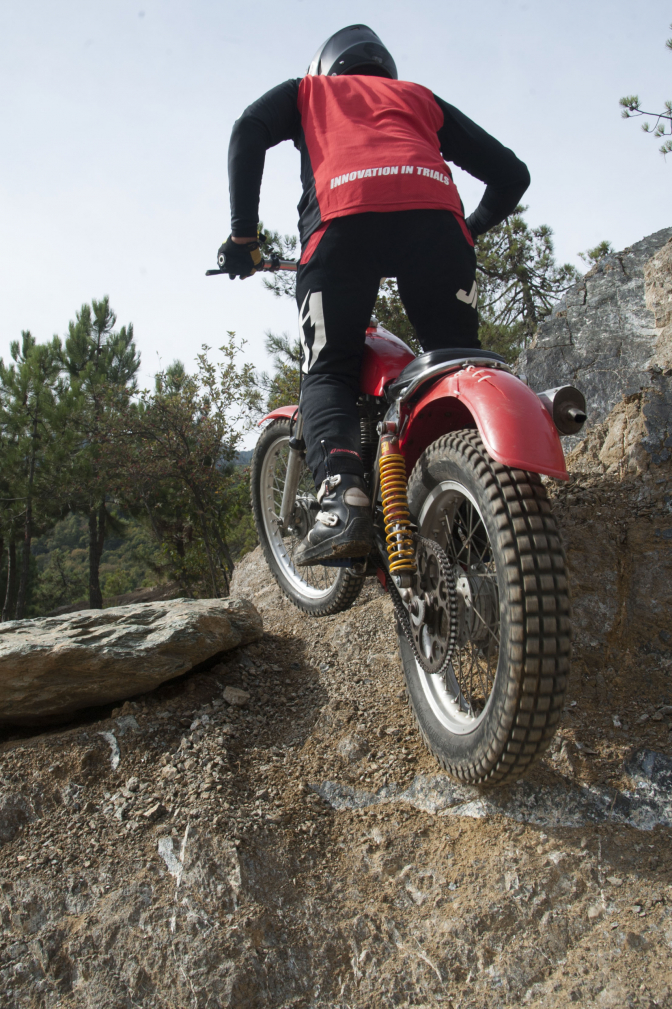 Being such a lightweight machine you can in most cases get away with the 125 cc's of power. And yes there are kits to boost the capacity on the market, and you could even try one of the copy engines if your Honda cam bearings have eaten the cylinder head...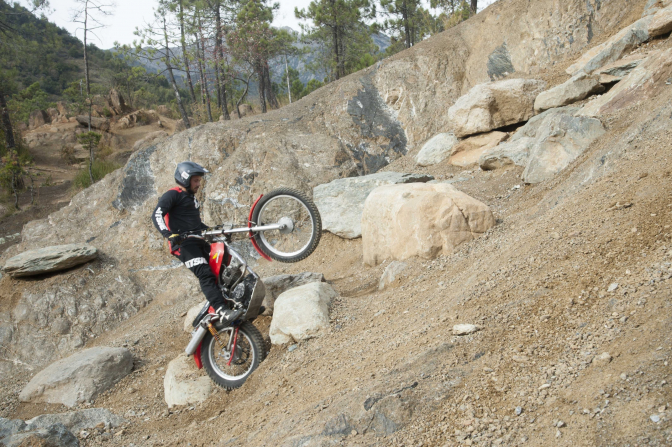 I must say this little bike tends to suit Justyn a lot, and riding down hill mountain bikes (Cycles) increases his style...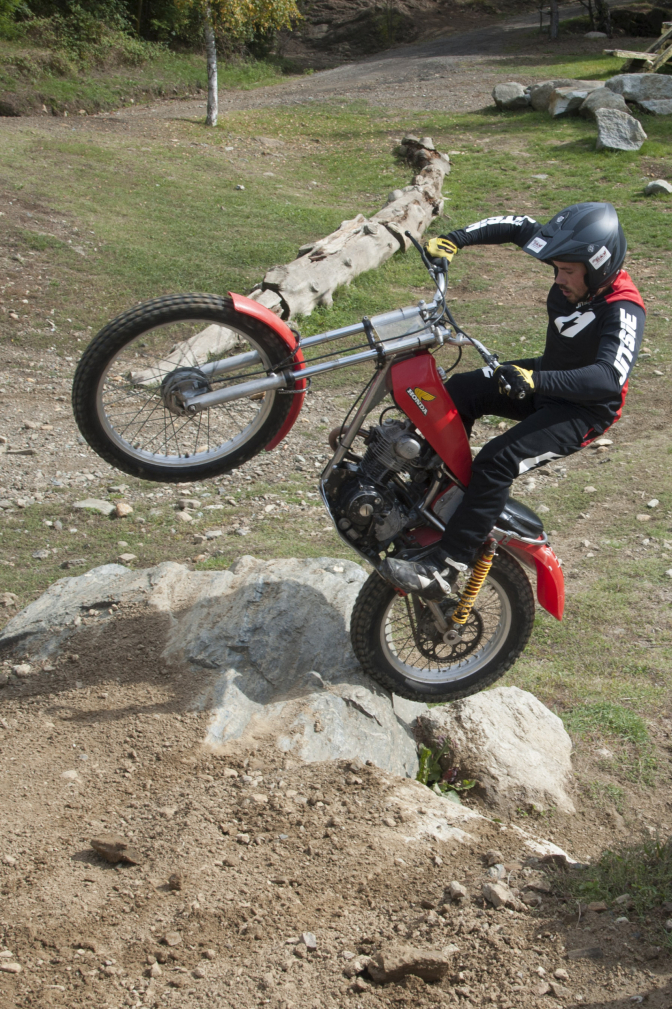 The 32 mm front forks have been criticised in the past for twisting, but most of the time on this machine of Justyn's it would not matter would it...
Sammy Miller Hiboy HONDA TL 125 Trial Test - Technical Specification
Here is the data sheet that I could compile...
Please check if these are correct
Honda TL125 Hi-boy frame from Sammy Miller:
Years of production: 1973-1980-2,
Engine: Fourstroke ,OHC 2 valve, air cooled,
Capacity: 123cc, / 7.57 cub.in,
Bore x stroke: 56.0 x 49.5 mm,
Compression ratio: 8.0 : 1 ,
Carburetter: Mikuni VN 24 SH,
Ignition: Flyweheel magneto,
Max. Power: 9.3 hp/6.6 kw @ 8000rpm,
Max. Torque: 9 kgf-m @ 4500rpm,
Clutch: wet, multi disc,
Gear box: 5 speed, constant mesh,
Final drive: chain,
Frame: Hi-boy, Miller design, steel Reynolds tube 531, 11kg less than standard production frame,
Front suspension: oil damped 32mm telescopic forks,
Rear suspension: swinging arm, oil shocks, 5-way preload adjustable,
Front tyre: 2.75 - 21",
Rear tyre: 4.10 - 18",
Fuel tank capacity: 4.5 litres,
Best regards
Justyn.......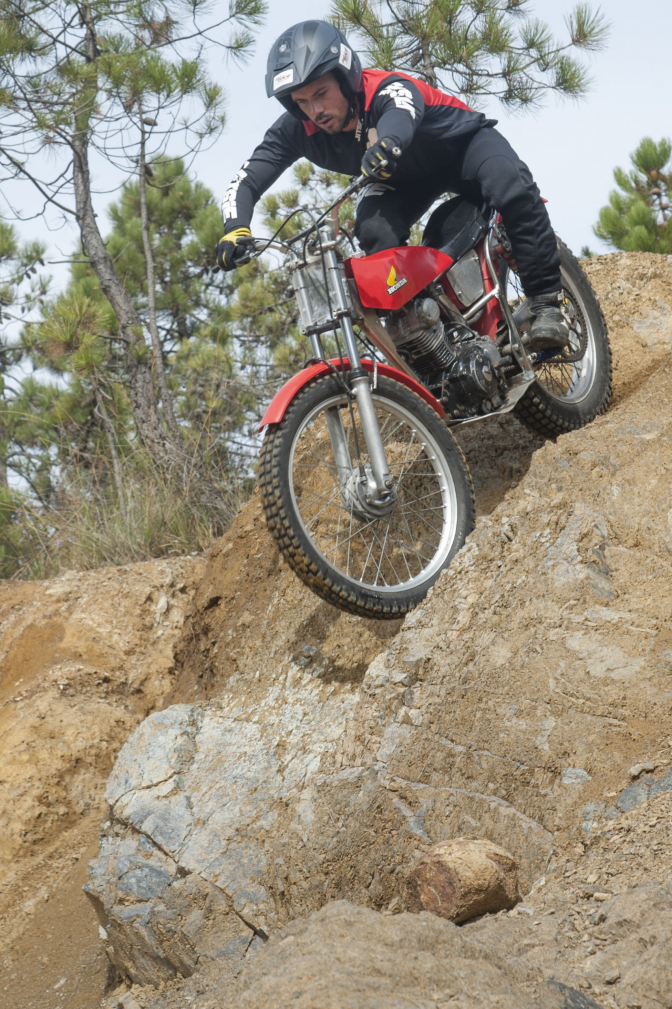 I am impressed with the forks not bottoming ! Or is it just the front brake is not working very well?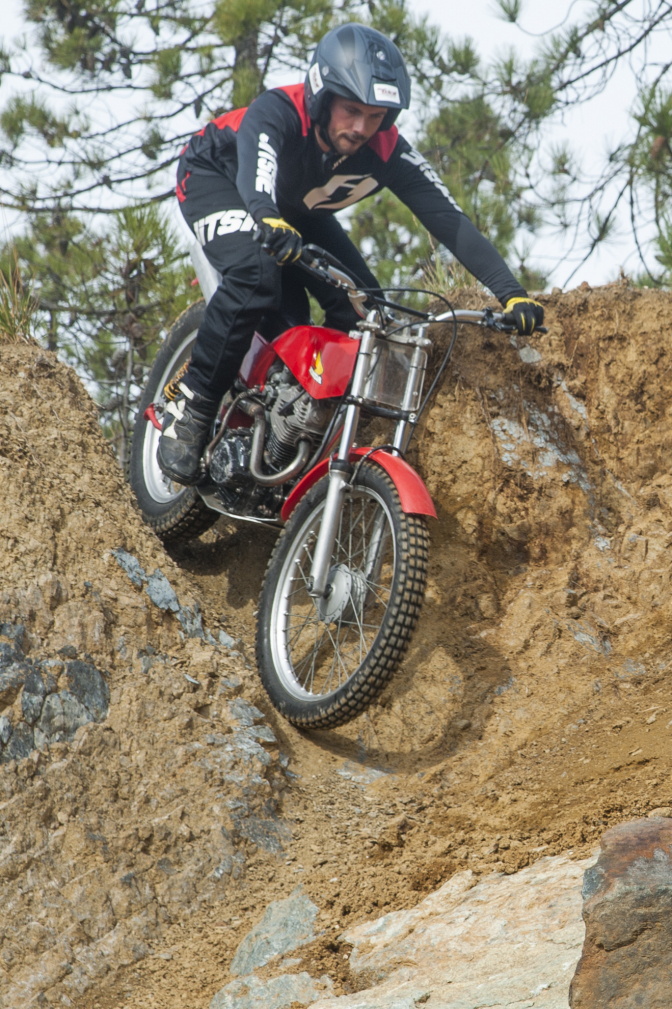 Good positioning helps a lot on descents, and the confidence in what you are doing...and in the little Honda Hi-Boy Machine...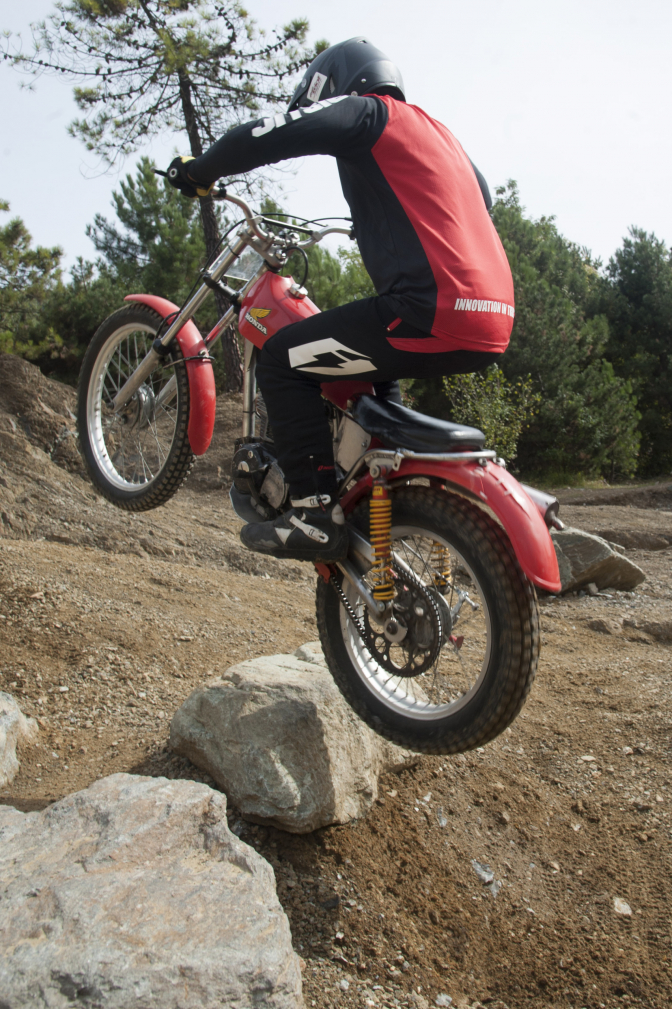 This Sammy Miller Hi-Boy framed machine can be classed as a Classic trials bike from the Seventies, and deserves its place in trials history...
~~~~~~~
And the story about the Norek's came to find, and purchase this little machine...
HONDA 125 Sammy Miller Hi-Boy trial test - Story
Here is short story of Sammy Miller Honda 125 Hi-Boy Story:
Story of Honda 125 Trials bike starts around 1974, when Honda following marketing
analyse decided to enter into Trials sport with their bike. At that time trials sport
was dominated by two strokes after famous Bultaco-Miller REVOLUTION that killed
huge, heavy and old big capacity four strokes in 1965 year.
So now market was dominated by Spanish and Japanese two strokes.
Problem was that Honda's philosophy was that they for various reasons were building
FOUR STROKES BIKES AND SO WANTED TO DO IN TRIALS !
So there arises the question, who from top trials riders could help them in development
as Mick Andrews was working with Yamaha, Gordon Farley with Suzuki and Don Smith with Kawasaki, while Sammy Miller was tied by contract with Bultaco...
But who could do better job that man who had killed four strokes, that is Miller himself ?
Thus they proposed to contract Miller, and Sammy was so attracted by this challenge,
that after a few months of tension has obtained a release from Mr Bulto.
In this way another revolution in trials started culminating with 3 World Trials Championship titles, and this being one of most interesting periods in Trials Sport !
First task when Miller joined Honda was to improve their TL 125 bike ready for USA...
market, while developing real trials weapon the TL 250.
The TL 125 was a selling success, great fun and good clubman mount despite its limitations
of engine size, and weight too high, so these were areas of possible great improvement.
Sammy had his own company selling accessories and various components for trials
bikes, so he decided to design a special frame called the HI-BOY because of increased
ground clearance and done beautifully by British craftsmen, with bronze welding
of famous Reynolds 531 tubes saving weight of 11 kg when compared with standard
production frame ! In addition this frame kit offered perfect geometry and weight
balance, fruit of Sammy Millers life long trials experience !
Now here is entering the story of my bike. I was invited by my fathers good friend
Stefano Bianchi, dedicated collector of important trials bikes, to visit his home
close to Milan and shoot photos and have test ride of his works ex-Michauld
Fantic 303.
We were more than happy to do that as this as we are always keen to
try and test different bikes not only trials but also enduro and motocross and shoot
photos expressing the beauty of those machines.
After the photo session we had a great lunch with some nice local wines ,
and Stefano has
asked us if we want to see "some" bikes from his collection.
We keenly accepted and
I will not write you what we have seen, as we would fill up whole site, but
just our eyes spotted Hi-Boy Honda and also Hi-Boy Bultaco !
Those were bikes we
always wanted to have, so guess with what we loaded our Renault Espace....
Yes this Honda Hi-Boy and Bultaco Hi-Boy with frame slightly cracked, so we will
repair frame and put it to another test.
In the meantime please enjoy our SAMMY MILLER HI-BOY HONDA TL 125 test.
Thank you Stefano, and thank you Sammy for such GREAT SMALL BIKE !
Justyn Sr & Justyn Jr...
~~~~~~~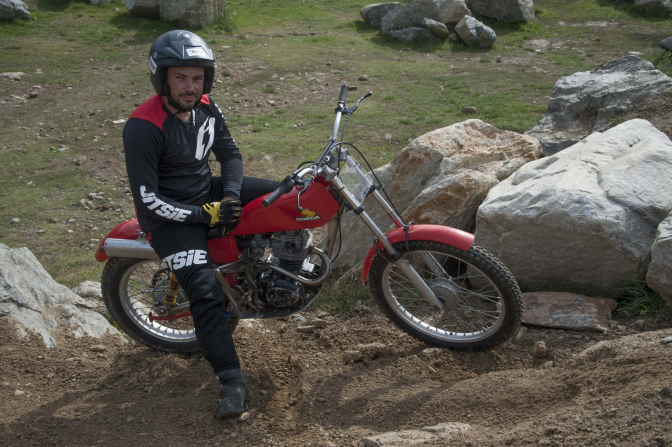 Photo's by Justyn Norek Snr ©...
Experienced by Justyn Norek Jnr.
More Later...
Another "Norek" Trials bike test brought to you by...

Updat2023...05...