Mike Waller Builds a Triumph Twin 500 Otter...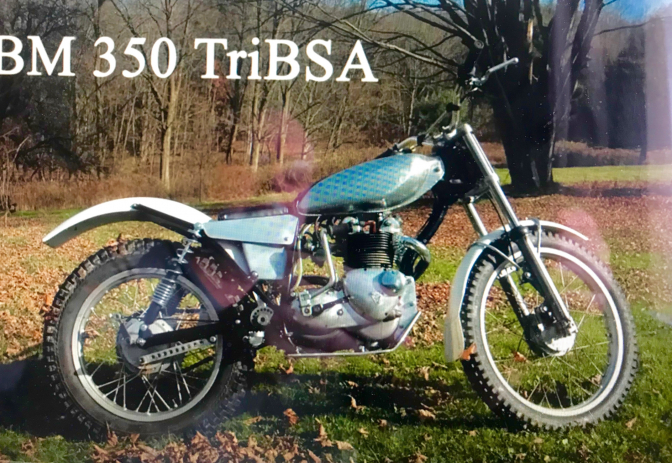 Mike's Britannia Motorcycles Triumph 350 trials build, with ex works engine... from some years ago...
~~~~~~~
This new build is a ground up fabrication, so should be a really good project to follow.
01/03/2021...
I have for a long time been trying to get Mike to build a BSA or Triumph Otter, and he eventually said that he would make it one of his next projects, and he said there would not just be one, but he would build a Royal Enfield version later as well...
So we start with
Episode One,
Of the Triumph Otter build.. enjoy....
I will add to the page with comments and information as usual...
iGUS Bushes...
Yes, Lee worked with iGUS on his Uni projects in the early eighties.
They were a pair of suspension Mountain Bikes, and iGUS made every bush to the specification that Lee gave them, a really forward thinking company...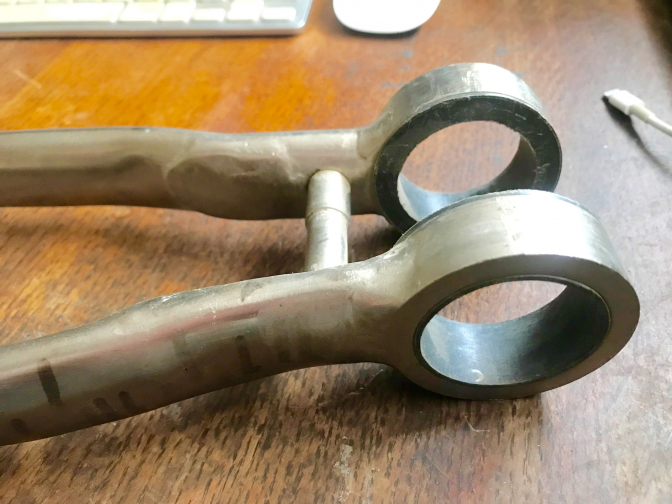 These are the "swinging-arm bushes (chain-stays) that iGUS made that ran around the bottom bracket pivot ...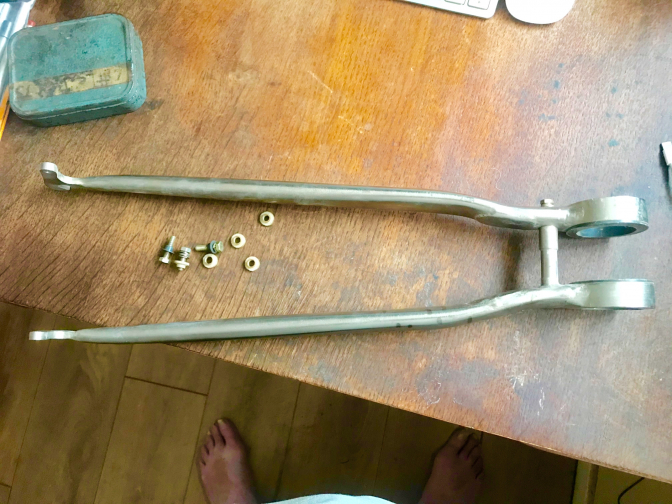 The chain-stays,
and some of the suspension component iGUS bushes...
Take a look at this link for Iglidur bushes.
Episode Two...
Triumph 490 T100 twin engine strip down...
Episode Three...
Mike is Clutching at Straws again...
Dave Varley is the bloke you need Mike...
I can contact the Clutch fella if you like...
I had this same problem stripping a B25...
Why do they do it ? Overtightening every-thing...
Lack of skill I put it down too, and lack of looking at the workshop manual...Or do we just say "Bodging"?
Episode Four...
Swinging Arm, and a bit of milling about...
Episode Five..
A bit of a drama about angles... "Otter" Frame Build.
Mike, You can adapt the forks to fit the frame...
Fork sag comes into the equasion, etc, and fitting the forks afterwards the seat tube may be tilted back slightly. That is where the
seat tube angle and height may differ and alter the head angle? Also this is different for a Triumph...on some.... So you building the bike with your "Wheel-Set-Up" jig is where the angle difference has showed up, from a frame built on my BSA-Otter, and the Foster Otter Jigs. Hope the angles will be okay when loaded. Interesting...
Angles to your preference though...
Mini-Otter tube angle is 113 degrees...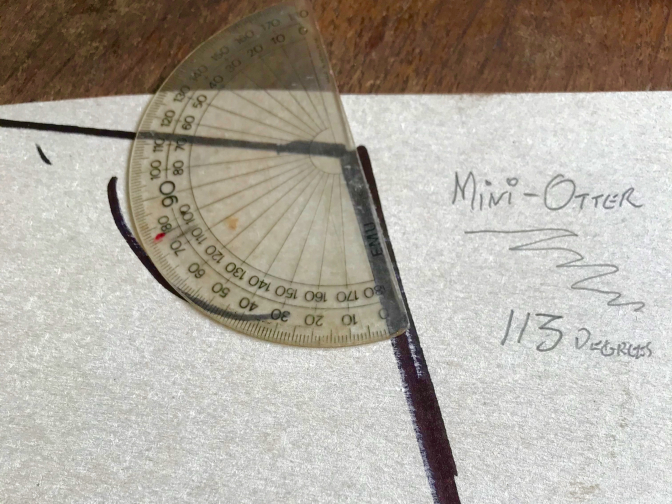 Mini-Otter tube angle 113 Degrees...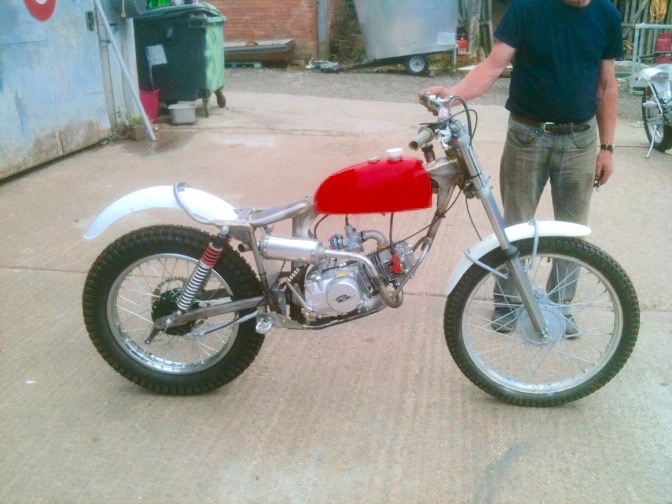 Faber Mk Three Otter...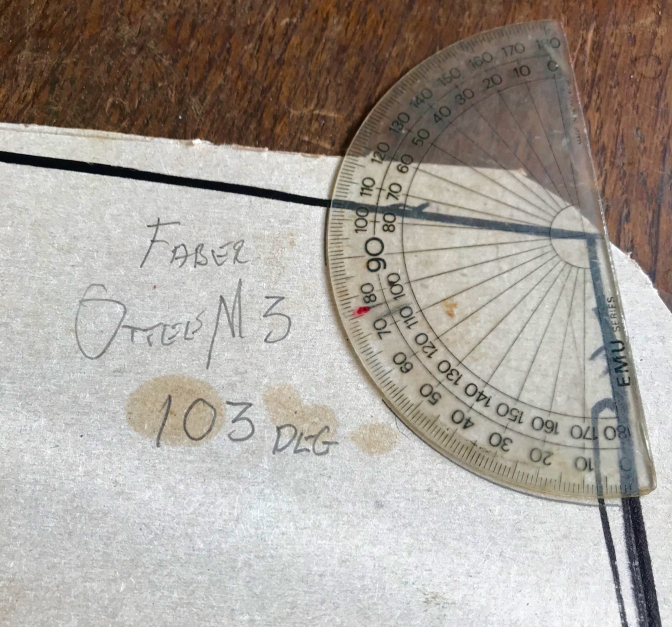 Faber Mk3 frame 1. 3/4" tubing ...
103 Degrees tube angle.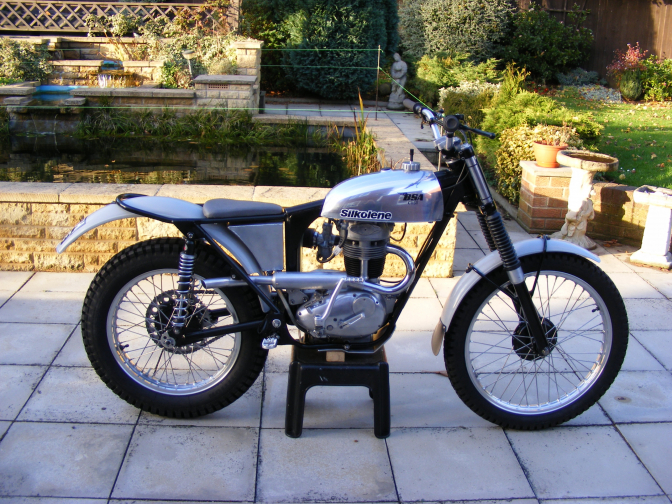 "Got me going now"...
I have just found the original angle off cut from the "Scott Ellis Replica" build, and set it up on the back of a Kelloggs box. And below you can see that the angle works out at 105-105.5 degrees...
So we were in the Ball-Park from day one...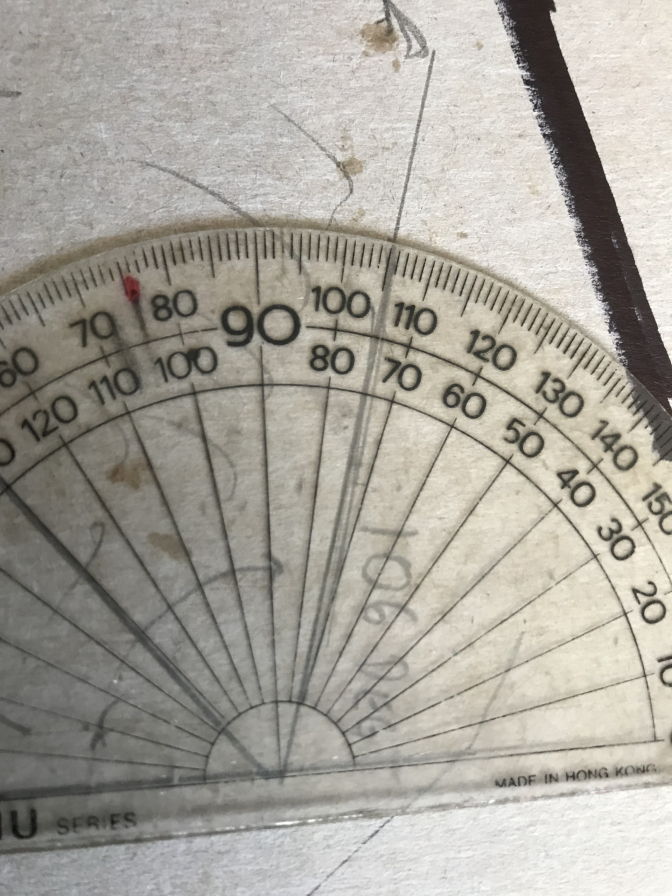 105 deg's on this one Scott Ellis Replica bike...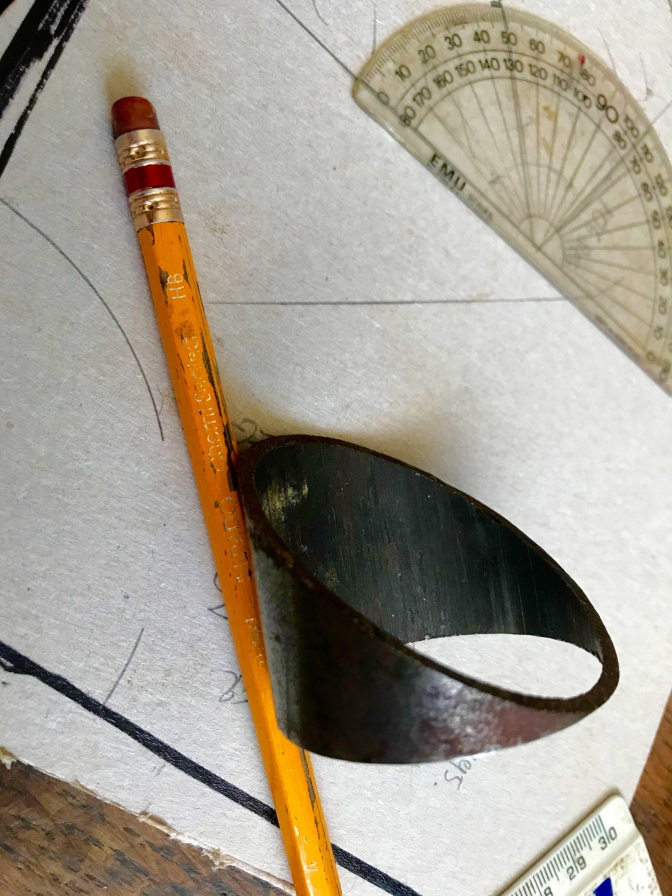 Original T45 2" tube offcut from the "Scott" bike...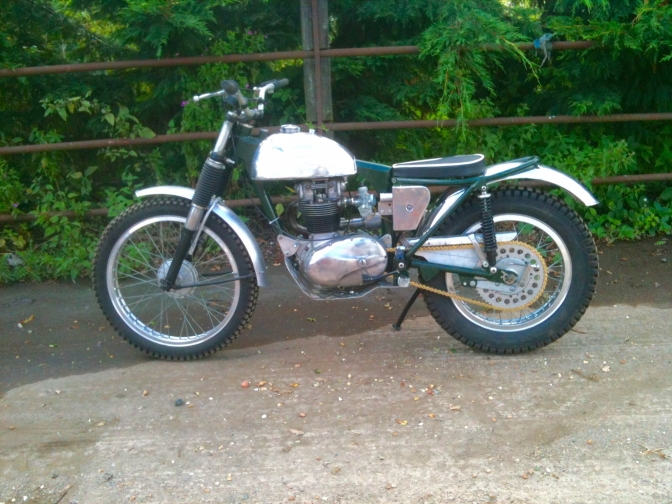 Pheewww, thought I had built all of my "Otters" wrong for a bit....
30/03/2021...
Found an angle gauge today, so checked the Foster Otter frame, and has you can see from below. Lee and I were right within half a degree.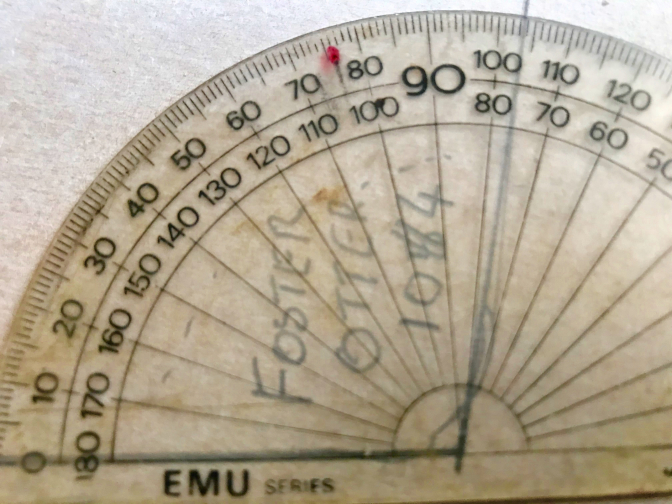 And below is the protractor with the Red DOT on that I used for years as my guide...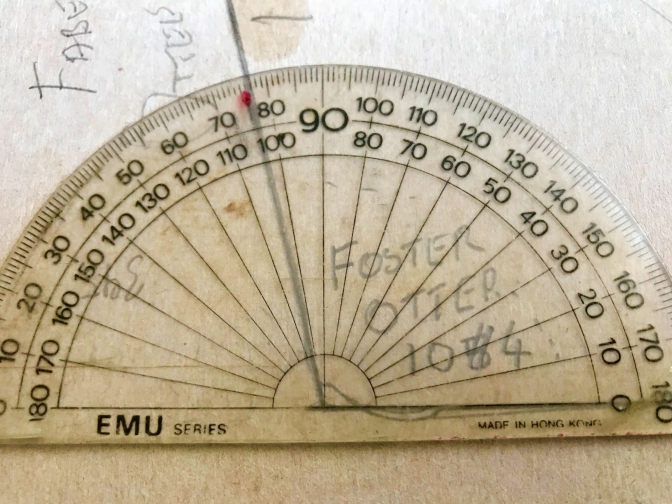 03/04/2021
After spending most of the week delving back into where the "Otter" story began, looks like there is a whole different angle on the subject.
Mike has physically never seen a BSA or Triumph "Otter" in the flesh so to speak.( Well maybe one, Kerry's bike). So had a New eye looking at the subject, but wanted to stick by the dimensions I had put onto this web site for his guidance.
Having his own theory what a classic trials bike should be like after building several of his own and setting his jig up to the dimensions he wanted, and then after welding up the two main tubes to the Foster and Faber and my BSA-Otter dimensions, it soon became clear, that the angles we had all been using did not suit his thinking.
This sparked me off into doing a bit more research into the angles used.
It is like Mike said, back in the eighties the tendency was to fit the engines has high as possible in the frame for better ground clearance.
And after going back to the original photo of the Scott Ellis BSA BOK228C frame, it now looks like it was Harry Foster that tweaked the angles a bit to gain this height in the frame. Not that this is wrong, and we all know how well the Foster Otter's handle.
But it looks like Mike, and young Harry Stitt, have gone back to near the angles that the Original Scott Ellis BSA works C15 had... And Mike says, more in keeping for todays trials.
So what comes around, goes around ......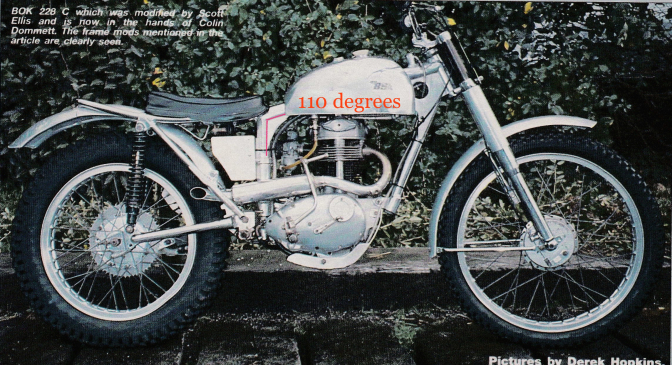 This looks about 110 degrees to me...
And the distance between the Triumph TR20 Cub subframe top mounting bolt and the swinging arm spindle centre bolt is 12.3/4"...
Means I have got to build another Scott Ellis replica now as well...To see if Mike and Harry Stitt are right...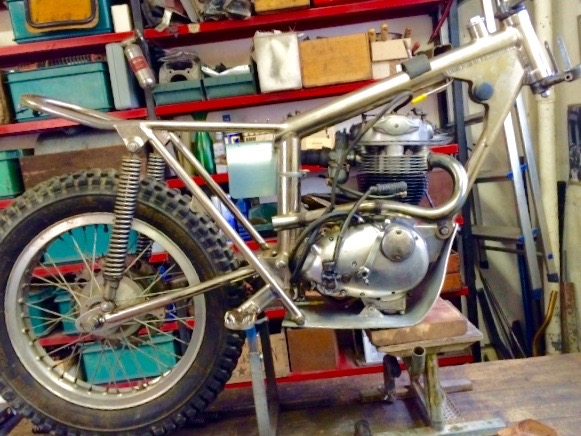 The Harry Stitt version has about 110-111 degrees I think...
Heres a better one.
Photos Courtesy Justyn Norek...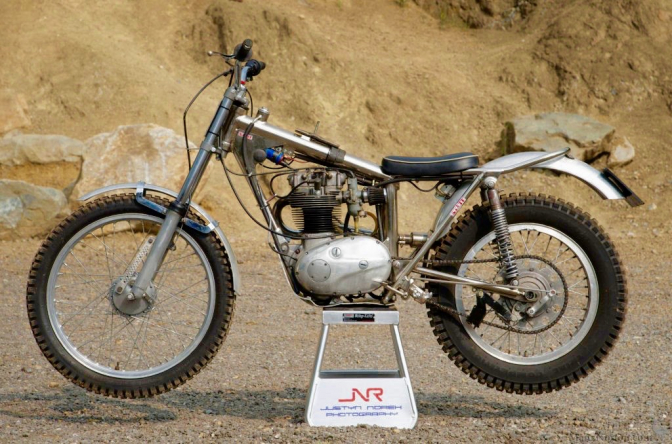 See how close the top frame tube is to the rear rocker-box.
Episode Six...
A better week, but "Parting-is-Such-Sweet-Sorrow"...
Or in the words of Michael Cain...
In the Italian Job...
"Hang on a minute, lads. I've got a great idea."
Episode Seven
"A Frame made in heaven"
I am getting to like this build a lot. Just little touches that count..
Episode Eight...
Boxing Clever, part three of the frame build...
Episode Nine...
Sometimes Mike I don't know how you "cope"...
Episode Ten...
Ia'm Exhausted this week...
Episode Eleven...
Late because of YouTube glitch.......
Oil Tank part one.
Episode Twelve....
"Tanks for that, nice one...
Mike I like the tank, and love making them, but for the "Otter" I still think oil in frame to be the way, no taking the seat off to check the oil return for one...
Episode Thirteen....
Kellogs in the hot seat...
Episode Fourteen....
Sprocket & Notcher, sounds like some dodgy Solicitors...
OK... Yes I have missed a few Episodes on here, but know most of you go straight to YouTube for Mike's builds...
And to be honest If I put all episodes on, it over fills the page...
But the milestone Episodes I will still put onto here, or the
News page...
So here is ,
Episode Twenty Three..
"The Rolling Chassis" stage...
Episode Twenty Four...
Off your Rocker and Clutching at straws, theres a hole in your basket?
Episode Twenty Five...
"All Geared Up"...
Episode Twenty Six...
Clutch on and adjusted...
Although it is a bit tight up against the stud Mike,
I do like the chain tensioner...
Episode Twenty nine...
She Runs...
Episode Thirty Three...
Job Done, Otter build another...
More Later
More Later... on this Interesting OTTER build...
Thank's Mike for entertaining us once again...
Updat2023...04...