The Story of the Formula One Ducati that was ridden by Mike Hailwood at the 1978 Isle Of Man TT .
By Pat Slinn.
Pat was Part of the Team, and was there to monitor the action,
This is his story.
Legends and Glory last for ever, but sadly lives are snatched from us when we least expect it. Respect > "Otterman".
1978 TT Winning Formula One Mike Hailwood, Ducati...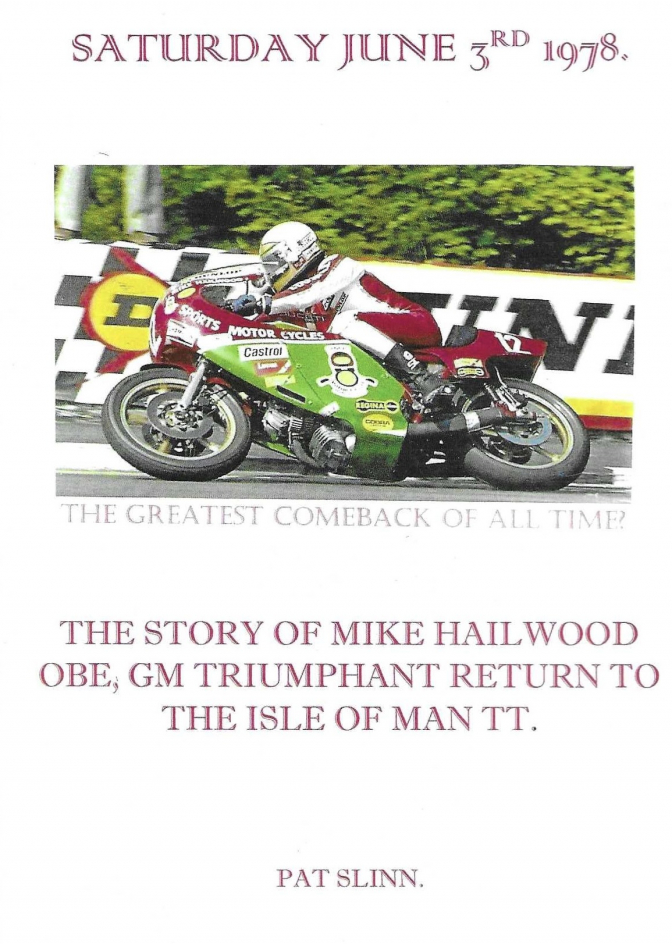 This is my account and the story based on my memories and notes of the 1978 Isle of Man Formula One TT.
And the Ducati Formula One machine that was raced by Mike Hailwood. The story is as accurate as I can remember. I have written this story in the interest of Motor Cycle racing and Isle of Man history. Pat Slinn...
During March of 1974 I was appointed as the service and technical manager of Ducati and Moto Guzzi importers.
These two companies were part of the Coburn and Hughes group of companies, and were based in Luton Bedfordshire.
Within two weeks of my appointment, as well as visiting the Ducati factory in Italy I had also visited Sports Motor Cycles Ltd in Manchester. "Sports" were one of the UK's largest Ducati and Moto-Guzzi retail dealers.
Elaine (My Wife) and I became friendly with Steve and Lynn Wynne, and John Sear. Steve and Lynn were the owners, and John was a director and shareholder.
Over the next few years Elain and I visited Steve and Lynn's home in Cheadle Manchester on a number of occasions, and were invited as guests to "Sports" Christmas parties. I used to go off-roading and trail riding with Steve, and attended many of the race meetings that Steve and John raced at together with the: "Sports" team.
In march of 1977 I had arranged to visit the Moto-Guzzi and Ducati factories in Italy. Steve had just purchased from Ducati a ex factory 750cc endurance racer that Roger Nicholls was to ride in the Isle Of Man Formula One TT later in the year. So it was agreed that John Sear, together with a friend of John's, and I would travel over land to Italy to collect the bike, and I could conclude my business at the same time.
In October of 1978 Steve and Lyn asked me if I would join Sports Motor Cycles ltd Manchester as their general manager and workshop manager. I was to also act as team manager of the "Sports" racing team. I took up my appointment with Sports Motor Cycles in January 1979.
I moved from my home in Hanslope Bedfordshire to Poynton Cheshire in February of 1979.
During May/June 1979 I was appointed as a director of Sports Motor Cycles ltd.
During late August 1977 Steve called me to say that Ted McCauley who I knew to be a sports editor of the Daily Mirror newspaper, and also Mike Hailwoods manager had approached him. Steve went on to say that Mike Hailwood wanted to race in the 1978 Isle Of Man TT; Mike had been living in Auckland New Zealand, and had been racing a Ducati in Australia with his friend Jim Scaysbrook.
Mike was becoming bored and wanted another crack at the Isle Of Man TT.
Ted did not know Steve Wynn or "Sports", but lived in Prestwich a suburb of Manchester, and knew of "Sports" as a Ducati dealer, and knew that they ran a successful production racing team.
During the British GP in August at Silverstone. Steve had been introduced to Mike Hailwood and Mike had shown an interest in racing a Ducati in the following years Isle of Man Formula One TT.
After the Silverstone meeting Ted asked Steve if he knew anybody at Ducati who he could speak to regarding Mike racing a Ducati at the 1978 TT. Steve called Ray Elliot who was a director of Coburn & Hughes, the UK importers and asked if the Ducati factory could be informed immediately.
Ray called Mike Coburn another director of Coburn & Hughes and told him the story, initially Mike was not enthusiastic and neither was Clew Hughes another Coburn director.
Within a short while Ray had spoken to Snr Franco Valentini who was the export sales manager with Ducati in Italy. Franco
Valentini was cautiously enthusiastic, however he needed more time to speak to Ducati directors and their engineers. Within a day or so Ray Elliot and Mike Coburn had flown out to Ducati in Italy for a normal scheduled importer manufacturer meeting. Whilst they were there they had established that Ducati would supply a machine for Mike to ride in the Isle Of Man Formula One TT. Ducati became very enthusiastic. The Ducati experimental department had recently developed and raced a 864cc V twin, the engine was based on their existing 750cc, however the crankcases were sand cast with additional internally cast strengthening ribs.
The engine also featured a spin on type external oil filter, a close ratio five speed gearbox, and dry air cooled clutch, and a improved big end bearing utilizing a larger diameter crankpin.
Ray and Mike had been told that the rolling chassis would be assembled at NCR (Nepoti Carracci Racing) in Bologna. NCR worked a lot with Ducati and assembled many of their racing bikes.
Some time, during this time Ted McCauley invited Steve and John out for a meal to discuss a deal for Mike to race in the Isle Of Man Formula One TT, on a Sports Ducati. Steve invited me up to Manchester, and it also coincided with a visit of Keith Davis a Senior Ducati sales representative, so we all met for dinner. The negotiations lasted not much longer than we had to wait for the second course to be served. Ted McCauley told Steve and John that Mike wanted £1000 to race the Ducati in the TT. Steve and John said yes, and that was a deal done. A one-page contract was drawn up agreeing to Mikes fee, and I believe publicity and advertising right.
Steve visited the Coburn & Hughes office in Luton (and if my memory serves me correctly he also visited the Ducati factory in Italy.) and many of the loose ends were tied up. Steve asked if "Sports" could order two of these machines. Clew Hughes immediately stipulated that the machines must be paid for within the agreed period of time that any dealer has to pay for his machines,
Steve also asked me if I would act as the technical liaison person between Sports Motor Cycles Ltd, Ducati UK, and the Ducati factory in Italy.
Ray Elliott had no particular objections to this as long as there was no financial commitment on Coburn & Hughes side.
A short time later Ray and I visited the Ducati factory in Italy. It was one of my regular visits to sort out technical and warranty issues. During this visit I met with engineer Doctor Fabio Taglioni, who was Ducati's senior design engineer, engineer Taglioni had designed a number of very successful racing machines that Mike Hailwood had raced, and knew Mike well. I also met Franco Farne, Ducati engineer, and Guiliano Pedritti Ducati senior engine builder. Franco in the past had worked on Ducati machines that Mike had raced, and also knew Mike, but Guiliano did not know Mike at all. I had met these people a number of times before and had a good working relationship with them. Guiliano was building a number of the Formula One engines, and he said that the one that he was building then, was one of the three engines for Mike Hailwood. They had one of the engines on a dynometer and I watched as it was being tested, it was producing about 85 BHP at 7500 revs per minuet. Guiliano told me that with more development the engine would produce 90 BHP.
I was taken the short distance to the NCR workshop in Bologna. I met for the first time Rino Carichi and his partner Rino Neporti, they had a complete bike there without an engine fitted, I can remember thinking that it looked functional, and to be quite honest a winner!
Before I left NCR we had a glass of red wine, and toasted success. That evening I had a very pleasant dinner with Rino Carichi and Franco Farne.
Before I left Bologna I had discussed with engineer Taglioni and Franco Farne the matter of homologation (the approval process for a machine to verify that it conforms to the strict criteria for Formula One endurance racing) for these machines. I was assured that their Formula One endurance racing machines had been homologated with the FIM. (Federation Internationale Motorcycles,)
This is the federation that governs Motorcycle Sport through out the world. However they did not have to hand the homologation certificate...
That evening I had a long telephone conversation with Steve Wynne, about what I had learnt, and discussed with engineer Fabio Taglioni and Franco Farne.
During April 1978 I was again back in Italy, I had spent a couple of days at the Moto-Guzzi factory in Mandello del Lario sorting out general service and warranty details, I always liked visiting Moto-Guzzi as there was a sense of history there.
I travelled down to Bologna to the Ducati factory.
After completing my official duties with the service and parts departments Snr Valintini took me to see Franco Farne in the Ducati experimental department.
The two machines for "Sports", one for Mike Hailwood and one for Roger Nicholls were being prepared. There was also a machine there for Jim Scaysbrook who was a close friend of Mike from Australia who was coming to race in the IOM Formula One TT.
The bikes looked so good, and everybody was so positive and enthusiastic. I was still concerned about the homologation certificate, but I was assured that there was no problem, however there was not a homologation certificate to see.
The bikes were shipped to Sports Motor Cycles during the third week in April 1978. I traveled up to Manchester one day to see these three machines. There were three bikes all painted in silver /grey and red colour of NCR. One machine was designated for Mike Hailwood and was complete with two spare engines.
The specification of these engines were all the same, they used sand cast crankcases that internal cast strengthening ribs around the main bearing housing, there was also a spin on external oil filter. The bore and stroke was 86mm X 74.4mm.the valve angle was 80 degrees and incorporated 44mm inlet valves, and 38mm exhaust valves. A lightened and polished crankshaft was also incorporated that weighed around 7.5kg(16.5lbs). There was also a new big end bearing that utilized a larger crankpin. Also Italian forged Borgo pistons were used the compression ratio was 10:5:1 the engines produced around 91/92 BHP at 8,600 rpm 40mm PHD Dellorto carburetors were fitted with shortened straight air intakes. The gearbox was a close ratio unit, and a dry air-cooled Ducati clutch with sintered bronze clutch plates. Straight cut drive gears were also used. However the engine that Franco Farne had earmarked to use for the race (088243) produced a little more power, I did ask Franco Farne how much more power but he would not be drawn! The engine that was fitted in the bike at the Ducati factory and completed all the pre TT testing, at Oulton Park, and Donnington park, and also all TT practice, until Farne and Pedretti changed it on Thursday evening after practice, the engine had the number (088238) this was also the number of the Daspa frame (Daspa were a specialist aerospace company that was based in Bologna and made racing motorcycle frames from very light thin walled tubing) that Ducati had chosen to use for these machines, these frames weighed a fraction over 12kg, about 26lbs.
( The race engine that was fitted in the Isle Of Man had the number (088243).
The other "Sports" bike used by Roger Nicholls had the engine number (088239), and the third bike was for Jim Scaysbrook, that had been financed separately by Jim Scaysbrook from Australia.
During, I think the last week of April, Steve had arranged for Mike Hailwood to test his bike at Oulton Park in Cheshire. Mike's bike had not yet been painted in the Castrol colours, and the front brake calipers were still mounted in front of the front forks.
That day at Oulton Park was very wet, and really any serious testing was out of the question. Mike completed a number of cautious laps to get used to the bike, after the bike was checked over, Mike started to circulate a little faster, I cant remember how many laps he completed, but he was happy and satisfied with the bike. One thing that I can remember him saying, how very impressed he was with the Dunlop wet tyres; he said "that the tyres were far superior to the dry tyres that he had used a few years earlier".
Shortly after that test I visited Oulton Park again, and I met by chance Vernon Cooper, Vernon was the chairman of the AC-U (Auto Cycle –Union the body responsible for motorcycle sport in the UK) and the AC-U's representative to the FIM. Vernon was a very forthright person and seemed to control things with a fist of iron. I knew Vernon, not well, but well enough to talk to. He told me that he had been negotiating with Ted McCauley and Mike regarding his return to the TT.
The final test prior to the bikes being sent to the Isle of Man was about a week before, at Donnington Park circuit in
Leicestershire.
Representatives of Ducati had been invited, but had chosen not to attend, but Ducati had agreed that Franco Farne, their senior technician, and Guiliano Pedritti a race engineer would both be sent to the TT. Mike Hailwood and Roger Nicholls machines had both been painted in the Castrol colours, the team was to be known as "Sports Motor Cycles / Team Castrol". The Lucas/Girling groups were also team sponsors and Lucas "Rita" electronic ignition system had been fitted to both bikes, and so had Girling gas rear suspension units.
This test did not really get off to a good start, as Mike's bike stopped before he had even reached the end of the pit lane. Whilst the Lucas technicians were sorting out the problem, Mike did one or two gentle laps on Roger Nicholls machine, of course he had to be very careful when he rode Roger Nicholls machine, because the gear lever was on the right hand side and Mike could not really use it, Mikes gear change lever was mounted on the left hand side, the linkage was via a crossover shaft through the swinging arm spindle, this was because Mike had injured his right foot during a F2 championship car race at the Nurburgring in Germany in 1974. After the ignition problem had been sorted on Mikes bike, he quickly got used to it, and he was lapping at a very respectable speed. John Cooper (a friend of John Sears and multi British road race champion) was also there, and he rode Mike's and Rodger's bikes. I can't remember if Roger was present.
The following week we all met up in the Isle of Man, the "Sports" team were staying at the Douglas Bay Hotel, in Douglas. They had organized three single car type lock up garages that were built to the side of the hotel car park.
It was interesting to be told by Ted McCauley, Mike's long time friend and his manager that he had chosen and asked the AC-U for Mike's riding number in the Formula One race to be Number Twelve. This was because Mike had previously won Twelve Isle of Man TT races.
The "Team Castrol Sports Motor Cycles " consisted of Steve Wynne, MD of "Sports Motor Cycles Ltd" John Sear sales director, Graham Whittiker mechanic, and Ian Dagnal general assistant. Ron Winder who was a friend of Steve's and John's was a general assistant and "Goffer' I was there as a representative of Coburn & Hughes, and a mediatory between Sports Motor Cycles and Ducati.
Steve was a very busy man, and had his work cut out, as he was looking after Roger Nicholls Ducati, he had changed the camshaft on Rogers bike for the one that Franco Farne had brought with him, and also he was keeping a watching eye on the "Sports" entered Ducati, (the 1977 ex factory machine that Roger Nicholls had finished second to Phil Read on the previous year in the Formula One race) that being raced by Eddie Roberts, and the Moto Guzzi Le Mans that was being raced by George Fogarty, and also the "Laverda Jota" being raced by Michael Hunt.
The first night of practice did not get off to a good start, Mike's Ducati stopped on the high-speed run through Crosby. After the bike had been returned to the paddock the fault was traced to the Lucas "Rita" Electronic ignition unit. Geoff Johnson the Lucas competition manager (I had known Geoff personally since I was a child, he was a personal friend of my parents and their next door neighbour for many years,) suggested that the problem was possibly due to the unit being wired incorrectly at the previous test at Donnington Park. A new unit was fitted and practice was commenced. At the end of practice Mike was very happy with his Ducati, I remember Mike telling me that he had not forgotten any of the thirty-seven and three quarters mile mountain circuit, especially the bumps!
The following morning Franco Farne, and Guiliano Pedritti arrived by air from Italy. Guiliano had built all the engines, and had a lot of input into the whole bike. Franco Farne was Ducati's senior race and development engineer, and he knew Mike personally. Franco had heard that the Lucas "Rita" electronic ignition had been unreliable, (I believe that he had been told this by the Regina chain competition manager,) one of the first things that Franco and Guiliano did was to remove the Lucas unit from Mikes bike, and refit the Ducati contact points and coils. Steve was not happy, as Franco and Giuliani had taken over the preparation of Mike's bike, however this did free Steve up to work on Roger Nicholls Ducati. And the "Sport's" other machines.
Lucas had supplied these "Rita'' ignition units as part of the sponsorship deal. Geoff Johnson was furious, and together with Steve tried to persuade Franco to replace the Lucas "Rita" unit.
Alex George a fellow TT rider was also staying with his wife Diana at the Douglas Bay Hotel, and preparing his machines in the same block of garages. Diana>, who spoke Italian, was soon asked to translate the conversation between Steve, Geoff, and Franco, but Franco refused to remove his ignition system and replace it with the Lucas unit.
Geoff then had to get authorization from Lucas in Birmingham for Lucas stickers to remain on the bike.
The rest of the practice sessions went well with Mike getting faster and faster. He was pleased and impressed with the Girling "Gas" shocks, and the Girling engineers, with the input from Mike they had built a very good pair of rear suspension units.
After the Thursday afternoons practice, Franco and Guiliano had asked me to assist them to change the original engine (number 088238) for one of the engines that had been sent with the bike, they knew exactly which one they wanted from the engine number (088243). Really, the original engine that had been in Mikes bike was the one that it came from Italy with, it had done a lot of miles during test sessions at Oulton Park, and Doddington Park.
It had also covered a number of practice laps of the TT circuit. They had also brought with them a couple of sets of special camshafts. Franco Farne explained that this camshaft gave a little more torque, when Mike was told of this he was pleased and said that anything that gave more torque was a good thing around the TT mountain circuit. This special camshaft was fitted to Mikes race engine ( 088243) during Wednesday.
Mikes bike with the race engine fitted was finished in the early hours of Friday morning, and final fettling took place during the day on Friday. Franco wanted Mike to do just one gentle practice lap on the Ducati during Friday evenings practice. However Ted McCauley informed us that Mike wanted to concentrate on his 250cc and 500cc Yamaha's that he was also racing.
After some persuasion Mike agreed to do just one gentle practice lap to bed in the new brake pads and the new chain that had been fitted. Franco and Guiliono spent Friday evening race preparing Mikes Ducati.
Franco became quite concerned that the part Triumph silencers that Steve had riveted and welded to the end of the Ducati/Lafraconi megaphones, (these silencers were necessary to quieten the Ducatis deep exhaust note to comply with the FIM's exhaust noise regulations which were 115 decibels dBA) were drawing in air on the overrun, and could affect carburation. Franco and Guiliano had noticed that we had a roll of silver duct tape, so asked me to wrap a length of this duct tape around the welded joint.
When the machine was finished Franco asked if someone could ride the machine for a few miles to check that it revved cleanly and all the gears were engaging properly. John Sear rode the bike along the coast road towards Laxy for a few miles. He reported that everything was OK, the bike was then locked up in the garage, and Franco Farne was the only person with a key to this garage!
The following day Saturday and race day, Ted McCauley came early to the garage to tell us Mike had slid off his 250cc Yamaha at Bradden bridge during that mornings early practice, however Mike was unhurt.
The Ducati was submitted for scrutinering, and of course there was no problems with it, shortly before the start of the race Mike was looking over his bike, and asked if he could have a tennis ball with the top cut out of it, and a damp sponge in it so that he could wipe his visor, fitted to the inside of the fairing. John asked if somebody could rush down into Douglas and buy a tennis ball and a sponge. This was fitted only a short time before the start of the race.
One or two of Mikes F1 car racing friends had turned up to watch the race, including his ex Ferrari team mate Dickie Attwood, and I believe it was Dickie, who wobbled off on Mike's "Martini" Yamaha supplied publicity machine to his signaling station, that I seem to remember was at the end of the Sulby straight. It was not clear if Dickie even had a driving license for a motorcycle! Ron Winder was also on signaling duty at the Gooeneck.
At first Steve and John were going to be in Mike's pit, as the race was a FIM World Championship event, the regulations for this event stated that only two people can be present in each pit, and only one of these two people could push the rider away after a refueling stop. It was also allowed under the regulations that a tyre technician could be present at the pit stop to inspect the tyres, and also a scrutineer to look over the bike.
Steve had asked Franco Farne to be one of the two people in Mikes pit, just in case any adjustments were needed to the Ducati during Mike's two re-fueling pit stops.
John Sear was to be the other person. Steve was to be in Roger Nicholls pit with Guiliono Pedretti, and I was allocated the job of liaising with both pits incase anything was needed.
At the start of the warm up for the race Franco Farne and Guiliono Pedretti took over the bike, Guiliano was warming the bike up, and Franco was talking to Mike, Franco and Guiliano both pushed the bike to the start line with Mike.
History records what happened during the race, speed for the Formula One class, was an average of 108.51 mph, with a record lap of 110.62 mph. Mikes refueling stop was slightly slower than that of Phil Read on the factory Honda, the Ducati was not fitted with a aircraft type "Quick filler", and John had to fiddle with it to get it closed properly.
It was interesting to note that "two people" pushed Phil off from his re-fueling stop, however Phil Read blew his engine trying to stay with Mike.
I have often wondered how the AC-U/ FIM, would have reacted to the "Two" people pushing Phil if he had finished the race.
Phil told me in later years that the Honda team had fitted his oil cooler without a rubber mounting, causing the oil cooler return elbow to fracture, covering him with oil.
Unfortunately, Roger Nicholls had to retire on the second of the "Sports Motor Cycles" F1 Ducati's on the first lap, when the oil sight glass window blew out of the engine casing, Roger was lucky not to crash with all the engine oil that had smothered the rear tyre on his machine.
At the post race scrutineering, all that the scrutineers were interested in, was the size of the carburetors on the Ducati, (the carburetor choke size was an important part of the Formula One technical regulations and the carburetors were measured on the first three machines to finish) Steve asked me to remove the carburetors for inspection, and of course they were found to be the correct homologation size of 40mm.
Vernon Cooper sent for me to attend his office, he said to me "the Ducati won't start will it Pat", I answered him and told him " Yes Vernon of course it will", he replied "No it won't", I gathered that he did not want it to be started.
I noticed that Alf Briggs from Honda was also outside Vernon's office, it was interesting to learn that Gerald Davidson who was Honda GB's service director, and had overall responsibility for Honda racing activities, was not in the Isle Of Man for the Formula One race, he was attending the 25 hours of Liege endurance event in Belgium (however he had been there for most of practice week) and had left Alf Briggs, who incidentally was one of Honda GB's first ever employees, in charge of the Formula One team.
I believe that Honda had unofficially protested about the loudness of the Ducati exhaust. When I returned to the scrutineering tent Mike was there, he was on his way to the press conference, and had come to say thank you to the team.
That evening Ted McCauley had organized a celebration party at a local Fish Restaurant.
After the formalities of eating, and saying thank you to various people, the evening turned into quite a rowdy affair, Franco and Guiliano sat very quite, and were transfixed at some of the antics that some people got up too. There was a tug of war between the "Sports" team and the trade, the rope had been found hanging on the wall looped around some fishing nets and coloured buoys as part of the décor of the restaurant.
Mike was the anchor man on our side,"Sports" the "Trade" side could not really understand why they could not even pull our side, until it was realized that Mike had looped the end of the rope around the wing mirror and bumper of a car that was parked right out side the restaurant!
Towards the end of the evening, in a wonderful sporting gesture, Phil Read, together with Paul Butler of Yamaha, turned up to the party to congratulate Mike on his win.
The party ended with the dawn breaking, and the sun appearing on the horizon, quite a party!
Vernon asked to see me again the following day, apparently somebody, I have always assumed it to be Honda had been questioning the legality (Homologation) of the Formula One Ducati. They were concerned about the sand cast crankcases, and the spin on type oil filter, Franco Farne had the homologation papers with him, and these had already been submitted to the chief scrutineer.
We knew that an official protest "had not been lodged" (all the machines that finish a TT race are held in the official compound for one hour, if a protest is lodged, it has to lodged within this one hour,)
Because after the compulsory hour the Formula One Ducati was allowed to be removed from the scrutineering tent
With regard to the homologation of the Formula One Ducati. I was told by Vernon Cooper a day or so later, that the confusion, and the basis of the questions being asked regarding the homologations of the Formula One Ducati were, the original FIM regulations that were written in French, stated that the material that the crankcases are made from, may not be altered or changed. However, when the regulations were translated into English, it stated that the design of the crankcases might not be changed or altered. The Ducati designers and engineers had read the French (and Official) version of the regulations, and not the English version.
Shortly after the TT, Steve had looked at the TT winning machines, engine (Number 088243) and had discovered that a tooth had broken off the bottom bevel gear, and there was no way that the engine would run with a tooth missing, it was assumed that the tooth had broken off as Mike had crossed the finishing line.
When the factory was told of this they asked if the broken bevel gear be returned to them for inspection. Steve sent it to me, and I returned it to Franco Farne on my next visit. On another subsequent visit to the factory I noticed that the broken bevel gear was sitting on a shelf in Franco Farne's office, below two photographs, one of Mike Hailwood, and one of Paul Smart, together with other souvenirs of their racing.
Early in 1979 Mike Hailwood's Formula One Ducati complete with engine number ( 088238) was sold to a Japanese Ducati dealer in Tokyo, Japan by the name of Kenny Murakami, he I believe was acting as a agent for a Mr. Hiyashi, another Japanese Ducati enthusiast.
Roger Nicholls Formula One Ducati, with the original engine number (088239) was changed cosmetically to look identical to Mike Hailwoods machine, (even down to the left hand gear change conversion,) it was sold to Coburn & Hughes, (The Ducati importers for the UK,) and sat in their Luton showroom pretending to be Mike Hailwood's TT winning Formula One Ducati machine.
Later this machine was sold to a Ducati dealer and motorcycle trader in Hanover West Germany, by the name of Herr Reiss.
I last saw Mike Hailwood when I visited him on the 19th March 1981 at his motorcycle business that he had opened in 1979 with Rod Gould in the Erdington area of Birmingham UK. (Hailwood and Gould.) Rod had been a good friend of Mike's, and also a very talented motorcycle racer; he won the 250cc World Championship on a 250cc Yamaha in 1979.
Over lunch Mike told me that he had ridden in the 1978 Isle of Man TT without even having an AC-U/ FIM international competition license. It seemed the AC-U, Vernon Cooper, and TT organizing committee, wanted Mike to race at the TT so badly.
Mike Hailwood was critically injured in a car acident on the 21st March 1981, the Rover car that he had been traveling in, together with his young daughter Michelle, and son David, to collect a fish and chip supper, along the A35 Alcester road in Portwood, was in collision with a lorry close to his home in Tanworth–in–Arden in Warwickshire. (The lorry had been completing a illegal turn,) tragically Michele was killed instantly, and David survived any serious injury, Mike died in Hospital in Birmingham on the 23rd March 1981.
Ducati asked Elaine and me if we would represent them at Mike's funeral. The wreath that Ducati asked if we would have made up, consisted of red and white roses and carnations made into the name Ducati.The Ducati name was made up in the square type double line name.
Sports Motor Cycles Ltd wreath was made in the shape of a winners garland, using various spring flowers, depicted in the center of the wreath were the letters SMC (Sports Motor Cycles,), Mike's funeral was held on Tuesday 31st March 1981, at saint Mary Magdalene parish church in Tanworth-in-Arden, Warwickshire. His funeral was a who's-who in the motor and motorcycle racing world. Mike was held with such great esteem, that every one wanted to pay their last respects to him.
The Formula One Ducati that Mike Hailwood raced to victory in the 1978 Formula One Isle of Man TT, (frame number O88238, and engine number 088243) is now owned by Mark and Larry Auriana, and is displayed in a private collection in New York City, USA.
©copyright Pat Slinn, Reserved by "Otterman 2010"©
Legends Live On! Hey Mike...
Ella Fitzgerald was Mike's Favourite singer, and he always had her voice blaring from the tape deck of his car or van while touring the "Continental Circus" GP races...
Updat2021...