BSA Otter, Goes Live...
Welcome to the weekly...
BSA Otter YouTube Channel...
update page...
09/05/2020...
Now the BSA Otter YouTube channel
03/11/2019..
The first weekly video for the YouTube channel...
Hope there will be one every weekend in future for you...
Take a look and if you like what you see hit the subscribe button and give me a big thumbs up...on the YouTube page..
~~~~~~~~~
02/12/2019...
OK... I always work backwards.....
Done more work on the YouTube Channel today...
And came up with this "Introduction Video."
Along with the music that has probably not ever been heard before, and relates to what I sprayed onto the workshop doors while washing out the spray gun...
And also is very relevant because, although this was recorded in the eighties... it is so right now= I can never get anyone on the phone...Why?
31/10/2019...
Only On here today...
It goes onto the NEW YouTube Page tomorrow...
The Fray Bentos Tin...
Just made this Video to see if I could achieve the what seems to be a complicated task of opening these adventure meal tins...
30/10/2019...
As "A Start" to upping the game for BSA Otter....
I am going to start putting more onto my YouTube Channel..
We have several things planned in the pipeline and hope some of the Episodes will bring a better insight to what we do creating machines mostly for this web site. and also some interesting ride outs, etc..
So if you are interested in me doing this, subscribe on the this YouTube channel and give me a big Thumbs up...
BSA Otter, YouTube Channel.......
Only for BSA Otter.......
If you want more footage of this race let me know...
Lets Get Behind Mick... On His Dakar Ride...
More On this Later
~~~~~~~~
BSA Otter Live ....
Week Two...
Story later...
Right Where do I start...
I thought this YouTube stuff would be easy... No...
You know I have watched Mike Waller's YouTube Channel over the years, and thought when I get time I would love to do stuff like he does... And how professional has he got..
Well Lee has started to rekindle his love for cameras, so I thought I need to up the game for the Otter site...
And that would be the way get back to my YouTube Channel I opened all those years ago..
But instead of rushing in , you need to do a bit of homework first.
IT IS NOT THAT SIMPLE , as I have found out this week...
And the time it takes with double thinking all the time, stresses you out before you start...
So I have started so I'll finish I thought this week...
Big mistake taking the iPhone from my pocket and thinking this would do the job...
Well it did sort of, but even when I set it onto a cheap tripod ,it did the job, but the sound and lighting were in one word "Crap".....
And then when I started to edit the footage,I realised that without light, good sound, and shots of you in person, even with No teeth, needed to be enhanced as much as you could.. and I always have to realise that my North Oxfordshire brogue will not suit some people.
So BIG learning curve, and I now realise you can't do it on a small budget...
Well you can, but it will always look as if you were not bothered.
Then we get to the editing, thought that part was easy. now that Lee had said use I Movie on your computer it is easy... Yea Joke. It would be if it worked.
I dumped all my footage onto the IMack through Photo make a slide show...
WHY? well iMovie would not recognise the Camera (Phone)....
And this is Apple we are talking about. and all products I use was made by them....
No Chance ,it don't work mate...
Anyway I can rant forever, But I salvaged 31 minuets of good footage and a few shots of me, and thought we were on a roll. Joking...
Exported it to my computer like you do and left it to upload to YouTube... when I got home I thought I better just check that it had loaded OK, before I pressed the upload button to send it to YouTube...
Three hours later, and I was still tearing my hair out ( well not really I have not got a lot), but exporting it on my same computer had wiped most of the sound out... and this is in the same computer I edited the footage...
I was by his time screaming, and If it had not been a cold night and my heating was roaring. the iMack would have been through the window.
So Long story short...
I have salvaged some of the footage just to get you a sample... and I hope next week's get's better...
I can't believe how Mike Waller has got so professional as he is now... with out telling me of the hassle he must go through...
19/11/2019...
NO Video this week...
After the IT meltdown last week.. We have decided to get the proper equipment for the task before we make another video...
It has become clear that you need good lighting and sound,,, and this is more important than the camera, although using an old phone proved that that is not good enough...
so two new cameras and a drone are on the way... already have studio lights and lavilier mic...
We will make the next in the studio surrounding of the MeteorWorks workshop...and photo studio, and see what happens...
25/11/2019
Has there is not a video for this week ...I thought I would put the first video of Craig Jones's on since his split with the channel he used to do all of his work for...
It now means Craig and I can both learn to build our own channel's ..
And build and update the equipment used after both starting with a GoPro camera..
So here is the first one...
More Later.
Craig take a look at the Foster Otter frame Jig and like yours that works very well now I have learned to drive it...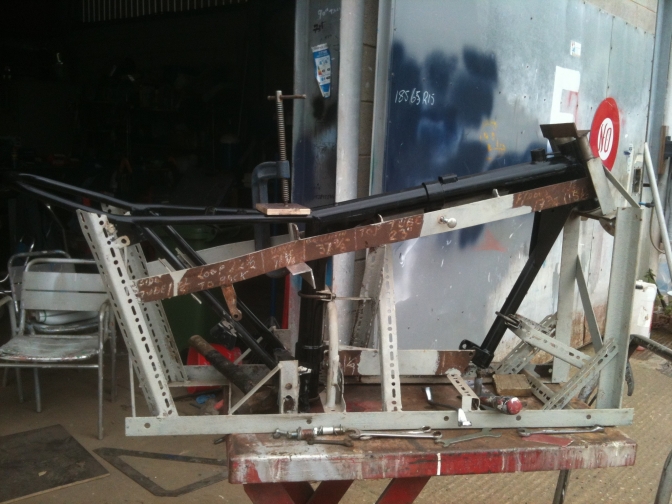 More later.
29/11/2019...
Had a bit more practice putting a video together..
but still having a glitch with I Movie editing software,,,
so had to use IPhotos Projects again...
Will do more footage with the GoPro next week with the new lights and mic... and see if IMovie tolerates that?
So here is this weeks contribution... If you think it's getting better or worse, Just comment on YouTube or Here and if you subscribed and gave me a thumbs Up(or down if you like) that would be great too...PS I need something to do when I am ill...
And I would know that I am not wasting my time...
12/12/2019...
This week while I collect all the new stuff to do my videos, and Lee and I will be doing some together, and using the same equipment...
So I thought I would put on his first effort for the Meteor Works Channel.
And using his Cannon D7 Camera... he has made a better job than me...
See what you think and encourage him to do more..
12/01/2020...
Update or is it Down-date on theYouTube Channel situation...
Well-after spending another eight hours putting together a cute little video about a "Cheap Meal". I then edited it with Photos Projects, as IMovie just does not want to play ball, then exporting it to the computer ready to send to YouTube, the middle section was animated (Jumpy), so I left that, and replaced the middle section ready to try again.
Second attempt just cut out the middle section speech and just played the backing track..
Dumped that one..
Third attempt was better but still shaky...
Not worth sending to YouTube.
A Lot more investigation... and another eight hours trying this and that, getting information, and finally trying to update my computers OS (Operating System), only to find that the one I have is the newest the computer will take (2009) and this is the problem, it just can't cope with editing the video to the now needed higher level.
So unless you publish short simple one take footage, the end game at editing destroys what you have...
It has got a lot worse with the newer higher resolution cameras, even the later I Phones...
So what do we do... Only one thing is to leave all the new camera equipment in the cupboard... or buy a new computer...
So my little foray into movie making is on the shelf for a few weeks until I can get a new computer just for that purpose...
This "Old Girl" can still cope just,
with doing the website, and has bags of storage for photos etc, but wont hack the new media...
So I will stop wasting my time trying to make video footage for YouTube until I have a new Mac...
The good news is, I can spent more hours on the website...
More Later...
As Seen From The Sidecar... Pod-cast...
You need to take a listen to this gem... Also on the "From Russia with Love" page...
More Later on this story... A New adventure for the Chaps...
Hubs ...a quick Video done with my phone while I was widening two Bantam/Cub hubs.......
11/02/2020...
It has been a while since I made this little video August 2016...
But a start to what might become a Mini-Series about Old trials sections that not only the Banbury NOBAC used back in time, but also others. Just need the spring to arrive and I will get out there and find some more of them...
I have three in mind already...
12/03/2020...
The Poppy...
I have been asked to develop a poppy mobile for this Autumn 2020.. So thought I would start development early...
So this Video is Part One to the development and hopefully to the final objects... Something a bit different to keep the brain cells alive.....................
14/03/2020...
Episode Two ...Part Two and Three of the Poppy Windmill saga..
I am really getting into this little project, something different now and again keeps life worth while...
More later on this subject...
First Of a "Lockdown" video that I am trying to publish the best as I can out of my old content ... Might see If I can still get another computer delivered...
More Later...
In 2023...
I did buy a new computer another Apple this time a Mini...
And I have made several new movies for you on the YouTube channel
this time I have learned to drive the Imovie editing software...and it seems to be quite profesional in how it works... So I just need to get new current footage for more on the HOW TOO series..
updat 2023...07...