The "Walwin" BSA's.
I thought that we should include the "Walwin" to our site. And I don't know why I have not done this before...
2013...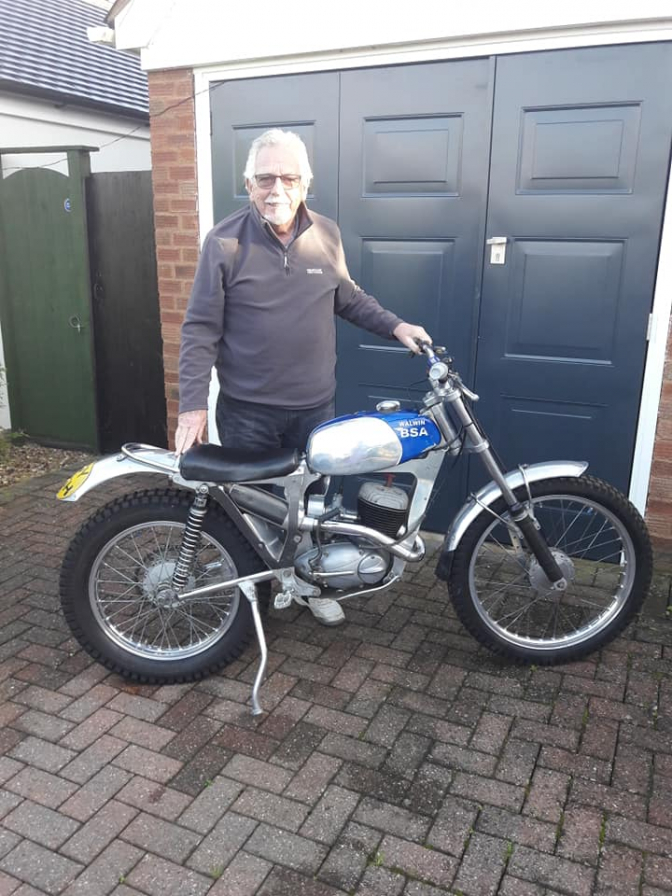 08/01/2021...
Ross Winwood at 75 years young now reunited after decades with his beloved "Walwin" BSA Bantam, that he and his father built all those years ago in the seventies... Well done Ross...
~~~~~
Bit of History about the family...
Well the Winwood family were stalwarts of the Midland trials scene back in the Sixties.
Not only building BSA engined trials bikes but also running and organizing trials too.
Father Ray Winwood..."The Captain", was the head of the family, but always had the boy's mother Gwen helping him too, with preparation of the bikes at a trial, or observing on most occasions...
She was also ACU Midland centre treasurer from 1974 to 1980 as well to keep the lady busy...
The Boy's Mike, and Ross, if I can remember correctly rode standard looking swan necked BSA C15 T's for the start of their trials career.
But then the image of the bikes started to change, small modifications to engines and frame, started to appear.
Eventually the lightweight duplex steel frames were used with influence from Reynolds Tube I feel, and probably with advice from Ken Sprayson...
Has far as I can remember Ross got a job at BSA, it may have been the Comp shop,
But I will have to ask Pat Slinn for confirmation.
Ray was somehow involved with the aircraft industry, but my memory is hazy to what he did.( We now know he worked for Girling as well.)
Anyway, I remember Ray taking the first prototype Dural alloy frame parts from the boot of his car to show Ralph Venables, who I am sure would have had mixed feelings about the project.
The revolutionary frames were however built, and surely could have gone a lot further with more industry backing, at the time. Just the old adage wrong place wrong time again when the British motorcycle industry was slipping away...
~~~~~~~
18/03/2017.
I found your website while I was looking up Ross Winwood. We met at Birmingham College of Art in the 60's while studying Technical Illustration. We met up again when I went to work for BSA. We were both illustrating for the BSA catalogues while his brother was in the drawing office there. Their father I eventually met when he was in charge of the Girling (Tyseley) garage (they had some impressive cars in there – including a Ford GT40 - so no ordinary garage).
I have no idea if any of that is of interest but it may fill a small gap in your pages.
All the best,
Trevor White
Charlie,> Thank you Trevor for that information, that makes the history a bit clearer...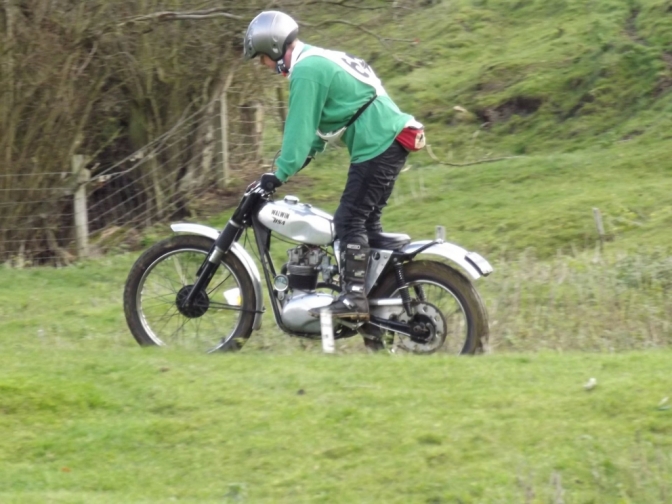 This is Eddie Freeman enjoying a Boxing-Day ride out on his steel framed Walwin.
At the Leamington Victory Clubs Ufton trial.
The steel framed bikes had an influence of Ken Sprayson about them, and I am sure that Ken had an hand in the design of these frames.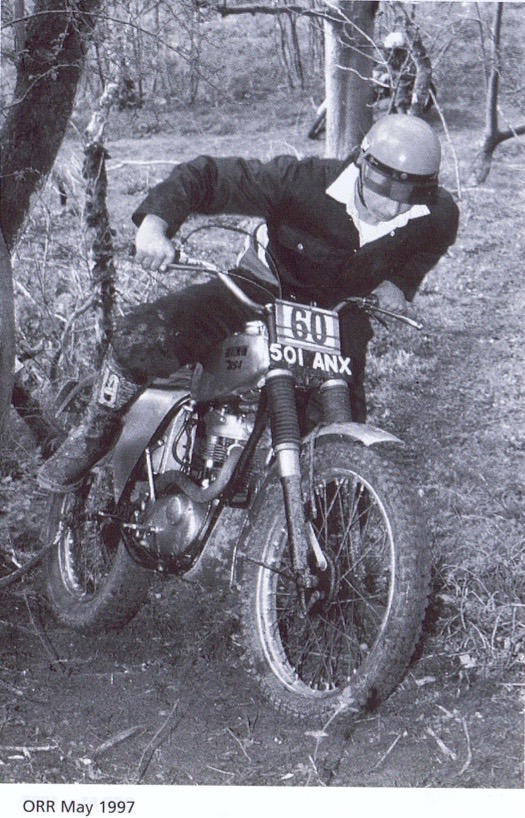 Taken from Off Road Review. Credit Deryk Wylde.
And here is Eddie Freeman again on the same machine but earlier .
In the Sam Cooper Union Jack Trial of 1997. How time flies.
The Specials Class in the trial, was won by Mike Mills BSA "Legend"...
8 marks lost.
Second, was Roy Trump BSA... 16 marks lost.
And Third, Dave Paxton Triumph Twin... 25 marks lost.
Interesting snippet from Deryk, Will Hawkes rode the first half of the trial, without a passenger until
John Perry's BSA outfit cried enough, and Andy Hay jumped into Will's empty chair...
Here you can see the "Walwin BSA", next to the "Brian Martin BSA" that Andy Paxton rode in the 2012 Scottish two day trial, and next to that is another Ex works BSA, and the owner of all three machines, Ted and Edd Freeman, talking to another Oxfordshire BSA Trials legend, and ex works rider, renowned for being the only chap that could get a tune out of the B40 engined machine...
Yes, Bill Faulkner...
Then the "Dural" aluminium
Framed "Walwin"Machines.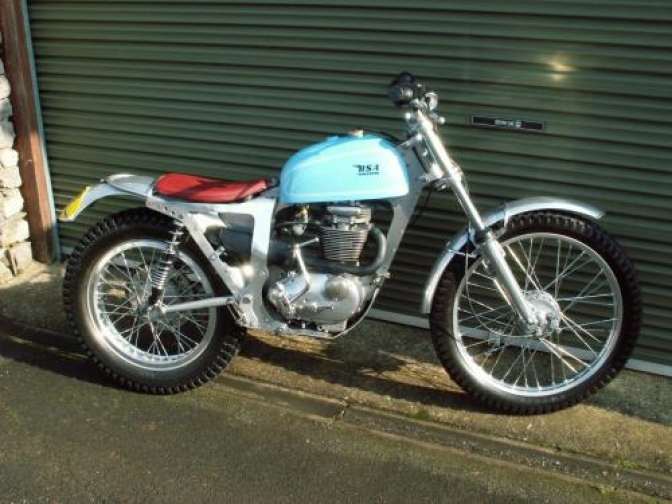 One thing that must be realized is, that there were no laser or water jet cutting of aluminium then. So even if the sheets had been cut with a plasma jet cutter, the parts would have been finished by hand, ( cut with a band saw Ross says...) even pop rivets, were newish at this time, late sixties early seventies...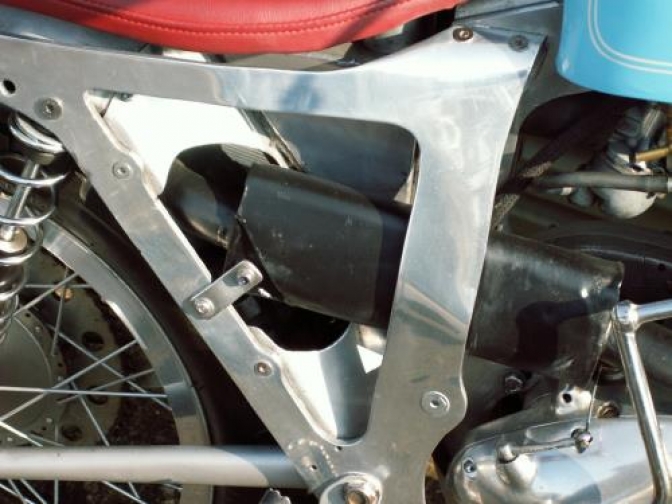 To get the alloy to work in this situation, direction of forces need a great deal of attention to get it right...
And also a lot of annealing would be necessary, between, every bend or fold...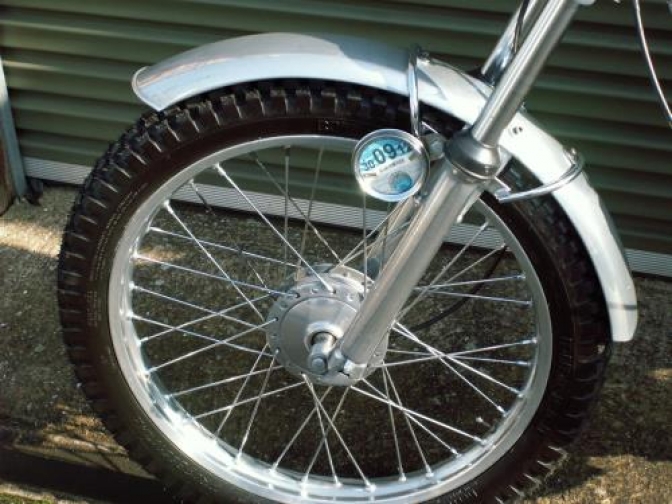 Not only was there an awful lot of work put into the development of the frame, but as you can see, another BSA/Triumph item, the four-stud front forks, were converted to leading axle, to keep it British, where the boys could have just used Betor or Marzocchi forks.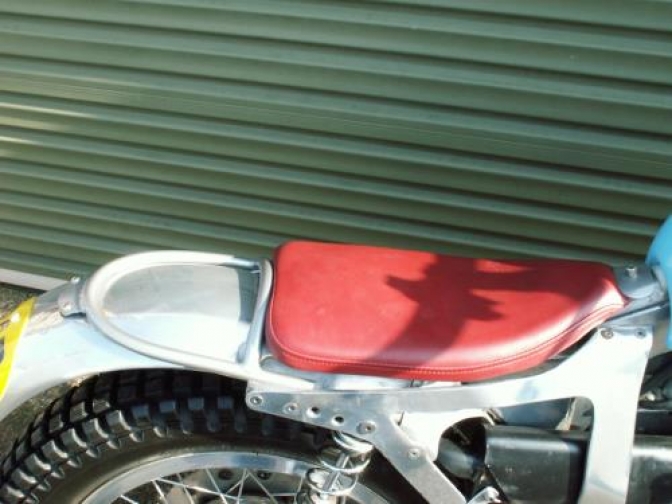 The forming of the Dural plate would have meant annealing the section after every bend to not only work the alloy, but to stop it from cracking. Not an easy task...Even today...
The tooling to press these sections in one, would have been far too expensive to warant the task for a small production run, and each frame would have needed to be slightly different for each type of engine anyway....
19/04/2016.
Mark Quinn today has sent me this brilliant shot of him riding the Walwin Bantam.
He says he still rides it regularly in Northern trials. Nice one Mark, and thanks for the photos.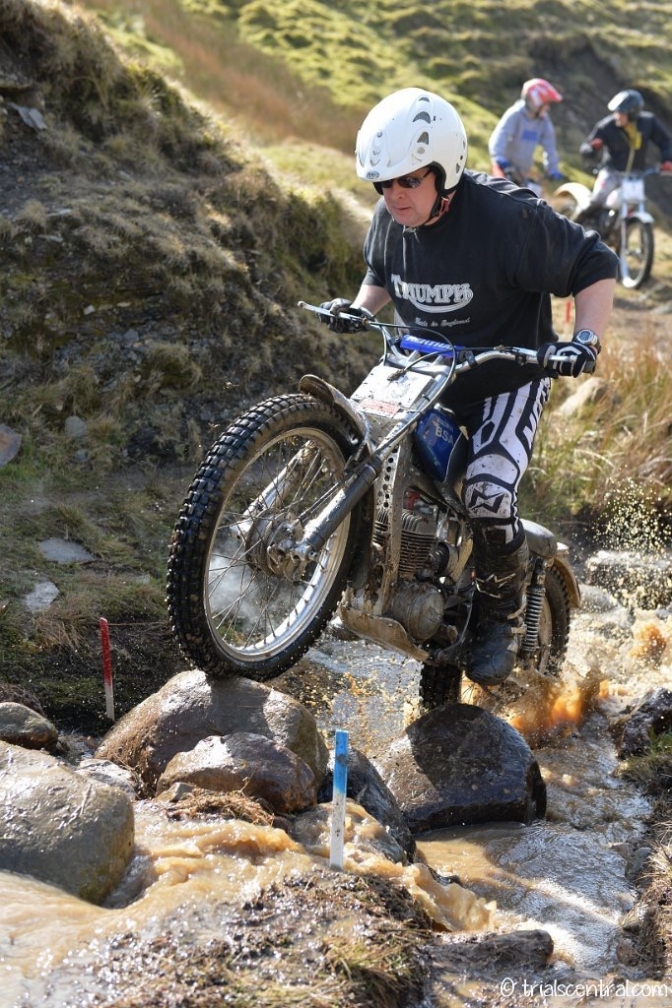 Photo Courtesy and Copyright."Trials Central",
I hope you don't mind me using it Andy?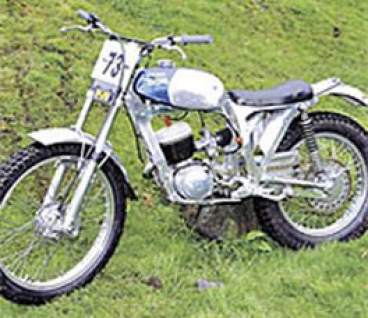 This is the Bantam engined version of the "Walwin" bike and the only picture I had at the time, 2011 I think ...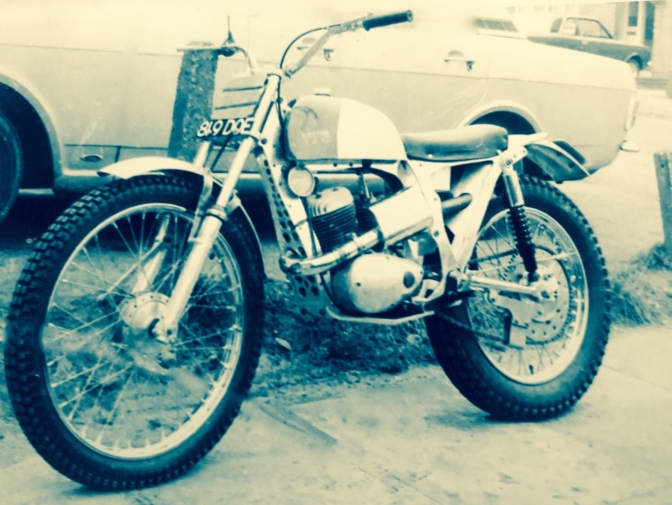 25/02/2020...
But now I have the photo from Ross Winwood of the bike above with the 1961 registration plates on it before it was re-registered in 1969...
Ross is at the moment trying to buy back one of the Walwins for his family...
If you know the whereabouts of a bike that could be for sale... let me know and I can pass the information on to Ross...
08/01/2021...
Ross has now fulfilled his dream of once again owning one of the "Walwin"bikes he built...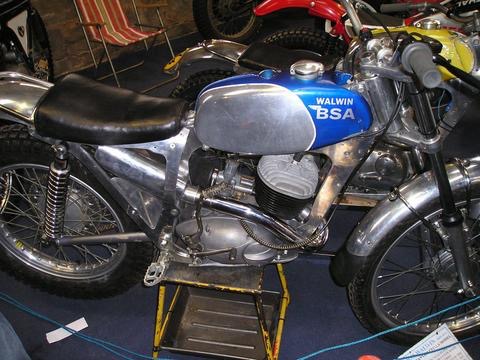 Photo Courtesy Mark Quinn.
Here's a better photo of the "Walwin" Bantam for you.
Thank's Mark.
24/01/2023...
The other BSA Bantam engined "Walwin" is owned by Terry Maynard...
Terry said...
Ross Winwood

knows I have this bike I bought it in

1975

ish, but I am not selling it is for keeps...
Terry Maynard
with his "

Walwin"

BSA Bantam...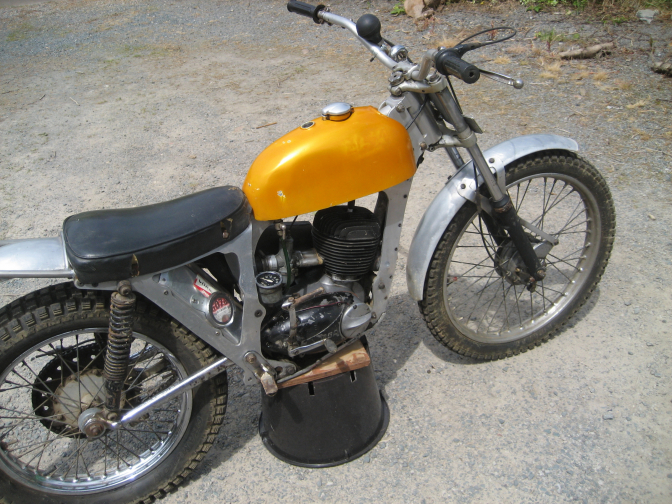 Photos Courtesy Terry Maynard...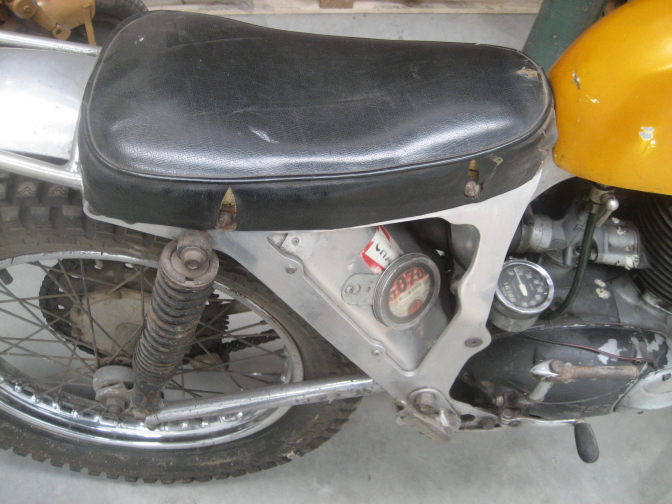 ~~~~~~~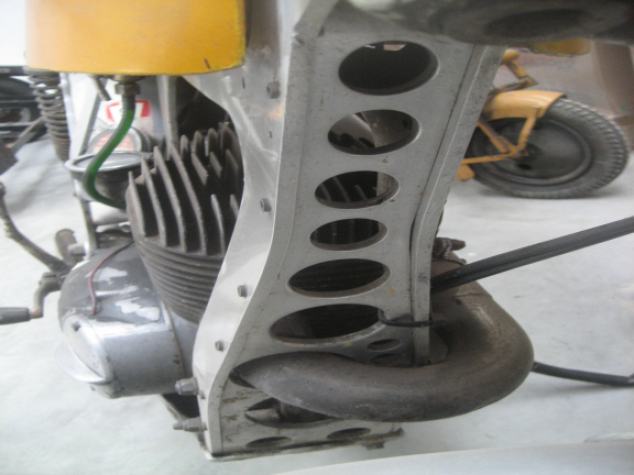 ~~~~~~~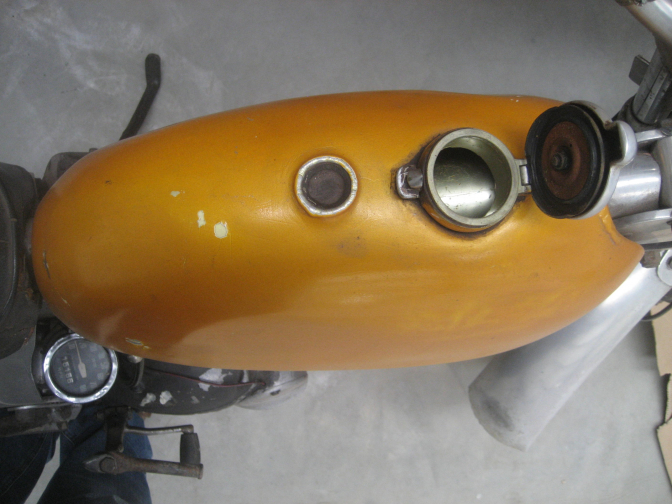 Look after that little "Walwin" Terry...
~~~~~~~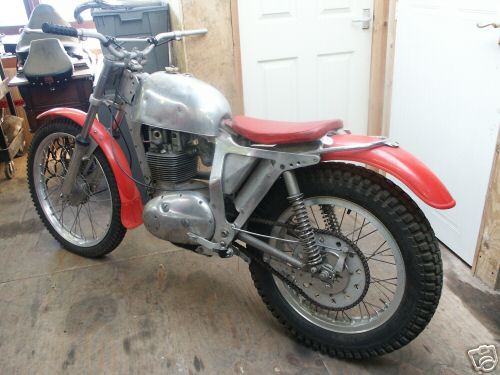 I have, just found these images on my old computer, and with the e-Bay logo, means that they may have changed hands, but I did not keep any records at the time, just saved photographs of trials machines that I cared about. 2007...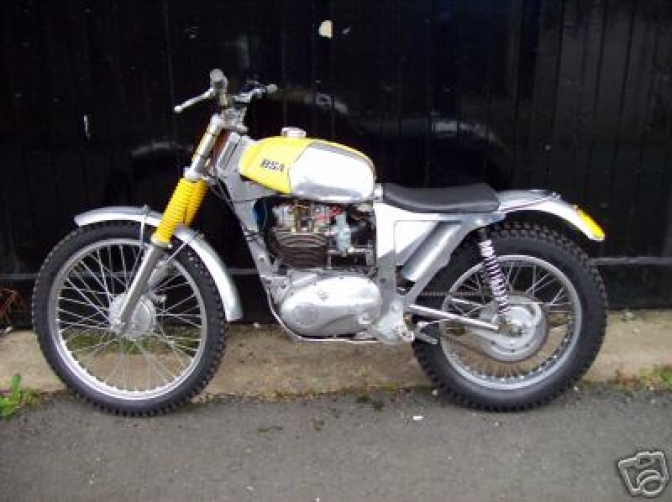 Although this photo is bad, it looks like this bike has had the motor swapped for a BSA C, or B "G", type engine in place of the BSA B25 engine, that I think were in the bikes when they were built.
Also note that the front forks are the standard "Four Stud type without the added fork extensions to make them leading axle type, this would alter the wheel base of the machine and the fork trail too from the wheelbase length the "Walwin" frame was designed to be...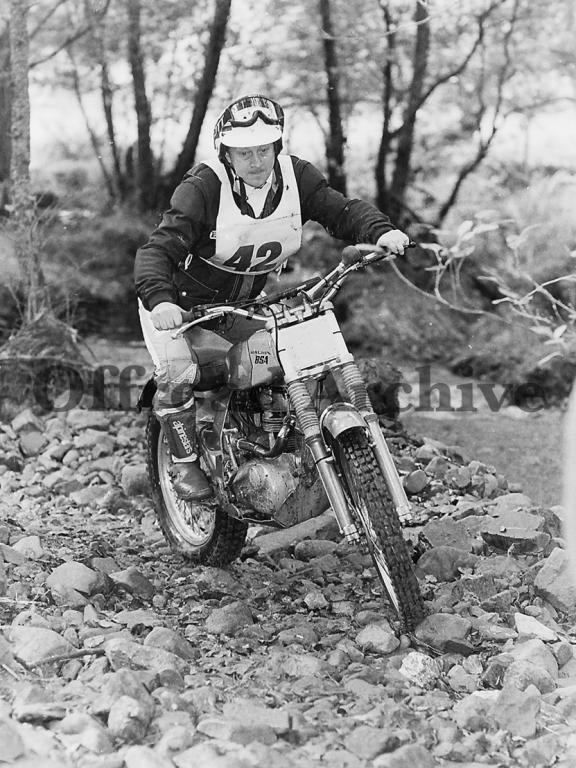 Here is a shot of Keith Quinn, Deryk said I can use...
Deryk Wylde said it is a section he found for the Frank Jones trial, named "Cwmcwefru", and the next section was better...
He said, you dropped into a rocky river bed, down a steep bank between two markers, took your own line, anywhere down the river trying to miss some of the worst rocks, and then exited up the river bank on the other side, between two more markers. Nice Old Style section Deryk.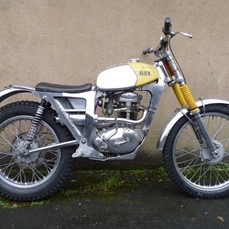 Photo Courtesy Mark Quinn.
Here is a photo that Mark has sent me, of his father Keith's bike above
and you can see that the engine is now a BSA C15...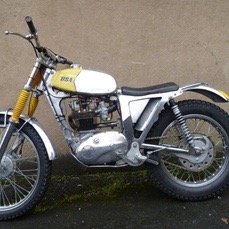 Photo Courtesy Mark Quinn.
I have distorted these two above photos slightly by making them too large, but it helps to show the Build of the bike better.
I will build on this page when I have done more research. 2011...
06/04/2016.
Philip Chapman has been in touch with me this morning, to sadly pass on the message that Martin Lampkin died at the week end.
Philip's, daughter is married to Ross Winwood's son, and they still live near Stratford upon Avon.
Philip who lives in Silsden, says that Ross sold up the post office store he ran for years to build a house, he then sold that, and he and his wife have been touring "The World" well Europe in their "motor-home", but are due home shortly.
I hope I can then again contact Ross like I did a few years back on Trials Central, to get more of the story about the "Walwin" trials bikes. Philip also told me that Mike Winwood is rather poorly at this time.
Keeping it in the family here is a photo of one of Philip's bikes.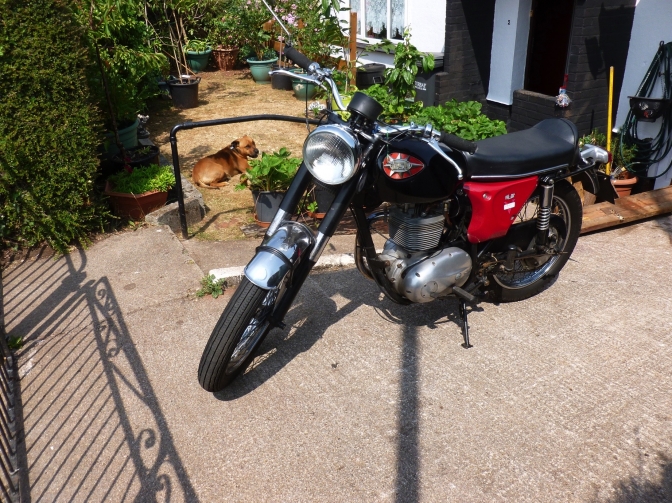 Photo Courtesy Philip Chapman.
Well it would have to be a BSA would it not. A Very nice "Victor".
Phil says, he like me, has a job to kick start the bike at times though, so he has one with an electric start too, a Suzuki GT 550.
photo later
Now we have this other link to Ross we may get the full story about the "Walwin" trials bikes, and even the Grass trackers?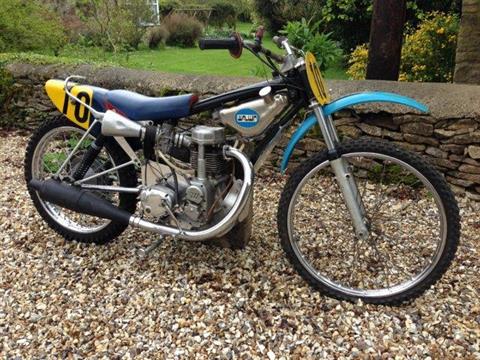 Photo Credited
This is an ex Ross Winwood "Walwin" grass bike that was fitted with a 440 BSA engine originally, but has been updated ?
with this Jawa motor, the bike is up for sale I am told.
30/08/2018.
From Bob Cottsway.
Hi.
I have just been looking at your Walwin site.
The bike shown is the final form Ross raced the bike after the B44 ceased to be competitive.
I rebuilt it from a rolling chassis purchased at Auto Jumble. Had to sell through lack of space.
I have his Alloy Framed 350cc, which I have also rebuilt.
See attached Photos.
If you would like more info please contact me.
Bob.
~~~~~~~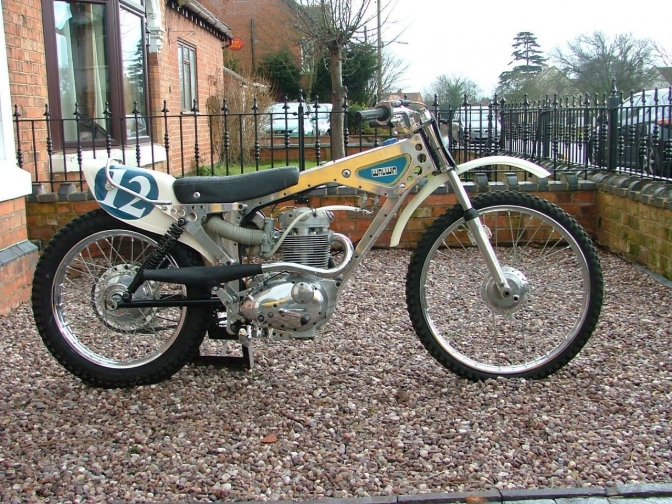 Photo Courtesy Bob Cottsway,
This shows off the Walwin construction method at its best. Superb bike Bob.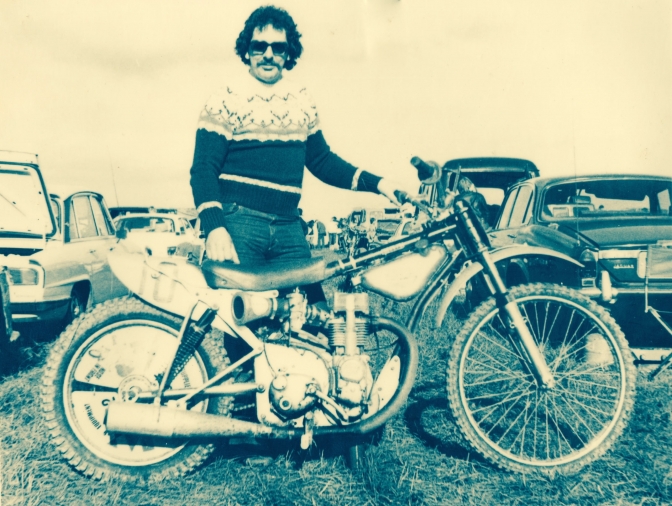 Photo Courtesy Bob Cottsway.
Here Is Ross Winwood with the final Jawa grass bike.
Better photo later.
24/09/2016.
Walwin Replica. built by Steven Pritchett.
Skipping through e-Bay as you do a came across this machine for sale, well you know what they say about flattery. Well this is a good example and I do mean Good.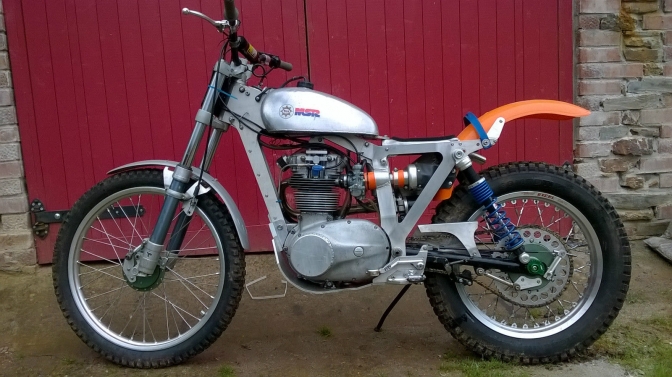 And here is what the owner builder has to say, Now I know that Mark Seward has something to do with this machine... Because of the rear shocks, the machining and the Badge on the tank.
Well the owner has now contacted me, his name Steven Pritchett, and I have asked Steven if he would mind giving us the story of the bike, and he said he would give us any information on the build, Good hey.
Steven's description of the machine.
This is my C15 Walwin replica that I built as a bit of an engineer's play thing!!
Whenever I saw pictures of the Walwin framed BSA's I knew I wanted one, and as a builder of custom bikes the seed for this project was born.
The frame is entirely bolted together like a Walwin and consists of two lasered side plates CAD drawn to modern bike geometry (Beta Rev3).
The head stock and separate parts of the oil tank which runs sandwiched up the spine plus the swing-arm pivot/ rear engine mount are from T6061 aircraft spec aluminium.
Much work was done with the swing-arm to get it the right length and the geometry of the shock absorbers and the bike runs with good front to rear balance lifting the front easily whilst still finding grip on the slippery stuff.
The shocks themselves are purpose built YSS with preload and damping adjustment and are quite brilliant.
The forks are 38mm Paoli's (not elegible for pre65) in sherco yokes chosen as I was struggling to get a decent set of 35mm's at the time.
The hubs are both made by myself, the rear is a Bantam replica and the front a conical type running TY shoes.
The brake plates 'float' on their spacers allowing the shoes to self centre in the hubs.
The engine has had much work with all metric bearings being installed.
A new big end is fitted with readily available needle rollers.
Timing side conversion has also been done, along with end fed oil feed.
The timing side bearing is a combined needle roller and ball race thrust bearing, in fact many of the bearings are over specified for the job.
Its had new valves and guides, and utilises a Triumph T100 piston.
New gears have been installed for 1st gear to close the ratio's between 1st and 2nd.
It also means that the bike has a new ratchet for the pawl so there's none of that kickstart slip!
The oil feed to the head is a positive type system taken off the end of the crank and regulated by use of carburettor main jets to maintain pressure. She does leak a bit...... despite several attempts I still haven't got it 100% oil tight.
A separate spin on filter is fitted.
Please look at the pictures!! (they form part of the description) and please come and view to satisfy yourselves the bike as described. No guarantees are offered or implied. Test rides are possible. Woods and banks available! (Cornwall).
Cash on collection only please!!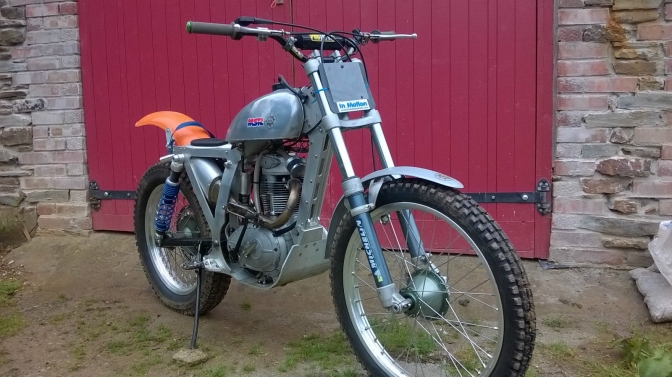 I have just uploaded a photograph of the primary drive showing the PVL ignition, and also the one off aluminium clutch basket. This also feature a one off aluminium centre allowing full Yamaha clutch plate set to be used. On the outside you can see where I initially used a belt primary drive but this was changed back to chain for reliability and performance.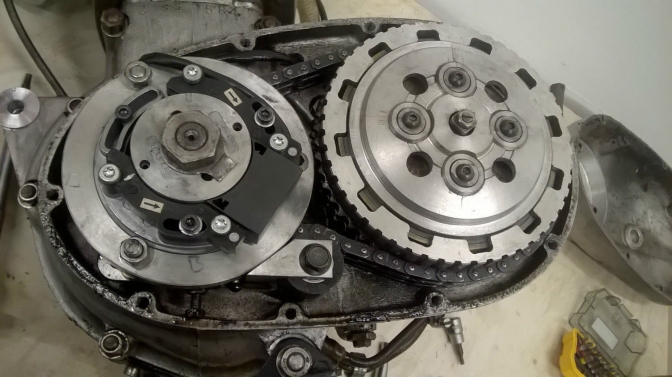 The bike is still currently for sale on e-Bay if you want to take a look. 2016.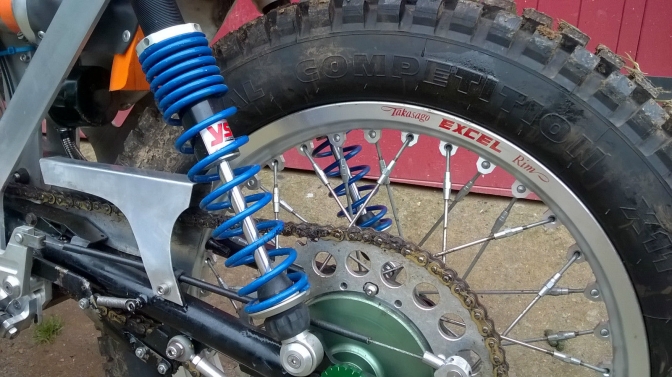 One last picture for now.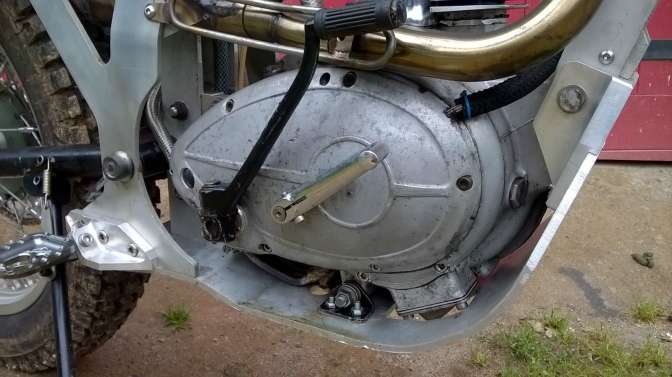 I will get the full story on this machine Later.
Well we now have it...
More of an update to the "Walwin" Story when I talk to Ross..
Updat2023...01