Ian Ballard's Foster Triumph…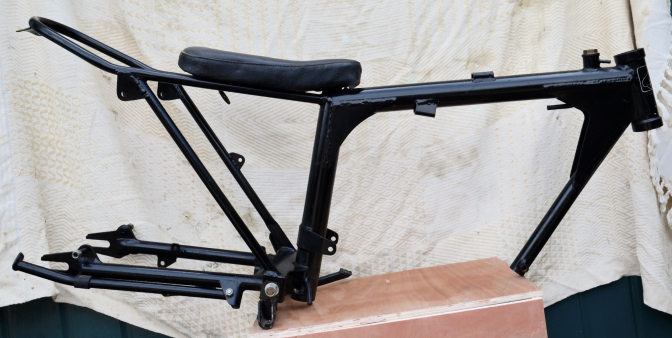 Foster Triumph Otter Frame...
Ian has had in his ownership a New Foster Otter frame for a Triumph twin engine since 1980 when Harry Foster built it.
Ian has wanted to build the bike up for a long while but has never had the time up-until this Pandemic appeared… This was the project that would keep him sane… during this Lockdown… And after fixing the mower as the first job, the build began… A set of forks and yokes were purchased as you can see.
And the engine was stripped ready for rebuild after removing it from the loft…
Ian has got the correct sprockets already from Dave Varley.. To take care of the gearing.. And the hubs are ready to go off for lacing…
But I will let Ian explain what he has already done...
Well being of a certain age it looks like we are house or garage bound for the next few months so I thought I would catch up on a few jobs. Had and engine that this year would only run on choke so a quick look on you tube and an hour in the garage. Never worked on one of these but as you can see not like an Amal.
Mower Photo.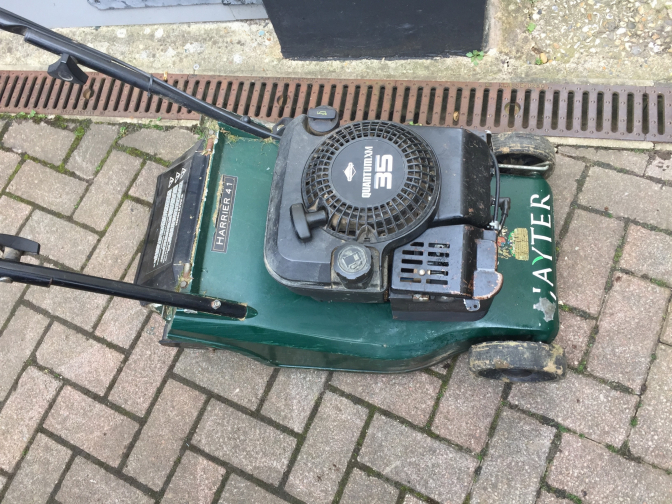 Well that's the mower fixed now onto more important matters.
Otter frame out of roof and had head bearings fitted , now waiting for the yokes to be made.
Just bought a good pair of Marzocchi from the usual site, but still in shock at the price (would not have paid that for a bike a few years ago).
Not worried about using them , may even put on "Norton roadholder" badges and plead ignorance !!!!
Once I get the forks on will post photos, but going to start now on the Triumph motor.
Forks Photo...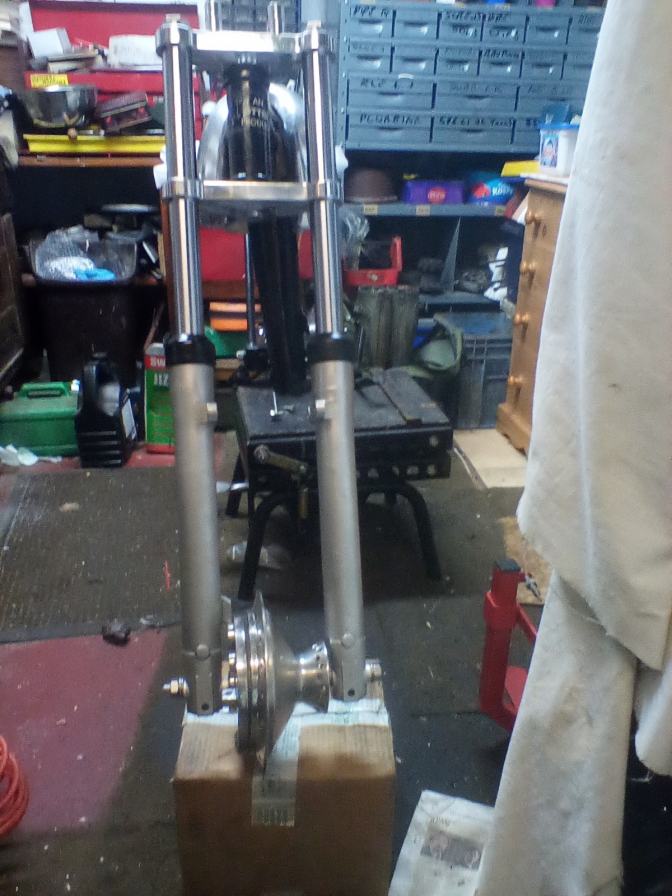 Yokes arrived today so just put it together to check it all looked alright. Now have to source front spindle, but rear came from a pitbike, stuck now until wheels can be built up.
Just found marking on headstock and it reads T5088038
is this a frame number ? C ~Oo> Think so Ian now we have someone else with the next number to it...
First picture is of the seat Harry supplied, glad he welded better than he glued vinyl, but it will be used. Next week the Triumph engine gets stripped in between gardening !!!
Seat photo...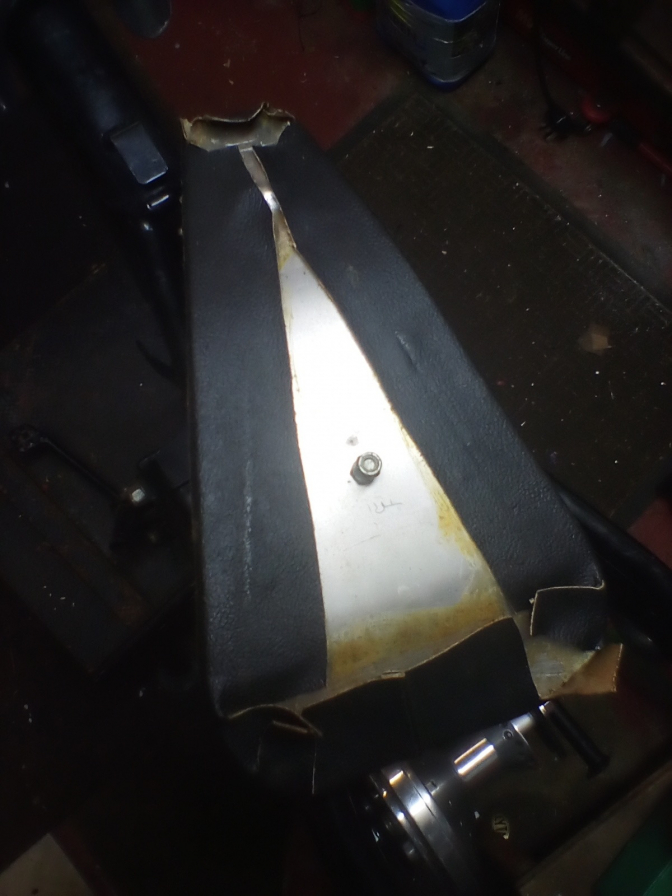 Cannot be too much of a help as using engine I already have, but it is an early 3TA with a distributor and cam with points so a bit of both. Quite pleased at the moment as all looking good now stripped down. On the carb I picked up some advice on line as to what someone used
622 amal
160 main
106 needle
Pilot RJ17
Slide 3...
Engine Photo...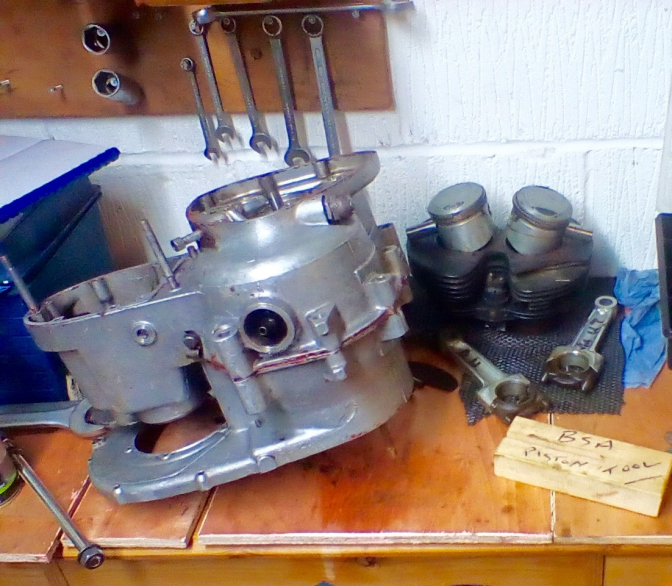 Been in garage trying to persuade the sludge trap out, drilled through and still stuck so will try again tomorrow !!
While there noted the cam numbers inlet E4038 exhaust E4078.
Have obtained a 16t engine sprocket and 14t gearbox sprocket, both from www.dcclassicmotorcycles.co.uk
Dave is the triumph man and build trials or trail bikes.
Sprockets from Dave Varley..

Have attached photos of the frame and if you need dimensions please give a shout.
Frame Photos...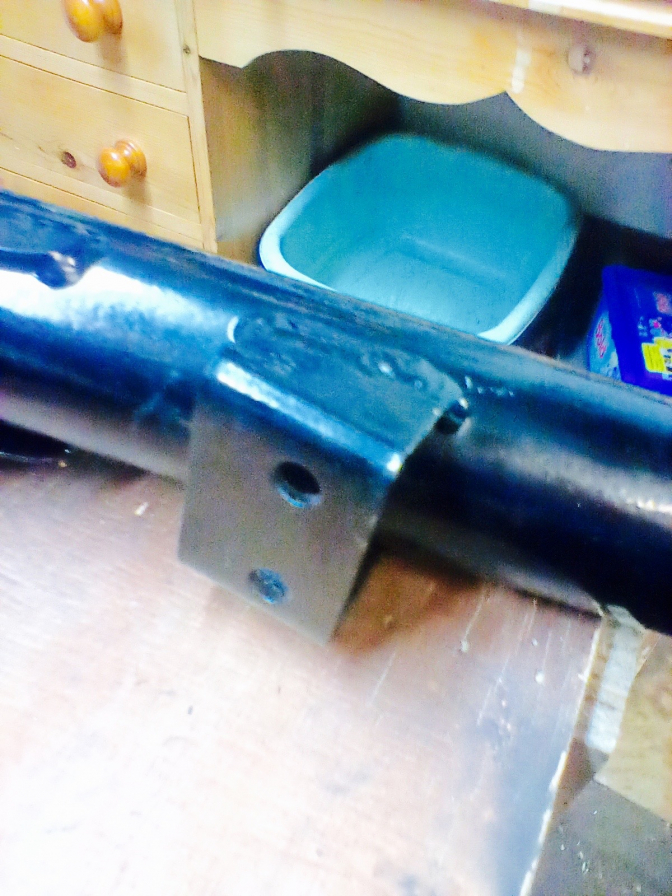 This is the Triumph Head Steady arrangement...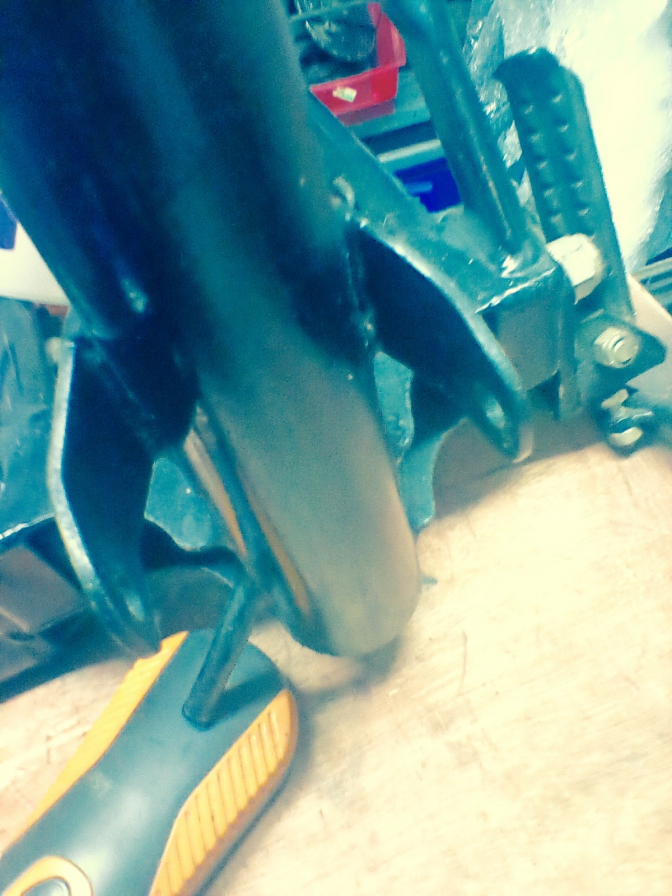 ~Oo>..
And the rear engine mounting wrap around bracket...
On the New batch frames I have altered this to two through tubes and two alloy plates for better adjustment...Not to say there is anything wrong with the Harry mounting..
Please forget the information on the camshafts as I appear to have a mixture, with the inlet off T100 and the exhaust off a later side point model. The exhaust was worn and it appears Dragonfly Motorcycles stock the correct ones, inlet E3838 and exhaust E3839, and hopefully on their way.
~~~~~~~
Back frame engine mounting Wrap-around...
~~~~~~~
Also thought you may like the following dimensions for the frame.
Front tube 1.250" dia x 14.5" long to headstock on outside nearest wheel
Engine mounts 5/8" dia x 3/8" bore...The Through tube...
Short one .387", Long one .626", both to the frame and 2.242" o/a width
They are .426" up from bottom of tube to bottom of boss.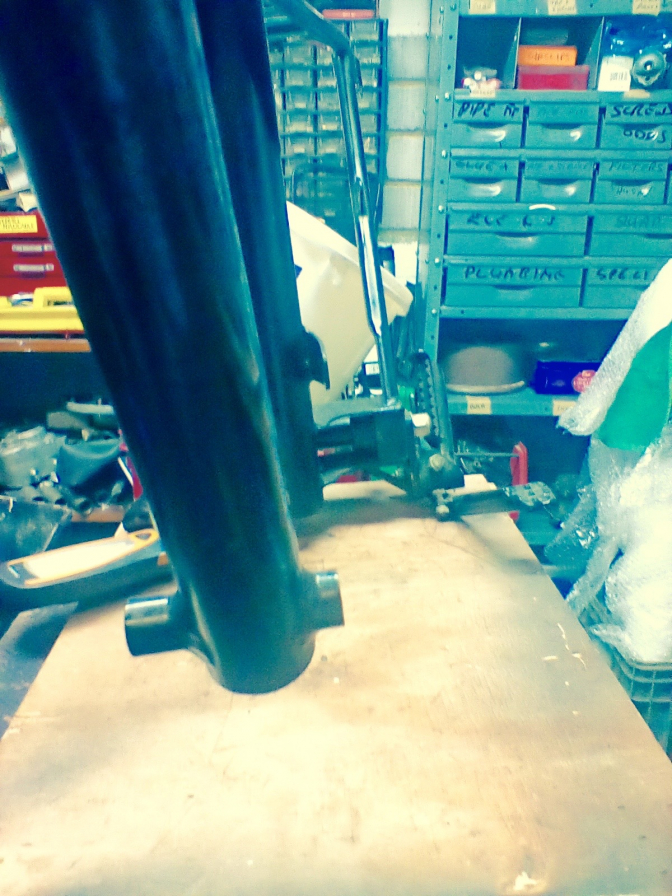 Engine Front mounting through Tube...Strangely the short side is on the chain-case side of the engine... but this must be right with the alloy mounting plates... We will get dimensions of them later...
~~~~~~~
Picture Three above...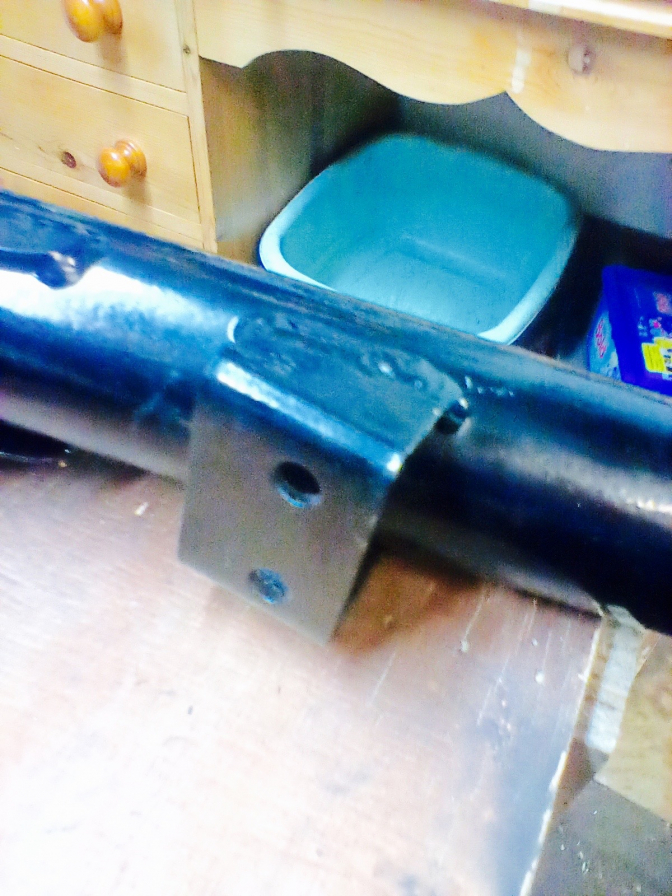 OK just added it again,Until I have Dimension shot...
Engine steady 1.5 "wide 2.375" across frame tapering to 2" at frame
2 holes 3/8" dia 5/8" from front at headstock end
Bracket 5.250" to start from main downtube at back
Just noticed no depth , but it appear enough to get a nut in easily................will measure tomorrow.
~~~~~~~
If its Mike's first Triumph strip-down I have found the special puller for the cam wheels excellent as they are an interference fit to get off, and the tool also pushes them back on.
It appears if you hammer them on they ruin the ends of the cam shafts and bushes!!!
Sludge trap came out with two grooves ground in and the use of a square shanked screwdriver and large wrench, then tapped the trap 12 mm and fitted studding over a tube spanner , wound the nut on top and out it came.
More Photos...
09/10/2020...
An update from Ian on the Foster Triumph build...
Please ignore any of this if I am repeating myself, but things are moving slightly slower due to less of a lock-down, and a front bedroom I am having to decorate !
Wheels back and look good, went for stainless steel in the end and have now fitted IRC tyres with rim locks.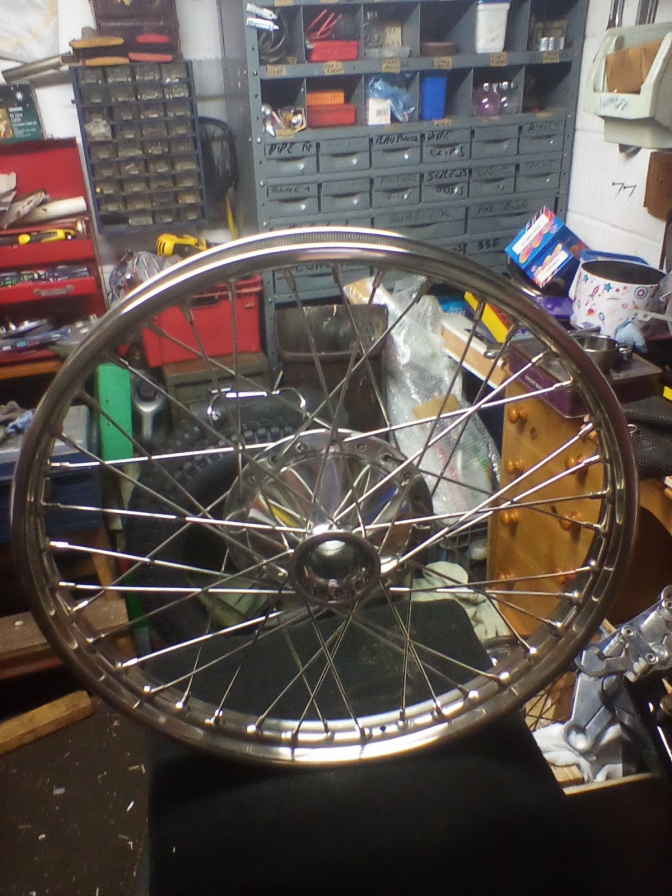 Have also drilled and tapped the rear spindle slot and fitted a couple of 5 mm button head screws to poke through and act as locks for snail cams.
Both wheels now have spindles, but I need to sort out spacers, brake shoes, cams and pivots.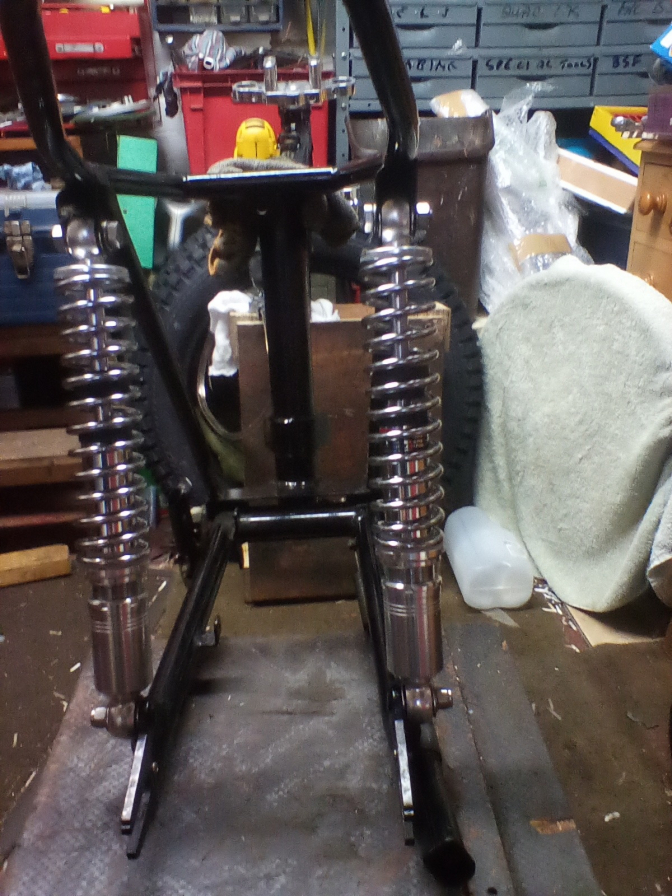 On the engine.
Fitted new piston rings and used tie wraps to hold them in place, barrel went on first time , but back to front............when turned around it took for ever to get the rings in.
I was promised the loan of ring clamps by son in law, but he never could find them, should have just bought a set. The head went on ok, and have had to make the head steady as per the picture (Harrys probably looking down and saying should have used tube), but had some aluminium handy, hacksaw and vice, so we got there in the end.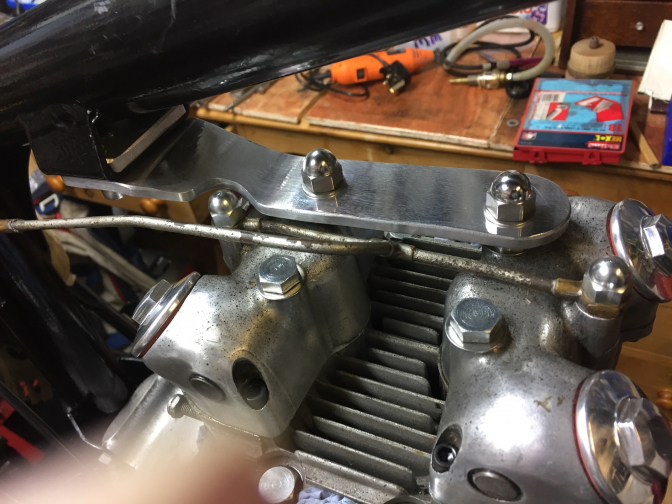 Now one of the other problems was the exhaust, Faber could not help, but Drayton offered me one of theirs, subject to me giving them measurements once the engine was fitted.
This has now been fitted, but believe it or not the Faber frame has more clearance than the Foster Otter for the exhaust, but the very nice lads have volunteered to make one for the bike once I can get it there.
The Faber Otter is nearly an inch wider at the swinging arm box Ian!
So still plenty to do, but no hurry now most MOD trials look cancelled, so next summer all being well, we hope to be up and running if not before.
Best regards
Ian
Charlie ~Oo> I will explain who the Mike is later...So be patient, you will be pleased when you find out...
More later...