Faber MK 3 "OTTER" CUB.
OK, this is what we are setting out to build. a Faber Mk3 framed "Otter" Triumph Cub.
Page started 2011...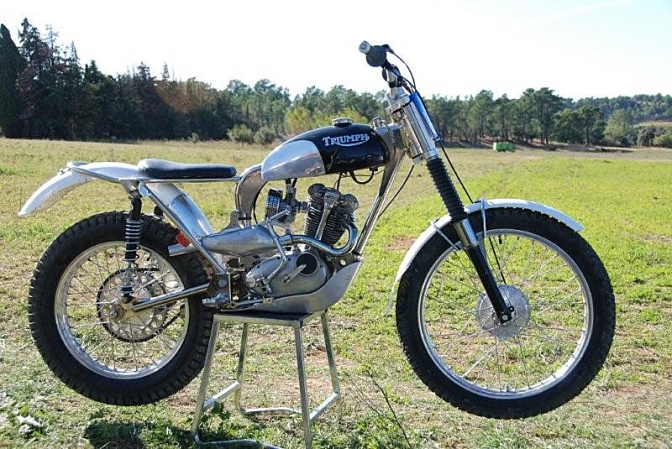 I have set this page up for the Faber framed Triumph Cub that I am about to build for my relative Stuart Bedford, from the Isle of Man, to ride in the many trials there.
It must be the best place in the world to learn to ride a trials bike, you just pop the bike into a van and drive up the road for ten minute's to a site with the right terrain that you feel you may like to ride on that day...
Makes me green with envoy.
Anyway the young man wants to ride a Classic trials bike, and watching him ride my C15T for a short while I could see that he has the talent to ride a trials bike, very well.
So this is the Faber framed Triumph Cub engined "Otter" build.
I have the frame and most of the engine parts, and a alloy barrel and piston to make it 230cc from Bob Moore at UPB.
Over the next couple of weeks I shall be machining the engine parts that need modifying, and this will be accompanied with pictures of the mods.
I have been using the alloy welder to the limit over the last couple of weeks to make several parts for the bike, included are a large cylindrical oil filter that also helps boost the amount of oil for the engine to use as well as that in the frame.
Also exhaust parts, and an air box that looks from the outside a normal BSA type filter.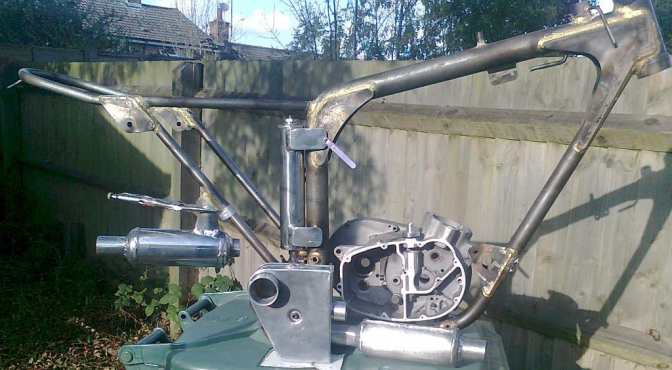 Some other photos are still in the Gallery...
11/11/2011...
OK, time has not stood still on this project and several more parts have been purchased, and made. I have bought the fuel tank in kit form so to speak. I have pressings and now need to make a tank or two from them.(Gallery) I have bought an Electrex World, ignition unit and fitted it to the "Top Cat Cub" to see if it is OK, If it works. I will buy another for this project as it seems to make sense.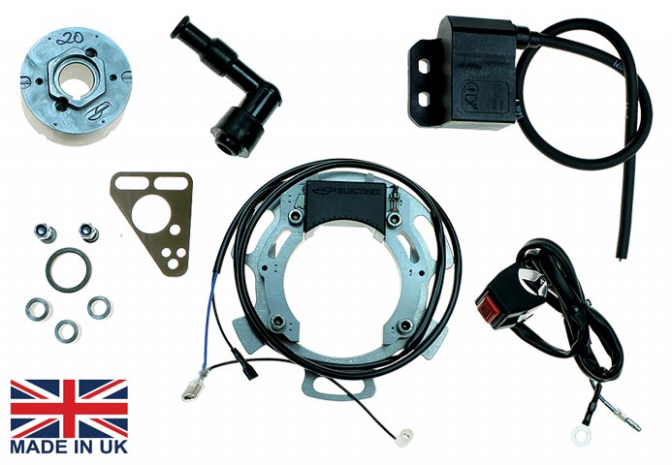 Engine is due to be machined this week end and the built next week. Frame has had some brackets added and a couple of the welds tidied up. The forks are now about to be fitted, when I have time to machine the fork stem to fit... Anyway I will update you next week,
OK....
I have decided to use "Triumph four stud forks" on this build too, I have them on most of the other "Otter"s and they seem to work OK, but you know me taking a look at the dampers I think that they can be improved.
Alan Whitton is going to supply me with a pair of his superb hubs and brake plates, along with the parts for the five plate clutch conversion, a set of his fork yokes for the Triumph forks, and a brace for the top as well, he also has some more bits and pieces for me to look at.
Alan now has the engine to perform his Magic on.
And carry out the machining to fit the parts that he has developed for the Triumph Cub engine.
This should help me to get the bike built a bit faster, with all the other projects I seem to be working on...
Here is another fine example of what can be built using one of these
Faber Frames.
This is the famous Balco Triumph Cub.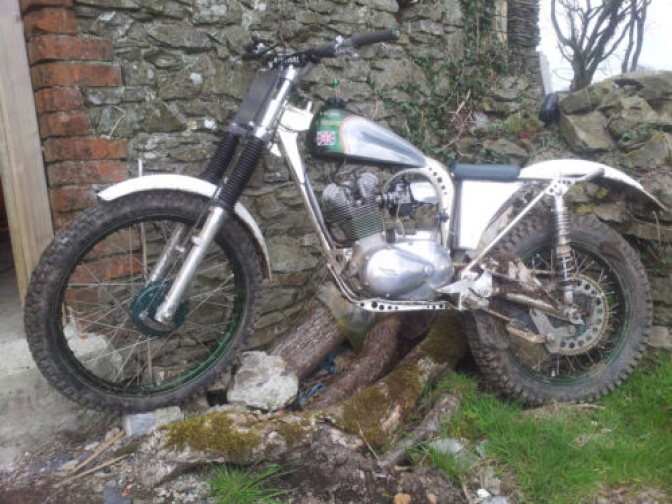 Lets hope our's turns out as good as this...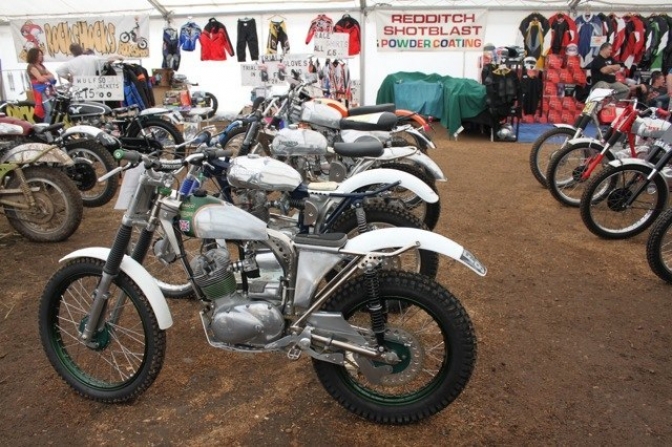 This is the Triumph Cub Line up from the 2010 Classic Trials Show.
We did have some nice bikes there...
30/04/14.
Well I thought I better just give you an update on this build.
You know I have too many bikes in build and only one pair of hands most of the time.
But Alan tells me the engine unit is now ready, and I have most of the other parts now to put the bike together.
When the Super Cub "Mini Otter" is finished this will be the next bike in line.
I will start to place photos of the build on shortly.OK...
About Stuart Bedford...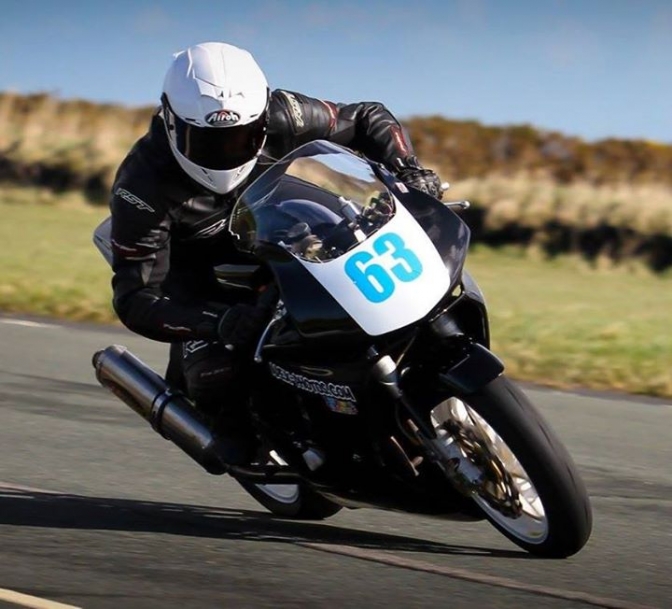 This Is Stuart Bedford from Castletown IOM, playing at racing in the summer months.
Not Only is he a good trials rider, but he also shows a lot of promise has a Manx Road Racer.
Real "Old School" style there fella.
Stu, Is trying to get enough points for his licence to be able to race in Ireland and the Manx-GP,
next year.
The travelling to the mainland and the amount of tyres he gets through scratching really hard, has left him short, in the pocket.
So if anyone is prepared to fund his tyres, etc for a display of sponsorship on the bike and on this web site. Contact me.
He could be that Star of the future, I have always said he was!!!. BSA "Otter-Star"
September 2015.
OK Stuart has fulfilled one of his dreams he has ridden his 2006 Suzuki GSXR 600, into 23 place in the Newcomers Manx GP. And has achieved his second goal of doing a lap at over "One Hundred" miles an hour,average 101. to be exact.
A start in the Senior race was short lived with a problem (now found out) with the fuel filter in the tank, a problem caused by the paint in the modern take of the "JerryCan"flaking with the use of ethanol based fuel.
Stuart is already doing many hours of overtime at work to save for next year Manx , he has amined for a 105 mile an hour lap.