OK this is what we are setting out to build. a Faber Mk3 framed Triumph Cub "Otter".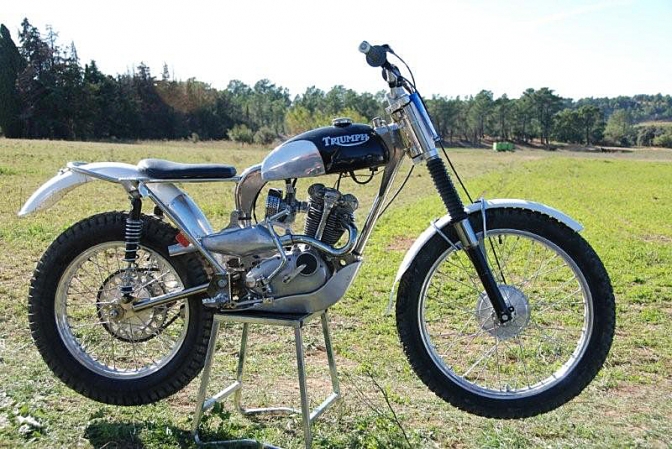 I have set this page up for the Faber framed Triumph Cub that I am about to build for my relative Stuart, from the Isle-of-Man to ride in the many trials there. It must be the best place in the world to learn to ride a trials bike, you just pop the bike into a van and drive up the road for ten minute's to a site with the right terrain that you feel you may like to ride on that day. Makes me green with envoy.
Anyway the young man wants to ride a Classic trials bike, and watching him ride my C15 for a short while I could see that he has the talent to ride a trials bike, very well.
So this is the MAN-IC Faber framed Cub engined "Otter" build.
I have the frame and most of the engine parts, and a alloy barrel and piston to make it 230cc from Bob Moore at UPB.
Over the next couple of weeks I shall be machining the engine parts that need modifying, and this will be accompanied with pictures of the mods.
I have been using the alloy welder to the limit over the last couple of weeks to make several parts for the bike included are a large cylindrical oil filter that also helps boost the amount of oil for the engine to use as well as that in the frame. Also exhaust parts and an air box that looks from the outside a normal BSA type filter.( pictures of these parts and the frame are in the gallery).
11/11/11
OK Time has not stood still on this project and several more parts have been purchased, and made. I have bought the fuel tank in kit form so to speak. I have pressings and now need to make a tank or two from them.(Gallery) I have bought an Electrex World, ignition unit and fitted it to the "Top Cat Cub" to see if it is OK, If it works, I will buy another for this project as it seems to make sense. Engine is due to be machined this week end and the built next week. Frame has had some brackets added and a couple of the welds tidied up. The forks are now about to be fitted ,when I have time to machine the fork stem to fit, Any way I will update you next week,
OK
I have decided to use Triumph four stud forks on this build to, I have them on most of the other "Otter"s and they seem to work OK, but you know me taking a look at the dampers I think that they can be improved.
Alan Whitton is going to supply me with a pair of his superb hubs and brake plates,along with the parts for the five plate clutch conversion, a set of his fork yokes for the Triumph forks, and a brace for the top as well, he also has some more bits and pieces for me to look at.
Also he now has the engine to perform his Magic on. and carry out the machineing to fit the many parts that he has developed for the Cub engine.
This should help me to get the bike built a bit faster, with all the other projects I am on with.
Here is another fine example of what can be built using one of these Faber frames.
This is the famous Balco Cub.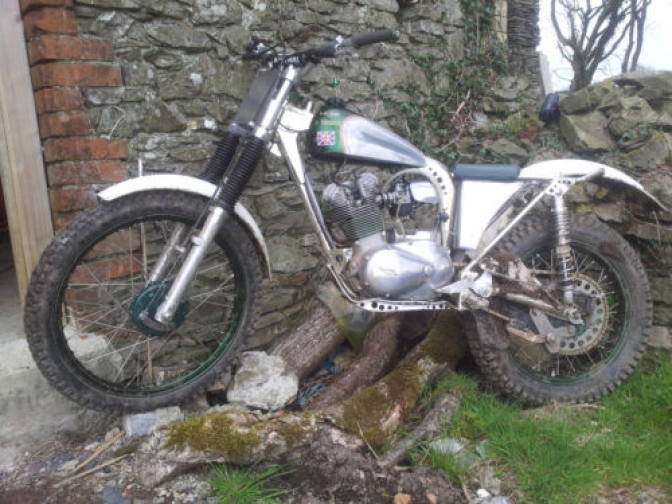 lets hope our's turns out as good has this.