"The Cotswold BSA's".
2013...
There has been a considerable amount of interest just recently about the breed named. "Cotswold BSA".
So A page was due. Here it is.
These machines were put together by the late John "Hubbo" Husband, with a little help from his friends.
After Cotswold Motorcycles was set up and started by the very talented Malcolm Davis, who sadly died not that long after, in a tragic road accident on his trials bike...
The BSA B44 that Malcolm is riding, and I reckon, the section named "Camp" in the Cotswold Cup trial must be the very first recognizable ...
"Cotswold BSA"...B25 I think...
Photo Courtesy Deryk Wylde..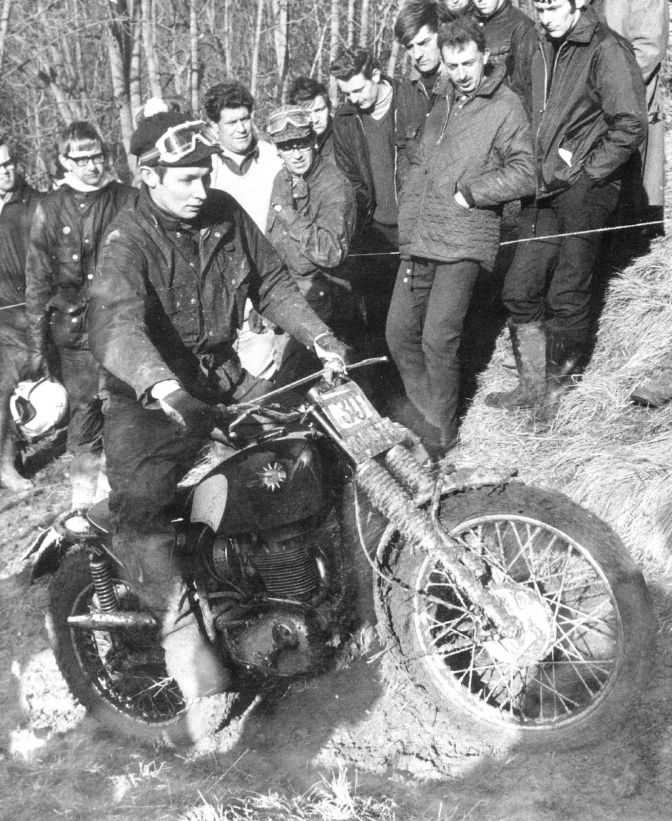 And "Hubbo' Aboard a Cotswold C15...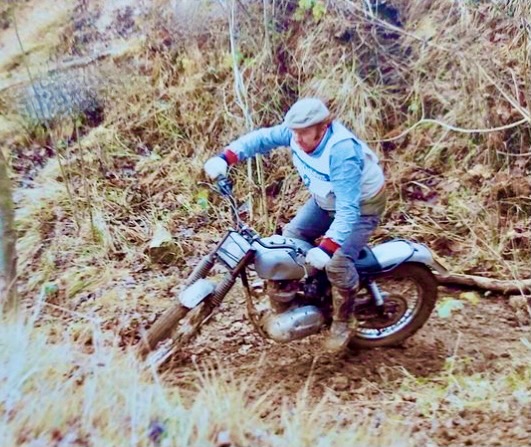 ~~~~Just found this photo on computer Christmas 2021...
Photo Courtesy Deryk Wylde. Offroad Archives.
Deryk has just sent me this Photograph of "Hubbo" at Play on his favourite Machine, his fathers Velocette trials bike.
"Hubbo" was part of the band of Cotswold Offroad Motorcycling community, that has flourished over the past, five or six decades.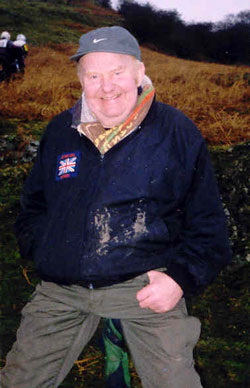 Anyway John who worked for Malcolm Davis, carried on running the shop, and also carried on building the trials and competition bikes after Malcolm had left us.
John Husband not only built trials bikes, but also built the Grass track machines that he was so apt at riding too, he was a Star as a Grasstrack rider and a very difficult man to beat and won many championships.
Here is a very special BSA B40 grass engine of "Hubbo's" and even has the name on the points cover.
This motor has just been fired back into live after spending many years in the dark.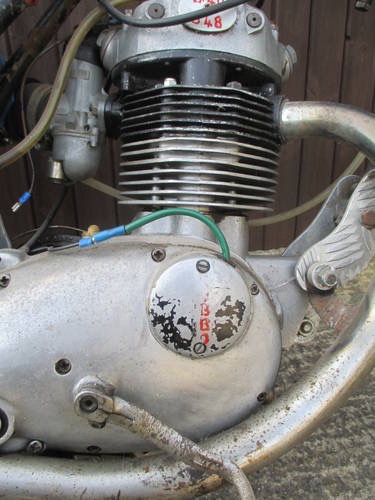 Hubbo started on a bike build by searching out the parts or buying a suitable BSA for conversion. Then with his band of merry men helping the build, the bike would get assembled and then tested by one of the very capable trials riders there were in the bunch of chaps that helped the Cotswold bikes to continue to grow..
.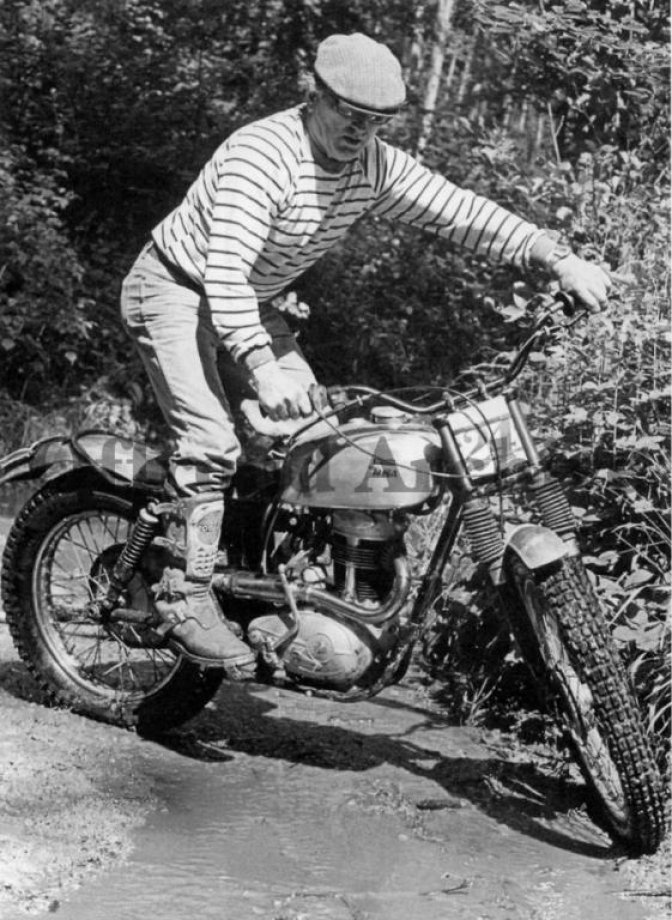 Photo Courtesy "Offroad Archives" With permission.
A lot of the work on construction of frames and parts along with the build up of the engines, seems to have been done by Roger Taylor of RTS motorsport.
Roger was an old adversary of Hubbo's through the Grasstrack activities.
The favoured swan necked BSA's, mostly used the C15 T frame type if available, and with a modified sub-frame and swinging arm, and a lot built carrying oil in the frame tubes.
This shot above of John Draper riding one of "Hubbo"s C15T's at the "Bonanza" event and looks like the same bike that Hubbo himself is riding above too...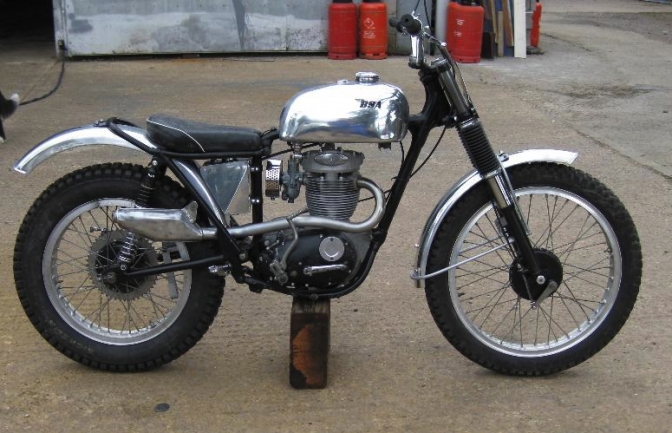 Photo Courtesy "Otterman"
And this superb B40 engined C15T bike above and below, is the last "Cotswold" BSA bike, that the late John Draper, was working on for his own use before his leaving us.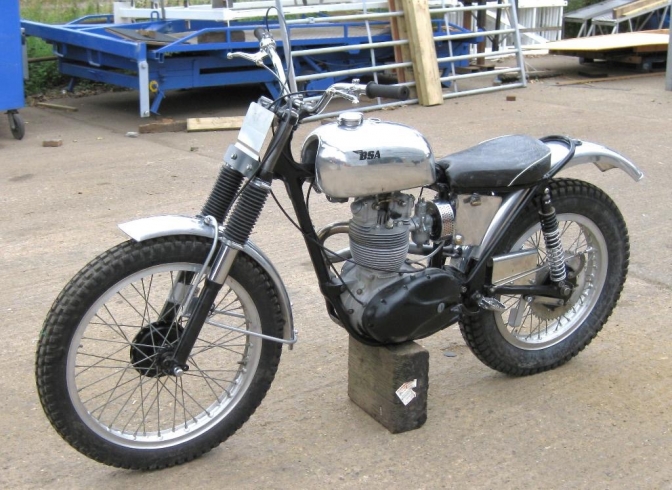 Photo Courtesy "Otterman".
There is another Swan-Necked machine that is very current but you will have to be patient because the story of that bike is in a page of its own later in the week.
26/May/2014.
(Now Out). "Andy Paxtons. Cotswold BSA"...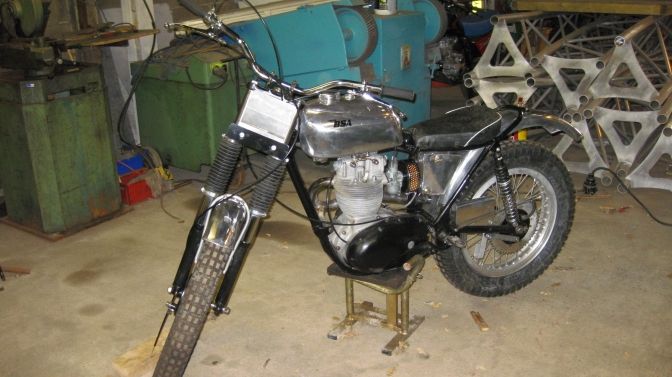 Photo "Otterman"
John Draper Cotswold Bsa B40...
As you can see from the article Deryk wrote way back in the eighties, one of the number of "Cotswold Motorcycles", shall we say the "Old School", was one Tony Davis.
Tony's brother Malcolm, was one of the founders of "Cotswold Motorcycles", and Hubbo started to work there, as well as his job on the railway, and after Malcolm's tragic death, Hubbo became part of the concern.
~~~~~~~
Here is another "Cotswold BSA" that has just been rebuilt after years away from the trials scene.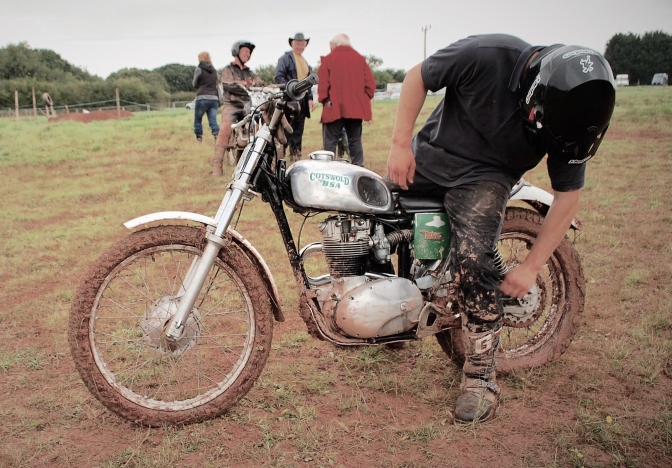 Photo Courtesy "Hammertight".
An interesting machine, this "Cotswold BSA"... Father Dave Jones rode this bike twenty years back, winning a few events, and then sold the frame. This year he managed to find and buy back the frame and the Cotswold bike was built up again, and this time Dave proudly watches son Nathan Jones, doing the winning!
John Husband was the original builder, and the bike was ridden by Andy Collins then.
An early C15T motor has taken the place of the B40 tht was fitted originally.
"Hammertight"...
Charlie:> Note that the machine is now fitted with the 1971 type Triumph/BSA "Fourstud forks".
Also have you noticed that this frame was oil carrying like the one above in Deryk's article with Tony Davis aboard.
If you look at the "Henbest's BSAs", page you will see another of the Hubbo Cotswold BSA's...
22/01/2022
Just doing a bit of a look into Cotswold BSA's and found this...
Enjoy...
~~~~~~~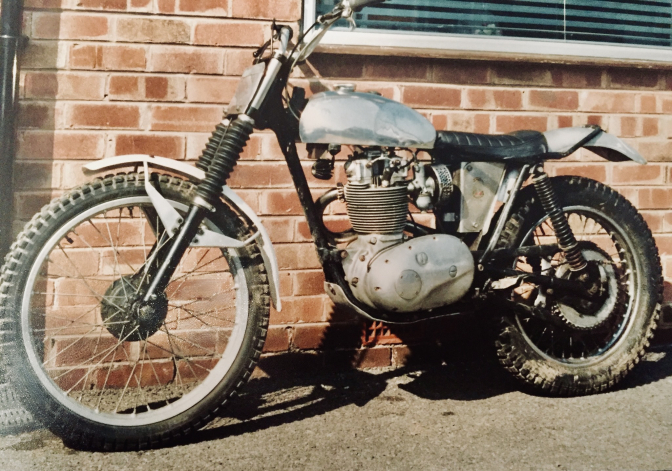 Here is the Ian Emery "Cotswold BSA" B40...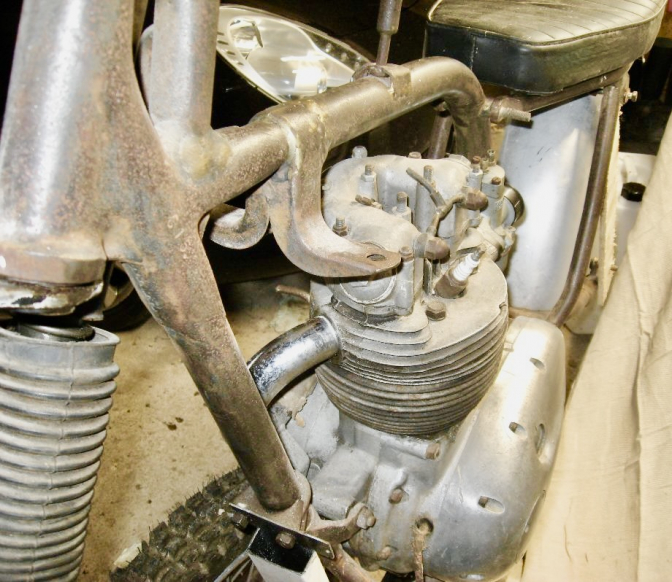 A shot of a Cotswold Oil-In-Frame conversion...
"Cotswold MM",
"Mike Mills" Replica frames.
Now we move on to the "Hubbo" copy frames built on the Mike Mill's jig, or a copy of the same.
These "Cotswold MM"frames were again built by Roger Taylor of RTS.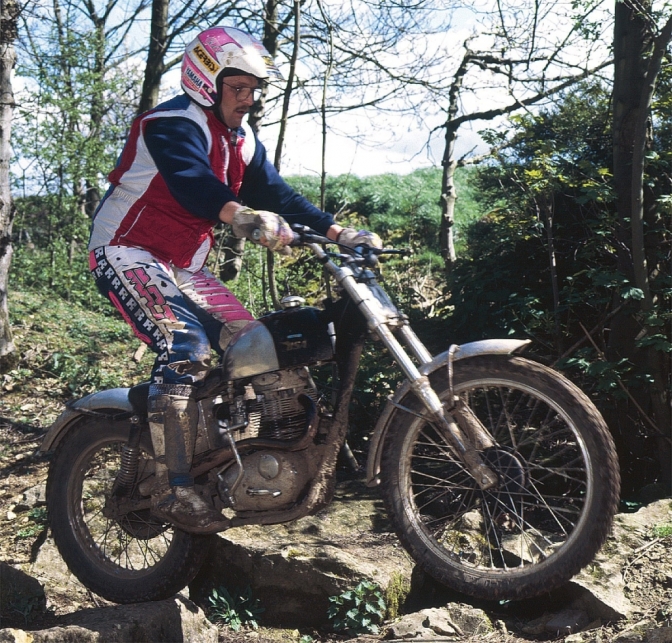 Photo Courtesy Deryk Wylde ORR-e
Nick Draper, pictured here riding his built
"Cotswold MM"framed BSA in 1998.
This is the bike that I now own...
And this jig has now been sold on by 'Hubbo's son Barry Husband, but is in the throws of revival, so I am told.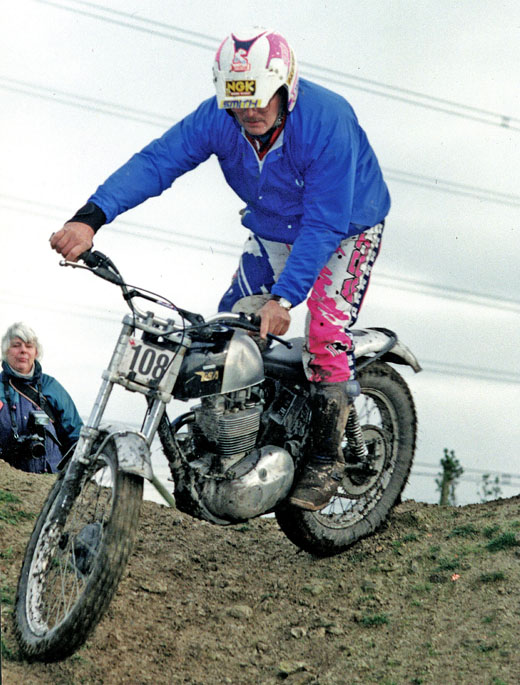 Photo Courtesy Deryk and Mary Wylde. "Offroad Archives".
Here Nick Draper riding the same "Cotswold MM" framed BSA built by Roger Taylor for John Husband, this now with the BSA B25 engine unit fitted... and has the B25 engine back in the bike now...
...
The Mike Mills "Legend" frame was built to use the BSA B25 engine and you would find it difficult to fit a B40 engine or perhaps a B44...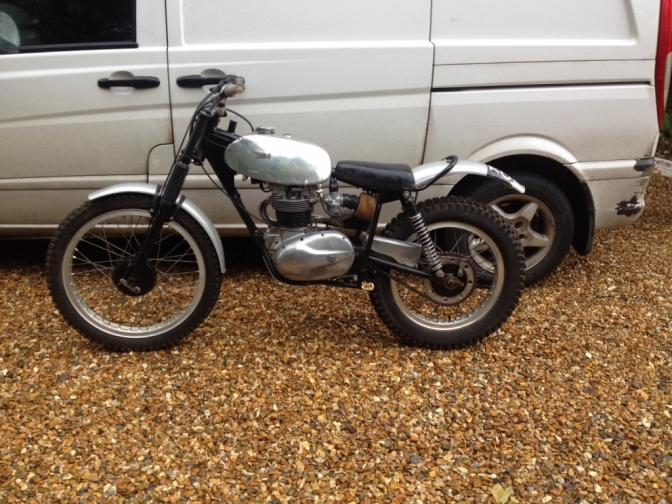 Photos Below Courtesy Ken Wallington.
This is the 250 or probably 280 C15 "Cotswold MM" BSA now in the ownership of Ken Wallington.
And the brother bike to mine.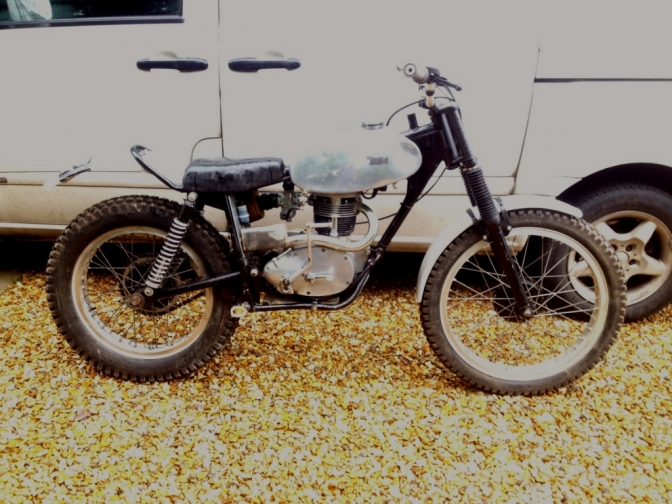 And this is the other side of the machine, with the trade-mark "Cotswold" flat plate timing cover, on the RTS built motor.
I asked Ken how the bike ran on its first outing with the new owner.
Ken.> "Fantastic Pulled like a train,and really gripped.
"Hubbo knew what he was doing".
July 23 2014.
"What A Difference A Day Makes Twenty-four Hours" (Well a bit longer Hey... Ken)...
But just look at the difference with the makeover from the bike above has it arrived with its new owner.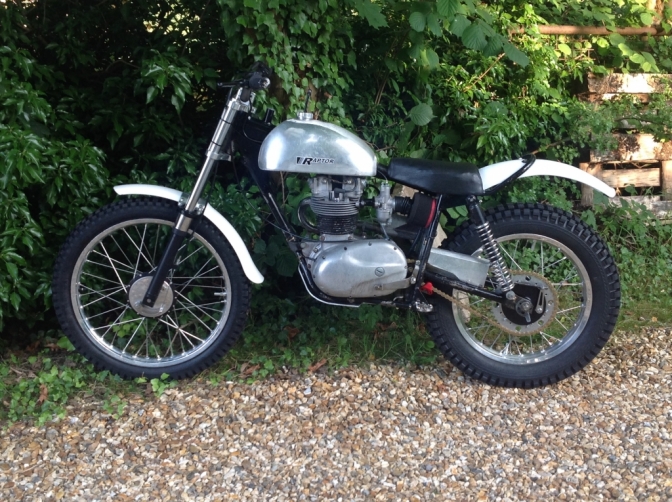 Modified "Sammy Miller Products" tank, re-spoked wheels, and new rims, and tyres.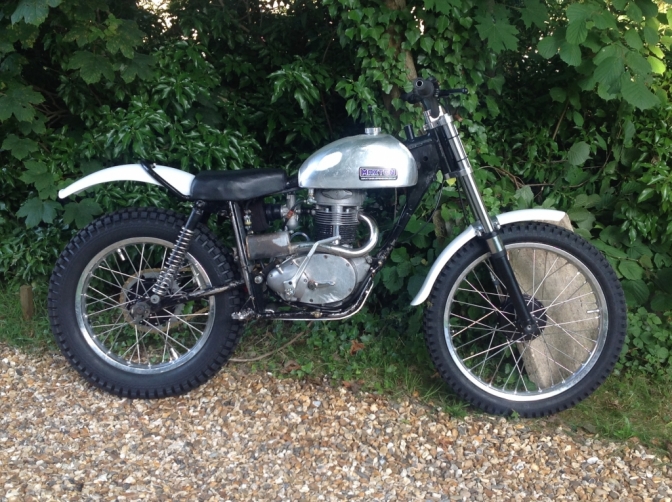 Kawasaki forks. modified to look like BSA, and they do. TY Yamaha pattern front Guard and Brace.
Stilmoto shortened Rear Guard.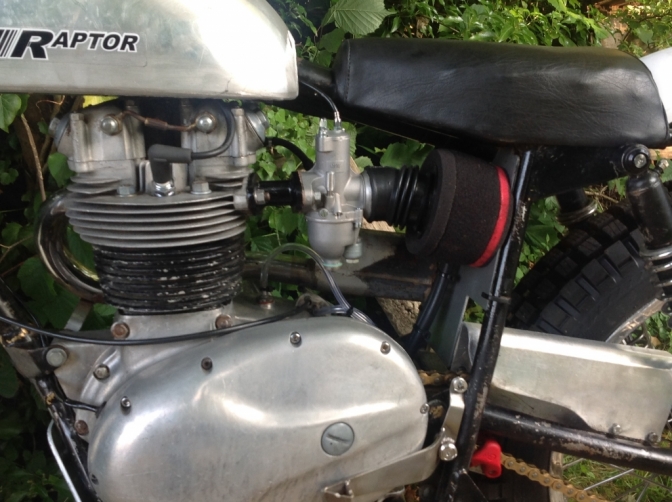 New Amal "Amalminium" 24 mm carb, and now Tufnell spacer blocks on the way to replace the steel manifold. Now fitted. This helps to stop the heat transference. You can also make an Alloy heat shield to put on first next to the engine, as this helps to dissipate the heat too.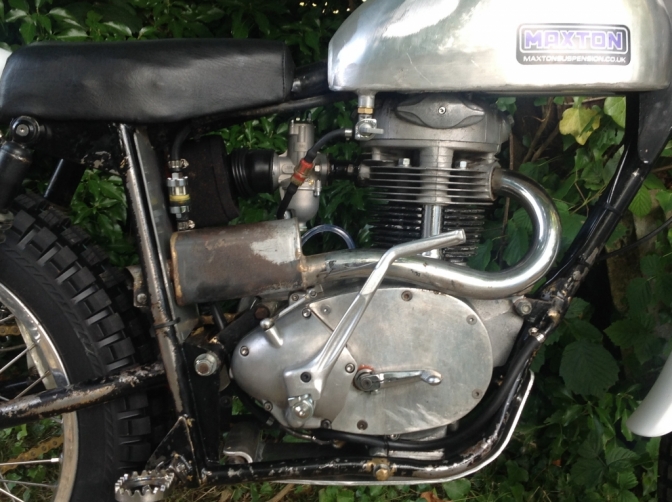 Ken and his mate, have been working overtime on the kick-start unit, a KTM and it is not that easy to fit.
But the end result looks to be an upgrade worth doing.
Seat is re-covered, and a lot more Bit's and Bob's have been done, IE new air filter, footrest's, oil filter, chain, and adjuster, Billet fork yokes, breather from gearbox, ETC.
Work in progress until Ken gets it to the way he wants...
Nice one Ken, Keep us updated.
This is the update to Ken's completely rebuilt bike.
The engine developed a knock, so was stripped and totally rebuilt with new shells etc, for the weighted BSA B25 bottom end. The top end was also overhauled with new Alloy push-rod tube fitted. This is a B25 engine with C15 head and carved barrel fitted...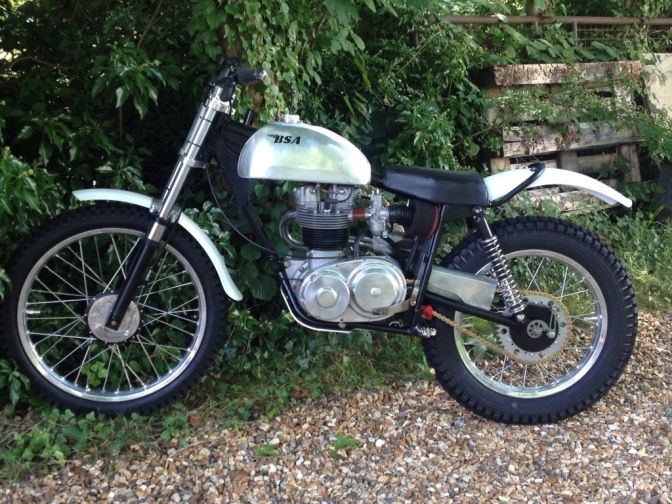 The bike now sports a much worked-on New Mark Cook casting CCM primary chain cover.
The bike looks stunning now Ken. Does it need the tank painting ?
Yellow front half would seem right?
Ken you were right! I keep on about saying things in BLACK and WHITE well you have taken it a stage further. "Yes I do like That"
2016...
Ken still has the bike and rides it quite often when not playing with his Ariel HT. and Matchless...
A bit about the Cotswold "MM"frames.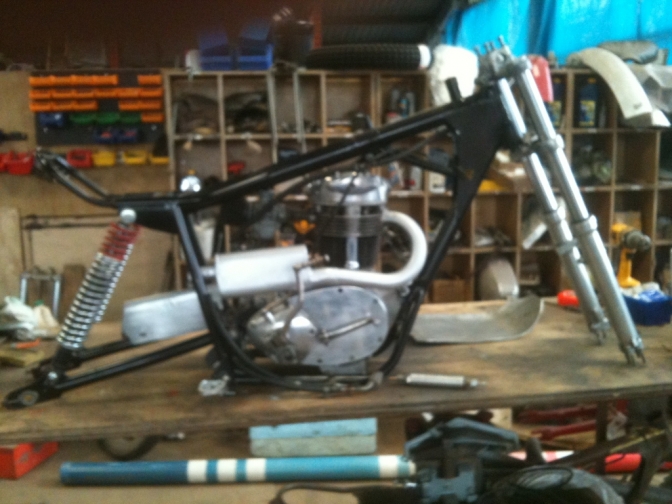 You can see the same flat alloy 6mm plate timing cover in the shot of my "Cotswold MM" bike on the bench.
The Roger Taylor built frames were very similar to the Mike Mills frames, but with slightly different head angles 64.5 my frame measures. and I am told slightly lower too, but this could be just a myth as the jig was borrowed from Mike Mills in the first place, and why would you want to alter it...
If Mike Mills later had the jig back which is what has been said, the two or three frames Roger Taylor took from the Mills jig ...One of the frames made, would have been used to make another jig for further Cotswold MM frame production...
And like me, the jig I have taken from my Cotswold MM frame is the same dimensions, and I use it for the Mini-Otter frames too...
Although I have used 2" rather than 1 3/4" T45 for the main top tube on the Mini-Otters...
So the design is the same as penned by Mike Mills, and the only difference I see is that like me, Roger Taylor bronze welded the frames he built rather than Tig welding them like the last batch of Mike Mills frames that he made... Mike thought Tig welding the T45 tubing better, although the later CCM frames were said to be Tig Bronze welded... and Mike was said to have designed those too...
Tube on my frame was said to be 18 gauge, and not until I let "Proformance Metal" look at it did I think any difference, they looked and did some measurements, and assured me it was 16 gauge and some probably not T45, they thought although not certain, and one tube the front was slightly thicker. So there you have it, Cotswold type MM frames are probably the same as the Mills frames, and the only deviation is in the welding and may be the tube gauge and perhaps quality?
I use 16 gauge tube for all of my frames...Most is T45 exept for the back mudguard hoop...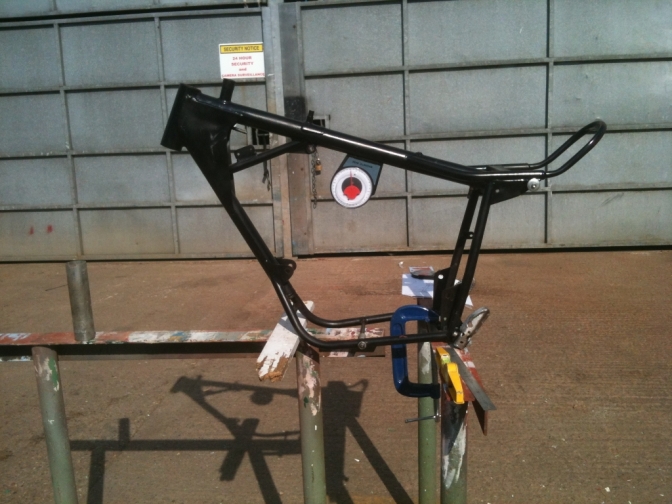 My "Hubbo" Roger Taylor built "Cotswold" MM frame..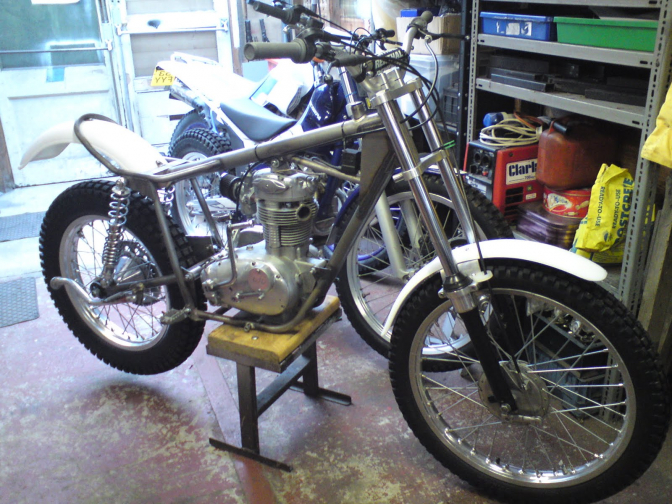 Photo Courtesy Dave Dawson..
This is the Dawson's built Mike Mills frame, said to be last of the genuine batch... Does it look different to the Hubbo Cotswold frames? apart from most of the welding being TIG... This engine is also BSA B25 based and was built up by Pete Kirby, several times...and sports a Pete Kirby alloy barrel...
~~~~~~~
This "Cotswold BSA" story continues with the page about Andy Paxton's "Winning bike" and also Twin Brother Nick's Twin bike.
~~~~~~~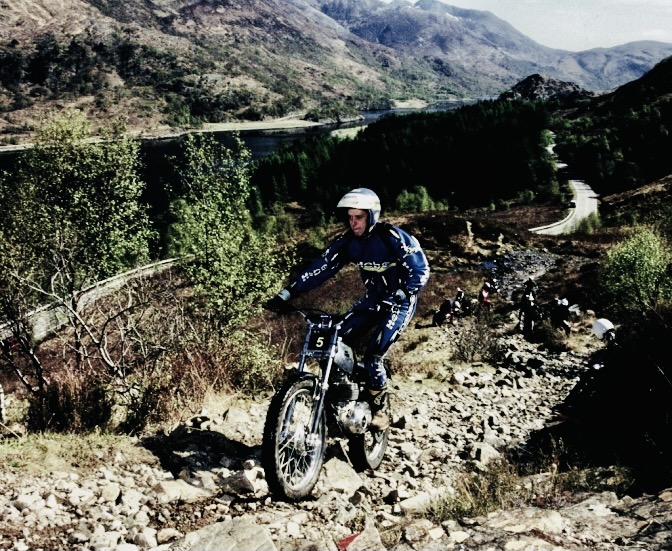 Photo Deryk Wylde Offroad archive".
Here is a picture sent to me by Deryk (Offroad Archives) Of a young Barry Husband on Caolasnacoan in the Pre 65 Scottish on his "Hubbo" RTS "Cotswold" BSA.
Note: the four-stud forks and the B25 square barrel!
Were all-right for the rule book of the Pre 65 Scottish back then. Year 2000, as was the MM "Legend" type frame.
How times change, and not for the better, of the sport.
~~~~~~~
We now get to the "Cotswold BSA's" from the other camp so to speak,
These were and are mainly built by another trials "Legend" Jon Bliss.
Now Jon has always done his own thing, so this crop of BSA trials bikes are different still,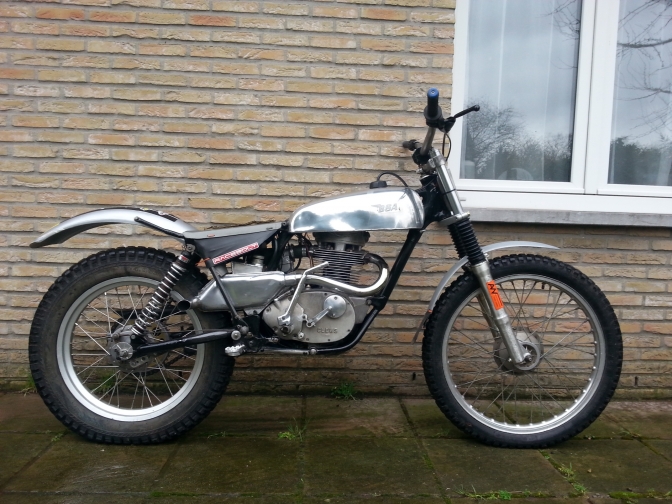 Photo Courtesy Bob Ryckaert.
We will take a deeper look into the build of some of these machines later.
We will start with the machine that Bob Ryckaert purchased last year.
Bob sent me a photo of the machine, so I asked about the story of the bike.

Bob> Bike was built by Jon Bliss and Martyn Wilmore dont know a lot about the
bike.
I traded my Armac cub for this bike last year at the Talmag
I will ride the Talmag on it tomorrow, Sunday 29th Jan 2017.

I Won the Eurocup Pre 65 championship on it last year 2016.


Charlie> Bob had a good ride in the trial coming home with a clean sheet,
but said he lost out on the special test has he does not race his trials bikes. I agree.
Bob-is going to find us some more shots of the bike.
Much More Later.
updat2023...05...