Two BSA's...
About a year ago I was going to do this page, but only had the photos sent to me by Justyn Norek Snr...
Then we got this Covid 19 Virus spread around the world. And Justyn's notes for a lot of his new work was stranded in a cabin high in the mountains of Italy...
So I left the page for later...
I spoke to Justyn and told him I was about to do the page, luckily him and son Justyn Jnr, have managed to get me the write up notes I was expecting months ago...
So lets do the Page.. "Two BSA's"...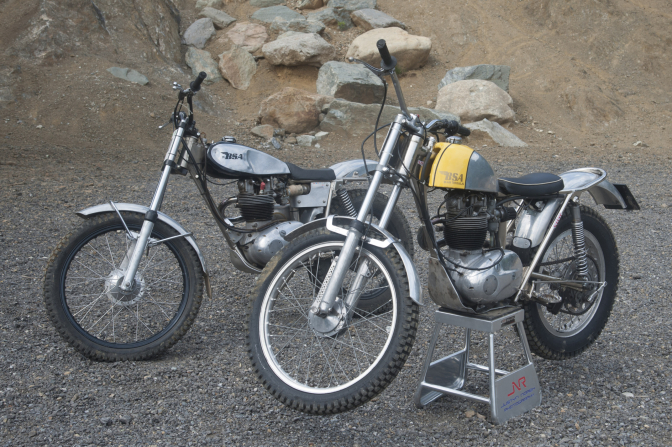 Two BSA's The HVM and the Stitt...
Justyn Jnr...
Here is story of our Trial Test of DUTCH BSA HVM 350.
As long as I can remember I was fascinated by BSA 250/350 Trials bike. I have imprinted in my memory photos of
Trials legends Alan and Martin Lampkin riding such a bikes in Scottish Six Days Trial.
So I was very surprised to see BSA 350 with small HVM logo on its beautiful aluminium painted in black fuel tank and very particular chromed frame, at famous old bikes trial held in CAGLIO, CANZO.
Of course I started to take pictures from every possible angle when gentleman asked me in Italian with foreign accent, "you like it so much" Yes I replied, but can you tell me please more about this special ? And so I got info about this spectacular bike and it's owner
Mr WALTER FREI from Switzerland.... We had long chat accompanied by some good beer and I became more and more intrigued by it's builder Dutch specialist Hans VAN Marvijk hence small
Logo "HVM" on black tank. I showed so much interest asking if it's for sale and so on that WALTER FREI told me he will try to put me in contact with Mr VAN MARVIJK himself when he come back home in Switzerland. Indeed about month later I have got phone call from Mr HANS VAN MARWIJK himself.
He explained me that he has built few bikes only for his
friends, but he doesn't plan to build any more.
Yet he told me that he might still have the very last one for sale in about
month or so. I told him I am interested and will wait for news...
Again precisely after 4 weeks he called again and told me that bike is ready. He also sent me several photographs
of this really beautiful machine. I asked for price and even if I didn't expect it to be cheap, price was more than I could afford at that time. This in particular fact that I also was racing in MTB DOWNHILL and just bought rather expensive frame. So with much pain, I had to thank Mr. VAN MARWIJK for all the trouble and I knew that unique
chance to own such a particular rare bike slipped away...
And indeed soon after it was sold to new lucky owner...
However recently at one trial event when I talked with Master trials rider Giovanni Tosco, much to my surprise
I learned that Giovanni have similar bike !
So I have asked him if it would be possibly to have a ride on it and may be make complete trial test.
He agreed and so this test was born.
Now I prepare my riding impressions of this test.
Justyn Norek Jr...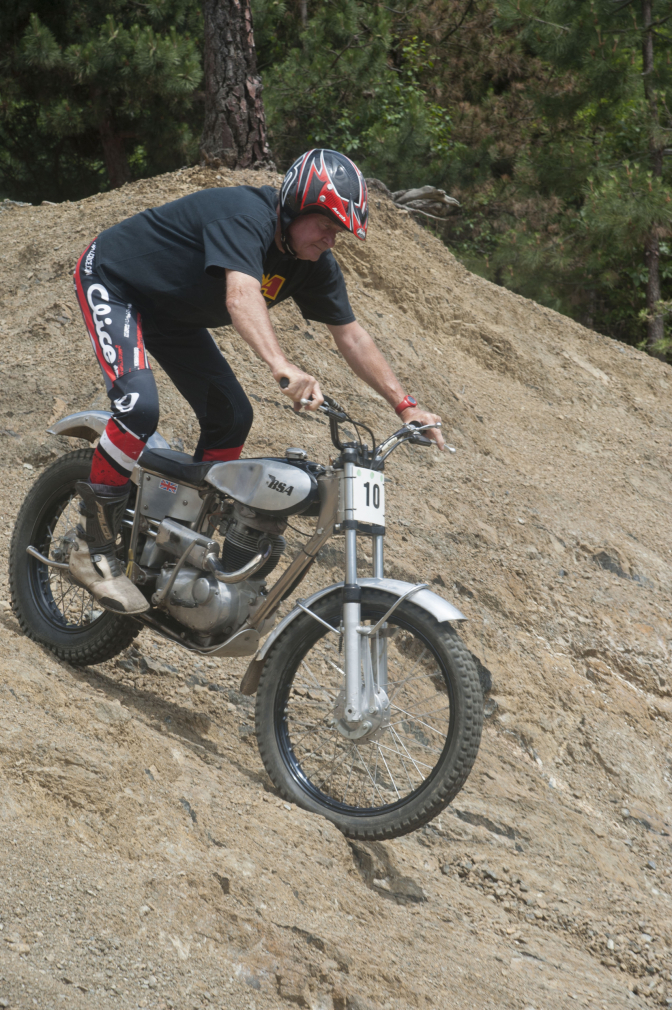 Giovanni Tosco, puts his "HVM BSA B40" to some practise for the photographer...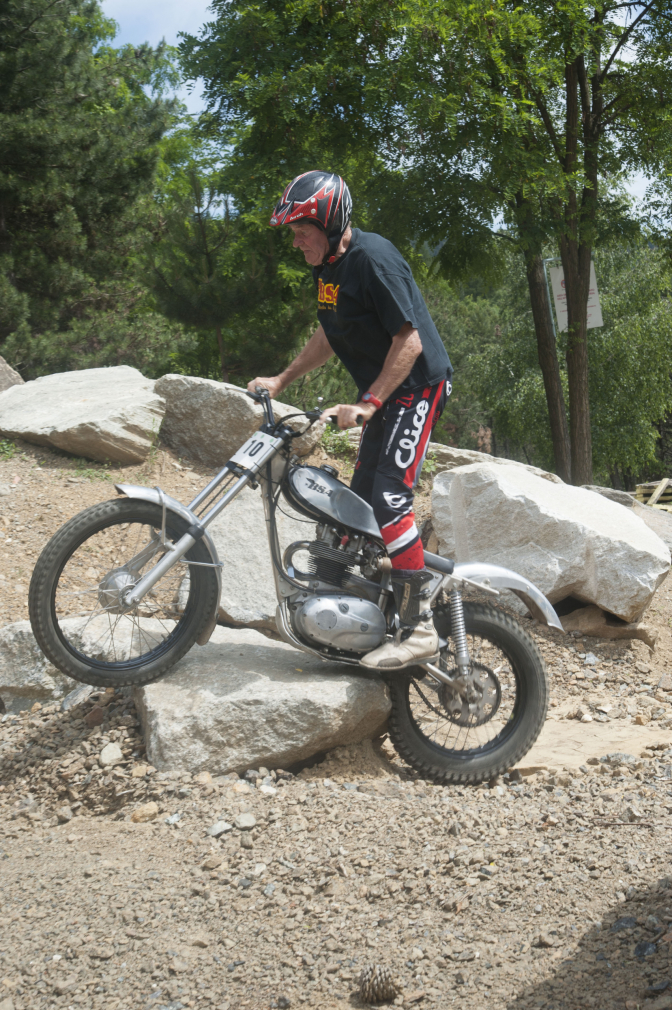 Looks like more than enough ground clearance on the bike, for today's type of sections....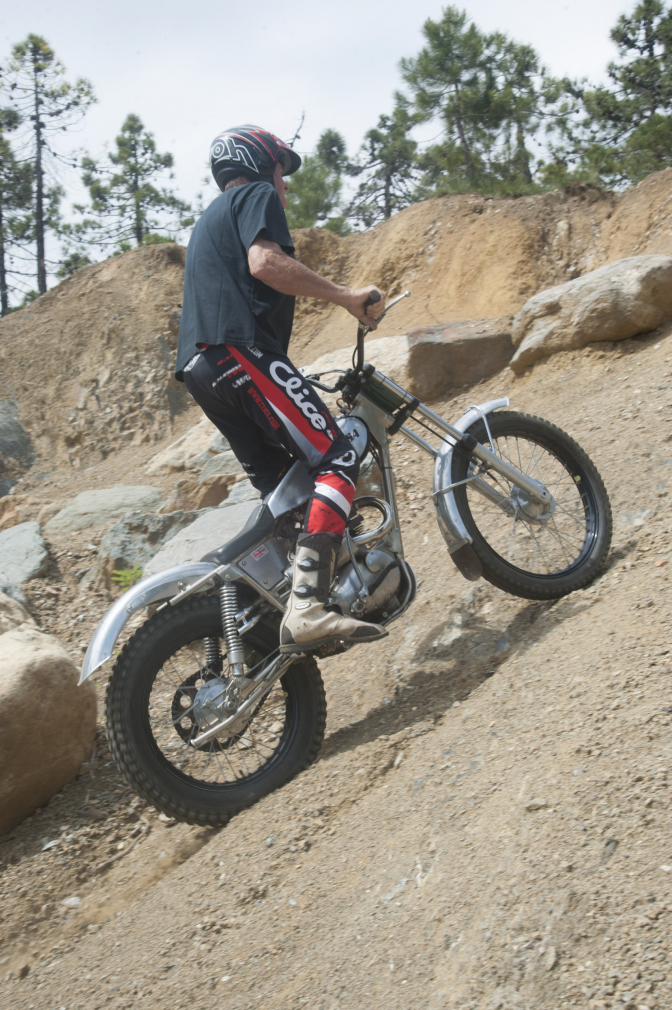 Foot pegs in about the right place in line with the rear spindle when loaded...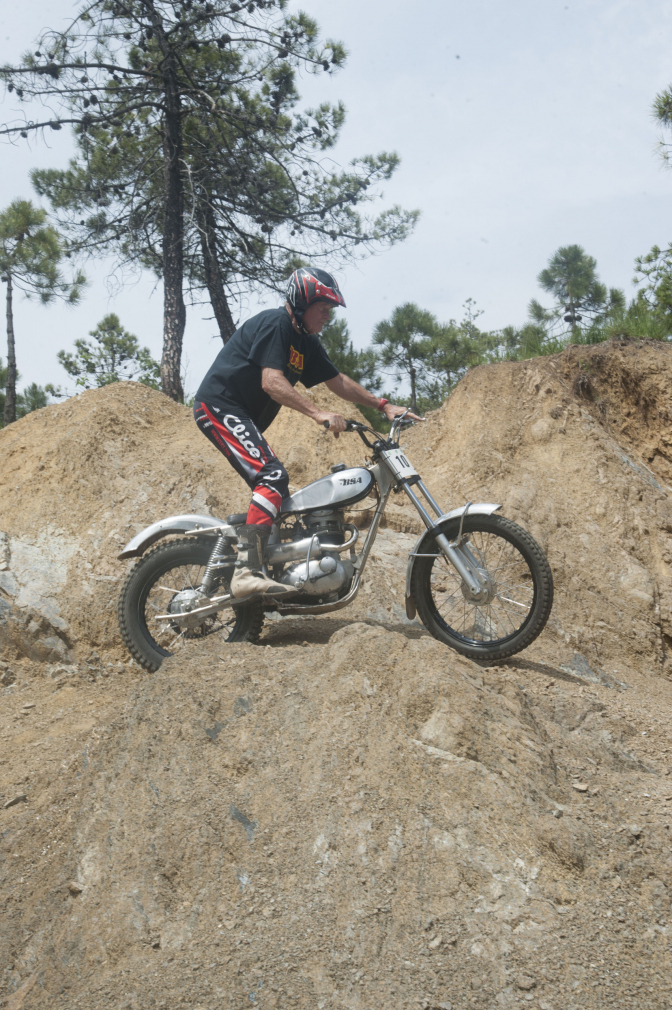 Good side view shot of the HVM BSA..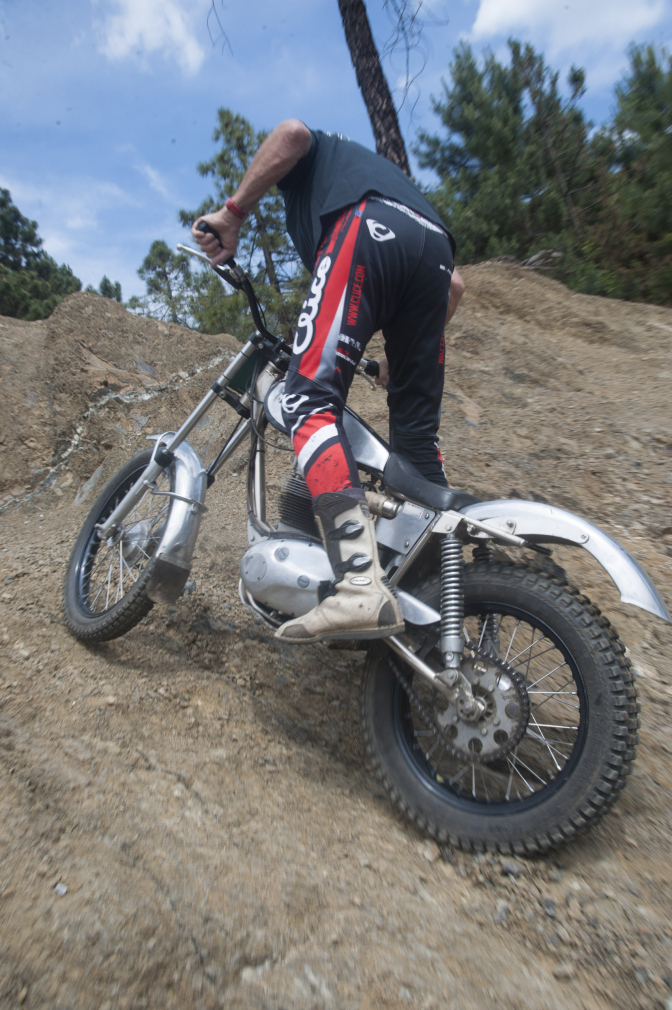 This BSA looks to find grip well, and is well balanced...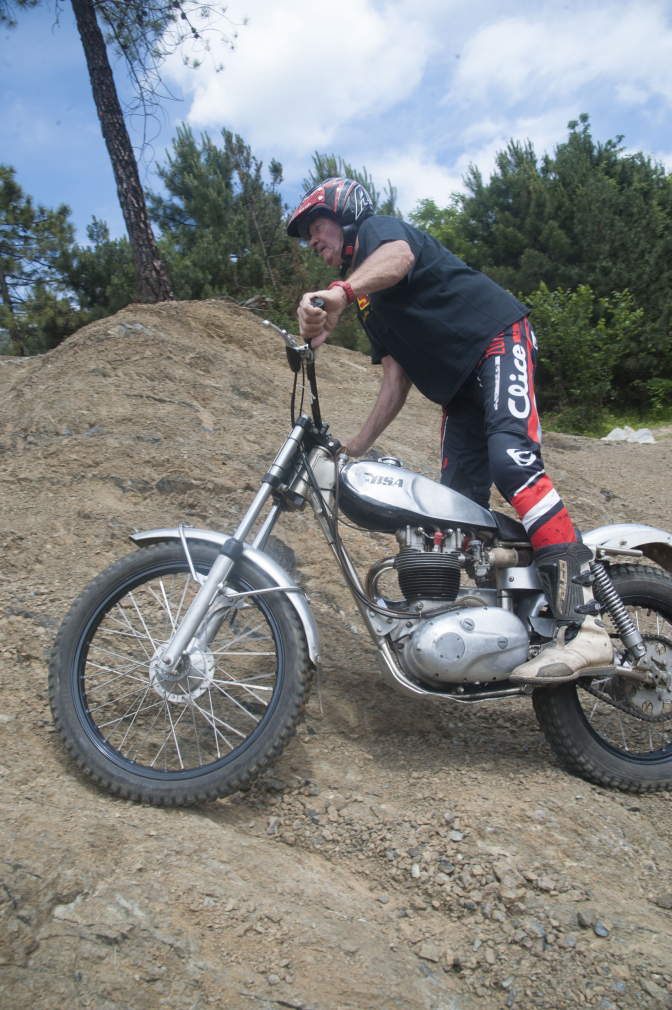 This shot shows off the bike well and its proportions,
with that long fork travel...
Also Note: Mikuni Carburettor fitted.
Front engine mount like my Scott Ellis Replica...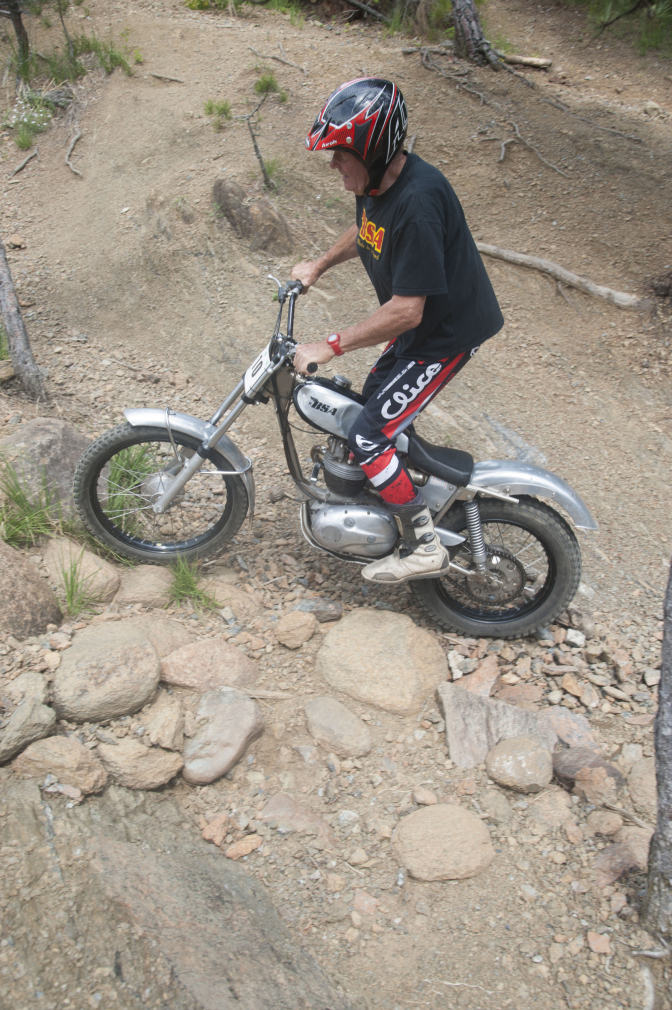 Looking at this photo, you can see that Giovanni has built this bike to fit his height, and with the tall bars it makes for a comfortable riding position...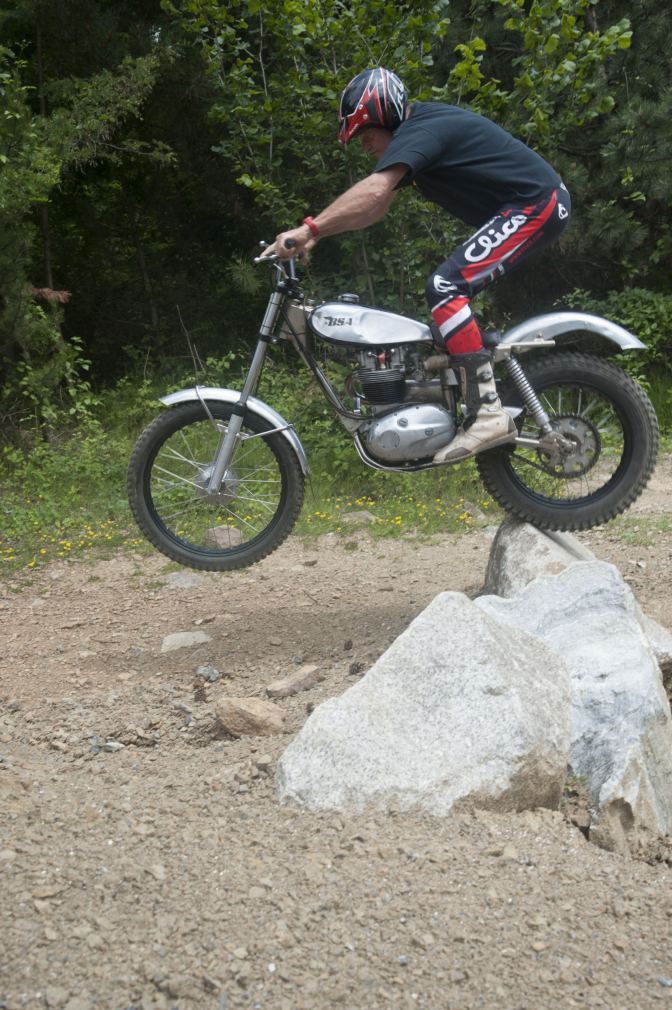 In Profile what a super quality machine....
Here are riding impressions....
We have arranged meeting with Giovanni Tosco on Saturday at 9 am in Rubiana Trial Park. We arrived
perfectly on time just discovering that beautiful BSA 350 HVM has been proudly standing and waiting to be photographed. I stopped for a while to admire her black and chrome beauty illuminated by morning sun...
There was no time to waste with such light so I quickly grabbed our favourite Nikon D3 camera and started taking
photos from every angle, putting bike in different locations against different backgrounds. She always looked pretty...
Now we asked Giovanni, one of the best Italian trial riders from seventies, (two times Italian Trials Champion) to ride bike around as we wanted to take some shots of this great trial master, and he has pleased us with some nice tricks.
Then it was my turn, so I handed camera over to my father and put on my trial wear. Then I had to adjust handlebar and tires pressure as Giovanni is roughly ten inches taller than me....
And now I could try this jewel. I have already New B40 trials standard bike as I have ridden it for some time, so
I was particularly curious how different this bike is...
I started as usually riding bike around trying to get first feeling and balance. Than I tried uphill and downhill, bike was simply perfectly handling and inviting for steeper up&downs and combination of frame and engine traction made hazardous paths seems easy.
Steep descents very pleasant with 4stroke engine slowing bike softly.
So far GREAT, let's try something more difficult. Now very confident I tried to attack some steps over rocks.
The bike was easy to control and surprisingly "modern" and so on, wheelies easy and sheer pleasure.
And I tried tight corners and with help of clutch you can do some tights too.
I have tried some surpluses too, yes I know this bike has not been done for this, but you can enjoy this modern
trick as I did.
Well, my test coming slowly to an end, I wondered what makes this bike SO good.
I think it's combination of magic frame, with great BSA engine.
So of course after this test my heart is crying even more.... If I only had money when Hans VAN Marwijk Wanted to
sell me the very last one he has built...
Thank you Giovanni for letting me to ride this jewel and thank you Mr Hans VAN Marvijk for building one.!
Justyn Norek Jnr...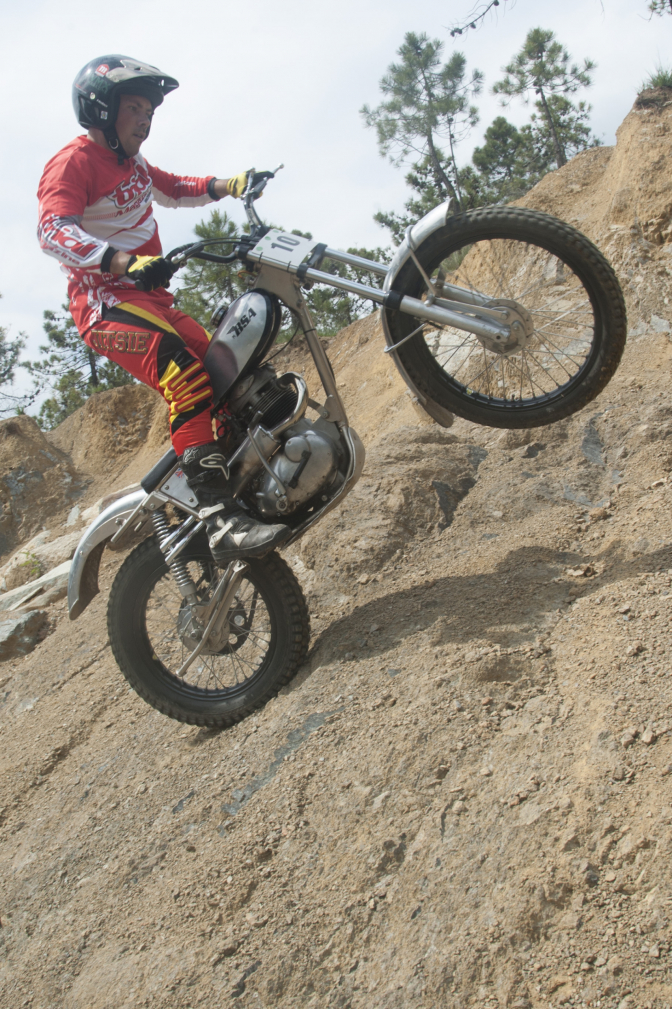 Justyn Jnr climbs steeper on the machine.
Because of Justyn's stature, he always seems to manage to find air on a machine, and rides them like a MTB...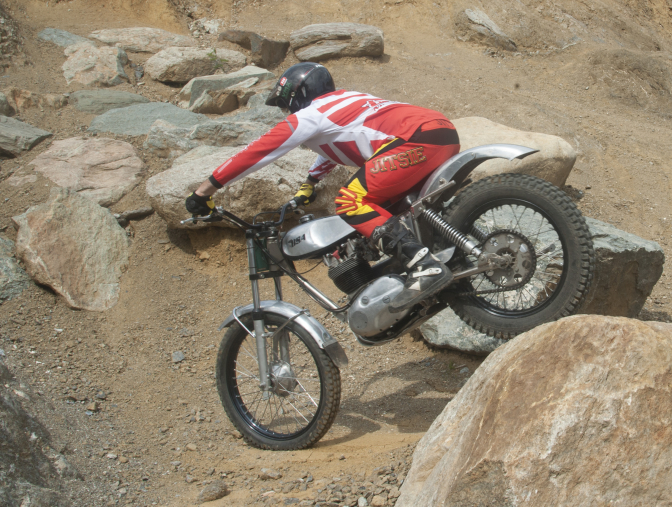 The photo was taken at the precise second the front wheel touched the ground, or the suspension is a bit stiff for Justyn's weight, but loads of travel..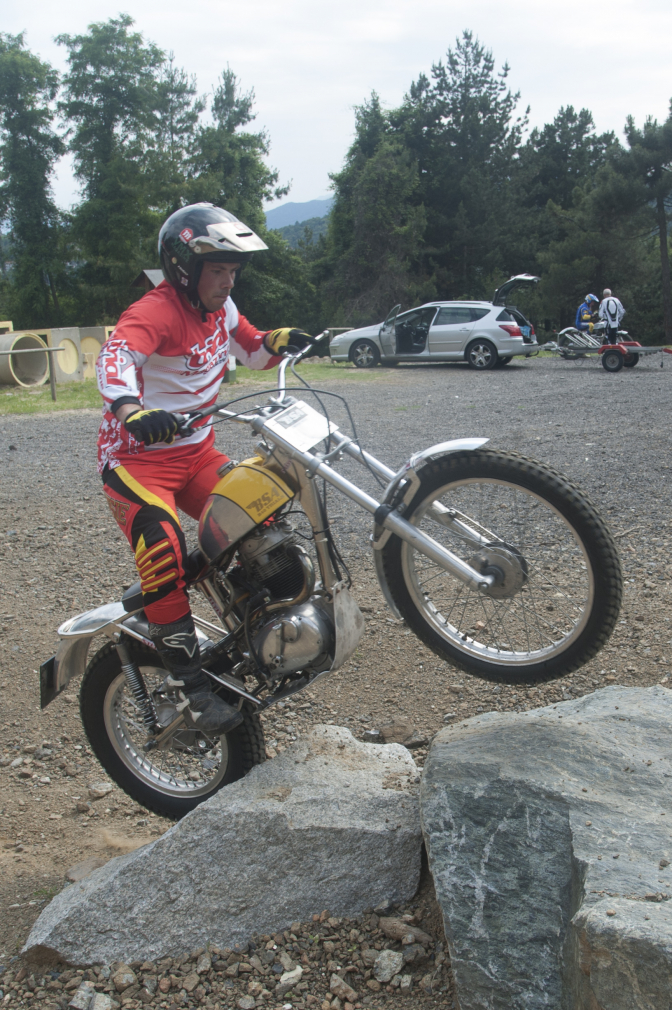 For comparison Justyn climbs aboard his Harry Stitt BSA B40...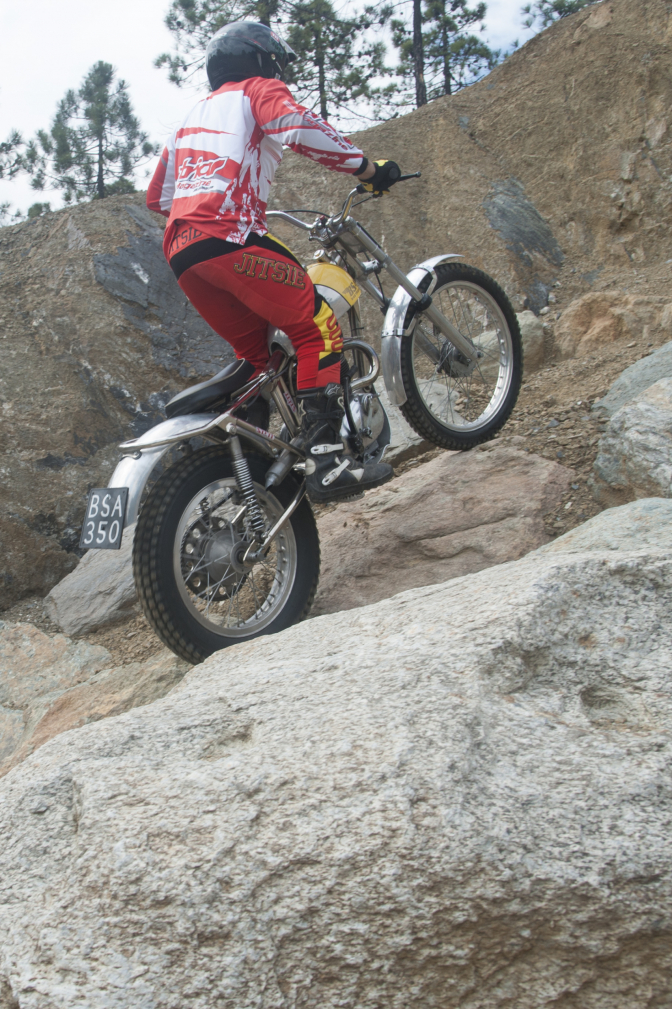 The two BSA's look comparatively very similar...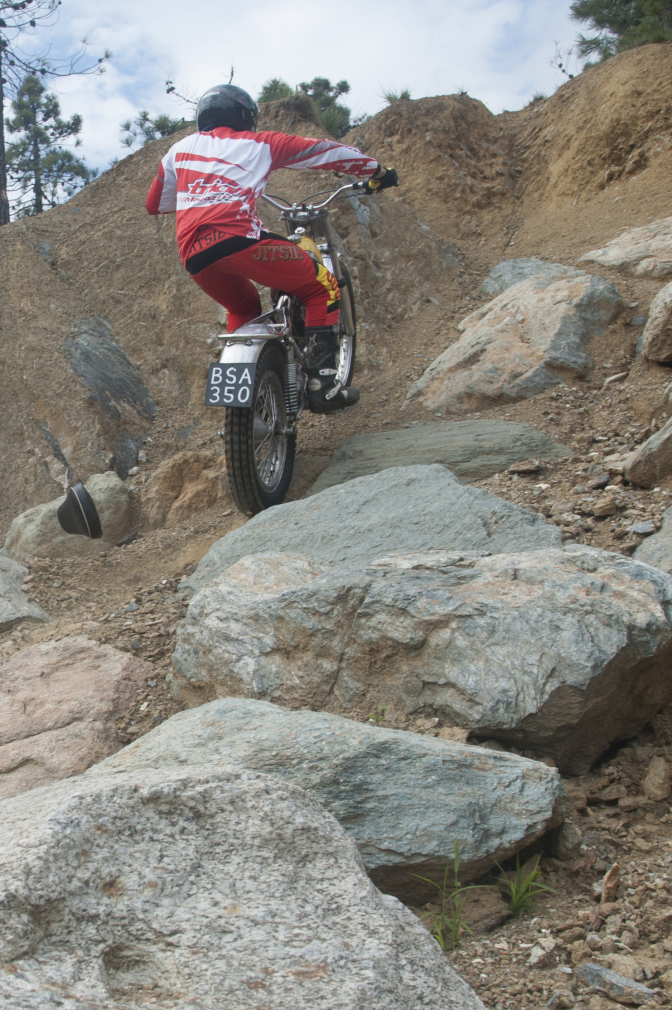 I will say that the Stitt bike seems better balanced, but it is a pity someone had not fitted the seat on better...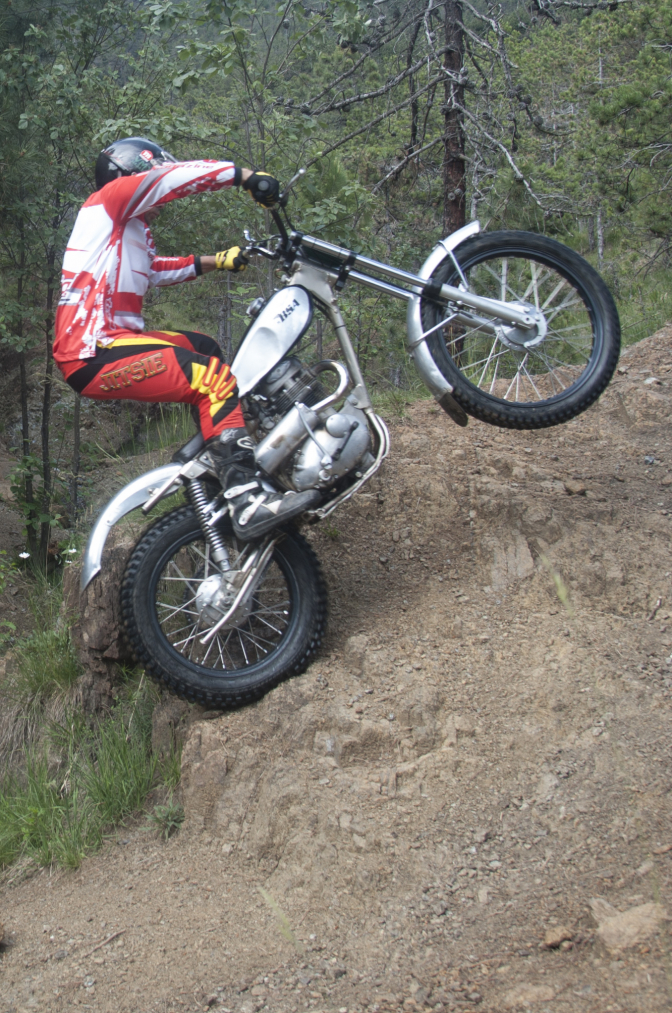 Mmm, Typical Justyn Jnr style, good test though...
Wonder which BSA he really likes the best?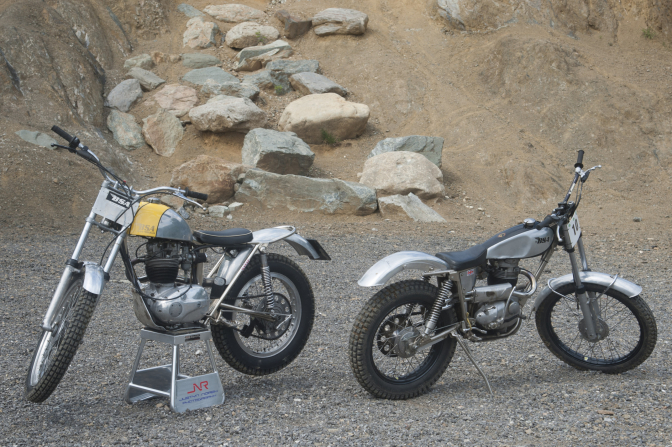 All photos Justyn's Norek ©...
There you are then.
Two B40 engined BSA's, with frames built by very talented steel fabricators, and although they were only built in small numbers, you can see why they are well sought after, and will never loose their value.
It is a pleasure to view two steel works of art, in my mind, and proves what talent there is in this small cottage industry that is "Classic Trials Motorcycles"...PS. Harry may build some more... If asked...
More later...
Another "Norek" Trials bike test brought to you by...

Updat2022...