"The Tale Of The "Otter".
This bike below is one of the Classic "BSA Otter" Frames that Harry Foster Built.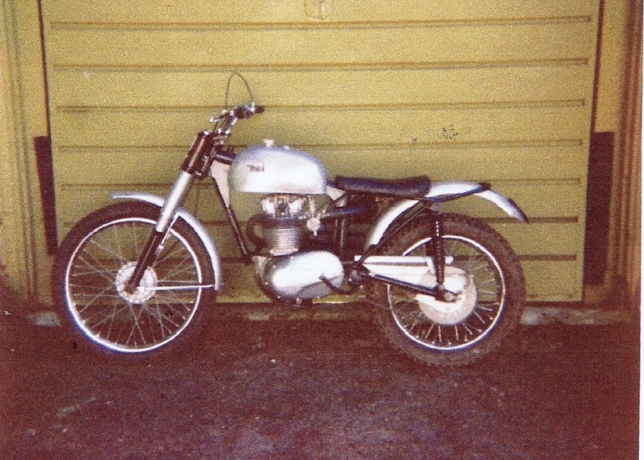 Here is the story from the original script that Phil did for
"Classic Legends Magazine"
and given to me by best friend Ally Clift. to use.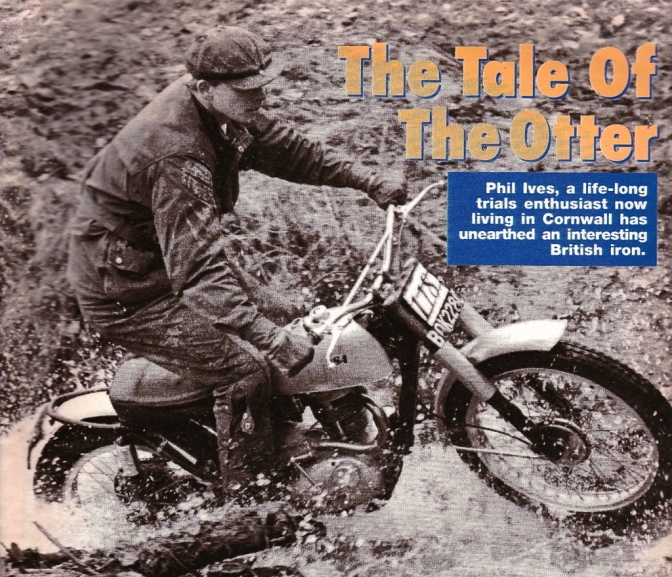 First a bit about Phil Ives.
Phil is a native Scotsman who came to Cornwall to retire twenty five years ago or more. He rode in local trials in Scotland, and competed in the Scottish Six Days trial and in the International Six Days Trial in the late nineteen forties.
Well this is Phil Ives,"The Tale of the Otter". as first published
Having spent the last three winters restoring classic cars I decided in June 1992 to return to competition motorcycles, and, in particular, to "do" a British bike.
Now the name "Otter" may not mean a lot to the trials enthusiast in Auchtermuchty or Abergavenney but, as will become clear later, it is highly regarded in the West Country.
In September I saw ex works solo rider and four times "British Sidecar Trials Champion" Colin Dommett, at a Classic car rally, and asked him if he knew where an "Otter" could be found.
"Oh" he said, has he does, I've just bought an "Otter" frame to take a C15 engine, but I think there could still be one available in Somerset.
Well a few days later I found myself standing in Mike Venn's workshop near Taunton Somerset.
And there on the bench was exactly what I was looking for?
A partially completed bike , consisting of a new alloy tank, and alloy wheels withTriumph Cub hubs, a re-bored, and rebuilt 350cc BSA B40 engine, and, best of all, a "Foster Otter frame".
No 36. stamped on to the steering head .
In pristine condition never having been off the bench since it was made in April 1987.
The winter's project was now assured. By now I expect the reader is wondering why this emphasis on the "Otter" and what the heck is a "BSA Otter" anyway.
Well this tale concerns the activities and aspirations of four motorcycling enthusiasts, (and Greats within the competition motorcycle sport);
Scott Ellis, Ally Clift, Colin Dommett and Harry Foster- and begins in early 1965.
When after four successful years riding works Triumph Cub reg No VWD 6, Scott Ellis moved to BSA, and was issued with a C15T, registered in January Reg No BOK228C by Brian Martin.
While the bike differed from the standard, second batch C15T's, by having a Victor oil-in-frame unit, in Scott's opinion, it didn't handle has well as the Triumph Cub and suffered from inadequate ground clearance, because of the wide tubes around the crankcase.
Sammy Miller was giving the competition a hard time with his Bultaco.
So Scott decided to do something about it.
Off his own bat, in 1965, he designed and built a new frame, containing the oil, but suspending the engine from the front and rear lugs, and also the rocker box.
This eliminates the under engine tubes, and reduces the weight.
He incorporated a Triumph Mountain Cub sub frame and swinging arm, and relocated the footrests.
On his first outing on the bike- which also carried the BOK228C number plate,
Brian Martin, BSA Competition manager indicated that, officially at least he wasn't too impressed.
However when Scott won the "1965 British Experts Trial" on it next time out, he looked a bit thoughtful.
Unfortunately with a warehouse full of unsold standard BSA C15T's, the management didn't want to know about improving the breed.
So Scott wisely kept his brainchild well away from the works.
He carried on riding the original, and "his" BOK 228C to suit the occasion until the works team was disbanded in 1966.
Scott bought both bikes, riding thereafter with limited works assistance until the end of 1970.
The original bike became a scrambler, and the improved BOK 228C, was sold to Carl Jones of Swansea Glamorgan.
The action resumes in 1978, when Mick Bradbrook of Purley Surrey, advertised a number of bikes for sale, including the Scott Ellis C15T, BOK 228C, and the Jeff Smith/Jim Sandiford B40 776 BOP.
Colin Dommett bought the C15 and his friend and successful club rider Ally Clift went up to collect it, and started to restore the bike.
When the bike was dismantled, Ally looked at the frame and felt that in common with many other trials enthusiasts he would dearly like to have one.
So decided to do something about it.
Now after riding successfully in solo trials and sustaining a leg injury, Harry Foster had switched to sidecar trials , and not being satisfied with the then common clip-on construction, of trials sidecar's, built his own integral bike, and sidecar frame.
This was a real winner, and he was soon building outfits for the top recognized sidecar aces.
These included the 1979 frame for the works Bultaco, and later a Fantic frame for British champion Colin Dommett.
So who better to build the replica "Scott Ellis trials BSA" frames than Harry Foster!
With Colin's permition, Ally took the frame up to Ottery St Mary, Devon, where Harry's workshop was.
Starting with the premise that the purchaser of a new frame kit should be able to convert his C15T or B40 to the new frame, within twenty four hours, detail changes were made, to mounting brackets, and it was also decided to widen the swinging arm to give greater clearance for the 400 rear tyre.
Harry elected to build the frames in Reynolds 531 tubing other than the 2" spine tubes which were in CDS, and he insisted that all joints were bronze welded with SIF Bronze.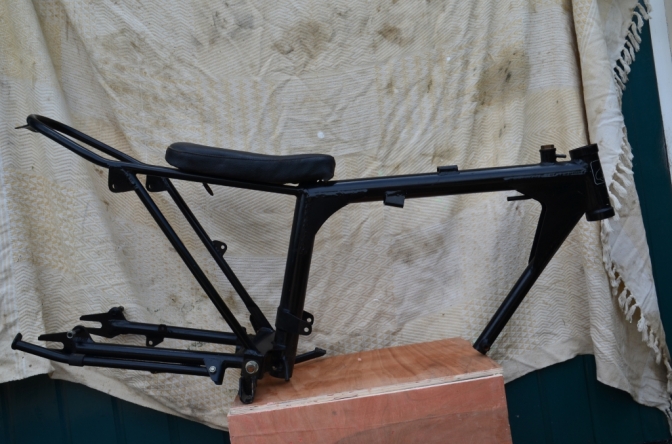 Photo Courtesy and frame Ian Ballard.
Ally placed an initial order for six frame kits, and agreed to the now "New" frame carrying the "Otter" name which Harry had successfully established for his sidecar frames, and other products he was making at the time.
Over the next seven years a total of twenty five frames were built for Ally, with the last eleven incorporating improvements, in the form of a lowering of the swinging arm pivot and the foot-rest position.
There after a further eighteen frames were built and sold by Harry, before production ceased in 1988.
Since then Harry has been concentrating on his general engineering business and competing in his Joe Potts 500 JAP racing car.
Bearing in mind that all brackets are hand made, and joints are all hand moitered and brazed, and the price of Reynolds 531 tubing makes your hair curl.
Harry says that any future "Otter" frames will be expensive, but if sufficient orders were forthcoming he would consider making them.
The sales records show that five frames were made to except Triumph engines, and all the rest were destined for BSA units.
Two frame kits were bought by Joe Francis Motors Ltd, and all the rest by enthusiastic clubmen, including Don Morley, Jim Susan's, Colin Harvie, Mick Noyce and Doug Theobold.
This is Colin Harvie's BSA B40 "Otter" one of the first batch, and also one of the first built in the South of England.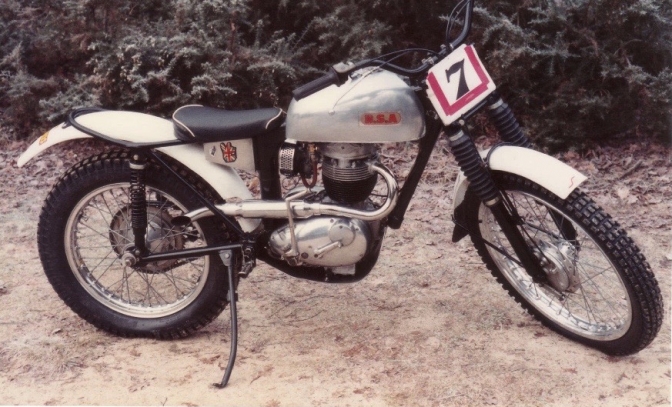 Photo Courtesy Ian Ballard.
This Foster "Otter"below, was put together by a guy that worked in the F1 industry. does it show!
Now has a page of its own .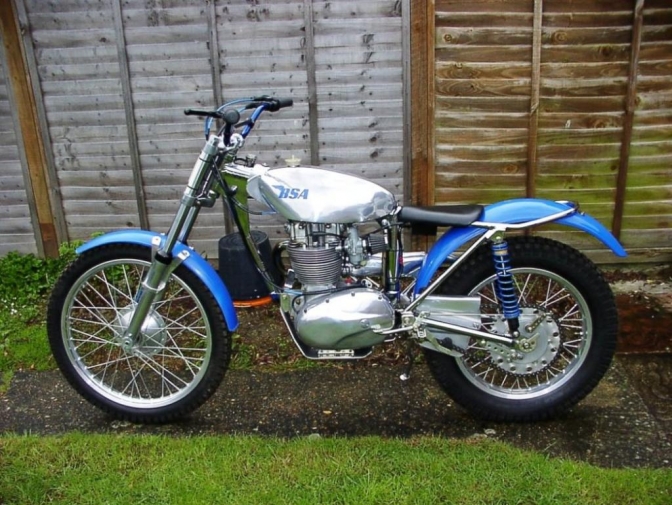 ~~~~~~~
A few frame kits went abroad, and two frames are known like No36, to be still on there owners bench.
The Tale continues with Colin building his replica C15 "Otter" using a Foster frame so he can save the aging BOK228C for the "Big" occasion.
The author has acquired a basket case B40 frame with a C15 engine unit, so by swapping engines he will finish up with a "Proper Job" 250 C15 "Otter" replica, and a B40 trials bike.
And who knows? Maybe Scott Ellis, who is still riding regularly in trials will forsake his current Yamaha in favour of an "Otter" BSA C15 and so complete the circle.
Phil Ives.
Thank's, Phil,
~~~~~~~
Jim Susans Tells me that he had two frames with the recommendation of Don Morley who had one of the frames for himself.
Jim built his first one into a bike for himself to ride but later sold it on has did Don with his.
The second frame Jim built into a bike for the late Tony Rossie of the Barnet Club.
I will dedicate this page to the memory of the late Harry Foster,who started this journey into the life and times of the BSA "Otter". Charlie.
More later with fresh pictures.
And New Breaking Story.
Well as you now all probably know we have the Harry Foster frame Jig courtesy of Carol Foster.
~~~~~~~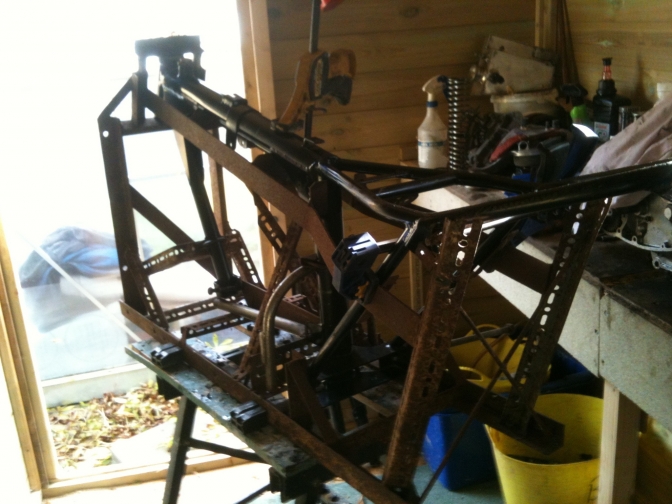 ~~~~~~~
So the tally of 43 Foster Otter Frames will be added to.
Number 44 should be started on the jig Next week, 14/11/2016.
And as Phil says this will be a "Proper Otter" BSA C15 engined machine.
This we can then use to gain comparison against the other "Otter" copies in the camp, and for people to take a ride on themselves, to appreciate how good the Idea that Scott started, and later Harry put into practice.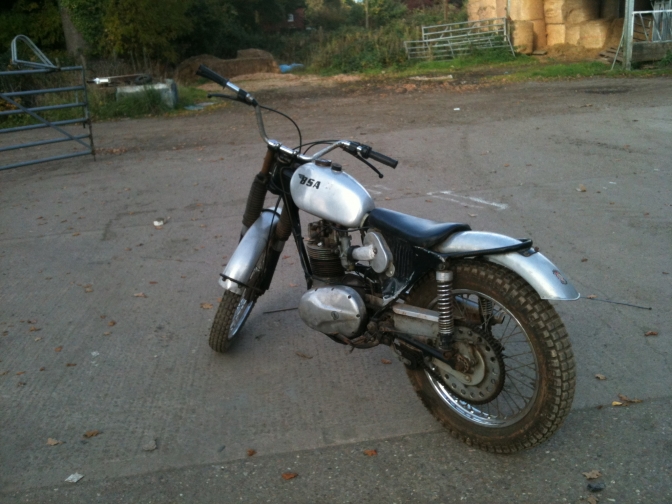 ~~~~~~~
You probably also know that we have also have a newly acquired Harry built "Foster-Otter", one from the first batch sold by Ally Clift.
So this machine can also be tried as a comparison to "Number 44".
So keep a check on this page for updates on progress of "Number 44"