Phil Ives...
"The Tale Of The "Otter".
This bike below is one of the first Classic "Foster BSA Otter" Frames that Harry Foster Built...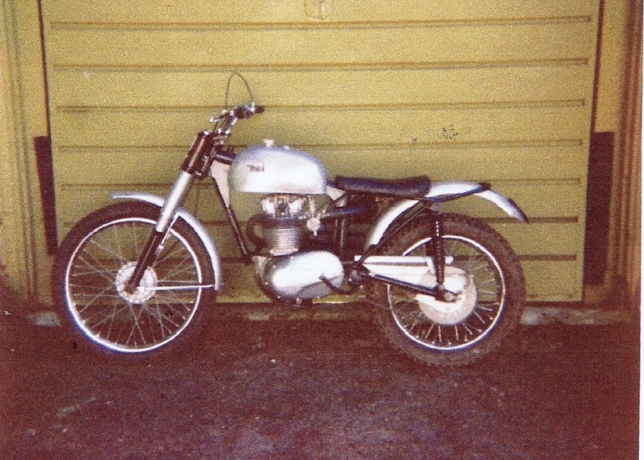 Here is the story from the original script that Phil Ives did for
"Classic Legends Magazine"...
And given to me by best friend Ally Clift, to use for this page.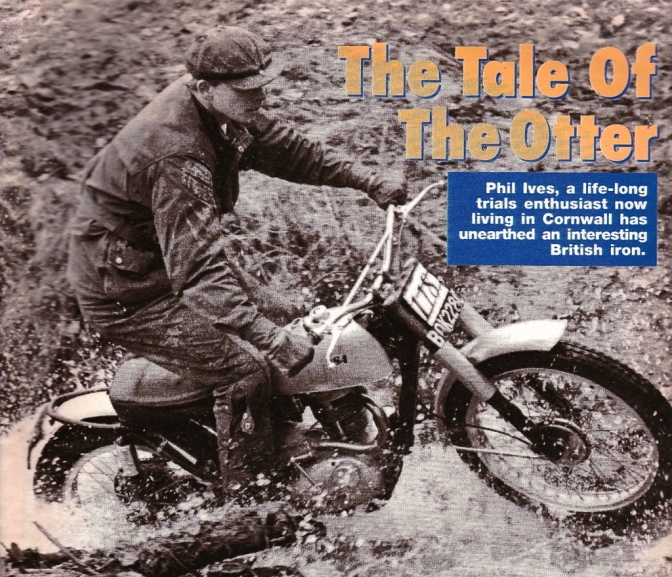 First a bit about Phil Ives.
Phil is a native Scotsman who came to Cornwall to retire twenty five years ago, or more. He rode in local trials in Scotland, and competed in the Scottish Six Days trial, and in the International Six Days Trial in the late nineteen forties.
Well this is Phil Ives,"The Tale of the Otter", has first published...
Having spent the last three winters restoring classic cars I decided in June 1992 to return to competition motorcycles, and, in particular, to "do" a British bike.
Now the name "Otter" may not mean a lot to the trials enthusiast in Auchtermuchty or Abergavenney but, as will become clear later, it is highly regarded in the West Country.
In September I saw ex works solo rider and four times "British Sidecar Trials Champion" Colin Dommett, at a Classic car rally, and asked him if he knew where an "Otter" could be found.
"Oh" he said, has he does, I've just bought an "Otter" frame to take a C15 engine, but I think there could still be one available in Somerset.
Well a few days later I found myself standing in Mike Venn's workshop near Taunton Somerset.
And there on the bench was exactly what I was looking for?
A partially completed bike , consisting of a new alloy tank, and alloy wheels with Triumph Cub hubs, a re-bored, and rebuilt 350cc BSA B40 engine, and, best of all, a "Foster Otter frame".
No 36. stamped on to the steering head .
In pristine condition never having been off the bench since it was made in April 1987.
The winter's project was now assured. By now I expect the reader is wondering why this emphasis on the "Otter" and what the heck is a "BSA Otter" anyway.
Well this tale concerns the activities and aspirations of four motorcycling enthusiasts, (and Greats within the competition motorcycle sport);
Scott Ellis, Ally Clift, Colin Dommett and Harry Foster- and begins in early 1965.
When after four successful years riding works Triumph Cub reg No VWD 6, Scott Ellis moved to BSA, and was issued with a C15T, registered in January Reg No BOK228C by Brian Martin.
While the bike differed from the standard, second batch C15T's, by having a Victor oil-in-frame unit, in Scott's opinion, it didn't handle has well as the Triumph Cub and suffered from inadequate ground clearance, because of the wide tubes around the crankcase.
Sammy Miller was giving the competition a hard time with his Bultaco.
So Scott decided to do something about it.
Off his own bat, in 1965, he designed and built a new frame, containing the oil, but suspending the engine from the front and rear lugs, and also the rocker box.
This eliminates the under engine tubes, and reduces the weight.
He incorporated a Triumph Mountain Cub sub frame and swinging arm, and relocated the footrests.
On his first outing on the bike- which also carried the BOK228C number plate,
Brian Martin, BSA Competition manager indicated that, officially at least he wasn't too impressed.
However when Scott won the "1965 British Experts Trial" on it next time out, he looked a bit thoughtful.
Unfortunately with a warehouse full of unsold standard BSA C15T's, the management didn't want to know about improving the breed.
So Scott wisely kept his brainchild well away from the works.
He carried on riding the original, and "his" BOK 228C to suit the occasion until the works team was disbanded in 1966.
Scott bought both bikes, riding thereafter with limited works assistance until the end of 1970.
The original bike became a scrambler, and the improved BOK 228C, was sold to Carl Jones of Swansea Glamorgan.
The action resumes in 1978, when Mick Bradbrook of Purley Surrey, advertised a number of bikes for sale, including the Scott Ellis C15T, BOK 228C, and the Jeff Smith/Jim Sandiford B40 776 BOP.
Colin Dommett bought the C15 and his friend and successful club rider Ally Clift went up to collect it, and started to restore the bike.
When the bike was dismantled, Ally looked at the frame and felt that in common with many other trials enthusiasts he would dearly like to have one.
So decided to do something about it.
Now after riding successfully in solo trials and sustaining a leg injury, Harry Foster had switched to sidecar trials, and not being satisfied with the then common clip-on construction, of trials sidecar's, built his own integral bike, and sidecar frame.
This was a real winner, and he was soon building outfits for the top recognized sidecar aces.
These included the 1979 frame for the works Bultaco, and later a Fantic frame for British champion Colin Dommett.
So who better to build the replica "Scott Ellis trials BSA" frames than Harry Foster!
With Colin's permission, Ally took the frame up to Ottery St Mary, Devon, where Harry's workshop was.
Starting with the premise that the purchaser of a new frame kit should be able to convert his C15T or B40 to the new frame, within twenty four hours, detail changes were made, to mounting brackets, and it was also decided to widen the swinging arm to give greater clearance for the 400 rear tyre.
Harry elected to build the frames in Reynolds 531 tubing other than the 2" spine tubes which were in CDS, and he insisted that all joints were bronze welded with SIF Bronze.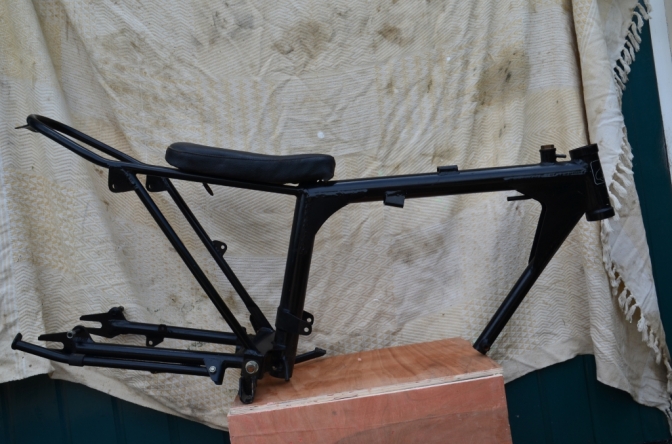 Photo Courtesy and frame Ian Ballard.
Ally placed an initial order for six frame kits, and agreed to the now "New" frame carrying the "Otter" name which Harry had successfully established for his sidecar frames, and other products he was making at the time.
Over the next seven years a total of twenty five frames were built for Ally, with the last eleven incorporating improvements, in the form of a lowering of the swinging arm pivot and the foot-rest position.
There after a further eighteen frames were built and sold by Harry, before production ceased in 1988.
Since then Harry has been concentrating on his general engineering business and competing in his Joe Potts 500 JAP racing car.
Bearing in mind that all brackets are hand made, and joints are all hand moitered and brazed, and the price of Reynolds 531 tubing makes your hair curl.
Harry says that any future "Otter" frames will be expensive, but if sufficient orders were forthcoming he would consider making them.
The sales records show that five frames were made to except Triumph engines, and all the rest were destined for BSA units.
Two frame kits were bought by Joe Francis Motors Ltd, and all the rest by enthusiastic clubmen, including Don Morley, Jim Susan's, Colin Harvie, Mick Noyce and Doug Theobold.
This is Colin Harvie's BSA B40 "Otter" one of the first batch, and also one of the first built in the South of England.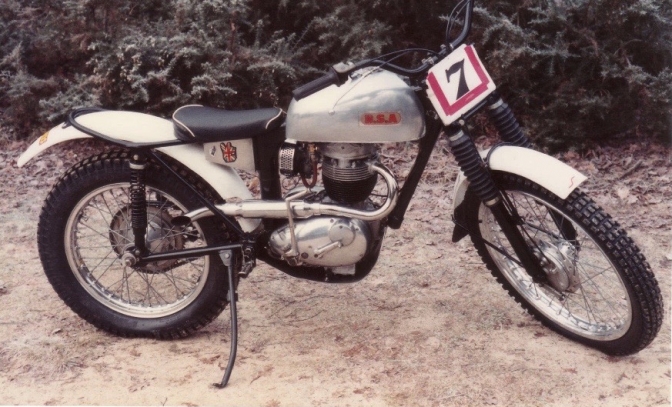 Photo Courtesy Ian Ballard.
This Foster "Otter" below, was put together by a guy that worked in the F1 industry, does it show!
Now has a page of its own...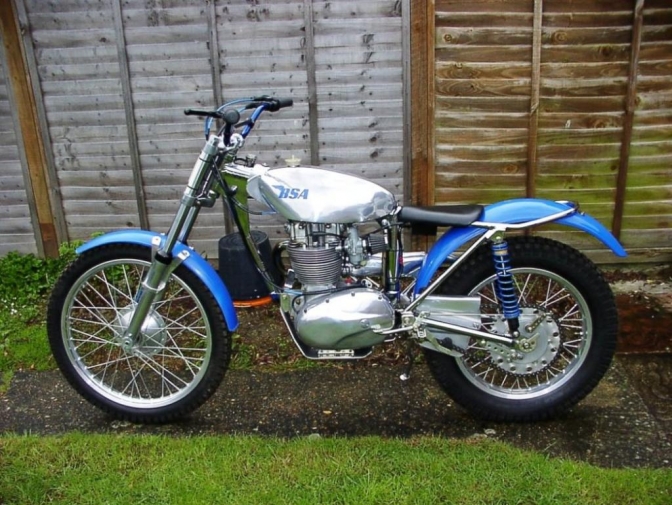 ~~~~~~
A few frame kits went abroad, and two frames are known like No36, to be still on their owners bench.
The Tale continues with Colin building his replica C15 "Otter" using a Foster frame so he can save the aging BOK228C for the "Big" occasion.
The author has acquired a basket case B40 frame with a C15 engine unit, so by swapping engines he will finish up with a "Proper Job" 250 C15 "Otter" replica, and a B40 trials bike.
And who knows? Maybe Scott Ellis, who is still riding regularly in trials will forsake his current Yamaha in favour of an "Otter" BSA C15 and so complete the circle.
Phil Ives.©...
Thank's, Phil,
~~~~~~~
Jim Susans Tells me that he had two Otter frames with the recommendation of Don Morley who had one of the frames for himself.
Jim built his first one into a bike for himself to ride, but later sold it on, has did Don with his.
The second frame Jim built into a bike for the late Tony Rossie of the Barnet Club.
I will dedicate this page to the memory of the late Harry Foster,who started this journey into the life and times of the BSA "Otter". Charlie.
More later with fresh pictures.
And New Breaking Story.
Well as you now all probably know, we have the Harry Foster Otter frame Jig, courtesy of Carol Foster. 2016...
~~~~~~~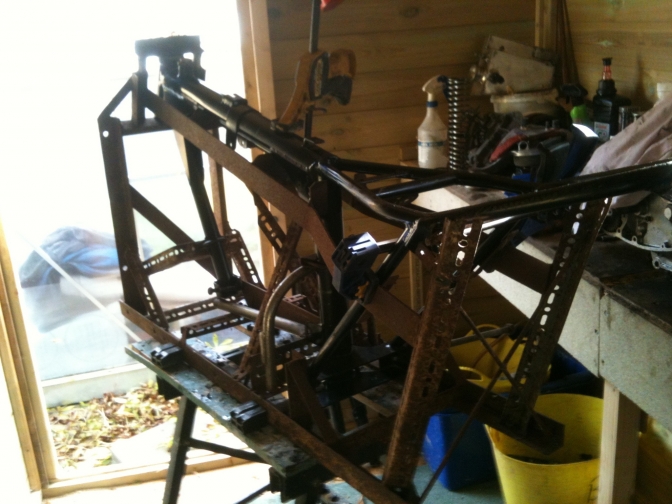 ~~~~~~~
So the tally of 43 Foster Otter Frames will be added too.
Number 44 should be started on the jig Next week, 14/11/2016.
And as Phil says this will be a "Proper Otter" BSA C15 engined machine.
This we can then use to gain comparison against the other "Otter" copies in the camp, and for people to take a ride on themselves, to appreciate how good the Idea that Scott Ellis started, and later
Harry Foster put into practice...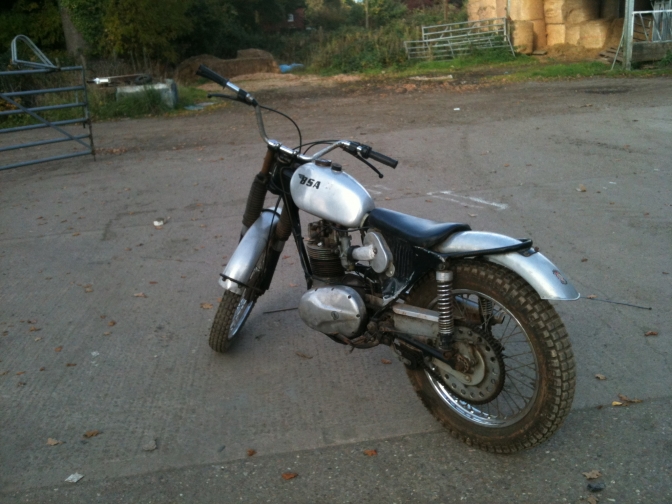 ~~~~~~~
You probably also know that we also have a newly acquired Harry built "Foster-Otter", one from the first batch sold by Ally Clift.
So this machine can also be tried as a comparison to
"Number 44".
So keep a check on this page for updates on progress of "Number 44"
13/05/2020...
It is with great pleasure that Keith Ives has got in touch with me after finding BSA Otter...
He has found some of his fathers stories of his life and the above original document ...
Tale of the Otter ...
Also Keith has sent me this story of Philip's life just after the second world war... I hope you enjoy it.. What another superb bit of motorcycling History..
And there is more later...
THOSE ARE ALL MY PENNIES DOWN THERE..........
BY
PHILIP IVES
If Louie Ball hadn't been a better trials rider than most men, then most of what follows wouldn't have happened!
In 1923 she rode in the Scott works team, in 1924 and 1925 for James, the latter year winning gold medals in the English, Scottish and International 6 Days Reliability Trials; in the process becoming recognised as the world's No1. By 1926 she had moved on to BSA, where she joined George McLean who was riding as a member of the company's trials team. That they hit it off was quite evident , when later that same year they married, spending their honeymoon - where else, but riding together in the ISTD!
Then it was on to the Bristol based Douglas factory for '27, and a job for them both working in the experimental department whilst continuing in trials, with George also assuming responsibility for the new Dirt Track Duggies, and Louie running the parts shop there.
But, on the closure of the Douglas experimental department 1930, they both moved north to Dundee, where George's father was working for motorcycle dealer's Mann & Scott in Riverside Drive.
The three of them quickly joined together in buying this business when opportunity came, and embarked on a vigorous expansion programme.
Over the following three years, that expansion included a car sales department and the acquisition of a Ford dealership in 1934, and by '38 they had become the sole Ford distributor for the area, and now added tractor and agricultural sales to the successful enterprise.
It was the outbreak of war which disrupted their well laid plans, putting off a move into additional premises on Ward Road until better days.
But the years of conflict brought them vehicle repair contracts for the Ministry of Supply, under which arrangements some 4,000 cars, trucks and motorcycles passed through the McLean workshops.
By 1946 new Ford vehicles and new motorcycles were again trickling into Dundee, so the McLean's built premises in Craigie St. to house agricultural sales , centring car sales in Ward Rd, and motorcycle sales & service in the original Riverside Drive premises.
It was into this all encompassing motoring business that the writer joined on 1st January 1949, as Assistant Ford Parts Manager.
However, fate soon intervened, as the Motorcycle Manager had lets things get into a real administrative mess, and so in view of a long time interest in bikes, and wartime experience as a Royal Signals D.R. I was sent in to sort it out.
One month later, I was appointed Motorcycle Manager, a prelude to a number of working years which I count as amongst the happiest of my life.
Imagine being paid to be involved with a product you love, and in the main with people who were likewise inclined.
Mind you, they were very different days from today's single franchise dealerships.
In the early 1950's the British motorcycle industry was at its peak, and because George Mclean Ltd was the only dealer in Dundee and for 20 miles around, it held all the cards.
Like agencies for AJS, Ambassador, Ariel, Bown, BSA, Corgi, Cyc-Auto, DMW, DOT, Douglas, Excelsior, Francis-Barnett, Greeves, James, Matchless, New Hudson, Norman, OEC, Panther, Royal Enfield, Sun, Sunbeam, Triumph, Velocette, Vespa, Vincent, Winged Wheel, Cyclemaster, Minimotor and Power Pak cyclemotors, Bond, DOT and Grundle three wheelers, Busmar, Canterbury, Swallow and Watsonian sidecars.
Now remembering that each of these thirty marques had their own supporters, who expected the sales , parts and service staff to be walking experts on their particular favourite(s), and bearing in mind that in 1950 BSA alone listed twelve basic models - you can imagine the problems.
Even the Villiers " Cooking " engine came in a number of specifications. Nevertheless, the team of ex-servicemen and recent school leavers which comprised McLean's staff were all facing in the same direction, and really enjoyed the job.
Mind you, not all the customers were happy all of the time. There were the two hapless purchasers of cycle-motors with which to motorise their push-bikes. One pedalled some 20 miles from Perth, arriving in a state of collapse and complaining that the engine had STOPPED.
Matters didn't improve when the rider's attention was drawn to the plug lead, merely dangling in the spokes!
The other one appeared in a similar state, having pedalled his Power Pak halfway round the town to start it, and only for us to find on stripping it down, that some genius had omitted to fit any piston rings.
On a happier note, one very wet afternoon saw a scruffy individual come into the showroom and after a couple of rebuffed approaches, the salesman concluded that he must have just been sheltering from the rain.
As the chap was still inside approaching closing time, the salesman made a despairing suggestion that " this Triumph is a fine bike", only to be firmly told that, in fact, the new BSA Golden Flash over there was a far better machine, and that he ( the scruffy man) would have it .
At which point a great wad of notes was produced from his raincoat pocket!
Then there was the occasion when a sea-faring character wandered around the showroom for half an hour, before informing the shattered salesman that he would have that one - and that one - and that one - and that.... five in all, totalling over £1,000 ( nearer to £10,000 at today's prices) .
Paid there and then in cash, and would we mind pushing them along Dock St. and up the gangplank of the cargo ship from whence he had come.
Needless to say, this was no sooner said than done, though what the Board of Trade, or the customs had to say about it we never knew!
Although he paid frequent visits to the business, to his credit George Mclean left the staff alone to get on with it.
Though he did enjoy leaning on his many friends in the trade when deliveries were slow in coming.
As you can imagine, with such a variety of makes and models to cover, it was quite a job in the autumn of each year to decide how many of which make and model to order for the coming season.
And because of supply uncertainties in early postwar years, whether to order say fifty BSA Bantams or seventy, in the hope of actually getting the forty or so we knew we'd need.
George's main hobbies at this time were fishing and flying, but he still retained an active interest in motorcycle sport, and encouraged the writer to participate in local trials, scrambles, grasstracks and hillclimbs, and sponsored my entries in the 1952 and 1953 Scottish Six Days.
He also approved the building of a trials special, based on a 250 Montgomery JAP, but featuring Dowty air sprung forks and swinging arm rear suspension.
However, he kept a tight rein on costs and waste, and I well remember him looking at a box of new washers scattered all over the workshop floor and saying sorrowfully " Those are all my pennies down there and I DO hope you are going to pick them up! "
By the summer of 1952 things were going well, and I still have the diary in which I recorded the details of the best week's sales we ever had.
The list of new and used bikes sold ran : Vincent Comet - £290, Vincent Rapide - £355, BSA Star Twin - £212, BSA B34 - £175, BSA B31S - £163, BSA B31 - £156, & sidecar - £160, 3 Bantams @ £75 each, Ambassador - £97, Corgi - £61, James Comet - £69, OEC - £102, Matchless - £182, Triumph Trophy - £185, Triumph 5T - £160, Triumph T100 - £150, Panther - £150, Ariel - £148, Vespa - £122, 2 Power Pak's @ £25 each, and a sidecar - £72. A total sales value of £3,284, not bad for a wee country dealer!
Life was certainly never dull, the customers saw to that.
Two purchasers of sidecar outfits went to great lengths to assure the staff of their extensive sidecar experience.
The first shot out of car park onto the road, turned sharp right, right again and off down the slipway of the Tay Ferry, fortunately stopping inches from the water's edge.
The other would be " Eric Oliver " attempted to drive left onto the road, found that something was mysteriously stopping him from leaning the bike over, and went straight into a brick wall opposite. Fortunately again, he wasn't hurt, but the damage had to be seen to be believed.
Of course, the staff also had their moments.
Tom Hastie, a superb mechanic, had struggled for ages to fit the valve collets on an LE Velocette.
Finally, in exasperation he shouted " The s*** that designed this need to be stoned with balls of his own s***", only to look up and see a sweetly smiling Louie McLean, daughter of George waiting to ask his advice on her 1927 Douglas - exactly similar to the one her mother had ridden that year.
Then we had Ally Arthur, general factotum and driver of the spares - collecting "coffin ".
He was asked by a customer to top up his battery with distilled water.
As the bottle was empty, Ally nipped into the nearby toilet and was happily filling it at the tap, when the customer walked in and indicated his grave displeasure.
However, Ally rose to the occasion and immediately said - indicating the two sinks " hot in that tap, cold in that one, distilled in this, and that one's a spare."
Looking back, what an opportunity we had to ride not only the variety of bikes for which we were stockists, but also those brought in by our greatly respected customers for repair.
With the decline of the British motorcycle industry there were changes in the agencies of course, but the motorcycle side carried on very successfully until the lease ran out on the original premises, then transferring to Craigie St.
Under the successive management of Walter Ritchie, Jimmie Mann ( nephew of the original Mann & Scott), Don Whelan, Jack Buchan, Alan Seggie and Les Douglas, the business continued, staging many promotional events in an endeavour to stem the general decline in motorcycle sales, until as recently as 1969, the motorcycle division was sold to Jack Gow, who had served his own apprenticeship at Riverside Drive.
Many of the long serving staff joined him, and the business still flourishes today, headed by Jack, a lifelong racer, and now well known for his leader-board placings in the Isle of Man classic races.
THE END ...Philip Ives...©
Keith...I believe my father wrote this some time in the early 1990's. I believe that Jack Gow was tragically killed in 1996 , while practising in the Isle of Man.
And another brilliant Tale about the Ford years... thanks Keith...
VERSATILE ESSEX
BY
PHILIP IVES
Back in 1952 Mick Ronayne, Chief Engineer of Ford Britain allowed Gerry Phipps, Commercial Vehicle Sales Manager, to see a pre-production version of the 300 E 5CWT van for the first time.
Mr Phipps had a close look and then said "It's all very nice, but isn't it a pity that the rear door opening is 32" high, when all the gas and electric cookers, fridges and washing machines are 36" high.
When Sir Patrick Hennessy , the M.D. heard of this he was not amused, and decided to follow U.S. Ford practice and created a Product Planning Department to co-ordinate and control the research, engineering, manufacturing, financial and sales aspects of all new models.
I joined the new department on the 2nd January 1954 as a product assistant, and worked on the Escort and Squire Estate cars, the Thames Trader truck and the 400E van.
In 1961 Terry Beckett ( later to become Sir Terence, Chairman of Ford Britain and Director General of the C.B.I.) the Product Planning Manager chaired a forward strategy meeting which decided that new medium to large car and heavy truck engine families would needed.
An Engine and Transmission Planning Department was then created and I was appointed Manager.
It soon became apparent that the car engine would have to fill a particularly wide product slot.
It would have to power the Consul / Zephyr / Zodiac cars; Transit vans from 10 to 25 cwt; to cope with front and rear wheel drive; manual and automatic gearboxes; high and low compressions; marine and industrial usages and to fit in the World Wide Ford Engine Range between the Cologne 1500cc V4 and the Canadian 3500cc V8.
One major requirement was that the new engine had to fit in the same engine bay as the 1500ccV4 to be installed in the Ford Cologne version of the Transit van.
While a vehicle's life was then reckoned to be 5 years, and an engine double that, the Issigonis inspired front wheel drive fashion had to be seriously considered.
The code name "Essex" was chosen for the project, and a maximum production volume target of 240,000 engines per annum with a financial planning volume of 140,000 engines per annum were decided.
In fact, volumes in excess of 200,000 per annum were achieved and the engine was in production for 23 years!
After lengthy deliberation the engine engineering team of Alan Worters, John Pask and George Soule decided on a 60 degree V configuration, with the V4 ranging from 1650 to 2200cc, and the V6 from 1800 to 3200cc with the possibility of a linered down diesel 2900cc version of the V6.
Huge wall boards were then created by the product planners on which each component was displayed, taken from existing Ford and competitive engines and each component was labelled with an estimated " made in Dagenham" cost and its weight.
Space was left to show the target "Essex" cost and weight.
The designers were then invited to achieve these targets with flexibility being permissible within each parts group ; e.g. rocker gear, conrods and pistons. Alan Worters elected to follow the successful Ford practice of keeping the bores the same while varying the stroke, and he also chose a "bowl in piston" design pioneered by Ford U.S. to provide a flat cylinder head thus simplifying machining in the production.
The drawbacks of the V configuration of greater weight, the need for a balance shaft and less than ideal breathing were accepted.
Discussions were meanwhile being pursued with the manufacturing, purchasing and financial departments, resulting in an investment estimate of £14 million ( in 1963) together with a detailed programme proposal.
It was down to me to gain approval from the various U.S. Ford staffs to the programme, and at one stage this meant being interviewed by the formidable Charles H. Patterson, the Worldwide Director of Manufacturing - known to eat Product Planners for breakfast!
However, on hearing my Scots accent he said " Whaurdae ye come frae?". When I replied " Dundee", he said " I come frae Aberdeen".
Thereafter the 15 minute conversation was conducted in broad Scots, much to the total consternation of the American Staffers, who were expecting to see the "limey" being torn asunder.
As will be seen, Mr Patterson came to the rescue at a crucial moment.
By 1965 the project was sufficiently advanced for Terry Beckett and myself to travel once again to Dearborn to present the proposal to the Ford Operating Policy Committee chaired by Henry Ford II, and request authority to make the investment.
At the same meeting Ford Cologne was presenting its own plan for a U.S. designed 2.3 litre V6 to complement its V4. To conclude his presentation John Andrews, the Cologne M.D. played a recording of Harold Macmillan explaining why General de Gaulle had refused Britain's entry into the Common Market and quoted press reports that this would deter foreign investment into Britain.
Not being over surprised with Andrew's pulling one from the bottom of the deck, Terry Beckett immediately said that this was only a temporary setback, and if the committee was concerned, suggested that both engine programmes be held over for the time being.
However, Henry Ford II did not seem to be overly impressed with Andrew's tactics and said that the Essex presentation should go ahead.
Now although the total investment for the Essex was £14 million, it was proposed that only 60% of the machine tools be installed initially but within this element the cost of all the under floor services i.e. cutting oil, swarf extraction and exhaust ventilation to build the 240,000 engines per annum was included.
When at this point up came R.J. "Arjay" Miller, the U.S. Finance Director who objected, and said that a third of this underfloor installation should be delayed until the volume warranted it.
It was then that Charles H. Patterson came to the rescue saying "Arjay you're nickle and diming again" and reminded the Committee of the disaster in the Ford Toledo engine plant where they dug up the floor to install extra services and treated the engines in production to a cloud of grinding paste dust at an enormous rectification cost.
Everyone then looked at Henry Ford II who smiled and said "In view of our unfortunate previous experience it seems sensible to complete the under floor installations before we begin production" - COLLAPSE OF ARJAY!
The Committee voted to approve the Essex programme's immediate implementation and to delay the Cologne V6 for further consideration - Ford G.B. 1, Ford Germany 0.
The first V4 Essex engines appeared in the Corsair and Transit in 1965, followed by the V6 2.5 litre and 3 litre in the Zephyr Mk4 and Zodiac Mk 4 respectively, and was also fitted in the Reliant GTE, TVR 3000M and AC 3000 ME plus numerous marine and industrial applications.
Well over a million Essex engines had been built when production ceased in 1988.
It was a very hectic but satisfying episode in my life, and to complete the story I am at the time of writing this (1990), restoring a Reliant Scimitar with a 3000cc V6 Essex engine.
Phil Ives 1990©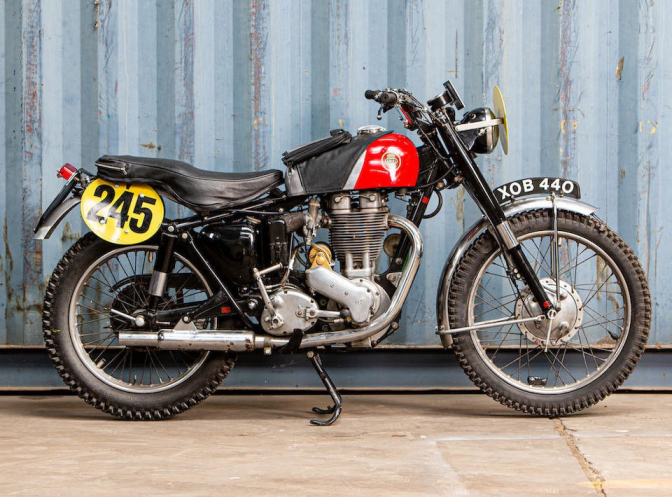 Photo Courtesy Bonhams...
Phil also collected other motorcycles and classic cars in his retirement. And one of these was the 1958 Ron Langston "Works" Ariel HT5 ISDT machine
XOB 440 which Ron had collected a Gold medal on..
The Ariel had been purchased by Phil now in one day trials trim.. So he made it his duty to put it back into the condition to which it belonged. So he started to search for the missing ISDT parts that would have been on the bike, like the duel seat, and air bottle, Lucas Wader Mag/Dyno, the nail catcher on the front mudguard, and other parts. Doubled up cables were fitted, as was the ISDT norm then, and even used on one day trials bikes.
The bike was eventually sold into a collection, where it remained until 2017, when it was sent to auction at Bonhams.
The purchaser then kept it until 2020, where it was again but into the now on line sale at Bicester Oxon. It again was sold, and this time to the Sammy Miller Museum, where it will be looked after for its life-time and we all will be able to view it...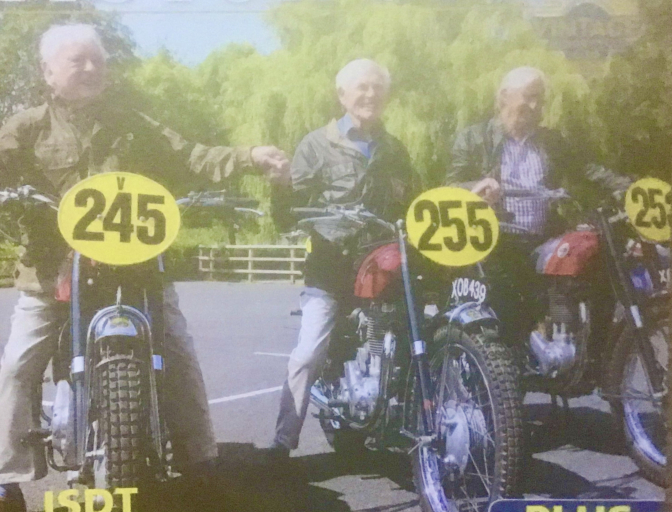 Copyright :Vintage Motorcycle Club...
Here Ron Langston, Sammy Miller, and Gordon Blakeway sit aboard the three ISDT Ariels... 2021..
Enjoy ...And thank's Once again Phil...
More Later...
Updat2023...08...