Tenaci-Wong
TWC 200.
~~~~~~~
14/01/2019...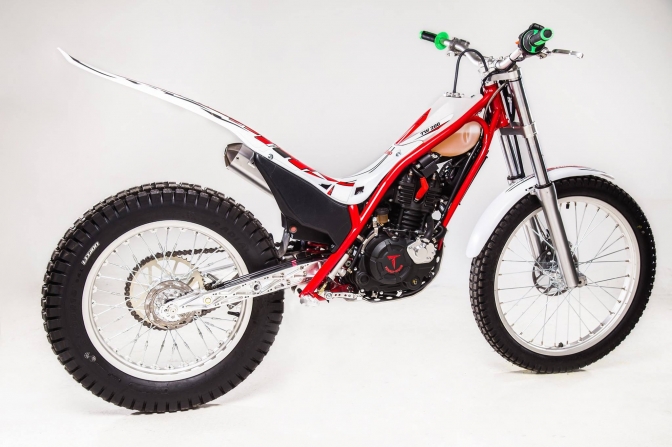 ~~~~~~~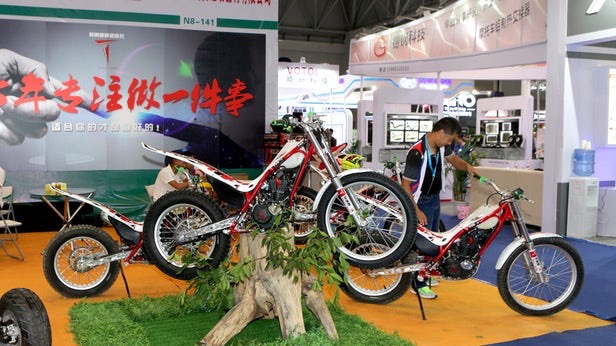 The Tenacity ----Mr Wong...
Tenacity is the quality displayed by someone who just won't quit — who keeps trying until they reach their goal.
TWC 200...and TW150...
We Take a look at the first trials motorcycle complete that is "Made in China".
It is known that a lot of components for trials bikes made elsewhere are Made in China but this is the first designed and built machine...Complete.
The manufacturers are currently checking out contacts in various countries to start exporting the bike although they were primary designed for the rising interest in motorcycle trials in their own country.
Canada have become the first nation to get the bikes with the first four delivered, along with Indonesia.
Contact has been made with USA, Canada Australia, and the UK, Spain and France are also interested in the machine.
The first test machine in-the UK is to be tried and demonstrated by Dan Clark...
02/08/2019...
Mr Dan Clark, and Andrew Bunton are now the Importers into the UK of Tenaci-Wong TWC200...(2019)...
There will be a lot more information about this little bike in the next few weeks. So keep taking a look... I might add that two batches of bikes have already been sold in the UK.. and this in just a few weeks of trading..
But now in 2023 there is no official UK dealer at the moment ... and one individual has imported a bike from China but the tax and duty make the proposition rather expensive... also there is now no spares back up in the UK...
Update 12/07/2023...
I have spent several hours trying to find out what has happened to Tenaci-Wong...and the more I find the more it looks like the years of production that was sparadic at the best, has come to an end (for now anyway)...
Such a shame but it seems like it was the lack of work done on the bought in Lifan engines that was the problem, in just dumping the bought in engines designed for road bikes into that very well made frame and components ...well some of the rear shocks seems to have been a problem aswell... But the main problem was the gearing with no choice but to use "first" in all sections. some fitting Sherco sprockets to try and sort a bad load of cogs... although with the advantage ? of the electric start this too has caused problems with dead batteries and the added 30 lbs of weight, but that would have suited me with my knees.
It looks like the import into North America has stopped some time ago because of pressure put onto (importers dealers) from Tenaci-Wong, and time scale of deliveries and the spares situation.
And the same in the UK...
It looks like the New 150cc T model was the most sort after bike in the end but only a few were ever built with just two recorded in the UK...
Mike Waller had a ride on one of these in the USA and said it was a good little bike for those who just wanted to play but not a match for a competative trial bike... and with taxes added not that cheap to be different...
We will keep checking on the situation.. but at this time the story and production of Tenaci-Wong seems to be at an end...
PS... There is one 200cc bike for sale on their web site at half price along with a few spares also the same...
A real shame it was a nice little "cottage" industry make and brand...
More on this later...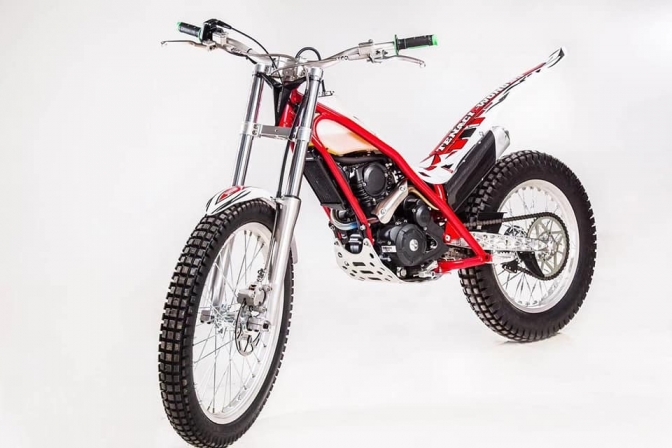 It seems the 200cc four-stroke water-cooled engine that powers the machine is made by Lifan and I have every faith in their engines......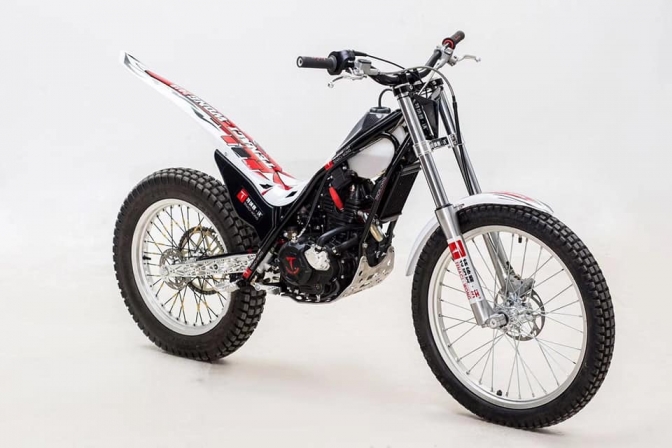 The frame is well constructed in steel, along the same lines as the GasGas Randonee, of a few years back but with better bracing and lines.
The alloy swinging arm is just a work of art and just shows the effort that has gone into this little machine to make it look right.
Forks seem to be of clean line and do the job.
Although watching the videos there could be room for adjustment in the action, although they work well. The bike is shod with tyres (tires) that look a bit to round in profile, and could be probably improved,
the twin pot front disc brake and the single rear look up to the job in hand.
The weight penalty to some is the fitment of an electric start motor and small lithium battery to power it.
But I for one with a bad knee would so much enjoy the system... And done and said all, it only brings the weight three lbs over a current crop BSA Bantam weight.
Fat bars and solid looking controls along with mudguards that I have seen tested to the point where others would snap seem to sum up this little machine, and for a price that wants you to go out and buy one.......
Retail UK price... £3995...
new Video...
Will have a page up to follow this brand tommorow....
Approx,$ 6,000
30/07/2019...
Mike Waller takes a ride on the "Tenaci-Wonk ...
Tenaci Wong. My friend Mike Komer is the US importer.
He runs "The Tryals Shop", is still an Expert level rider at 65, and was for several years the captain of the US Trials Des Nations team.
Anyway, every Friday morning I take coffee and doughnuts to his shop and we put the world to rights.
I regularly take the Beeza and we ride as well as gossip.
So last week I was riding a " TW," as they are now called here, and was very impressed.
Of course it is a modern bike so much too twitchy an engine for me, plus brakes that actually stop immediately, but it is really well made and nice to ride.
The price here in the US is $6,000 which puts it $2,000 under the competition. The electric start is very nice and is almost as useful as the reverse gear that the Enfield will have???
Mike tells me that they have a smaller, I think 150cc, air cooled bike coming out shortly.
Well, stay cool and keep banging away at the computer.
Mike... As far as I can work out Mike there was two of the 150cc air cooled bikes brought into the UK... and the main problem with them seems to be the gearing, as the engines were meant for road bikes... there is also a big problem with the batteries fitted and most have had to be replaced... as I can see Tenaci-Wong have just suffered a lot through. under development and... the Covid episode did not help... we will see what hapens next in 2023.. 07...
Charlie ~Oo> Thank's Mike Great Job...
Part Of "Tumorrows World."..
More information about this little bike in Britain , this next week end August 2019...
Charlie~Oo> Must be the best Clubman bike produced for a very long time....
Click full page for better view...
~~~~~~~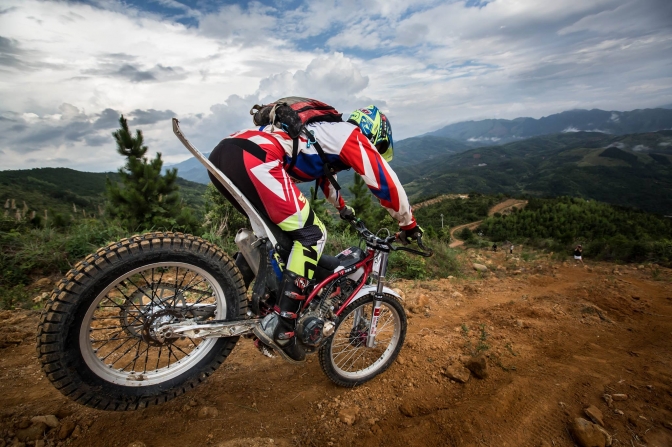 A conversation with Lee.......
Hi,
When did I say I was getting a Tenaci-Wong bike from the first two batches? They are all sold...
I have had a big question and answer session with Lee today… and he says why should anyone buy a TW trials bike and not another make.. ?
My answer… was there is no competition in that class of bike…
He said so what competition does the bike have. …
I said None…
There must be, he Said?
Charlie ~Oo> All of the opposition bikes are Two grand dearer and over powered for a clubman….
and anyone buying one of them, the first thing they ask is how to calm the motor down…
So he said "so the main advantage is the fact that it is 2 K cheaper, and the bike can be ridden straight out of the box by a clubman, and he would feel safe riding the machine".
Yes, I said….
"So why won't the client feel that he is on an inferior machine than if he had bought, one of the named makes"?
Well, he would have bought a machine that he can get straight on and ride for fun, without feeling afraid of the machine he his riding…
"Yes but, that still does not say why he would go out and buy the machine"..
Well I know which machine I would buy…
I hate two strokes.. And this machine is a four stroke at the right money…
"Arrr so you are saying it is the four stroke that persuades you … Not being 2 K cheaper… So what other four stroke is there ? And why not buy one of them"…
I think there is only the Honda Montesa? and this is still too overpowered for a clubman out of the box, and the first question on a forum site is, how to make the bike more manageable…
.
"So the conclusion is that the TW is a better bike to buy if you don't think you are going to be World champion… Yes I said off course it is.
"So is it going to be a disadvantage having less power than the other bikes, and why is the motor smaller"…
I said have you ridden the Mini-Otter Lee? Silence…
So you would find that, that bike has enough power for you… And you don't want to ride up the side of a house do you…
"No… So that is the main advantage, a bike you can jump straight onto and have fun without fear of injury… And a price 2k less…
So will the resale value stay above the opposition…
I don't know, it will be down to supply and demand… But if the TW keep selling as they have the first two batches, I can see the resale price remaining high…(this was 2019 before the Covid outbreak)
"How about the spares for the machines is this going to be a problem".?…
Well the importer I am told will have a good stock… So it should not be any different to any other make….again 2019
"Well I hope you are right… Have you got the guy's number I need to speak to him for a chat, so that I can ask him the same questions… But I am now getting interested…."
2023. all changed now it seems in the UK looks like Bunton's and Dan Clark have left the Tanaci-Wong scene...
>>>>>>>
The Tenaci-Wong TW 150T...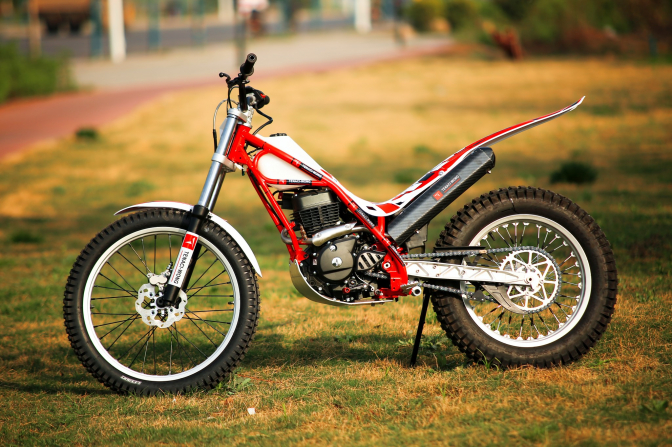 This is the Lifan engined 150cc air cooled version with the same frame as the TW200...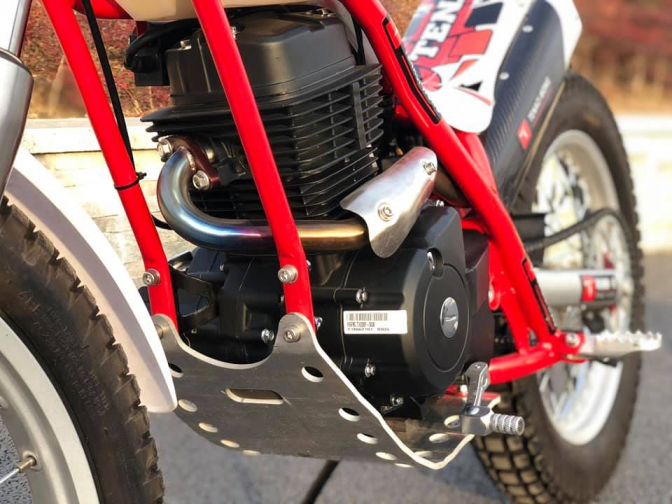 2022 version...
Much More Later...
Updat2023...07...