One of the most Famous Ariel HT Trials Bikes ever...
" Ariel 786 GON"
Welcome.
Benvenuto.
Bienvenido.
Bienvenue.
Firstly, here is a picture of Sammy Miller riding the Famous machine,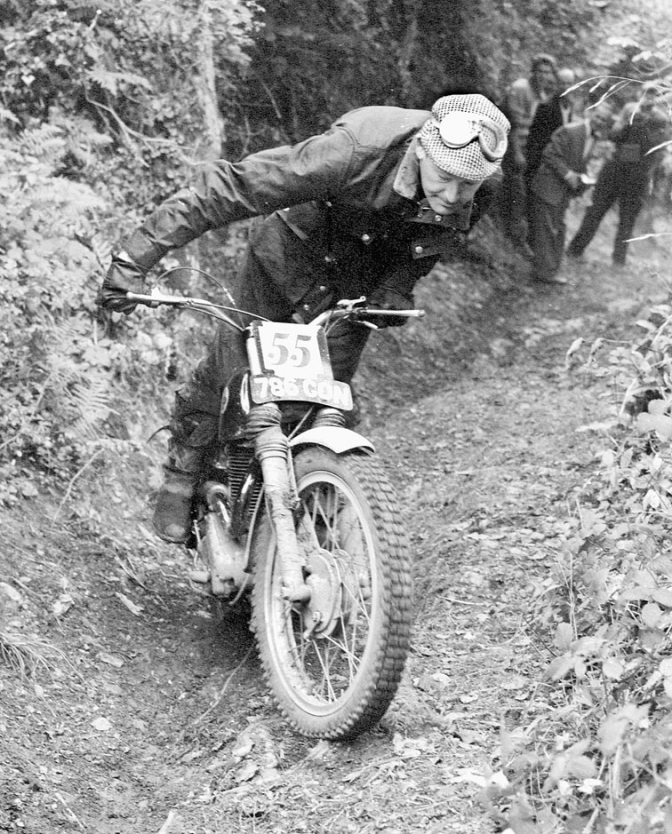 Deryk Wylde sent me this Gordon Francis photo, and Deryk knows this bike better than most ? Well he rebuilt it for Jock Wilson to the standard it is today.
Even remoulding a seat unit for the bike.
Enjoy the story below...
Now the story so far by the young man who rode the bike in the test.
Justyn Norek Jr.
Here is story of ARIEL 786 GON as narrated by owner
Carlo Ramalla....
As my English is very bad, can I ask you for help to correct errors and improve expressions?
Please change it as much as necessary and as you want.
Soon I will send you in another email technical characteristics and ride impressions.
Thank you for help....
Best regards Justyn...
Sammy Miller's ARIEL 786 GON trial test.
Some history.
When trials enthusiast think about history of motorcycle trials, he thinks "Sammy Miller", and when you think Sammy Miller you think "ARIEL".
This motorcycle is such important Icon and milestone in trials.
It really separates two eras of trials history, Pre 65 and after. This is so, as genius of Sammy Miller has brought his ARIEL to optimum of technical development,
And then killed it, with two stroke Bultaco Sherpa.
Another incredible project that created another ICON of DESIGN.
Coming back to ARIEL story, only two ORIGINAL bikes exist, they had registration numbers GOV 132 and second one has 786 GON.
Both were extensively used in competition by Sammy, even if more "famous" is GOV 132, which was more frequently used in trials and photographed...
While it's twin brother 786 GON was kind of spare machine and source of spare parts as well, but was technically developed to identical level.
So what has happened with these incredible machines when Sammy decided to face new challenge of designing new concept of trials bike for BULTACO?
Sammy has bought both bikes when he left ARIEL in 1965 and year later sold both to UK Bultaco distributor and trials bikes specialist COMERFORDS,
Who put both bikes "for sale" with price tag £425 for GOV 132, and
£350 for 786 GON as it was less famous despite represented same level of technical specification.
In 1970 GOV 132 was bought by famous trials journalist and expert "Ralph Venables" who asked Sammy to put it into perfect condition and then,
Gave it as gift to National Motor Museum at Beaulieu with one restriction it must not be ever sold out of Great Britain!
In about 1983 Sammy starts riding in pre 65 trials on exact copy of
GOV 132, which he has build from spares, and which now you can admire in his
Sammy Miller
Museum in New Milton, Hants.
But what has happened to other ARIEL 786 GON?
When Ariel's were put "for sale" by Comerfords, one of Comerfords employee Jock Wilson was already dreaming about buying this bike.
Well GOV 132 was very expensive so his eye was on 786 GON still expensive at £350 (brand new Greeves trials cost £207 at that time...) year 1965 much more affordable...
However in February 1965 786 GON was sold to Arthur Fowler sidecar trials rider who anyway didn't convert bike to sidecar outfit, but lended it to Jock Wilson who used it successfully in trials. At the end of this year ArthurFowler put 786 GON back to Comerforfords for sale and this time Jock has realized his dream and bought it.
Jock has used the bike in many trials including Scottish in 1967 with good result, winning sub 500 classes.
Than he sold 786 GON to another rider Harry Rayner, who used it for 18 months but without much success, and he decided to sell it to another rider John Parry,
Who after more or less the same period decided to sell it and 786 GON comes back into hands of Jock Wilson...
Bike is well battered and Jock has it restored to perfection and keeps it,
not using in competition. Many have tried to buy it from Jock, but he was reluctant to sell it, until 1988 when bike changed hands and was acquired by Ernie Page...
He bought it because of his passion for trials, to exhibit it as an art piece on some occasions and for his son trials rider. It was then sold on to
Roy Kerr... And another English collector.
But time passes and changes everything and bike is for sale again and
it's twenty first century now.
News that it's for sale arrives to Italian trials enthusiast and lover of trials bikes Carlo Ramella who first doesn't want to believe it, and after double verification...
Immediately and spontaneously decide to buy it! Now it's his!
We have common Friend Pippo Bartorilla excellent trials rider himself, so we asked if Carlo could show us 786 GON and take some photo's.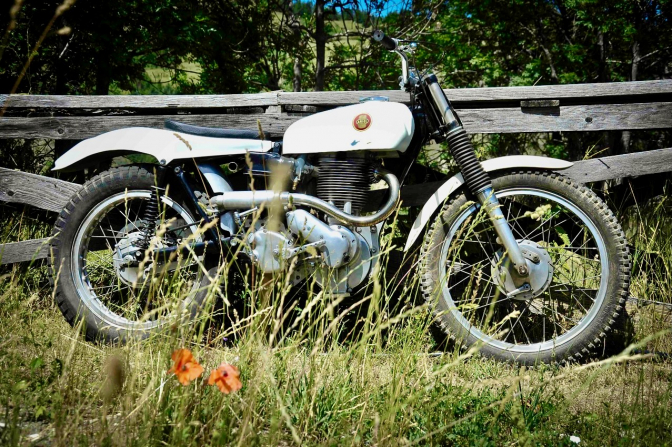 Photos Courtesy Justyn Norek Snr...©
Not only he has agreed, but he also offered us a ride on this piece or art. And that is how we came to visit his mountain chalet in Alps where we could take photos,
And enjoyed ride on this legendary bike...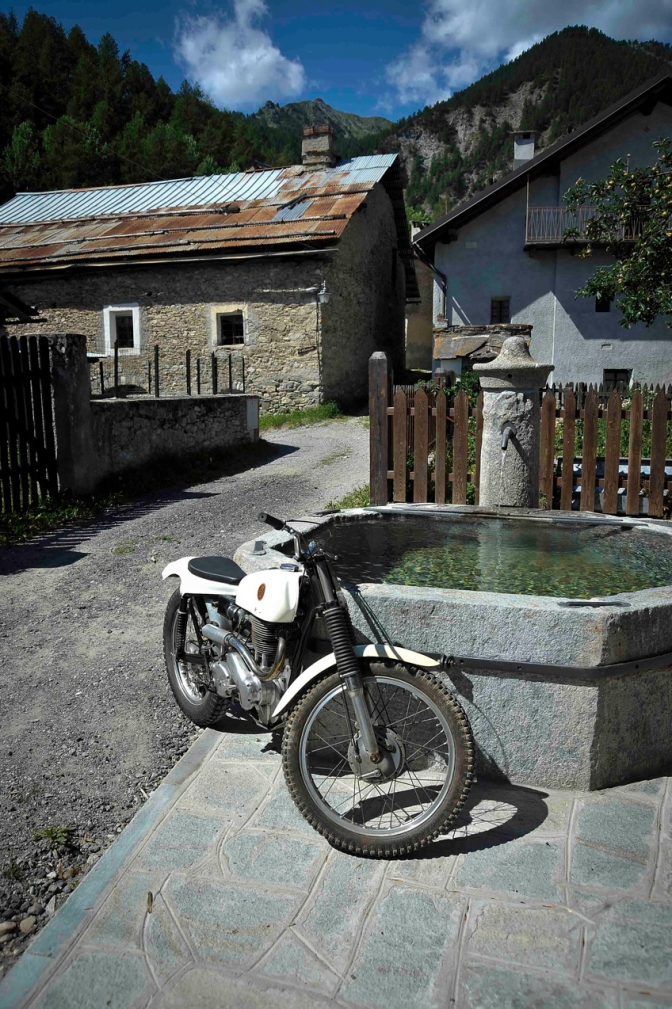 Impressions of this ride next .
Best regards Justyn...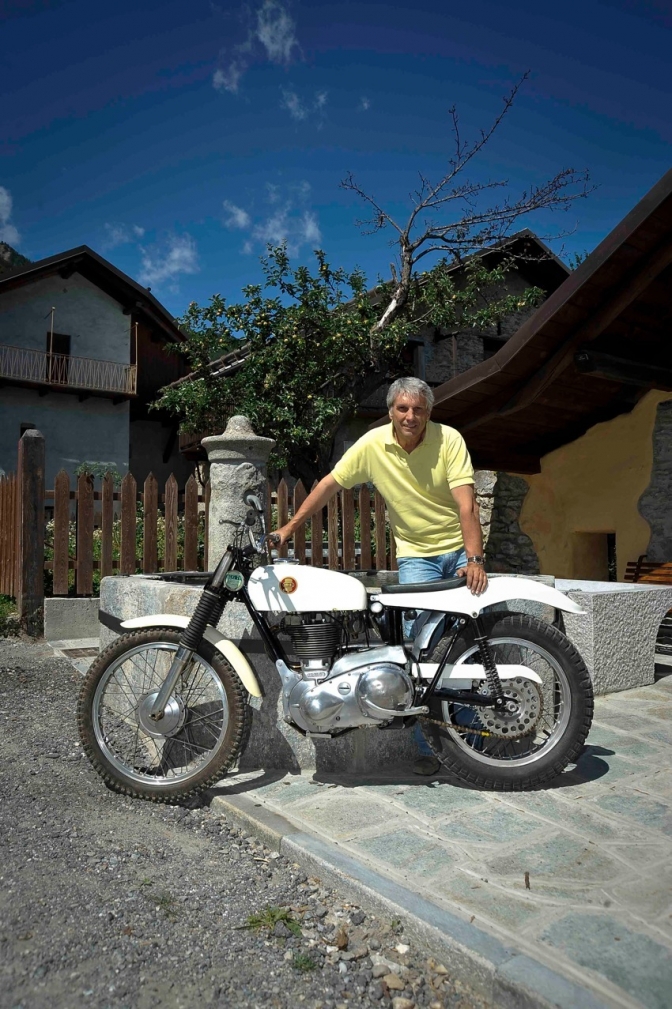 Pippo with the Ariel 786 GON...
Ariel riding impressions...
Here are riding impressions by Justyn Jr.
So the day of test of ARIEL 15.08.2013 has come.
Cannot hide my excitement as we arrive to PUY, small and beautiful village in Italian Alps some 40 km west from
Sestriere, location of 2006 Winter Olympic Games. (See photo of Puy)
We park our "VW Golf" on mountain road and are welcomed by Carlo Ramella and his friend, and exellant trials rider Pippo Bartorilla
But where is "our" ARIEL ?
He is still in the mountain shed waiting for us."
I haven't ridden it since last year" Carlo says, and I start having doubt if we can start it?
But with help of Pippo and some kicks bike start's "talking", so slowly I think engine will stop in next instant, instead it keeps on running. Low revs of engine are impressive by today standards and after warming it up its our rider's turn now.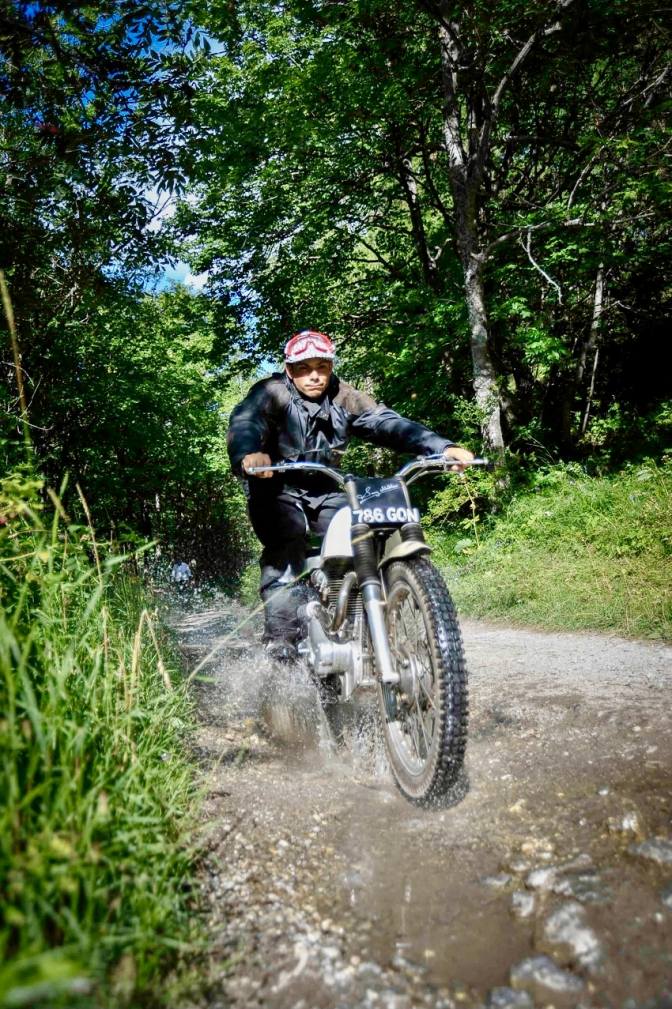 Our "tester" is Justyn Norek Jr. MTB DH racer among top ten in Italy and keen snowboarder, old and modern trials rider so he has lot of experience.
Yet he has never rode such a bike. I see excitement in his eyes, mixed with some tension and respect.
He tries clutch and brakes several times and very slowly balancing let the Ariel 786 GON down the stairs from shed.
Now he rides down the road several times slowly to get used to the
bike's balance and feel of brakes and controls.
Slowly we see him more and more at home on the bike, despite it being quite an heavy machine...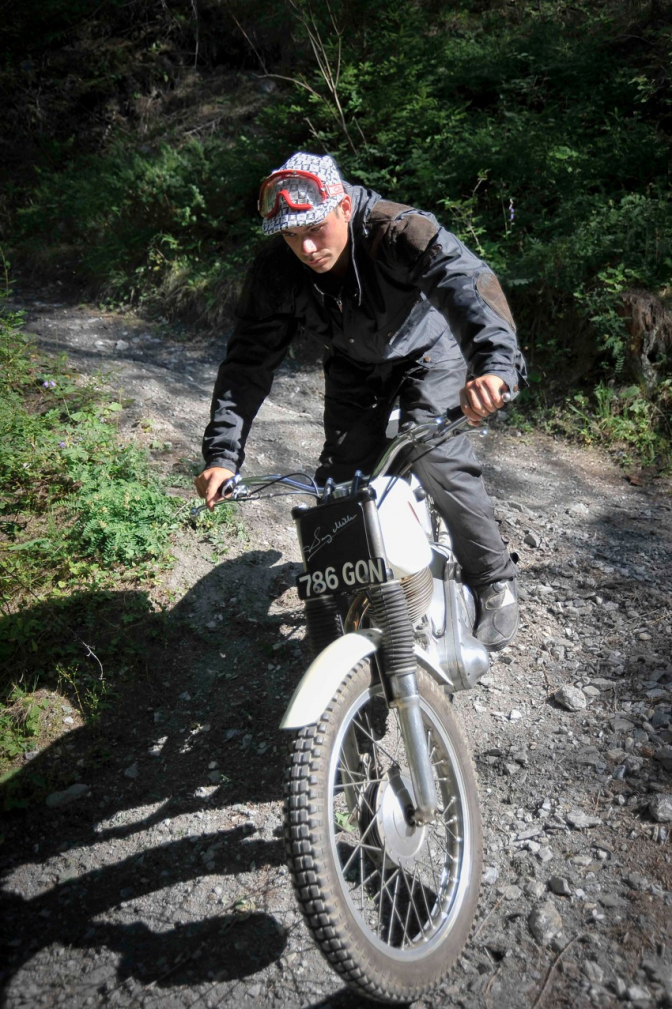 Before the ride we studied all photos of Sammy Miller on his ARIEL published in various books, to catch up with his "body lean" technique.
Now we understand this expression much better, bike needs to be kept as much as possibly vertically, correcting with "body lean" balance.
So now it's time to walk to forest and try to mimic some Sammy's photo's, we choose to take off helmet and substitute it with typical cap and pair of vintage
Carrera 98-2S goggles similar to those used by Sammy in 60's.
Justyn Jr. looks now perfectly at home on bike, keeping it always pretty vertical, and balancing with body on tight uphill turns.
Revs can be incredibly low and bike still pulls away with low sound, really "thump" onomatopoeic expression is best, more similar to locomotive than modern bike...
On steep descents bike is rather tricky due to it' weight and tires having some years now.... as well drum brakes!
Our rider slowly mastered tight steep uphill turns, steep descents and stone sections. Accordingly to his impressions bike is very enjoyable to ride but needs
Very different approach also when you put feet on the ground!
Seat is high by today standards and with 111 kg of weight it' s better not to incline it too much. It's very stable on stones, rocky sections, and easy to maneuver,
Thanks to it's magic "Miller's" geometry and well concentrated masses. And with its 220 mm ground clearance it clears many obstacles. But of course it belongs to it's
Own era. In any case despite some difficult moments rider has managed not to drop this jewel. Of course we didn't attempt too hazardous or extreme sections.
After few hours of riding our tester was rather exhausted despite being fit, and became full of admiration to Sammy Miller' s riding skills!!!
Certainly it was magic Miller putting Ariel to so many wins.
Now some rest and we had great lunch with some grilled local meat and good red wine...
After we had photography session of static ARIEL, so if some photos are out of focus it' s due to "BAROLO" wine,
Next day we were invited to test another "special" trials bike from Carlo's collection: 250 cc MOTO GUZZI BARTORILLA, but that's another story...
Justyn Norek...
ARIEL Design highlights...
ARIEL 786 GON by Sammy Miller had several innovative design solutions.
Here is list of most important to be illustrated with photo's of details of this bike that I have sent earlier.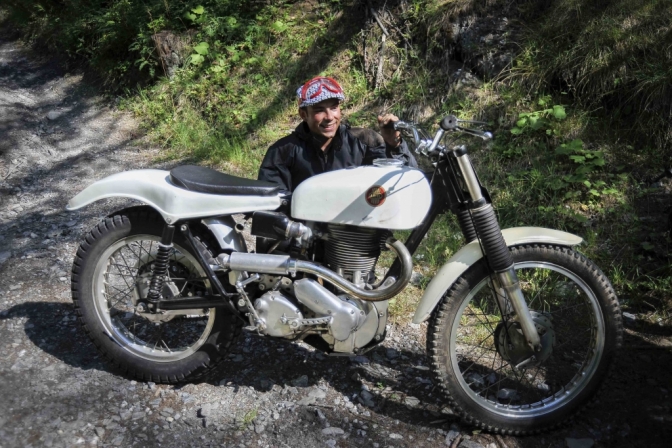 1/. Frame: in Reynolds 531 tubing, modified with steeper steering angle, oil in frame.
2/. Fuel tank: Beautifully styled, in fiberglass, very light and slim design, one bolt mounting, with depression in front part to allow full lock
Of steering with front fork coming close to tank.
Perfectly done by BUTLER MOULDED LAMINATES, creation of Chris Butler also trials bike builder of "Butler" superlight trials bike.
With metal logo on top of tank real work of art.
3/. Seat base integrated with rear mudguard, another artwork in fiberglass by Butler, (Deryk Wylde) very slim in top view in cream white so synonymous with Miller's ARIEL!
It also had INTEGRATED registration number plate! Seat perfectly designed light and slim yet comfortable!
4/. Exhaust system: starting with beautiful curve, extremely compact and well tucked to bike, terminating with small silencer breathing hot exhaust gasses
Directly on rear tire tread . This genius idea allowed cleaning rear tire from mud and also heat up tires rubber for better grip...
5/. Kick-starter and gear shift lever bored out to shave some more weight of this bike...
6/. Speedometer mounted on top of engine/gearbox cover and protected by aluminum shield from mud etc.
Not the easiest way to look at, speed but who does it in SLOWEST of all motorcycle.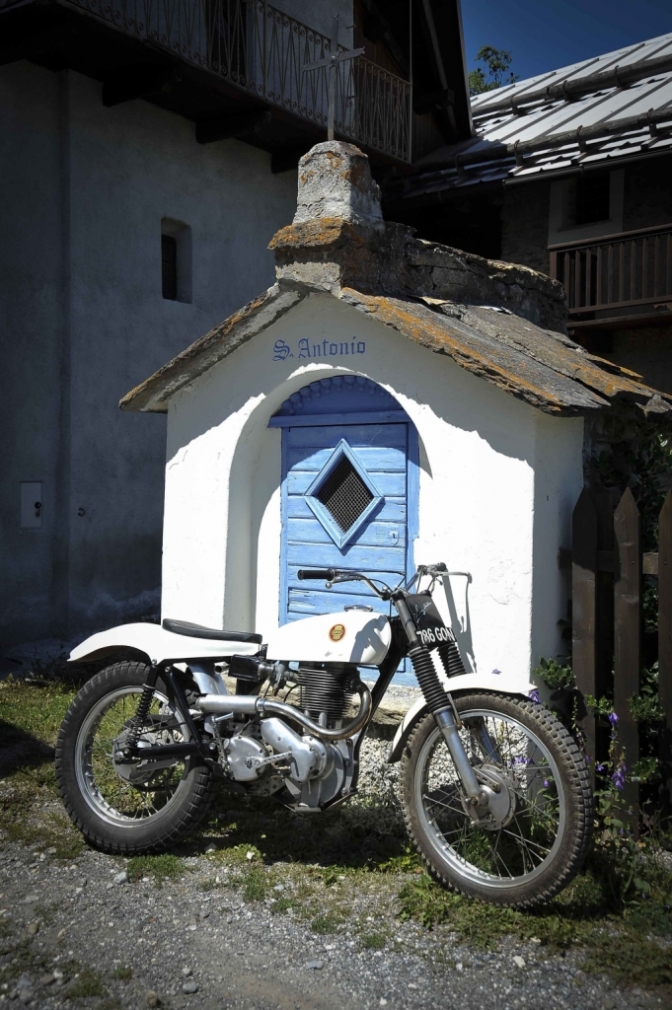 This is only the start of this page more pictures later, Just needed to get the page on Quickly...
~~~~~~~
OK... The following pictures of ARIEL 786 GON. were sent to me by Roy Kerr in 2006.
And credit to these photographs are to Roy Kerr.
Roy still owned, or had only just sold the bike then, and only sold it to be able to start his own business...
Enjoy...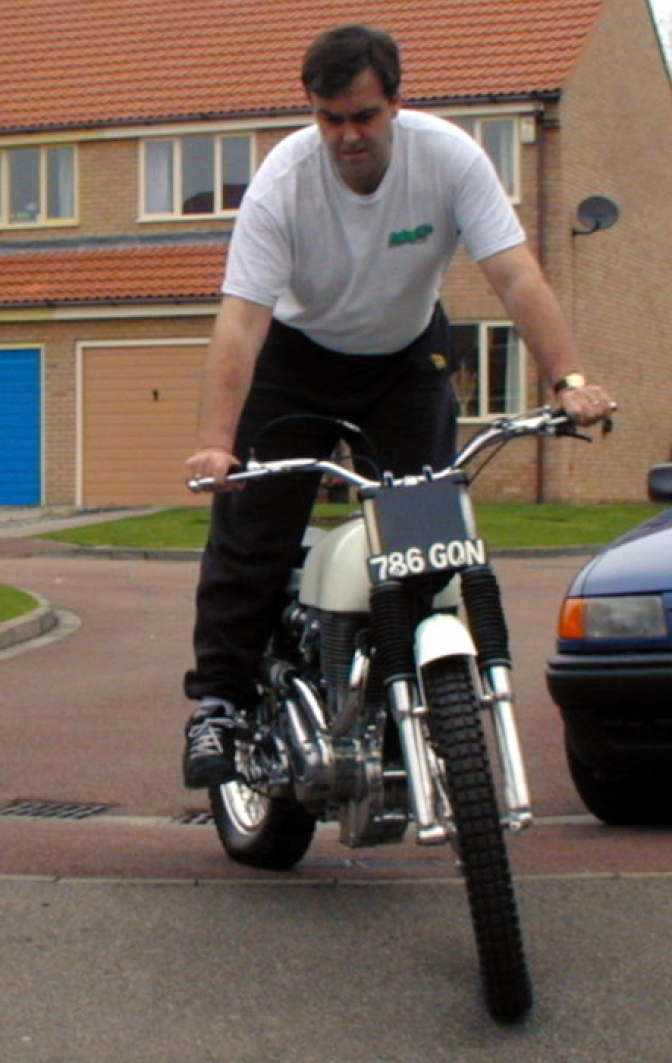 All photos on this line Courtesy Roy Kerr...©...
Roy's Last ride on the Famous Ariel HT 786 GON.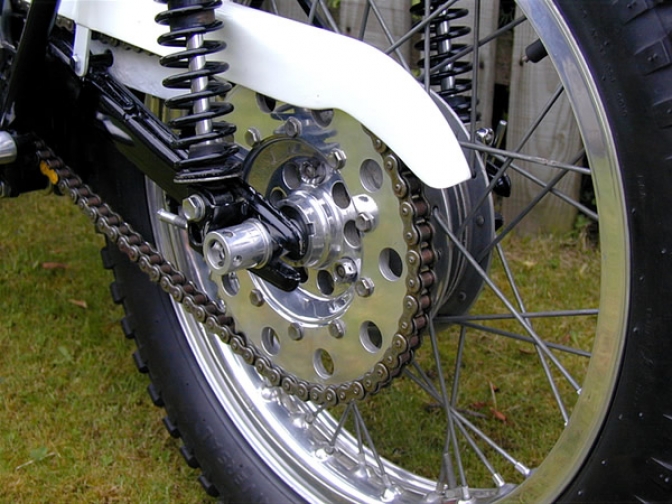 This is the back wheel with alloy sprocket and carrier, said to have come from Ariel HT GOV132...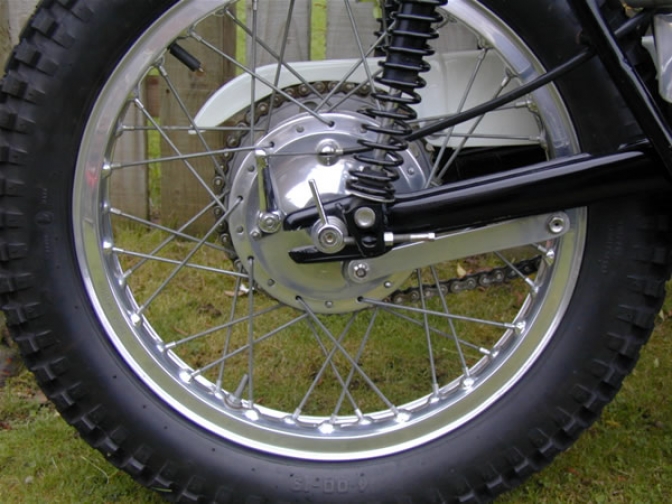 The other side of 786 GON's rear wheel don't forget this was
400" x 19"....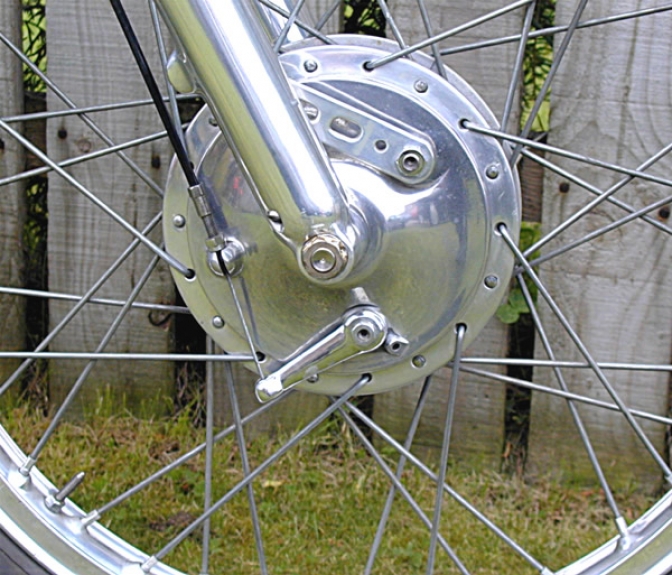 And the front wheel with Ariel Leader alloy hub, and titanium spindle. also said to be from GOV132...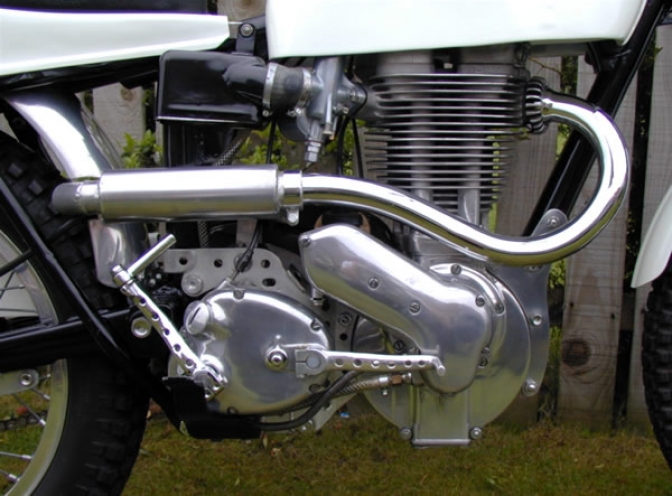 The timing side of the bike.
Note: the drilling's for lightness, even the shafts that were then plugged with Nylon.
The silencer was one made up by Deryk Wylde, when he rebuilt the bike to replace the one that had corroded, Deryk also re-fabricated other broken and over worn parts, including replacing the alloy seat strut, that had to be replaced with a steel replacment. Was this not only fitted to Ariel GOV132 that is the question...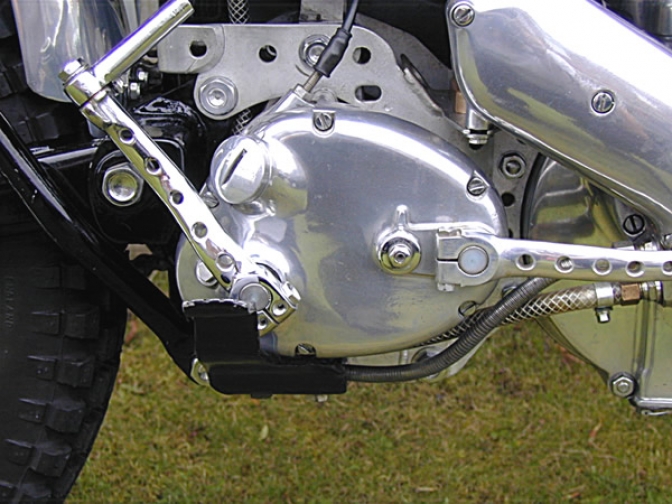 Here is a better view of the Nylon plugging that Sammy Miller did.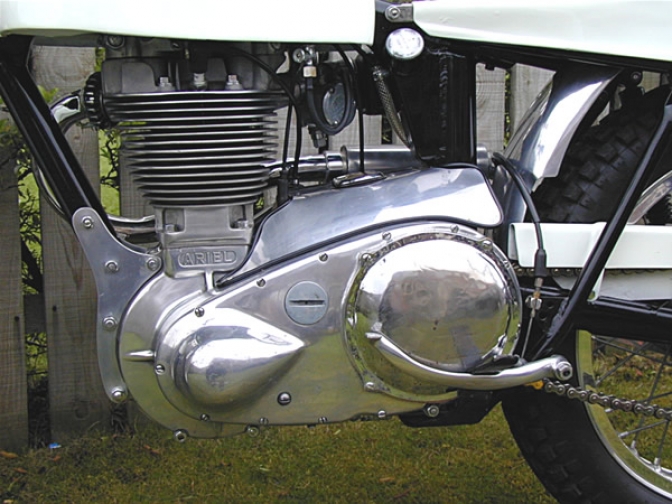 Now the drive side of Ariel 786 GON.
The difference between GOV 132 and 786 GON was this drive side...
GOV132 had a Glass-Fiber chain-case, where has you can see 786 GON has an alloy One...
Although with the AMC-Burman shorter shaft fitted it was still 2" narrower than the original out side Ariel clutch.
One Question Is, was this alloy case a replacement for an earlier fitted Glass-Fiber unit, we think so... Fitted when Deryk Wylde restored this Sammy Miller Ariel Trials bike.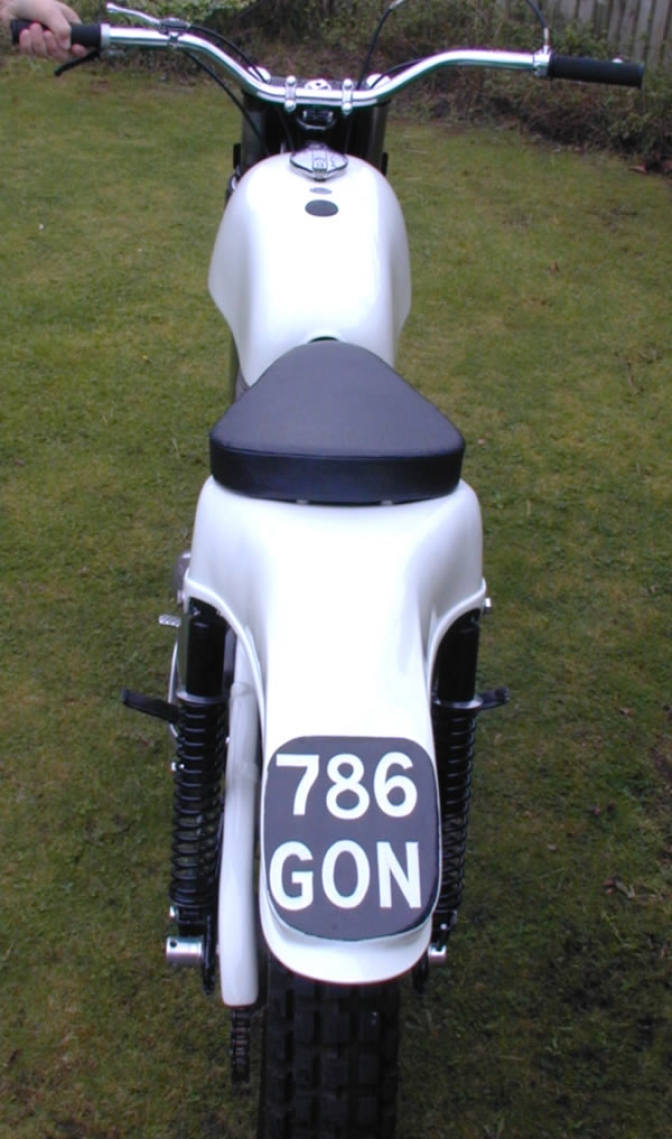 What a tremendous shot this is of 786 GON, and says it all about the superb design of the Miller Machines, and for Deryk's skill on rebuilding the bike. The magneto was also rewound by this magician of Text and Material's skill.
Deryk said that he had to make a new mould for the rear mudguard section because the copy ones then available, from other suppliers, were just too wide. And the shape different than these made by Butler Mouldings.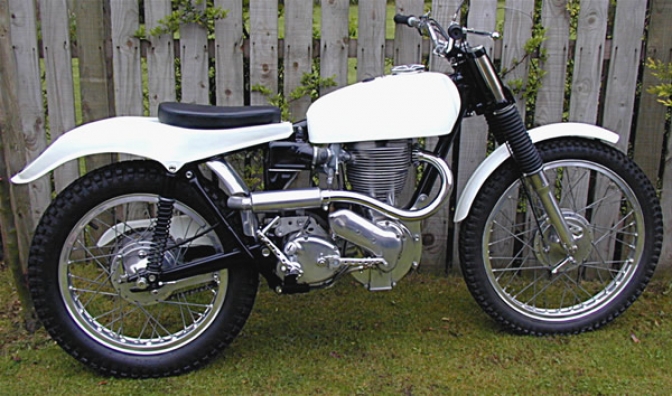 And one last shot of this magnificent Ariel machine.
I am glad that she now has a tremendous home in the Italian Sun.
Respect. ARIEL GOV 132 or 786. GON...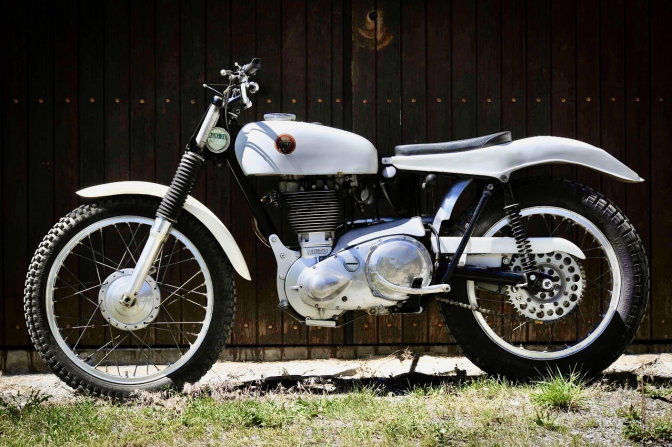 Photo Courtesy Justyn Norek Snr...©
786 GON resting in the Italian Sun...
Another "Norek" Trials bike test brought to you by...

More Later.
Updat2023...08...