Tom Ellis BSA C15T's...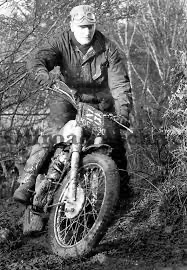 Photo Courtesy Offroad Archive...
Tom riding the BSA "500 Twin" engined trials Gold Star...
Tom Ellis…
Starting trials riding in 1945 on a 350 Panther Tom soon bought a new Matchless, and started to get awards. Spotted by Royal Enfield Tom rode for then for a while until in the Welsh ISDT in 1950, the engine on the bike seized. Tom was walking back and came across a pub, inside were two chaps from BSA, and the conversation about the bikes started, Tom relating his seized engine… Come ride for us Bert Perrigo said, so Tom got signed by BSA and rode one of the new sprung Gold Star trials bike to some success, and even a twin cylinder 500 bike. With wins in National one day trials and eventually a Gold ISDT medal, he also was awarded 12 Scott trial silver spoons..
Tom Ellis retired from BSA in 1956 to set up his own motorcycle dealership in Ripon North Yorkshire. But still kept connections with the BSA Factory. And rode a BSA C15T briefly in the 1959 SSDT until the oil pump drive packed up and the engine seized.
He also used to pop into the competition department..And would often leave with a few parts and sometimes bikes from here, when he was down picking up new BSA's that he had sold.
Tom although retired also carried on riding trials bikes, and a few on the BSA C15T's that he had bought from the factory and added a few of the comp-department parts. He rode in the 1963 and 1964 Scottish Six Day trial using the C15 machines. And it seems used the registration number that he had registered to the BSA Tigress engined trials bike, that he some how got out of the back door at BSA as the bike was supposed to have been cut up when BSA management spotted the project, but was hidden in the cellars and only worked on at week ends during comp shop overtime…Registration for this machine was 32 YG.. and later sold By Brian Verrall to adorn a Porche 911… The scooter engined bike is now lost forever…
Why this story again… Well there are one two or three BSA C15Ts now in current circulation with owners trying to establish the bikes true identity …
It can be basically confirmed that the BSA C15T trials bikes may have been bought from the BSA factory and these are the swan necked first batch C15T's but they were not works supported machines. They may have been fitted with parts from the back door of the comp dept but that is the only works connection. Identity is difficult as we all know the common practice at the time was If you had several bikes of the same make and model you would just stick the plates that you had registered onto the bike you wanted to ride that weekend… And it seemed Tom was one of these culprits. (I have two photos that I can't use for copyright issues, but these are of Tom aboard Two different BSA C15's but wearing the same registration number XWW5, which proves the point...)
Having Catterick Camp just by the shops door so to speak, a lot of the talented dispatch, stroke trials riders purchased their machines from Tom Ellis Motorcycles. That is how the Tigress engined machine headed South..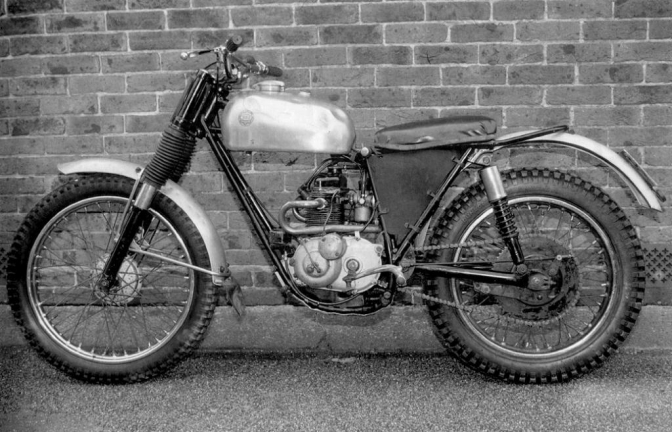 Tigress engined trials BSA... Photo Credit Don Morley..ORA..
I do like these tales… and just hope we can establish the bikes actual identity… But a lot now are just keen owners just hoping they have found an hidden gem, but I think that if they had any milage the great Sammy Miller would have begged the bikes for his Hampshire museum…
Story One…
From eBay...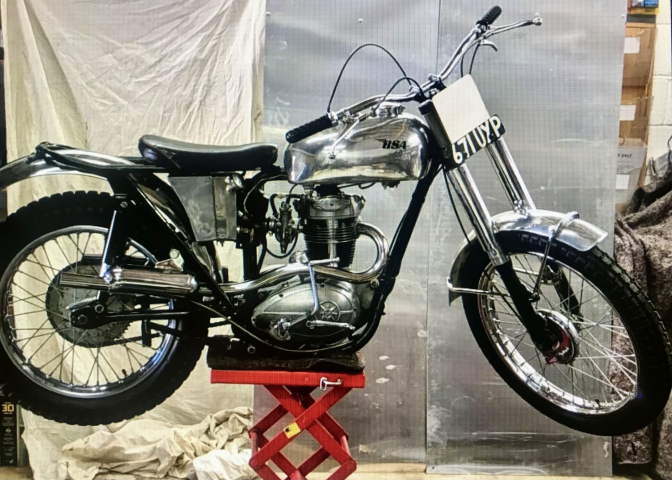 BSA C15T Original and immaculate superb 1962 competition machine. A true time warp bike. Correct matching numbers. Frame no. C15 S. 3826 Engine no. C15T 1508
The bike has received a full sympathetic restoration and is road registered in my name. All original parts reused in the restoration. The bike is, in fact, completely original right down to the side stand. Ready to compete on a true pre 65, or alternately would sit perfectly in any collection or museum. The only exception is the addition of electronic ignition (original energy transfer parts included with bike). The bike was supplied in a nonstandard form by the BSA factory and only available from the works competition department. With its aluminium fuel tank, special slim oil tank, Armstrong forks. Bantam Hubs etc. Supplied to, Mr Tom Ellis of Ripon Yorkshire on 30th March 1962 and collected in person from the factory. Registration series was issued 30th March 1962 by Yorkshire West Riding County Council to Mr Ellis as 427 AWU. Verified by the BSA owners club and confirmed by the club Librarian Mr Steve Foden. The bike was returned to the factory in 1964 (WHY) (Could have been on loan, Karl said, never thought of that, and Tom had a Back Door Key at BSA...) shortly before the works team was disbanded.
Then it was purchased from the factory by the late Mr Don Ainsley (latterly of the Wirral), who's Sister was then a secretary at the factory. He taxed the bike and competed until 1969 (tax disc present). There after the bike was laid up in his shed. His then Gardeners, Harry and Matty Smith, also of the Wirral, purchased the bike and immediately sold it to me a little over 4 years ago. I have registered the bike with the DVLA at present with an age related number (671 UYP) which one should consider an appeal against as recommended by the BSAOC as they have gone against probability and common law and should award original number 427AWU.
From eBay 2019…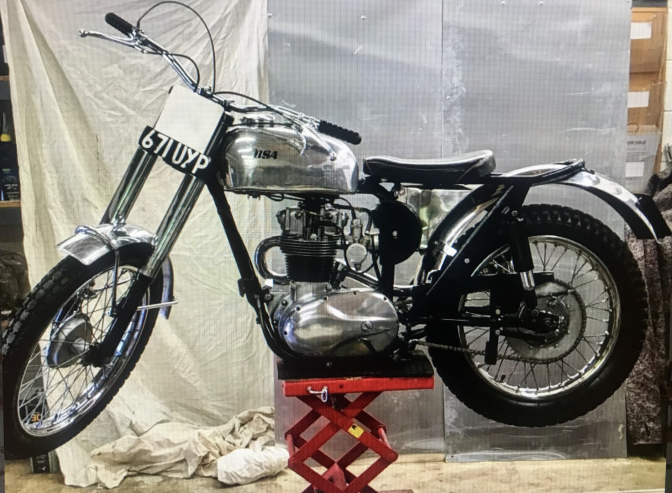 The BSA C15T that was one that passed through Tom Ellis's hands and could well have been ridden by him a couple of times...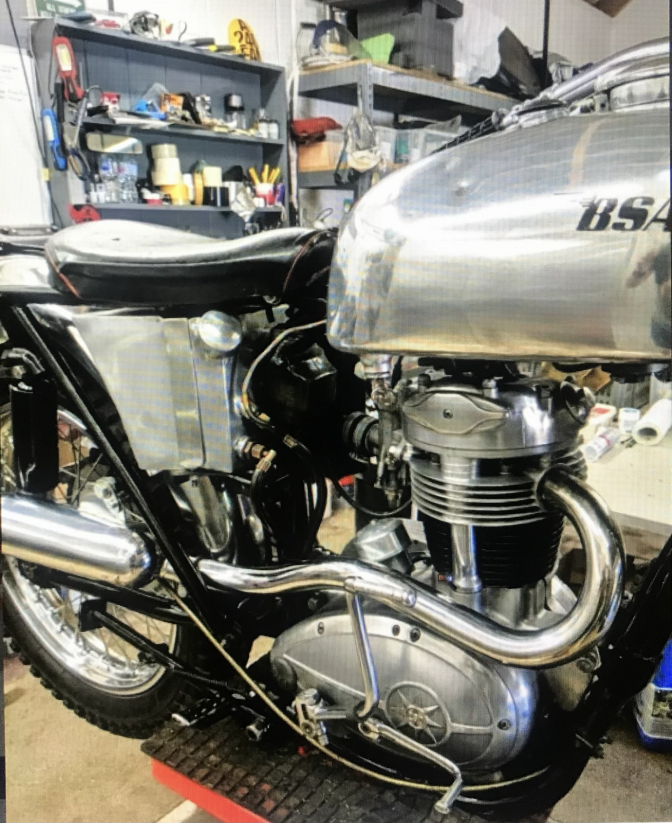 This is story Number One, and Bike Number One...
~~~~~~~
Karl's bike Number Two... will be the next in line later when we have established more...
And number three. I am currently looking into..
Number Three...
Has now been Sold from a perveyor of Classic Cars and Motorcycles in Kent...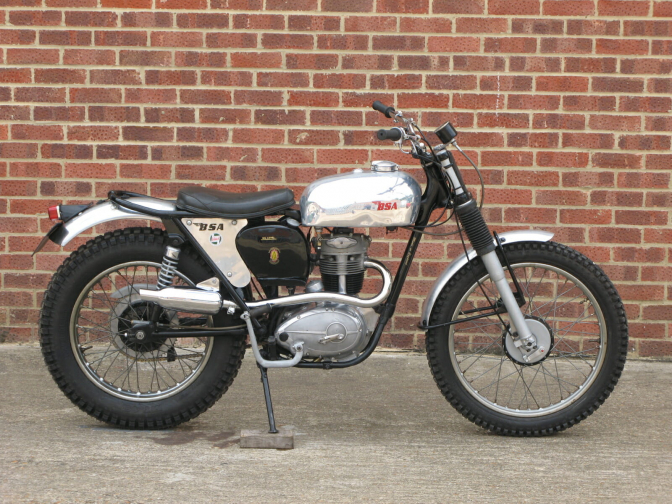 This 1959 BSA C15T has the correct frame and period engine fitted, and portrays the correct details of a genuine C15T from this year, with one or two upgrades that an ex works rider would fit to a model that he had ridden...
The front mudguard brackets are of a works pattern but from a later period, say 1964... BSA Bantam later hubs are again fitted as were on the Works bikes from 1961... The oil tank is also later but of a design used in again 1964... And looks the part... A nice correct rebuild...
Information...Now Sold...
Dispatched from the BSA factory on the 23rd April 1959 to T. Ellis Ripon, Yorks. This 250cc Trials C15S (Frame numbers are S for C15T models) remains in good general order and in good useable condition, it has been well maintained and appears to be very original. Fitted with the original alloy fuel tank that does have a few dents, it also does have a working speedo. A good useable light weight classic it comes with road registration documents and dating info from the Old Bike Register.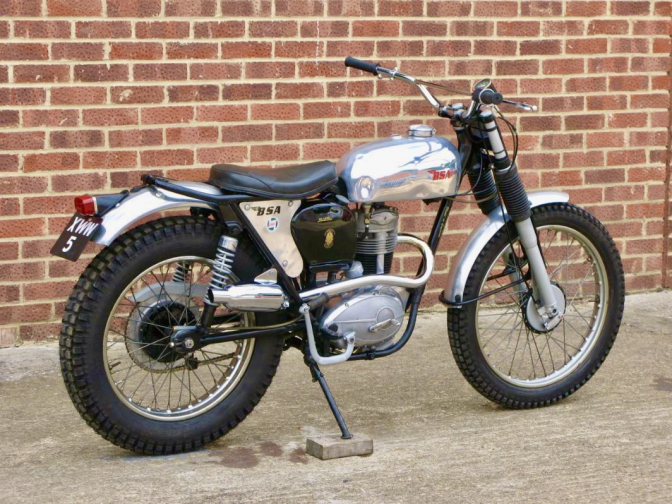 Photo Courtesy Anthony Godin...
Clearly wearing the XWW 5 plate...
This is what Anthony said...
Dear Karl, Thank's for you email. I didn't know that bike was reported to have been owned by Tom Ellis. It was carrying the registration number XWW5 when we had it, but I know that this number had already been removed and replaced with the number 810 UYX. I don't have any historical photos just the ones we took when we got the BSA trials bike...…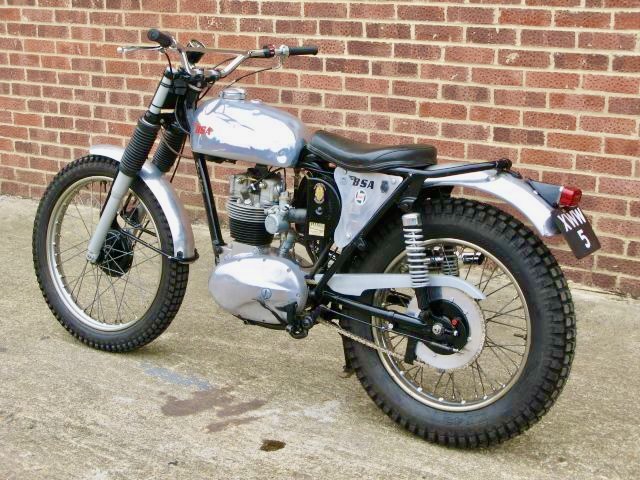 Photo Courtesy Anthony Godin...
With the correct frame number this must have been the bike that was registered with the XWW5 plate by the DVLA in 1959...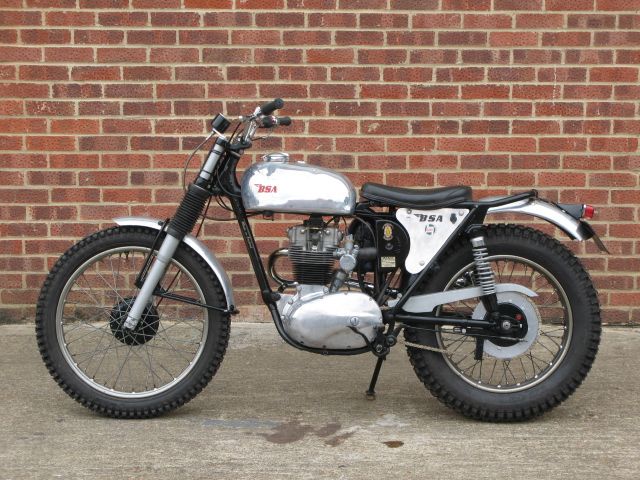 Photo Courtesy Anthony Godin...
This BSAC15t wearing all the correct period parts including the Amal Monoblock carburetor
~~~~~~~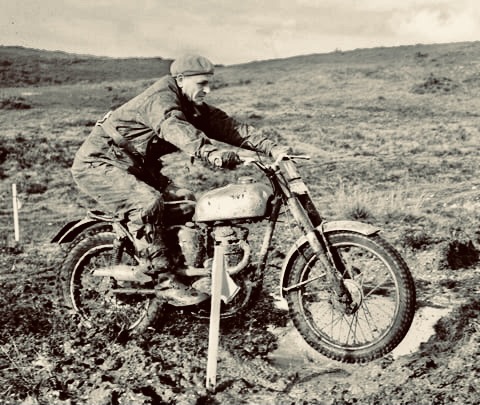 Photo Courtesy Trials Express with Permission from Deryk Wylde ...
Here Jeff Smith riding his works BSA C15T in the 1962 Ringwood clubs Perce Simon trial, he was runner up that year, with the front mudguard stays that I said from 1964, so I got that wrong. See how easy it is...
13/02/2022...
From Ian Ballard...
Puzzelled...
Hope all well and bike building going OK...
The puzzle I refer to is the

Tom Ellis

BSA

in factory form and it's special oil tank. Well as you know mine has an identical tank and have seen another on a bike at

Mortimer

and in

Trials Central

on one of

Deryk's

posts from a few years ago. This makes at least four, but I cannot get my head around the idea they were fitted at the factory, if so why not fit them to the proper works bikes.
The petrol tanks I know we're supplied by

Lyta

, but

Brian

never mentioned the supply of oil tanks.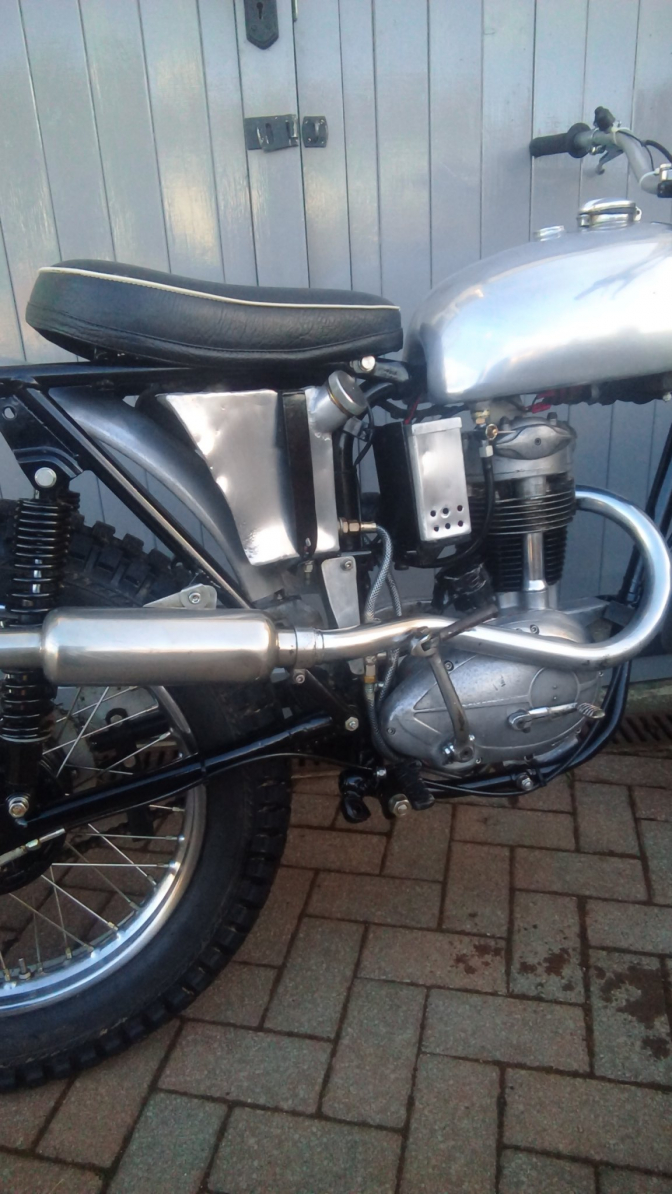 Ian's

Oil tank on his

C15T...
I think they were probably made as accessories and sold by trials specialist, but would love to be proved wrong. Mine also has an aluminium air cleaner cover and chain guard, and I have found a picture of these on

Jim Sandford's

factory bike, but it still had a steel oil tank.
Morning

Ian…
Yes this story gets better…
Yesterday

Karl

mailed me and said the bike from

Godin's

Had the

XWW5

registration (I thought it did) on the bike, he rang up to buy it and

Anthony Godin

said it should not have been on the bike and took the photo down. You don't think that reg No is not now on a

Porche

like

32 YG..

? this was registered on a

BSA

on the

06/03/1962

by

Tom Ellis…

but

DVLA

won't say it was on a

C15

the bike

Karl

has that came with the number. And

Tom

rode a

C15

with that number in the

1963-4

Scottish..
"I have just checked out
XWW 5
on the
DVLA
web site and the number is now not registered with them. I also have a photo of the

BSA C15T

sporting a steel (original tank) being ridden by the late

Tom Ellis

around what looks like an arena. and this bike is wearing the number

XWW 5

...
I can't use the photo because of copyright..."
You are right about the oil tanks I recon someone was making them, as an after market item.. and I can't find one on a factory bike…
About

1962-3

Taylor Dow

were selling tanks very like these for

Gold

Stars,

and I know

Brian

from

Lyta

was making the

Goldie

fuel tanks they sold. Good story getting better

Ian.

. Can you take a couple of photo's of your oil tank again for me… and one or two of the bike…
Thank's

Ian…
The more that I look at the oil tank the more I think

Taylor Dow…
I can remember a row of oil tanks and top yokes in a glass fronted counter. And the fuel tanks lined up on a shelf behind.

Ken Gardner

used to be the man that served you. I don't know if

John Gleed

is still with us, but if he is he would know. I will do a bit more digging…
Alcan Aluminium

was just down the same road as

TD

, and

Frank

Knight

who worked in the R&D department was big mates with

Eddie

Dow

… so they could have been made there…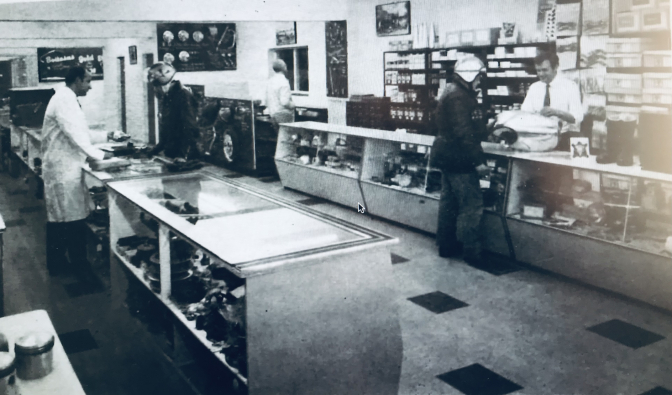 (

Taylor Dow) Eddie Dow Ltd

showroom stores counter...
There you go

Ian..

. Oil tanks in glass counter left hand side...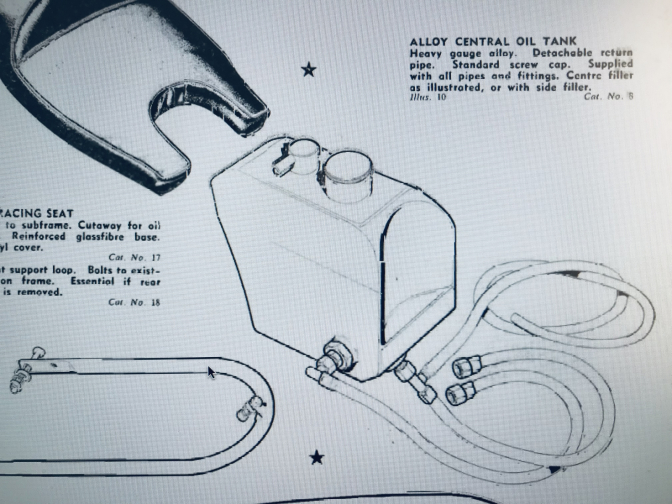 Gold Star

central alloy Oil Tank...
Taylor-Dow (Eddie Dow)

also sold trials parts for

BSA

,

Cheney,

and

DOT

... along with universal parts..
So Much More Later...
Updat2023..06...