Welcome,
Benvenuto,
Bienvenido,
Bienvenue.
To BSA "Otter".Com.
The "BSA Otter", 2018 News page.
For all that is happening in the
"Classic" Motorcycle Trials World.
BSA Otter.Com from Anthony Prescott on Vimeo.
From BSA Otter Dot Com,
A very Happy Year in 2018.
New pages on tomorrow.
Now Weekend.
And Updated pages most days of the year.
And we are going to make this year 2018 A year to Remember.............
At BSA Otter!
So Jumping into the New Year.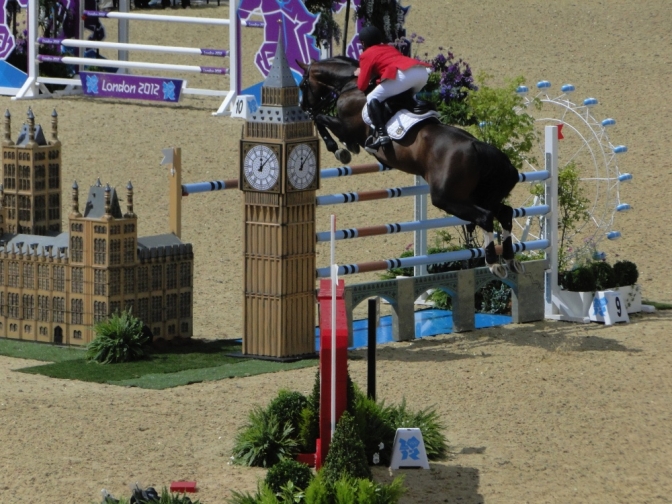 And I did like the challenge of constructing, along with my brother, and then air brushing, The Queens tower (Big Ben), and the Palace of Westminster.
We will try and make this year more Art,y one way or another.
With a detailed page on the methods of finishing your rebuilt machine and I hope that is a "BSA Otter".
Also we will try and build another BSA Otter cheaper than the BSA "Otter On The Cheap" from a few years ago.
This time we will use parts like ignition and carburation etc, that has not necessarally been tried before on a BSA unit motor,( all though we all know someone will have done it) and try and find other ways to save costs on a BSA Otter Build.
But you Now know how this page grows in twelve months, with stories that we dont even know is going to happen.
I will when I find time shortly, trying to find an easy way of letting you all know that are interested, when a New page , or interesting News Is published.
It will just mean that I will have to have your e-mail address, but it will only get used from this site, and NO others.
Much More Later.
You know how it works.
~~~~~~~
15/01/2018.
Britannia Project Page update.
A Readers Page update another good reply,
Please send me your comments.
~~~~~~~
14/01/2018/.
A Readers Page, updated with a letter that I need you to comment about.
17:00. one reply already.
~~~~~~~
BSA Bantam Build page updated.
~~~~~~~
Look who the boys met this week, a true Hero.
Steph Jeavons.
She has been travelling around the world for Four years on her trusty
Honda, "Rhonda"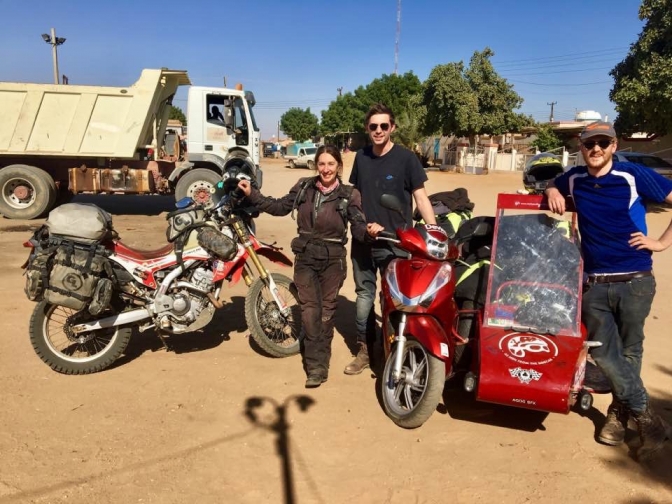 13/01/2018.
The boy's have made Khartoum. but had a few problems, link later.
https://www.facebook.com/AsSeenfromtheSidecar/videos/557267607939846/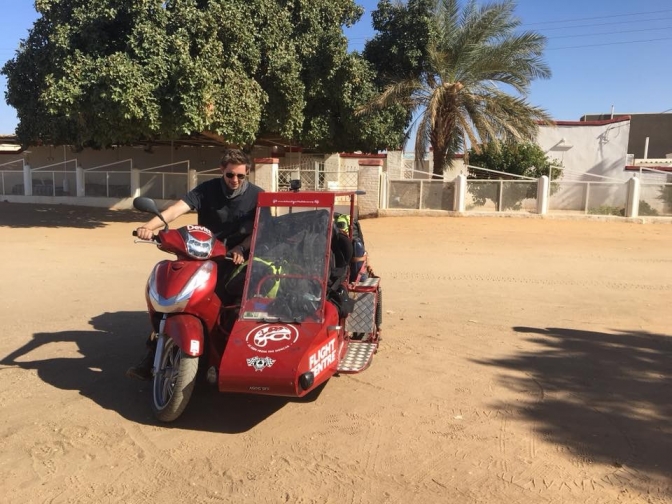 13/01/2018.
Pre 65 Rules page updated.
12/01/2018.
Just looking for stuff about Triumph Side-valve bikes and found this.
Enjoy interesting.
10/10/2018.
New Page " Patrick Elliott Honda One Off".
09/01/2018.
"BSA "Dizzy" Upgrade" page updated.
08/01/2018.
"Henbest Family BSA's" Page Updated.
07/01/2018.
Ian Ballard Page Updated.
Matt and Reece have reached Abu Simbel, the end of there Egyptian tour.
Now into the Sudan.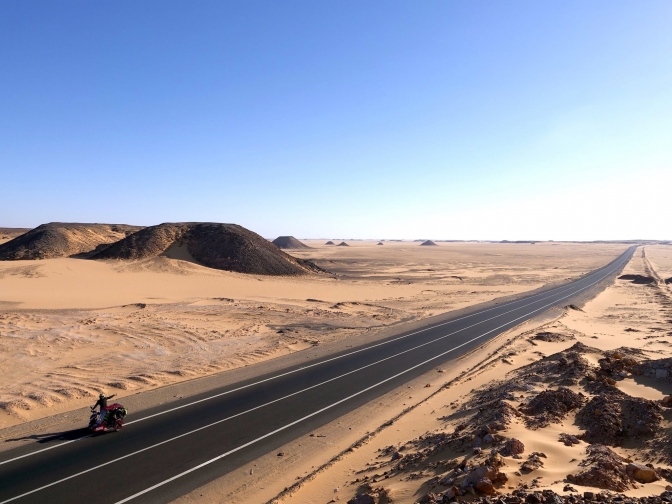 Photos Courtesy "As Seen From The Sidecar."© 01/01/2018.
"Lets get out of this "daw-gawn desert."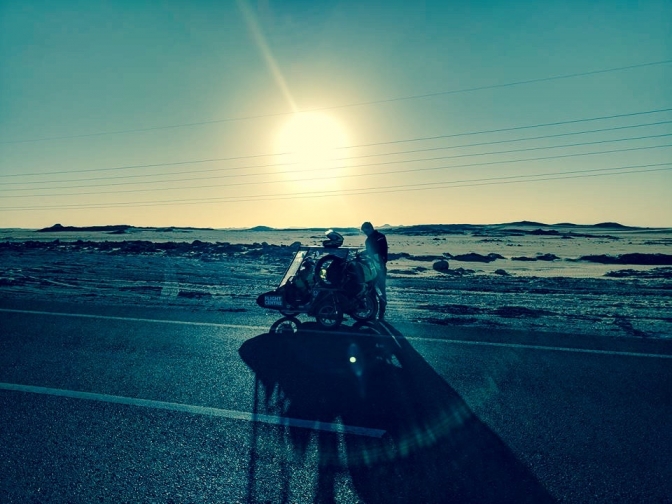 Where Are You Honda ?
If as I have said before I was Mr Honda I would take care of these boys and there trusty Honda SH300I. This is know longer a joke exercise, this is the REAL thing. around the World on a Honda Scooter attached to a Sidecar. How much publicity can you turn away???
288Klm today through this desert.
Link Later.
06/01/2018.
The B40 Otter named "Bessie" page updated.
05/01/2018.
Happy Birthday to me.
Watch this little video.
We are running our New eRanger Ambulance around the Country (UK)
To as many Motorcycle shows, and events we can get to, to support Claire and her mission in life.
Matt and Reece are going to visit Claire on the "Flight Centre" scooter-sidecar in a couple of months ? so watch this space.
04/01/2018.
"A Readers Page" Updated,
and please use it, your bike has got to be intresting to us all.
You only have to mail me.
"The Boys" Matt and Reece Now in the desert had a puncture,
"Have you got Tyre (tire) sealant" I said.
"No But we have got repair plugs"
"OK what happens when you have a puncture right in the middle of The Sudan?
I said they would have to learn fast.
They should have hooked up with this guy.
01/01/2018.
"Otter On The Cheap" Page Updated.