The 1967 BSA B40 WD,
was adopted by the British Army to replace the aged M20 model, that had seen service before the Second World war.
If you have been a follower of this web site, you will know by now that most of the early development work on the BSA B40WD, was done by my friend, Pat Slinn, from the BSA Competition department.
Pat even rode one of the development B40WD's in the ISDT, which helped prove to the Army powers that were at the time, that this was the machine to replace the old BSA M20 model.
So here is what Peter Fraser of The Blue-un, Motor Cycle, had to say about the machine.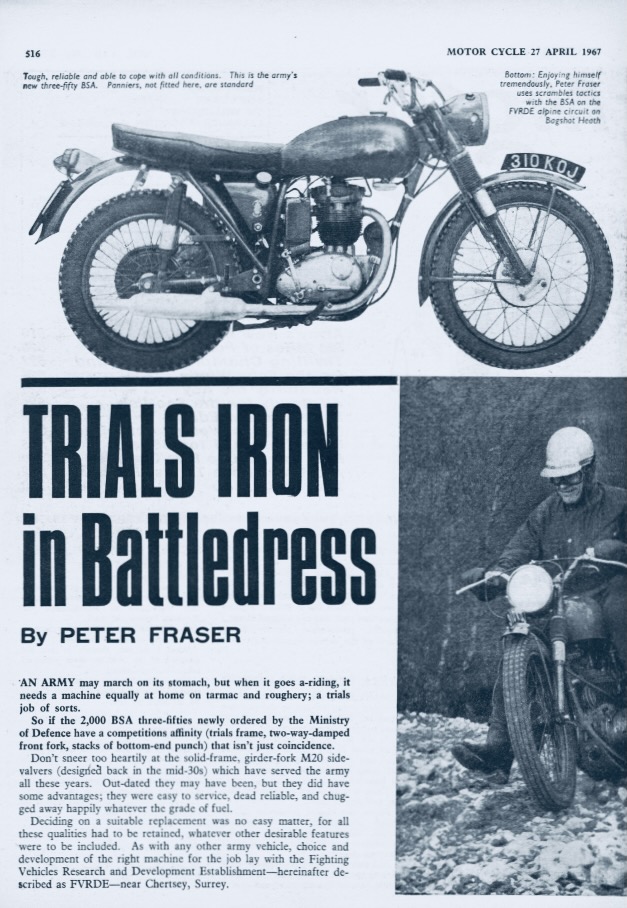 Page Two...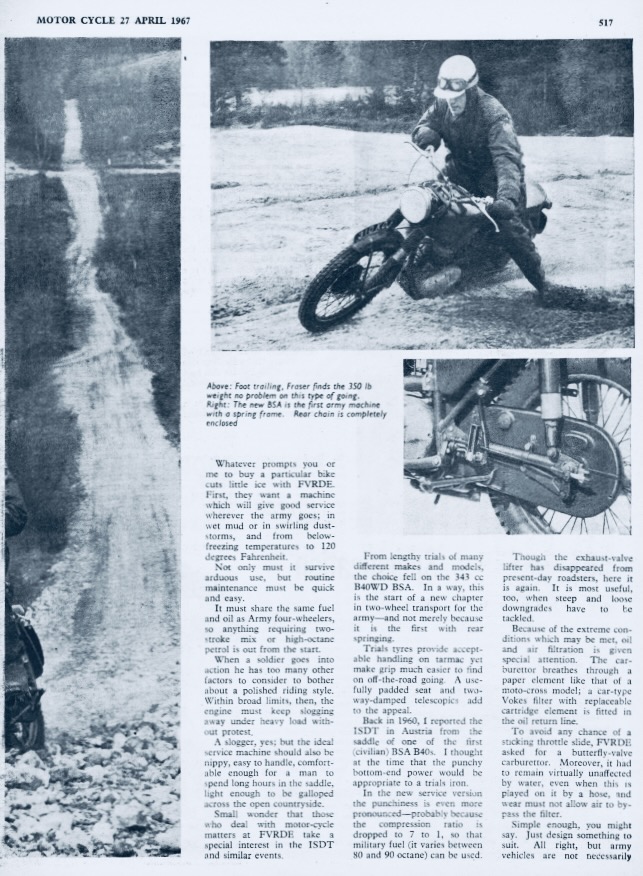 Page Three...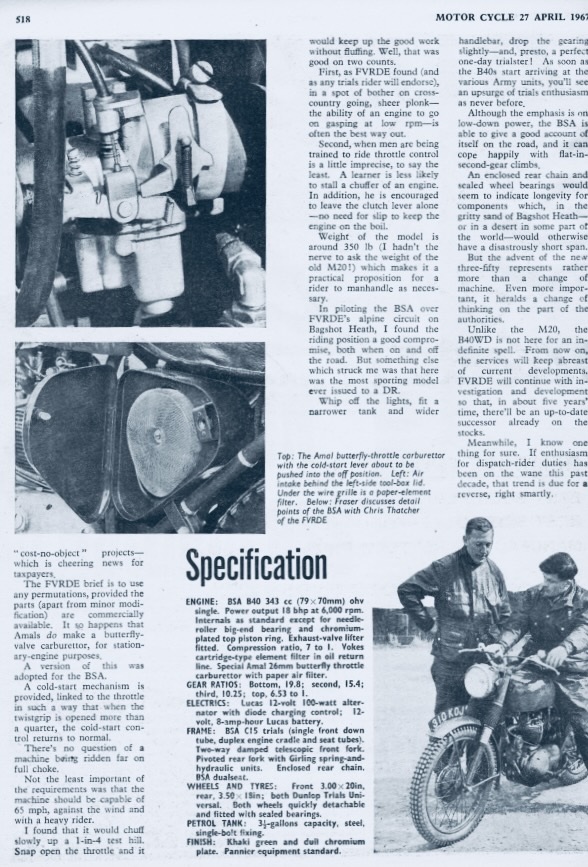 I have a Photo of Pat Slinn riding his ISDT version if I can find it out.
This is from the Pat Slinn Story.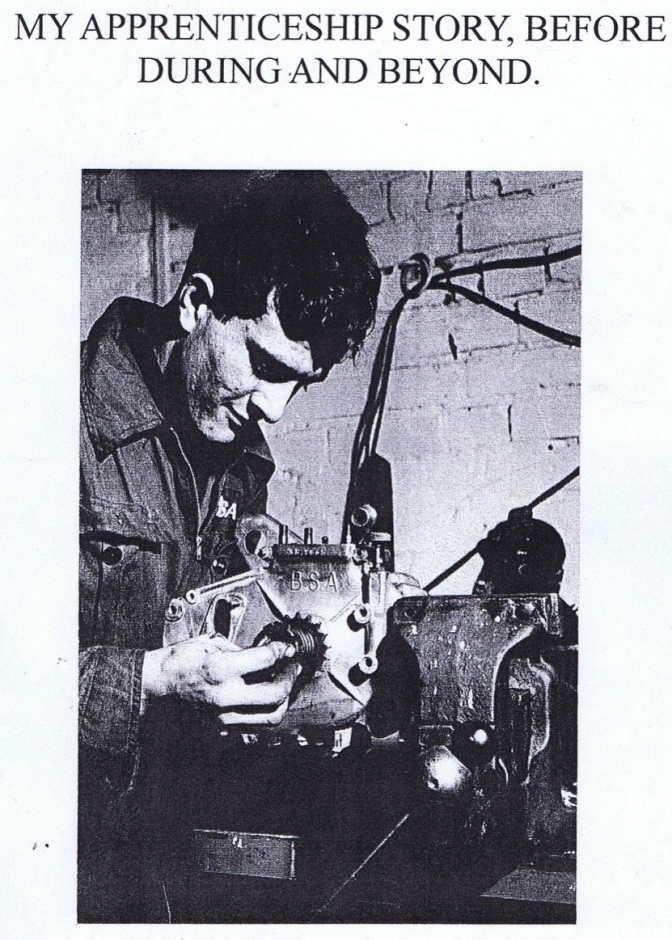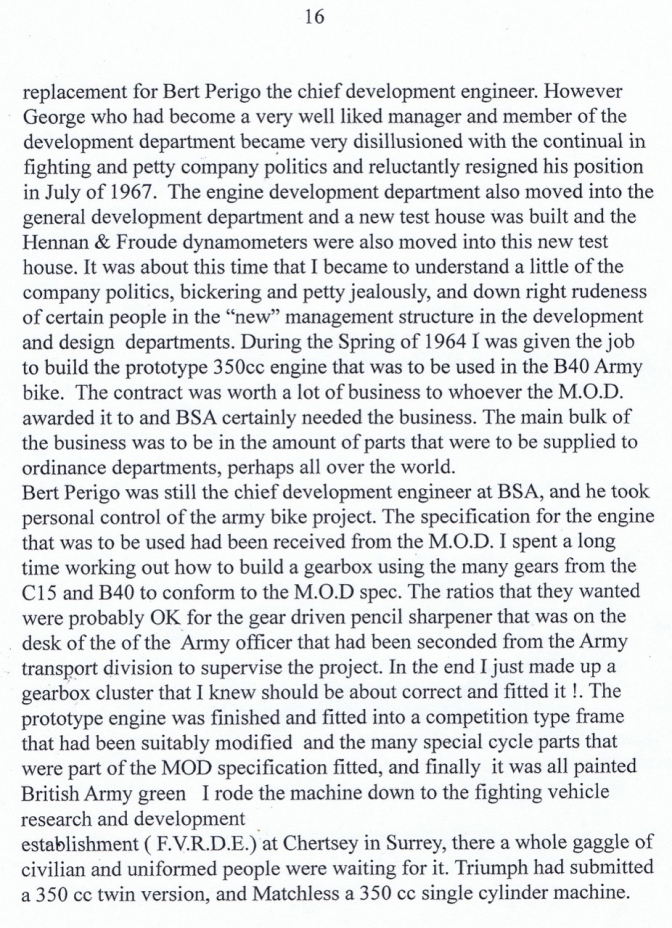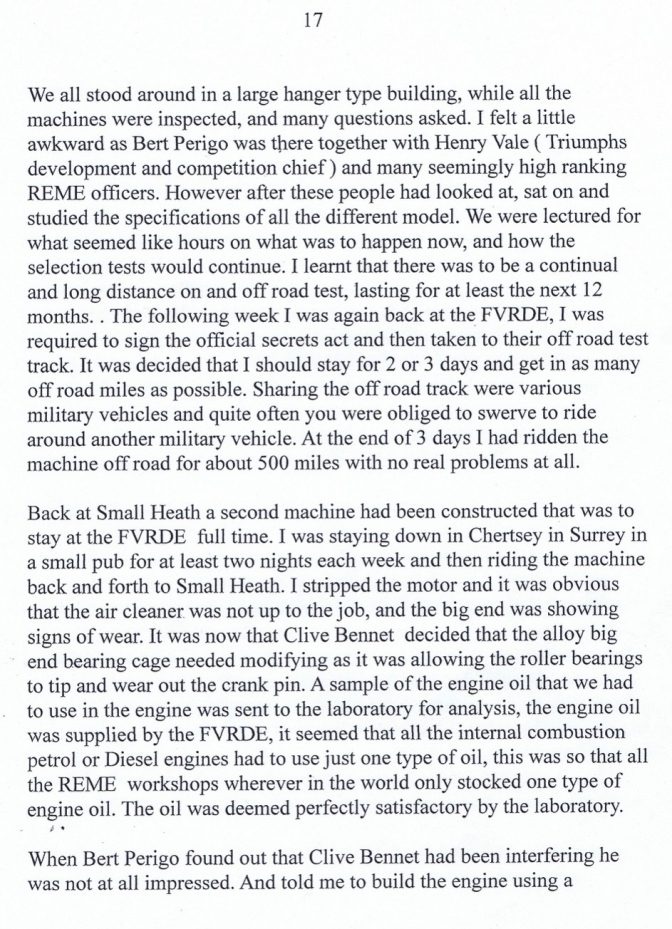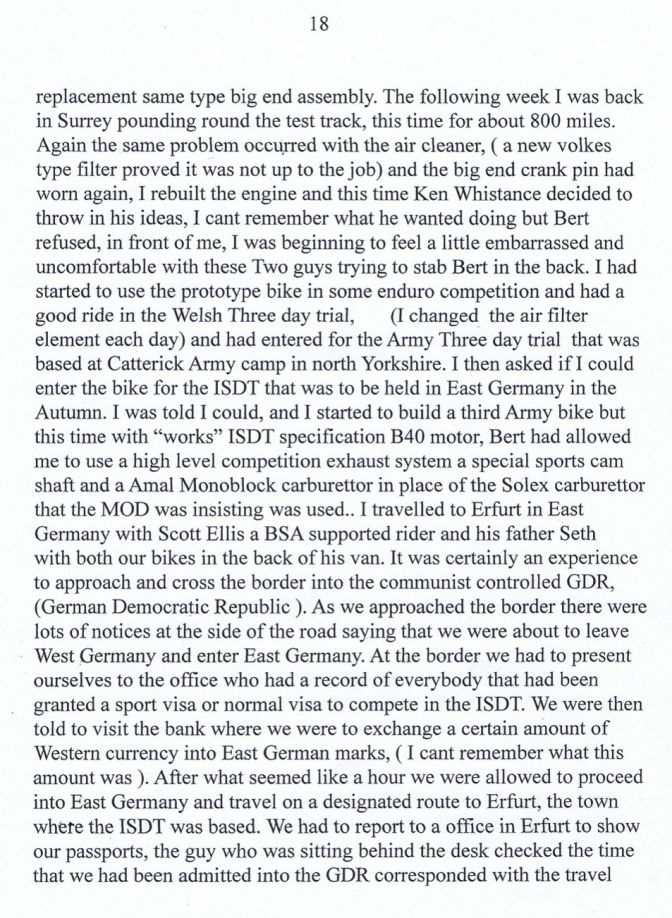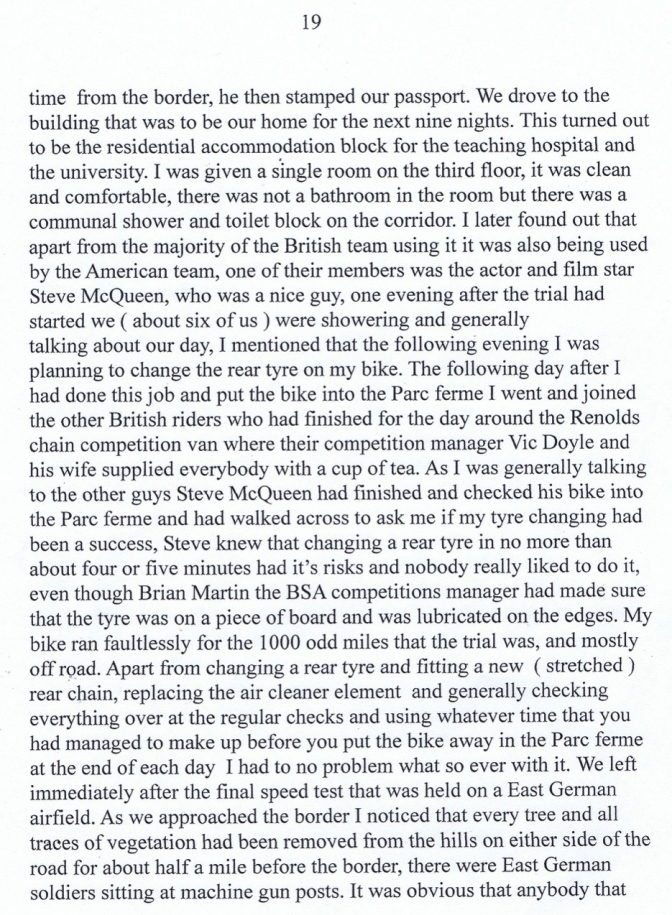 was trying to sneak across the border had no cover at all. We had to open the back of the van and a dog was sent in amongst the bikes and equipment to flush out anybody that was hiding, other guards were checking beneath the van with poles and mirrors attached to the ends. I asked about changing the East German marks back to western currency, and I was told that the bank was closed and would not open again that day, I was directed to a shop where I could buy something with my marks, so I bought a bottle of plum brandy, I still have the empty bottle...It was also noticeable that the border guards and officials when we left the DDR were not has friendly or cooperative as when we entered the country...
~~~~~~~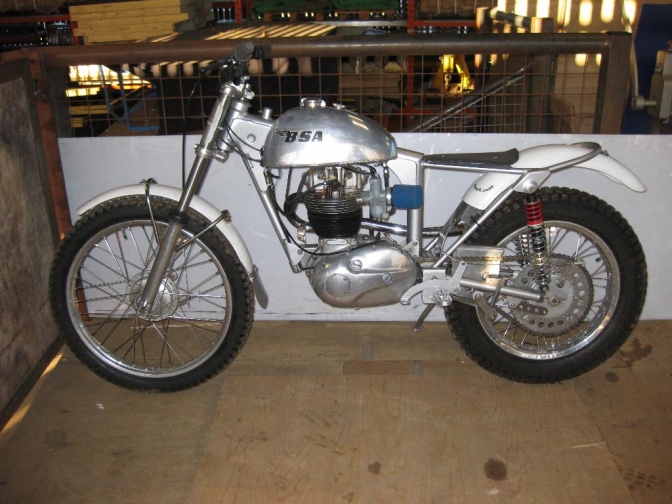 Here is one of those B40WD engines from 1967 as used in my BSA "Otter-On -The-Cheap".
More about the B40WD Here Later.
We Now move onto the Victor Trials Bike Built by Jock Wilson, that has we now know was a few years before its time. Wuuuuuuuuush, "Back to the Future" perhaps.
Again let Peter Fraser give you the story from way back then.
Revivalist Mission.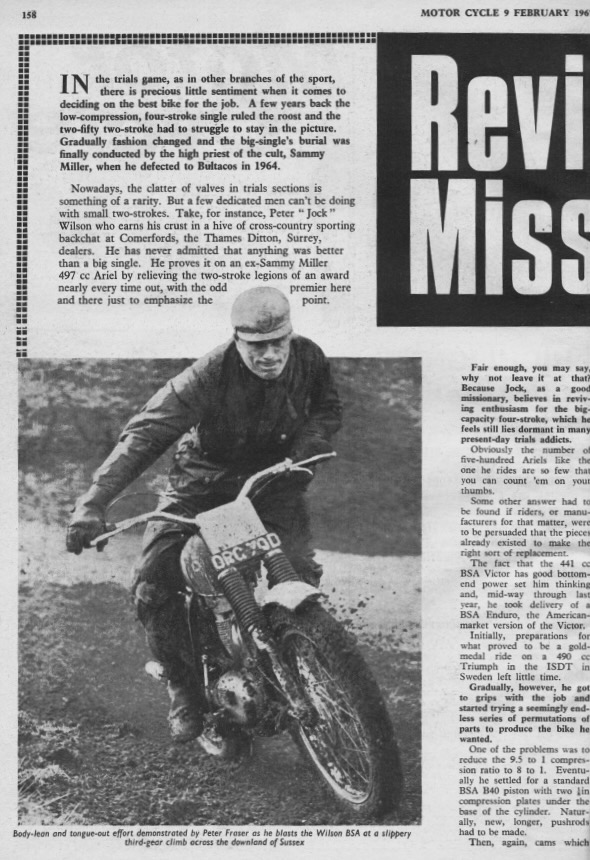 Page Two...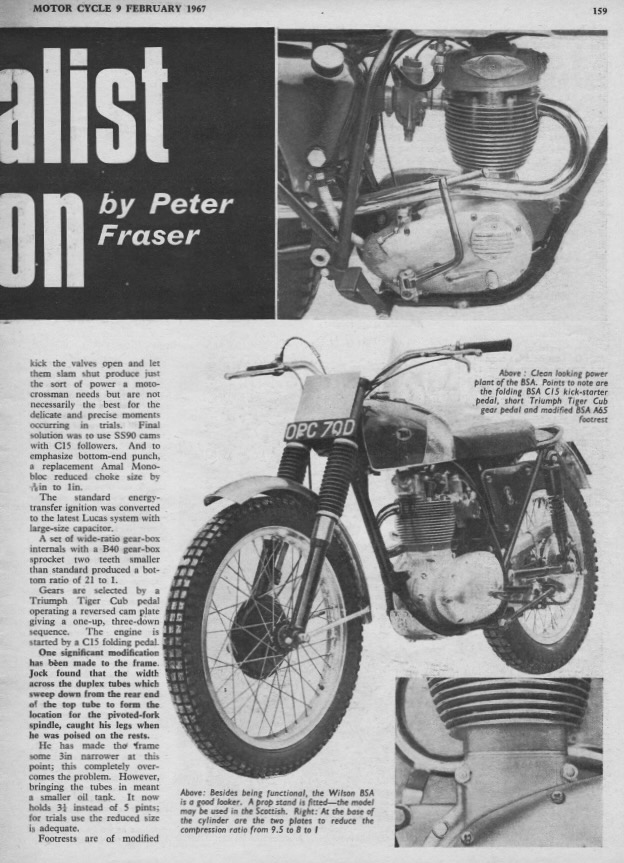 Page Three...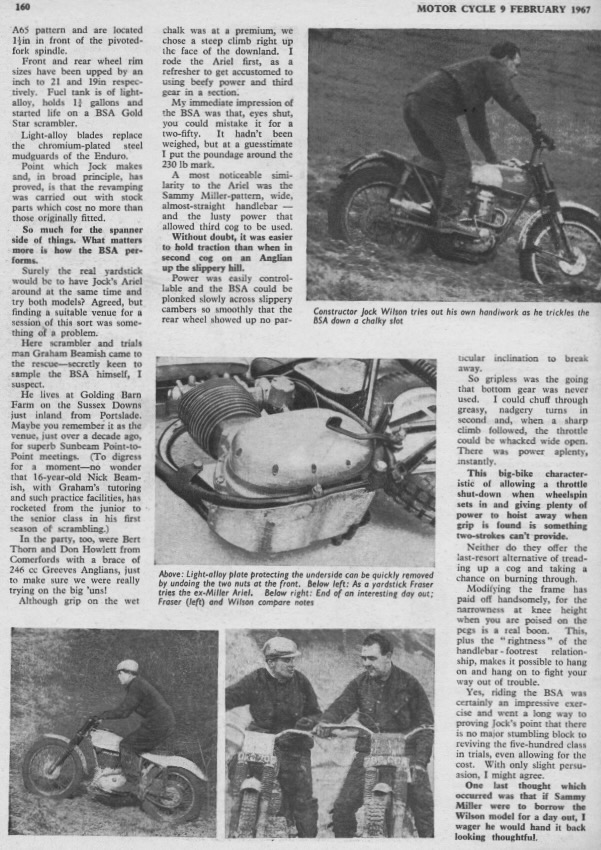 I always think... "What Comes Around Goes Around". Would they Class this machine as Pre 65 Today?
Or has it got to wait until next Time around?
The Ariel that Peter Fraser is riding is Sammy Miller's Second String bike GON, but with the trick parts from GOV132 now fitted. (Story on these pages).
It is amazing how parts in a Comerford's showroom would change themselves over night.
Have you watched "Toy Story"?
Quote].One last thought which occurred was that if Sammy Miller were to borrow the Wilson model for a day out, I wager he would hand it back looking thoughtful}.
Well we now know that is just what Sammy did and in the year 2000 he enticed Howard Fawkes from Faber Frames, to up the anti a bit further by taking over production of a now copy frame to improve the breed further.
With the revised "BSA Otter" frame. The BSA bikes he put together before that were very much like the Jock Wilson BSAVictor bike...
~~~~~~~
Date: 16 January 2011 14:22 From Pat Slinn.
Hi Charlie,
I knew Jock Wilson well and we often used to talk about engine spec etc. I think I can remember the article that was in the blue un. I played about with a BSA 441 trials motor ( in my practice/development bike !!!) I think I used it in some Midland centre trials, I did think about using it in the Scottish, but finished up using a B40 with a o/s piston. I think I found that a C15 road cam with flat followers was best. Dural cam and 1/2 time pinion wheels together with Dural clutches were available from the States, ( I brought a set back with me once), I used to machine and drill holes in mine, I was lucky because I could get these and other components that could be machined and drilled before they were heat treated.
One little known fact is that I fitted the prototype B40 Army motors with Dural cam and pinion wheels, and Dural clutches to get round the "tight" weight specifications that the MOD specified.
( But that is another story). Perhaps I am still obliged to obey the official secrets act, that I had to sign when I was project engineer on the Army bike and spending a lot of time at the Fighting vehicle and development establishment !!, (Could they shoot me ??!! ) What I can remember about the gear clusters Charlie, is that the gears that were fitted to the original production B40 Army bike had a low first and second gear, so was acceptable for trials use. However, some bikes were specified by the MOD for long distance convoy work etc, so they had B40 road gearboxes.
The permutations and specifications for the "Military" bikes and engines were wide, eg, British Army, Military police, Navy and Air-Force, and customs and excise to name a few that I can remember. Danish Army, Swedish Army, Australian Army, the Australians actually used some of theirs in Vietnam during the war !.
At least two were sent for US Military evaluation to BSA incorporated on the West coast of the States.
I often thought what ever happened to them.
I do not know what happened to British Army bikes that were modified, ( some with works bits) for ISDT trials etc. Another story ?
The B40 looking Army bike that I used for my Gold medal in the 1964 ISDT in East Germany, was nearer to a pucca ISDT bike than a Army bike, I was told by Brian Martin and Bert Perigo that that success sealed the contract for BSA.
I believe that the MOD were told that it was Army specification, ( Official secrets act ?). In the final speed test, ( road race,) at the end it was faster than John Lewis's "comp shop" built B40, however I thought it diplomatically politically correct for me NOT to pass John!
I am trying to establish for that guy in the States that I told you about that has BSA 420 scrambles engine some of the original spec, I have emailed Jeff Smith, hopefully I will get an answer.
Did you know that Jeff is the guest of honor at Wrightys show in February ?, I have a ticket for the JV Smith dinner.
To get back to the original subject, ! My C15 has a std C15 cam and followers, std piston, and a 7/8" monobloc carburetor . Whatever you may read Charlie the majority of "works" C15 trials motors were built to a std spec. Some had Dural clutches, and alloy barrels, and lightened bit's. But the spec remained std.
I have started to try to find out where the BSA archive is, my daughter runs the Borthwick institute of historical research at York, and she once told me that a lot of the BSA archive is still with Birmingham council, however talking to them, ( it was like ringing blood from a stone,) they admitted that a lot of it was un sorted and from what I could gather still in boxes.
They also told me that a lot of it was in the custody of Solihull CC !
The old works manager from Small Heath, a guy called Alistair Cave was trying to sort it, but he has now left us. I asked Birmingham and Solihull councils if they had any of the records from the comp and development shops, and they thought not. I know that when Small Heath was closing loads of photos etc were just thrown out, I was working for BSA/Triumph in Germany then and on one of my monthly visits I rescued some photos etc.
Sorry to have rambled Charlie,
Stay in touch,
Pat.

From: Charlie Prescott
Sent: Sunday, January 16, 2011 12:12 PM
To: Pat Slinn
Subject: Re: BSA scrambler

Hi Pat ,
Thank's for that, Just need you to keep me on the straight and narrow.
I have just found an old Motor-Cycle (blue un) article about the Victor trials bike that Jock Wilson built for Comerfords, out of a B44 1967 American enduro? bike. And he says that after playing with cams etc for a long time, he ended up using SS90 cams and C15 cam followers. Much the same has you have just said!! So that's what I will start with them.
Looking at the picture of the bike, it seems he used a square barrel and "turned it round" to match the head.
On the Victor he used a 1" Amal mono-block carb. Should I look to use a 7/8 standard C15 head would you think? I am thinking to increase the piston size slightly? Did you ever try Dural cam wheels, as I know there were some about.
When I sprinted my Tiger Cub I polished every thing in the engine and lightened the cam wheel etc, then got a tool maker that worked opposite at the time, to re balance every thing. It was quick and sounded more like something built in Japan.
PS, A guy from America was over at the time and used to hang about North Bar Garage. He had a Triumph Cub in the states and showed me how to port the motor, every thing was done with files then, no dremmels, hey. I lost just as much skin from my hands as Alloy from the head.
~~~~~~~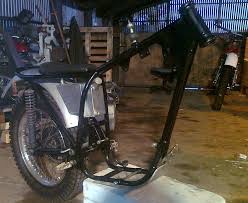 Here is a frame I converted a few years back, that is very much like "Jocks" BSA Victor conversion.
Note: now how fashion has changed, and we have the footrests now moved back and a lot lower.
Is that to do with better tyres? and over the years since 1967 treating the position of the body and weight distribution, to how the machine rides best as a science? Or is it just that the sections are now that much different.
More BSA B40's. later.
Updat 2023...03...