Royal Enfield 350-360 Crusader trials...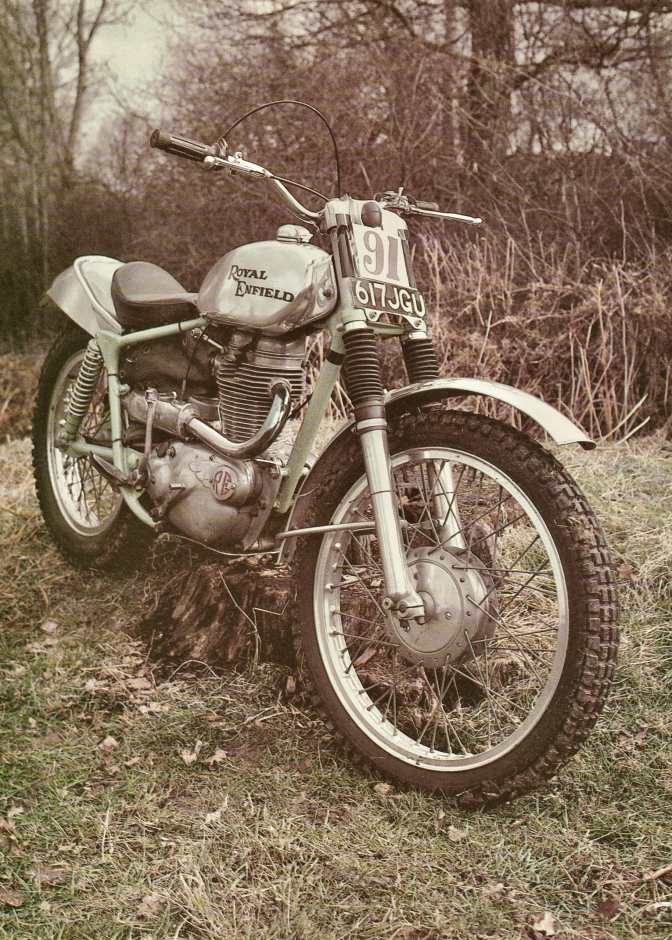 Photo thank's to our mate Ian Ballard...
Here is a great photo of Mike Peelings 360 Crusader fitted with the ex Peter Gaunt old works engine, from the bike Peter rode in the 1964 Scottish, and in 1965 then went on to try and develop the bike further like he did with all of his machines.
Mike had found the engine after a tip off from a mate about a bike rotting in Swindon this was in a very sad state and thought to be a 250. It was not until he needed to replace the engine in his own now tired machine that he realised that nothing from the engine was the same as his 250 lump.
After measuring the cc's it was found that it was 360 and fitted with a Ariel modified piston. The engine was reassembled and fitted into Mike's rolling chassis. But the bike turned out to be nearly unridable and more like a scrambles bike in performance. The engine eventually started to rattle badly and it was found that the crank-pin had been turning in the flywheels and had turned them to scrap.
Mike had no choice but to make new wheels, and had the skill being a first class engineer, so he took advantage of the space inside the crankcases and made the new flywheels nearly half an inch wider. He also fitted a 5 1/2 lbs extra flywheel in the case space behind the alternator, this was fitted on a shaft made for the job, so the extra weight should have made the motor more tractable. The great shame about the bike was, even with reduced compression ratio (several times, ) and a lower compression piston fitted the engine still was harsh, and with no cushdrive to soften the power would take teeth off of the gears, that were also unreplaceable, unless re-made.
The induction tract of the bike was also then modified with new routing and less downdraft, as suggested by the same Amal engineer that had tried to persuade Royal Enfield to carry out this exercise all those years ago. This transformed the bikes power, a job that the factory could have done if they had listened. So with only six road bikes built and two trials engines these 350-360 Crusader engines are very rare...
After rebuilding his own 360 engine Mike Peeling also rebuilt the ex Peter Fletcher, Don Morley, works 250 Crusader engine into a 360, for trials rider Dennis Keene, another winner with the bigger unit engine.
Don Morley said that Mike's now modified 360 Crusader was the best and lightest 350 trials fourstroke bike he had ever ridden.. That can't be a bad statement...when this engine started out as a disaster when built by the Royal Enfield factory.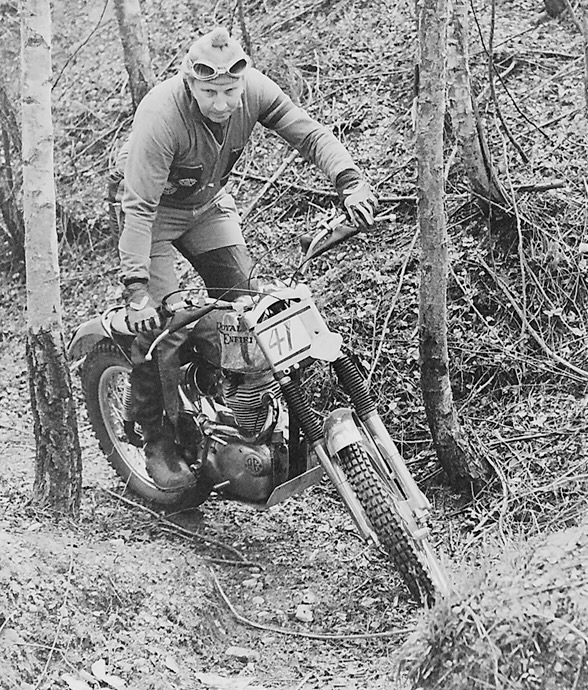 Photo Courtesy Deryk Wylde (Trials Express)
Here is Dennis Keene riding that self same machine........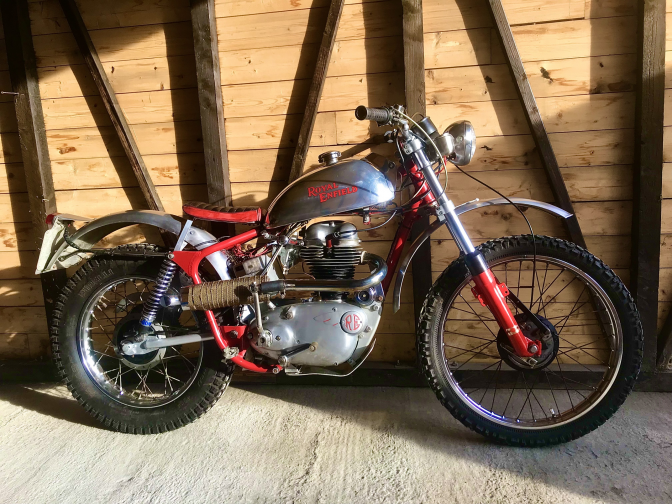 Royal Enfield Crusader 350 Trials…
Mark has landed himself a rare beast of a bike.
This Crusader has 10 fins on the barrel, and the three fifties I recall has having nine, over the two fifties eight.
Mark says there is no records of the engine from the Royal Enfield factory, so was this a one off built in the experimental shop at Redditch? To be honest we don't know, and I have not had contact from Ray Tew for a while, and he would be the man that probably would know…
I may be able to get information from Allan Hitchcock, If I can get hold of him.
Mark and I think that a page with what we have on the bike and the fact that other pages have started like this, may come up with some information from you the readers.
And the superb photos that Mark has taken of the machine might jog a few memories of the bikes past life.
We hope so…
Here is what Mark knows about his machines history so far.
A true one off Mark.
~~~~~~~
So from what I have found out so far
The bike came out of the Royal Enfield factory in September 1962 and was a 250 crusader sport.
It then went to Warburton Bros dealer in Hazel Grove Stockport.
It then vanished for 40 odd years and got road registered with an age related plate in 2005.
It has Betor front forks Hagon shocks Renthal bars.
The rear sprocket is a 66 tooth and of course has the 350 lump in it.
The chap I bought it from had it a year or so, and he bought it from an elderly chap from the Derbyshire area but I haven't been able to get his name.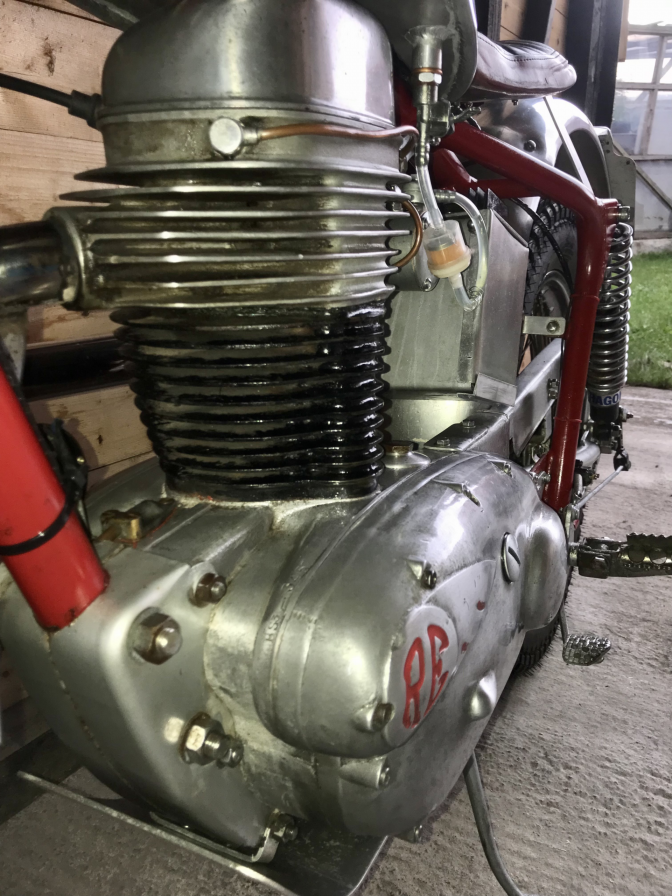 You can see that yes there are TEN fins to the barrel...
You can see who ever converted the Royal Enfield machine into a trials bike did a very professional job, and looks a lot like the Peter Gaunt machine.
Do you know who built it?
I do know that the late Keith Horseman had a lot to do with Royal Enfields in his life, could it be one that he built up......?
And he did love tinkering with motors.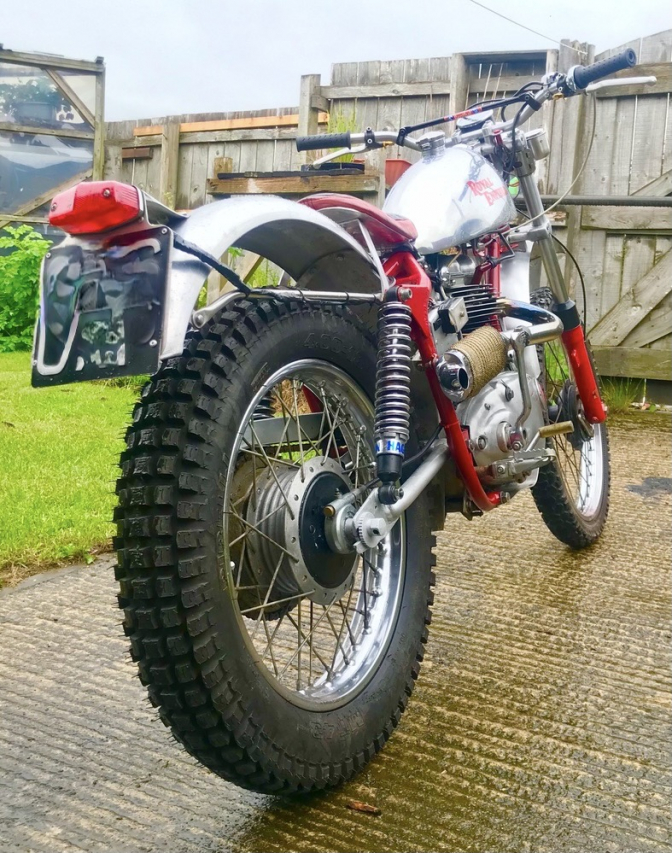 The Royal Enfield machine looks good from all angles, dont you think?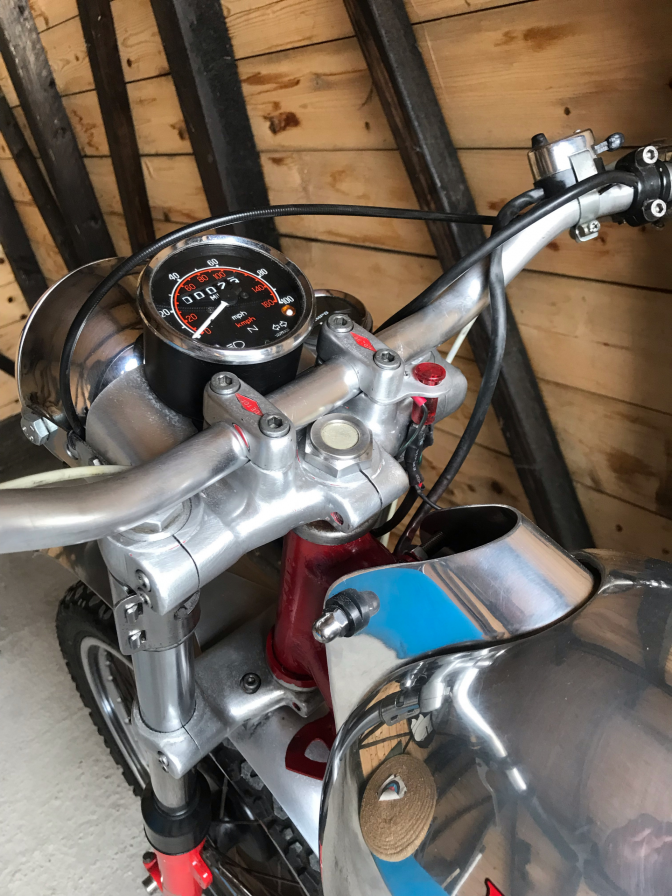 The Betor forks fitted by an expert I think.
Fuel tank the same as Hitchcock's have...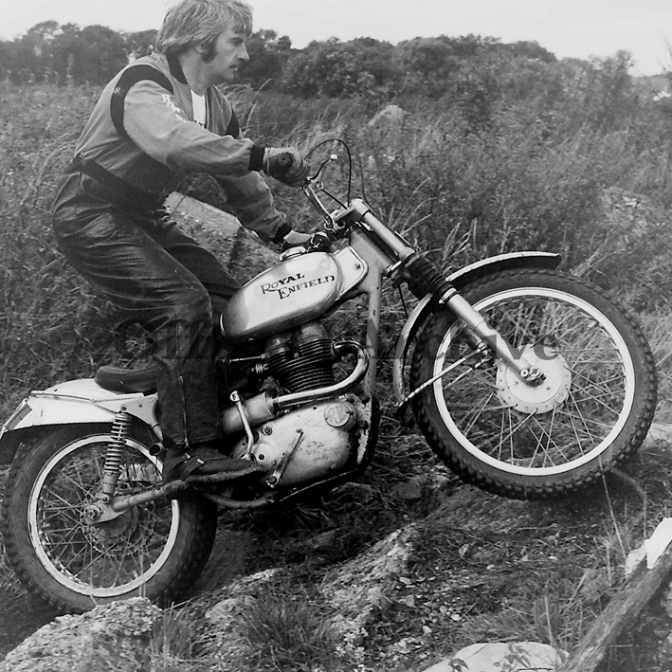 Photo Courtesy Deryk Wylde "Offroad Archive"...
Here Mike Peeling competing on his 360 Crusader in the 70-80 period...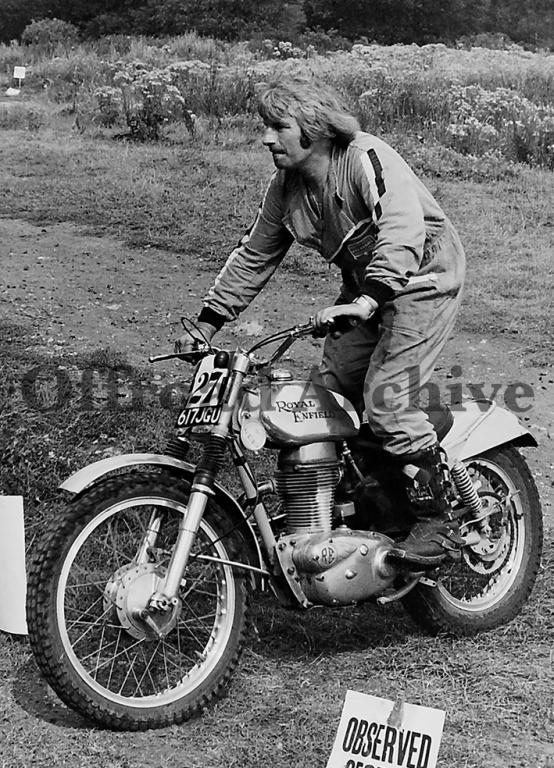 Another "Offroad Archive" photo Courtesy of Deryk...
You can count the fins on this machine of Mike's, nine is the consensus, but like Mark says if you count the fins on the carb side of the barrel including the bottom one there are ten, and seven head fins like Mark's 350 Crusader...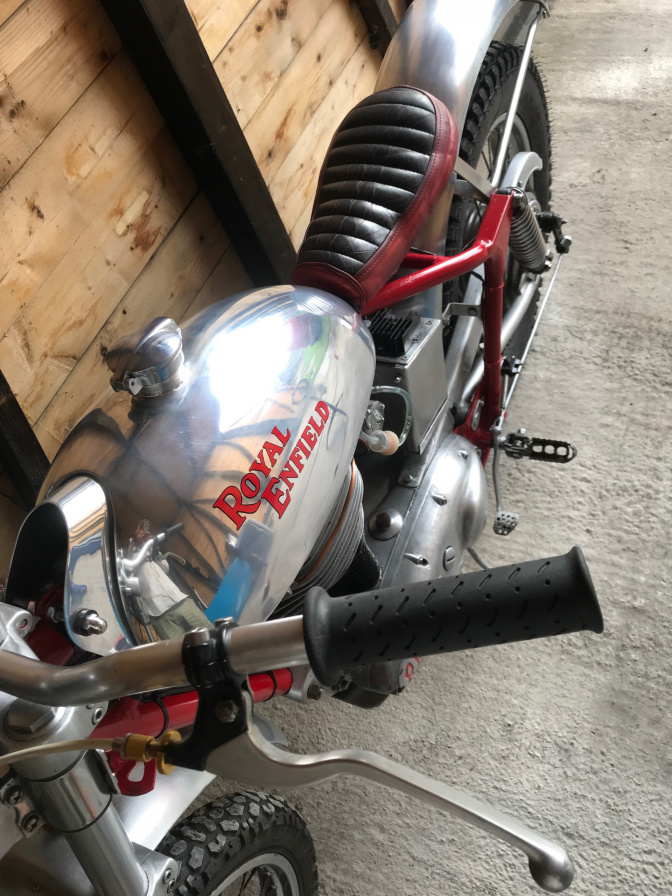 If you recognise the Royal Enfield 350 Crusader please let us know. It would be good to come up with more history on this what is a one-off machine?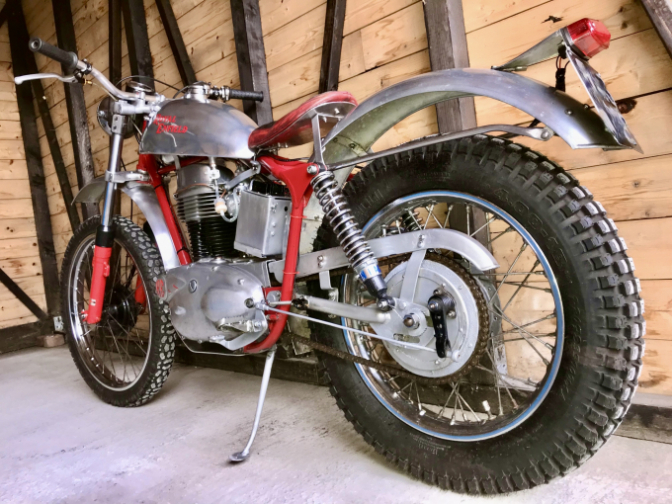 Just a start to the page, more on the little foibles the Royal Enfield 350 Crusader was famous for, Later...
~~~~~~~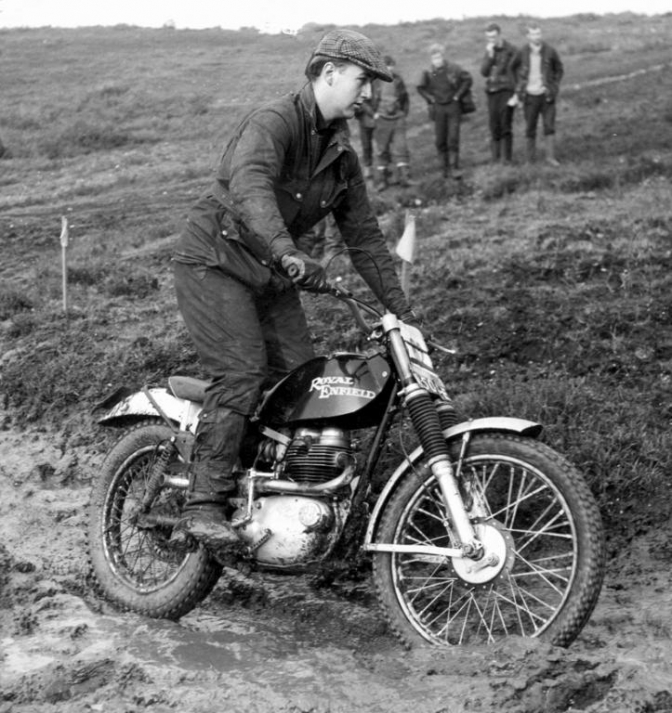 Photo Courtesy "Offroad Archives"
Perhaps we should ask this man Mick (Bonkey) Bowers, as he was one of the stalwarts of the Royal Enfield Trials boys...and worked in the right department at the Crusader time...
20/10/2021...
Well I said if we started this page like others we would get more information eventually, well that is the case, yes we have got more information about the 350 Royal Enfield unit engine, and it seems the road bikes were named "The New Bullet"...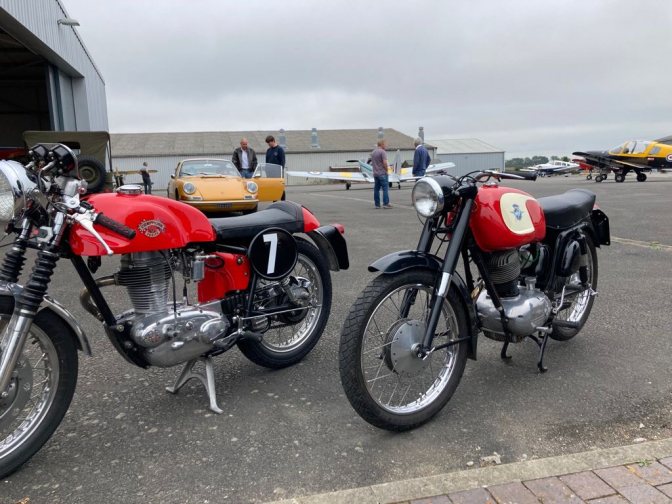 This superb example owned by Thomas Miller... is a clubman type build by the Deeprose Brothers Motorcycles that were at Catford in London.
After we had got the ball rolling, Tom went on to do a bit more research and found a link that explains a lot, and our old friend Ray Tew comes into the equation again...
Here is that link...
https://www.pressreader.com/uk/real-classic/20161105/281526520600704
Tom Miller..Royal Enfield 350…
Hi, I enjoyed your article on the converted Crusader trials bikes.
I am the proud owner of a Crusader cafe racer conversion by the Deeprose Brothers...
It was claimed to have 350 internals which
led me to try and find out how, or if, this claim was true.
I now think, thanks to your article, that it's one of the rare factory Crusader Sports.
The barrel has 10 fins and the head 7 .
Many thank's
Kind regards
Tom Miller….
Hi Charlie, I have at last just found the full explanation to the 350 Crusader...
Kind regards
Tom Miller...
https://www.pressreader.com/uk/real-classic/20161105/281526520600704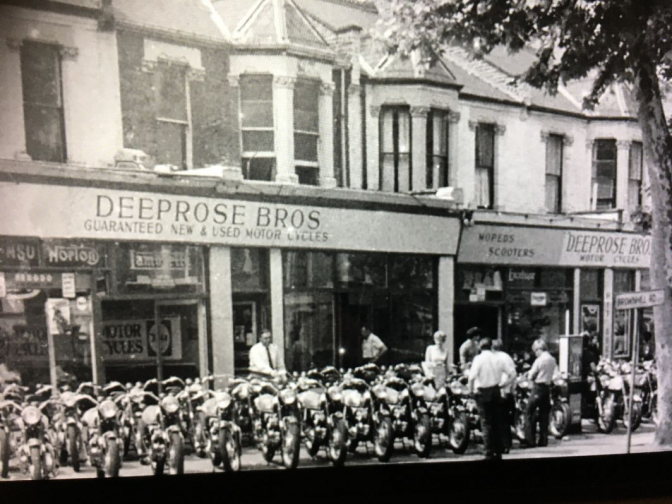 Tom sent me these two snippets.... How many bikes... These were the days...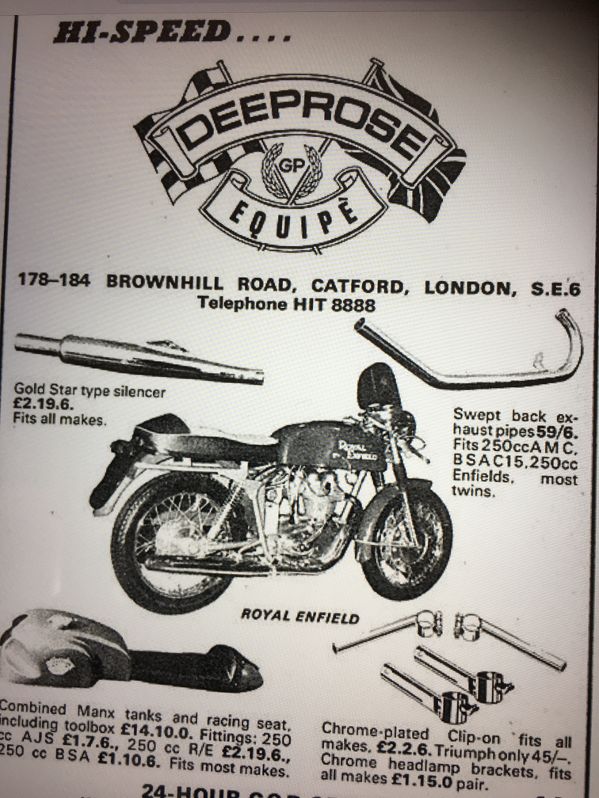 More Later...
Updat2023...05...