Patrick Elliott 's interpretation of a Honda trial bike as good has the Works bikes at the time.
TRIALS TEST - HONDA XL 250 "ELLIOTT SPECIAL TRIAL" - History.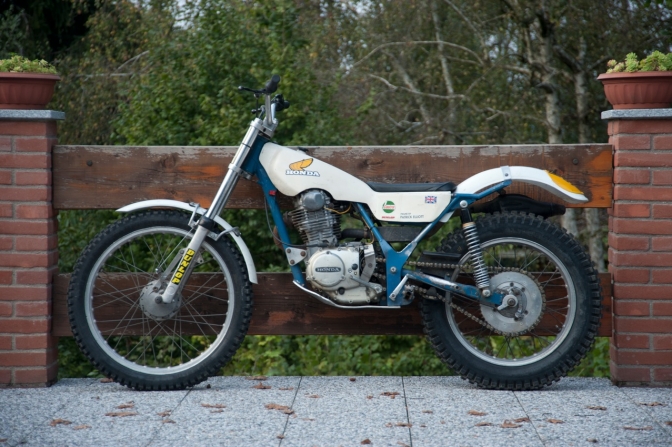 HERE IS SOME HISTORY ABOUT THE HONDA ,
PATRICK ELLIOTT TRIAL SPECIAL .
WE HAVE DONE TEST,
JUSTYN Norek Jnr.
HONDA XL 250 ELLIOTT SPECIAL TRIAL - History
PATRICK ELLIOTT was a MASTER WELDER IN TIG welding TECHNOLOGY, AND GREAT Trials ENTHUSIAST.
Having RIDDEN some of the best bikes available in the EARLY SEVENTIES.
The BEST TRIALS BIKES OF THAT PERIOD were (NAMELY OSSA, MONTESA AND SUZUKI),
AND BY PURE CHANCE ONE DAY, had the chance to ride a British bike in a trial, a Triumph TR20 trials Cub.
The FACT IS, THAT HE Had ENJOYED THIS RIDE ON this SMALL FOUR STROKE BIKE, more THAN RIDING the MORE POWERFUL AND FAST TWO STROKES THAT HE HAS USED SO FAR in his trials riding.
It so happened that in THAT PERIOD THERE WAS BEGINNING OF a HONDA DOMINATION IN TRIALS, FIRST BY the SAMMY MILLER TEAM IN NATIONAL EVENTS, THEN WITH EDDY LEJEUNE IN WORLD series.
TRIALS CHAMPIONSHIP ON HONDA 360 cc trials PROTOTYPES.
PATRICK WAS FASCINATED BY the PERFORMANCE OF THESE Motorcycles BUT the PRODUCTION
BIKES WERE far DIFFERENT AND LESS COMPETITIVE.
SO HE DECIDED that he would BUILD a bike to his own design and concept...
HE STARTED by BUYING a PRODUCTION OFFROAD XL 250 (UK REGISTRATION NUMBER VEO 526T.
So he scraped ITS FRAME, AND BUILT a NEW one, Lighter and more COMPACT.
Now HERE COMES an INTERESTING FACT, Patrick USED STEEL TUBES OF VERY HARD grade T45 type THAT was ALMOST IMPOSSIBLY TO Bend without heat. so HE DESIGNED the FRAME USING ONLY STRAIGHT tube ELEMENTS but with more TIG WELDING !
The SAME CONCEPT WAS APPLIED FOR Exhaust TUBE, STRAIGHT SEGMENTS AND a lot of welding.
Well AT LEAST HE WAS MASTER WELDER, WASN'T HE?
A GOOD EXAMPLE OF QUOTE "NECESSITY IS MOTHER OF INVENTION", SO IN THIS way,
PATRICK BYPASSED any LIMITATION, by USING HIS CREATIVITY. And design in the frame.
The ENGINE WAS DETUNED WITH a LOWER COMPRESSION Ratio AND a Smaller AMAL concentric CARBURETTOR was fitted,
SMALLER THAN STANDARD KEIHIN, TO GET BETTER TORQUE, that is SO IMPORTANT IN TRIALS.
AS FOR SUSPENSION, HE HAD OPTED FOR THE BEST FROM the PERIOD:
TELESCO FRONT Forks, GIRLING rear SHOCKS, AKRONT RIMS, and MONTESA HUBS....
AT THE BEGINNING of the bike build, a FUEL TANK WAS FROM YAMAHA FS1E 50cc ROAD BIKE was used, LATER SUBSTITUTED BY a FIBRE GLASS TANK-SEAT COMBO TAKEN FROM SEELEY HONDA.
This was HEAVILY Modified TO ALLOW FITMENTS OF XL250 ENGINE, SO the TANK CAPACITY WAS FINALLY 2,5 Lts MORE THAN SUFFICIENT, DUE TO LOW fuel consumption of a FOUR-STROKE
FINAL WEIGHT WAS REDUCED TO 94 KG, SOME 30 Kg LESS THAN ORIGINAL BIKE, AND
ALSO 5 Kg LESS THAN STANDARD TL250.
THIS BIKE WAS COMPLETED IN 1983, AND USED until THE END OF 1985, WHEN the PACE OF DEVELOPMENT OF WORKS TRIALS BIKES Had OUTCLASSED IT, WITH ARRIVAL OF MONOSHOCKS...
DURING THIS PERIOD PATRICK COMPETED IN SEVERAL LOCAL TRIALS IN NORTHERN ENGLAND, MOST CHALLENGING AND MEMORABLE WAS "LAKES 2 DAY TRIAL",
AFTER THAT PATRICK GAVE MORE TIME TO his MARRIAGE and Growing FAMILY, and HOUSE.
He then rode the trials bike only OCCASIONALLY THROUGH the 90ties.
FINALLY IN 2007, HE MET A PASSIONATE TRIALS RIDER FROM ITALY, AND WITH
The HELP OF a LOT OF ITALIAN RED WINE, DECIDED TO SELL HIS UNIQUE one off
TRIALS MACHINE. This NOW stands PROUDLY BETWEEN the MOTO GUZZI Trials bike AND the
CCM 350 Trials THAT WE have ALREADY TESTED.
IN the GARAGE OF THIS KEEN TRIALS RIDER,
SOMEWHERE IN PIEDMONTE...
AND NOW IT'S TIME TO TEST the Elliott machine. MORE ABOUT that SOON...
BEST REGARDS
JUSTYN
All photos Courtesy Justyn Norek Snr.
TRIAL TEST - HONDA XL250 ELLIOTT SPECIAL - TECH DATA
HERE IS TECHNICAL DATA OF HONDA XL250 ELLIOT TRIALS SPECIAL
FIRST REGISTRATION: 1979,
DATE OF BIKE COMPLETION: 1983,
ENGINE: HONDA XL250 YEAR 1979 NR VEO526T,
MAX POWER: 20 bhp AT 6000 Rpm,
FRONT SPROCKET: OSSA MAR 10 TOOTH,
REAR SPROCKET: BULTACO SHERPA 48 TOOTH,
FRAME: STEEL TIG WELDED, ELLIOTT SPECIAL DESIGN,
CARBURETOR: AMAL 26,
WHEELS: FROM MONTESA 348,
RIMS: AKRONT,
FRONT FORK: TELESCO,
REAR SHOCKS: GIRLING GAS SHOCKS,
FUEL TANK: FIBREGLASS, SEELEY MODIFIED SHAPE,
FUEL TANK CAPACITY: 2.5 LITRES,
WHEELBASE: 1320 mm,
WEIGHT: 94 kg
INFO SOURCE: PATRICK ELLIOTT...
JUSTYN...
HERE ARE The "DESIGN HIGHLIGHTS" OF "ELLIOTT" HONDA XL250 TRIALS
FIRST IMPRESSION WHEN I HAVE SEEN ELLIOTT SPECIAL IS ITS COMPACTNESS.
AND INDEED, SHE IS VERY COMPACT WITH WHEELBASE OF 1310 mm!
THIS VISUAL EFFECT IS AMPLIFIED BY FUEL TANK SEAT COMBO SITTING SO TIGHT
ON ENGINES HEAD, THAT LOOKS LIKE GLUED TO IT. INTERESTING THING IS THAT NO
"ELLIOTT" LOGO IS ON THE TANK, ONLY HONDA DECAL, MODEST GUY PATRICK, ONLY SMALL WRITING "FRAME BY PATRICK ELLIOTT" ON SIDE PANEL.
THIS TANK SEAT COMBO OF SEELEY ORIGIN HAS CUT OUT FOR CYLINDER HEAT CAM
COVER THAT GIVES ITS OWN CHARACTERISTIC AND IS BEAUTIFULLY PAINTED IN LIGHT
CREAM, THIS COLOUR IS EXTENDED TO FRONT AND REAR WITH WHITE MUDGUARDS
THAT I WISH WOULD HAVE BEEN IN LIGHT CREAM TOO...
THIS CREATES NICE CONTRAST WITH STRONG BLUE OF FRAME...WELL FRAME, ITS
MAIN DESIGN HIGHLIGHT OF THE BIKE, AND YOU CAN APPRECIATE IT IN FULL, WHEN
TANK SEAT COMBO IS LIFTED, I HAVE NEVER SEEN A FRAME WITHOUT EVEN ONE CURVE OF TUBES.
ALSO EXHAUST SYSTEM IS VERY NEATLY DESIGNED, WELL TUCKED TO BIKE AND
VERY COMFORTABLE, NOT DISTURBING LEGS AT ALL. IN CURVED PART ITS ALSO
WELDED FROM MANY SMALL SEGMENTS.
ALL TOGETHER ITS VERY NICE BIKE REALLY WELL DESIGNED AND BUILT.
CONGRATULATIONS MR ELLIOTT! HOW IT GOES? WE WILL DISCOVER SOON IN RIDING IMPRESSIONS.
JUSTYN Norek...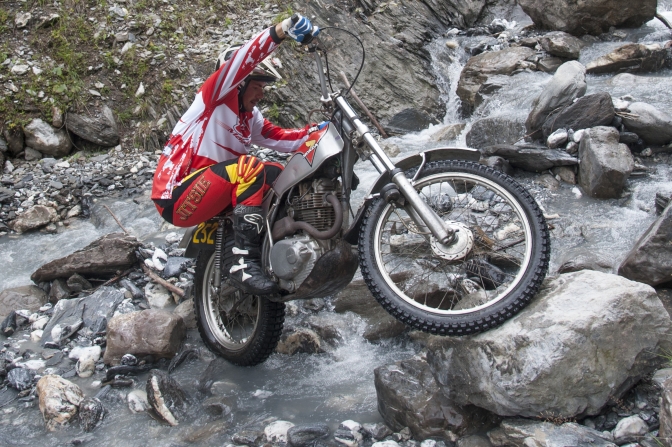 Justyn on ,or nearly off, another Honda.
Story later.
*******
TRIAL TEST "ELLIOTT" HONDA - Riding impressions
Here are riding impressions of Justyn Norek Jnr of ELLIOTT-HONDA
I have got phone call from my good friend PIPPO BARTORILLA, owner of Elliott-Honda trials,
That this bike is ready for my test.
PIPPO has selected different location for test at CASALBORGONE close to Turin, where we both live. This place is very beautiful for trials with variety of terrain in dense woods, once location
For Italian Round of World Trials Championship.
We came to stream bed with water and rocks and as usually PIPPO has started his bike with first kick and did few rounds to warm it up.
Than he has handed over handlebars to me with few advises. Clutch, gear and go to get feeling of the bike. First impressions were that bike was easy to handle with engine responding
Perfectly on steep uphill run, despite slippery wet ground, same feeling on steep decent where
Four strokes of Honda engine with help of excellent brakes were slowing bike without loosing
Traction of rear wheel. Few minutes and I was feeling at home on this bike like if I have ridden
It for months...Oh, how I love to ride FOUR STROKES!!!
So now I have tried stream with water and slippery rocks.
"Elliott" is handling very well and is very easy to maneuver so riding it in stream and over the rocks requires little effort and is real pleasure as bike is doing what you want...I guess geometry and
Balance of masses must be close to perfection, hence this feeling of bike to be easy to ride...
Indeed low weight must help, but I also think that rigidity of Patrick Elliott's frame must help
For feeling of precision of handling.
Than comes a question would I like to improve something? Yes few HP more without loosing
Low end...
So time was passing and I was riding back and forth, trying different tricks, also surplice
With clutch showing no fatigue. Really enjoyable test, which I wish has lasted longer...
Great guy this PATRICK ELLIOTT is, so wish to send him my "HELLO" and many thanks to HIM
And to PIPPO BARTORILLA for this test!
Finally question would I buy this bike?
Answer definitely is YES, if it only would be for sale...
Cheers
Justyn Norek Jnr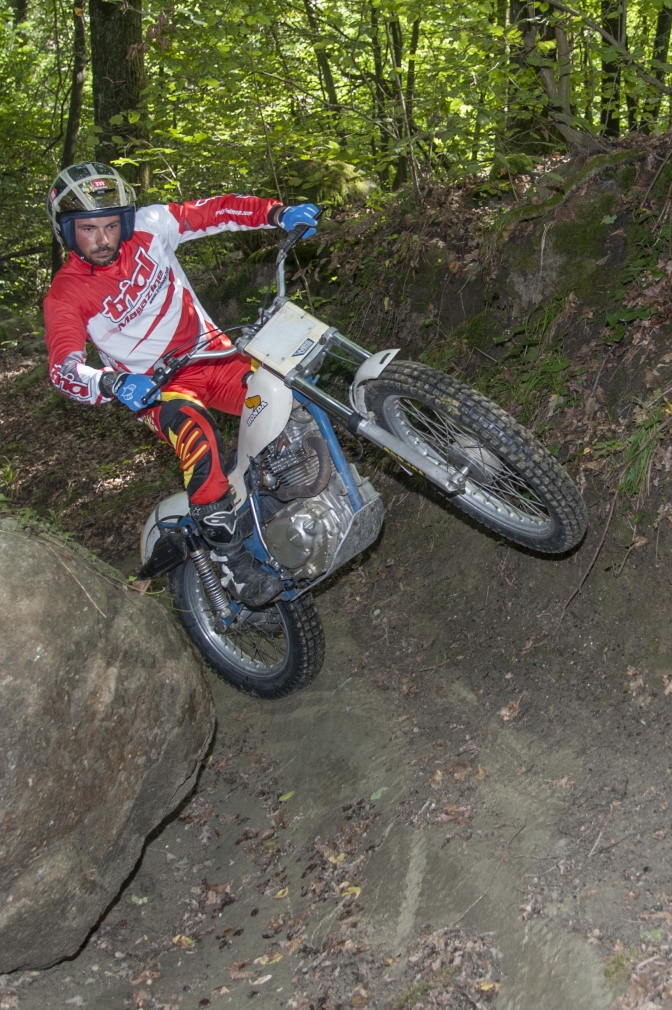 Patrick Elliott Honda.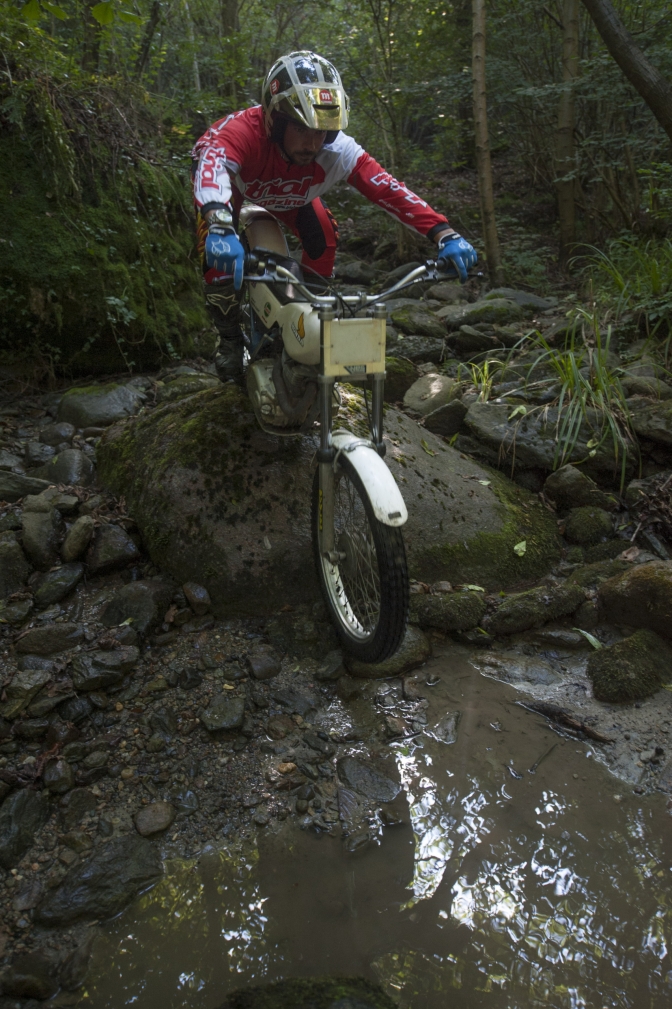 This is another case of a bike at least being looked after in a collection by and enthusiast that like to keep his machines "Original" and how they were built in the first place.
Just think if this machine had got into the wrong hands, of say, a wizz kid just off of a modern bike and wanting a twin-shock to ride, so getting the hacksaw out to bring it into the twenty first century.
Not only would the bike be ruined, but part of the history of the time would have been taken from us.
I have always said that a glass or two of Red Wine always helps you to make the right desision.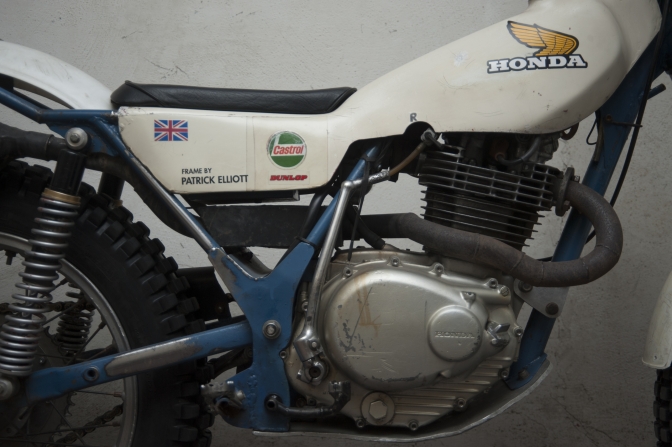 Thank's guy's for the report, and saving the machine...
Updates later as usual.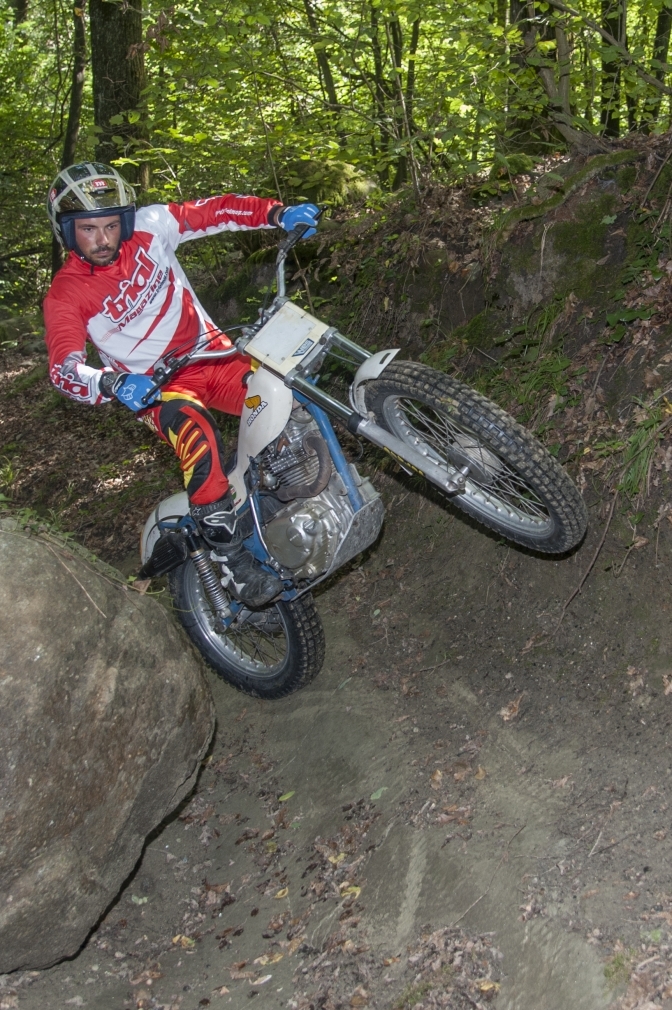 BSA Otter.Com...Lets save somemore...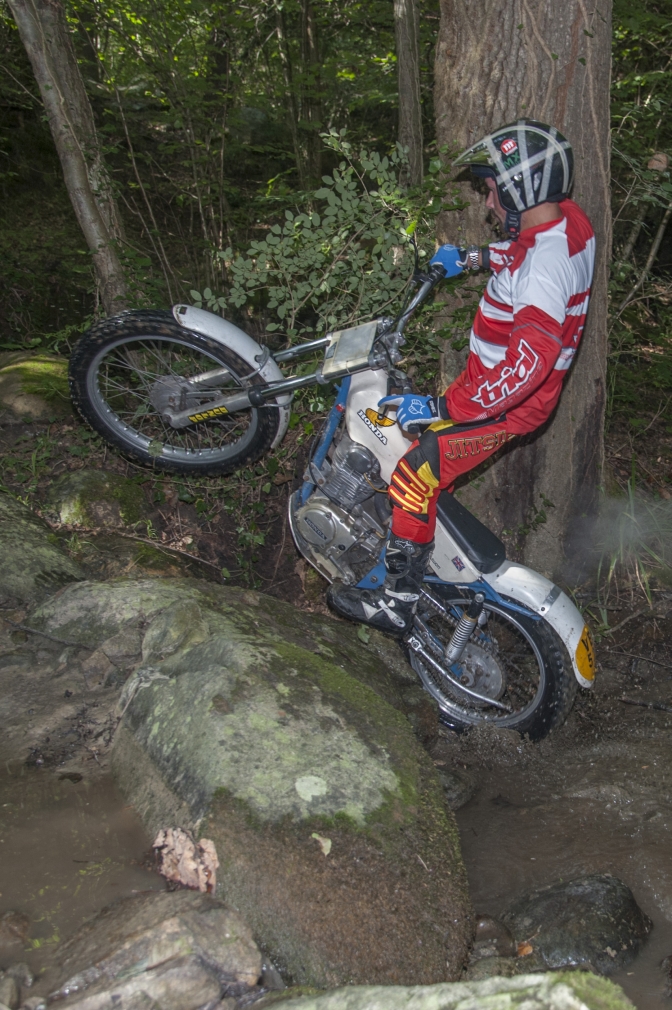 Best trials Stories... BSA Otter. Com.
******

Thank you Justyn Norek Jnr...
And father,
Justyn Norek Snr for the superb Photos...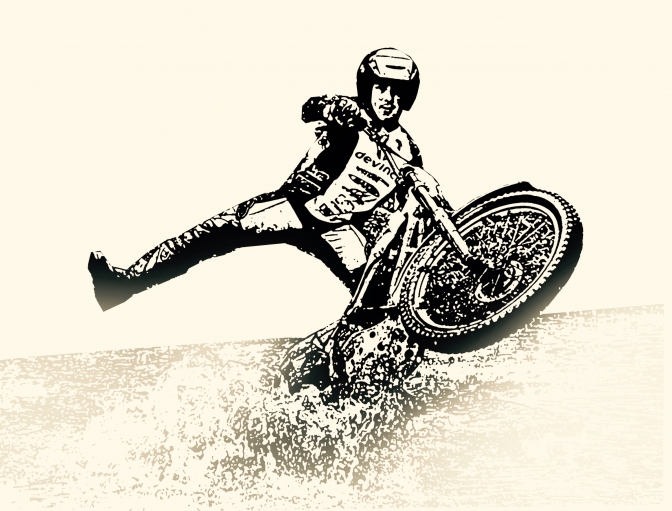 More later.
Updat2021...