Seven Best Builds,
BSA...
This Page could keep on going, but we said Seven so that is what it is...
And some will have to be sidelined to give the others a chance.
So Number One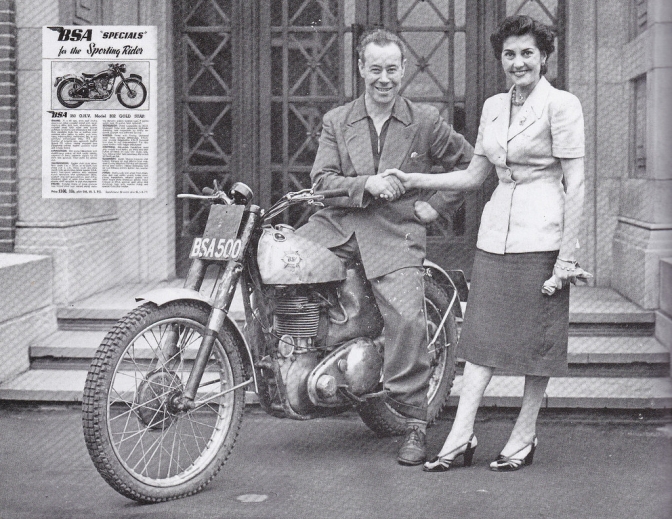 Photo Courtesy Birmingham History group,
From BSA Advertising literature.
Bill Nicholson,
Probably the first Star rider and frame designer at BSA.
Billy and a couple of his mates came over from Belfast Northern Ireland to compete, in the Hoad National Sporting trial in 1946 season. Billy won the trial and the bosses at BSA were so impressed they offered Billy a BSA to ride the next year, Billy took them up on the offer. And again won that trial, and the famous Scott trial.
The pounding the BSA got during this trial altered the steering head angle on the bike making it steeper, and better handling.
Billy decided to build his own frame for the bike, so one weekend he collected the tubing on a Friday and worked all over the week end building his frame and using the now steepened head angle, this was the now famous duplex front down tube rigid trials frame, he kept this frame for the rest of his career as a trials rider at BSA.
But that was not half the story.
Because BSA wanted Billy to take up scrambling as well.
And gave him one of the plunger framed bikes the team were now using. Billy put his own spin on that frame by making and fitting his own damper units within the guts of the plunger system.
He was a mate with the Irish McCandless brothers who had invented the what we now call swinging-arm suspension.
And got them to help him convert the BSA scrambler of his to this system.
BSA at first did not like the idea, but Billy kept on winning on the bike, so in the end BSA gave in and used that frame to draw around to produce the first BSA swinging arm frame.
That frame was used on all BSA heavyweight bikes until the end of production and this included the famous Gold Star BSA.
Eventually Billy got fed up with BSA and their attitude of not trying anything new.
So went to work for Jaguar as a designer, and had part in the development of the E-Type and S-type models. And he also worked on racing cars.
Again he got fed up with what he was doing and set up a garage in Northampton, selling MG cars, and then tuning them into race winning machines.
Eventually through several causes the garage folded at Northampton and Towcester.... Billy then carried on as a freelance tuner of MG cars for the rest of his life.
Still on the subject of BSA BB32A trials bikes.
I had to include this build at number Two.
below...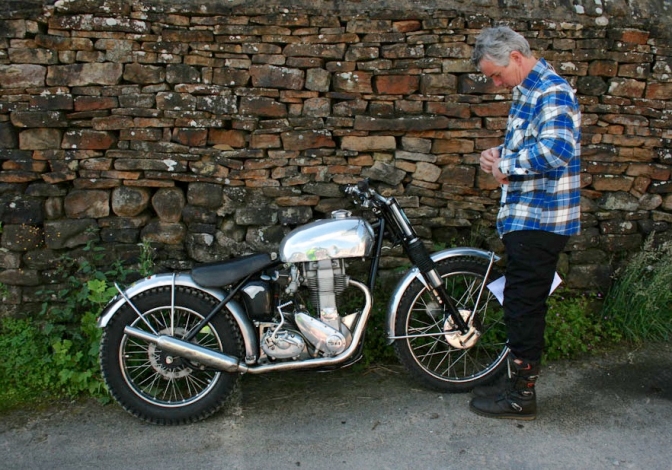 Photo Courtesy Deryk Wylde ORR-e.
Graham Howes.
Graham has owned the machine since the eighties and rebuilt this machine in the late nineties I believe?
Anyway the bike was rebuilt to show standards, there is an article on the build when I can find it.
Well the bike was not shown, but has been ridden hard by Graham in Classic Trials every year up until now.
But he has always kept the machine still in this pristine condition.
He runs a BT-H magneto on the BSA, well he would, because he did his apprenticeship fitting BT-H steam turbines. More Later on this,
Now I can't quite leave the heavyweight BSA, without, bringing the next person into the equation...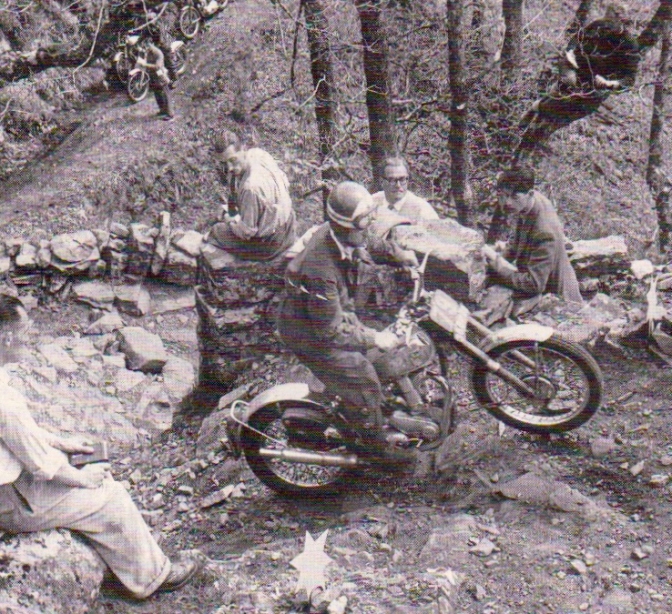 Eddie Dow competing in the Scottish Six days trial on the Army Gold Star BSA.
Number Three...
Eddie Dow.
Sadly Eddie has recently passed away.
But this man probably did more for the BSA heavyweight bikes than anyone else.
After working for Rolls-Royce for a while after leaving college, in 1945 he joined the Home Guard, and a year later was called up into the army, the R.A.S.C.
He soon was running the army motorcycle team posted in Italy, by now Lt Dow. He rode in both ISDT 1951, 1952, and 1954, winning Gold medals, and in the Scottish six days.
Gaining first class awards in 1953 and 1955.
He then in 1953 bought his first personal BSA Gold Star, he ran this in the Clubmans TT of that year and led the race at a record speed, until throwing it away near the end of the race, breaking limbs in the process, but he was back in the year 1956 for another go at the Clubmans Senior TT... This year however the race was run over the Clypse circuit and not the full mountain course, but Eddie won the race. And this was to be the last Clubmans TT in the IOM. Some-say because BSA dominated the event, and the likes of Norton that hadn't kept up with development of Clubmans machines were not amused, and instigated the pulling of the plug on the event.
Eddie now Captian Dow, left the army in 1956 with £1000 in his pocket, and bought into a partnership with Arthur Taylor from Shipston on Stour Warwickshire.
They opened a branch in Southham Road Banbury, and "Taylor Dow "
started to sell the legendary BSA Gold Stars amongst other brand of machine.
With Eddie now selling more and more Gold Stars, he wanted to take the helm on his own so that he could specialise in that brand.
So amicably Arthur and Eddie split the partnership in 1959.
Now named Eddie Dow "Britain's Gold Star Specialists",
the ball really started rolling and year 1959 Eddie Dow's sold 47 BSA Gold Stars.
By the end of 1959 BSA had however decided to phase out the Gold Star,
and this left Eddie in a dilemma, customers wanted to buy the Gold Star bikes but BSA had stopped making them.
So plan "B" for Eddie was to build what was a Gold Star BSA but fitted with a Dow built A10 Super Rocket engine,
The BSA factory refused to sell these motors to Eddie, so he had to build them out of spares.
The bikes flew out of the Banbury shop, as fast as Dow's could build them.
So surprise surprise, the factory thought they would put some together as well.
So by 1962 you could actually buy a factory built "BSA Rocket Gold Star..."
But the bikes birth place was in Banbury Oxfordshire.
Eddies funeral was on Monday the third of April 2017,
Banbury... BSA Rocket Gold-Star ...
_______
Number Four...
Photo Courtesy Deryk Wylde ORR.
Next Up,
Brian Martin.
We Have to have Brian, in the BSA Seven Builds, at number Four.
Because he was the guy that changed "Large" trials bikes to some a bit smaller, but with the same amount of weight, but with less power.
But the machine performed and was less costly to make ...
In 1957 there was a new unit construction BSA engine that was a big brother, of the group's Triumph Cub engine.
This was a prototype engine and the public had not seen this little motor before,
or less so even one fitted into a frame, and being used for competition, nobody took a lot of notice, they were still interested in the Large capacity bikes...
But Brian forced ahead with development of this machine,
and won the first couple of
trials he rode the New machine in.
But then when he won the Southern Experts trial in 1958 on the little unit construction machine the pundits at BSA started to take notice.
In 1959 the entire factory trials team were mounted on the now named C15 T, BSA's........
And for the next few years the talented works riders that BSA always employed,
won an amazing amount of Championships and trophies .
~~~~~~~
We should include another person involved with the BSA Competition Department as a follow on as Number Five.
Pat Slinn.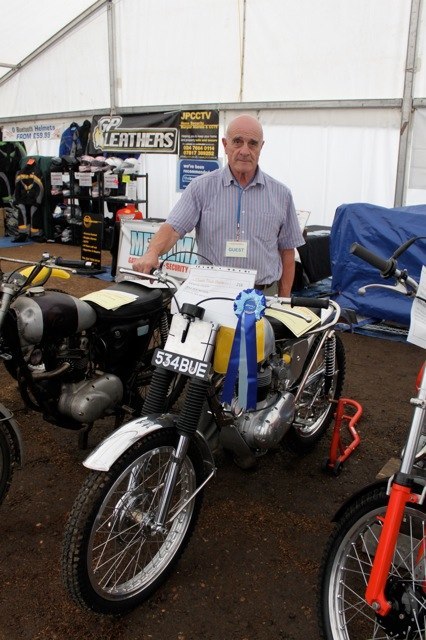 Photo Credited...Christine Tona...
Not only did Pat build his superb unit construction BSA engined trials bike in 1964, but he also went on to do most of the work and testing on the replacement machine for the British Army.
Pat juggled the gearbox ratios out of the spares bins at BSA and had new gears made to get the right ratios for the developing 342cc BSA B40 series engine, These engines and their wide gearbox ratios are now the most sort after engine for anyone building a BSA trials bike, and along with the BSA C series 249cc engine fitted into the AFS (Ansilery Fire Service) bike, these too had the wide ratio gearbox.
So when you search for one of these BSA GB B40 engines, remember the guy who developed them, in a long way around for you, along with the superb BSA C15 AF/G engine.
Ally Clift...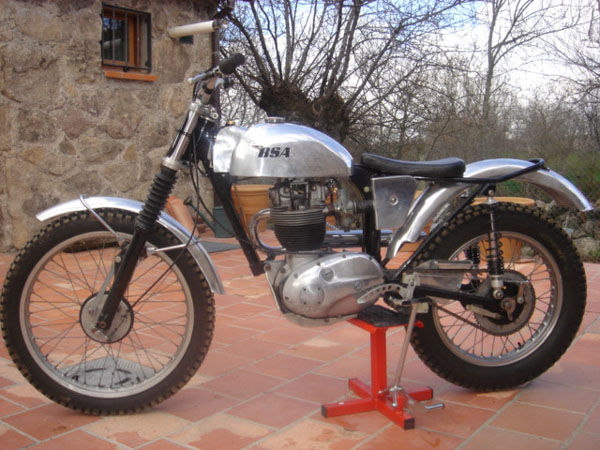 Foster BSA Otter living in Spain...
Number Six is a man you wont really think of someone that built BSA trials bikes.
But this man had the vision to see the potential in a machine that had been built, developed, and ridden by an expert trials rider from a young age Scott Ellis...
The bike had been passed around after Scott sold it on, but it was when Colin Dommett eventually bought the bike and sent his mate Ally Clift to pick the bike up for him, then loading it onto the pick-up Ally's mind started to wish he had bought the bike.
Then when home in Cornwall other riders got to look at the ex Scott Ellis machine, and wished they could buy a frame like that too, and build a BSA trials bike the same.
And as you now know when Ally stripped the bike out to restore it for Colin Dommett, it was suggested that perhaps they should try and get some frames the same made, and coincidence was that Colin was having a sidecar frame built at the time, for his new works ride.
And the guy that was building it was Harry Foster of Otter Products.
The rest they say is history, and we have had a continuous run of Otter frames to this day.
Mostly with engines fitted with BSA GB engines developed by Pat Slinn, Thank's Ally Clift for that forward insight...
_______
Carol Foster.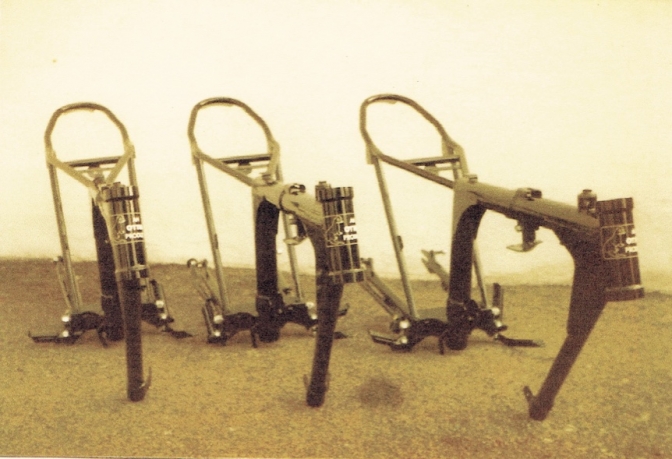 I am just putting Carol into spot number Seven, because she thought of me, trying to keep the "BSA Otter" name alive, when someone had asked to buy the Foster Otter frame jig.
Carol had read these pages, and along with some guidance from a few of her close friends, asked me to give her a call about the said jig.
We did a deal, after a nail biting wait for me.
We now have that jig for the production of new
"BSA Foster Otter" frames, and this will keep the BSA and Foster trials bike name continuing...
And I know our friends away from these shores, like anything to do with British built BSA Trials Machines.
updat2023...06...
Seven More BSA's Later
More Later with the other
four makes of builds.
Next up Royal Enfield...