Bultaco UBW 677...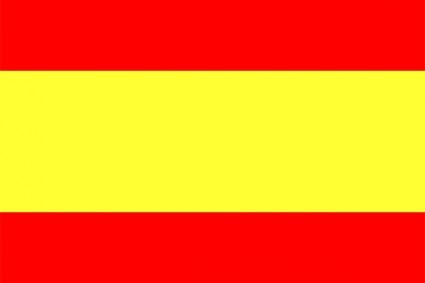 The Dan Shorey, Bultaco "Sherpa "N" 155 cc Trials Bike.
The first Bultaco to compete in a trial in the UK, or perhaps even the World.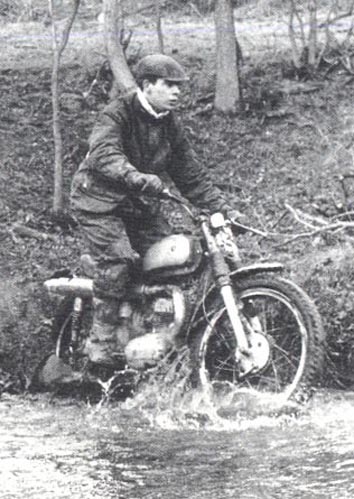 This picture of Dan competing in the first trial with the Quickly modified Bultaco Tralla / Sherpa N...
It was at the Banbury NOBAC Time and Observation trial held at "Traitors Ford" on the Warwickshire Oxfordshire border late on in 1961.
This trial was a ISDT qualifier so we had some good "Stars" riding in the trial.
If you remember I was an apprentice agricultural engineer,and with my mentor Nobby Clements, we used to visit this farmat "Traitors-Ford" to service the newly puchased Ford Tractors.
We got chatting to the farmer who ran the farm at the time, and told him that we rode these trial bike things at the weekend, and we were always looking for New ground to use for better sections.
He seemed quite keen on the idea, and we walked down by the river Stour that ran through his land.
There were steepish banks on both sides, and to be honest for this part of the world you could not get much better for good trials land.
We had some good stuff already but this land was a bonus.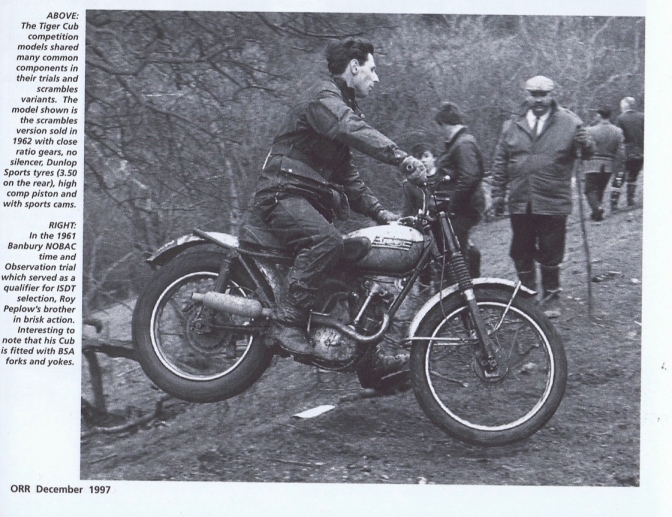 The picture above Is from the same trial, and if I remember correctly the winner.
Roy Peplow's brother, name slips me at the moment, but I will remember...
I think it was Jon.
The other prominent person in the shot is "George Hill" a right character, and father of Mervyn Hill, who was not only a good trials rider, but was better at speedway and grass track.
George had to work miracles to come up with the funding for a TriumphTR20 trials Cub for Merve to ride, after he could see how well mine performed...
Just a note if you look Jon's silencer, it is also from a BSA and the tank I distinctly remember was a Mountain Cub tank of Cream and Blue.Why?
Well the tank on Dan's Triumph Cub Trials was Pink so I always had it in my head about Cub Tank colours.
And If you were fortunate to purchase a full set of ORR magazines in the year 2000 you can see this photo in volume 75 page 13 OK.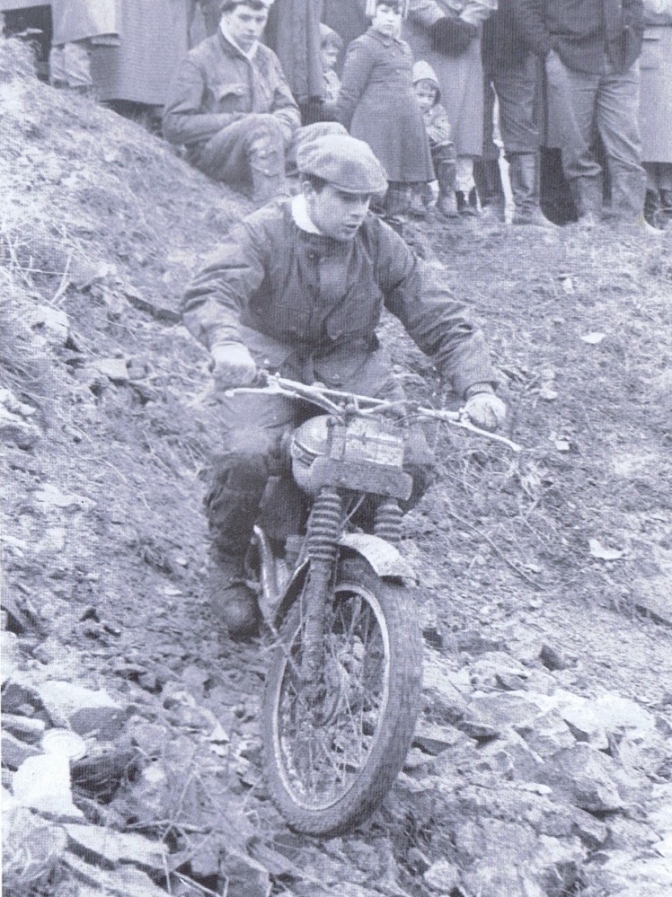 The picture of Dan on the Triumph Cub with the "Pink" tank, could be at "Saintbury" Quarry.
But in the 1961 Colmore in February , so just prior to the Bultaco arriving, later in the season, after racing had finished.
Why Pink? When asked, Dan said, "Well that was what Tony had in the spray-gun at the time".
Back to the plot!
The Bultaco Sherpa N that Dan was given! and it would have been, because next to Sammy who never opened his wallet, Dan's was kept tight shut too.
The bike was a 1960 Blue tanked "Sherpa N" that was not that much different than the "Tralla" road bike of the same year.
Tralla photo.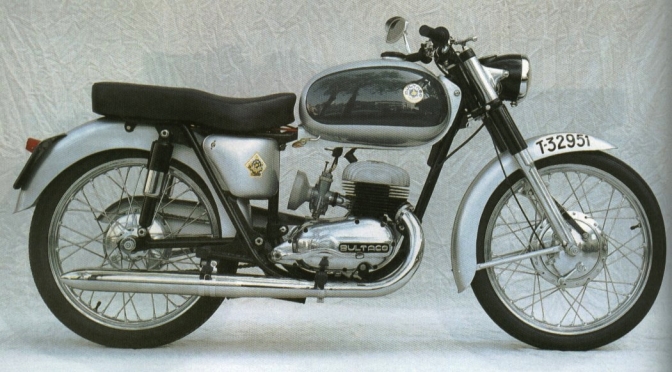 I might add that we had a Tralla in the window at North Bar Garage, for well over a year, but no one was interested in buying the bike.
We were still stayed in our ways towards foreign motorcycles here in the UK, but it was all about to change.
The Sherpa-N had 19" wheels fitted and a high rise exhaust, but still with the street baffles fitted, and much too long, a lot like the Greeves Scottish at the time.
The saddle was still a dual seat, and went of to the local saddler at North Newington, to be reworked after the seat-pan had been shortened, I seem to remember.
I think a 325X19 Dunlop Universal trials tyre may have been tried first on the rear, but a 21" front was fitted, with valanced alloy rim...
I remember the 325 tyre, because Bernie Chequer was one of Dan's best mates at the time, and ended up with these tyres on his James Rigid that I later had.
I had 350X18 on my plunger framed James at the time.
The mods carried out on the Bultaco were on a weekly basis at the time, most things were changed, and I think a 18" wheel in the back was laced up and used, after a while.
It was one of those bikes that had no starting point.
No one else had known about Bultaco, and nobody knew what to do to improve matters converting a road going two stroke into a trials machine.
And don't forget the original design of the engine had basically been stolen from Montesa.
So just trial and error, to see what worked and what didn't.
It was all New territory getting the little machine to perform its trials riding duties, the gearing and gearbox were troublesome to say the least.
Bert, Dans father would suggest one thing, Dan something else, Tony in the workshop just shook his head and sucked on his pipe and kept well out of the situation no one would sway the Shorey's .
The other workers there tried to stay clear too, and not comment, I only helped when asked....
The passing trade, and mates coming to the Garage, when they were there getting fuel, looking at the trials bike if it was there,
thought it a lot different to the trials bikes we were used to in the UK, and a lot more "Flash". Up until that time 1961-2, British four-strokes ruled. But Dan always had the last word to any modifications carried out to the Bultaco whether it was mudguard, levers, carburettor mods, or anything else. And it was his way, or no way, you did not argue....
~~~~~~~
Well just to recap. then...
Before Sam decided to do anything about the approach from Bultaco, he came along to a back alley in Banbury to try the Dan Shorey Bultaco machine below.
Photo
This was Dan Shorey's play toy for the winter months to help him keep fit, for the important road-racing...
We did a lot on this Sherpa N to try and make it work better has a one day trials machine.
However there were a lot of faults with the bike, and the gears that have been mentioned were a pain at breaking, and I seem to remember a special set was sent to try and solve the problem.
The problem was that the steel used in Spain was not good, as they had to make their own, as at that time there seems to have been a complete embargo on good from elsewhere in the world being imported into Spain.
One of the main reasons Dan finished with Bultaco later, was that they could just not put a race bike under him that was reliable at the time. And this was again as I say down to the quality of the materials.
Wheel clearance and mud blocking was a problem, with the Sherpa N, but our local mud in the winter is nearly as bad as the Devon red clay.
The forks. Were a problem in that they twisted a lot ,this again I feel was down to material choice, and the fact they were not up to the job for a trial motorcycle use, coming from a small roadgoing motorcycle.
And I seem to remember Sammy having the same problem as he played with the "Proto" bike, and in the end had some cast, or cut and welded for his first bike, and these were like the ones he had cast for the Ariel GOV132, and also had altered the rake.
The first production forks were 32mm but soon changed to the
35 mm Betor units...
But the silencer was the biggest pain, it just choked the engine up, in the end, we cut it in half and removed most of the internals I seem to remember, to make it run free-er...
Anyway Sam must have thought that the machine had potential because he signed on the dotted, so to speak, and the rest is history.
Charlie. ~Oo> A lot of development work had been done by Jack Anelay's in Lancashire, has can be seen on the Bultaco bike entered by Jack and ridden by Tommy Ollerton.
The bike that Bultaco Concessionaires where running for their rider Tommy Ollerton differed to the bike that Dan had, in that It ran a "Sherpa S" frame and not the road based frame of the "Sherpa N".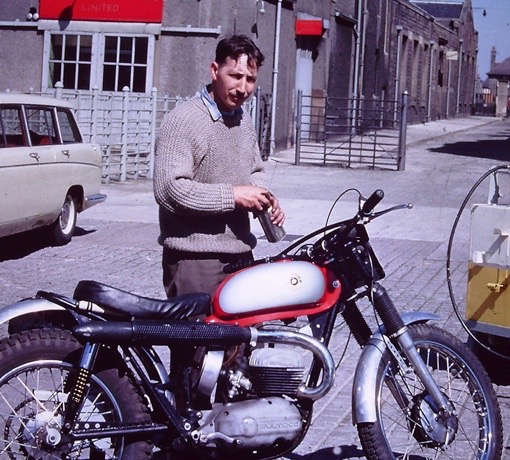 Photo Deryk Wylde Offroad Archive
You can clearly see the swinging arm reinforcing in this shot and the Matador type tank.
But forks and front wheel are Sherpa "N"as far as I can see, longer rear shocks fitted on this bike too I think...
~~~~~~~
Yes and in 1961 going forward, Dan Shorey was a "Works" racer for Bultaco, and was on very good terms with the family.
And was the first to ride the 196 cc Race bike, that was instigated by Ken Martin, who was racing manager for Anelay's This was a Kart engine, And don't forget that these Kart engines were the biggest earner for Bultaco at the time.
Charlie.~Oo>
Anelay's were a strong Lancashire dealership, heavily involved in road racing, which was an attractive deal for Bultaco. Like all dealerships they had reasonable workshops, and one of the lads working there was a trials rider, who took pity on the off-road model that came as part of the dealership deal, as a sort of trail bike offering, and he set too and made himself a trialer out of it - the result, after various 'improvements' made, has he was riding locally at the time, then finally knew it was worth a 'Holiday in the Highlands' in 1962.
~~~~~~~
I think I am right to say that when it came down to frame dimensions and angles Mr SH Miller did is own thing .
And I also think that he got the hacksaw out to the Sherpa N to make it steer and feel just like the Ariel GOV 132.
The steering head angle was unique to him, has were the yokes he had cast for GOV, after cutting up the Ariel/BSA yokes and then re braising them together to get them to what he wanted, to make patterns later....
Yes I have owned a Bultaco Sherpa, for a while, but when I had finished rebuilding it, I took one ride around the yard, and said, "get it sold", I could not ride that Bultaco... It just felt all wrong to me, and too long in the steering, but look how many were sold later... If you wanted a Bultaco you adopted the Sammy Miller riding style?
Each to their own.
~~~~~~~
Further information.
The model 4 was originally the Sherpa N trail bike first 155cc, then a handful of 200cc were built , they were not a proper 1 day trials bike more of a gentle green laner...
However both Tom Ollerton, and Dan Shorey, modified their bikes to be more suitable as a proper trials bike .
The model 4 designation was continued but used for the first (200cc) and second (250cc) series Matador enduro type machines, even though the Matador Mk2 was called a model 16, the serial Nos always started with a 4. The "Model 10 Sherpa T" was the first true Bultaco trials bike, with serial nos starting with 10 .
But don't forget that It was the Now Bultaco trials bike based on the Sherpa "N" that Sammy Miller came to try up the lane at the back of West-Bar in Banbury, that Dan Shorey and friends uncluding me, had sorted out, it was this ride up and down the lane for an hour, that helped Mr Miller make his mind up to go the Bultaco route, and change the face of trials history forever........
~~~~~~~
Over to you Deryk,(Wylde)...
Deryk,>
To add some detail in the 669NHO story.(Sams first Bultaco trials bike). Sammy was actually attached to the Rickmans in 1964, in a deal designed to guarantee the supply of Bultaco scrambles motors for the new Petite Metisse.
Charlie.~Oo> I might add Deryk to my mind both Sam and Dan were both totally unemployable in a nice sort of way, they just did their own thing and any agreement they might have had with Bultaco would have been on a Gentlemanly basis. And this is I have been told was the same with the Rickman brothers.
Deryk,>
Sam was contracted to ride his Ariel until the end of 1964, the final contracted event being the British Experts.
Sam had been in Barcelona in late October/early November where he collected his first Sherpa.
Charlie.~Oo > (He had worked for twelve days on the bike in the small courtyard workshop, getting the machine to how he wanted it. With the use of hacksaw, welder, and spanners.)
Deryk,> and on his way back to New Milton, with his Ariel and the Sherpa in his pick-up, arrived in Paris to ride on Remembrance Sunday in the St Cucufa trial, where I was an assistant C of C, and asked permission for a machine change to the Sherpa - to which we happily agreed, and he promptly took his first Bultaco win - but the machine on which he won was conveniently forgotten in my reports for the press.....
Photo, Removed for Copyright.. At the Moment...
I am attaching an image, taken by Gordon Francis of Sammy on 669NHO in April 1965 on his way to winning the the Wye Valley Traders. Already differences can be seen with the photograph, which was also by Gordon Francis, of Sammy in his workshop. There will shortly be a feature in my digital magazine 'ORRe' with further pictures of Sam's days on his various Bultacos.
~~~~~~~
Dan at this time was also getting interested in the sidecar side of trials.
And had bought a BSA from John Harris, to try his hand at this sport.
First passenger was Bernie Chequer, but fell out with Dan quickly in this role.
Next up was Eddie Braggins, he did last quite well until a knee injury side lined him.
We had (Me) by this time become owners of the ex works BSA outfit XJO 277, and when Dan wanted a passenger at the last minute for the Tanners Trudge I seem to remember, I was volunteered.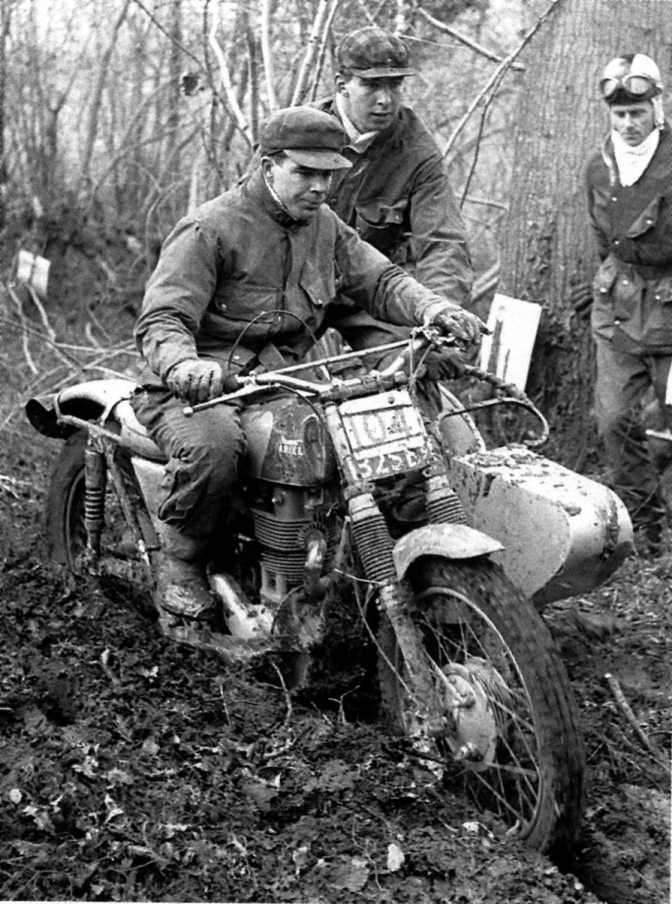 By the end of the trials season for Dan, in the spring, before the Road Race season started in March 1963 was probably the last time Dan rode the Sherpa "N", Bernie took over the ride then I seem to remember, I had the New TR20 Trials Cub by now, and was never offered a ride on the Bultaco trials bike.
During the Summer of that year we built Dan a Triumph 350 trials bike up at North Bar garage based on a bent bike that had come back into stock after a front end smash.
But Dan had now settled into the side car trials side of the sport, and along came a new Kendell
chair that was fitted to a Red Hunter Ariel frame, the engine had been commissioned from Scott Ellis's father Sep.
So Dan's solo trials career was over, and the Newly built Triumph 350 trials bike was sold to George Greenland. ABW ***A.
There is much more to the Bultaco story so hold the line.
I might add though that Bernie Chequer ended up with Bultaco N trials bike to ride and competed on it for at least a season.
UBW 677. then seems to have gone missing.
What a shame.
A Photo of Dan in a more familiar roll,
Racing his Brace of Manx Nortons.
With the light Blue fairings that I used to spray.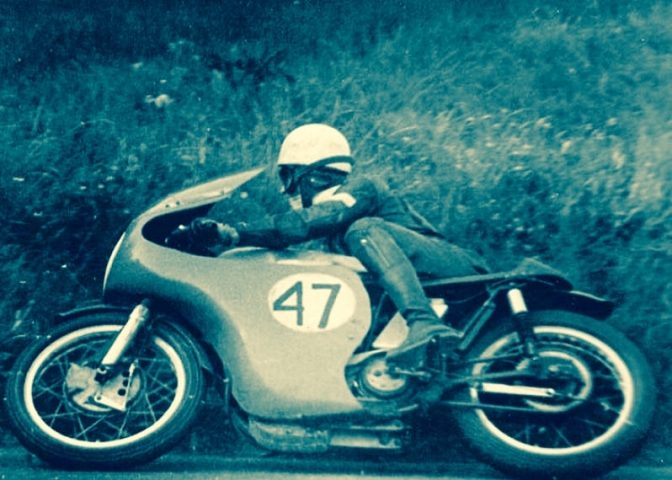 This shot could have been with the maroon fairing though.
Dan riding the Bultaco 196 cc in the 1962 IOM TT, over Ballagh Bridge.
Note Oldani front brake fitted.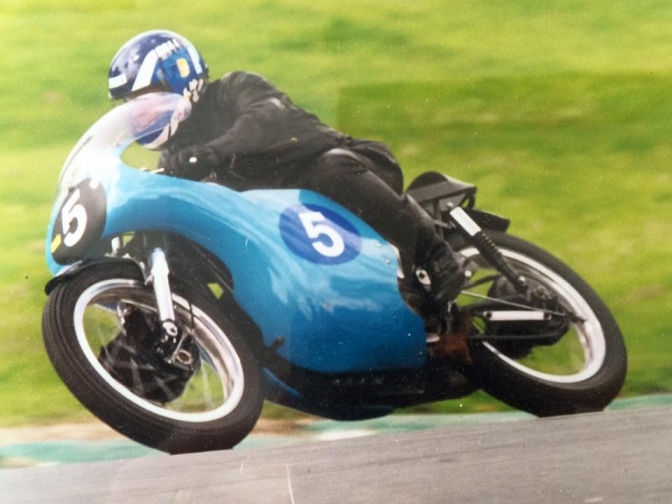 Photo Courtesy Bernie Chequer.
Here Bernie Chequer riding the 350 DanShorey Norton in the Classic series in the nineties,..
Bernie probably painted the fairing too.
More later
Updat2021...