Famous sports photographer, and very accomplished trials rider in his time.
The author of.

"Classic British Trials Bikes"

. With forward by

Ralph Venables.
Just one of his line of motorcycle publications.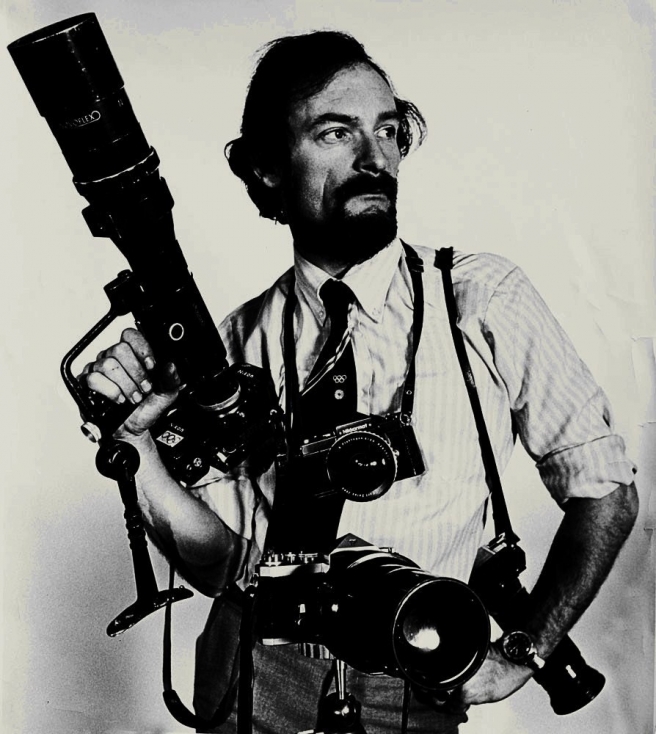 Don's

version of how the

"Otter"

name came to be used by
The

Otter

name and how it came about.
This happened after Cornish rider

Colin Dommett

bought the bike

BOK 228C

off

Scott Ellis,

and decided to restore it, whence he and his friend

Ally Clift

(Top Cornish Centre Scrambler etc) decided to copy the frame whilst the bike was in pieces, and build a replica rather than continue wearing out the original.
This in turn led them into being besieged by other

BSA

riders wanting copies, and decided them to go into small scale production for both Unit

BSA

engines, and Unit

Triumph,

and it was called

"Otter"

as it was actually made in the area made famous by the book of

Tarka the Otter!

(

Exmoor-North Devon

).
And I might add, I had one of the first frame kits.
That all said, I never liked mine much, despite its all alloy

B40WD

engine with turned down

Victor

round barrel massive weight saving, and I always wished I had stuck with a late

250 C15

engine, or used a Unit twin

Triumph

engine instead, can't put my finger on it exactly, but that no matter what I did to it, the

B40

lump just wasn't right.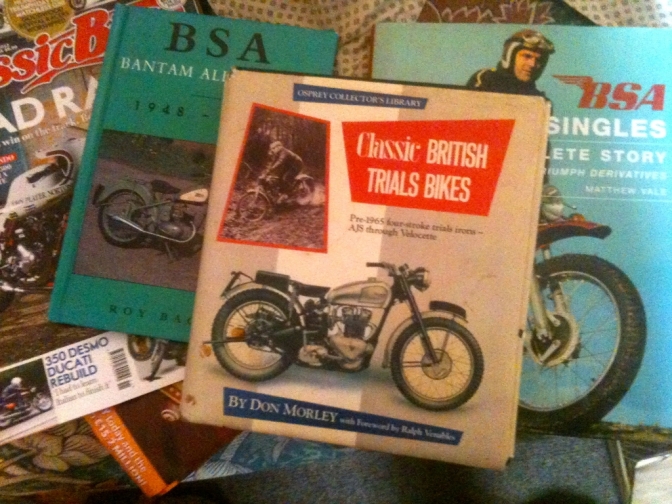 Don

talking about

Scott's

frame.
When I did my book

"Classic British Four Stroke Trials Bikes"

I interviewed

Scott

, and

BSA

Comp Chief

Brian Martin

, and they all confirmed It was entirely

Scott

and his fathers brainwave, indeed

Brian

let it be known he did not approve of this massive departure from standard at all, but as it was so close to the closing of

BSA's

Competition shop, he decided to sort of turn a blind eye, as by then such as

Scott

were Work's supported rather than as had been in the Golden era, fully works paid riders.
This is what

Don Morley

had to say about the

BSA "Otter"

B40

in the

Classic Bike magazine

, dated

January

1983.

Writing about "Trials Heavyweights".
And this was one of the first

Harry Foster

"Otter"

Frames that

Don

had bought and fitted a

B40

engine into.
The

"Otter"

framed

BSA
B40.
This is the real villain of the peace, a modern replica oil-in-frame job that knocks pounds off the weight of the old

C15T

frame and gives increased ground clearance.
It was copied directly from

Scott Ellis's

last works

BSA,

BOK228C,
(the one

Scott

built,) using an identical steering head angle and wheelbase, but the improved ground clearance, overcame what was always

BSA's

major problem with trials bikes .
As

Ellis,

and the works, could have had these machines available in the

1960s,

why not ride them now?
Indeed the bike was much more competitive in the

250

form where the engine was a plonker, than is a

B40,

which is why the factory did not persevere with the

350

version.
The

"Otter"

350cc

machine has the perfect

52 1/2in

wheelbase, and a

9in

ground clearance with the bike laden.
On my bike,

BSA Bantam

hubs, and alloy tank reduced the weight to,
Although other

"Otter's"

may differ slightly according to the equipment fitted to them. The

218lb

figure is almost

27lb

less than

Sammy Miller

achieved with his

Ariel

,

GOV 132,

while standard-framed

250 BSA's

weighed almost as much as a

500 BSA,

and was therefore at a distinct disadvantage on most every count.
What really helps the

Foster "Otter",

however, is its rear-set footrests, and the slim rear sub-frame. Yet such mods are not beyond the

Ariel

and

AJS

riders.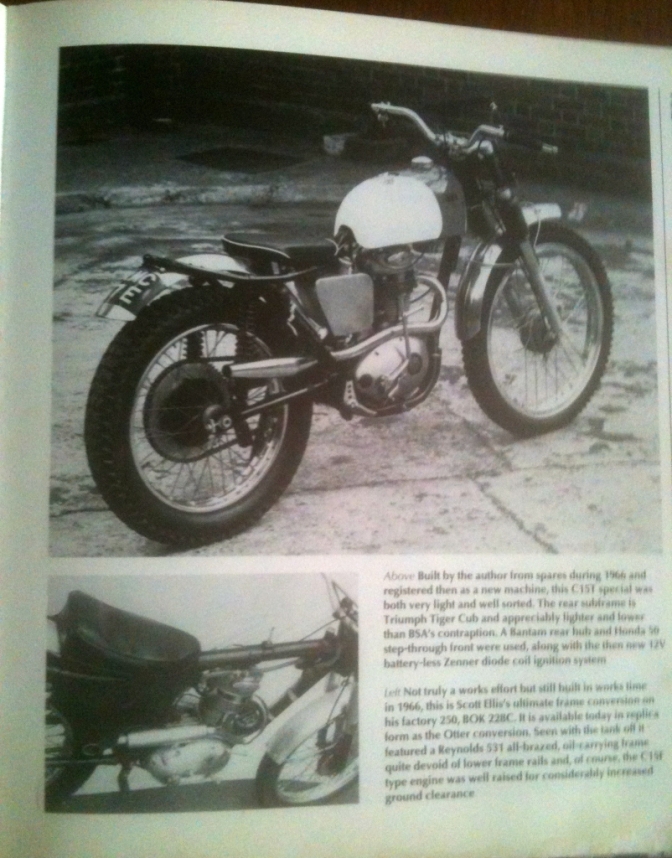 This is the page from Don's book "Classic British Trials Bikes",
That inspired me to go ahead and build my version of the Scott Ellis bike, that later was copied by Harry Foster and Ally Clift, and named the "BSA Otter".
Don's own BSA C15 built in 1966 the bike at the top of this page, used a Triumph Cub subframe the same.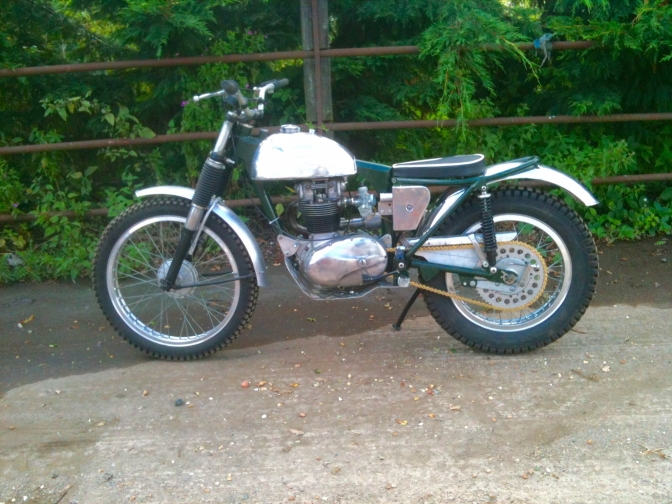 My Scott Ellis Replica BSA C15...2019
And note the use of the Honda 50-90 Cub "Step through" front hub used, the use of this hub started a trend at that time, and most other lightweight "specials" built, used one of these items.
And don't forget they were Pre 1965 in there existence, so should be classed for use on any machine purposed to be in this class Today.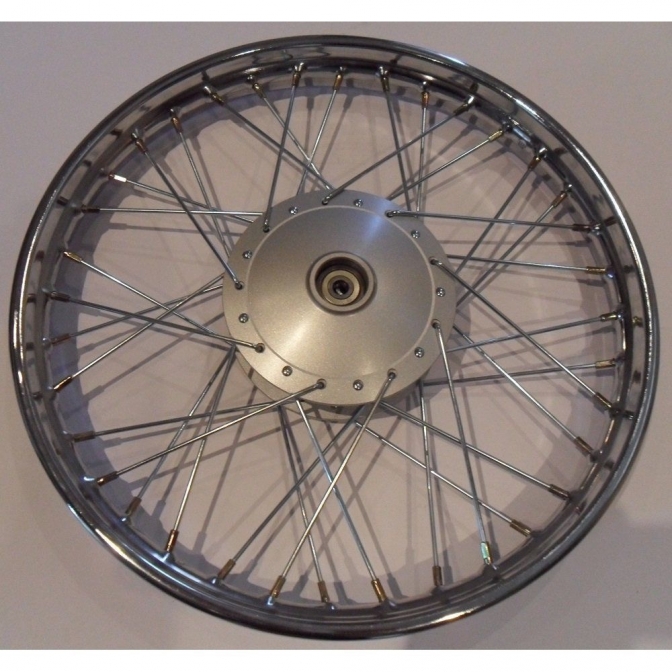 Honda Cub front wheel...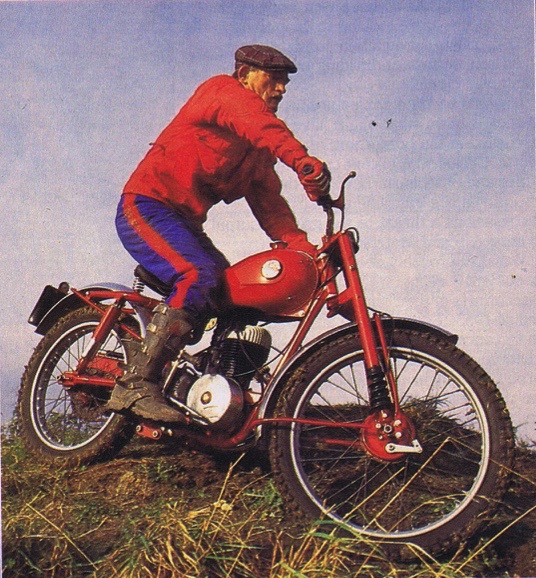 Photo from Classic Bike March 1988.
Title Arise Sir James. Photo Courtesy Martyn Barnwell.
Here Don was testing a nicely rebuilt 1955 James the first Swinging arm Captain trials bikes from the Greet Factory.
Don said that It was a shame it had the non damped forks which Bill Lomas had fitted as early as 1950, the hydraulic damped forks were not fitted until 1955 on the production K7t trials although they were fitted to the K7C scrambler slightly earlier.
| | |
| --- | --- |
| Forks | Telescopic fork with oil-damped two-rate springs. The fork "H section was strengthened also (but not much !) |
| Fork oil capacity | 165cc per leg. SAE 50 |
***
The illustrated bike also had the usual modification of swapping the James forks for a pair of BSA units from a C11, C10L - these days a C15, I suppose. We used to do that because the fork top outer tubes used to corrode just below the lower yoke, and then the whole lot would snap when you used the brake........
Deryk Wylde.
Hi Mark.
This looks like one of those "Hens-Teeth" situations.
As I said the K7C was in fact the Cotswold scrambler and not the trials bike which was K7T, and although Bill Lomas fitted Hydraulic damped forks onto his works bike from 1950, the production James trials never had damped forks until 1955.
Most people fitted BSA forks to their James trials bikes, and I remember Bob Cooper doing just that, on his works James at one point.
The James trials forks were reinforced with an "H" section between the yokes to stop them twisting, but I don't think it helped that much.
I tried fitting"Teledraulic" forks to my James at the time, but made the big mistake of trying to use the yokes as well, no good at all, the offset was too much. The Billet boys of today would have solved the problem.
So you see where this type of modification started.
I will update my site on the Don Morley page with any other information I come up with.
Regards ~Oo>Charlie...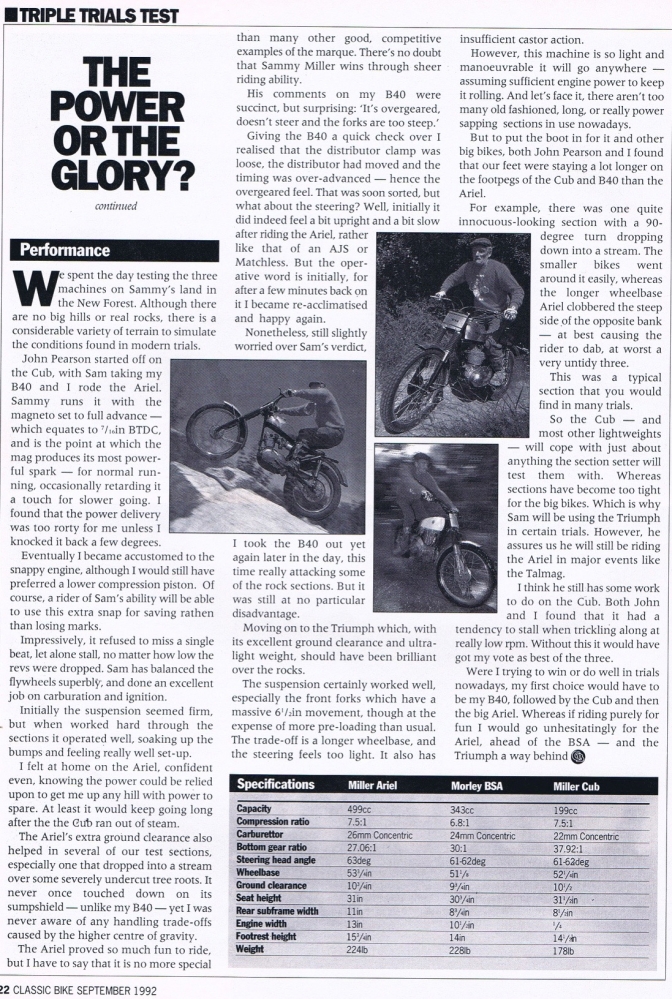 Article from Classic Bike September 1992.
Now I don't know what way round this was but Don had one of the first Harry Foster "Otter" frames, and fitted a B40 engine has above, into that frame, whether Don sold the "Otter" frame, and then later modified the BSA frame in this article is not clear.
Or perhaps Don sold the complete Foster "Otter", and then later built this machine, which seems to be the case.
Don was a avid builder of bikes anyway, and the number that has passed through his hand over the years can only probably be bettered by another journalist, and that is Deryk Wylde.
Here is a picture of Don riding one of the Many Greeves (Mostly Anglian's I think) that has passed through his hands.
And I believe he still owns one, or even two, today.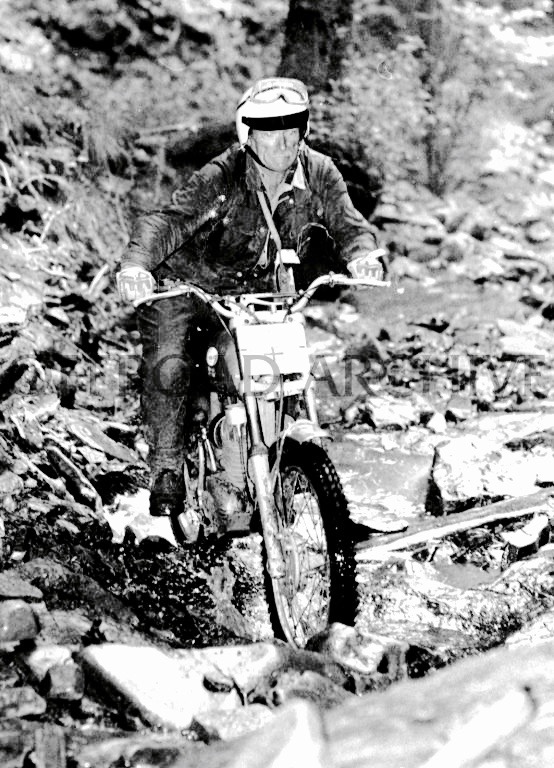 Photo Courtesy Deryk Wylde "Offroad Archive".
More later. About Don Morley...
Updat2023...04...