The Dave Wood Page.
2016.
We know that when Dave sends us information about his rides and builds that we get a wealth of information so Dave this is your new page for all updates, as we keep running out of space on the other Build-an-ride pages.
10/02/2016.
Photo "Otterman".
Milwich. 25.9.2016
The second round of the BMCA series saw a visit to what for most of the riders, would be a new venue at Manor Farm, Milwich, Staffs.
The main feature of this venue is the silt and very loose gravel bottom stream that runs through the farm, straddled on either side along most of its length by a mixture of steep banks offering root infested climbs, cambers and mud. Rain can make the already slippery banks a real test and that's just what the weather served up, a torrential downpour overnight which saw some hasty section restructuring before the trial started. Fortunately, but for a brief shower just into the first lap, the rain held off during the trial and the riders were treated to sunshine for the duration.
The shine was dulled a little however due to a nasty crash at section 9 for Pete Kirby on lap 1 resulting in a neck injury. As people with neck injuries shouldn't be moved the section was closed and Pete had to endure a prolonged period of lying on his back at the bottom of the bank, head down, feet up ( a rarity…) whilst being tended to by two very nice young ladies who had come to see him in their helicopter.
One was so smitten with him she couldn't wait to get his riding top off and set about it with scissors.
'Oi' he cried, 'I've had that for 40 years'. 'Well it's about time you got another then isn't it' she said as the removed the shredded remains from his six pack torso (or should that be a party seven..)
Pete is being looked after in Stoke hospital and thankfully has regained feeling in his arms and legs and is hopefully on the mend to a quick recovery.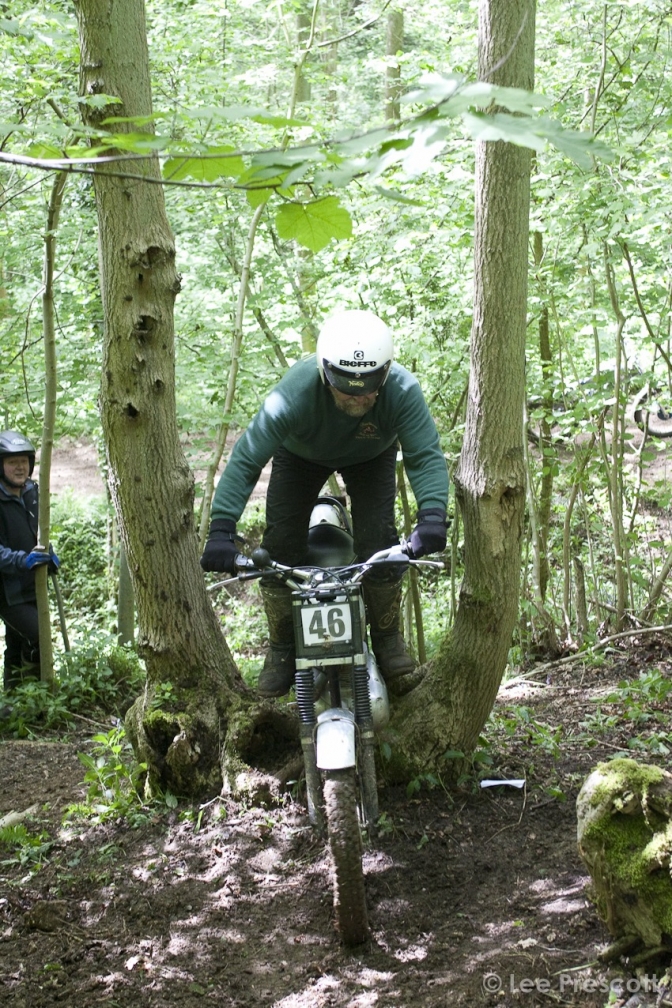 photo, Pete riding in the Sam Cooper trial a few years back.
Charlie:> Get Well soon Pete we need you.
Meanwhile the trial continued and the expert class was a closely contested affair between Steve Thompson, Gavin Andrews and Paul Munslow with "Two go's Tommo" coming out on top with a score of 10, to Gavin's 12 and Paul's 13. Section 1 was a testing opener, with a couple of tight turns both in the silty stream and on the muddy bank. This section caused Steve big problems as 7 of his total were shod here, to Gavin's 2 and Paul's 5. Sections 2 to 4 were relatively straightforward for the experts with Steve going clean through all three, but Gavin lost 3 on section 3, Paul just a dab. However, section 5 observed by Ken Garfield was a tester and featured a small descent through the start followed by a left turn through mud and small rocks. A good line was needed here for the following short climb over more rocks leading back onto the top of the bank. A U-turn dropped the riders back down the bank and into the stream where another U-turn led back out of the stream and up another rocky climb to the ends. Steve pulled back a good margin here by recording the only clean ride on all four laps. Gavin suffered a costly 5 on lap 1 when the front of his C15 washed in the silty stream bottom and ploughed into the bank stalling the engine. A further 2 on lap 2 saw his score rocket to his final total of 12 as he cleaned the remaining sections. Paul lost just 2 on this section but 3 marks on section 7 and a further two dabs in 8 and 10 put him just out of contention as "Two Go's" held on for the win.
In the Inters, Lui Farinaccio took the win on 24 marks with Mike Bulter close behind on 28 and Mark Lucas grabbing the final podium on 33. Inters rode the expert route on sections 1, 5, 7, 8 and 10 and it was sections 1 and 5 that took most of their marks. As with the experts it was section 1 that proved the more difficult with scores of mainly 3 and 2 being recorded on most laps with a couple of single dab rides from the first and second placed men. Section 5 was more of a mixed bag of scores with Lui recording just 4 in total and Mike 5 but Lui was more consistent with 4 dabs whereas Mike took a couple of laps to dial into it with 2-3-0-0. Section 7 featured a very slippery downhill camber towards the exit and a little bravery was required here with speed necessary to carry the bike across without losing the rear towards the bottom. Too slow meant an inevitable loss of marks with the rear or both wheels sliding down the camber needing footwork to correct. Lui suffered his only 5 here, recording 9 of his total but recovered well to drop only 1 mark in the remaining sections. Mike lost 2 less here but dropped a further 5 in the remainder and it was Mark who lost the least on section 7 with a 6 total. However, section 5 was to get the better of him taking 11 over the 4 laps and a further 5 dabs in the last couple of sections dropped him out of contention leaving Lui to take the win.
In the Clubmen, just 2 marks separated winner Geoff Clarke and second placed man Keith Sly on 5 and 7 respectively. Mark Strong on 10 just pipped Steve Haines on 11 for third place but both must have been cursing fives without which either could well have been challenging for top spot. Steve lost his on section 1 along with another dab for a total of 6 on a section that caused no problems for his rivals and Mark had a similar disaster on section 8 for a total of 6, although this also took Geoff for a 1 and Keith for 3 whereas Steve went clean here. There wasn't any one section in particular that was a mark taker on the clubmen route therefore consistency throughout the entire trial was needed for any chance of victory and ultimately it was Geoff who demonstrated that and just edged it to take the win.
Report:Dave Wood.
Much more later when Dave has time to report.
12/02/2017.
Hi Charlie, just a quick note to say I've just started another Bultaco, a 4 speed Sherpa this time. I'll put some notes together later in the week with some photos and send them to you. This one will take a few months so there will be gaps in the updates. Two photos to show the bike as I've bought it with its 'updated clothing' and which is now in bits all over the garage....
I'll send you something as soon as I can but I've a busy week and it's Telford show at the weekend so I have to get my model 49 Bultaco cleaned up as it's going on the KIA stand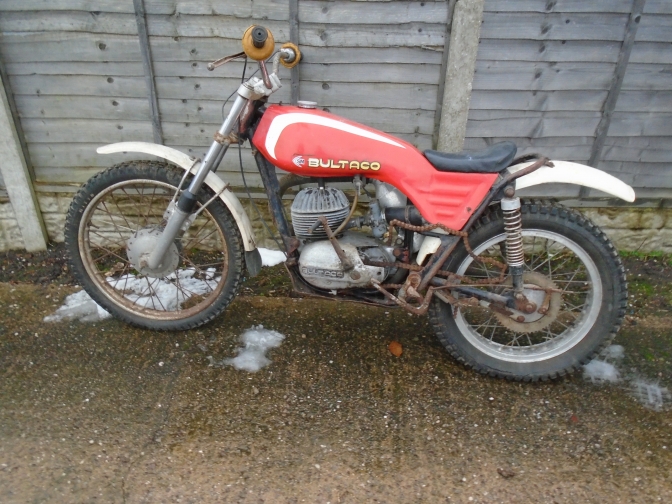 Photos Courtesy Dave Wood.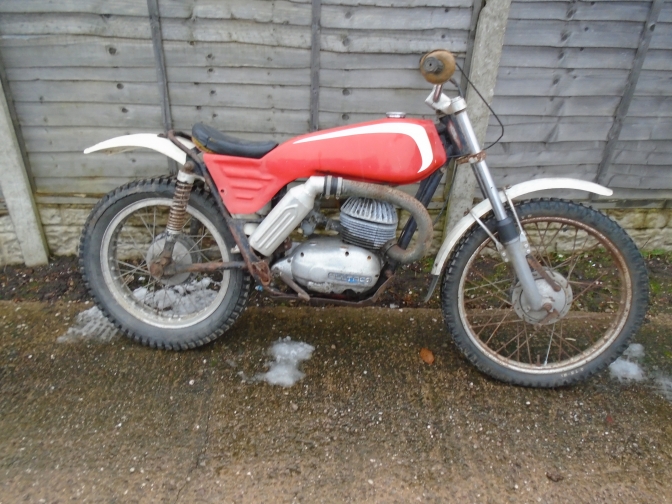 Dave> More later on this build.
Hi Charlie, hope you're well.
I've managed to do a bit of work on the M10 Sherpa since my last email, not as much as I'd have liked, but progress at least. I've attached some pictures as well although may have to send others in a seperate email as AOL doesn't cope with too many attachments.
Where to start... As you can see by the pictures of the bike as bought, it needs a full sort out, so I completely stripped it and tried to attend to the engine first as that seemed the easiest to do and could then be stored out of the way whilst the rest was sorted.
So, the engine. I've never done a 4 speed before and there are a few differences from the 5 speed, obviously the gearbox being the most notable. Whereas the 4 speed Ossa is the same fundamental design as the 5 speed the Bultaco is completely different with respect to the selector mechanism. However, once you look at it it's fairly straightforward in operation and disassembly. First job was off with the top end and apart from the tortuous location of the base nuts securing the cylinder to the cases this was drama free, Removal revealed a lot of gunge and water in the crank but nothing siezed. All would be renewed anyway. Clutch and ignition have some slight differences from later models but nothing significant so once they were removed it was time to split the cases. This can be done with the selector mechanism left in place in the R/H side casing. What wasn't so obvious was what was preventing the cases fully coming apart and thanks to Pat Keane up in Preston for pointing out that the speedo drive needs to be removed first as it drives off the gearbox on the 4 speed, located underneath and is meshed into the gears.... you live an learn. Pat really knows his Bultacos and had a beautifully rebuilt Model 10 series 2 for sale at Telford.
Photo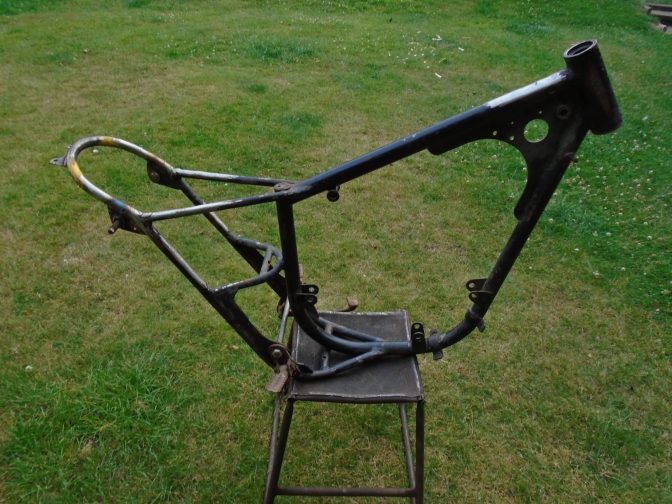 Modified Frame with TY rear Loop.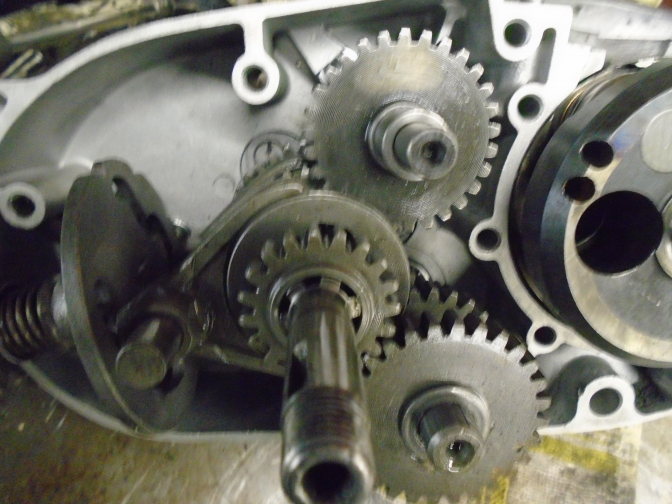 Four speed gearbox.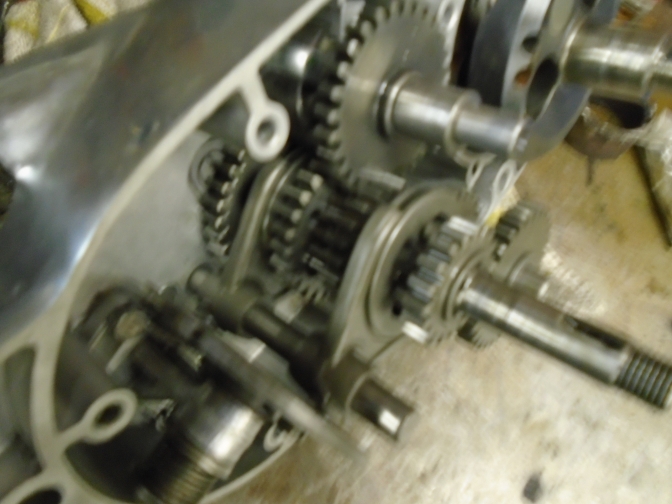 Old school gears.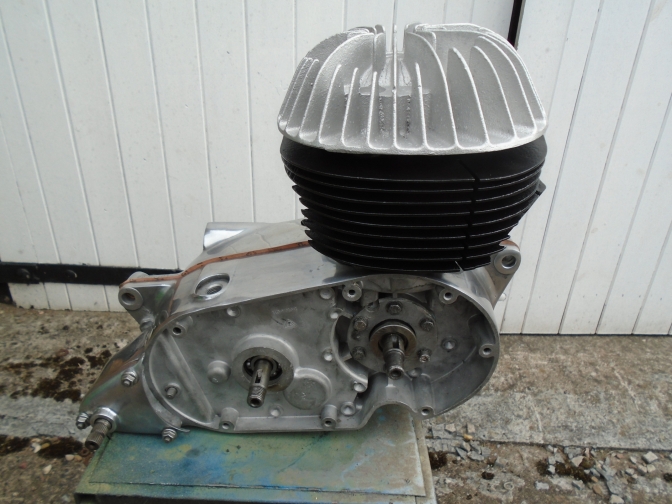 Old school radial cylinder head.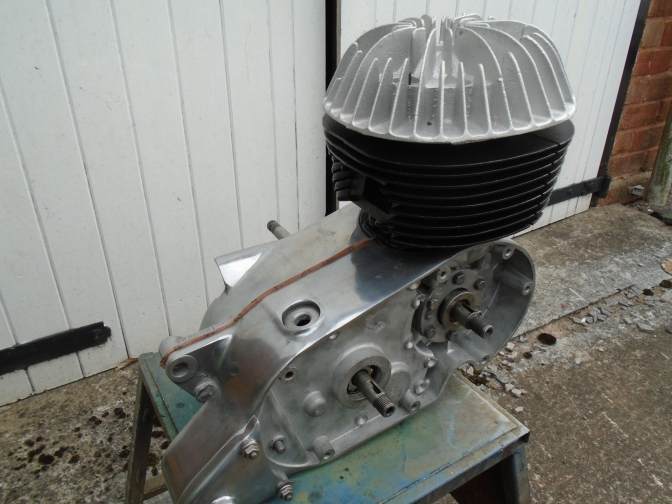 Once the cases were apart it was a relief to find no damage to the gearbox as parts are like hen's teeth. The difference in size of the crank assembly in comparison to later models was a surprise as it is tiny. The only disappointment was finding a crack in the housing for the kickstart shaft but fortunately I have a friend who is a first class engineer so the housing was machined out and replaced/bushed. Good as new and I owe him a small vineyard for the work he put into it. Once the cases were cleaned up and polished the motor was reassembled. Things were obviously going too well as I then found a stripped thread in the top of the cylinder for one of the head studs, so this will have to be helicoiled. I also found two threads for the timing cover have been taken to 8mm, so more helicoiling to be done. All that is left on the engine is some new clutch plates. The drive plates are different from the 5 speed model and may prove elusive but an option is to replace the clutch hub with an early 5 speed hub which will solve that problem if it becomes one. I haven't checked yet but if the ignition is the same as a 5 speed I'll fit an electronic kit - mainly as I hate pratting around with points, not because it makes them go any better...
photo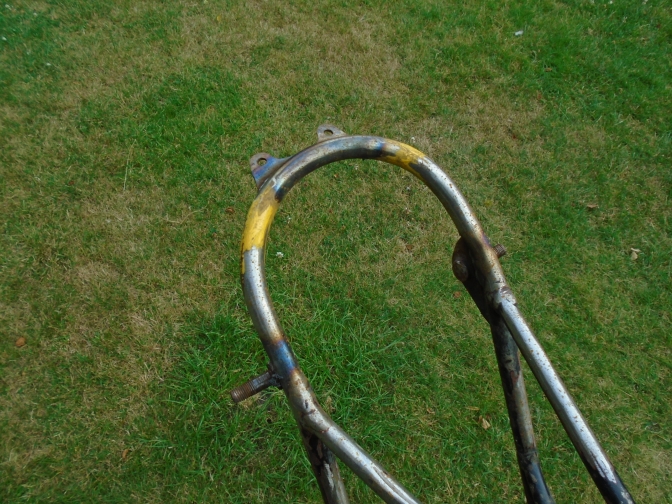 I've also managed to get a bit done to the frame which has been altered in places to accomodate the none standard parts that were fitted. Fortunately the mods were weld on and didn't involve hacking the original structure of the frame so it was more a case of removing things and tidying back up. The only problem was the rear mudguard loop which wouldn't repair and seemed to have some rust in it as well as the metal of the tubing being quite thin in parts making it impossible (for me) to weld. It was going to take someone with way more ability than I had to sort this out or make a new loop, then I remembered I had a loop somewhere of a TY250 which I had removed a few years ago. I managed to find it and was almost an exact match. So off came the old and on went the TY loop. A perfectionist may know what the very slight difference is but as this is a bike to ride, not try and win concours, it doesn't matter to me. The only thing missing now is the seat mount for the correct seat but I'm going to make a seat for it as I'm not keen on the original, so it's not a problem.
The only think left to do to the frame now is decide what to do about footrests. The standard position is far to high for me and I want to ride it so they are going to have to be lowered. The model 10 has bolt on brackets so I have to work out whether I can make new ones which will hang lower or weld some plates to the back of the frame to take new brackets. Whichever, it will need a new brake pedal making as lowering the rests will foul the original ugly concoction that Bultaco fitted... Once done it can go off for painting.
photo
As for the rest, the wheel rims were past it so new rims will be needed. The hubs have been polished and painted and are with Colin at TYOffroad to rebuild when we get some rims. The forks are at Philpotts for rechroming. The exhaust as you can see from the picures his past its best but I'm hoping it can be rescued and replated as I'm not convinced of the fit of new replacements from Spain. A new silencer will be needed as well as a new carb. The fuel tank wasn't the original so I have a new one on order from In Motion who have someone that can make one. The there will be the usual sundries such as bars, cables etc. I'm hoping to have it done by the end of the year and ride it in a few classic trial - maybe enter Scotland on it as they're now eligible.... :)
photo.
So that's where it is now Charlie, as soon as things move onto the next step I'll let you know
Dave