MECATECNO MR 326...
TRIALS BIKE...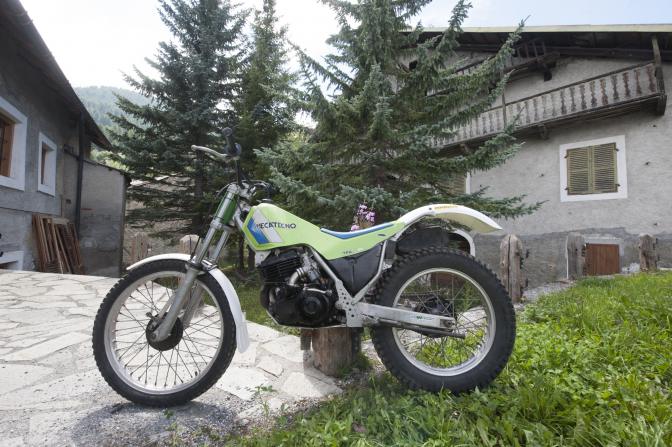 All photos Courtesy the Justyn's Norek and their copyright...©
Another in the series of test rides and Analysis on one of the bikes from the superb collection of Classic Trials Bikes the Italian Carlo Ramella owns...
This time the very rare MECATECNO MR326 trials...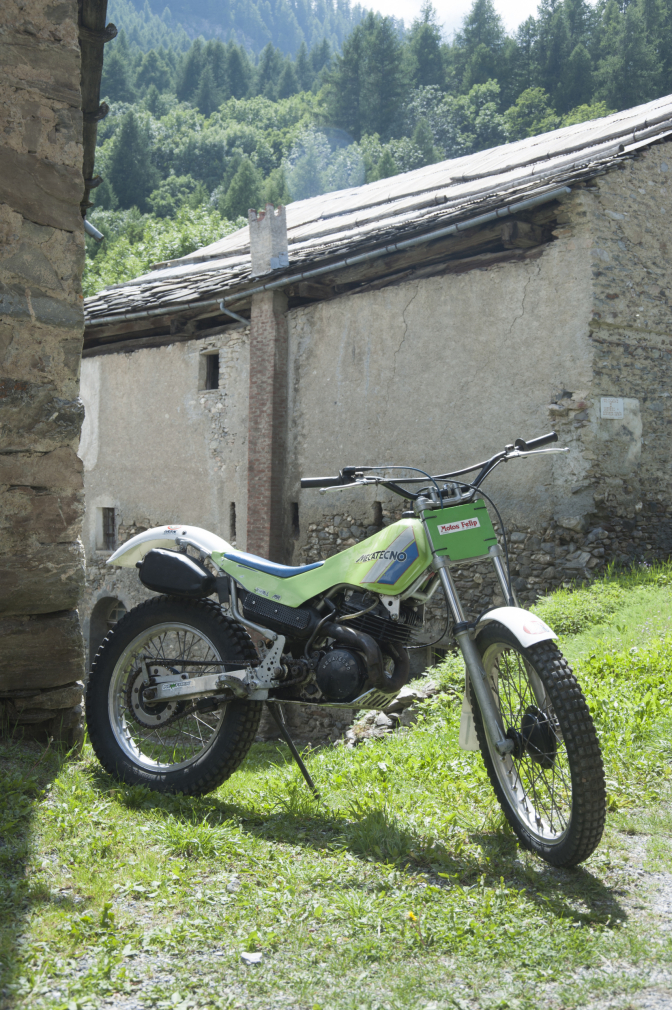 Here is story of acquisition of MECATECNO MR 326 TRIALS BIKE as narrated by Carlo Ramella :
Few years ago, precisely in 2012, I have exchanged some letters with Mr. Figol, Spanish collector of motorcycles who advertised selling of HONDA RTL 250 TRIAL bike that I was searching for some time with an intention
to buy this great machine.
During intense negotiations for Honda Mr. Figol has mentioned that he has in his collection also rare ex—works
MECATECNO MR 32 that was used by factory works rider Albert Juvanteny...!
Hearing this notice level of my adrenaline has risen considerably.... Well, I was thinking, has MECATECNO MR 326,
Trials bike very particular and rare and early model still with drum brakes yet equipped with mono at the rear.
Problem however was rather great, he didn't want to sell MECATECNO ! He wanted to sell his HONDA RTL 250 TRIAL....!
But after long, long friendly chat showing how we were keen about trials bikes, I have managed to convince
him to sell MECATECNO together with HONDA.!!!
We both shook hands and deal was done. Now I had to organise picking up bikes and these were in Andorra.
So I decided to make trip during Easter Holidays as I planned with my girlfriend to do in Barcelona, then
drive to Andorra to pick up both bikes without telling anything in advance to my girlfriend, leaving this notice
as Easter surprise.....
During one evening in restaurant I told her about this change in holidays, and surprisingly she accepted this
modification of holidays plan knowing my passion for motorcycles....
@aa1A
Next day we arrived at destination and met with Mr Figol, who brought us to his garage, which looked like an "Alibaba' s" treasury cavern full of treasures like R speed OSSA, Sammy Miller's Bultaco, various Montessa's,
Suzuki McLaren, numerous Honda 's. And so on... Really feast of classic Spanish off-road bikes but not only,
also road bikes etc. After long chat of course about bikes, I paid agreed amount and loaded both bikes in my "Espace" and started back home trip. We only stopped for night in hotel and I was lucky to find hotel with
Locked garage so we slept well knowing our bikes were well hidden and protected.
After arrival to my home, I called my good friend Pippo Bartorilla inviting him to come and see and ride bikes I have bought.
Pippo arrived quickly and we soon started MECATECNO giving it strong kick forward, which is bit strange but we are used to it as, we have Fantic 300 having same system. We have examined bikes in detail and came into conclusion that it was a good deal.
Now we hand over bike to Justyn Jnr who will do more detailed review. Bike is original one just like Juvanteny
used it with one small exception... It has here and there some holes drilled to shave some weight of bike, these were done by one of it's owners, but they don't look out of place on this bike.... So now let's go and see Justyn Jnr testing it.....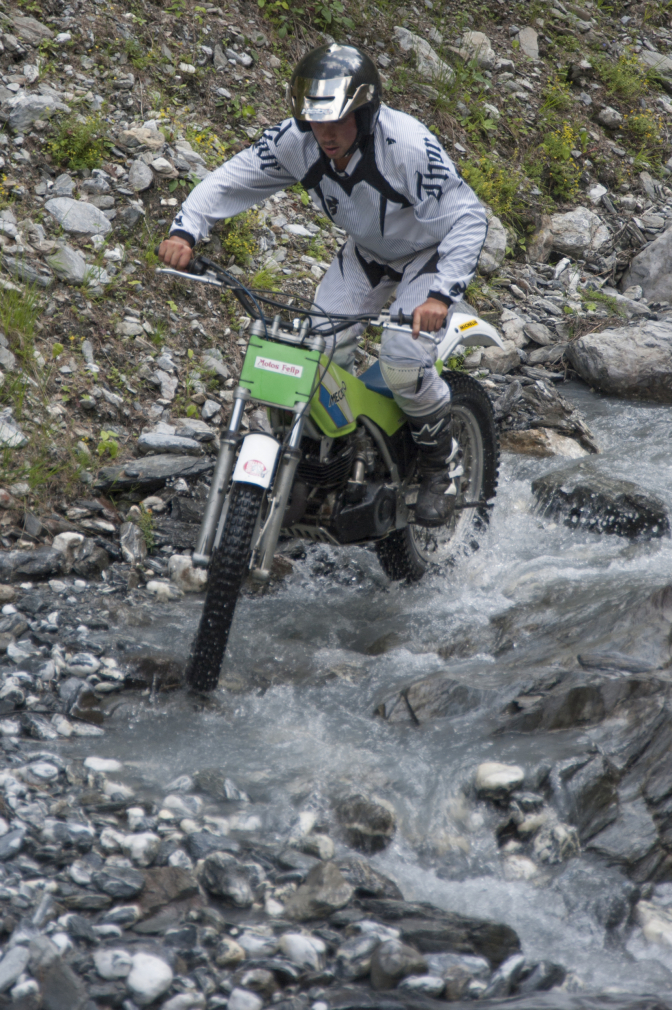 Here are riding impressions of MECATECNO MR 326 by Justyn Jnr.:
~~~~~~
I have had phone call from our good friend Carlo Ramella who invited me to his summer chalet in Alps
to have weekend together and to ride one of his numerous classic trials bikes in real rough terrain.
I have already tried some of his fabulous machines that before knowing Carlo I would never dream about
having chance to ever put my feet on. The first one was legendary Sammy Miller's ARIEL GON786, one of..
Only two that exist ! Another one in collection of Beaulieu 's Museum in GB. Having won trust of Carlo for
not dropping this bike worth fortune, on ground, initiated long friendship with with Carlo and unique chance
to try and enjoy riding many ex-works bikes.
As usually big question was what bike to choose to ride....? This time as usually Carlo proposed several
great machines but my choice was quick and easy one : MECATECNO !
You may wonder why my choice was easy this time.... The reason is very simply : my first trials bike that
my dad has bought me was 50cc MECATECNO "Alevin" and I still have this bike in my garage and despite
I had many offers to sell it I keep it for sentimental reasons... You never forget first love, do you?
So after this somewhat long introduction lets talk about test day impressions.
We arrived in our Renault Espace punctually at 9 o'clock, and were greeted by Carlo and Pippo (Bartorilla)
who aleady prepared bike shining in morning sun light. You may not agree, but she was beautiful... Well
I am biased of course. I jumped on bike immediately, still with my jeans and sneakers and on bike still silent I tried standing on pegs and first feeling was very good. So we planed to do test soon, then have lunch together and after it
Late afternoon to have photographic session bringing bike here and there searching for nice never photographed
spots around picturesque "Puy" village in Alps. Pippo and Carlo assured there's enough petrol in tank so I quickly dressed in my trial gear while father controlled our Nikon D4 ready for shooting. I even didn't check tires pressure as my "minder/mechanic Pippo assured me he controlled it and lowered to my preferred value, at this point Pippo & Carlo followed me on their Montesa's 4RT and then my dad and mom were ariving in Espace. Of course we were much quicker and arrived to "our" preferred area first.
Entry to stream bed is very steep one so you immediately get an impression how brakes are working.... And I must say I was pleasantly surprised for as I am used to powerful disc brakes in my Cota 4RT, this time I was feeling
at home on MECATECNO. Naturally I was riding back and forth over stones and rocks continuously washed by
Mountain stream. Handling was perfect for me and I enjoyed my ride immensely. Than I noticed Pippo and Carlo
Who watched me from wooden bridge waving to me... So I turned the bike riding steep uphill opening throttle,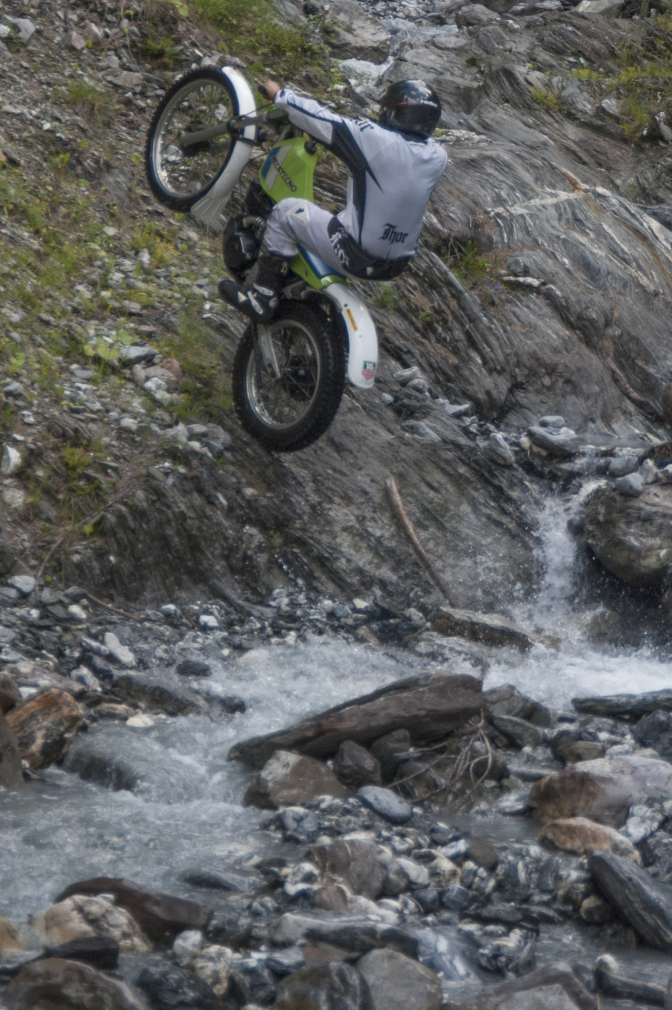 Meca scrambled easily up showing me its power and grip. And to be frank in the past I had sometimes difficulty with reaching the top with feet on pegs....
Indeed Meca was great bike. Small chat with friends accompanied by some snacks and drink I have found already one hour has passed...
Going back to "job" at this point I attempted some bigger hazards, riding up the river, selecting bigger stones and steps on slippery rocks, trying surplus in difficult moments or tight turns. Bike was handling surprisingly well...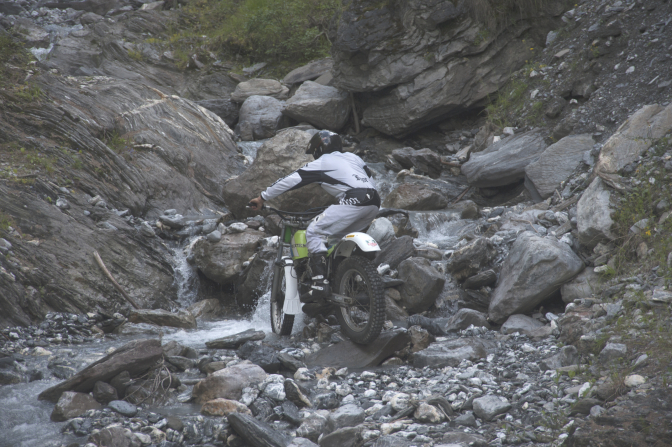 But what impressed me most was its engine power, tractable and good torque on low revs yet ready to wake up when I needed to lift front wheel over obstacle or attack the step. So rear suspension with modern concept helped too, as well as rotating disc for engine admission. And it was so easy to lift front wheel and do long wheelies that I like so much...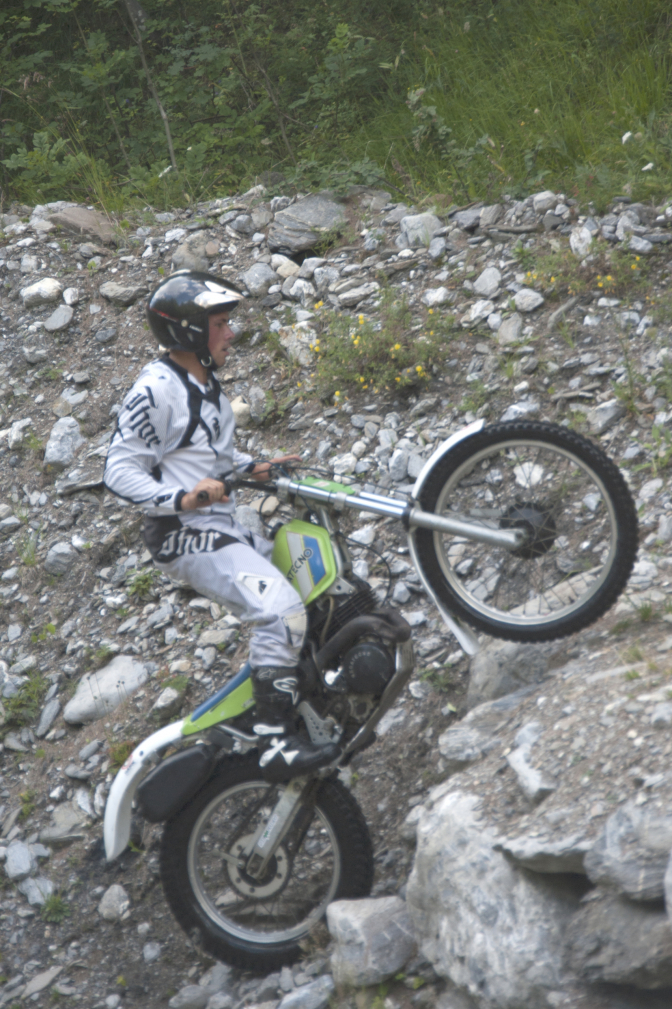 But then any flaws....?
Some flaws if any, there must be some, well bike seemed to be a bit heavy specially as I am used to super-light
modern bikes like Sherco.
But as I said we could coin marketing slogan :"Traction, superb traction, is MECATECNO 's great attraction "....
So I can say the more I rode this bike more I liked it.
Time was to go back to chalet and prepare lunch.... I didn't realise that it's already 5 hours passed since we came to PUY.... Actually I started to be hungry.
So we had good lunch and red wine.... As usual…
What did we eat and drink for lunch and dinner....? Too long to explain, have a look at photos...
And now we push bike to places where I will take photos of her.... Do you think we have done any good photo ?
Despite or may be because of red wine....?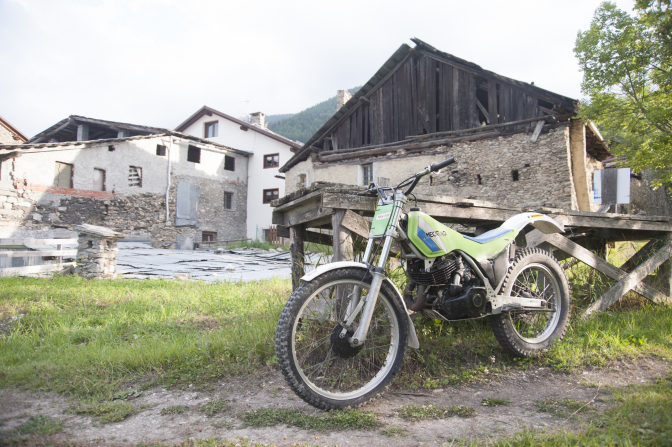 Well Yes...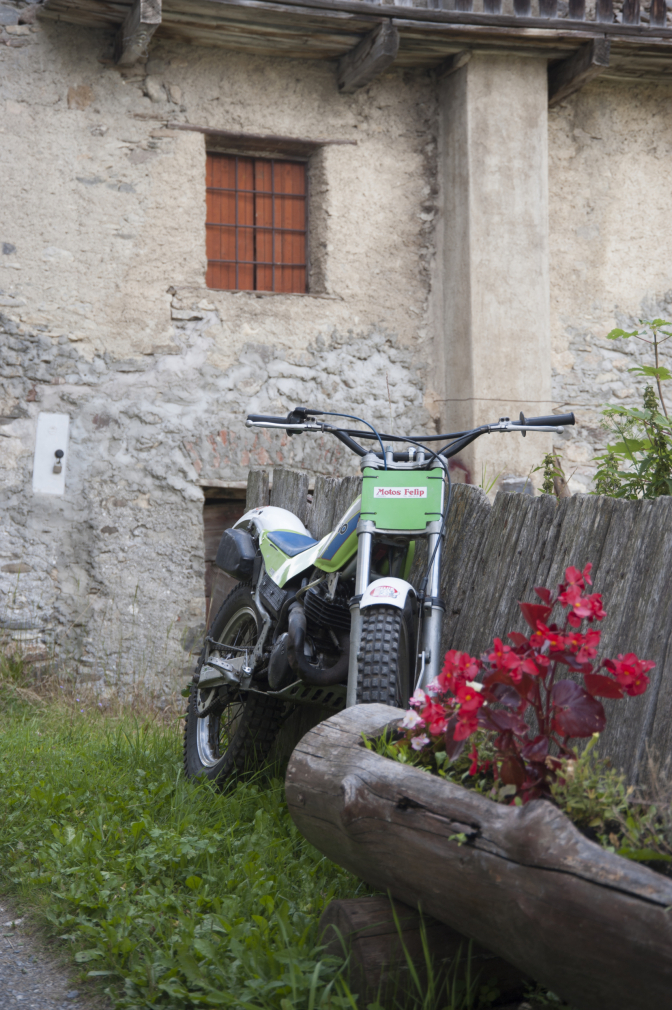 Hmm Nice...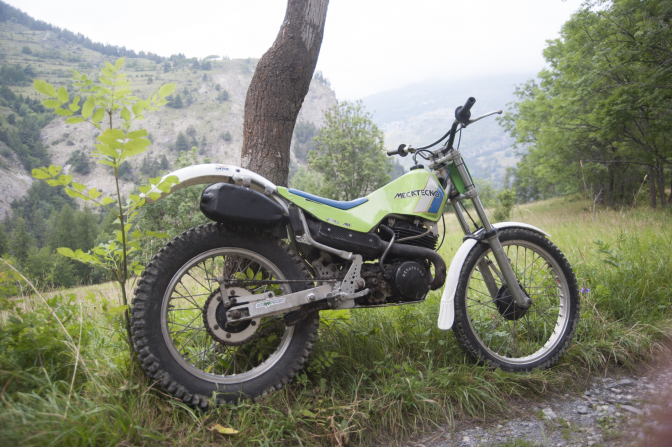 Wow...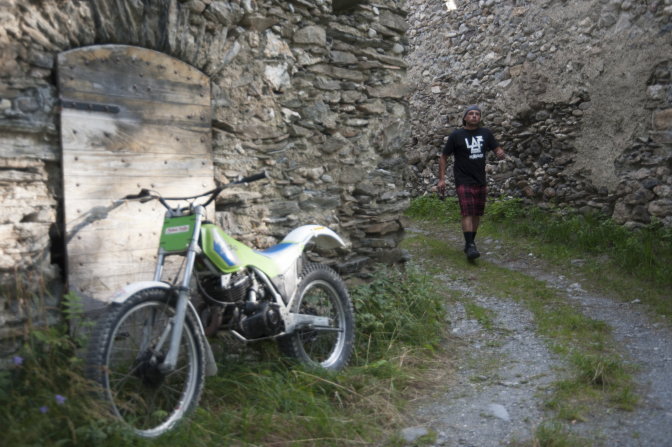 Nothing like a glass of Red wine to bring out the artist in you...
Here is Technical Information about
1985 MECATECNO MR 326 TRIAL bike :
Engine — single cylinder air cooled two stroke with fuel admission in cases of engine controlled by rotating disc,
Engine concept and design team — Joan Ruiz with Rabasa and Mira,
Engine capacity — 325,9 cc,
Bore & stroke — 77x70 mm,
Compression ratio — 8,5 : 1,
Power output — 16 bhp @ 6000 rpm,
Carburettor — Bing 84 or Dell Orto 28 mm,
Brakes front and rear — Drum type,
Tires — Front 2,75 x 21",
Rear — 4,00 x 18",
Suspension — Front telescopic hydraulic fork Betor Ideal, stroke 100mm,
Rear — progressive system with single shock absorber mono Rollin, stroke 180mm,
Gearbox — 6 speed,
Fuel tank in plastic with 4,5 litre capacity,
~~~~~~~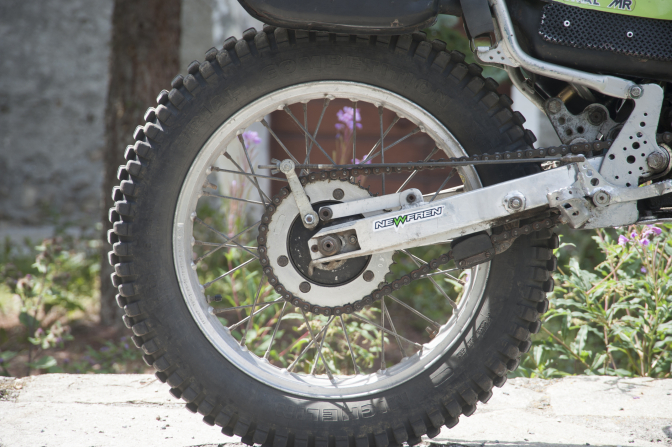 Rear — progressive system with single shock absorber mono Rollin, stroke 180mm...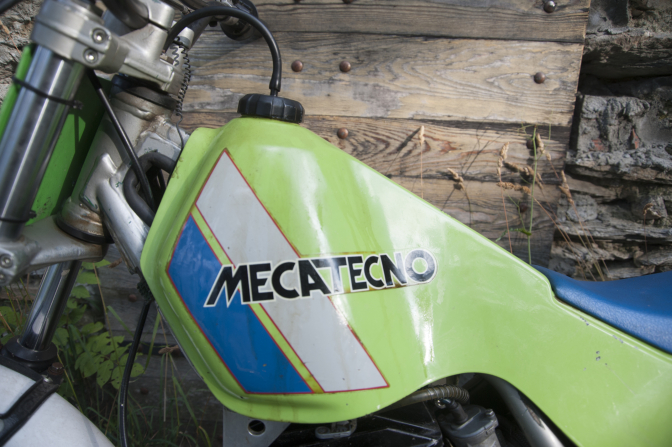 Like the grafix on the tank too...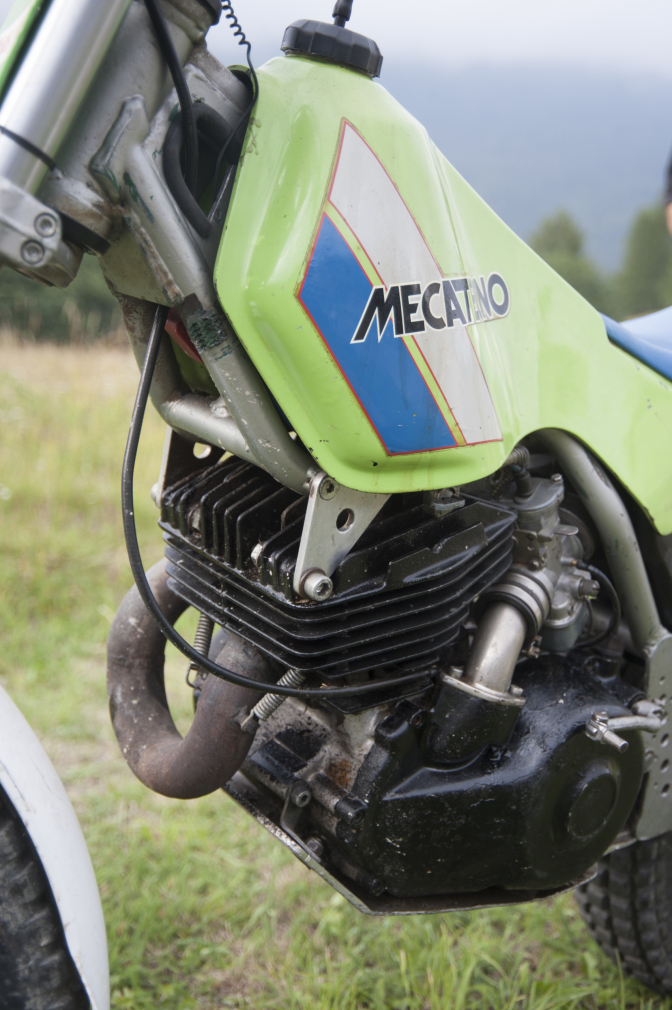 Here you can see the MECATECNO rotary disc valve engine details.
~~~~~~~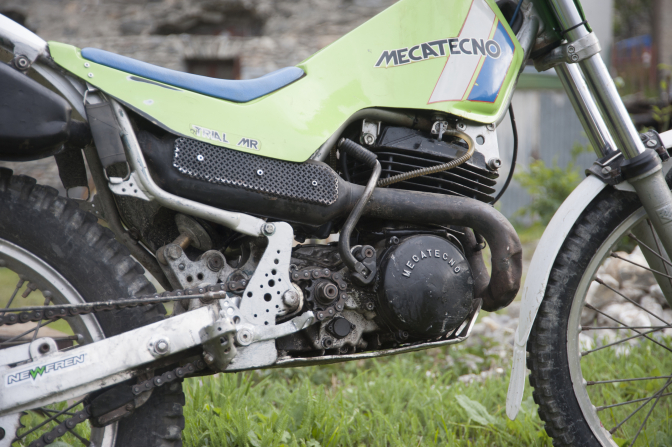 You can just see the single shock "mono-rollin" system with 180mm of stroke...
MECATECNO.MR 326...
Another Classic trials bike saved for history by Carlo Ramella...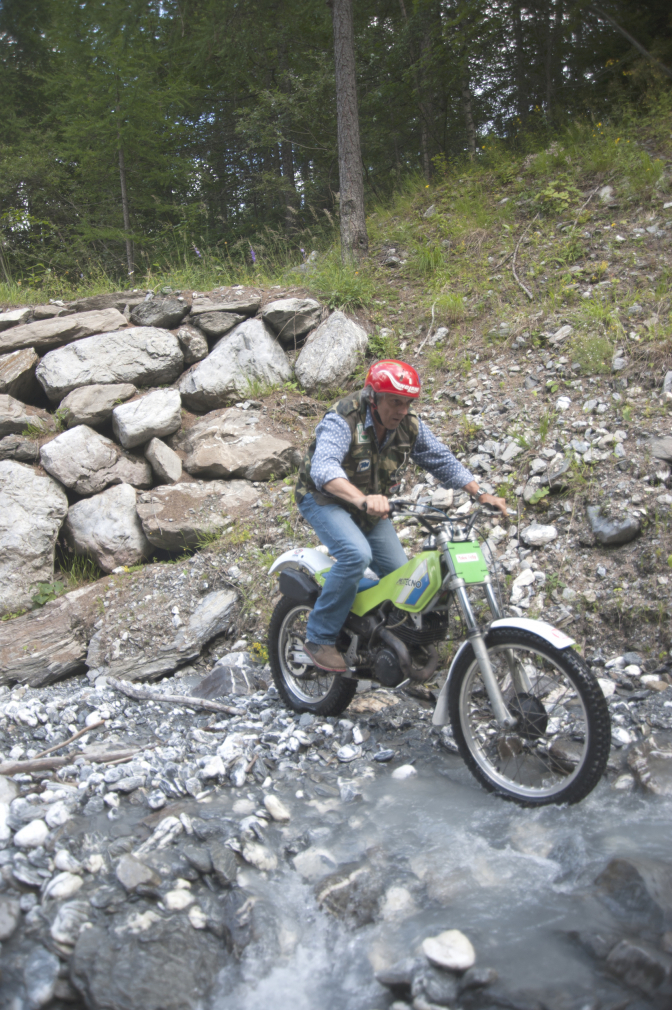 Carlo Ramella aboard the MECATECNO MR 326...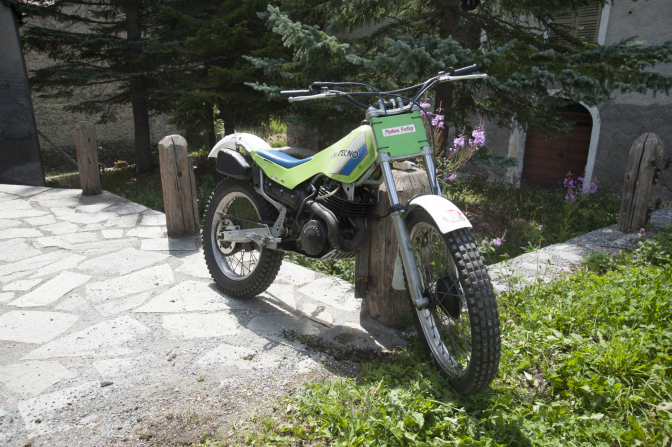 What a shame that Mecatecno decided to stop making trials bikes and go back to small commuter bike ... but now they build the juvenile electric trials bikes...
Riding on the clutch then Justyn the modern two-stroke habit...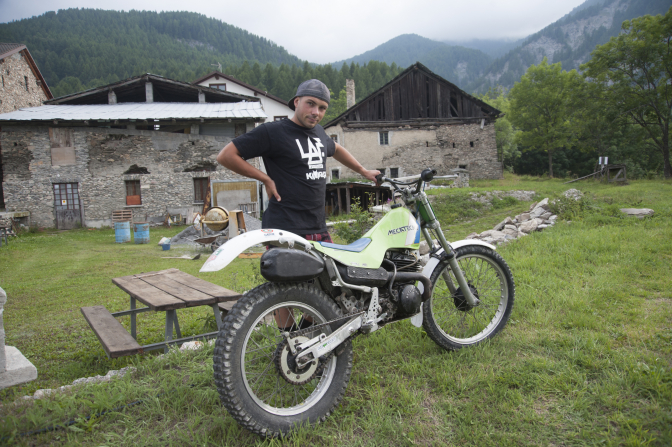 More Later...
Cheers Justyn Norek Jnr...
Another trials bike test by the Justyn's Norek brought to you by...

Updat2023...05...