A Page For,
My Seven Best BSA Build's...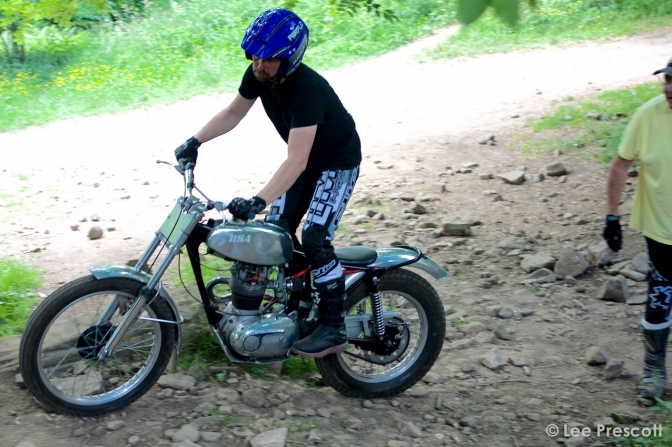 Here Lee riding my favourite BSA Otter in 2010, at Burycliffe Quary, at a trials lesson arranged for Lee with Mick Andrews and Alan Whitton.
As I am about to spend the Winter Months 2017-18 building up four of the present crop of New Frames and modified Originals, this page will do nicely for the build up of these machines and review my other three or perhaps four favourites in the camp.
So the bikes, to build.
The New SQ framed B25 engined bike.
The Mk Three Faber Framed bike .
(This was built for a Triumph Cub engine, but I intend fitting a 280 BSA C15 into it now.)
The New 2017 Foster Frame Number 44, that is having a BSA C15G engine fitted. With Triumph/BSA Four-stud forks, and widened BSA Bantam rear hub.
And Suzuki front brake.
This is also having the New shaped Alloy tank fitted along with my copy Ossa seat, like the originals.
The BSA Otter Dot Com Foster "Otter" is now ready to be rebuilt with the reconditioned parts.
That leaves the John Draper Replica build bike the copy of the last "Cotswold" bike John was working on.
This is now ready for assembly.
So we will see how we get on,
Each will have work done on them as the parts are ready for fitment.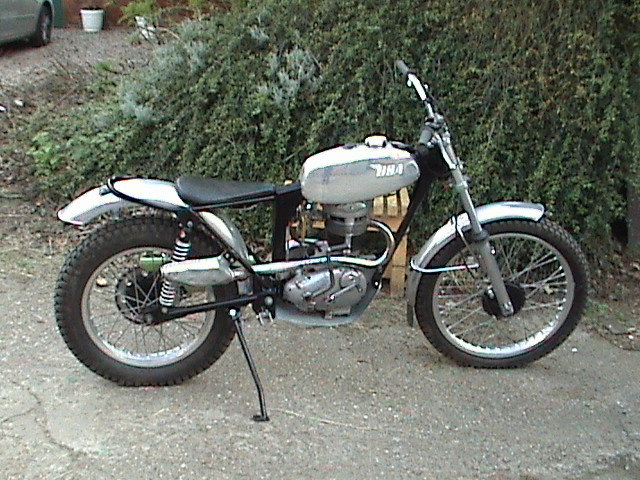 Photo Courtesy Lee Prescott.
1... Still probably my favourite BSA, the Mk One Faber framed "Otter".
Rebuilt in 2005-7
~~~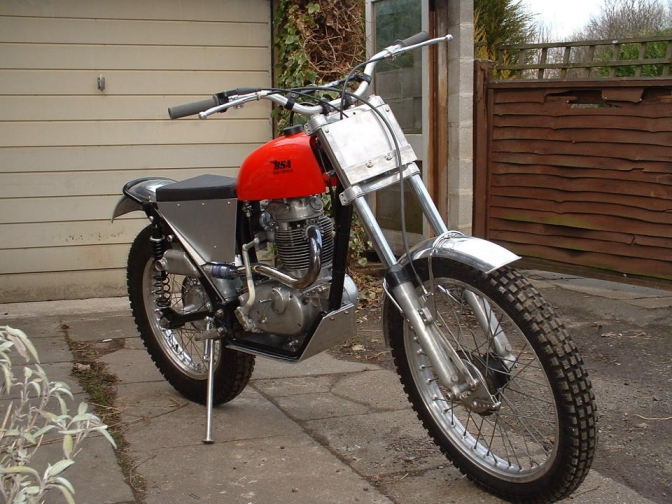 Photo Courtesy Paul Beswick.
2... And My Second Favourite BSA at the moment.
The Faber framed BSA B40 built by Paul Beswick...
And looked after by BSA Otter.com
~~~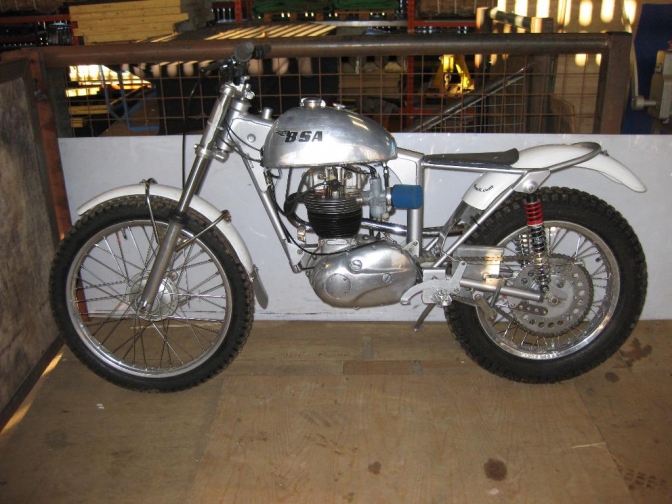 3... And third is the "Otter" On The Cheap", that I built in 2010 for the Classic Trials Show....
This has now been updated with White GF tank and Yamaha TY front brake and wheel...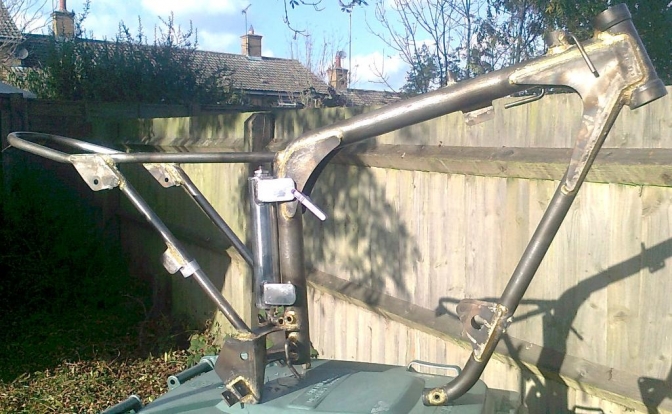 This is the Faber Mk Three frame that I may now fit a BSA C15 engine in. Now got the Triumph TR20 Cub engine back from Alan Whitton for the bike in 2023...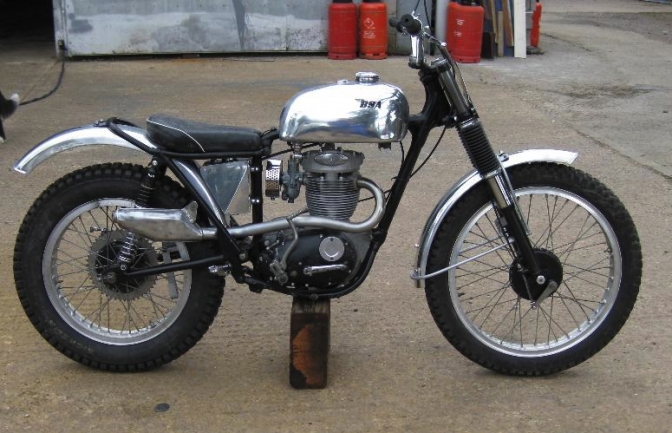 4... And the John Draper "Cotswold"BSA B40 that we are copying.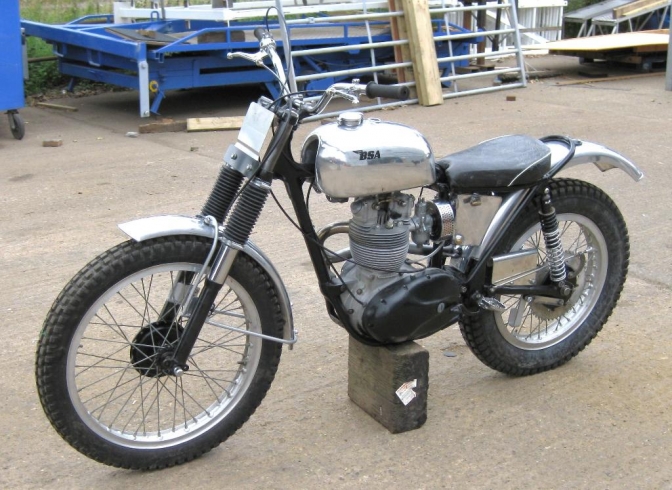 Don't you just like that bike! And to build a replica is another bonus...
More Later. Should be a busy winter.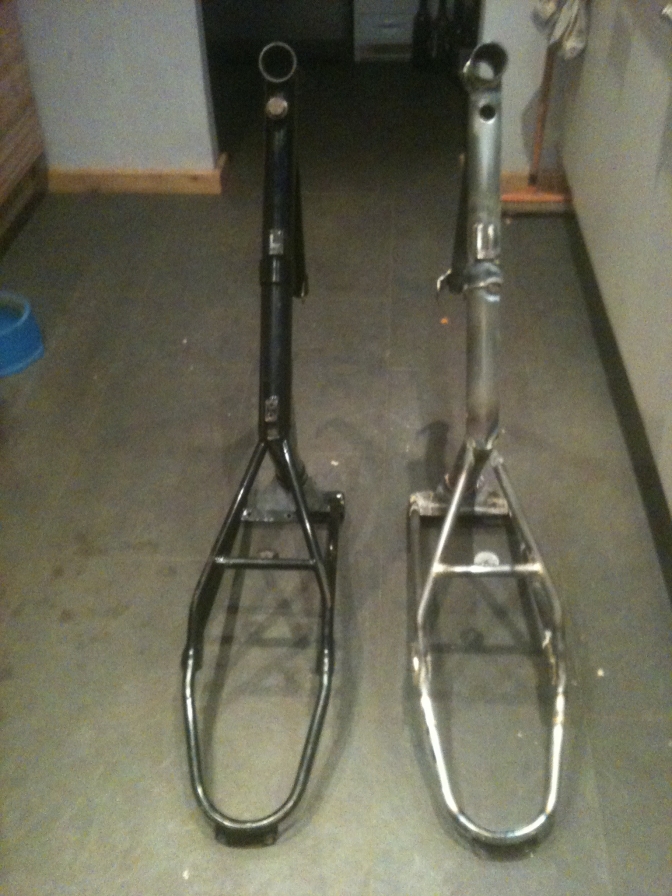 Photo and © "Otterman".
The New Number 44 Foster "Otter" frame and the bsaotter.com Original Foster Frame.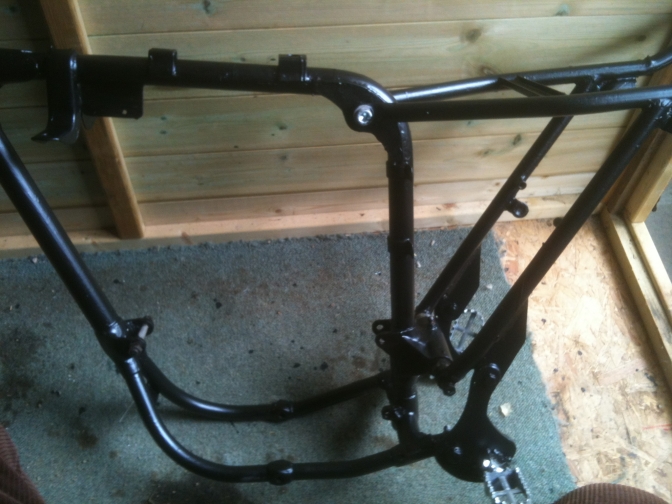 The John Draper "Cotswold BSA Replica frame, now painted and under assembly.
Forks, oil tank, frame mods all complete, along with the built up wheels, just the engine to assemble from the B40 parts I now have...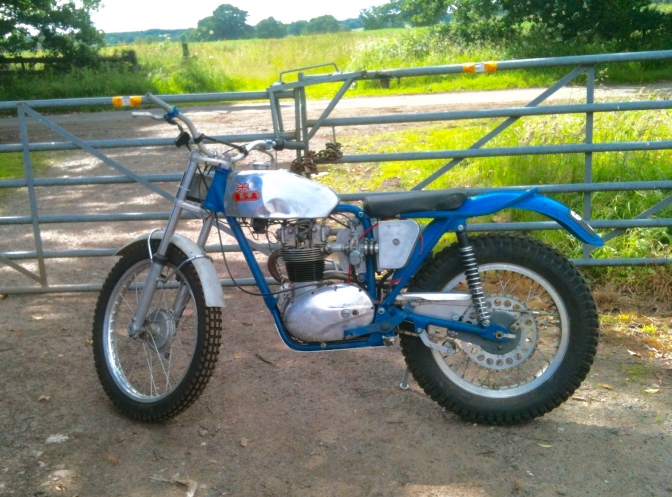 5... I have to include the ex Bryan Hyatt BSA C15T in my top Seven builds.
I have spent a lot of time with this bike, Updating it, with the engine rebuild, and bearing conversion.
And then updating the frame, but fitting two close fitting engine under-run tubes,
What I did not want to do was spoil its originality, as this is the only "One Off" BSA C15 that looks like this.
And I have always thought that its a pretty little bike.
Sadly Now Sold..
So we Have a start to the page.
We Will see where it goes.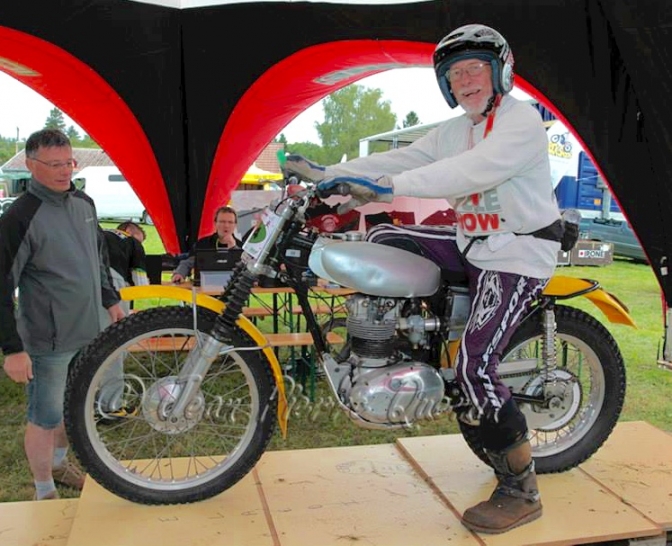 Photo Courtesy Jean-Perre Quenier.©
Dick Ramplee aboard Foster BSA Otter Number 43,
The last frame built by Harry Foster to use himself, with a Triumph engine fitted.
Dick used the Foster Otter frame jig to fit a BSA C15 engine into the bike.
Good job Dick.
We must do a page on that bike. when you have time.
Dick trials mainly on the continent now-a-days.
More Later.
17/12/2018.
6...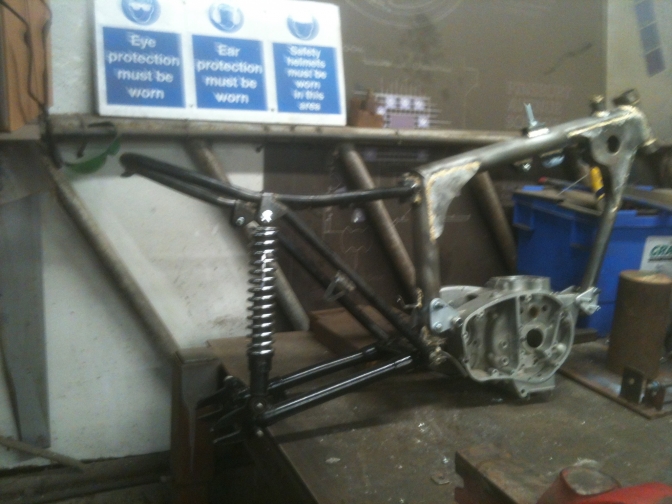 I have as you know been building another bike this year the "BSA Foster Otter Cheaper."(OC)...
Well the frame is about to come back from the powder coaters, so over the next few weeks we hope to get the bike built up, as I have liked this project from the start. And although again it will only be a "one off", the simplicity of just bolting parts of the frame together from parts bought in, seemed to make the whole project not so difficult, and I started liking the bike.
We will see what it is like when it is together.
So has I say, you can follow the build here, and also on the OC project page. with more detail...
Updat2023...06...