The Faber Framed "Otter's"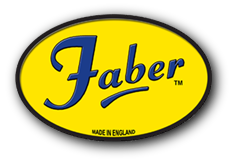 Phone number 01208 850677
"The Start of the Journey".
Year 2000.
The "Otter" Returns.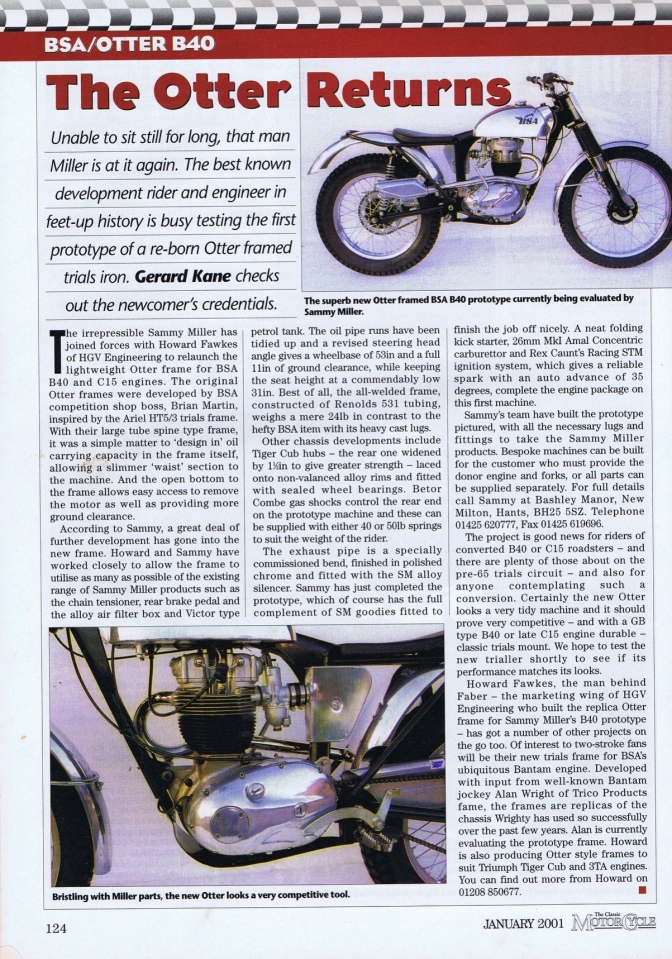 Just One correction, the BSA Otter was not developed by
Brian Martin...
Just the old press again getting the facts wrong and believing anything that Sammy Miller OBE says...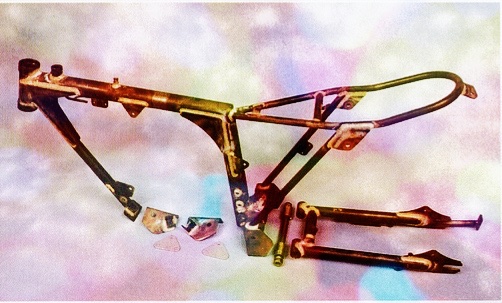 Sammy Miller Catalogue 2002.
The Faber Mk one Otter Frame...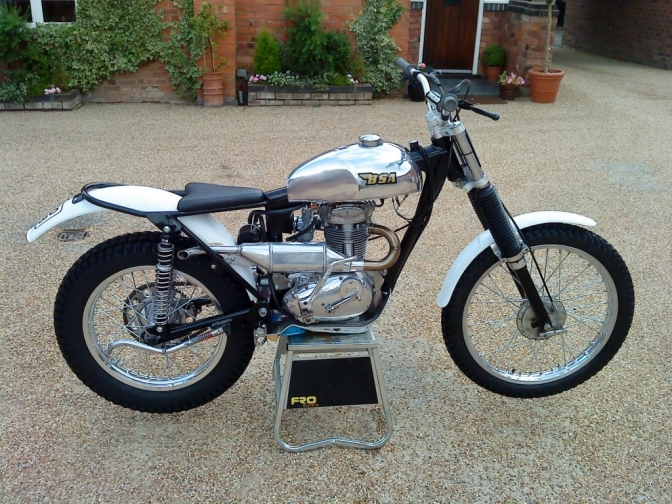 This is the superb Mk 2 Faber framed BSA "Otter" that the Dawson Boy's, Pete and Dave built. The frame differs from the above by now having the footrests welded directly onto the frame, retro step in my mind...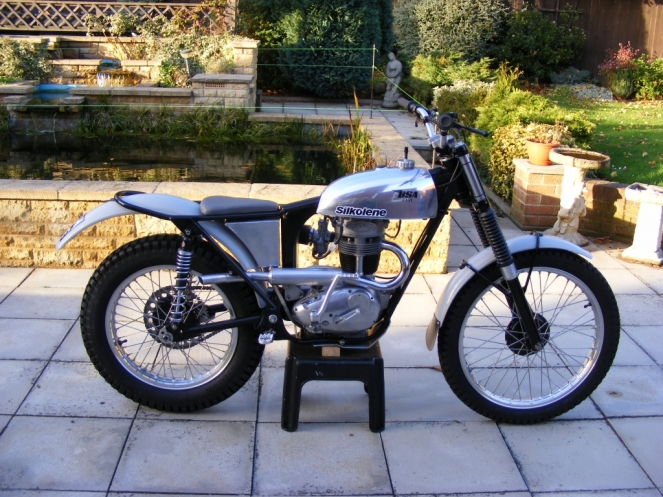 Photo Courtesy Howard Fawkes and Tony Bilton.
Tony Biltons Fine example, of a Mk Two Faber BSA Otter.
Tony has a Alloy oil tank on his bikes.
So does not have the Oil in frame facility.
Photo Courtesy Tony Bilton.
This is Tony's bike when he had used it for several seasons, but had moved on and put the bike up for sale...
A bit of history about Faber Frames.
Faber got involved with the trials market in the year 2000.
A chap named Chris Williams asked Faber if they could build some Foster BSA"Otter" replica frames.
~~~~~~~
Howard Fawkes remembers!
We borrowed Colin Dommett's original Foster "Otter" frame and built our jig around that frame".
Faber showed their first BSA"Otter" frame at the
Classic Off Road Show at Stoneleigh Park Warwickshire in 2000, and since then have sold 115 frames.(2014)
Most of these "Otter" replica frames, have been for unit BSA engines (C15-B40), but we've also built 15 for Triumph Tiger Cubs, and six for Triumph Twins.
The trials frames have sold well, especially since they've been accepted (MK3) as eligible for the Scottish Pre 65 trial.
Howard Fawkes handles all of the trials frame sales.
Down in Cornwall.
28/11/10
Charlie.
I have attached some images of latest frame. Mk3,frame ,
Complete Bike Built by Tony Bilton.
These are the ones that are accepted by the Scottish Pre 65 Trial.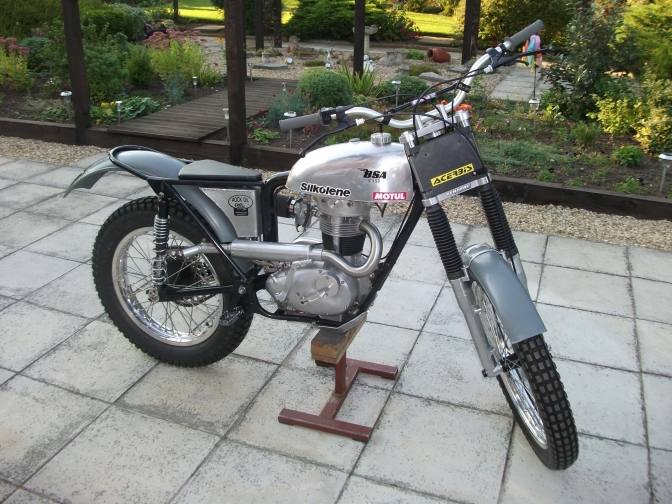 Photo Courtesy Howard Fawkes and Tony Bilton.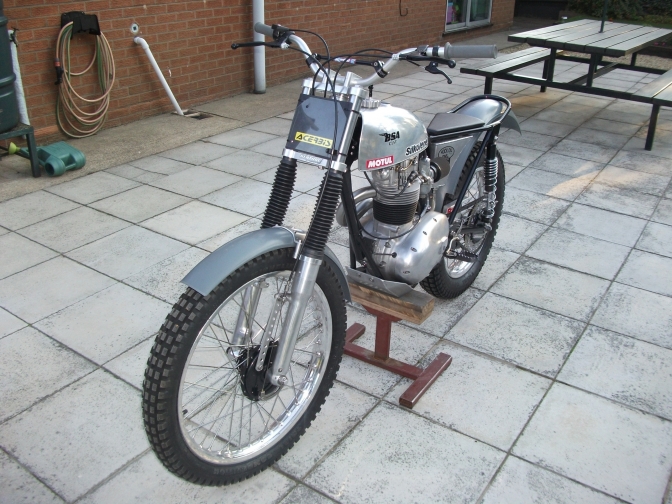 Photo Courtesy Howard Fawkes and Tony Bilton.
I am working on new swing arm bushes for 2011 season these will be nylon compound more detail when ready.
I have steepened the head angle by 1 degree on the next batch of Mk3 frames from December onwards.
The Mk 2 Frame is available on request.
~~~~~~~
Any one wanting an Faber Otter frame, will need to contact me by email with order details, they will then be added to the construction list, on a First come basis, so the longer people think about it, the longer they wait...
When I start to make their frame, I take a 50% deposit. At the present time, orders to date will take until March to complete.
Construction has been delayed about six weeks with a shortage of 1.250" Dia tube.
The site is looking very good at present.
Hope this info will be of assistance.
Best regards Howard. ----Faber frames. 2012.
Looks like there could be a run on these frames, I have just seen one built up by Alan Whitton, with all of his goodies. Wow what a bike! I will get a photo from its owner, Ian Marshall.
So has Howard says, If you want one get your order in .
I have a price of Mk2, Now 2014, £650,and Mk3, at Now £650 but you will have to check with Howard to make sure this is correct.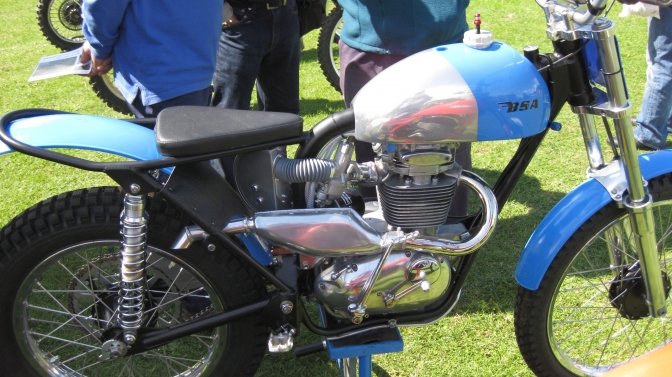 Photo "Otterman"
This machine with MK3 Faber frame was finished a lot like the Ian Marshall machine but with a BSA B25 engine fitted. I spotted it at the Brackley Show in 2014.
I will also ask for the numbers on the steering head bearings used, in case they are different to the ones I use, next time I speak to Howard >Bearing Numbers are L44643/610.
We also now have a Faber Mk 3 frame for the BSA Otter Triumph TR20 Tiger Cub
Fri 24 May 2013.
I have been asked to explain the difference between the

"Mk One" "Two"

and

"Three"

Faber

Otter

frames.
And it now looks has though there is another bike to the fold, And again along the same thinking has me.
There is now a "Bariel", in the camp. and much more like the Mk two Faber Otter with the top tube extended like an Ariel HT frame. Nice one Howard...
**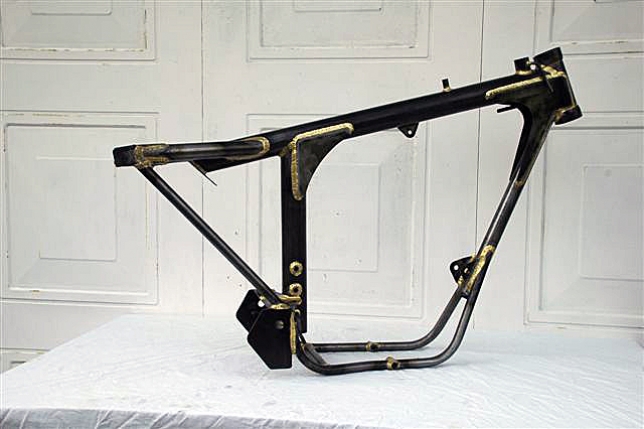 Photo Howard Fawkes.
Ok... the difference has I see them, between the MK's 1-2 and 3
The Mk One Faber Otter frame, had what I can remember a 63 degree head angle, and the advantage of bolt on plate that had the footrests welded to them, Good Idea I thought and used the same principle on the OOTC frame.
The swinging arm was a lot like a BSA C15 copy that had been fabricated.and looked like it would fit a C15 frame. Year's built 2000-2001...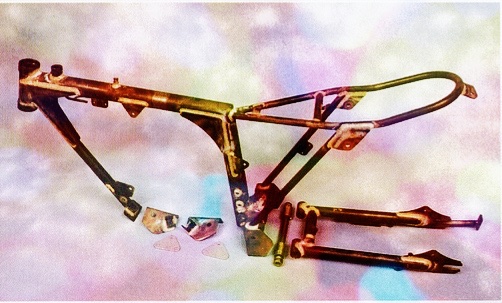 This is the MK One Faber"Otter" frame that was nearly an exact copy of the Harry Foster "Otter" frame, differences were the engine steady mounting, the fuel tank mounting, and the rear, engine mounting method, angles were very similar too.
Oh, and the subframe was slightly wider and more like a BSA than a Triumph Cub copy used by Harry Foster...
The Mk Two differed in that the steering head angle was slightly steeper, 65 degrees. The footrests were now welded directly to the swinging arm box. And the swinging arm itself had been fabricated in a manner to look more like the BSA WD B40 swinging arm...
~~~~~~~
The Mk Three was an entirely different beast.
This frame had been built to look more like a BSA C15 T frame to satisfy the Scottish Two Day Committee, this had a formed backbone, and engine under run rails, the steering angle was indeterminable, but could have been has long as the Mk One... But said to be 65 degrees, or even 67
Dave Wood owned a Mk Three as you know, and he feels that it is not has sharp as the "Mk Two" he tried before buying his frame.
~~~~~~~
I will ring Howard for a chat, and find out the thinking behind the Bariel frames and get a bit more information,
I have been told that the current steering head angle is about 22 degrees from the vertical which makes it about 68 degrees from horizontal.
We will see.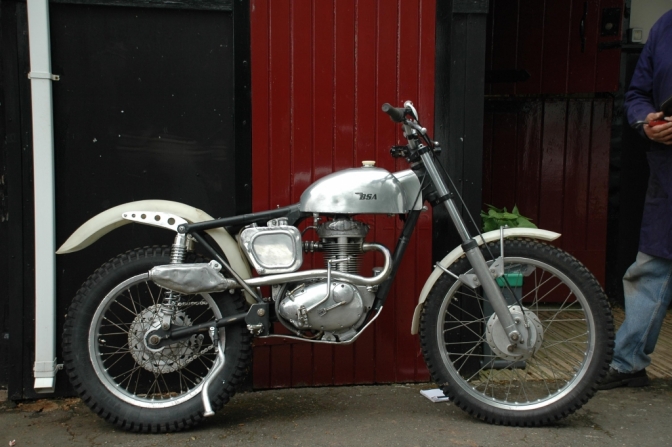 This is another shot of the Faber Bariel. the "Dommett's" bike has used in the Scottish Two Day trial.
This differs from the latest "Bariel" in that it has no engine under-run tubes and the subframe arms are straighter and planted on further forward...
06/04/2014...
I have this morning had a long chat with Howard Fawkes of Faber frames.
He tells me that he is just about to build the new batch of Faber Otter Mk3 frames, On the new jig that he has spent time constructing, to make the tolerances a lot tighter and improve the build of the New batch of ten frames...
Time has been spent looking for the best company to form bend the new tubing to the satisfaction of the upgraded build, this again should keep all tolerances tight.
Other developments have been going on in the background to keep the Faber frames going forward in their quest for improvement's to the
"Otter" concept.
~~~~~~~
Howard says the MK 2 "Proper-Otter" frame is still available and can be built, down with Miles Webb, although Howard deals with the sales.
~~~~~~~
Howard also told me that the Colin Dommett copy "Bariel" frame is also available, but the build of these frame's are treated has a one off , and the sub frame is built freehand, as are all "One off Frames". The price of these frames are...
£750, 2014.
And are built by Howard at his discretion when he has the time.
~~~~~~~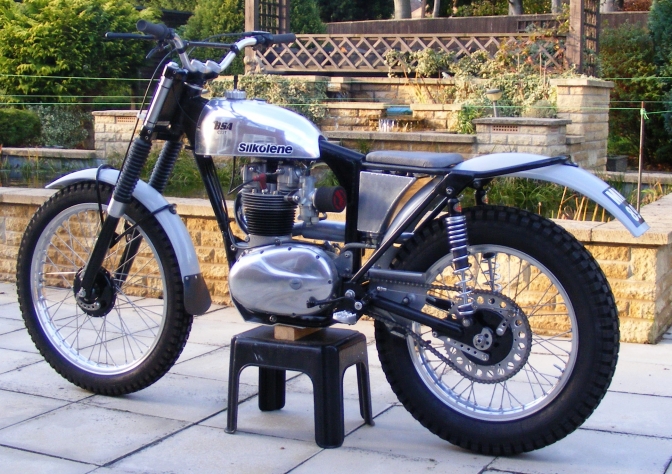 Photo Courtesy, Howard Fawkes. Tony's bike again.
Don't forget that the Faber frame empire is in-fact only a hobby industry to Howard as he has a very busy electrical install business as his main commercial enterprise, he also is a busy flying instructor, so has to juggle his time between these three enterprises.
2021.. Howard has now sold the electrical business, so has a bit more time to build Faber frames and components...
All frames are built by "Gentelman's agreement", You fill in the form for the frame you require on the Faber website. www.faberframes.com And Howard put's your name on to the list.
( Then he does not have to spend all day on the phone to customers, and has the time to run his electrical business).
And when he has ten full orders for frames a batch will be built, on a first come, first served agreement.
So you need to order your frame and hope nine more think the same quickly.
Mk2 and Mk 3 frames, are now £650... 2015 a unit complete with swinging arm and Nylon bushes.
And has I say, now built on the new jig to tighter tolerances.
I have agreed with Howard that I will ring him once a month, for updates and with any questions, that I might have.
So if you find that you need another contact line with Howard just mail me with your question, and I will ask Howard. OK...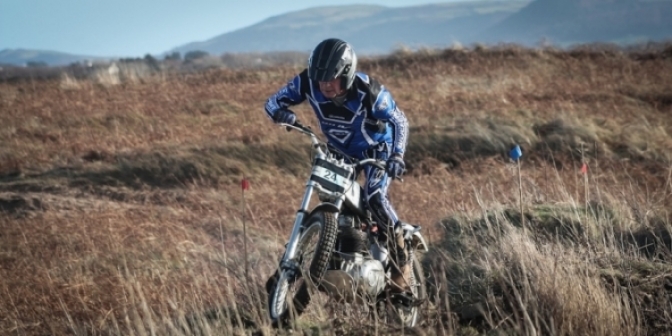 A Very Happy Faber Frame living in the Isle Of Man.
Telephone Howard on 0800-2986990
One of the Young "Butty" Boys have A Triumph Engined Faber "Otter" this is 21 year old Jack Butterworth from Bury Lankashire.
Jack has just changed the colour of his Faber "Otter" Triumph to Red,
It was green last year when he rode it in the "Scottish Pre 65" two day trial.
Jack lost only 20 marks in his first attempt, at the trial.
Jack and his brother Ben have entries for this years trial too so we will see how they get on.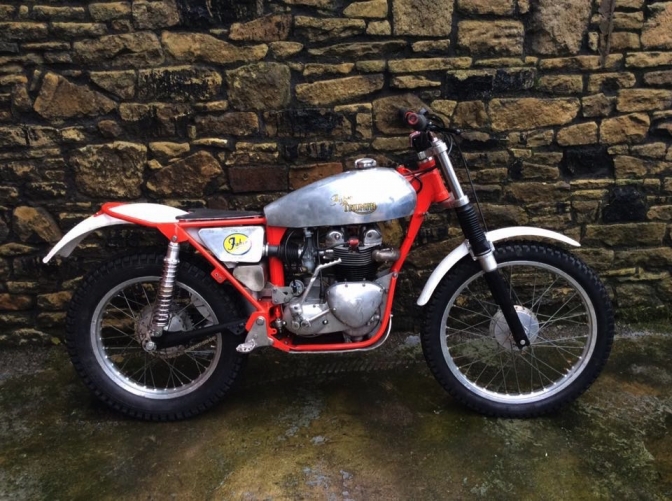 Photo Courtesy Jack Butterworth.
Take a look at the 2015 "Faber Frames". Page.
www.faberframes.com
*
I will try and get the Current Price for frames and the build time-scale on 16/10/2016.
~~~~~~~
18/01/2018.
It is time I had another chat with Howard to see what his plans for the Faber Otter trials frames, this year.
With the feeling sales of all trials frames seems to have slowed down, It would seem now is the time to ask.
So I will get back to you as soon as I know.
Regards Charlie.
23/09/2021...
I have recently spoken to Howard and he is busier than ever with the Faber Otter frames, and components he now makes for them...
And is enjoying life down in Cornwall...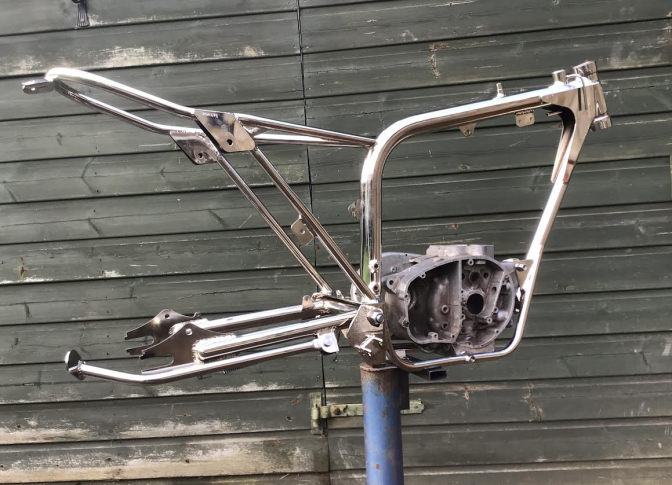 Here is the latest Otter Mk3 Faber frame, and nickle plated...
Side stand is new, and you can order them from Howard ...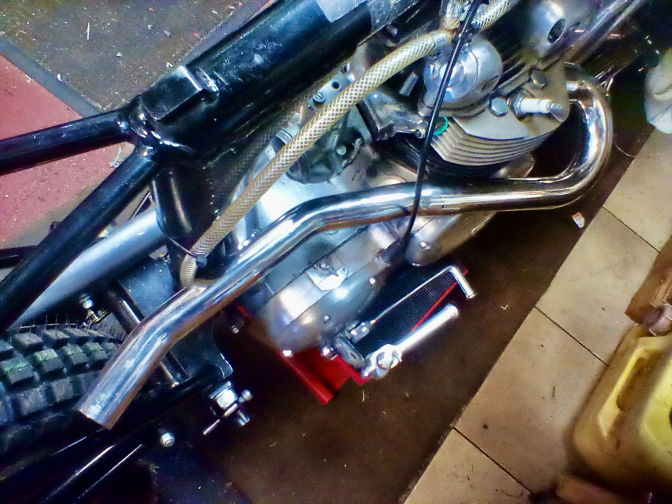 Howard also now has these stainless steel exhaust sytems for both Triumph and BSA unit engines....If you are interested...
More Later.
Updat2023...08...