Prices subject to change as products are continually being developed
11/08/2023...
Here is the Latest Mk Five Faber Otter frame kit this one for a Triumph 350-500 Twin engine with the new Bash plate kit, and also brake pedal assembly...exhaust etc...
Price about £1300.00...to be confirmed...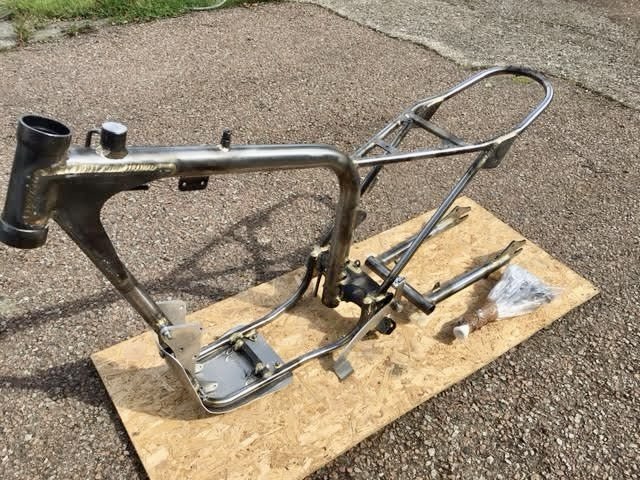 Mk Five Faber Triumph Otter frame..Kit...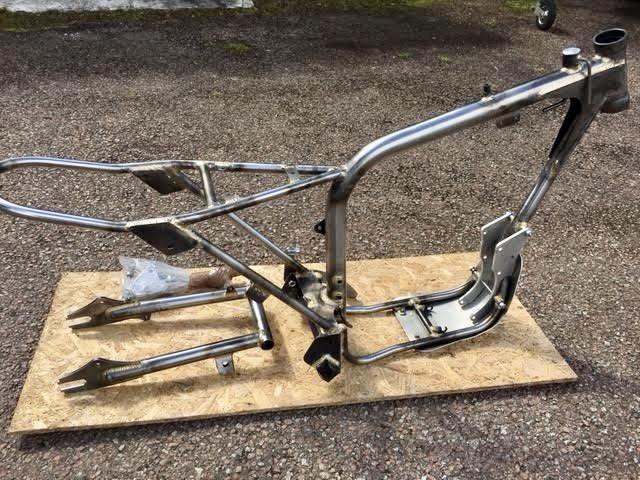 New side stand fixing bracket too...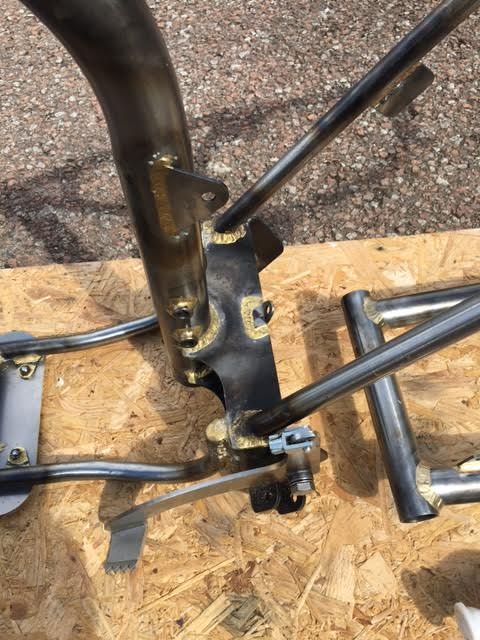 And Below the latest 2023...Faber Mk3"B"Triumph TR20 Cub frame...now it seems the only New Triumph Cub frame on the market...
And Howard and I are working on this frame to get it Pre 65 Scottish two day... Adopted and compliant ...for you...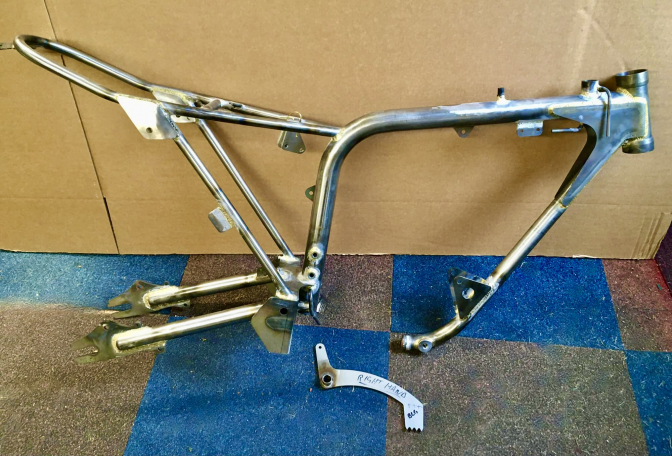 Faber Frames 2023...
A Short History of the Faber Otter Frames...
Faber got involved with the trials market in the year 2000.
A chap named Chris Williams asked Faber if they could build some "Otter" replica frames.
~~~~~~~
Howard remembers!
We borrowed Colin Dommett's original Foster "Otter" frame and built our jig around that frame".
~~~~~~~
Faber showed their first "Otter" frame at the
Classic Off Road show at Stoneleigh Park in 2000, and since then have continued to sell frames. in to the hundreds now...
Most of these "Otter" replica frames, have been for unit BSA engines(C15-B40), but we've also built a lot for Triumph Tiger Cubs,
and now the favourite Triumph Twin engine...
The trials frames have sold well, especially since they've been accepted as eligible for the Scottish Pre 65 trial.
Now it seems all MK1-3-5
Howard Fawkes builds and handles all of the trials frame sales.
Down in Cornwall UK...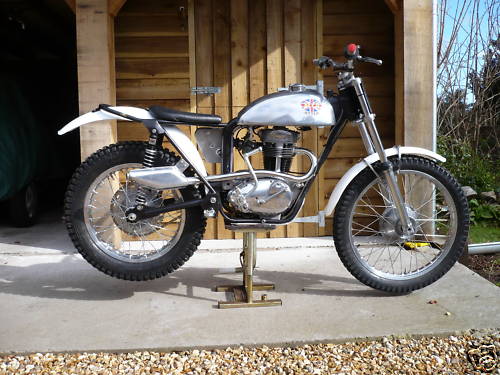 BSA Faber Mk 3 Otter...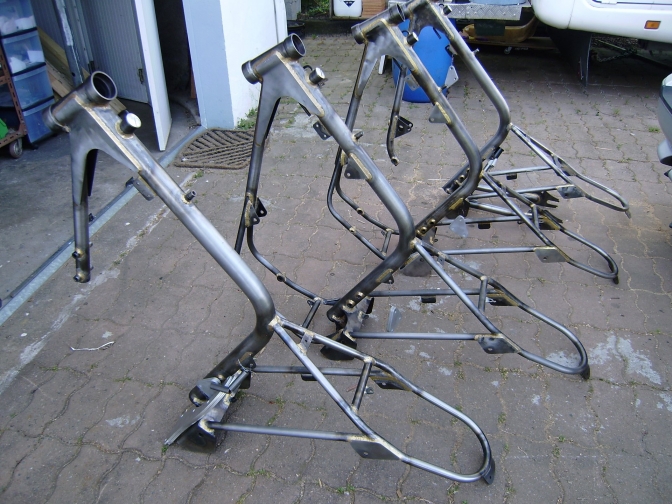 Here the line up of all three Mk 3 "OTTER" frames...
Triumph unit 350-400 in the foreground
Two BSA C15-B40...
And the Triumph Cub frame in the background...
~~~~~~~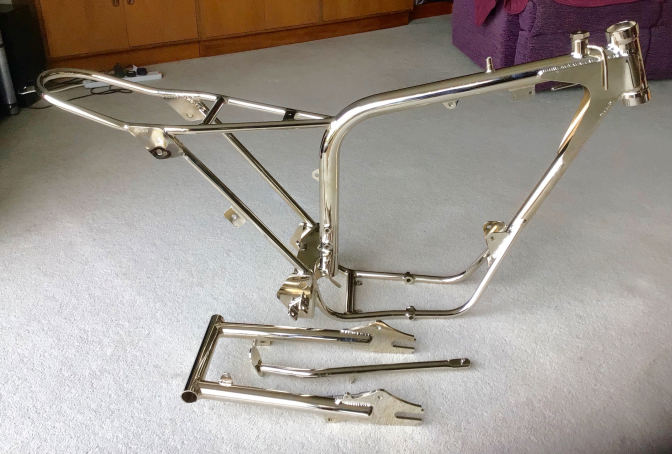 New Mk 3 Faber BSA Otter frame off to Bill Clark in the USA..
Hope to get build up of this bike from Bill...
~~~~~~~
Don't forget I can contact Howard to order these frames if you wish...
Although Howard is now a full time Faber frame builder having sold his other business interest...
So you should be able to now contact him...
~~~~~~~
Here is a photo of the new Faber side stand kit...Now available fitted for you or as a kit..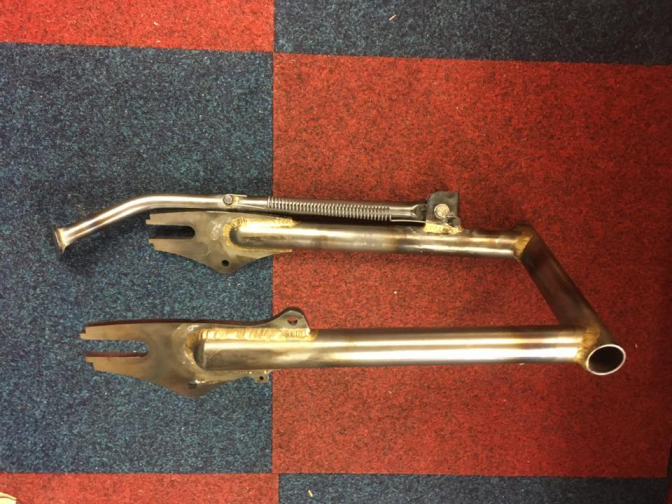 Howard tells me he now has a new Faber Bash-plate as well for the Mk3 Otter frames in 5083 aluminium...
18/03/2021...
Just got the photo's of the "Bash-Plate", from the Mk1, to the one that has now been adopted.
Also Faber has New Stainless Steel Cast competition footrests, that have been developed...
And also Howard is in the throws of designing a cross-over brake pedal for the Mk3 Otter.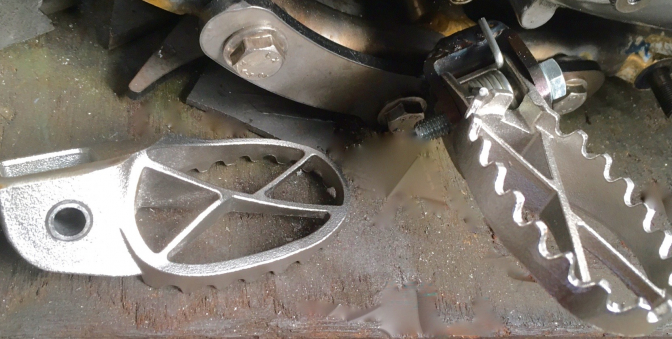 New Stainless Steel Foot Peg's...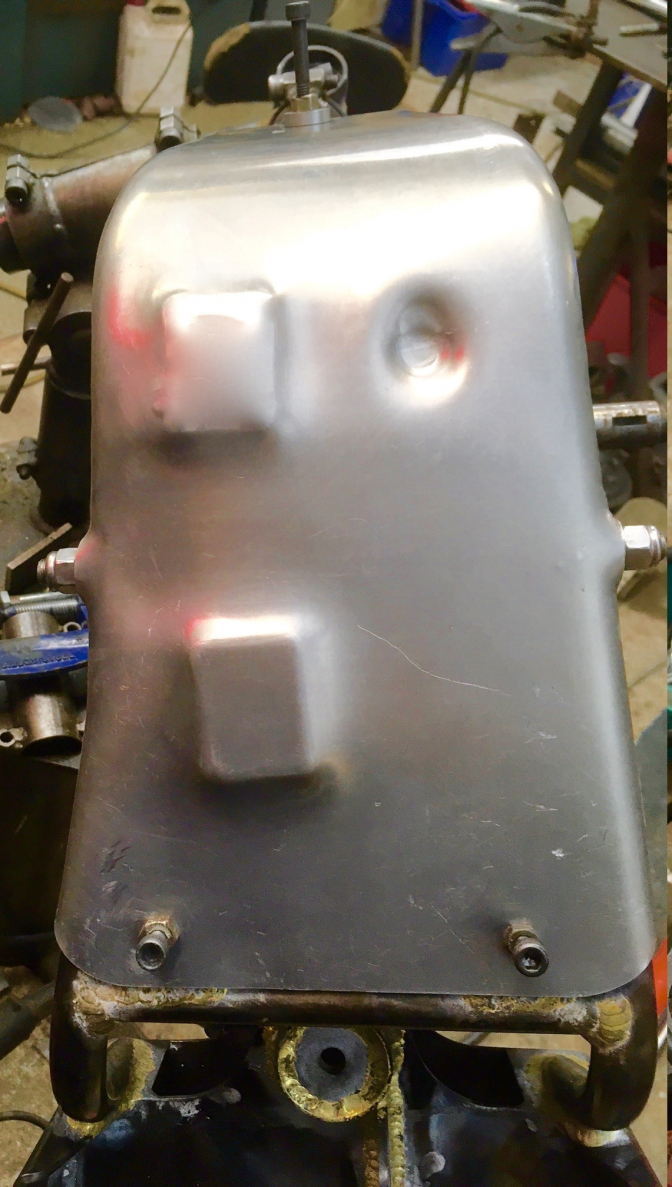 The Mk One Faber Otter Bash Plate...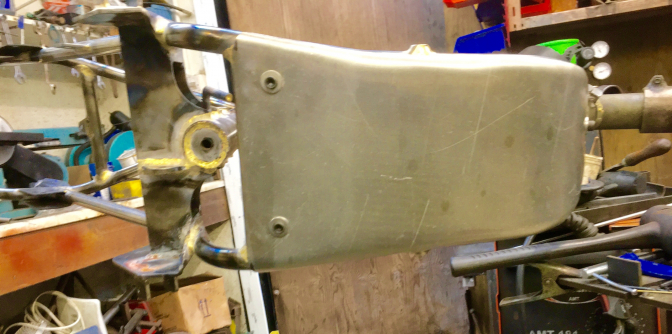 And the second version that has been adopted...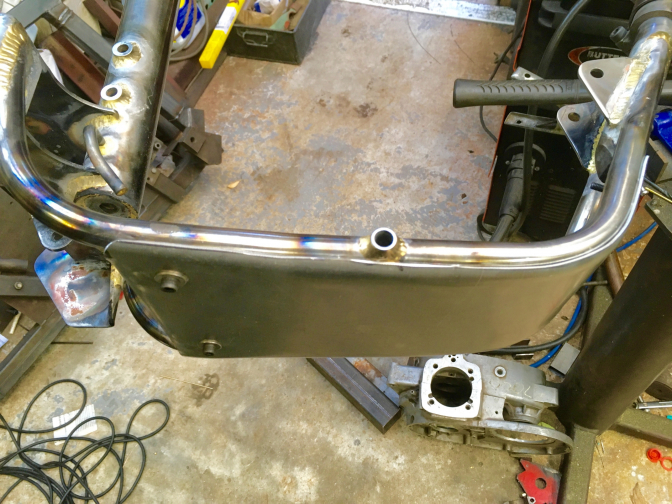 This is the bash-plate that fits the Mk3 Faber Otter frames...
Prices for this plate and for the Foot-Pegs should be on the Faber website...
~~~~~~~
Howard now has these stainless steel exhaust systems he has designed, and are now in production for the BSA B40, C15, and Triumph 350-490 twins.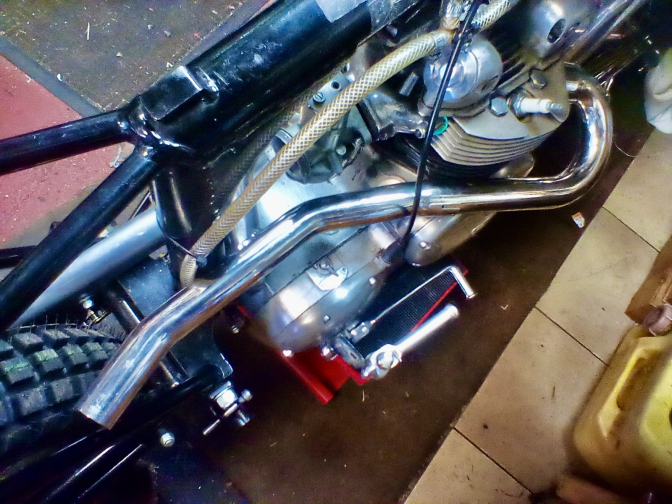 The Triumph version will also fit other frames like the Foster Otter, with a simple modification to the tail section...
And is priced at £350.00 now fully developed... 2023...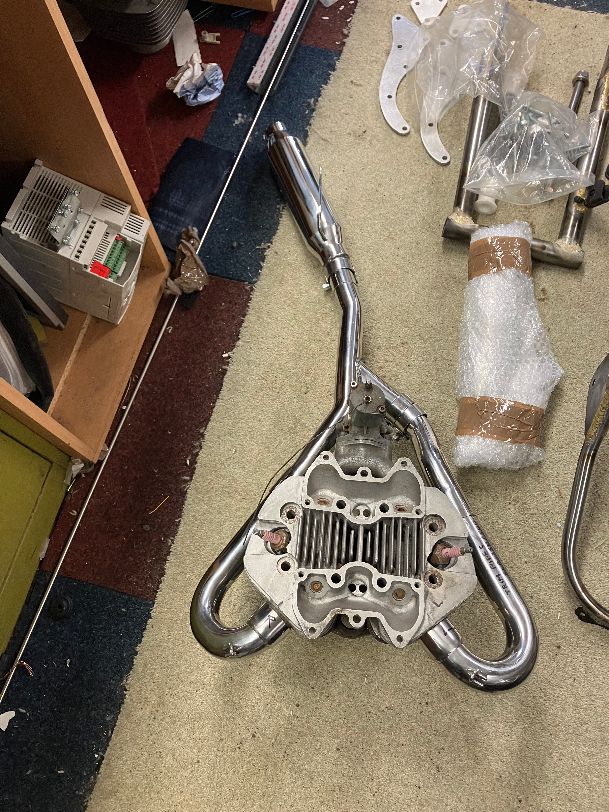 Here you can see the layout better...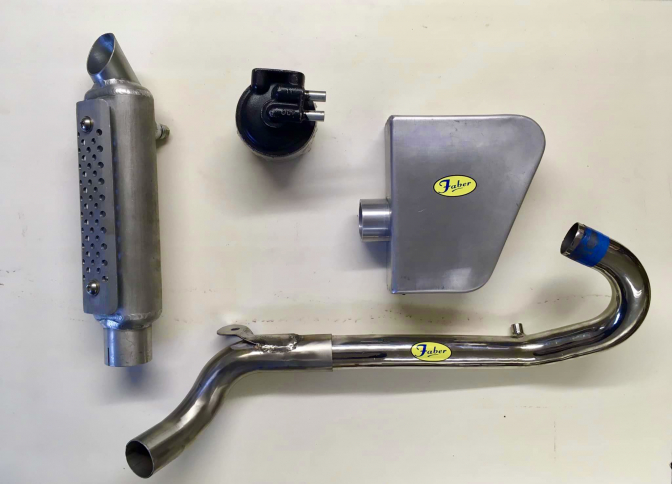 And the new BSA C15-B40 exhaust system, and air box...
The silencer box now runs up the side of the rear suspension frame strut...
Here is an Idea...
Send me a Photo of your Faber Otter...
And I will place then onto the page...
I will find a couple to start off...
"Faber Otter Gallery"...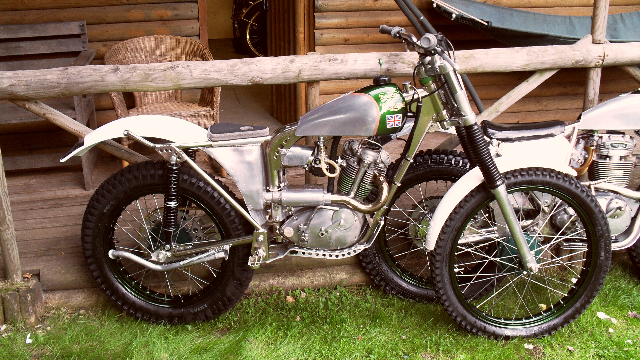 Paul's Faber Mk 3 Triumph Cub...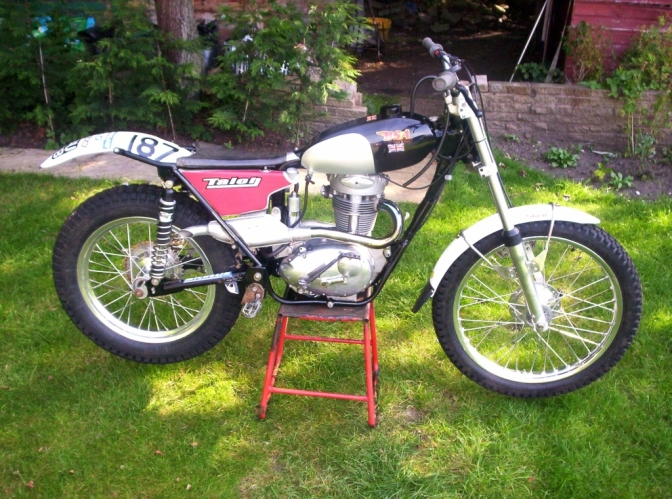 Dave Wood's Faber MK3 BSA C15 Otter...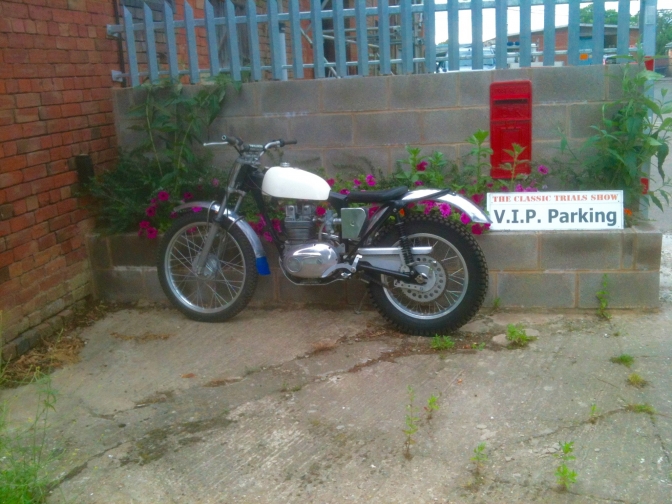 My Faber MK2 BSA B25 engined Otter...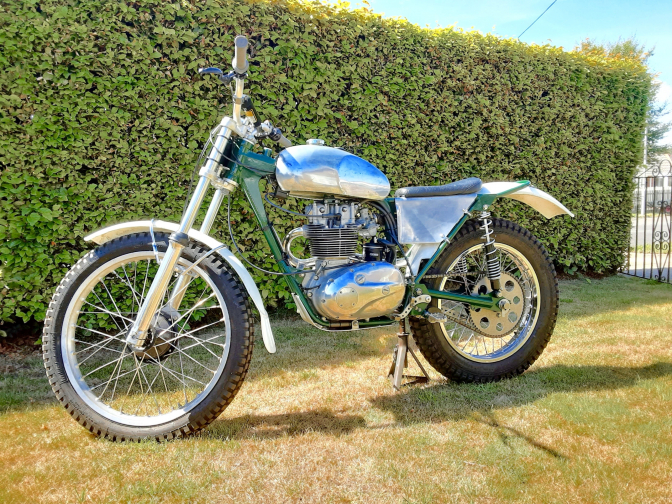 Nick's Mk3 BSA B25 engined Faber "Otter"...
Now in the BSA Otter.com collection...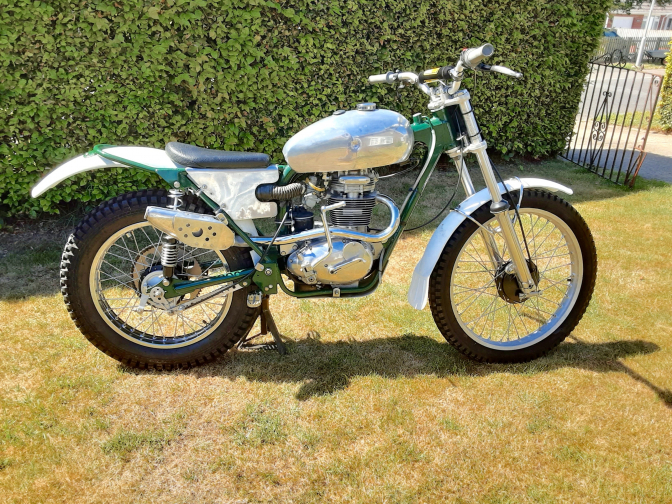 Note: Triumph/BSA "Four-stud" forks and round slide Miki Indian made Carburettor.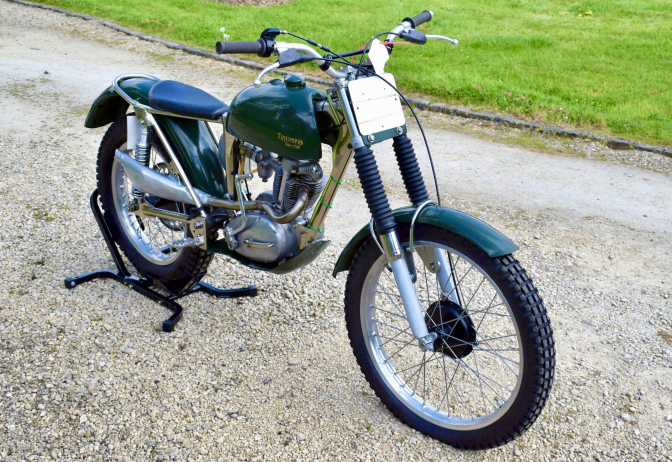 This is the ex Jim Rose Faber Mk1 Triumph Cub built up in the Isle-Of-Man...with a full Serco built engine with all the right parts... I geared it down for Jim just after he bought it for a "Professional" rider to use...I don't think the plans turned out, and it was sold to a collection... and stored for years as New, I believe it is now for sale at that new build price...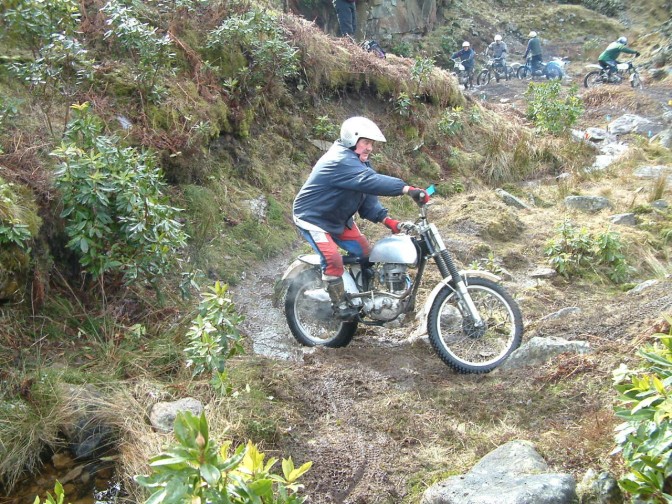 Here is a photo I placed onto Trials Central in 2008 of Scottish rider Jock McComisky riding the first Faber BSA C15 Otter to compete in the Pre65 Scottish two day trial, this I classed as a Faber Mk2 1/2 Otter frame with the added under engine twin frame tubes ...
And just oil in the frame...
Faber Frames...
Phone Howard on 01208 850677
Many More Later...
Updat2023...08...