Harry Stitt BSA Frames.
Built in Northern Ireland.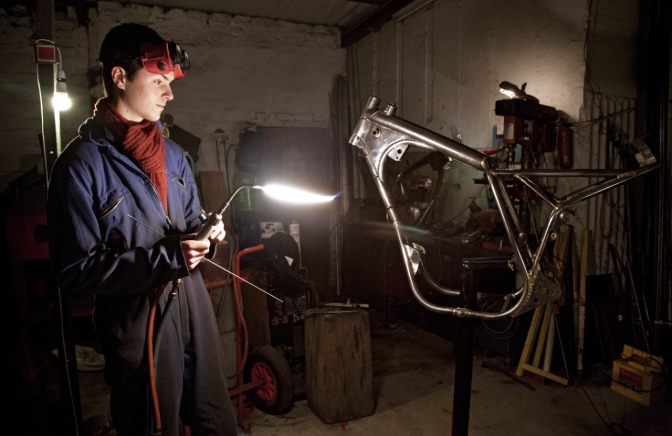 Photo Courtesy the Stitt family.
20 Year old Harry Stitt is a magician with a welding torch at this early age, and has been for some time.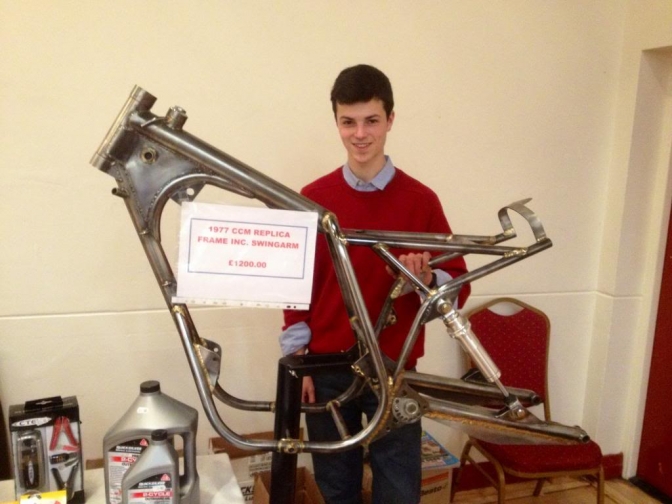 Photo Courtesy the Stitt Family.
Here is Harry with one of his Scrambles frames, he not only builds the frames but also rides them very well too.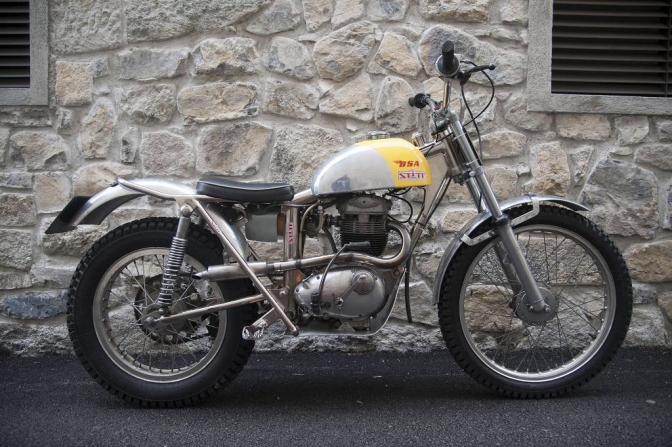 Photo Courtesy Justyn Norek Snr.
Now we get to the interesting bit, Harry builds BSA "Otter"type frames.
This special one is the new acquisition of Justyn Norek Jr, a great New Toy to play with.
We will have a full report about this machine from Justyn later.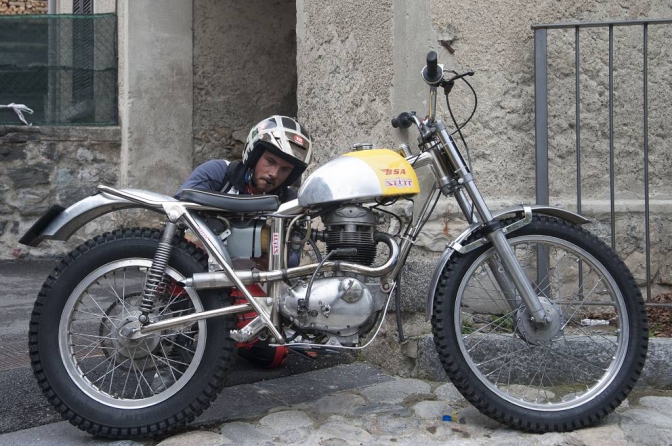 Photo Courtesy Justyn Norek Snr.
Justyn just checking the BSA B40 engined bike prior to a competition.
This frame looks more like the Second Scott Ellis frame than the other"Otter" copies.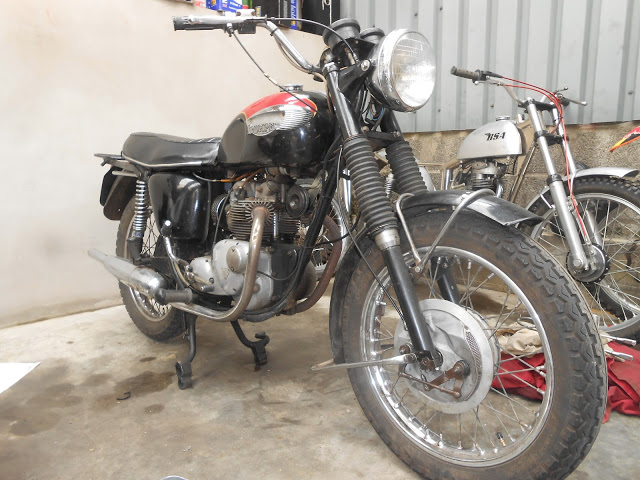 Photo Courtesy Stitt family.
You can see one of Harry Stitt's trials bikes in the raw stood against the wall.
Looks Like MP forks fitted on this one.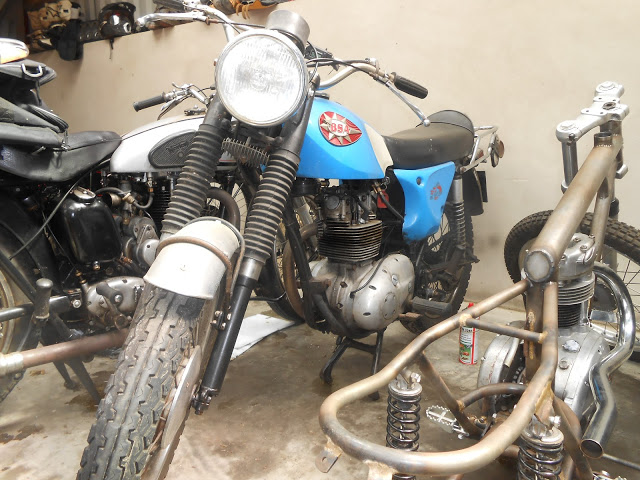 Photo Courtesy the Stitt family.
And another shot of a C15 engined trials bike, plus another donor?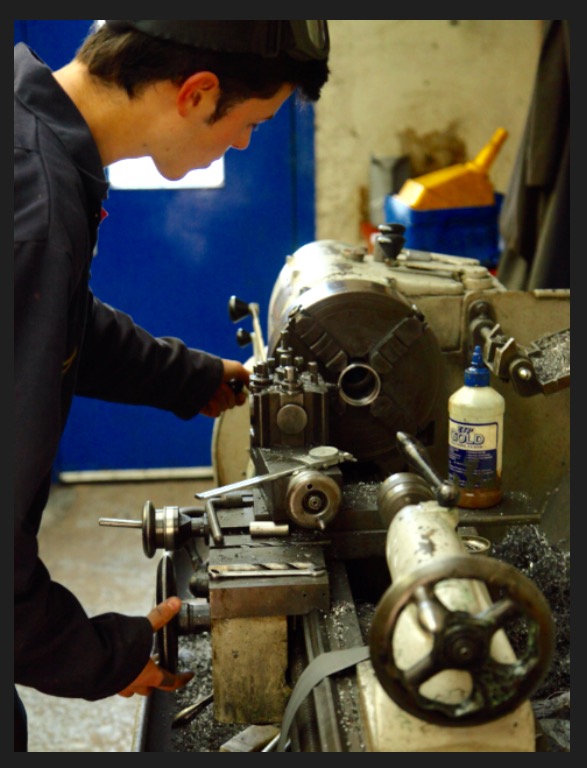 Photo Courtesy the Stitt family.
Harry turning the bits necessary to build a frame.
Photo Courtesy Harry Stitt.
Justyn's frame takes shape on Harry's bench.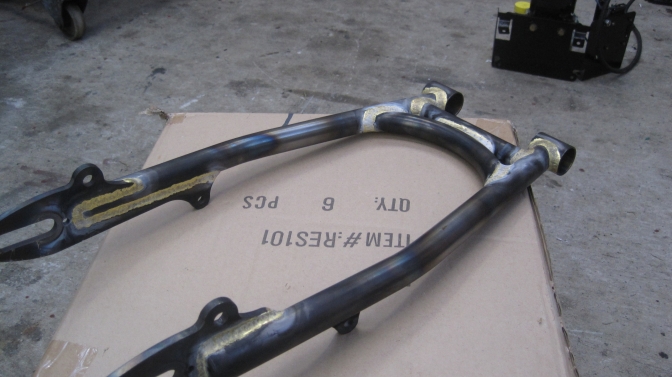 Swinging arm Details.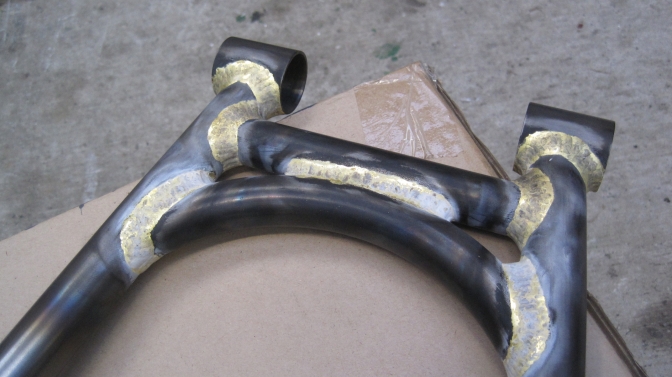 Just look at that Bronze welding..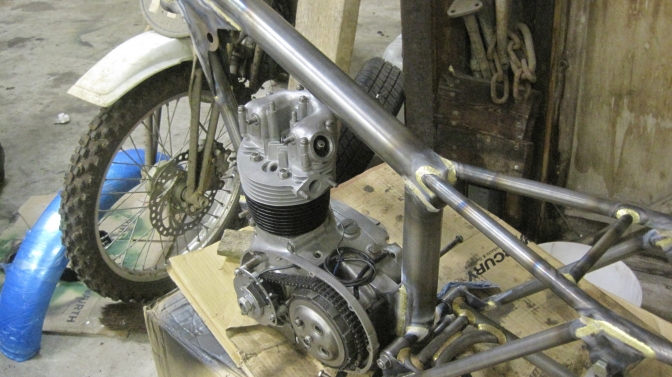 Very much a copy of the Scott Ellis bike, but a far better job than the original.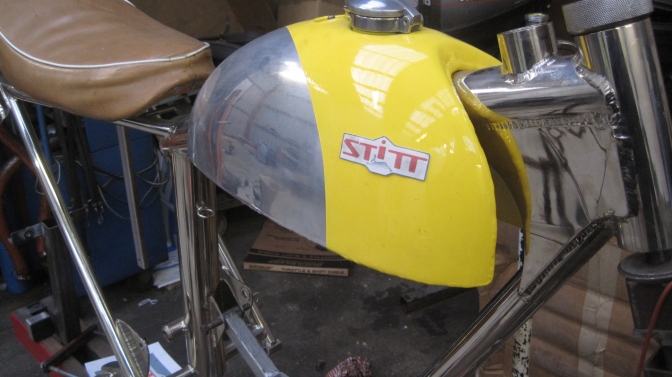 More from Harry later.
~~~~~~~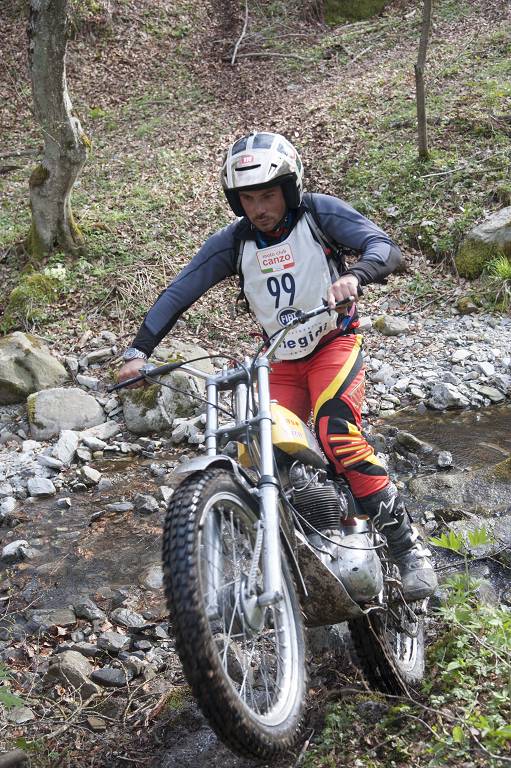 Photo Courtesy Justyn Norek Snr.
Justyn proving the "Stitt" "Otter"replica has he does with every machine he rides, and this shot with determination.
Report on the ride below.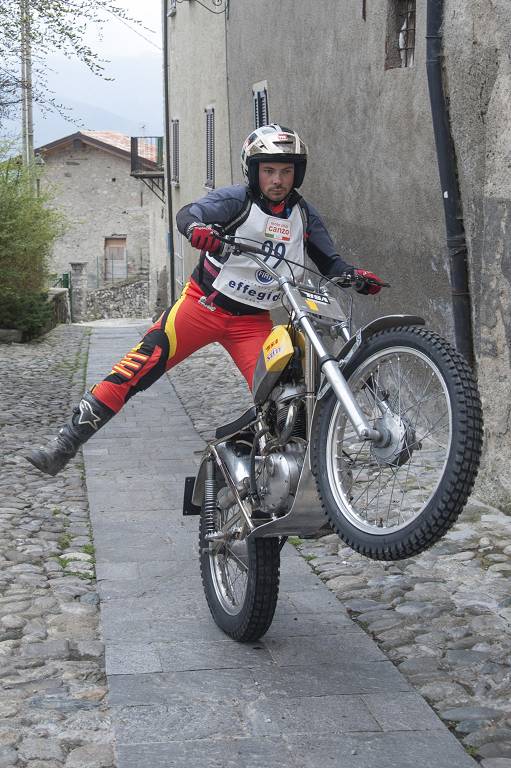 Photo Courtesy Justyn Norek Snr.
Are that's more like Justyn's method of testing a machine.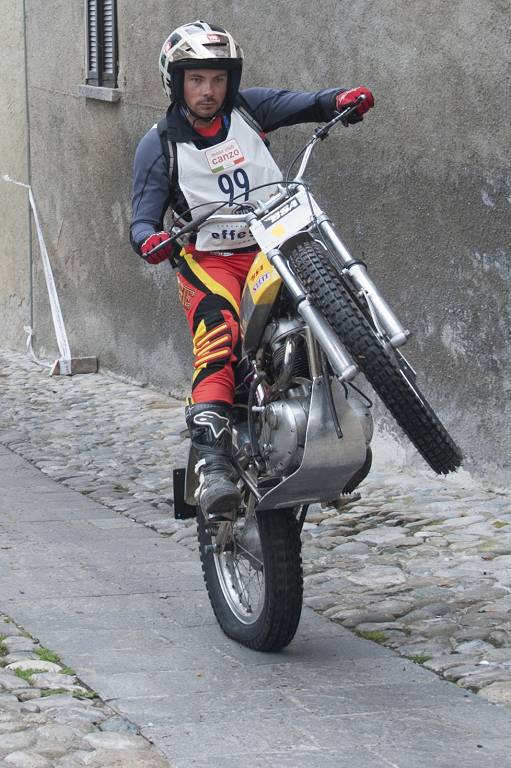 Photo Courtesy Justyn Norek Snr.
One way to awaken the neighbourhood on a Sunday morning...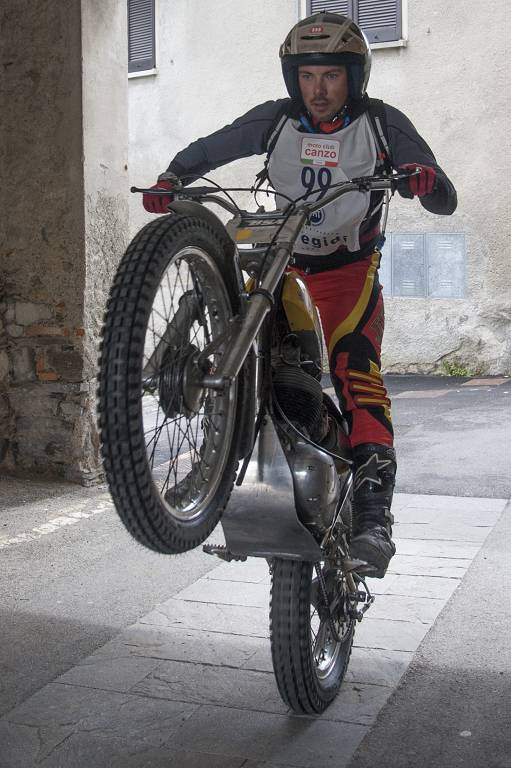 Photo Justyn Norek Snr.
I can here the "Bark" from that motor in those narrow cobbled streets from here.
Look as I say there will be a lot more on this Story later with a report on Justyns machine, and more information on young Harry Stitt and his BSA frames... Do you want one?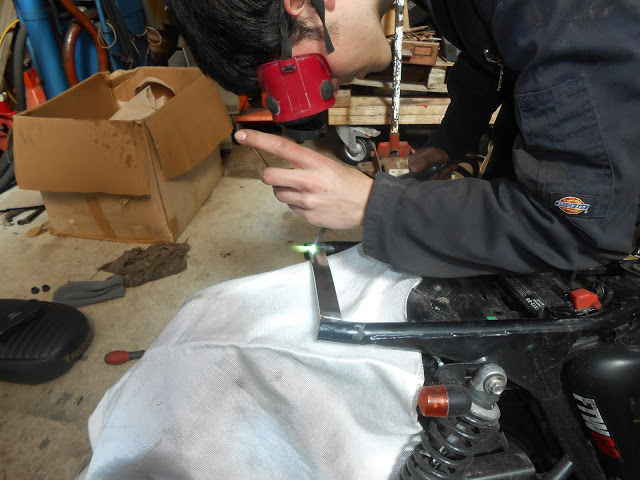 Phot0 (unknown source)
Harry yer-man with the torch at work, looks like an emergency repair one a race bike seat conversion, perhaps?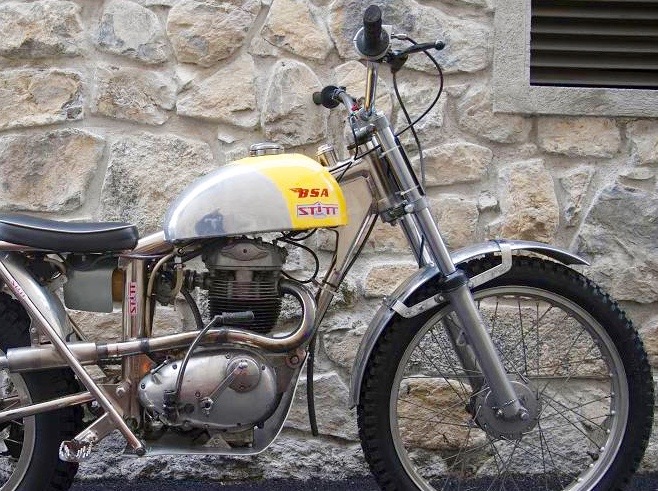 Photo Courtesy Justyn Norek Snr.
More Later. A bit better view of the "Stitt BSA" frame. Note: the steering head detail.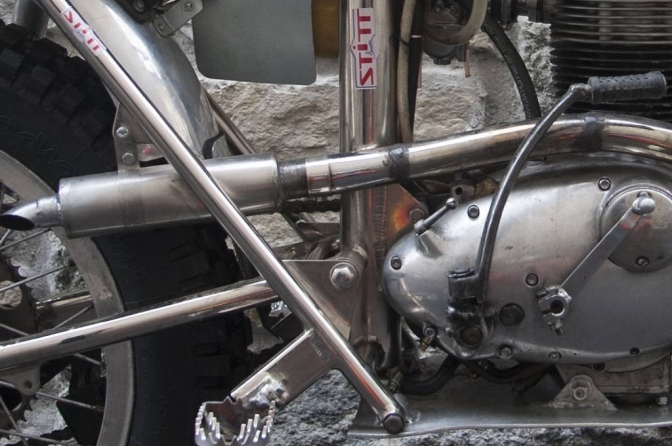 Photo Justyn Norek Snr.
Good detail of the swinging are pivot design, and showing the Class Bronze welding.
~~~~~~~
I have had a comment about the bikes footrest positioning?
:They are set much to far back:
"There is NO way anyone could win a major trial with those like that, you would not control the front wheel at all"...
~Oo>
I had to explain,
I said. Well have you seen Justyn Ride? He rides everywhere on the back wheel, with the front wheel in the air in front of him.
And Justyn is one of those riders that rides any two wheeled machines, for one reason, and that is to have fun on the machine he is riding at the time.
So there is your explanation.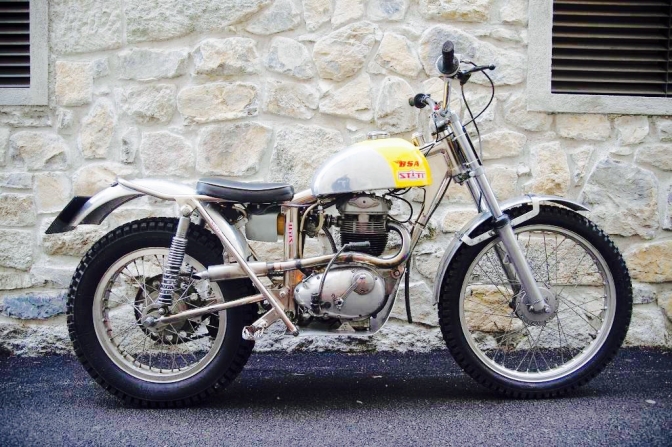 Photo Justyn Norek Snr.
I have just brightened the shot to show the plated frame better.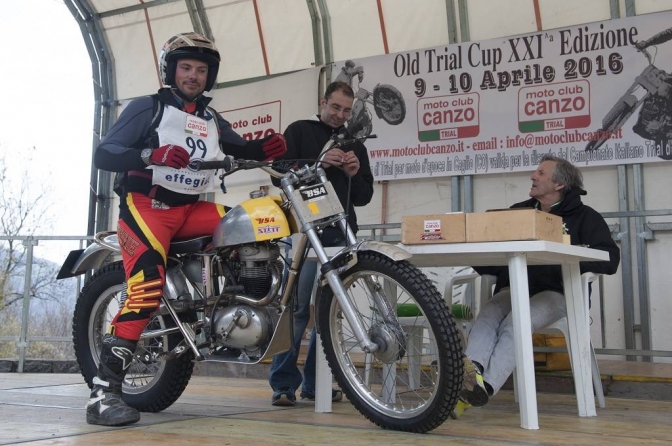 Photo Justyn Norek Snr.
Justyn Junior looks very happy with his "Harry Stitt" BSA B40 "Otter"...
Photo Courtesy Deryk Wylde "Offroad-Archive". Filter "Otterman".
You can see how close the steering head arrangement on Harry Stitt's frame is to the second Scott Ellis frame.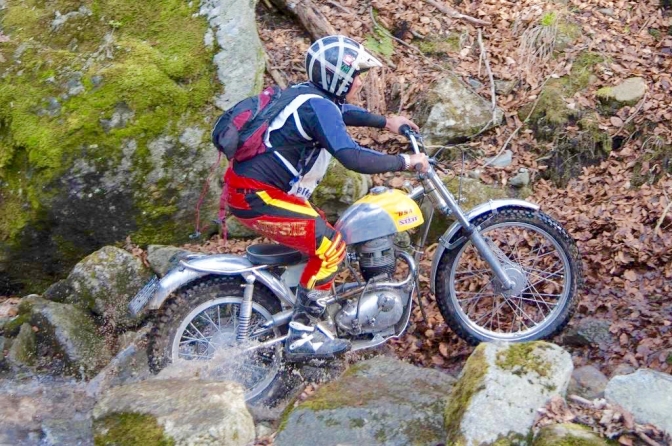 Photo Courtesy Justyn Norek Snr.
Just looking at the two above photos shows how similar the two machine are.
March 2018.
The two Justyn's were in a hurry to get the machine together after it arrived from Northern Ireland and Harry Stitt.
They just wanted to get the machine together as soon as possible as the frame looked that good, so unable to find a period set of forks and hub as suggested below, they fitted the front end from a late twinshock Montesa. So the hub is Grimeca, and fork Beta.
Justyn Snr asked Harry what frame decals he was going to use on his frames. Harry did not know, so Justyn set too and designed him the Stitt logo...
Justyn is responsible also for the Cheney logo from some years back.
So we still hope to get a report from Justyn to how the bike rides and any modifications he has done.
I know he was looking for a B50 victor tank for the bike .
But what ever happens Justyn says he is never going to sell the bike, so he will have it for some time yet.
~~~~~~
Justyn also used a period Honda C50 step-through front hub? or is it a Small Grimeca as used on the John Bull DOT.s and REH rear hub?
Forks look like Ceriani or REH modified to be leading axle, but Justyn will reveal all, when he does the report and ride out on the machine.
They were actualy From a Montesa the forks and front wheel.
Here is the story of the bike by Justyn
Here is story of our "HARRY STITT" BSA B40 trial special project.

Many years ago I have seen photo of my hero MARTIN LAMPKIN very young,
riding his beautiful BSA 250 in right hand turn of Devil's Staircase section at SSDT
BEAUTIFUL photo of future trials World Champion on BEAUTIFUL trials bike,
That immediately became my DREAM TRIALS BIKE !
I followed BSA riders collecting their photos of Lampkins brothers, Jeff Smith,
Jim Sandiford, Scott Ellis, Dave Rowland etc including MX stars Keith Hickman,
John Banks, Vic Eastwood etc, etc.
So when finally two years ago I could buy B40 my first thought was to built Trials
Special with British handcrafted frame.
I have done some sketches how I would like this bike to look and started research
on web for special trials frame builders in UK...
I have found quite a few: WHITLOCK, CHENEY, MOJO, MEAD, FABER, DRAYTON, WASP...
And analized their products, some were doing only MX kits so new jigs would be
required making the project very costly...
Then by pure chance I have seen photo of young guy with MX frame he has built...
Lets try to contact him, some more research for contact and I got his email thanks
To kindness of his brother in law, so now I could contact him!
I have written him immediately with several questions and very quickly got answer.
Answer was YES, he can build me trials frame to fit B40 engine, because he has such a engine and wants to build one for himself too...
I liked this young guy welding frames in cellar and decided to place order with him...
Even if he has done only dozen frames so far. An mine will be just Nr 14 !
As he ordered tubes I started to make
Some sketches how I would like fuel tank integrated with seat base made in aluminium...
Soon question arised, what will I call this bike ?
Has he any logo, name registered that
I could put on tank along with BSA logo?
NO, He has not !
Remembering that in 1968 I did sketch of "CE" Logo for ERIC CHENEY and he has
adopted it and used on all his bikes, why after half century not try to do it again....
I put some quick ideas on paper and sent them to Harry, he quickly responded.
Selected one, asked to include symbol of running hare as he has liked this animal.
Thus I added silouette of running hare and sent him back.
He liked it, and wrote he will use it on all next frames, bikes that he will build.
Now few months has passed and frame was ready.
Harry has sent me photos showing
his beautiful bronze welding and I opted for nickel finish of course.
After it came from
plating another picture arrived, and I couldn't wait when I will get it, so I have asked Harry to arrange shipment...
A few days an shipment agent brought wooden box with
Frame and fuel tank inside.
Well you can imagine how excited me and my son Justyn Jnr were when we opened box and looked inside. What a beautiful piece of art!
We were frozen and admiring frame for few hours trying to imagine how assambled bike will look. Then we weighted standard frame, scale showed 20 kg, now it was time for the Stitt masterpiece and scale stopped at 15 kg!
It means we saved 5 kg and that's 25 % improvement!

Now we started assembling bike with help of our friend PIPPO BARTORILLA.
Everything fitted perfectly and in less then week bike was ready to try.
But thats another story...
Final result was sensational, and making our dreams come true....
Thank you Harry, and can you build us another frame....Wait we have to buy an engine first....Triumph ? Ariel ? AJS ? Royal Enfield....
Hey guys there, do you have 4 stroke
British engine for SALE ?
Justyn Sr ...


There are so many photos from Justyn and Harry on the build up of the bike, I will get them on later for you.
24/09/2018.
More Later.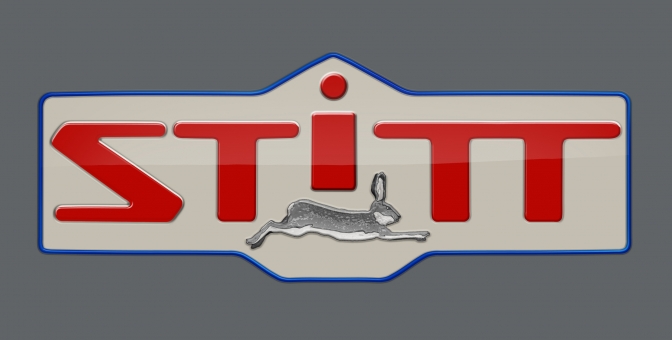 The Harry Stitt logo designed by Justyn Norek for young Harry.
~~~~~~~
Now some build shots from Harry and Justyn snr.
A build up photo from Justyn.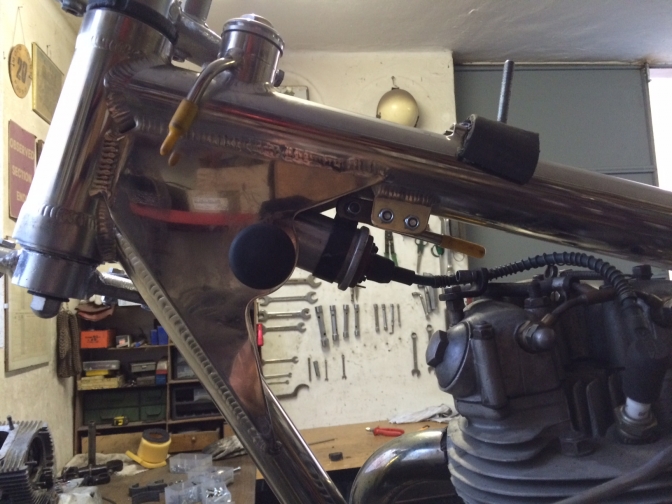 Headstock details.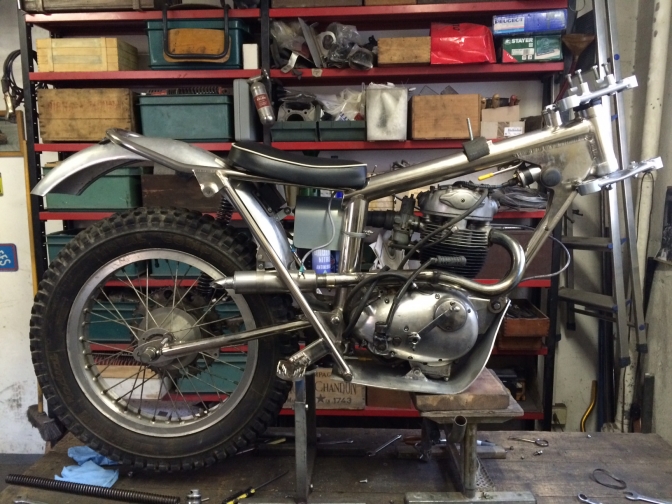 Build nearly complete, and Justyn Jnr can't wait to jump aboard and try the new bike.
I have to convert the photos from Harry but they are well worth waiting for.
So here is Justyn Jnr's ride report.
"HARRY

STITT"

BSA B40

trial test -
Riding Impressions
Hello

Charlie ,


Here are riding impressions of

"STITT"

BSA350

Trials Special:

After all excitement of arrival of

"Stitt"

Special trials frame, unpacking it and after assembling.


THE BIKE came another exciting moment of putting wheels on ground and try it !


We selected

RUBIANA

trials training ground full of natural as well as artificial


obstacles simulating sections of various difficulties from easy ones to very




hazardous.


One thing to mention is that as we couldn't buy in time neither

Ceriani

or

MP


front fork, we fitted

Montesa

front wheel and fork so not exactly pre-65 layout,


but we were curious how this combination will work out...




Now its time to try it.
We make last check out, petrol, oil in the frame, and we put




leg on kick starter , moved piston in right position and gave strong kick...to our


delightment we started to hear characteristic bass

BSA

MUSIC !


What a pleasure ! ! !




We have warmed out engine for few minutes, pressed clutch, gear and GO....




Again what a satisfaction to finally ride after all this time.




As this is "brand new" bike, I took it very easy at the begining, riding very easily.




Courses and slowly increasing difficulty for about half an hour.




Then I stopped to take a breath and exchange my first impression with my father




who was taking photos and eager to know how it goes...




My first impressions were very positive, above all perfect balance and great




response from engine making ride a sheer pleasure...




Now it was time to try it on more difficult sections, and there are plenty of them


on

Rubiana

proving grounds...


I started with steep uphills and downhills and again bike was stable and easy to


control with tractor like traction of

BSA 350

engine that pulled bike on steepest uphills.


Then I aproached some big rock steps, bike was again very easy to control scrambling




over half meter vertical rocks with ease and stability.




Its easy to lift front wheel almost in any situation and then rear wheel will grab the rock,




And with some help of your body will climb over the rock,seems easy but if you




consider its pre65 (but front fork an wheel...) its quite amazing what you can do with




This bike. Same can be said about slippery sections, engine soft power of fourstroke helps to keep on going having grip. Also on steep descent engine braking is very useful.


There is something magic about handling of this bike, I think its due to

Stitt'

s well


Selected geometry and exceptional frame rigidity that make bike very precise but




Not forgiving mistakes, you have to get used to it...


One thing I plan to improve is fitting thicker bash plate...current one is

5mm

and


already bent in few spots due to contacts with rocks.




So would I sell bike if you made good offer ?


NO WAY ! But you can always try to convince Mr

STITT

to make a frame for you...


Great bike from great frame builder.




I am lucky to have one !





More photos later. and the

Harry

Stitt

frame ones.
Another trials test and build page by the

Norek's,

brought to you by...

Updat2023...05...