Wow, is it already a New Year.
I wish all you Guy's a very Happy 2013.
Well this year I hope we will have, more projects now the Olympics have moved on.
And I personally want to complete my own dream projects, and in the pipeline is a very special "Mini Otter" that could be a revolution in the trials world, but you guy's will have to help me, achieve this by backing me up?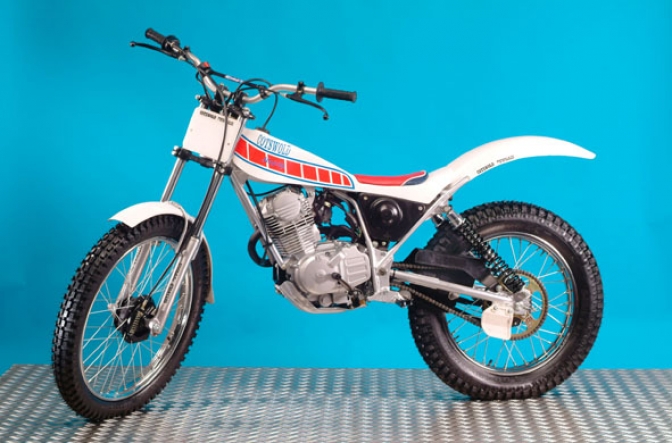 OK I know this is not a "Otter" but it is a dream bike that I have always wanted to build,
and I now have most of the parts, So I will do a page on the bike, just for me OK?
And it will be a reference to the "Otter Mini", that will follow. Watch this space, OK.
29/01/2013.
Well that was another of those, No Go Januaries then.
But although nothing much has been done physically on the bikes, although I have worked on my Mini Majesty, in the kitchen while the snow was here.
The concept of a Mini "Otter" has been thrown around by several of us.
Lee has now set up another cycle building company, details later.
While organising this, he made a visit to York to a cycle manufacturers meeting. And met up with Keith from Reynolds Tube Technology. And he became keen on the idea that we have for the little bike.
So it looks like the frame will be made using Reynolds 813 tubing.
We have tied with the idea of using a Pit bike engine in the bike.
But have now returned to the original thinking of using a Honda CG type copy engine for the power and gearbox unit. Hubs may be pit bike type, and most other stuff used will be sourced from Taiwan.
I thought I would start a "Mini Otter" page; just to add a couple of images of the thinking that has already passed through, this concept, design.
Thanks again Rich, for your input and encouragement.
18/02/2013.
Just updated the "Mini Otter" page. The more we speak to people the more they get interested in this project. and hope a class at most trials will cater for this type of machine.
We can hope!
I have just finished bronze welding another of Geoff Birds Recumbent cycles.
And he has offered his services for CAD etc, design, for the new project.
and has he was the guy that did most of the design/styling for the early Hinkley Triumph bikes.
He does know what he is doing.
I have updated the "Readers" page as well, and has I have said on that page, If you have a BSA trials bike and would like others to take a look at it on this site, send me a photo of the bike and a bit of information about it, and I will place it on this page. OK.
27/03/2013.
OK thought at least I better update you on work done over the past month?
I had mail from Number One Fan! Richard, saying, whats happening at "Otter World",
has we need a bit of sunshine in our very cold and dark days in our present climate here in the UK.
Well I replied to Richard, saying that "Otter World" is basically frozen in time, until the weather changes for the better.
The biting easterly wind at the workshop, over the past month has recorded temperatures has low as -20 at times, and even a few hours of work with a space heater full on has left me very cold and miserable.
I have worked on the Mini Majesty, and managed to get the engine now into the frame.
and fitted the engine into the Nick Draper bike.
Plans for the "Mini Otter" have advanced slightly, but the pit bike engined bike will, have to wait until, May, to start that project, has the engine I need is out of stock until then.
I just hope the weather is better by then. I just need to get on with these bikes, to relieve the pressure on my current house rebuild, this has been a disaster from day one.
Richard has also asked for a update on the other bikes in the fold. when I have a couple of hours I will report on these... OK.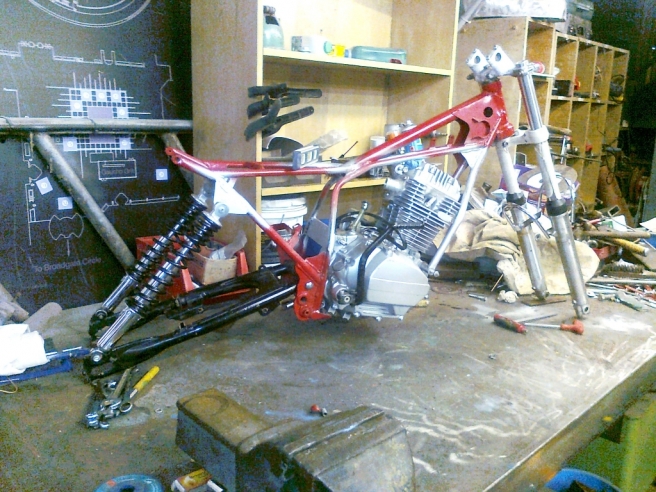 Mini Majesty, in the Cold.
Updated the Mini-Otter page.
07/04/2013
STOLEN.
***************************
Yes one of our friends, newly built Mk3 Faber framed Otter B40 has been stolen yesterday from Mold North Wales, UK.
This is a description of the bike sent by its owner Bob Forrest.
The b40 Otter is housed in a Otter Mk 3 frame,supplied by Howard Fawkes.in December 2012.
took me 9 months to get it but beautiful job.
it has new Sammy Miller alloy tank, painted blue,with gold pin-striping,and alloy mudguards to the same with blue and gold pinstripe.Ceriani forks, cub rear wheel,Rickman type front hub,Armac Black billet yokes. Alloy side panels with own design air box filter,talon footrests. Frame painted black with made in Britain gold lettering.Engine B40 GB with Electex sparks and Pete Kirby diaphragm clutch, and belt drive.
We need to find this bike quickly, has Bob says 2 years work gone in a flash, a dream shattered by evil people.
Help Now just keep your ears and eys open. Also think about the security of your machine? OK...
23 May 2013.
Well I am going to try a quick update with my new I Mac,
it has taken a while to get the thing sorted, and I only just this week have managed to get photos onto my gallery page. I will try do down load one but it may not work?
Anyway things are progressing slowly with the bikes. It is still so cold. you get one good day then it is back to winter.
The Pit Bike engines have been delayed in China, with delivery now mid to end of June. Tubes are at Reynolds waiting to be dispatched to Lee.
Mini Majesty is looking good with just the exhaust system expansion chamber to be made, and a new vm 22 carb to be fitted.
Another GF tank has been made from the Ray Small mold, this one a bit thicker, to try and protect it from the IOM rocks, we will see how it goes.
I have several new pages to publish that have stacked up, waiting for me to learn how to drive this new beast.
If a picture of Jon Bliss's Easy Rider appears on the Mini Otter page you know it has worked.
Rich wants me to explain the difference between the Faber Otters 1,2,and 3. so I will write a page with conformation from Howard. I bumped into Dave Wood at the Sam Cooper trial, and he says the steering angle on the Mk3 must be different to the Mk 2 has the steering is defiantly heavier on his bike than the Mk2 he tried before, buying it.
OK now I am up and running computer wise, I will get things sorted on here soon .
24 May 2013.
Well it looks has though I can nearly drive the I Mac.
So I have updated the Faber Page for you.
Hi Guy's.
Well the Top Cat Lives after all this time she now runs and is has good a little bike that I always thought it would be, can't wait to get Stuart or AN Other on board to see how good it really is. "Top Cat Cub" page updated. I must again thank Pat Slinn for coming up with the design and dimensions of this frame.
Starting on the Mini Otter with the Pit-Bike engine, next week.
and getting one of the other bikes running.
Mon 17/06/2013
Just put a new page on, has people are really interested in the Mick Mills frame so I thought I better do something about it, I will upgrade the page tomorrow , with more information,
OK, I am still having difficulty driving this I-Mac. still does has it likes and shuts me out. The Best? convince me!!
Anyway, I will beat the machine soon?
Tubes have arrived for the Mini Otter and the engine is on its way, just need to get the rims sorted and we have another bike in the fold.
21 Jun 2013.
Just updated the Mini Otter page. work starts on the prototype frame next week.
can't wait!
30 June 2013.
You see I put a new page on for myself but I am sure you may be interested?
Number One Fan, has spent a considerable amount of time this week researching the history of the Mick Mills and Hubbo frame, and the story continues. I will update the page with the information Rich has given me, when he gets back to me this next week.
Headstock is made for the Mini-Otter and I have the tubes from Reynolds.
But I am now going to use T45 for the large top and seat tube. Phil at
Pro-Formance metals from Daventry is supplying me with this.
28/07/2013.
You can see that now the weather has cooled slightly that good progress has been made this week, there are several more updates when I can find time.
And my old mate from the North Bar Garage days, Colin, is coming over for a bike start up and test day. We hope to get the "Dan Shorey" Cub running and a few of the "Otters" that have spent to long silent!
14 Sept 2013.
OK I am now back from the IOM and firing on all cylinders.
This place just gives me inspiration.
Brian and Stuart managed to get a last minute ride in the Classic Manx Two Day. Both the C15 and the Bantam had been sat in the back of their shed since Christmas, and it was only luck that I purchased a Electrex ignition for the Bantam a couple of days before I left for the island.
I had a couple of days in between the racing to play with the bikes, so fitted this and topped up the oil in forks ETC, not even thinking about them getting a ride.
I was making a new back brake rod (after finding the old one was cracked where it had been welded) (not me), when Stuart came home and said he had been to R and T shop on the way home,and they said, if they called down at signing on there my be a place. They came back at nine, and the next hour was filled cutting out numbers from Fablon, same the next morning, good job start time was at the back of the entry.
Anyway Stuart managed two groups of sections before the road work sorted out C15, oil pouring out the pushrod barrel joint, B25 barrel-C15 head. not a good combination unless you fit a pushrod tunnel.
Brian bravley strugeled on with the Bantam with footrest much too far forward, for three parts of the days sections, before finally upending the plot has the forks tucked under again, wrist not good he called it a day.
The little bike was only over there to access the engine for the Mini Otter project, and 30 mm forks are just not up to the IOM terrain.
So a new Bantam is to be built so that the job can be done easier.
21/Sep/2013...
Well one good week into the Bantam build, a few ups and downs but we are getting there, and I realy am pleased that we went ahead and swaged the steering head! Paulie sugested the way to go, and I went ahead with the idea, and it worked. And I already have intrest in what we have done, from the other side of the world? Australia. I will do a close up review of the tools I made for the job in the next couple of days, has there is a lot of interest.
I have a RCR big bore piston on the way and a 8 spring clutch on order, when the next batch are made by Peter, I will try and get some of the engine done this next week.
Mini Otter you say?
Well I have the Triumph fork yokes fitted and the wheels ready to fit, to the CT140 engined bike, and hope to get it has a rolling chassis this next week.
29/Sep/2013.
OK, Not done a lot on the bike this week, Bantam that is, bought some forks, lost a front wheel,
but also ended up working all through the night Friday- Saturday morning until seven on a "Slow Train-To-London"?Kings-Cross to be exact, for the Kings X Victoria, week end, and it was a great success, so I am told.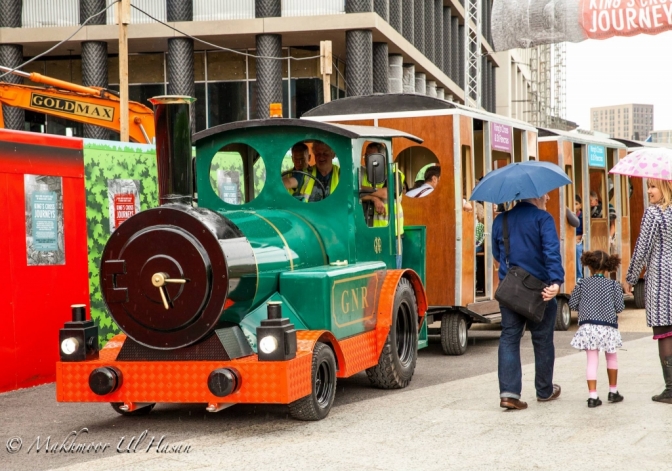 I must Credit Makhmoor, for this image.
Paint job does not look that bad for being done at Three in the morning, after working all day, with Ginormous problems with the air brakes, ETC,
Read working for exhibition companies...
But in the words of Fred Dibna, "Did you like that"?
Bantam next week Promise.
Piston and barrel ready for collection, from Coventry Boring, did it real quick when BSA Otter.com, was mentioned.? Rear shock company really keen too.
09/Oct/2013
Just started to update every page, on the site. and we are about to publish a couple of new pages.
I have been asked to explain my frame jig? So I will do that along with other tools that I have had to make a long the way, to build replica BSA "Otter" frames.
Back working on the Bantam build this week, and now have most parts for the engine.
Working on the BSA-Triumph four stud forks, and on a new damping improvement.
Just about to get the Mini-Otter swinging arm wheel plates back from the laser cutter. It has taken a time I know but nothing is done quickly now a days.
Just had to update one of last years sporting show sites with a Warning???
Back next week.
29/Oct 2013.
Well had Brian over from the IOM this week rewiring my house,
we have not talked motorbikes a lot, but just got on with the job.
I had this picture sent over to me by my youngest son Ross. this is the new bike that eldest son Lee has built for my two grand sons, super mum and super wife to Ross, Helen.
It has taken a time but Helen is so pleased, and so am I. Just proves we are keeping this bike building stuff in the family!!!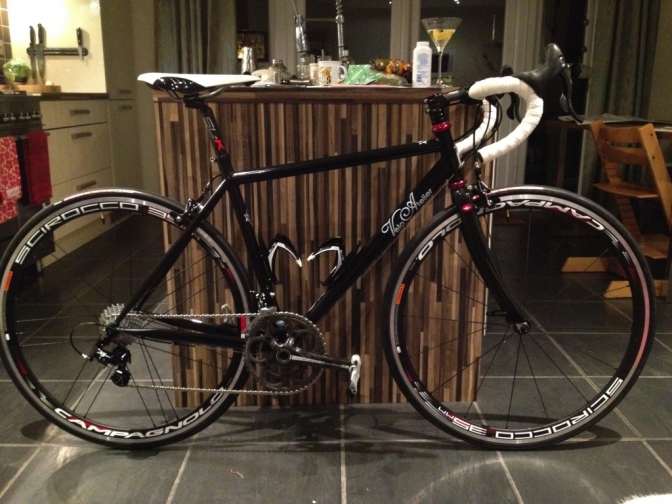 Lee should still make building bikes like he always has done, his number one priority? in my mind. If you are interested ? just Google. the name on the frame. He does make more bikes. OK. or Meteor Works...
Well I have the swinging arm for the Mini-Otter engined bike done now and will get that bike onto its wheels next week and photos, Bantam only waiting for me to widen the rear hub.
Triumph "four-stud" forks are also in the later stages of damping development, and they are taking on a vast improvement? in my eyes.
Spent Saturday swinging my arms? well not quite, but I now have both swinging arms finished for the BSA Otter Bantam, and the Mini-Otter bike.
09/Nov/2013.
New page up on how I widen my Bantam Cub rear hubs,
I have finished the footrest plates in stainless steel for the Bantam as well this week, and are hoping to take the frame swinging arm and hubs off for powder-coat on Monday.
Dec 8th 2013.
OK update to the projects.
Still waiting for Bantam frame to come back from the powder coaters? Not their fault the job has been done a long time,
But bruv has been dragging his feet about picking it up.
Good in one respect? well I have got on with the "Mini Majesty" now got a good spark after playing with several systems AC and DC do mess you about at times, but we got there in the end...
I am in the middle of making a inlet manifold for the bike as with the clearance issue's, off the shelf ones do not fit.
Exhaust system is next on the list. then we should be able to fire the bike up.
I have the "Mini-Otter" on to its wheels but not tyres (pics on page)
There has been a lot of interest again in this little bike this last week, and I am going to try getting it ride-able by Christmas.
Been in touch with Deryk Wylde of "Off Road Review" fame, this week. more of that later.
I have new readers and new pages to put on but will just have to find the time. Here for Christmas this year so maybe I can catch up then
I know I have promised a page on the Jig and Tools etc they will be done OK.
01/01/2014.
OK that old Christmas thing again CT 140 engined "Mini Otter" has sat in my kitchen over the Christmas period so nearly finished but just that shortness of time away.
After fitting the tyres and tubes, I managed to pinch the front tube, and then the patch blew off the following day, after three times, I thought someone was trying to tell me something?
But the last straw was when the rear tube suddenly went flat after staying up for four days...
Sensibly I have a weeks work to get the little bike up and running. Tubeless rims and tyres I feel for any future "Mini Otters"...
Same story with the Bantam, the frame just did not get picked up from Redditch? just ran out of time.
The "Mini Majesty" is in the same boat, ignition working inlet manifold ready for tacking and bronze welding, just needs the alloy exhaust system fabricating.
If the weather stops mild I hope all three bikes will be running by the end of the month?
Summing up.
A funny old year 2013, I probably started too many projects and never finished the ones I wanted to.
I just need something important to set a dead line to get all the bikes finished. Another show perhaps? which leads me onto "2014 News Page".